How to Choose WordPress Hosting for Small Businesses and What to Pay Attention to in 2023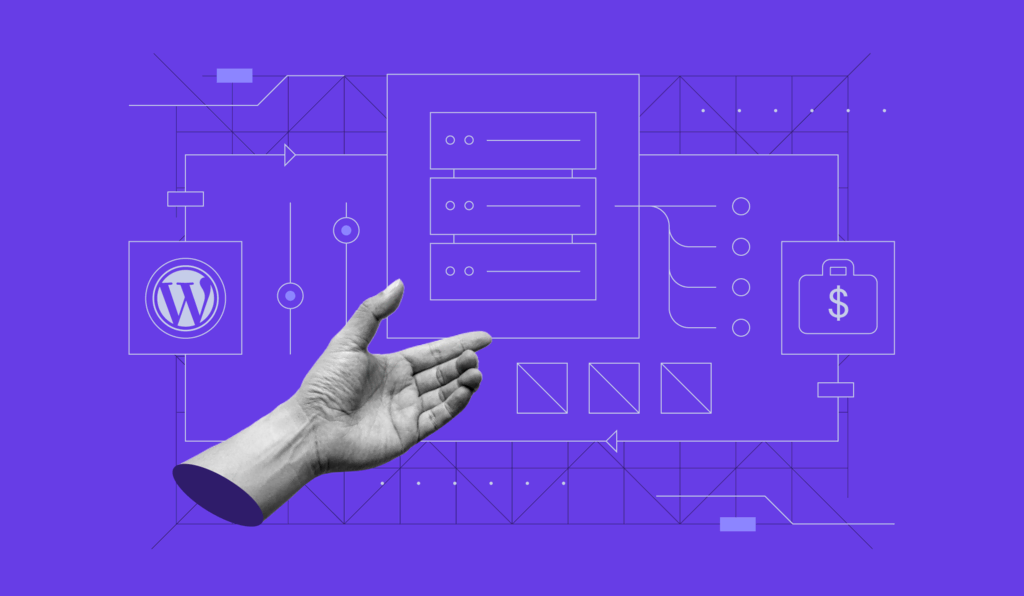 Using the right WordPress hosting provider helps improve overall site performance and increase conversion rates. However, with so many hosting companies available, it might be difficult to find one that meets your business site's needs.
If you're looking for the best WordPress hosting company for a small to medium-sized business (SMB) site, you've come to the right place.
In this article, we will go over the different kinds of web hosting for WordPress sites, the benefits of using WordPress hosting for small business websites, and essential factors to consider when choosing a hosting plan.

Web Hosting Types for WordPress Websites
In general, there are four common types of web hosting services for building a WordPress site for small business:

Shared Hosting
Shared hosting is a type of service that lets you host a website on a physical server shared with other users. It is an affordable option suitable for small online business owners and bloggers just starting a website.
With shared hosting, there is no need for specific technical expertise, as web hosting providers will take care of the server maintenance and back-end issues.
However, since you'll be sharing server resources like disk storage, memory, and CPU, your hosting plan might not handle an increased amount of traffic. As a result, this might not be the best option for scaling your business.
Furthermore, a sudden spike of traffic in other sites on the same server space can impact your website load speed and availability, harming your user experience.
Virtual Private Server (VPS) Hosting
VPS hosting is similar to shared hosting in that multiple users will share the same physical server.
The main difference is that each user will have dedicated resources for their websites. This means your site performance won't be affected when another website experiences a traffic surge or security issues.
For this reason, many small business owners upgrade to VPS hosting to scale their websites.
However, this hosting plan requires higher investment and more advanced technical knowledge of server configuration. Therefore, it may not be suitable for small business owners who are just starting or don't have technical expertise.
Cloud Hosting
With cloud hosting service, you rent a network of virtual servers to run your website. If one server is down, others immediately take over to keep your site running.
Cloud hosting offers greater security and reliability than regular web hosting services on physical servers. It provides businesses with larger resources, accommodating potential technical issues affecting your site performance.
Therefore, this plan suits websites with high traffic and exposure to sensitive information, which includes customer data and payment details, like eCommerce stores.
However, cloud hosting plans typically cost more. As a result, cloud hosting may not suit a newly launched website, but it is an excellent upgrade option for your business in the long run.
CMS Hosting
Optimized for a Content Management System (CMS), this hosting solution usually comes with special features, such as quick installation and pre-installed extensions for users to create a website without any hassle.
WordPress hosting is an example of this service. Many web hosts feature a one-click WordPress installer, built-in plugins, and automatic core updates in their packages, accessible through the hosting control panel.
Therefore, CMS hosting suits small business owners looking for a simpler interface to manage sites, as well as beginners using the CMS for the first time.
Why Choose WordPress Hosting
If you're still thinking about whether WordPress hosting or web hosting is more beneficial for your website, here are the advantages of using managed WordPress hosting for SMB sites:
Easy WordPress Installation
This type of hosting lets you install WordPress immediately through the hosting control panel. Instead of downloading and uploading the software manually, simply click on the feature, and fill in more details about your WordPress website to finalize the process.
Hosting Optimized Specifically for WordPress
WordPress hosting providers typically use a server designed specifically for the CMS. Here at Hostinger, we use the LiteSpeed website optimization tool, which comes with a cache plugin for users to improve website speed even further.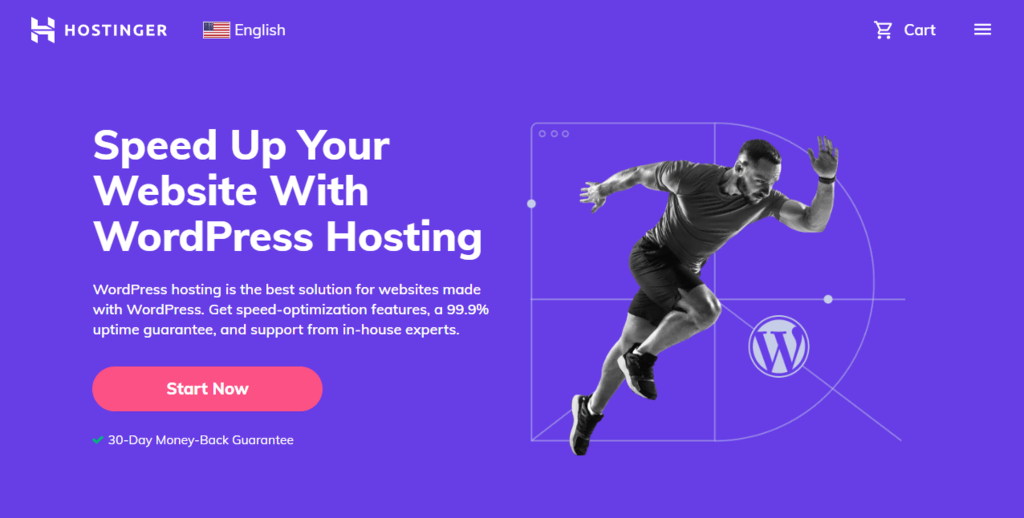 During the WordPress installation, users will see a plugin selection page and get recommendations to customize their websites.
On top of that, we provide an automated WordPress staging tool to identify bugs and issues before launching a site. Thus, you won't have to create a WordPress staging environment using a plugin.
Free SSL Certificate
Typically, WordPress hosting services include a free SSL certificate. It encrypts the data that is transferred between your website and visitors' browsers, protecting your WordPress sites from cyber attacks. This is particularly useful for an eCommerce site as it covers your clients' payment details.
Free Site Migration
Purchasing our WordPress hosting lets you migrate your website to us at no cost. You can submit a site transfer request, and our Customer Success agents will migrate your WordPress site within 24 hours.
Free Domain Name
Hostinger's WordPress Starter, Business WordPress, or WordPress Pro plans come with a free domain name. The first option suits a newly-established small business site expecting around 25,000 monthly visits, while the other two can handle larger site traffic.
What to Look For in a WordPress Hosting Plan
When choosing the best WordPress hosting plan for your needs, pay attention to the following factors.
Server Uptime
Server uptime refers to the time a server is up and working as expected. We recommend choosing a web host with at least a 99.9% uptime guarantee.
This is because recurrent downtime can lead to less traffic and fewer conversions, as visitors won't be able to access your site. Consequently, it can decrease your site rank on search engine result pages, lowering your search engine optimization (SEO) score.
What's more, server downtime can affect your business's credibility. As security issues are the most common cause of downtime, site visitors may see it as a signal that your website is prone to cyber attacks and unsafe.
Security
Securing your WordPress website from cyber attacks is essential. As discussed before, besides protecting sensitive information on your website, it contributes to your brand image.
WordPress hosting usually comes with features such as a plugin vulnerability checker and automatic updates that help improve WordPress security.
Here at Hostinger, we include an automatic update feature to install the latest WordPress version on your website. When it comes to dealing with DDoS attacks and other types of malware, we offer mitigation solutions such as a remotely triggered black hole (RTBH) and traffic filtering to help you protect your website.
Scalability
Another factor to consider when choosing the best WordPress web hosting for small businesses is scalability. If you're planning to expand your small business, it's better to look for hosting companies offering easy plan upgrade options.
Some WordPress web hosting companies include a monitoring feature to check how much bandwidth, disk storage, and CPU power you've used.
At Hostinger, you will get an upgrade recommendation popup when your site hits resource limits. It will help you decide if it's time to purchase a higher-tier plan for a larger amount of resources to prevent downtime.
Server Locations
Hosting your website on a server close to your target audience's location is crucial to improve your page load speed and user experience.
At Hostinger, we have several data centers across the globe. Furthermore, you can quickly change your data center location without any downtime.
Additionally, consider using a content delivery network (CDN) if your visitors come from various countries.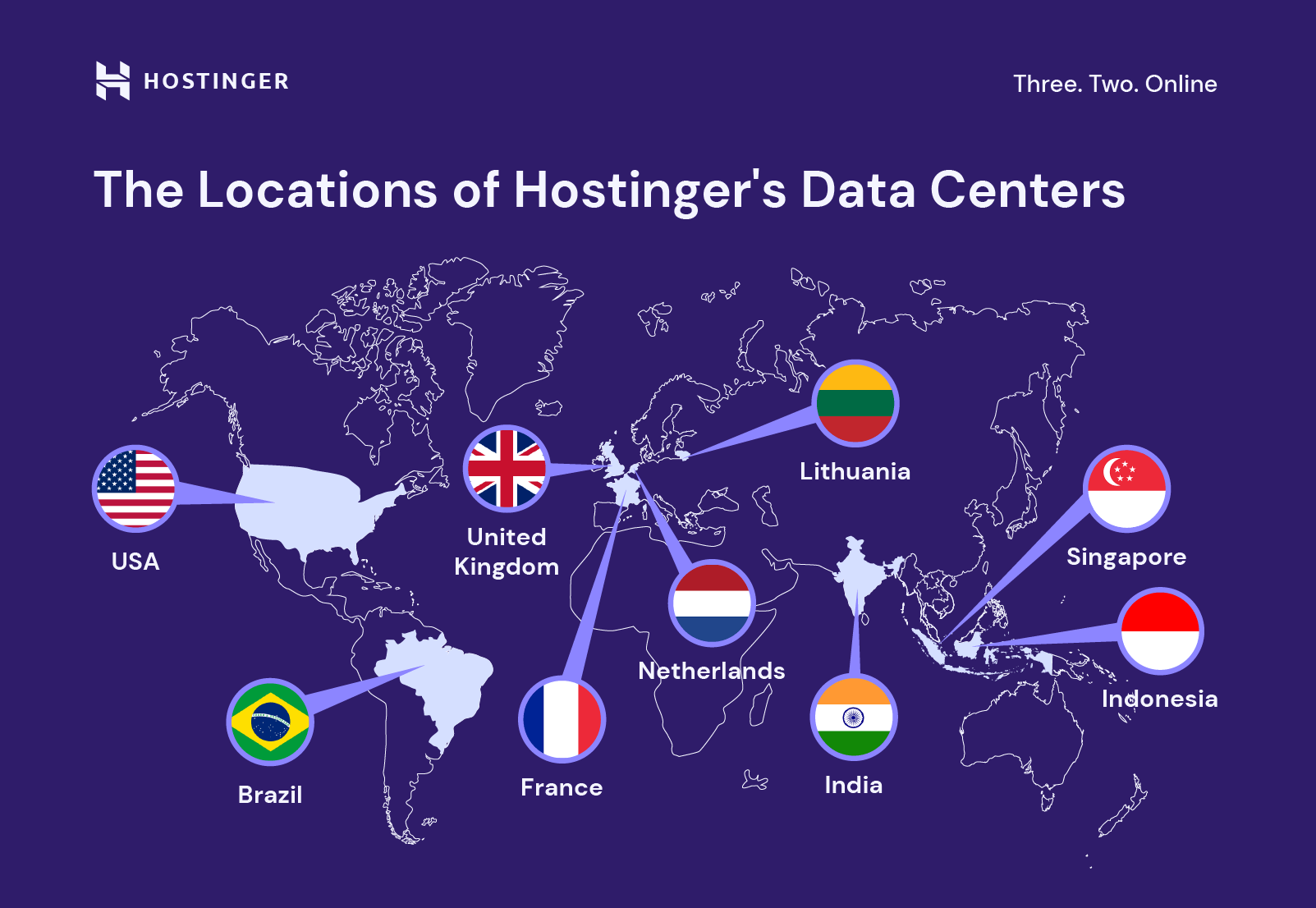 Support
When looking for the best web hosting company for your WordPress site, pay attention to its customer support service. A great provider will be available 24/7 via live chat or email to help customers handle their issues.
Also, make sure it offers a knowledge base or tutorials managed by WordPress experts.
Resources
Your business website's performance will depend on the resources provided by your chosen WordPress hosting package. When choosing among hosting plans, focus on the following ones:
Solid State Drive (SSD) storage – in short, it functions as your data storage device. Different hosting packages offer various capacities, showing the maximum site data amount they can handle. We recommend choosing a WordPress hosting plan that accommodates your website size and leaves room to grow.
Random Access Memory (RAM) – this temporary storage will keep data you can easily retrieve through your device. Note that WordPress websites with large traffic will need a larger RAM, so look for a WordPress hosting service with sufficient memory.
Central Processing Unit (CPU) – takes care of any requests through the server, making your website available. Using the right amount of CPU cores can help you avoid downtime due to traffic surges.
Bandwidth – the more bandwidth, the quicker the server can transfer data to site visitors. Therefore, we recommend choosing a WordPress host that offers unlimited bandwidth.
Backups
Choose a WordPress hosting offering an automatic backup and restore feature to anticipate site damage caused by cyber attacks or human errors. Hostinger users can navigate to hPanel to create, restore, and download a website backup in a few clicks.
SEO Features
Some WordPress hosting providers offer SEO tools to boost your small business website's ranking on search engines.
For instance, Hostinger offers an SEO toolkit that includes an On-Page Optimization tool. You can use it to get a page review and tips to improve content structure.
The toolkit also allows you to monitor your site's progress with features like SEO score, monthly report, and site tasks. Therefore, you will be able to identify issues on your WordPress site and areas to develop for better SEO performance.
Also, we offer an option to install the AIOSEO plugin during the WordPress installation process, allowing you to apply the best SEO practices.
Suggested Reading
Make sure to check our WordPress SEO tips to implement useful website optimization strategies.
Business Emails
Some WordPress hosting companies offer a free email feature in their plans. Hence, you don't need to purchase a separate email hosting service for your small business.
Using business emails is essential for small businesses as it helps you look more professional and credible, helping you gain customers' trust.
Also, you can benefit from this free domain-based email feature by creating specialized emails for different purposes, for example, support@yourcompanyname.com or information@yourcompanyname.com.
At Hostinger, you can create up to 100 domain-based email addresses for your business by purchasing our WordPress hosting.
Conclusion
WordPress hosting can be a reliable solution to help you create a high-performing website and improve visibility to generate more potential customers.
When choosing the best WordPress hosting provider for your small business website, consider the following elements:
Choose a WordPress hosting company that guarantees a high uptime score.
Ensure the web hosting plan comes with security features like a free SSL certificate.
Look for easy upgrade options to scale your website as your business grows.
Find out whether a WordPress hosting company has data centers that cover your business location.
Check for WordPress tutorials or documentation, and ensure customer support is available 24/7.
Purchase a WordPress hosting solution with unlimited bandwidth to keep your website running smoothly.
Look for backup and restore options.
Consider SEO features to improve your website ranking.
Make sure the web host offers free business email addresses to increase your business credibility.
If you already have a site, don't forget to check whether your new hosting provider offers free WordPress site migration.
We hope this article helps you find the best WordPress hosting provider for your website. Should you have any questions, don't hesitate to leave a comment below.
WordPress Hosting for SMB FAQs
How Do I Choose the Right WordPress Hosting for My Small Business?
When choosing WordPress hosting for your small business, consider factors such as reliability, performance, security, customer support, ease of use, scalability, and pricing. Look for hosting providers that offer optimized WordPress plans, automatic backups, strong security measures, and a good reputation within the WordPress community.
What Are the Most Popular WordPress Hosting Providers for Small Businesses?
A popular WordPress hosting providers for small businesses is Hostinger. The web hosting provider offers specialized WordPress hosting plans with features tailored for WordPress websites, including optimized performance, security, and ease of use.