Shared vs Managed WordPress Hosting: Which One Should You Choose for Your WordPress Site
Web hosting is a fundamental aspect of web development, enabling visitors to access your site online. Therefore, it is important to choose the best hosting solution for your WordPress website's needs.
Among the most popular web hosting options are shared hosting and managed WordPress hosting. The main difference is that managed WordPress hosting is designed and optimized for sites built on the CMS.
In this article, we will compare managed WordPress and shared hosting based on several aspects, including performance, pricing, security, scalability, and usability. Additionally, we will go over the features and benefits of alternative hosting options – virtual private server (VPS) and cloud hosting.

What Are Shared Hosting and Managed WordPress Hosting?
Without further ado, let's go over shared hosting and managed WordPress hosting.
What Is Shared Hosting?
Shared hosting is a cost-effective and beginner-friendly option for bloggers, WordPress users, and business owners seeking web hosting with decent features. With a shared hosting service, multiple websites are hosted on a single web server, sharing resources like storage space, bandwidth, and processing power.
As a result, it is the most affordable hosting type, but if one site gets a sudden traffic spike, others might load slower.
What Is Managed WordPress Hosting?
Managed WordPress is a service optimized and designed to host WordPress sites. Simply put, the web host will handle server management and maintenance tasks, including core software updates and security patches.
The best managed WordPress hosting services on the market are excellent for users wanting to focus on their WordPress websites without handling the technical aspects.
Shared vs Managed WordPress Hosting: Comparison Table
At Hostinger, we offer premium managed WordPress hosting services for higher-tier shared hosting plans. To help you understand whether you need that, we will compare our Single shared web hosting plan with the Business managed WordPress hosting solution.
Single Web Hosting Plan
Business Managed WordPress Hosting Plan
Price
Starting at RM3.99/month
Starting at RM16.99/month.
Free domain name
X
✓
Free SSL certificate
✓
✓
Automatic updates
✓
✓
Automatic migration
✓
✓
Malware scanner
✓
✓
Website backup
Weekly backups
Daily backups
Other WordPress features
1-click installation
Acceleration
Vulnerabilities scanner
Auto updates
1-click installation
Acceleration
Vulnerabilities scanner
Auto updates
Multisite
Staging tool
Object cache
AI tools
The table shows that our shared hosting offers essential features for a small WordPress website. On the other hand, the second option includes more WordPress-specific features necessary for scaling your business that are unavailable with basic shared hosting.

Comparison of Shared and Managed WordPress Hosting
In this section, we will provide a detailed comparison between shared and managed WordPress hosting, addressing five key aspects – performance, security, ease of use, scalability, and pricing. Then, we will summarize each section by selecting a clear winner.
Shared vs Managed WordPress Hosting: Performance
Performance is crucial when choosing a web hosting service, as it directly impacts your WordPress site speed, responsiveness, and user experience. Moreover, hosting a website with a fast and reliable web hosting provider benefits your search engine optimization (SEO) efforts, improving the website's visibility on search engines.
Shared Hosting Performance
With shared hosting, many websites share one server and its resources. Consequently, the overall performance depends on each user's resource usage.
Shared hosting providers may limit how much traffic each website can handle. This can lead to slower loading times, particularly during traffic surges or when other website owners on the same server perform resource-intensive tasks.
Managed WordPress Hosting Performance
Managed WordPress hosts offer servers optimized for WordPress websites. They use various performance techniques, including server-side caching, a content delivery network (CDN), and advanced caching plugins.
At Hostinger, higher-tier plans include the following WordPress-specific performance features:
WordPress Acceleration – utilizes LiteSpeed Cache for WordPress (LCWP) with the server-level cache to significantly boost your performance.
Object Cache for WordPress – stores database query results and quickly retrieves them when needed, potentially reducing site response times.
Verdict
If you anticipate frequent web traffic surges on your small-to-medium WordPress site, managed WordPress hosting offers a more reliable performance solution.
Shared vs Managed WordPress Hosting: Security
Keeping your site secure ensures confidential data, such as customer transactions, contact details, and login credentials, is safe. Additionally, utilizing robust security measures adds credibility and builds visitors' trust.
Shared Hosting Security
Shared hosting typically offers basic security features like firewall protection, automatic backups, malware scanning, and secure sockets layer (SSL) certificates. While these features provide a certain level of security, shared hosting users must actively maintain their own website security.
For instance, you can purchase security add-ons from your hosting company or install WordPress security plugins. This reduces the risk of your website being compromised if another website on the same server experiences a cyber attack.
Managed WordPress Hosting Security
Managed WordPress hosting providers typically offer specific features, such as regular security updates, malware scanner and removal tools, and automatic backups.
Hostinger also includes these advanced security features on higher-tier Managed WordPress Hosting plans, such as:
WordPress Vulnerability Scanner – protect your website against cyber threats.
WordPress auto updates – upgrade to the latest WordPress version once it is released.
On-Demand backups – schedule daily backups for your WordPress site files and database.
Additionally, we have an expert WordPress support team to help troubleshoot your website issues.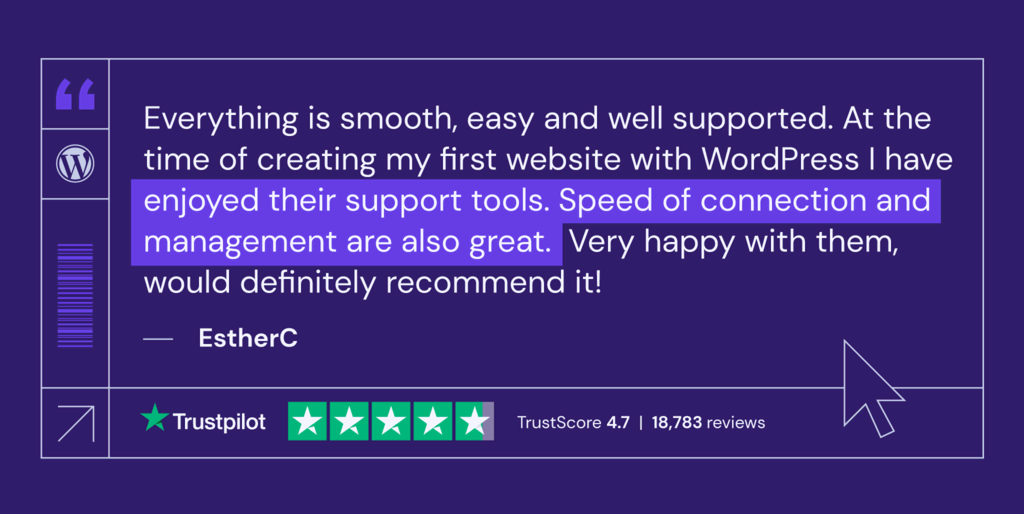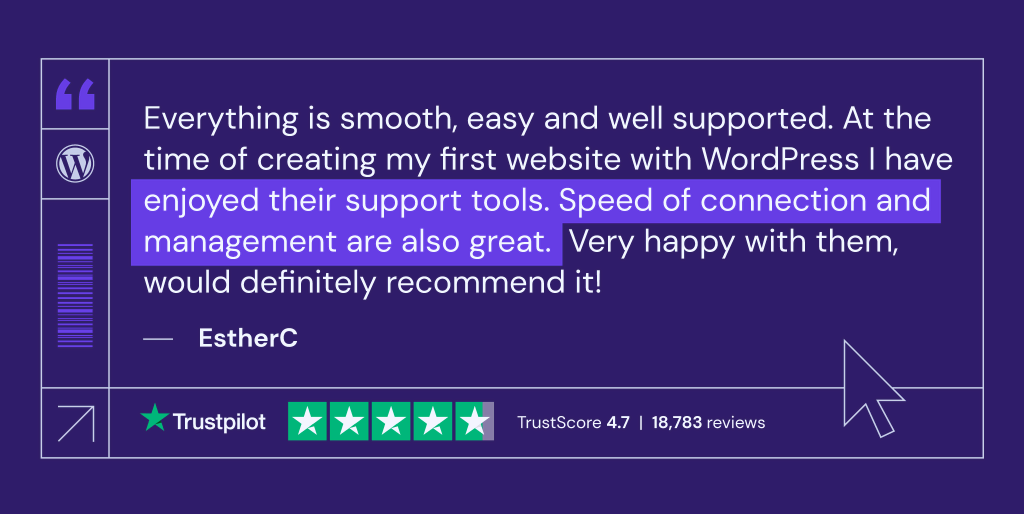 Verdict
If your website handles sensitive user data, processes online transactions, or needs enhanced security, the managed WordPress hosting service is perfect for you. However, shared web hosting might be enough for a simple blog.
Shared vs Managed WordPress Hosting: Ease of Use
When selecting the best web hosting plan, consider the usability of the hosting control panel, tools, and features. This way, you can customize and manage your website without any hassle.
Shared Hosting Ease of Use
Most shared hosting services come with user-friendly control panels like cPanel or Plesk. These panels provide easy access to essential settings like managing files, email accounts, and domain configurations.
Meanwhile, Hostinger offers its own custom-built hPanel – a control panel with an intuitive and minimalist design, making it easy to access various features, from your emails and domains to the WordPress hosting dashboard.


Setting up and customizing a website on shared hosting is typically straightforward. Many shared hosting companies provide one-click installation for popular CMS platforms like WordPress.
Managed WordPress Hosting Ease of Use
Managed WordPress hosts provide intuitive control panels that let you access your WordPress admin dashboard with one click. With Hostinger, you can also add eCommerce and website optimization plugins during the WordPress setup.
Furthermore, we offer easy-to-use but powerful features to ensure the best experience for creating and managing your WordPress website, such as:
WordPress Multisite – run multiple websites using the same WordPress installation.
WordPress AI tools – generate SEO-friendly and unique content pieces and get relevant images.
Automatic Website migration – move your website from another web hosting provider to Hostinger for free. Should you run into trouble, our dedicated WordPress experts team will handle the issue.
Integrated WordPress installation – includes WordPress as the default platform during the website creation, eliminating the need for manual CMS installation.
Verdict
If you want a hassle-free WordPress experience, opt for managed WordPress. Hostinger's WordPress Hosting service streamlines website creation and management with beginner-friendly and powerful features.
Shared vs Managed WordPress Hosting: Scalability
Scalability in web hosting refers to the hosting service's ability to handle increasing traffic, website data, and resource demands. A scalable web hosting solution is crucial as it allows easy upgrades to higher-tier plans with more resources and features.
Shared Hosting Scalability
A shared web hosting plan generally has very limited resources, such as processing power, storage space, and memory.
You can upgrade to a more powerful hosting plan if your website's growth exceeds the current plan's resources. If your website consistently grows and needs specific resources to be fully functional, consider choosing a more suitable hosting type.
Managed WordPress Hosting Scalability
Similar to shared hosting, a managed WordPress host offers a shared server environment so that users will get limited resources. However, the managed hosting service typically has features like CDN and object caching that boost website performance even during busy server times.
With Hostinger, users also can upgrade plans directly from the dashboard, avoiding the need for manual website migration.
Regarding scalability, Hostinger offers Cloud Startup Managed WordPress that uses a cloud-based server. So, your website won't experience performance slowdowns, even when other sites on the same server encounter traffic surges.
Verdict
If you have a small or medium website and don't anticipate significant growth in the long term, both managed WordPress and shared hosting are great options.
If you have a growing website and want to host it on a shared server, managed WordPress hosting is an excellent choice. Hostinger can accommodate your needs with the Cloud Startup Managed WordPress plan.
Shared vs Managed WordPress Hosting: Pricing
Knowing the cost of your desired web hosting service helps you allocate your budget to the best-fit solution for your needs. This is particularly important for individuals or organizations with limited financial resources.
Shared Hosting Pricing
Shared web hosting plans are generally the most budget-friendly option. The prices vary across web hosting companies, ranging between $2-18/month.
This hosting type offers great features at an affordable price. For example, Hostinger adds a free domain name for the first year, email service, malware scanner, and daily backups, which mostly suit small to medium websites.
Managed WordPress Hosting Pricing
Managed WordPress pricing plans are slightly more expensive than shared hosting, ranging between $3-$20/month. Furthermore, these managed hosting services include more advanced features, such as automatic WordPress updates, staging tools, and website migration.
Hostinger's Managed WordPress Hosting costs RM19.99–RM37.99/month for the lowest tier plan. The price is competitive, and our managed hosting plans include various features and tools, such as enhanced DDoS protection, WooCommerce integration, and WordPress AI tools.
Verdict
If you are looking for a suitable web hosting service that matches your budget allocation, ensure to evaluate your website requirements and long-term goals. In this shared hosting vs managed WordPress hosting debate, the latter stands out by offering excellent value, with features and tools to optimize your website's functionality.
Other Hosting Options for WordPress
Besides managed WordPress and shared hosting options, we recommend VPS and cloud hosting as alternatives. These two hosting services can be great alternatives for medium to big websites that require dedicated resources and better control over the server.
VPS Hosting
VPS hosting offers a balance between shared hosting and dedicated server hosting. It provides dedicated virtual resources on a shared physical server.
Despite being a part of a shared physical server, each VPS operates independently. It has its own processing power, memory, bandwidth, and storage space, leading to superior performance. Users can customize their server settings and install software to meet their needs.
VPS hosting is typically more expensive than shared and managed WordPress. Hostinger's VPS Hosting pricing starts at RM59.99–RM269.99/month.
On the other hand, it comes with more powerful features, such as:
Powerful processing power and SSD – provide enough power for medium to large-scale online projects, such as online game servers, web apps, and WordPress stores.
High-speed connection – delivers a fast server response speed and a 99.9% uptime guarantee, ensuring excellent performance.
AI-powered firewall – proactively analyzes traffic and blocks malicious activity in real time, providing enhanced server security.
Snapshots and backups – lets you create data duplications for safekeeping. You can also use them to restore applications or websites to their previous state.


Cloud Hosting
Similar to VPS, cloud hosting is a web hosting service that uses a virtualization technique to partition a physical server into multiple virtual servers.
This hosting service utilizes a network of servers to host websites, offering a high uptime guarantee. A cluster of servers is ready to step in if one of them experiences downtime, ensuring your website stays online.
Cloud hosting is a great option for beginner website owners as it doesn't require technical knowledge to set up and maintain the server. At Hostinger, our Cloud Hosting plans are fully managed, so users can focus on developing their businesses.
Hostinger's Cloud Hosting plans cost RM109–RM299.9/month, including a free domain for the first year, dedicated virtual resources, and WordPress-specific features.
Conclusion
Choosing the right hosting solution is crucial to ensure excellent performance, robust security, and a positive user experience for your WordPress website.
In this article, we have looked into the difference between shared hosting and WordPress hosting based on performance, security, usability, pricing, and scalability.
Shared hosting is a cost-effective option suitable for beginner website owners. It provides a simple setup process and decent hosting resources. At Hostinger, higher-tier shared hosting also offers essential website features like a free domain for the first year, a malware scanner, and daily backups. That said, shared hosting comes with certain performance and scalability limitations.
Meanwhile, managed WordPress hosting offers optimized performance, enhanced security, and dedicated technical support. Most managed hosting companies also provide WordPress-specific features, like a staging tool, multisite, and automatic updates.
To summarize, managed WordPress hosting is an all-round solution for creating fast and secure WordPress websites. However, a shared hosting solution might be ideal for those just starting out.
Shared vs Managed WordPress Hosting FAQ
We have compiled the most frequently asked questions and provided the best answers to help you understand more about the managed WordPress hosting vs shared hosting topic.
What Is the Difference Between Shared Hosting and Managed WordPress Hosting?
Shared hosting accommodates multiple sites on a single server, sharing resources like processing power, bandwidth, and storage space. Managed WordPress hosting is optimized for WordPress websites, providing enhanced performance, security, and usability. It also includes WordPress-specific features like a staging tool and automatic software updates.
Why Choose Managed WordPress Hosting?
Managed WordPress hosting offers faster load times, robust security, automatic updates, and daily backups. It is an excellent solution for WordPress site owners who prefer to focus on content creation over technical maintenance.
Which Type of Hosting Is Best for WordPress?
Managed WordPress is a better option for WordPress sites. It is because the hosting type provides WordPress-specific features that shared hosting lacks.
Does Managed WordPress Hosting Cost More Than Shared Hosting?
Yes, managed WordPress hosting plans are slightly more expensive than shared hosting. That said, Hostinger offers Managed WordPress Hosting plans at RM29.99, comparable to or lower than our competitors' shared hosting prices.