Introducing LiteSpeed – Your Go-To Website Optimization Tool
Start A Free 7-day Email Course On WordPress
Speed is undoubtedly one of the major factors when it comes to your WordPress website's overall performance. First impressions are important if you want to impress your visitors and rank higher on SERPs.
With years of experience, here at Hostinger, we always aim to recommend the best possible website building and managing solutions for our customers.
Hostinger supports LiteSpeed to ensure the best possible experience for our users. LiteSpeed Cache plugin is a tool to fully optimize the LiteSpeed feature and is a must-have tool for any WordPress user.
It's the all-in-one site optimization plugin that is trustworthy and easy to use. In this article, we'll show how to maximize the plugin's functions.
How to Install and Activate the LiteSpeed Cache Plugin?


LiteSpeed Cache comes pre-installed for all Hostinger accounts, so you can go ahead and skip this step. However, if you're using a different web hosting service, installing the LiteSpeed Cache plugin is quick and easy. Here's how:
To begin with, log in to your WordPress dashboard and navigate to the Plugins section.
Search for "LiteSpeed Cache", click Install Now and Activate.
Refresh the page and you should see the LiteSpeed Cache section appear on your WordPress dashboard.
How to Configure the LiteSpeed Cache Plugin?
Hostinger has partnered with LiteSpeed to offer the best quality services and tools for our customers. That is why the LSCache plugin will be waiting once you logged in to the account.
Now, let's talk about how to set-up the plugin. While it has a lot of useful features, you don't need to configure all of them in order to start using the tool.
Here we're going to list the basics on how to configure your WordPress website using the plugin.
General and Cache Settings
First, we have the General section — here you can change whether to automatically upgrade the plugin or not. Furthermore, this is where you would add the domain key as well.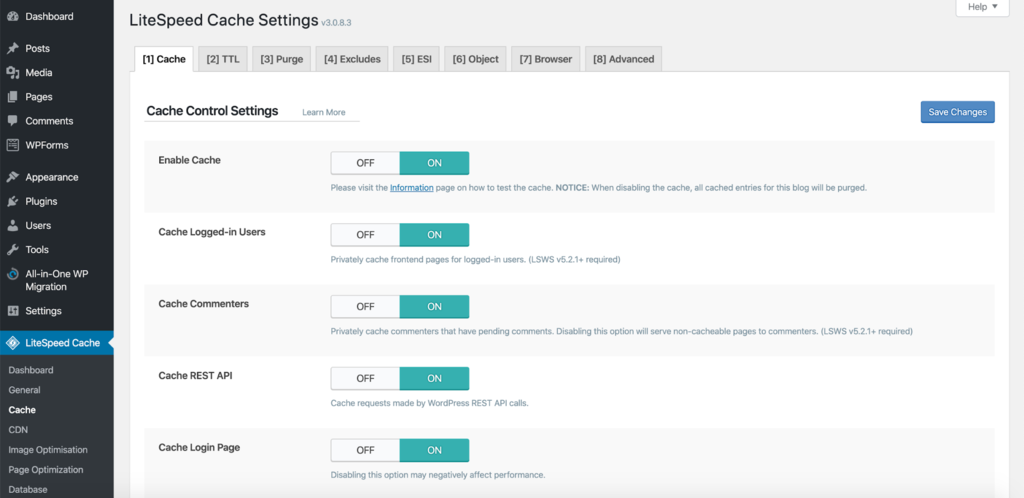 In the Cache section, you'll find the cache settings for the plugin that can be turned on or off. For example, you can manually set what type of content you want to cache – logged-in users, login pages, and so on.
For your convenience, each entry includes a short description of each setting. If you would need more information, there's a Learn More button just next to the page title that will lead you to the official documentation page. This applies to all other pages as well.
Additionally, some of the settings include the "This setting will edit the .htaccess file." warning message to know when you need to be more careful when changing the plugin's settings.
Other tabs in this section include TTL and Purge settings. TTL stands for time-to-live and this is where you can pre-set how long should each setting be cached for. On the Purge tab, you can, as the name suggests, control the auto-purge settings for content stored in the cache.
Tweak around in the Excludes tab, where you can set what type of content you don't want to be cached.
Just don't forget to hit the Save Settings button once you're done.
There's a lot to LiteSpeed Cache that you can change and configure. However, if you don't feel comfortable with messing around with any of the settings mentioned, simply leave them as they are.
Using the default settings of the plugin is more than enough to noticeably boost your website's loading speed.
Image and Page Optimization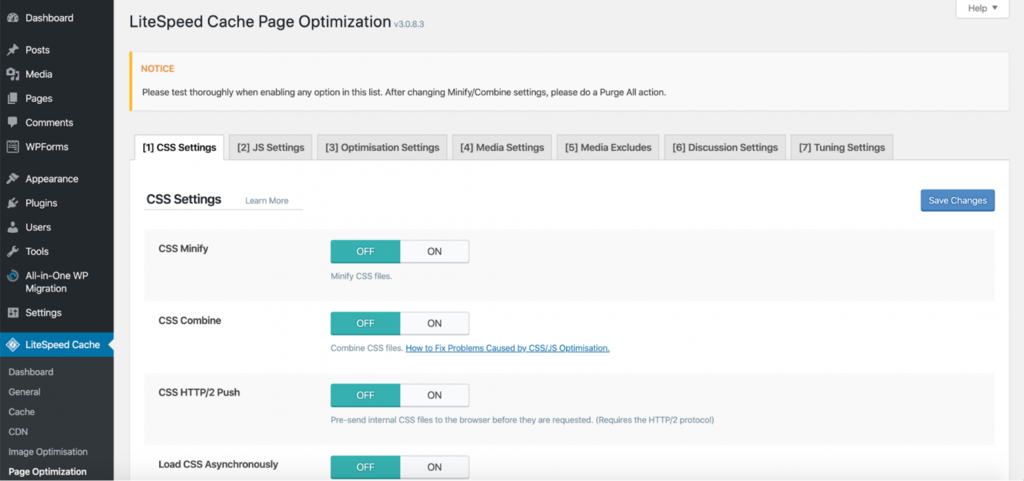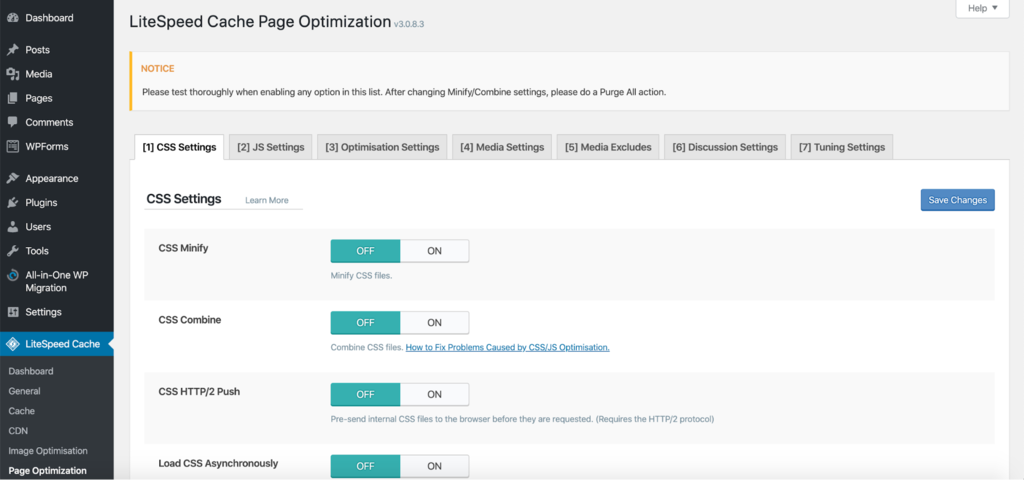 The LiteSpeed Cache plugin also includes powerful Image and Page Optimization features, so the freedom of control rests at your fingertips.
Image Optimization offers a comfortable dashboard of its own, where you can see the information about how well optimized your images are on the website.
With Page Optimization, you can manually change CSS and JavaScript settings and options to locally store Gravatar information.
Database, Crawler, and Toolbox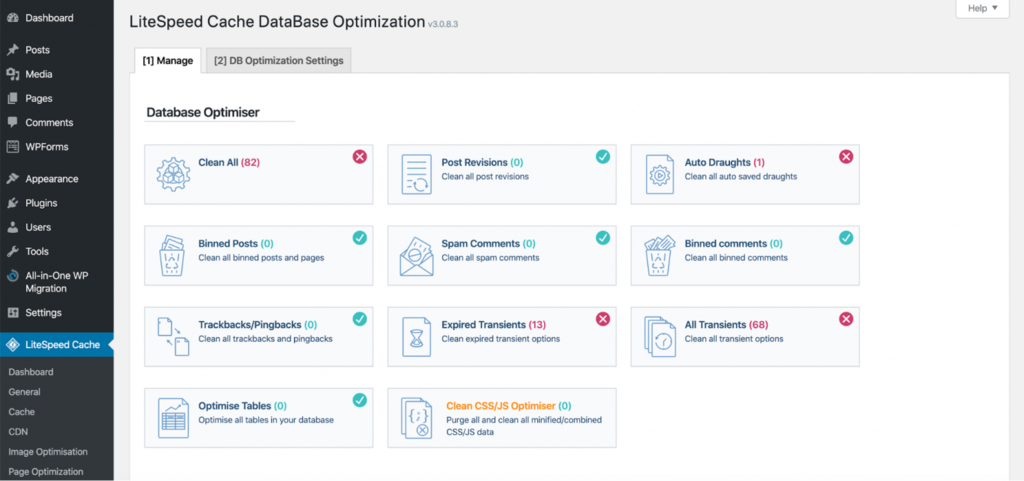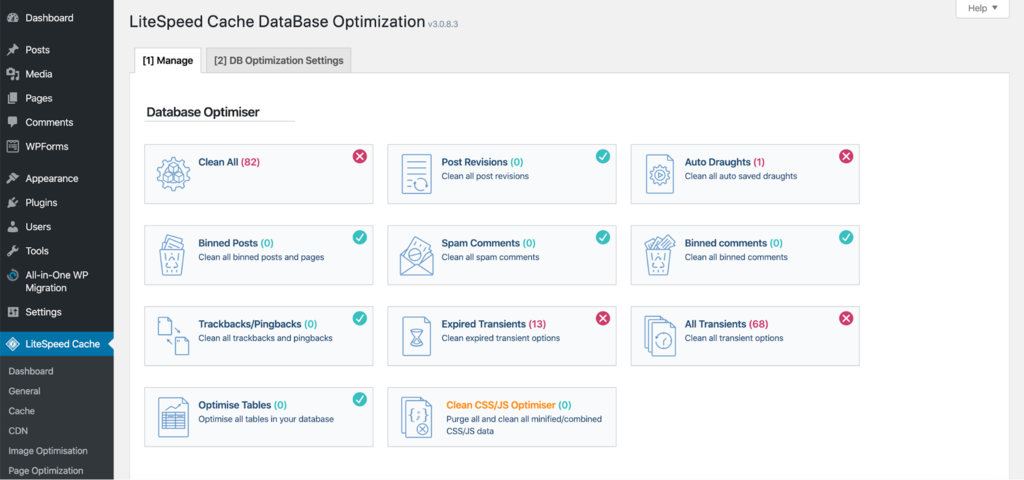 We're not finished when it comes to what LiteSpeed Cache has to offer. In the Database section, you can quickly overview the status of other types of data stored on your website — clean all post revisions or spam comments with a single click.
LSCache includes a Crawler used for searching your website's backend for expired pages, refreshing them in the process. While the Toolbox features all kinds of quick one-click optimization options and other advanced settings.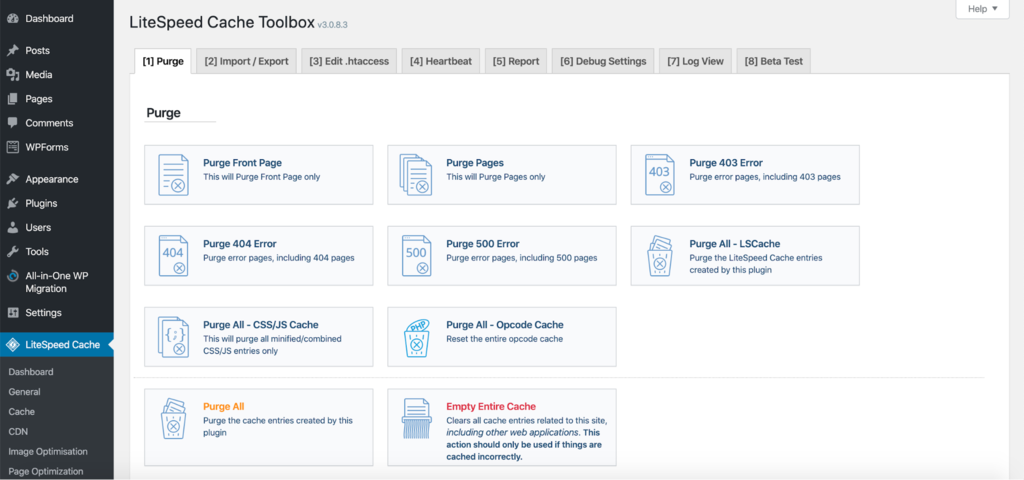 What is Web Caching?


Your website's speed is essential for many reasons. For example, no visitor will wait for too long for your content to load.
This is where web caching comes in — it's used to greatly improve website loading speed by temporarily storing its information locally, either in someone's internet browser or a web server.
It essentially prevents websites from loading all the information a second time for someone who has visited your website previously.
LiteSpeed Cache is a WordPress plugin used to manage this type of information. If not looked after properly, caching can greatly impact your visitors' browsing experience. For instance, cached data eventually becomes outdated and might prevent users from successfully refreshing your pages.
This WordPress plugin allows you to micro-manage how the cache is stored and used, and it's a tool every website owner should look out for.
However, remember that even the most powerful tools are not enough to make a website perform well — you also need a reliable web host.
Conclusion
Managing a website is hard enough work as it is and when the final result doesn't match your vision, it can leave both you and your visitors underwhelmed and disappointed. However, you don't need to do everything yourself.
With the LiteSpeed Cache, you can rest assured that slow website loading speed will be a thing of the past. It's a great addition to your must-have WordPress plugin library, which is not only a quality product but can also be downloaded for free as well.