How to Download a Website Backup (hPanel + cPanel)
Whether you're a personal website owner or an online business entrepreneur, you want to make sure your website is secure. Losing your site data due to a human error, malware, or hardware malfunction can be hard to recover from.
Ensure this doesn't happen by backing up your website on a regular basis. This might sound like a technically difficult task, but it's actually quite simple to do.
This article will explain both how to back up a website manually and via your hosting provider's control panel.


How to Download and Restore Backups on hPanel – Video Guide
In a rush? Watch the video guide below instead.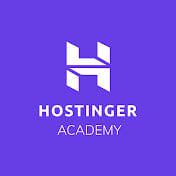 Subscribe For more educational videos!
Hostinger Academy
Subscribe
Why and How Often Do You Need a Website Backup
A website backup is a copy of all your data, files, and databases. Its purpose is to prevent data loss if something happens and your current site breaks down.
If you don't have a backup service set up, you can lose essential data in case of an accident. If you're running an eCommerce business, this can have a negative effect by interrupting revenue streams and losing the trust of your customers.
While hosting providers and content management systems have ways to prevent data loss, no system is 100% secure. For example, WordPress powers 43% of all websites, making it a popular target for malware infections and hacking attempts.
In fact, there are around 90,000 attacks on WordPress websites per minute.
These are due to various WordPress vulnerabilities – 52% of them are due to WordPress plugins, and 11% are due to WordPress themes. This makes it crucial to ensure that the WordPress themes and plugins you install come from credible sources.
Furthermore, there's a chance you might come across an error while updating the WordPress core files, themes, and plugins. Incomplete or corrupted data and files can result in your site not loading correctly, which might require you to restore the site to the previous version.
The general rule of thumb is that you should back up your website whenever you make significant changes. You can also create a regular WordPress backup schedule by using a backup service, depending on how frequently you update your site.
Pro Tip
As you download your website backup, consider it a key part of your overall website maintenance strategy, which should also include tracking website uptime. Uptime monitoring complements your backup efforts, ensuring a reliable online presence for your site.
How to Backup Your Website Manually via FTP and phpMyAdmin
Most web hosts offer an automatic website backup solution. However, there are times when this backup service may not work, and you will need to do it yourself.
Keep in mind that you need to download both the website files and the database when backing up your site manually. Otherwise, the backup will not work, and your data may be lost.
Backing up Website Manually via FTP
With FTP, you won't need to log in to your hosting account every time you want to backup your website files and data. However, you will need an FTP client.
For this guide, we'll be using the FileZilla FTP client.
Step 1: Connect to the FTP server via an FTP client
Open

FileZilla

.

Gather all of your FTP details from your hosting account. For

Hostinger

clients, follow our tutorial on

how to configure FileZilla

.

Open

FileZilla

, click

File

→

Site Manager

→

New Site

.

Set

Logon Type

to

Normal

. Then, fill in your website's FTP information.

Host

– your website's domain name.

User

– FTP account username.

Password

– FTP account password.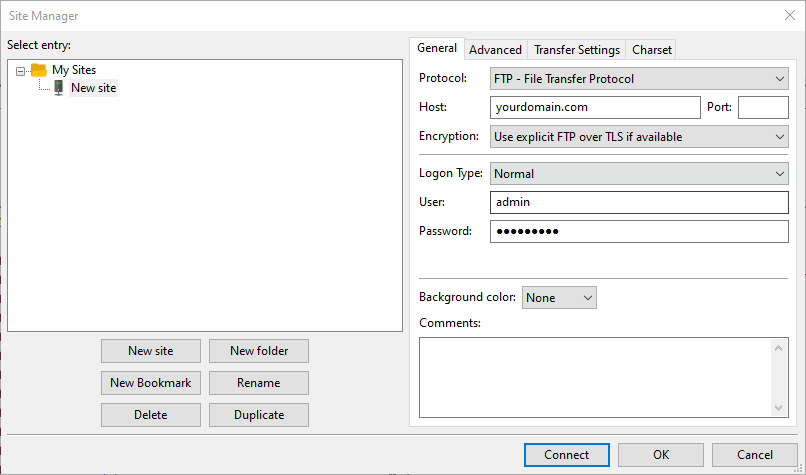 Press

Connect

once you are done.
Step 2: Download the website files to your computer
On the FileZilla interface's upper-left corner, click

Desktop or any other folder where you want to save your backups.



Right-click on the lower-left quadrant, select

Create directory and enter it

. Name the new directory – for example,

Website Backup.



On the upper-right quadrant of the FileZilla interface, click on your domain and find the

public_html folder.



Drag and drop the

public_html

folder to the lower-left quadrant or the

Website Backup

folder.

Wait until the download is complete.
Backing up Your Website Database via phpMyAdmin
Next, you need to download the website's database from the phpMyAdmin control panel. We will be using hPanel and WordPress for this guide.
1. Access your hPanel, select Dashboard, and click on the WordPress Overview button.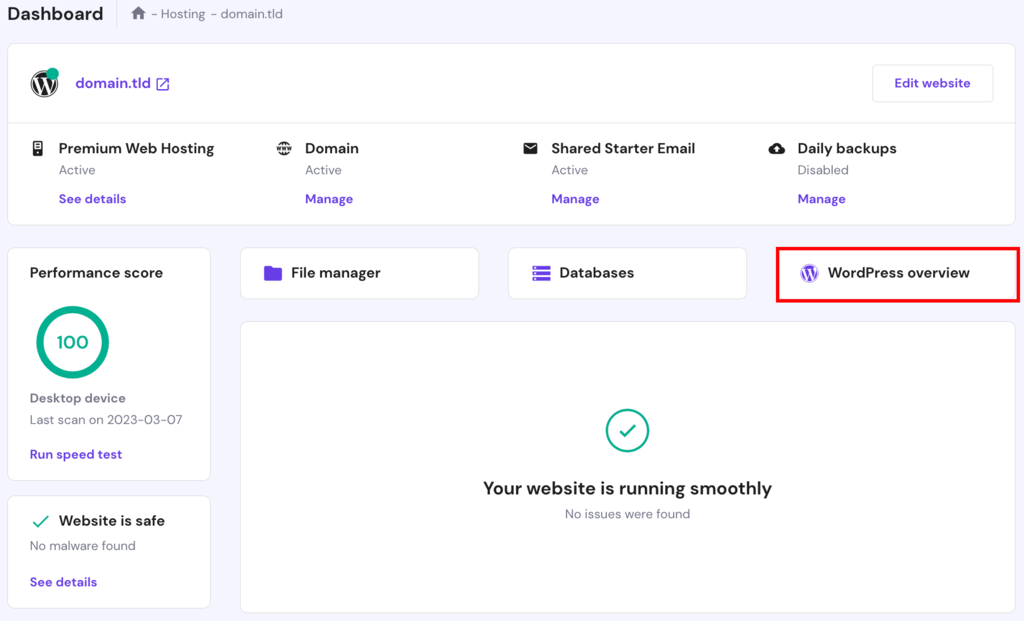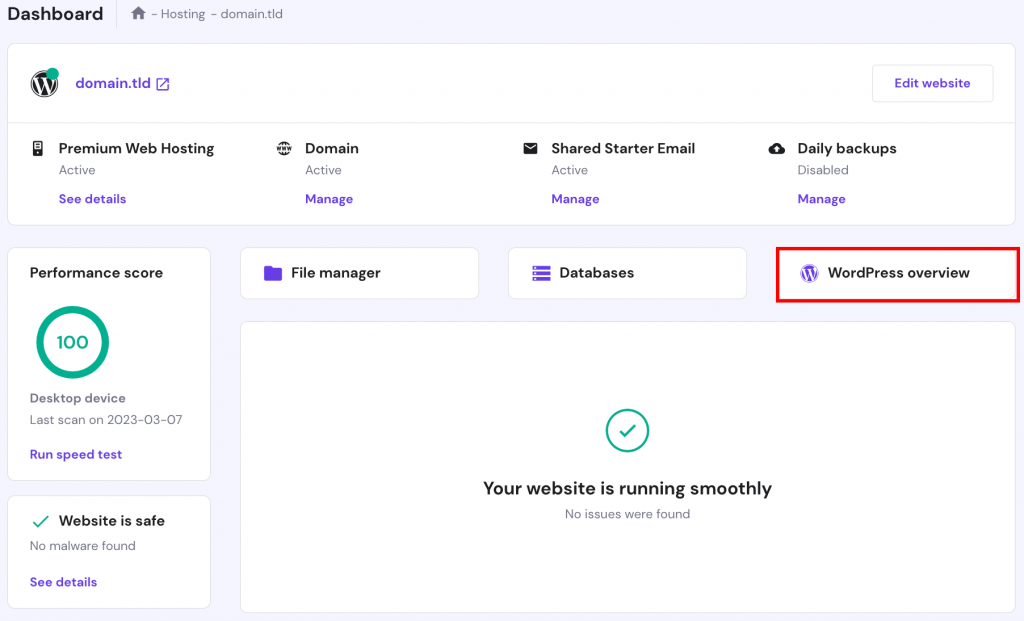 2. Find the Database sidebar and click on Manage database. It will direct you to the phpMyAdmin area.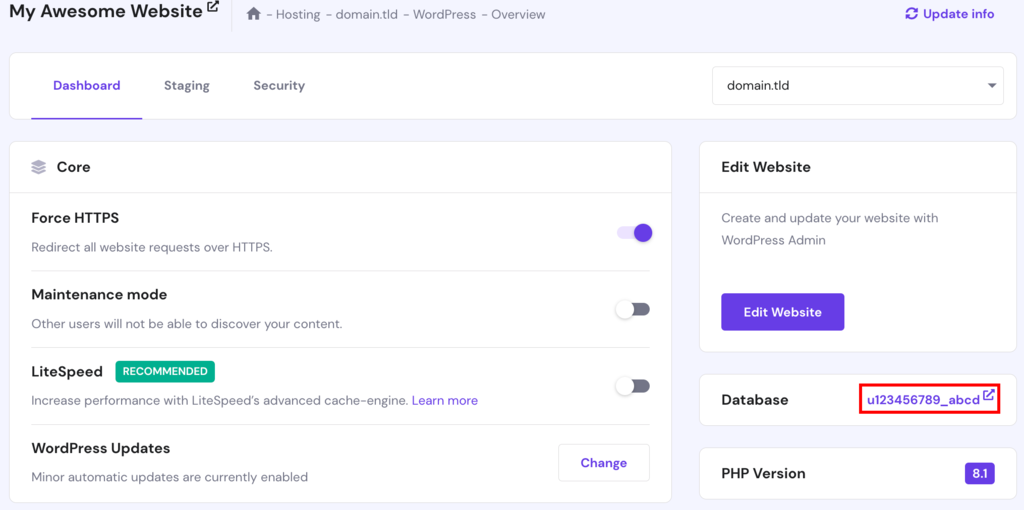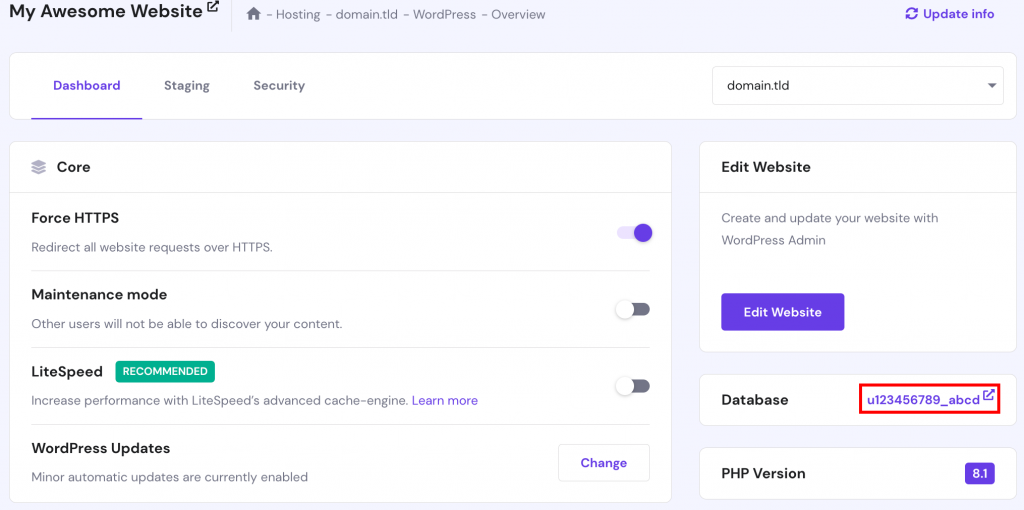 3. Once inside phpMyAdmin, press Export.


4. Choose Quick for the Export method and SQL for Format. Click Go to continue.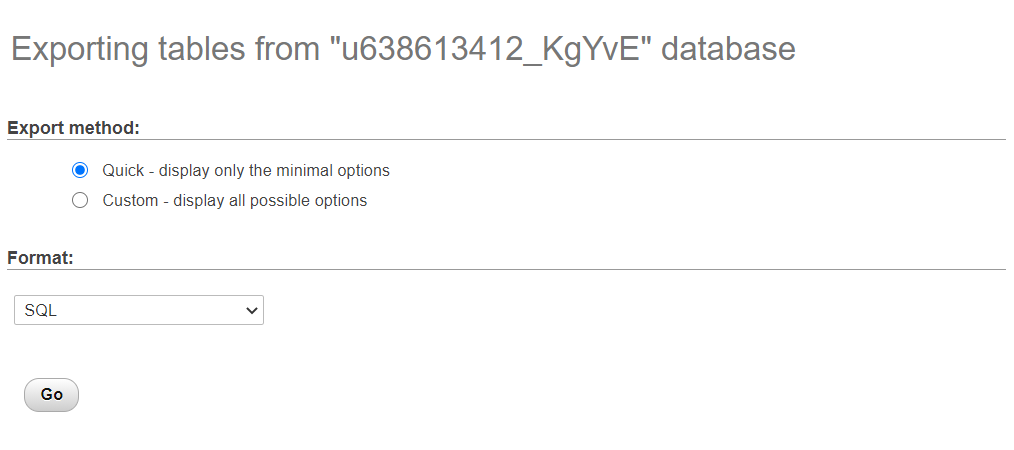 Once the SQL file is downloaded, make sure to save it in the same folder as the backup files on your computer.
Downloading a Full Website Backup via hPanel
Hostinger automatically creates weekly or daily backups, depending on your hosting plan. The easiest way to download the backup databases and files is by following these steps:
Step 1: Download website files
1. Log in to the hPanel, go to Files → Backups.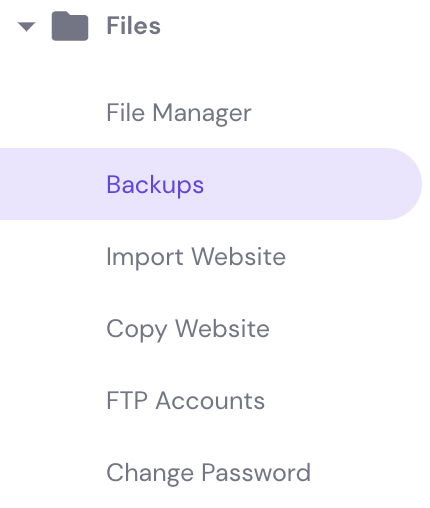 2. Click the Select button under Files backups.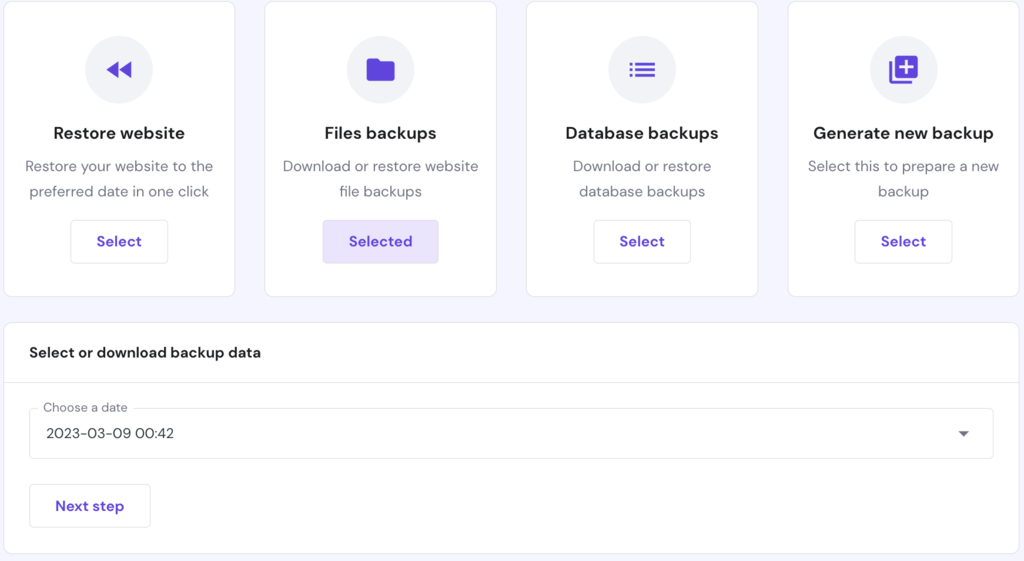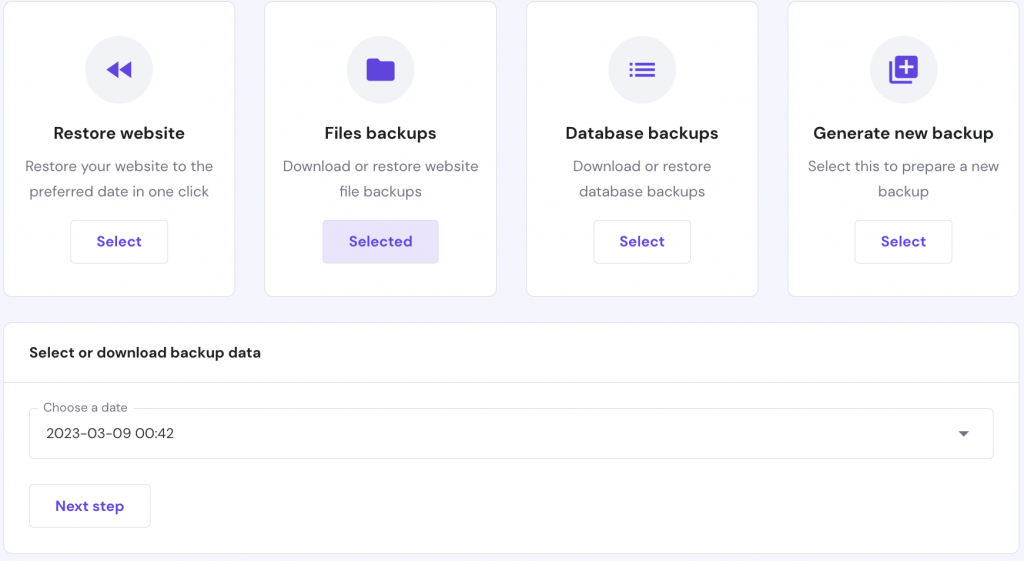 3. Choose the most recent date, press Next step, and Download all files.
Step 2: Download website database
1. Press the Select button under Database backups.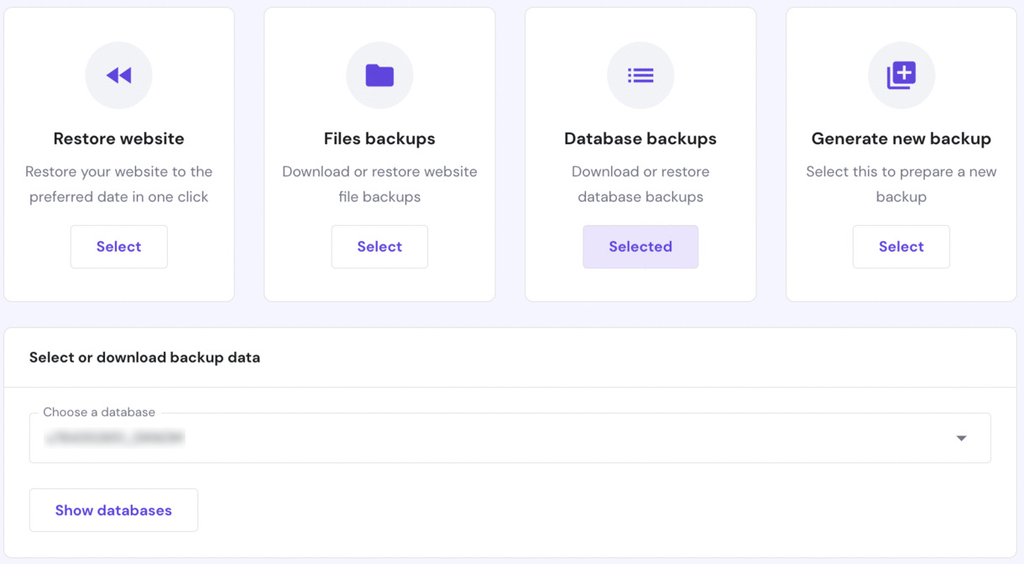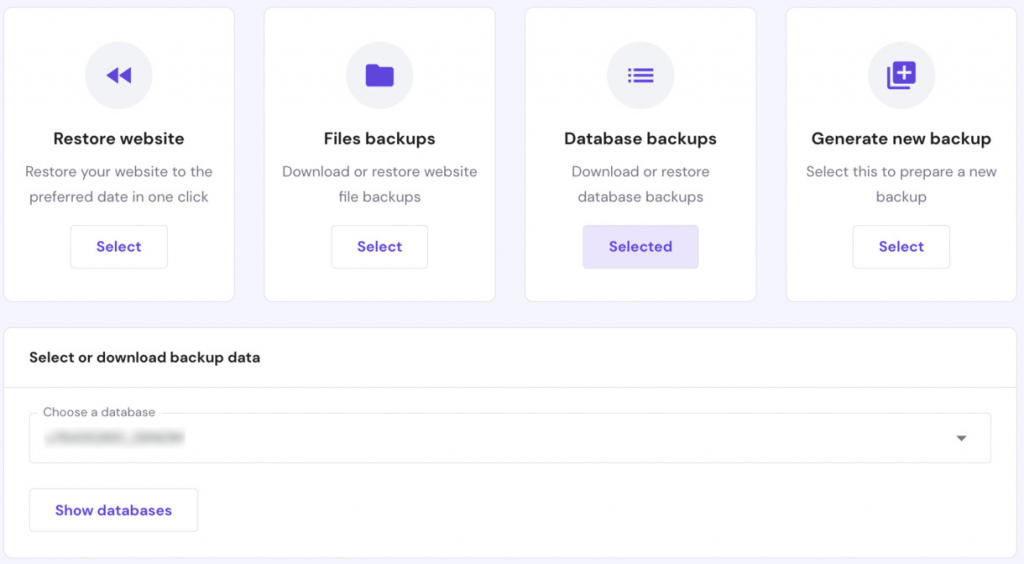 2. Choose which database backup data you want to download, then click Show databases.
3. Select the most recent backup date and press Download.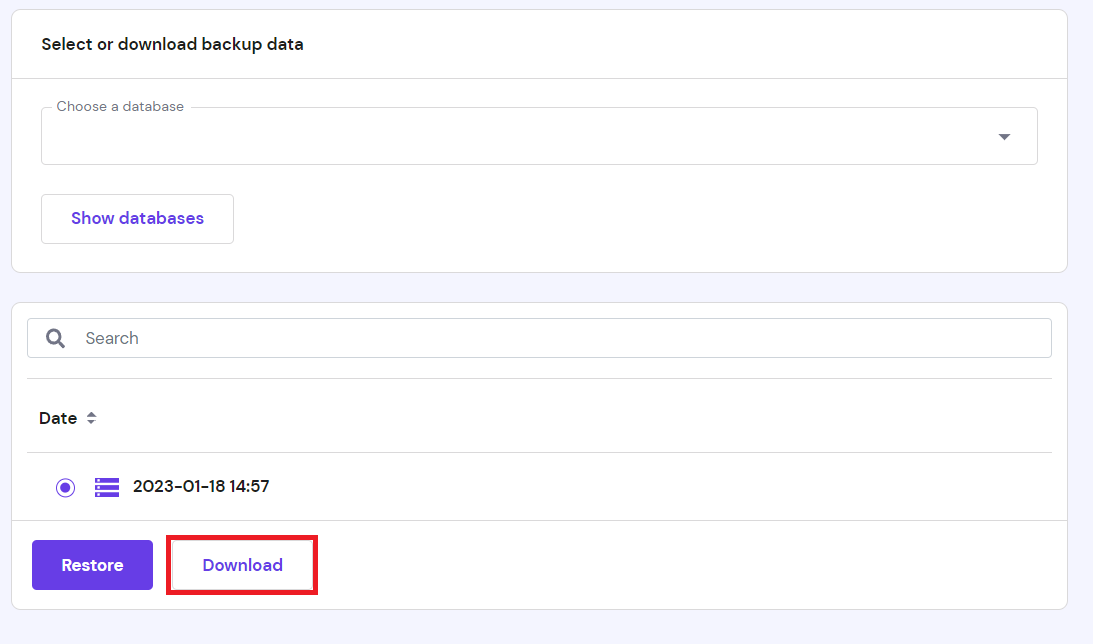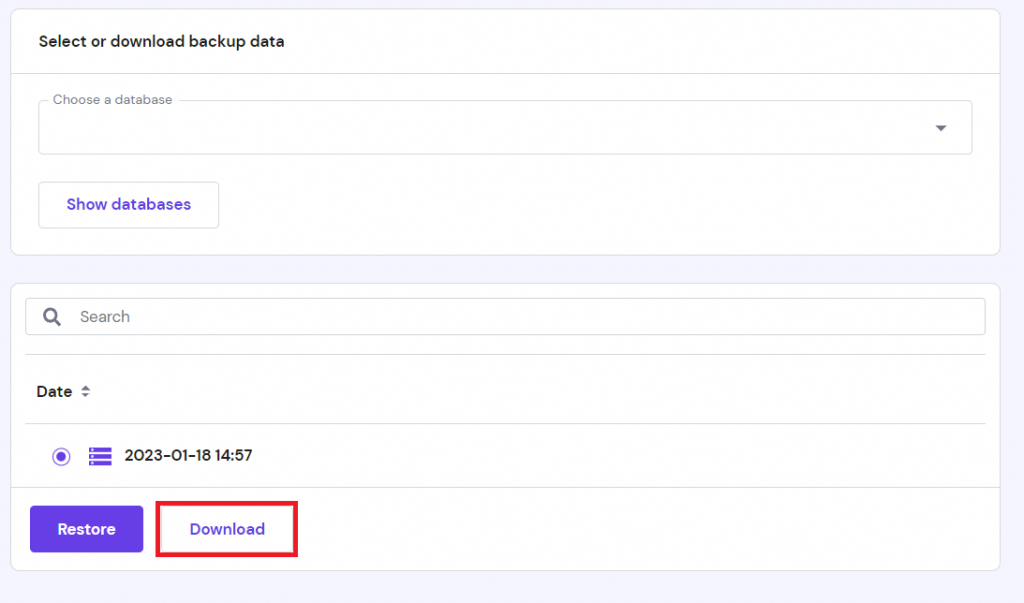 If you want to have the latest copy of your files and databases, click Generate new backup → Select.


Keep in mind you can only generate one new backup in 24 hours.
Backup Your Website via hPanel One-Click Backups
If you don't want to download the website data and just want to restore your site's previous version, you can make use of our one-click restore feature.
Restoring files
On your hPanel, navigate to

Files

→

Backups

.

Press the

Files backups Select

button.

Choose the backup date from the drop-down menu, click

Show files

.
Restoring databases
1. In Backups, select the Database backups.
2. Pick the backup data you need, and press Show databases.
3. Select the database you wish to restore, and click Restore.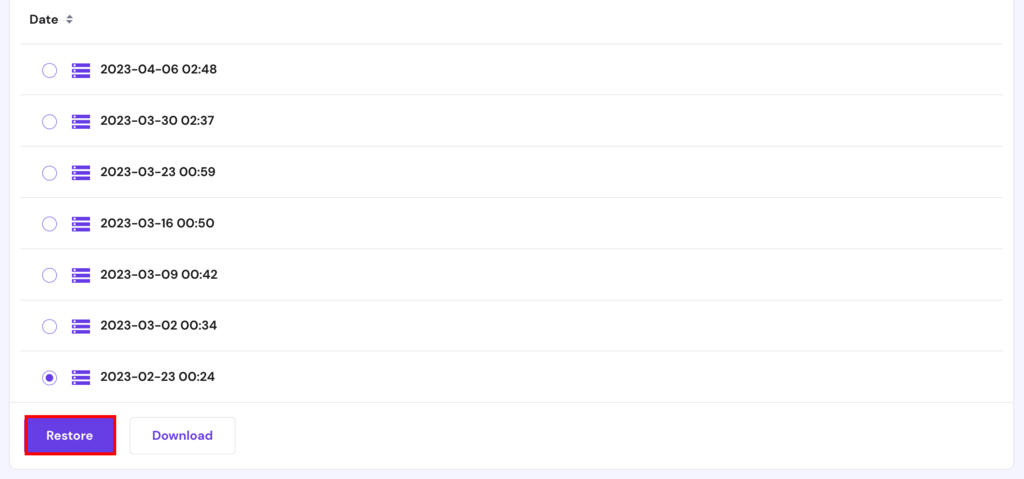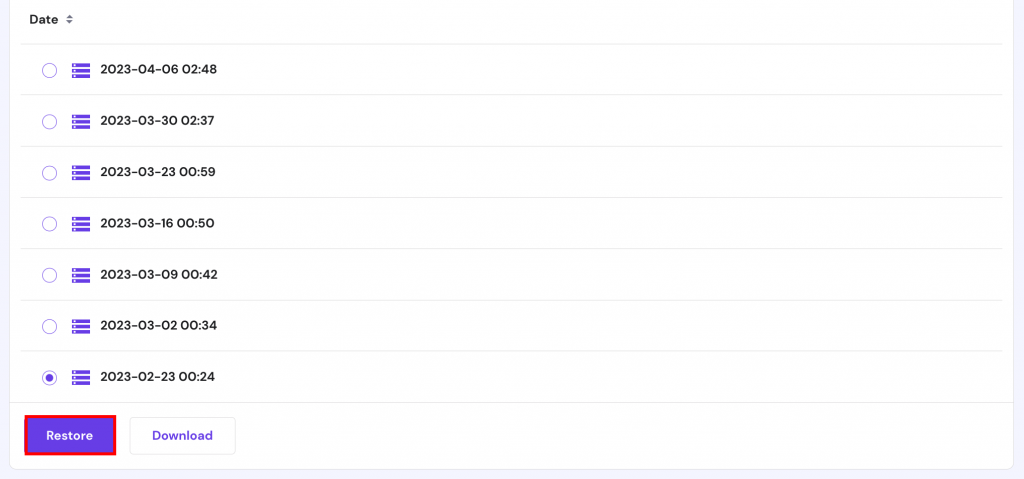 4. Wait until the process is done.
If you encounter any problems or have questions, feel free to contact our support team.
Pro Tip
Looking to switch to hPanel hosting? Follow this simple guide to transfer your web hosting and enjoy the user-friendly hPanel!

Generating and Downloading a Full Website Backup via cPanel
cPanel offers several backup options for its users: automatic full backup, a partial backup, and a manual backup.
Option 1: Automatic Full Account Backup
This type of backup solution lets you create a full account backup, including the website's home directory, MySQL databases, emails, and DNS settings. It's mainly used for transferring your account to another hosting provider.
Start by logging into your cPanel, then follow these steps:
Under

Full Backup

, press

Download a Full Account Backup

.

Click

Generate Backup

, and the backup will start automatically.

Press

Go Back

and check whether or not your files are ready for download. If it's still in progress, wait for a few minutes and refresh the page.
Option 2: Automatic Home Directory Backup
This backup method is the simplest out of the available options since it only requires a single click. However, it only saves your files and emails.
Here's a way to download a home directory backup:
From your

cPanel

dashboard, navigate

Files

→

Backups

.

The download process will start automatically.
Option 3: Manual Website Backup
This backup feature allows you to backup selected files only. However, the steps to backing up the site's content without a specialized backup tool are a bit more complicated.
Before proceeding, you need to find the root folder where your site files are located. It's usually in the public_html directory, but it is also possible for your website to be installed in a subdirectory like /w/.
Here's what you need to do to start the backup process:
Log into

cPanel

and head to

Files

→

File Manager

.

Close the

Compression Results

window and head over to the

File Manager

to locate the generated file.

Select the file, in this case,

public_html.zip

. Head to the upper menu bar and click

Download

.
Once the last step is done, you will have backed up all the necessary files of your site.
Option 4: Using the Backup Wizard
cPanel also has beginner-friendly backup software that is helpful for those who are new to website backups. If you're scared to make a mistake when backing up your site manually, simply follow the steps below:
Press the

Back Up

button.

Choose the type of backup you want –

Full Backup

or

Partial Backup

.

Pick

Home Directory

as the

Backup Destination

.

Feel free to type in your email address if you want to receive an email notification once the backup is complete.



Click

Generate Backup,

wait for a couple of minutes, and press

Go Back

.
Conclusion
Scheduling or manually performing regular website backups is essential to avoid potential problems in the future. Even with the best website security measures in place, accidents can cause significant data loss.
If your site has been backed up, however, re-uploading your website will be quick and easy. You won't have to rebuild anything from scratch, and you won't lose any critical data.
To quickly recap, you can back up your site in three different ways:
Manually via FTP and phpMyAdmin.

With hPanel by downloading a full website backup and using the one-click restore feature.

With cPanel by downloading a full account, home directory, and selected file backups. Plus, using the backup wizard.
Make sure to back up your website regularly, even if it's just for peace of mind.