10 Best Web Hosting for Small Business Websites in 2023 and How to Choose the Right Plan
When building a small business website, it's crucial to use the right web hosting service to ensure optimal uptime and performance. Selecting wrong may result in a slow website, harming your business' credibility and possibility for conversions.
To help you make an informed decision, we will explore the 10 best web hosting providers for small businesses. We will assess each entry based on its price, features, uptime, performance, and support.
You will also learn important factors to consider when choosing the best web hosting company for your small business website.
Download Website Launch Checklist
10 Best Web Hosting for Small Business Sites
In this section, we will review the 10 best web hosting platforms for small business websites. To help you choose, we will explain their key features, advantages, and drawbacks.
1. Hostinger
Hostinger Stats:
Rating: 4.9/5
Best for: value-oriented small business owners looking for a high-performing solution
Price: starts at RM9.99/month
Storage: up to 200 GB
Bandwidth: unlimited
Hostinger is the best web hosting company that offers a Business Web Hosting plan with excellent value for money and scalability. It includes free essential services, like a secure sockets layer (SSL) certificate, a domain name, and professional email accounts, helping you to launch a website quickly.

We have 10 data centers worldwide with solid-state drive (SSD) storage, LiteSpeed servers, and an in-house content delivery network (CDN) to ensure optimal website loading speed and performance. Premium and Business Web Hosting packages also come with unmetered bandwidth, which is perfect for a fast-growing business.
Moreover, you can easily upgrade to a cloud or virtual private server (VPS) plan through the hosting control panel for more resources. We also offer a 30-day money-back guarantee for all hosting products.
What makes it the best hosting for small business sites is that all plans include the no-code website builder for free. It has built-in AI-powered tools, eCommerce functionality, and a search engine optimization (SEO) kit.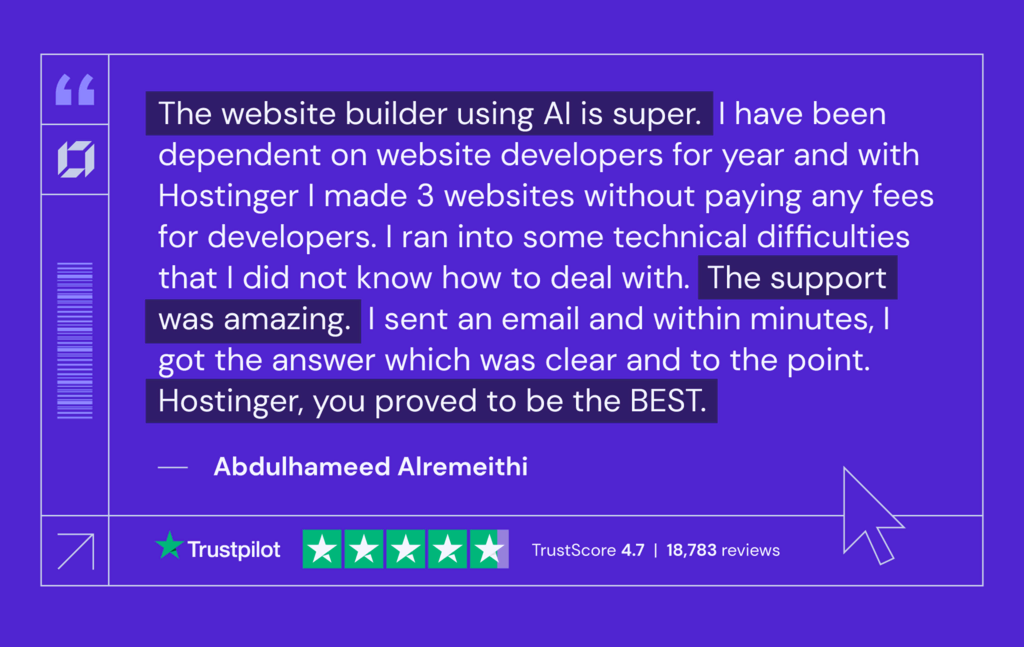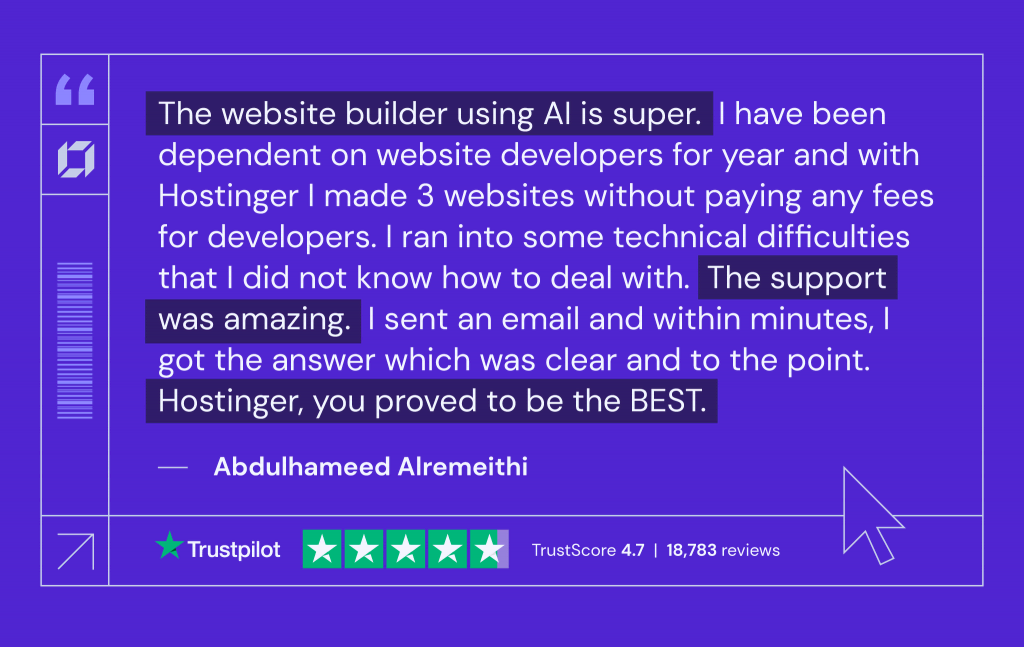 If you prefer a content management system (CMS) such as WordPress, we offer one of the best managed WordPress hosting on the market. Our WordPress hosting plans support Multisite and include features like a staging tool, a vulnerability scanner, and auto updates. We also provide a free WordPress migration service to ease the process.

Key Features:
Custom hosting control panel – our custom hPanel offers an intuitive graphical user interface and various features, enabling small businesses to easily manage their websites and hosting resources.
Robust security – all plans include built-in malware scanners, 24/7 server monitoring, DDoS protection, and a web application firewall.
WordPress toolkit – Hostinger lets users install WordPress with one click and also supports the WordPress command line interface (WP-CLI).
Powerful hosting – depending on the plan, small businesses can host up to 300 websites. Plus, all site owners get a 99.9% uptime guarantee.
Agency solutions – with Hostinger, you can sell hosting packages for agencies running multiple client websites.
Drawback:
No phone support – however, users can contact Hostinger's expert Customer Success team 24/7 via email or live chat in multiple languages.
2. TMD Hosting
TMD Hosting Stats:
Rating: 4.5/5
Best for: beginner business owners with minimal technical knowledge
Price: starts at $2.99/month
Storage: up to unlimited
Bandwidth: unlimited
TMD Hosting offers fully managed Linux and Windows shared hosting suitable for non-technical business owners. Its team handles application installation, website transfer, and database migration, simplifying the hosting setup process.
The shared hosting plans offer a free SSL certificate, domain, unlimited websites, custom email accounts, and the Weebly builder. They include security features like in-house server monitoring, firewalls, and reinforced DDoS protection.
TMD Hosting's plans also include a premium caching feature, free Cloudflare CDN, and multiple server locations to ensure optimal website speed. Moreover, it offers a 30-day money-back guarantee for all plans and third-party apps.
This hosting provider may not suit technical users since they can't access several features by default, like secure shell protocol (SSH) access and backup restoration. Small businesses must manually ask the customer support team to enable these features.
Restoring the backup is also complicated, as users must submit a ticket to customer service. In addition, Regular plan users must purchase the backup feature separately since it is not included.
Key Features:
Weebly integration – this platform offers a graphical user interface that helps users create a web page without coding.
SSH access on request – users can securely access and manage their server using a command line tool, but they must request this feature from the support team.
Fully managed – TMD Hosting's customer support team helps with various website management tasks, including installation, migration, and consultation.
Imunify360 – it provides a suite of web hosting security features for scanning malware, blocking potentially malicious connections, and patching flawed software.
Drawback:
Backup limitations – TMD Hosting only lets users create up to 30 backups and restore them via the customer support team.
3. Pressable
Pressable Stats:
Rating: 4.7/5
Best for: small business owners looking for cloud-based managed WordPress hosting
Price: starts at $15.83/month
Storage: customizable
Bandwidth: customizable
Pressable suits small business owners looking for scalable, secure, and high-performance WordPress web hosting services. It offers a cloud hosting plan with a 100% uptime guarantee and customizable resource allocation options.
Users can choose a plan based on the number of WordPress installations or projected visitors, starting at $15.83/month. They can also request a custom plan specifically tailored to their needs.
The Pressable WordPress hosting plan has a free CDN service and multiple data centers to ensure optimal website performance. In addition, it offers unmetered bandwidth and page views.
Pressable's web hosting services also apply security features such as the Jetpack security plugin. It also has WordPress hack recovery assistance to help you investigate and restore your website data in case of cyber attacks.
Unfortunately, this small business web hosting provider doesn't offer a free domain name. Its plans also only come with a free email hosting service for 90 days, shorter than most other providers which usually offer it for a one-year period.
Key Features:
Custom control panel – Pressable's hosting plans use a custom-made MyPressable control panel, which has a beginner-friendly graphical user interface.
Scalable hosting – users can increase their existing plans' resource limits anytime to scale up their website.
Jetpack security plugin – the pre-installed Jetpack plugin enables features like daily backups, malware protection, and security authentication for your website.
WooCommerce integration – Pressable's WordPress hosting service integrates with WooCommerce, enabling small businesses to create an eCommerce website.
Drawback:
Only cloud hosting – Pressable doesn't offer shared hosting, VPS hosting, or dedicated server solutions.
4. HostArmada
HostArmada Stats:
Rating: 4.6/5
Best for: budget-oriented business owners looking for a managed cloud hosting solution
Price: starts at $2.99/month
Storage: up to 40 GB
Bandwidth: up to 90 GB
For business owners looking for affordable cloud hosting, HostArmada is a great option. It splits cloud server resources for multiple users to create a cheap shared hosting plan with a high uptime guarantee.
In addition to its performance, the Cloud Shared Hosting service is fully managed, making it ideal for non-technical users. The web host will help you install, migrate, and update your site's applications, themes, or modules.
Moreover, HostArmada comes with 24/7 email, live chat, and phone support. In addition to troubleshooting and assistance, the team also offers website-building consultation services.
All the shared plans include a free SSL certificate, email accounts, web server caching features, and daily backups. However, they don't include a free domain name, but you can purchase one directly from HostArmada.
This web hosting site only provides up to 40 GB of storage and 90 GB of bandwidth, which are lower than other hosting providers. If you want more control and resources, HostArmada also offers dedicated hosting and virtual private servers.
Key Features:
Client dashboard – customers can manage all purchased HostArmada products, including web hosting and domains, through a single interface.
Solid security – this web hosting company applies comprehensive security measures for all plans, such as Imunify360, PHP hardening, and brute-force attack protection.
Fully managed – HostArmada regularly updates, monitors, and repairs customers' web hosting environment.
45-day money-back guarantee – all HostArmada's shared hosting packages are refundable within 45 days of purchase, offering a longer period than other web hosts.
Drawback:
High renewal price – HostArmada's Cloud Shared Hosting plans start at $2.99/month but renew at $9.95/month or more.
5. WPX
WPX Stats:
Rating: 4.3/5
Best for: business owners looking for managed WordPress hosting
Price: starts at $20.83/month
Storage: up to 60 GB
Bandwidth: up to unlimited
WPX offers a reliable web hosting service specifically designed for WordPress sites. It has three managed WordPress hosting packages, which include ongoing malware removal, down website recovery, and speed optimization services. This web host also has a customer service team that is available 24/7.
The plans provide a free SSL certificate, multiple websites support, and unlimited email accounts – but they lack a free domain name. However, WPX does offer website staging areas and a one-click WordPress installation to simplify website development tasks.
Other notable features include a high-speed custom CDN service, robust caching features, and multiple data center locations. Unfortunately, it has lower-than-average server memory and storage space. For example, its cheapest plan only provides 15 GB of storage, which may affect website speed during high traffic.
Moreover, WPX only offers unlimited bandwidth in the most expensive plan, costing $83.25/month. Your options are also limited since this web host doesn't offer other services like VPS hosting or dedicated servers.
Key Features:
Fast customer service – WPX claims its customer support team responds within 30 seconds on average via live chat.
Free optimization services – this hosting provider optimizes users' websites to improve performance and the Google Core Web Vitals score for free.
Custom CDN – The in-house XDN CDN service has over 20 endpoints to ensure your site performs well regardless of visitors' locations.
Advanced account security – users can configure their hosting access permissions on the hardware level to prevent misuse.
Drawback:
WordPress shared hosting only – WPX doesn't offer cloud, VPS, or dedicated hosting plans that support a different CMS or website builder platform.
6. Hostwinds
Hostwinds Stats:
Rating: 4.5/5
Best for: small businesses with high-traffic websites
Price: starts at $5.24/month
Storage: unlimited
Bandwidth: unlimited
Hostwinds is an excellent option for content-heavy business sites with high traffic. It offers a shared and business hosting plan with unlimited bandwidth, storage, and email accounts.
While both are similar, the business plan offers higher performance since fewer users share the same server resources. It also supports more PHP memory limits, enabling your site to serve more user requests.
Hostwinds uses the popular cPanel control panel, which offers a graphical user interface for easy website and hosting management. Moreover, users get unlimited file transfer protocol (FTP) accounts to upload and download website data.
All Hostwinds plans utilize SSL certificates and Internet Encryption Software to protect sensitive data like your customers' credit card numbers. They also implement Apache's SpamAssassin to protect small businesses from malicious emails.
Hostwinds integrates with Weebly and multiple CMSs, helping you to create a website without coding. It also has white-label reseller hosting that's suitable for managing client websites.
Key Features:
Dedicated IP – Hostwinds' shared and business plans offer a dedicated IP address. It helps secure file transfer and email deliverability to boost marketing efforts.
Softaculous integration – Softaculous lets users automatically install applications and scripts to their hosting account, improving website management efficiency.
24/7 support – Hostwinds offers 24/7 email, live chat, and phone support to help users troubleshoot issues.
Nightly backups – customers can schedule automated backups every night, which they can restore at any time.
Drawback:
No money-back guarantee – Hostwinds only allows cancellations and refund requests to be made within 72 hours of purchase.
7. iPage
iPage Stats:
Rating: 4/5
Best for: small eCommerce website owners looking for cheap hosting
Price: starts at $1.99/month
Storage: unlimited
Bandwidth: unlimited
iPage offers affordable web hosting services suitable for small eCommerce websites. The Go shared hosting plan includes a free SSL certificate and a one-year domain. It also supports unlimited websites and provides unlimited storage space.
This hosting provider has built-in online store features, including shopping carts and PayPal integration. It also supports WordPress, enabling you to quickly build an eCommerce site using plugins like WooCommerce.
iPage also offers two WordPress hosting plans, which come pre-installed with themes and plugins. However, the WordPress management service is sold separately, starting at $29/month.
Moreover, iPage only offers one shared hosting and two WordPress plans, with 12, 24, or 36-month subscription lengths. Despite the limited selection, it offers a 30-day money-back guarantee for all plans.
Key Features:
Email marketing integration – iPage hosting plans support various email marketing platforms to help grow your business.
Foundation control panel – the custom hosting control panel lets users manage their domains, hosting plans, accounts, and business profiles via a single dashboard.
Built-in web builder – all hosting plans include the Starter website builder. However, this free version lacks analytics integrations and eCommerce functionality.
Comprehensive email features – iPage plans support Webmail and Outlook for easy email management. This web host also offers Gmail and Microsoft 365 hosting.
Drawback:
No free migration service – users must manually download and upload their website files to switch hosting providers, which takes time and effort.
8. InterServer
Interserver Stats:
Rating: 4.3/5
Best for: small business owners migrating their websites or online stores
Price: starts at $2.50/month
Storage: unlimited
Bandwidth: unlimited
InterServer is a great choice for business owners wanting to migrate their websites. It offers a free migration service that helps you move website data, configure nameservers, and transfer domains with little to no downtime.
However, InterServer may not be ideal for users looking for an all-in-one solution due to the lack of a free domain name. That said, its hosting plans offer free weekly backups, Cloudflare CDN, and an SSL certificate.
The included CDN helps ensure optimal website speed, especially since InterServer's data center is centralized in the US. In addition, it uses SSD in RAID configuration for caching and storage.
InterServer supports various website development platforms, including content management systems, eCommerce solutions, and the SitePad website builder. It makes InterServer suitable for most business websites, including an online store.
However, the standard web hosting solution only has one plan. Users must purchase the Boost Web Hosting packages, which cost an additional $9.95/month at a minimum, for more server resources. Alternatively, this small business web hosting site offers VPS hosting.
Key Features:
eCommerce integrations – InterServer's web hosting plan integrates with various eCommerce solutions, including Magento, PrestaShop, WooCommerce, and OpenCart.
Inter-insurance – a free service that helps you restore website data, investigate hosting problems, and prevent potential issues.
InterShield Security – this hosting security suite blocks potentially malicious connections to the host server and regularly scans for viruses.
One-click installer – users can install over 400 applications using InterShield's one-click installer feature, including CMSs and online store platforms.
Drawback:
No free domain – users must purchase a domain separately from InterServer with an additional $7.99 registration fee.
9. Liquid Web
Liquid Web Stats:
Rating: 4/5
Best for: small business owners looking for managed CMS hosting
Price: starts at $19/mo
Storage: up to 800 GB
Bandwidth: up to 10 TB
Liquid Web offers a fully managed hosting solution for CMS-based websites. It means the provider handles CMS platform updates, bug patching, and security analysis, enabling users to focus on front-end development.
Liquid Web CMS web hosting solutions are also cloud-based. Unlike shared plans, cloud hosting provides users with isolated resources from multiple servers and a dedicated IP address, resulting in steady performance.
This web host offers various plans for WordPress, Magento, and WooCommerce. In addition, users can upgrade to VPS hosting or dedicated server hosting if they need more control and flexibility.
Despite the high price, all Liquid Web's plans have limited bandwidth and storage space. They also don't come with a free domain name but support unlimited email accounts and include an SSL certificate.
Liquid Web has multiple data centers in the US and Europe, which may impact your website performance for users in other continents. While this hosting provider offers a CDN service, it costs an additional $130/month at minimum.
Key Features:
Daily backups – Liquid Web includes automatic daily backups for all hosting plans, which are stored offsite for 30 days.
Developer tools – developers can use SSH, WP-CLI, and Git to simplify their website development tasks.
Built-in plugins – its CMS hosting solutions come pre-installed with various plugins, including Beaver Builder Lite, iThemes, and IconicWP for WooCommerce plans.
Cloud-based hosting – most Liquid Web hosting plans are cloud-based, offering better performance, stability, and uptime than shared hosting.
Drawback:
No shared plan – Liquid Web doesn't provide more affordable shared hosting services, so it may not be ideal for beginner business website owners.
10. ScalaHosting
ScalaHosting Stats:
Rating: 4.5/5
Best for: small businesses with web developers
Price: from $2.95/month
Storage: up to 100 GB
Bandwidth: unmetered
ScalaHosting is an excellent shared and cloud hosting provider for business owners looking for a developer-friendly solution. Both plans support features like SSH access, FTP, customizable PHP.ini, Git, and Cron Jobs that help simplify website development tasks.
All its web hosting packages include a free SSL certificate, domain name, and CDN service. While they offer unlimited websites, bandwidth, databases, and email accounts, the limited SSD storage may be insufficient for larger websites.
ScalaHosting's shared hosting plans provide SShield Security and Pro Spam Protection to safeguard users' sites. However, these features aren't available in the cheapest plan.
The shared hosting plans also lack speed optimization features like LiteSpeed web servers, the LiteSpeed caching plugin, HTTP/3 support, and NGINX website caching. Moreover, performance and resource guarantees are not included.
To get these additional features, users must purchase the $14.95/month shared cloud hosting plan.
Key Features:
Anytime money-back guarantee – customers will receive a full 30-day money-back guarantee or a partial refund after the 30-day period ends.
Free daily backup – users can regularly back up their website files, emails, and databases offsite and restore them anytime via the hosting control panel.
SPanel – this control panel lets the server admin easily manage hosted services, configure user permissions, and see web statistics. It is available in the cloud plan only.
Gzip compression – ScalaHosting enables GZIP compression by default in all hosting plans to minify your website files, resulting in quicker loading speed.
Drawback:
Limited storage – ScalaHosting's shared and cloud web hosting plans only offer up to 100 GB and 200 GB of storage, respectively.
How to Choose the Right Hosting Plan for My Small Business
Choosing the right small business hosting solution is important for establishing a high-performing site.
When starting a business, this can help build your online credibility and attract potential customers. Consider the following tips to choose the best web host and plan for your website needs.
Match Pricing with Budget
Since the web hosting service subscription fee will become part of your business' operational expense, pick one that fits your budget. Otherwise, it may result in a negative return on investment, impacting profits and harming your business in the long run.
To save costs, we recommend finding web hosts offering free bonuses, like a domain name and SSL certificate. For example, most of Hostinger's web hosting solutions include a free domain name worth $9.99, unlimited free SSL certificates, and regular backups.
Domain names purchased at Hostinger also include free WHOIS privacy protection for eligible top-level domains worth around $10-$20.
We also recommend choosing a longer subscription plan since it usually offers discounts and lower monthly fees. At Hostinger, the 48-month subscription period gives a three-month free bonus.
Also, consider whether the web hosting companies support different website builders or CMSs. For better scalability, select a provider like Hostinger that offers a no-code, AI-powered website builder option, as well as managed CMS hosting for more complex websites.


Consider Security Features
Security features are important to keep your business and customers' data safe. Several factors to consider when choosing from the best web hosting companies include:
Access management – your web hosting platform should allow you to change admin and user privileges to prevent unauthorized website modification.
SSL certificate – SSL encrypts data transmission between the host server and clients, keeping their confidential information safe.
Firewalls – web application firewalls monitor traffic between your site and the host server to filter potentially malicious requests.
Malware scanner – it will automatically scan your website and notify you about harmful or compromised files.
Server monitoring – your web hosting provider should monitor its network for suspicious activities and regularly improve the server to strengthen security.
Automated backups – automatic backup and restoration help ensure you have data copies in case of accidental deletion, misconfiguration, or cyber attacks.
Choose a web hosting provider that supports or includes these features by default, like Hostinger. Otherwise, you will need to purchase them separately, adding costs.
In addition, consider the host servers' security module. For example, Hostinger implements Suhosin PHP hardening to patch application flaws to help prevent cyber criminals from exploiting them.
Check Storage, Bandwidth, and Traffic Allowed
Depending on the provider and plan, each web hosting service offers different storage space, bandwidth allocation, and allowed traffic.
Check whether the host server has enough storage space to store your website data. If your small business site has many pages, assets, and files, choose a hosting plan with ample or unlimited storage space.
On average, a web page size is around 2 MB. Since a website commonly has around 12-30 pages, 100 GB of server storage is generally sufficient for an enterprise business site or standard online store.
At the same time, consider the bandwidth size and traffic allowed in your web hosting plan. Bandwidth is the amount of website data the host server can transmit to visitors. For example, you need 200 MB of bandwidth to load a 2 MB page to 100 users.
A website will crash if it exceeds the bandwidth limit, commonly during a traffic spike. To keep your website performing well, choose a web hosting plan with unlimited bandwidth.
We also recommend choosing a web hosting company offering a higher-performance cloud, VPS, or dedicated hosting plan for easy upgrades.
Also, select a web host with a free migration service and at least a 30-day money-back guarantee for seamless management and peace of mind.
Include Custom Email
Web hosts commonly let site owners create a professional email account with their branding as the domain name. Such emails often look like name@yourbusiness.com or support@yourbusiness.com.
Having a custom email is important for businesses as customers will immediately know the email is from a legitimate company, improving credibility. Moreover, it can help boost your email marketing strategies to improve conversions.
Find web hosts with a free email hosting service that supports many mailing accounts. For example, Hostinger's Business Web Hosting plan provides 100 free email accounts with a 1 GB mailbox limit.
In addition, consider the email hosting service's security measures. Choose one with spam protection and custom DomainKeys Identified Mail (DKIM) to help recipients ensure the email's legitimacy.
Conclusion
A reliable hosting service is important for your small business website to ensure optimal speed and uptime. A well-performing website is important for your business since it can help attract traffic, enhance your online presence, and drive conversions.
However, choosing the perfect host can be challenging due to the various web hosting providers and plans available. To help you make an informed decision, we have listed the 10 best web hosting services for small business websites. Our top picks are:
Hostinger – best small business website hosting company for performance-oriented small businesses.
TMD hosting – affordable managed shared hosting for new small businesses.
Pressable – suitable hosting for small businesses with growing WordPress websites.
HostArmada – beginner-friendly and affordable small business hosting with cloud technology.
WPX – fully managed WordPress hosting suitable for non-technical small business owners.
To pick the best web hosting service for small business sites, ensure it fits your budget and needs. In addition, consider its security features, storage space, bandwidth limits, and free bonuses like custom professional emails, SSL certificates, and domain names.
Best Web Hosting for Small Business FAQs
This section will answer some common questions about the best web hosting services for small business sites.