Andzelika V. & Noviantika G.
How to Choose a Domain Name That Will Stand Out + What to Avoid When Choosing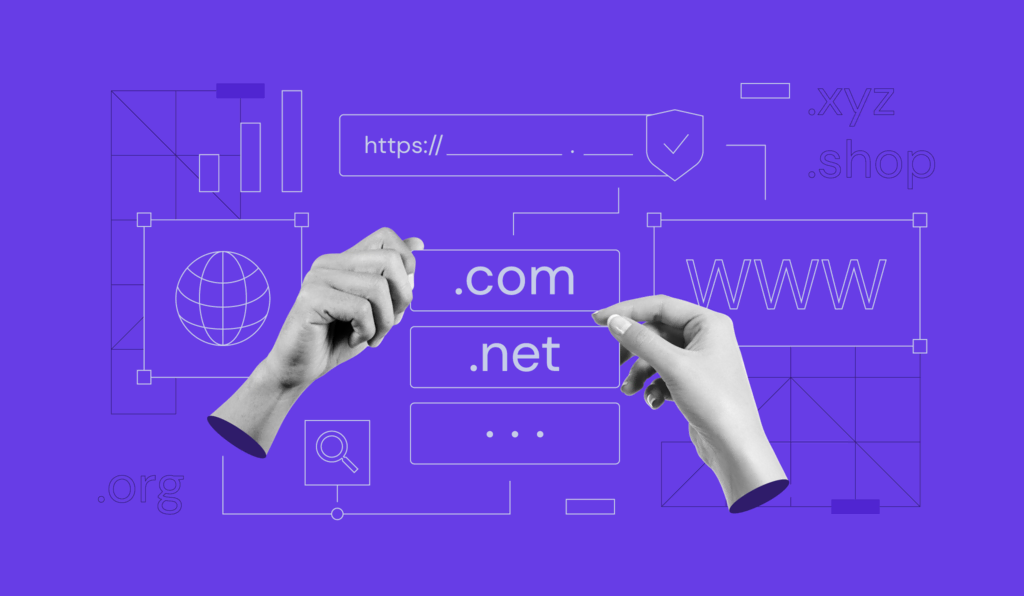 Choosing the right domain name helps you represent your brand's identity and attract more customers. However, with millions already registered, finding the best domain for your website can be challenging.
Fortunately, there are several guiding principles to help you select the right domain name and make your site more memorable.
In this article, we'll share 12 tips on how to choose a domain name that benefits your business. Moreover, we'll explain some crucial factors to consider when picking the best domain registrar.


Why Choosing the Right Domain Name Is Important
A good domain name can make your site more trustworthy and credible, helping you drive more traffic. Without further ado, let's go over why that is in more detail.
First Impression
Generally, a domain name is the first element visitors notice when accessing a website.
Therefore, it should be unique and easy to remember to make a lasting impression on visitors.
Consider picking meaningful terms related to your business niche to attract your target audience and help them memorize your domain name more easily.
Search Engine Optimization
While a domain name doesn't have a direct impact on your search engine optimization (SEO) performance, it can still improve it. This is because having a good website address can help to increase visitor interest and boost click-through rates (CTR).
To create an SEO-friendly domain name, make sure to include a relevant keyword to your business and avoid hyphens or numbers to make it more reader-friendly.
Branding
When creating the perfect domain for your site, remember to add the business name. Doing so will help you build a brand and increase its recognization.
A domain that includes the business name can improve brand recognition. Combined with the right TLD and keyword, your domain can be an effective marketing tool.
12 Tips for Choosing a Domain Name
In this section, we will share twelve tips on how to choose a good domain name, from selecting the right TLD to ensuring its brandability.
1. Choose the Right TLD
A top-level domain (TLD) is the rightmost part of your domain name that plays an important role. As .com, .org, and .net are the most popular generic TLDs, many consider them well-established, familiar, and credible extensions.
Here's a brief overview of them:
.com – as it refers to the commercial, it is commonly associated with businesses. For example, Hostinger.com and Amazon.com.
.org – stands for an organization. It is generally used by nonprofit entities like WWF.org and Charitywater.org.
.net – short for a network. It was initially used to indicate networking technologies, but this TLD is now associated with any business type. For example, Speedtest.net.
Thus, sticking with either .com, .org, or .net is a safe bet. By using these popular domain extensions, your website can get a positive perception from people, increasing its CTR.
Alternatively, you can opt for other website extensions, such as .io, .shop, and .store, that are becoming increasingly popular. These are excellent options for those wanting to create a unique domain name.
There are also country-code TLDs (ccTLDs), like .co.uk or .us, which are suitable for targeting local audiences. Many multinational companies use them when localizing their content.
Some ccTLDs also make a good alternative to generic domains. TLDs like .io, .ai or .cc got so popular that they are no longer associated with specific countries or territories. For example, originally assigned as Cocos Islands' ccTLD, the .cc domain has grown to be a .com alternative. It is used for different personal and professional websites today.
Domain Name Checker
Instantly check domain name availability.
2. Make It Simple to Spell and Short
Word-of-mouth marketing can only expand your business if the domain name is easy to spell and pronounce. Otherwise, sharing the website address with potential customers will be difficult.
Many companies use only four letters for their business domain names. Some common examples include Meta, Zara, and Nike. Alternatively, use easy-to-remember, two-word phrases like TravelInsurance.com or BestBuy.com.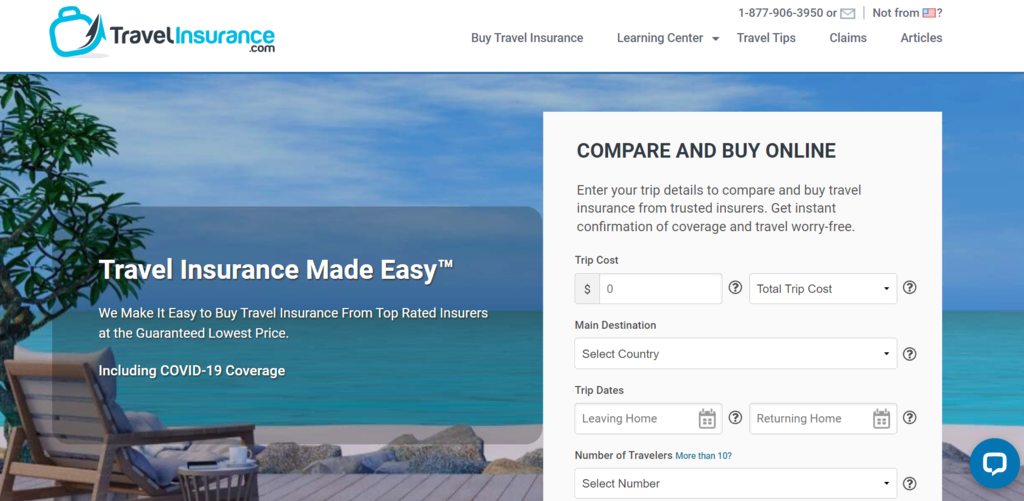 Remember that an ideal domain name should be under 15 characters so that people could easily remember it. Longer domain names are more vulnerable to typos, misspellings, and autocorrect in mobile devices, which can lead to traffic loss.
3. Avoid Using Doubled Letters, Numbers, and Characters
If your desired name is taken, adding numbers or hyphens may seem like a great way to get your perfect domain name. However, doing so can make your web address difficult to memorize and type. This makes it harder to market your website via word-of-mouth.
The same applies to double letters, like PressSetup.com, which can be confusing for most people to type correctly. As a result, your visitors might get frustrated and move on to a competitor's site.
4. Watch Out For Trademarks
Before selecting a domain name, it is crucial to conduct research. Ensure not to use existing brand names, trademarks, or similar domain names. Doing so can confuse potential customers and lead to legal issues, harming the brand's reputation.
Moreover, most registrars won't allow you to purchase it and will reject the request instead. To check the trademark's status, go to the Trademark Electronic Search System (TESS). Besides the business name, other elements that can be trademarked include a product name, a logo, a symbol, and product packaging.
Remember that registering a trademark can cost you between $250–$750, depending on the number of brands and the product or service category you want to register. Additionally, it's possible to use Google search and check for the name's availability on social media platforms.
5. Implement Targeted Keywords
Using relevant keywords helps visitors find your website and understand its purpose quickly. It is also beneficial for search engines to determine page rankings since keyword-rich domains can partially match search queries.
The keywords should sound natural and be targeted toward your website niche. For example, if you have an online clothing store, incorporate the words fashion or style in the domain name.
Google provides a Keyword Planner to help site owners conduct keyword research and select the perfect terms for their domains. This free tool will find phrases related to your business, estimate their search volume, and provide performance insights.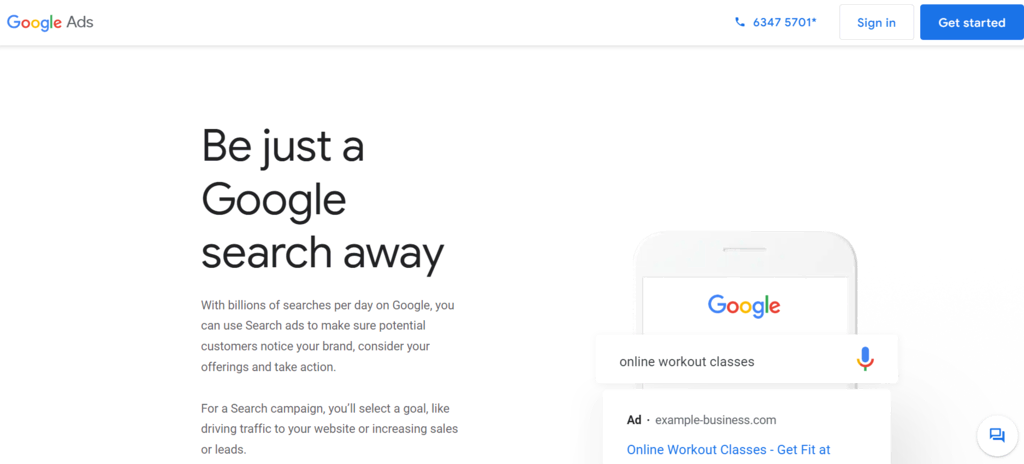 6. Balance Creativity and Availability
Since many domain names with popular keywords have already been taken, you'll need to be creative. This includes finding the perfect TLD for your site.
For example, if you want to start a travel blog, consider using traveltoeuropewith.us instead of traveltoeurope.com. In this case, the first option is more engaging and might have higher availability than the .com TLD.
Many ccTLDs are used as domain hacks because of their various options and high availability. Here are some popular country-code domain extensions for your inspiration:
.me – refers to the Montenegro country code commonly used for personal websites and actionable brand names, such as Bakingwith.me or Call.me.
.ai – a country code extension for Anguilla, which is perfect for IT companies. Some domain name examples include DeepLearning.ai, Jasper.ai, and Uber.ai.
.io – a ccTLD of British Indian Ocean Territory widely used by tech and start-up companies. Some popular examples include Swipe.io, Canon.io, and Fluent.io.
7. Make It Brandable
Brandable domain names are creative, unique, and catchy. They can help make your website stand out, gain recognition, and drive more traffic.
It can be a combination of words or have no specific meaning. Take Google, YouTube, and Uber as examples. Although they don't mean anything, these phrases became some of the most brandable domain names.
Conduct some competitor research in your business niche to ensure the domain name you buy can attract the target audience. Plus, consider following these tips for finding good brandable domain names:
Create a new word. Make up a new catchy word that doesn't exist. This will not only attract your target audience, but also it may cost more affordable than non-brandable domains.
Utilize existing words. Find interesting phrases that fit your website's branding. You can also combine your new word with an existing one.
Use domain name generators. It will help brainstorm to find relevant keywords.
8. Research Social Media Possibilities
Using the same name for the domain and social media profiles is ideal when building a brand. Doing so creates familiarity and makes it easier for visitors to find the company across different platforms. Linking social accounts to your website is another important step in enhancing customer engagement.
Therefore, when choosing a domain name, check if it is available on popular networking sites like Facebook, Instagram, and Twitter. If not, create a name variation by adding "official" at the end of the social handle.
We recommend using social and domain name availability checkers, such as Namecheckr and Namechk. These tools also provide trademark information so you can avoid copyright infringement.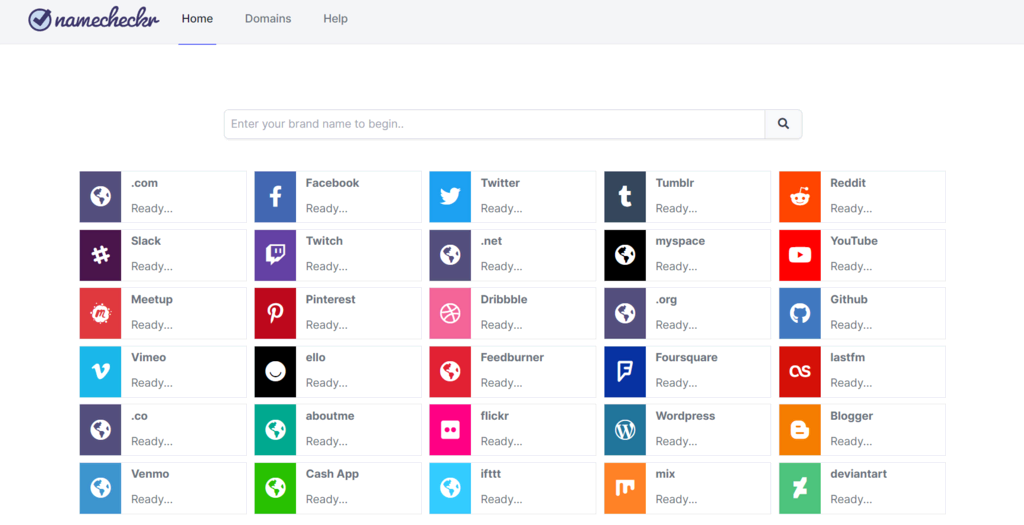 9. Check the Domain's History
Before registering your desired domain name, check its history. Doing so has several benefits, such as:
Competitive research – the history may include information on whether the domain was used for a website related to your niche. If so, registering it may help your SEO strategy.
Security – checking a domain's history helps identify past cyber attacks.
Potential branding issues – find out whether the previous website owner ran an unethical business in order to avoid purchasing a domain with a poor reputation.
SEO value – ensure the domain name has a clean history with search engines to avoid harming your digital marketing efforts. Any domains that use black hat SEO will get a Google penalty.
We recommend utilizing online tools like Wayback Machine, WhoISrequest, and DomainTools to investigate the domain ownership history. These sites will provide a report showing information such as previous DNS records, nameserver or IP address changes, and website screenshots.
10. Use a Domain Name Generator
Finding the perfect domain name can be time-consuming. In many cases, the desired terms are already registered or trademarked. For that reason, using domain name generators is an excellent solution to finding great domain name ideas and alternatives.
Many of these tools are available, including the Hostinger Domain Checker, Looka, DomainTyper, and Nameboy.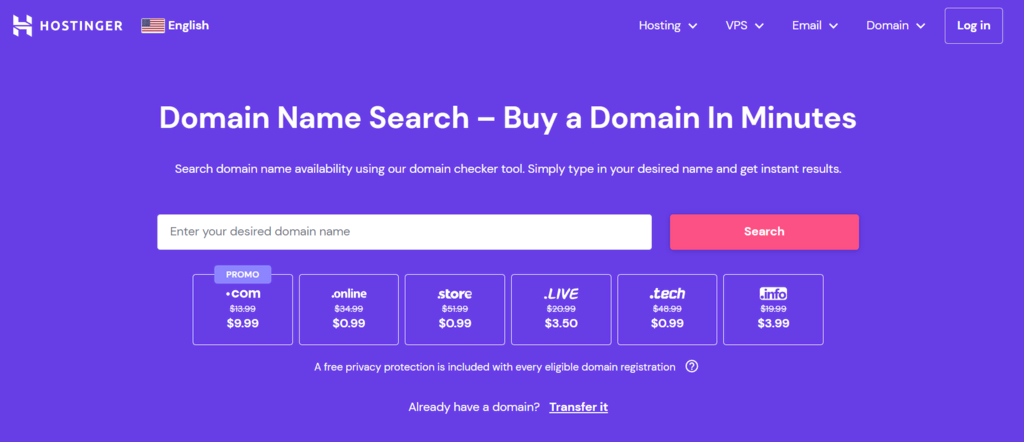 To utilize the tool, type a few keywords of interest in the search tab. The domain name generator will provide an extensive list of suitable options with various TLDs. Some tools may also offer recently expired premium domain names available for registration.
11. Make It Relevant to the Site Content
When choosing domain names, ensure they are relevant to the site content. This way, the target audiences can quickly capture whether your site benefits them.
For example, if your site content focuses on Asian food recipes, BestAsianRecipes.com can be a good website name. This way, people will know what your content is about without visiting the website.
Moreover, combine the potential domain name with the right TLD to enhance your brand identity. Choose a domain extension that matches your industry or site's type, whether .store, .info, or .tech.
12. Purchase the Domain in Advance
Buy a domain name immediately, even if you don't have a website yet. That's because around 33.000 new domains are registered daily, meaning your desired domain might not be available for too long.
Besides that, domain name prices can increase over time depending on the keyword's popularity, the extensions, and the registrars.
Some domain registrars also offer discounts for selected premium domains which can be a good opportunity to get an affordable domain name. However, remember to act quickly to save available domains.
How to Choose the Best Domain Registrar
After choosing the perfect domain name for your website, register it through a domain registrar. To do that, make sure to find a platform accredited by the Internet Corporation for Assigned Names and Numbers (ICANN).
Here are five tips to consider when choosing the best domain registrars.
Check the Pricing
Prices can vary depending on the domain extension and subscription period. For example, at Hostinger, you can buy cheap domain names like .online for $0.99/year or popular ones like .com for $9.99/year.
To find the most affordable domain name and TLD, compare prices from different registrars. At times, domain costs may differ because some web hosting companies add additional charges, such as service or processing fees.
On top of that, find out if the initial and renewal prices vary.
We recommend choosing web hosts that help you save money by offering discounts when you purchase a domain name for longer than a year. Some hosts even offer free domain names as part of their bundles, helping you start your online journey without the added expense of a domain.
Examine the Expiration Policy
The expiration policy may differ depending on the domain extension and registrar. Ensure your company offers a grace period, so you can renew the domain even after it expires.
In addition, check whether the web host offers an auto-renew option. It's a helpful feature if you don't have time to monitor the domain expiration date or if you run multiple websites. When enabled, the system will deduct the billed amount directly from your chosen payment method.
Look For Domain Privacy Protection
When you purchase a new domain name, the registrar will ask for your personal information to verify the registration. The data will then be uploaded to the WHOIS database and become accessible to the public.
Having your personal details published online can raise security concerns. To conceal it, we recommend enabling domain privacy protection. It replaces domain owners' information on the public WHOIS database with an anonymous proxy identity.
Find a hosting provider with a domain privacy protection service to secure your chosen domain. Note that some companies may charge an additional fee for it.
Check if Domain Transfers Are Available
Lastly, check the registrar's transfer policy. Depending on the provider and domain name extension, domain transfers might be available for free or at an extra charge.
Keep in mind that ICANN implements a 60-day lock whenever you update the DNS records. Therefore, the domain name transfer option will only be available on the 61st day. This regulation exists to prevent domain theft and fraud.
Research Customer Support Availability
Dedicated customer support is one of the most important factors when picking a reliable registrar.
Select a registrar that offers 24/7 live technical support so that you can ask for help anytime. Also, ensure that customer support is fast to respond and easy to reach, whether via call, live chat, or email.
Conclusion
Choosing a strong domain name is crucial for attracting more visitors, increasing your position on search engines, and improving brand awareness. Therefore, site owners need to strategize and plan carefully before purchasing one.
Here are the 12 essential tips on how to pick a domain name:
Choose the right domain extension.
Keep your new domain simple and short.
Use letters only.
Be careful with a trademark name.
Incorporate keywords.
Implement domain hacks.
Create a brandable domain name.
Ensure the name is available on social media platforms.
Run a domain history check.
Utilize a domain name generator to get more ideas.
Choose a domain that is relevant to the site content.
Register the domain name in advance.
Once you've decided on the domain name, look for a trustworthy registrar by checking its pricing, expiration policy, WHOIS privacy protection, domain transfer options, and customer support availability.
We hope this article has helped you choose a good domain name. If you have any questions or suggestions, don't hesitate to leave them in the comment section below.


How to Choose a Domain Name FAQ
In this section, we'll answer a few common questions related to choosing a domain name.
Can I Change My Domain Name Once It's Registered?
No. You can't change your domain name after registration, except if the domain is refundable and not activated yet. Otherwise, you'll need to delete the domain name and purchase a new one.
Can I Register a Domain Name With Special Characters or Spaces?
No. Domain names can only use letters, numbers, and hyphens. Moreover, you won't be able to use underscore symbols and capital letters for naming domains
Are There Any SEO Benefits to Purchasing a Previously Owned Domain?
Generally, it will depend on the domain history. If the domain has good popularity and reputation, you can have some SEO benefits, such as establishing site authority and building backlinks to your website.