What Is WordPress, How It Works, and How to Start Using It – A Beginner's Guide
WordPress is the leading website creation tool worldwide, powering over half of the web's content. This open-source content management system (CMS) is versatile and easy to use, making it an ideal choice for users of all skill levels.
However, with numerous website-building platforms available, including simple website builders, newcomers might need help deciding whether to use WordPress or other solutions.
If you want to learn WordPress, this article will help you get started. We'll delve into what is WordPress and what makes it popular. Plus, we'll briefly discuss how to utilize it – from securing a managed WordPress hosting account and a domain name to installing themes and plugins.

Matt Mullenweg and Mike Little introduced WordPress in 2003, building upon the foundation of a previous project. Under the GNU General Public License, they created a platform where users can freely use, modify, and distribute the WordPress software and its derivatives.
Today, WordPress powers 63.1% of all websites built on a CMS or 43.1% of all sites on the internet. Its popularity is a testament to its simplicity, versatility, and strong global community. With its wide array of WordPress themes and plugins, this platform is ideal for launching a personal project or an online business.
What Is WordPress: Video Explanation
Check out our Hostinger Academy video on what is WordPress:
What Types of Websites Is WordPress Good For?
Many people use WordPress to create various types of websites, such as:
Personal blogs. Since WordPress started as a blogging platform, it has powerful built-in features to write blog posts, categorize content, and review comments. The user-friendly interface also makes managing a WordPress blog easy.
Portfolios. Freelancers and creatives can showcase their work with a WordPress site using a portfolio theme and a gallery plugin.
Business websites. WordPress supports essential business features like contact forms, appointment bookings, and customer testimonials – useful for an enterprise or small business website.
Online stores. Plugins like WooCommerce can convert WordPress into a full eCommerce platform – with tools like product listings, shopping carts, and secure payment processing.
Membership websites. WordPress's built-in user management features and specialized plugins can facilitate paywalls, subscription models, and member directories.
News websites. The website platform supports intuitive publishing, easy content editing, and efficient user role assignment – ideal for news delivery.
Charity websites. WordPress offers ways to integrate donation buttons, event calendars, and volunteer management systems – perfect for non-profit foundations.
Forums. WordPress forum plugins enable you to set topic discussions, add user profiles, and boost engagement to foster a strong online community.
Online courses. Learning management system (LMS) plugins offer course creation, student tracking, and integrated payment systems.
Accommodation websites. WordPress makes it easy to run hotels and vacation rentals. Many plugins can streamline hospitality operations, including reservations, room inventories, pricing, and guest communications.
Event websites. Various plugins aid in creating event listings, selling tickets, promoting sponsors, and providing interactive venue maps. Social media integrations further help publicize events.
Job boards. HR professionals can create a company career page using job board plugins. They can help manage job listings, applications, and candidate profiles.
Why Use WordPress?
With so many website builders on the market, you may wonder what makes WordPress different. Here's why millions of site owners use WordPress:
Easy to Use
With WordPress, users can create their own website without code. The admin panel is intuitive, letting you easily manage content, media, appearance, and plugins.
To create pages or posts, WordPress users can leverage the Gutenberg editor. It uses a block-based drag-and-drop system, offering a visual and beginner-friendly way to edit content. You can stack and move elements like text, images, and videos on the intuitive interface.
Easy Setup
To use a CMS, you generally need to download and upload the software to a compatible web server. Most web hosts today support PHP and MySQL, which are fundamental requirements to run WordPress.
At Hostinger, we offer a tool to install WordPress in one click via hPanel. This way, you can get your website up and running without worrying about manual installation.
Open-Source
Being open-source software, WordPress encourages global collaboration and innovation. This system allows for advanced customizability, where developers can modify core WordPress files, themes, and plugins to tailor sites to their needs.
Many community-developed products have emerged as a result, enriching the ecosystem with diverse options and tools. The open-source model also allows for regular updates to enhance security and functionality.
Highly Customizable
Customizability is one of the most notable advantages of using WordPress. With thousands of WordPress themes in the official directory, you can tailor your website design to match your brand and feature preferences.
Plus, whether you're creating small websites or large eCommerce stores, there are WordPress plugins to support your needs. Add features like contact forms, galleries, Google Analytics integration, and payment gateways in just a few clicks.
Cost-Effective
Many choose WordPress for its affordability. The core software costs no money to download, and many free WordPress plugins and themes are available. This makes it feasible to create a business website without paying a hefty monthly fee.
While you still need to pay for web hosting, many providers offer cost-effective plans. For instance, Hostinger's subscription prices start at RM9.99/month, which includes a free domain name and a free theme developed by our team.

Full Ownership of Your Site
WordPress gives users full control over their website – from its content and design to its functionality. Make any changes you want without any platform limitations.
Furthermore, there are no restrictions on monetizing your site, letting you implement various methods to make money online. You can display ads, become an affiliate, and even sell products or services.
SEO-Friendly
A WordPress website offers a solid ground for search engine optimization (SEO). The software has built-in features that enable effective on-page optimization, such as clean permalink structures, easy content creation, and alt texts.
SEO plugins can also help enhance the site's visibility on search engines like Google.
Scalable
The self-hosted WordPress platform gives users a highly scalable environment for their websites. You can choose any hosting provider and plan that suits your current needs best.
If you outgrow your web hosting resources, upgrade your plan or switch to a different web host. This flexibility ensures your WordPress website can grow and evolve as your business or audience expands.
At Hostinger, we offer a free website migration service at no extra cost, so you can safely transfer your WordPress website to our hosting without impacting the user experience.
Active WordPress Community
With millions of people using WordPress worldwide, you can find tons of online resources offering solutions to various issues. This makes up for the software's lack of direct support, which can be essential for beginners.
Hostinger Tutorials is a good example. We offer hundreds of guides for using WordPress, from setting up your first website to optimizing your site's performance.
If you're more of a visual learner, check out our Hostinger Academy YouTube channel.
Multilingual
The WordPress admin panel is available in over 70 languages, allowing users from different regions to use the platform in their native tongue.
If your website caters to an international audience, plenty of paid and free WordPress plugins exist for creating multilingual content.
Common WordPress Issues to Be Aware Of
WordPress presents many benefits for new and experienced users. However, to make the most out of this open-source software, it's good to pay attention to the following:
Security Concerns
The WordPress software is inherently secure. Its global security team and network of contributors work continuously to resolve security issues in this website platform.
However, since WordPress is open-source, users are responsible for upholding their own website security. Poor practices like weak passwords and outdated WordPress versions can expose a site to risks and vulnerabilities.
Securing a WordPress website starts with choosing the right hosting provider.
Hostinger's WordPress hosting plans include proactive security measures – like a robust web application firewall, a malware scanner, and automatic software updates. Plus, our vulnerability checker ensures that all plugins and themes are always up-to-date.
Third-Party Features
WordPress has a large ecosystem of themes and plugins. Unfortunately, not all follow best coding practices, which can lead to performance and security issues.
Whether using a free or premium plugin and theme, review its description and customer feedback for safety. Additionally, avoid nulled versions of paid extensions, as they can introduce security risks and often miss essential updates.
Hostinger offers pre-selected, reputable WordPress themes and plugins that can be set up during the software installation. To start a WordPress blog, check out our free and AI-powered custom theme.
Page Load Time
Factors like excessive plugins, large image files, and unoptimized code can slow down WordPress sites. That's why optimizing these elements is important to maintain fast performance.
Additionally, using a speedy hosting service is crucial. Hostinger powers all WordPress websites with LiteSpeed, one of the industry-leading web servers on the market.
Clients can also activate the LiteSpeed Cache plugin to speed up their site's content delivery and reduce load times.
Differences Between WordPress.org and WordPress.com
It's crucial to note that WordPress comes in two versions – WordPress.org and WordPress.com. Although they share the same name, their functionalities and usage are distinct.
WordPress.org
This version is known as the self-hosted WordPress. It's free to download and gives users full control over their own website – including installing any WordPress theme or plugin from the directory.
To use WordPress.org, you must purchase web hosting and your own domain name.
WordPress.com
WordPress.com is a website builder based on WordPress software. It has its own hosting service, making it a suitable choice if you don't want the freedom to handle and optimize your website's back end.
Free WordPress plans are available, but they are quite limited. They display WordPress.com ads, have a limited range of themes, and don't permit plugins. Upgraded subscription plans offer more freedom but for a monthly fee.
Check out the table below for more information about the difference between WordPress.org and WordPress.com:
What Are WordPress Themes?
WordPress themes are pre-designed templates enabling users to customize their web design without code. They determine your website's aesthetic appeal – from its color scheme and typography to the placement of blog posts or products.
The official directory has over 11,000 free themes to suit various needs, like a WordPress blog, an online store, and a corporate website.
Alternatively, look for premium themes on marketplaces like ThemeForest. These usually come with more advanced features and dedicated support should you need help using them.
Astra is a great starter WordPress theme for a new site. It has a modern and lightweight design with excellent performance. Check out our list of the best free WordPress themes for more recommendations.
What Are WordPress Plugins?
WordPress plugins are extensions you can install to add specific functionalities to your website. Some usage examples include enhancing performance, integrating a third-party service like Google Analytics, or adding a contact form on your WordPress site.
The WordPress directory has over 59,000 free plugins. If you need advanced tools, some marketplaces like CodeCanyon sell premium plugins.
For WordPress website optimization, check out AIOSEO. It has powerful features like a site audit and page analysis tool to improve your content.
Head to our list of must-have WordPress plugins to discover more essential tools for your site.
What Websites Use WordPress?
WordPress powers millions of websites. Let's take a look at some popular examples and see what best design practices we can learn from each one:
This WordPress blog is well-known for its simple and easy-to-follow recipes. With tons of dishes in its collection, it uses the CMS's taxonomy system to categorize its blog posts.
Every recipe gets tagged based on the food type and ingredients. If users want to find a similar dish, they can simply click on a tag to see all the related posts.
It also uses the WP Tasty WordPress plugin, which makes its recipe cards interactive and visually appealing. Plus, it has schema markup functionality – when the blog post appears on search engines, it will have rich snippets that show the recipe's cooking time and rating.
Next on the list of popular WordPress sites is Vogue. This American fashion and lifestyle magazine uses the platform to publish its latest stories and celebrity videos – demonstrating WordPress's capability to handle multimedia content.
Despite having multiple types of content, the minimal WordPress theme makes the website look clean and uncluttered. As a result, visitors can focus on the vibrant photographs.
The sticky menu makes navigating this WordPress site easy – there's no need to scroll up to go to a different page. Vogue subscribers can also save articles for future reading.
The White House is one of the most well-known WordPress websites. It's an excellent example of prioritizing user-friendliness and accessibility in web design.
To help users find the right information, the website features a navigation bar that directs them to the most popular topics. There is also a search feature to look for other resources, ensuring easy access to information.
Additionally, the WordPress site is available in Spanish, catering to a broader audience and ensuring inclusivity. Users with disabilities can also turn on the high contrast mode or enlarge the text for the best browsing experience.
Mark Manson's website is a great illustration of WordPress' flexibility. It started as a blog where the best-selling author could share his thoughts on personal development and social issues.
Today, the WordPress site has expanded to other types of content, such as paid video courses on relationships and personal values. Each comes with additional resources like a PDF workbook, premium articles, and audio commentaries.
If you want to do the same on your WordPress website, you can use a membership plugin to manage subscribers, restrict content, and set up payment gateways.
Known as the original water bottle company, Nalgene uses WordPress and WooCommerce to run its online store. This website shows the plugin's ability to provide an intuitive and efficient shopping experience.
The product page is full of helpful information, like high-quality product photos, a summary of the key features, and customer reviews. With the WooCommerce Variation Swatches and Photos add-on, users can easily visualize different color options and choose their desired product variant.
To increase sales, the WordPress website uses a Frequently Bought Together feature to recommend items that complement each other. This encourages customers to explore more of their offerings, improving their shopping cart value and customer satisfaction.
How Do I Start Using WordPress?
With its intuitive interface, online resources, and dedicated community, WordPress makes it easy for new users to get started. Here are step-by-step instructions on how to use WordPress:
1. Buy Web Hosting and a Custom Domain Name
The first step is to buy a domain name and a hosting plan. A domain functions as your website's address online, whereas web hosting is responsible for storing your website files.
Hostinger's managed WordPress hosting plans come with a free domain name, with .com domains available. You can also transfer your own domain to our system if you already have one.
For a small business website, we recommend checking out the Business plan. It costs RM16.99/month and has WordPress-optimized features, including Multisite support, a staging tool, and an AI content generator to write blog posts.
Check out our guide on choosing a web hosting plan for more assistance.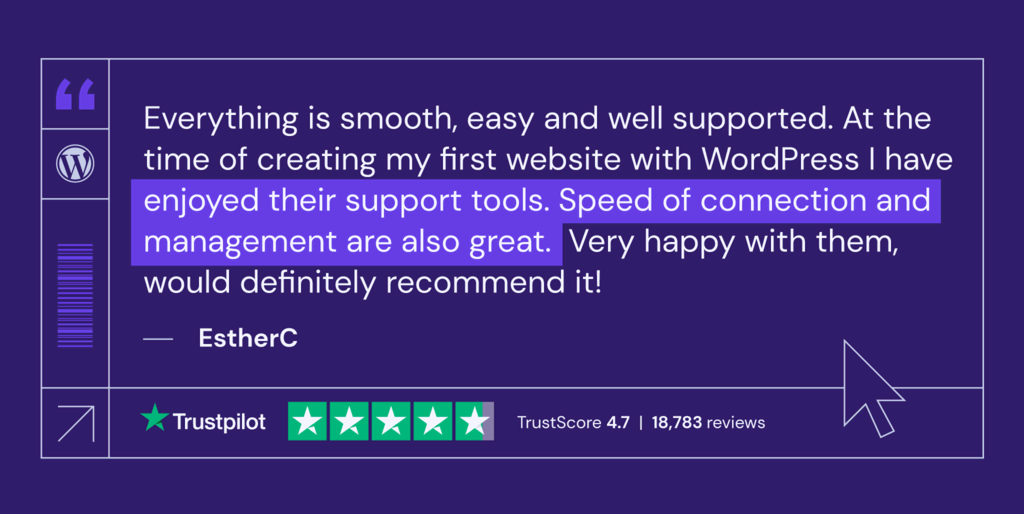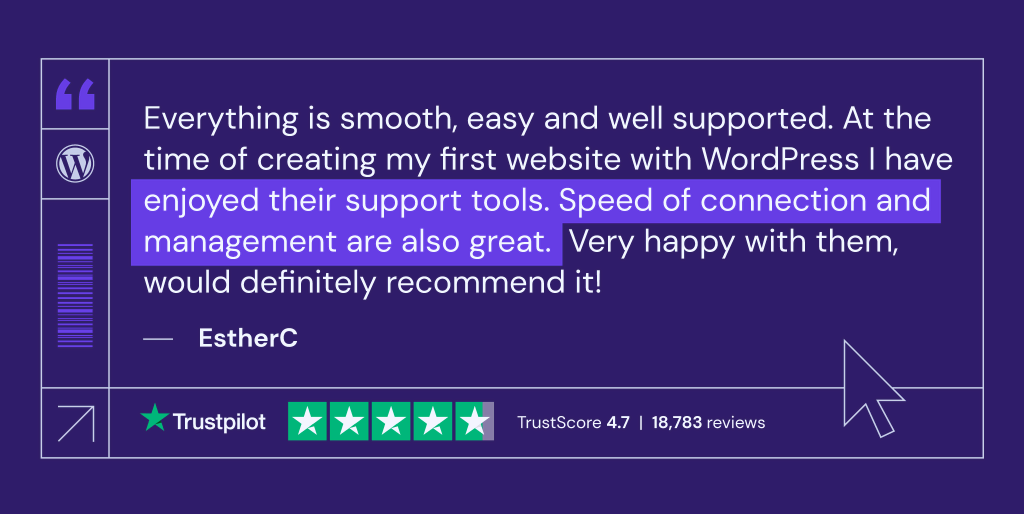 2. Install WordPress
Users can install the WordPress software with their web host's automatic installer or manually. For Hostinger clients, simply follow the onboarding process after signing up for a web hosting account.
Create your WordPress login details and connect your custom domain to the site. In the meantime, we'll initiate the installation process for the WordPress app in the background.
Once done, you can log in to the WordPress dashboard and start building your website.
3. Set Up Your WordPress Theme
After installing WordPress, the next step is to select a WordPress theme for your new site.
WordPress publishes a new default theme every year, but you can also choose from thousands of free and premium themes available online.
Users can install WordPress themes from the official directory directly from their dashboard by navigating to Appearance → Themes → Add New. For premium themes, upload the ZIP files manually.
Once the installation is successful, make sure to Activate the theme to start using it.
4. Install Plugins to Your WordPress Website
Now, let's install WordPress plugins to your website. If you want to use a free plugin from the official directory, the easiest way to set it up is to go to Plugins → Add New. Then, utilize the search bar to find the right extension for your needs.
Similar to WordPress themes, you'll need to activate the plugin once it's installed. Those who have purchased a premium plugin can upload its ZIP files directly to the WordPress software.
5. Create Pages for Your WordPress Site
With WordPress plugins and themes installed, it's time to set up some pages. On your dashboard, navigate to Pages → Add New. From there, you will arrive at the Gutenberg editor, where you can add content blocks like images, text, videos, and embeds.
For beginners, consider using Block Patterns, which are pre-designed layouts made by WordPress and its contributors. Instead of dragging and dropping individual blocks to build your website content, you can use a Pattern to speed up the process.
Once done, hit the Publish button. Repeat this process to create as many pages as your WordPress website needs.
If you're starting a WordPress blog, the steps to create blog posts are similar. Go to Posts → Add New to access the Gutenberg editor.
6. Promote Your WordPress Website
Now that you have published a WordPress site, let's promote it on various digital marketing channels. Start by sharing your own website's URL with friends and family or posting it on social media.
To drive traffic from search engines, consider learning WordPress SEO best practices. Our tutorial will walk you through the fundamentals, from keyword research and internal linking to utilizing Google Analytics to track performance.
Conclusion
WordPress is a content management system built to help users create websites without code. It can power various sites, including blogs, online stores, business websites, and membership platforms.
WordPress is free, easy to use, and backed by a strong community. Moreover, the large collection of themes and plugins makes the tool highly versatile.
There are two versions of WordPress – the self-hosted WordPress.org and hosted WordPress.com. The former is open-source software, while the latter is a freemium website builder.
If you want to use WordPress, purchase a hosting plan and a domain name first. Hostinger's managed WordPress hosting plans have everything you need to build a WordPress website. Our library of tutorials also offers easy-to-follow guides to help you get started.

What Is WordPress FAQ
If you still have questions about what is WordPress, check out our FAQ section below.