How to Log In to WordPress via hPanel, Login URL, Subdirectory, and Subdomain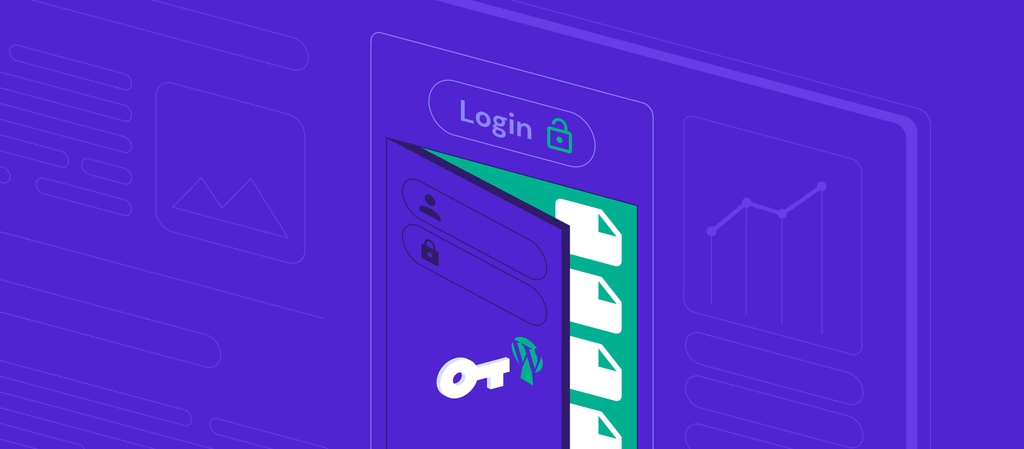 WordPress offers an intuitive dashboard to help users easily manage their website content and settings. Unfortunately, certain issues may prevent them from logging in to WordPress due to forgotten passwords, database connection errors, or incorrect login URLs.
If that's your case, this article will provide several ways to log in to WordPress and troubleshoot common login issues. We will also show you how to customize the WordPress login screen and store its credentials safely.

How to Access and Use the WordPress Dashboard – Video Tutorial
Find out how to access and use your WordPress dashboard by watching our video tutorial: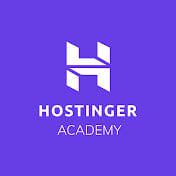 Subscribe For more educational videos!
Hostinger Academy
Subscribe
How to Log in to WordPress
There are multiple ways to access the WordPress dashboard. For Hostinger users, the easiest way is through hPanel. Other common WordPress login methods include using a direct URL, subdirectory, or subdomain.
How to Access the WordPress Dashboard Through hPanel
Most hosting companies offer a control panel that helps users perform website management tasks, such as logging in to WordPress.
To get started, purchase a WordPress hosting plan from a reliable hosting provider.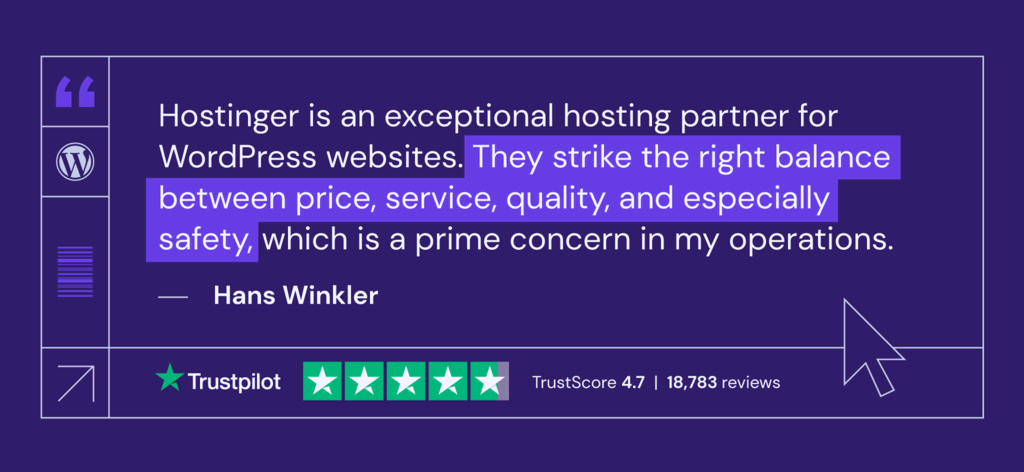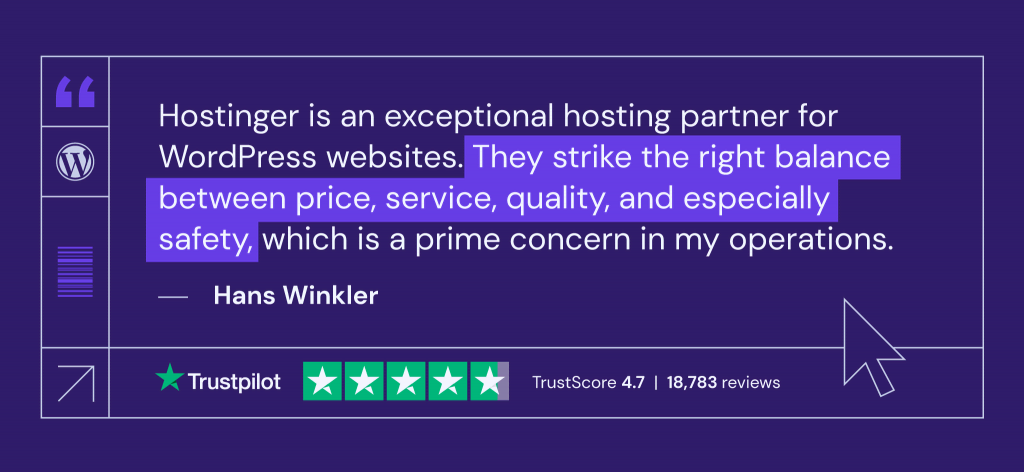 Once you have your hosting account ready, install WordPress.
If you're on Hostinger, access your WordPress account via hPanel:
Head to Hosting → Manage.
If you haven't installed WordPress, go to Website → Auto Installer, and click Select under WordPress.
Select Dashboard on the left navigation bar.
Click Edit website on the upper right side of the screen. The WordPress dashboard will open in a new tab.


How to Log in to WordPress via a Direct Link
One of the most straightforward ways to access the WordPress site directly is through a login URL. This method requires the login credentials you've set up during the WordPress installation.
Here's how to access the WordPress dashboard using a direct link:
Head to your web browser's address bar and enter one of the following URLs:
www.yourdomain.com/wp-admin
www.yourdomain.com/wp-login.php
www.yourdomain.com/admin
www.yourdomain.com/login
Once the WordPress login page appears, enter your Username or Email Address and Password.
Click Log In to access the WordPress dashboard.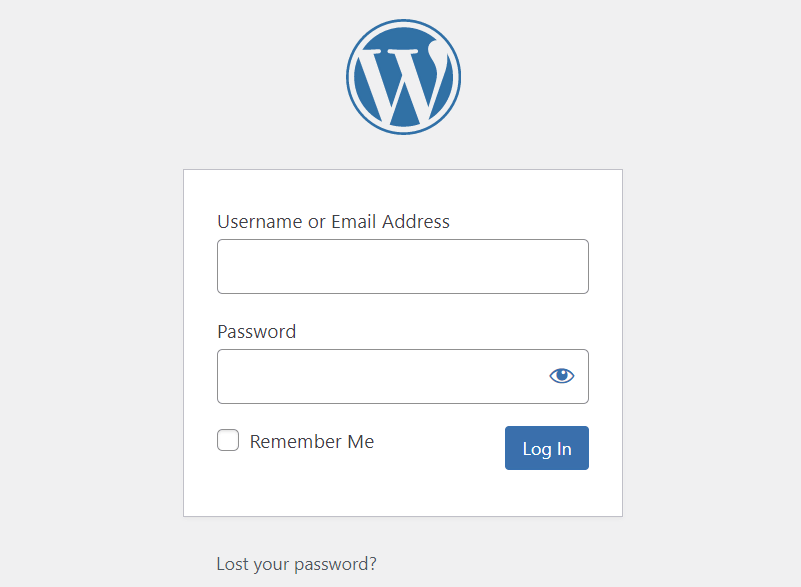 Pro Tip
Check the Remember Me box on the WordPress login form to stay logged in.
How to Log in to WordPress via a Subdirectory
To log in to WordPress via a subdirectory folder, use one of these links:
www.yourdomain.com/subdirectory/wp-admin.php
www.yourdomain.com/subdirectory/login
Then, insert your credentials to access the WordPress admin area.
How to Log in to WordPress via a Subdomain
Alternatively, use a subdomain when accessing the WordPress login page. The default URL should look like this:
subdomain.example.com/wp-login.php
subdomain.example.com/login
How to Customize the WordPress Login Page
Creating a custom WordPress login page may bring benefits to your site. It lets you manage user permission roles and keeps your login URL secure.
How to Set up Custom WordPress Login Credentials
For a WordPress site with multiple users, using the same login information can pose security risks. Therefore, we recommend creating a different WordPress username and password for each user. This way, when hackers breach one of the accounts, the others will not be affected.
Here are the steps to create custom WordPress login information:
Open the WordPress dashboard and open the Users tab.
Click Add New and fill in the required information, including Username and Email.
Select the Role depending on the access level.
Leave the Skip Confirmation Email box unchecked.
Click Add New User.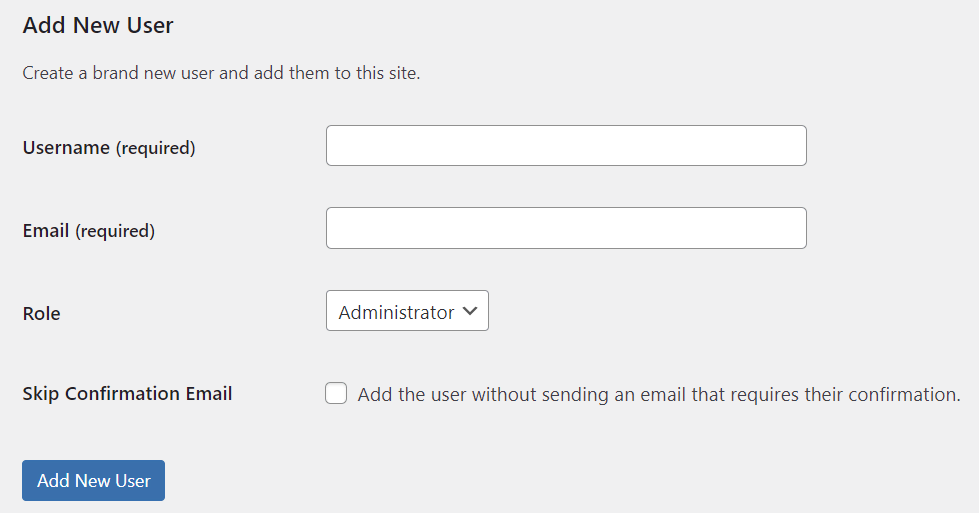 The new user will receive an email to set up a new password and finalize the registration process.
How to Set up a Language Selector on the Login Page
If your WordPress users speak different languages, enable the language selector on the login page. However, it's only available in WordPress 5.9 or higher.
To enable this feature, install the desired languages in the WordPress admin dashboard first:
Go to Settings → General.
Find the Site Language menu.
Open the drop-down menu and choose a language to install.

Click Save Changes.
Now, whenever users access the login page, a drop-down list of installed languages will appear at the bottom.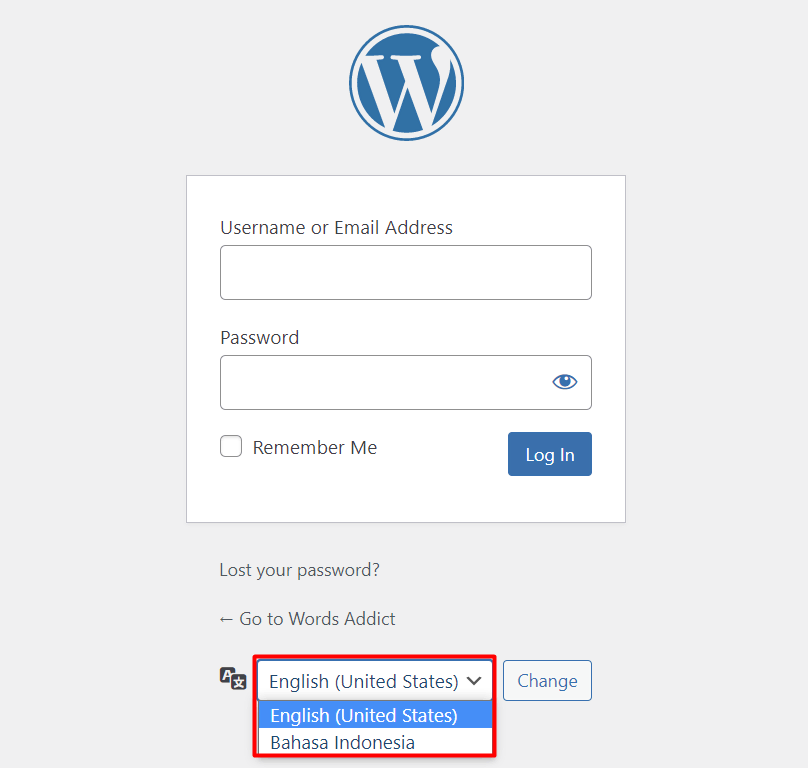 How to Secure the WordPress Login URL
WordPress always uses the same login page URL by default. Fortunately, you can customize it to keep your WordPress site secure. To do so, use a WordPress plugin like WPS Hide Login:
Access the WordPress dashboard and head to Plugins → Add New.
Search for the plugin and click Install Now, then Activate.
Go to Settings → WPS Hide Login.
Enter the desired WordPress login URL in the relevant field.

Save the changes.
Furthermore, Hostinger users can password-protect the login URL via hPanel:
Go to Hosting → Manage.
On the left menu bar, head to Advanced → Password Protect Directories.
To password-protect your entire WordPress website, choose /wp-admin under the Directory field.
Enter your preferred Username and Password.
Click Protect.


How to Troubleshoot WordPress Login Page Errors
If you need help logging in to WordPress, this section will cover some common errors, their possible causes, and troubleshooting methods.
Incorrect WordPress Password
A wrong password is often the main reason for WordPress login errors. If your WordPress username and password do not match, this message will appear on the login screen:
To solve the incorrect password error, click on the eye icon to view the entered password and try again.
If the problem persists, use the Lost your password? link to change your login information. It is located in the error message above the WordPress login form. In the next screen, enter your Username or Email Address, and WordPress will send a password reset link to your email.
Error Establishing Database Connection
A failed database connection is another common WordPress login issue. This error happens when your WordPress website fails to access and retrieve information from its database due to corrupted files.
To solve this WordPress database connection error, repair your database or create a new one.
WordPress Login Redirect Loop
Some users may face an issue where WordPress keeps redirecting them to the wp-admin page even after entering the correct login information.
Try these methods to fix the WordPress login redirect loop issue:
WordPress Login Disabled
When users fail too many login attempts, WordPress will disable login for the next 20 minutes to prevent brute force attacks.
Therefore, when submitting information into the login form, make sure to use the right WordPress password. Click Lost your password? if you can't remember the correct one.
Pro Tip
If you are using a WordPress security plugin, we recommend temporarily disabling it first.
Locked Out of WordPress
Issues that can get you locked out of WordPress include:
White screen of death. Usually caused by PHP and memory limit issues, this error will show an invalid message or a blank page to visitors and WordPress website administrators. Troubleshooting methods include increasing the WordPress site's memory limit, disabling plugins, and applying the default theme settings.
Parse error: syntax error. This error message indicates that your PHP code contains incorrect formats. To solve this, use an FTP client to check your PHP code and look for any missing or extra characters.
Issues with plugins or themes. Corrupted or outdated plugins and themes may prevent you from logging in to WordPress. To solve this, fix the corrupted .htaccess file.
Tips to Remember Your WordPress Login Credentials and URL
WordPress login errors often happen because users forget their password or login URL. The following best practices can help you avoid similar mistakes.
Use a Password Manager
One of the best ways to speed up the login process is using a password manager. A password manager keeps your WordPress credentials secure and prevents you from entering the wrong one.
In addition, this method prevents brute force attacks that may target your WordPress website. If successful, the attacker can gain access to your files, steal data, install malware, or even take down your WordPress site.
Here are some of the top password managers to consider:
NordPass. With one master password, users can store multiple accounts in a vault and share their WordPress credentials with others. However, the Free version only allows one device type. To use multiple devices, purchase its Premium or Family plan for $1.29/month and $2.49/month, respectively.
1Password. This premium password manager offers plans for personal, family, and business purposes, starting at $2.99/month. All plans offer a 14-day free trial.
Dashlane. This app encrypts and auto-fills your WordPress password with customizable security settings, including two-factor authentication. It offers three plans – Starter ($2/month), Team ($5/month), and Business ($8/month).
Bookmark the Login URL on the Browser
If you struggle to remember the WordPress login link, adding it to your browser's bookmark list is an excellent solution. No need to manually enter the login page URL when you want to access the WordPress dashboard.
Here's how to bookmark the WordPress login URL on popular browsers:
Google Chrome
If you use Google Chrome, follow these steps:
Open the WordPress user login page.
Click on the three dots icon in the upper right corner of the browser.
Select Bookmarks → Bookmark this tab.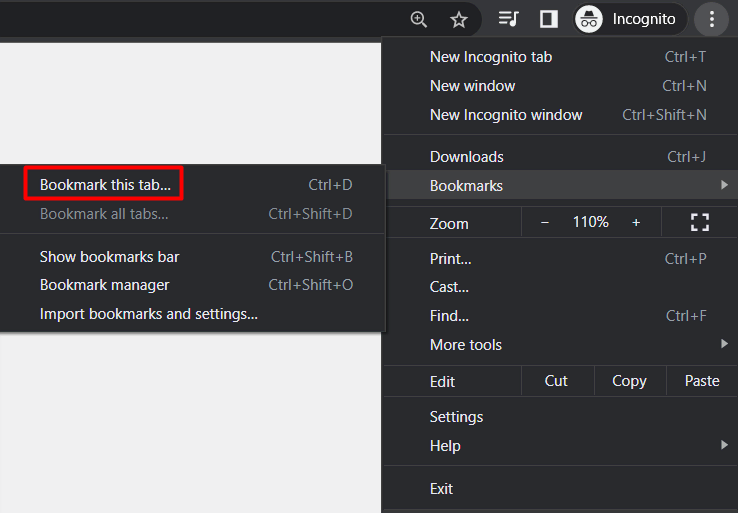 Alternatively, press Ctrl + D on your keyboard or click on the star icon next to the login URL.
To create a new Folder or customize the bookmark's Name, go to Bookmarks → Bookmark manager.
Mozilla Firefox
Head to the hamburger menu on the upper right corner and select Bookmarks → Bookmark current tab.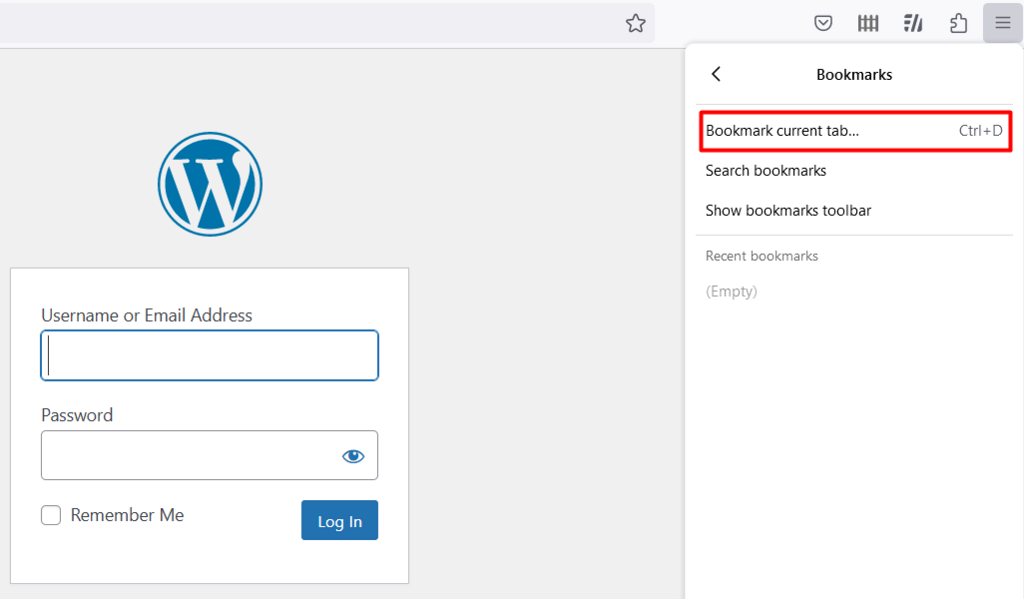 Users can also press Ctrl + D or click on the star icon. Mozilla Firefox will show a pop-up to Edit bookmark, including its Name, Location, and Tag.
Microsoft Edge
Microsoft Edge users can access the three dots icon on the right side of the screen and select Favorites. Other methods involve pressing Ctrl + Shift + O or clicking the Star icon.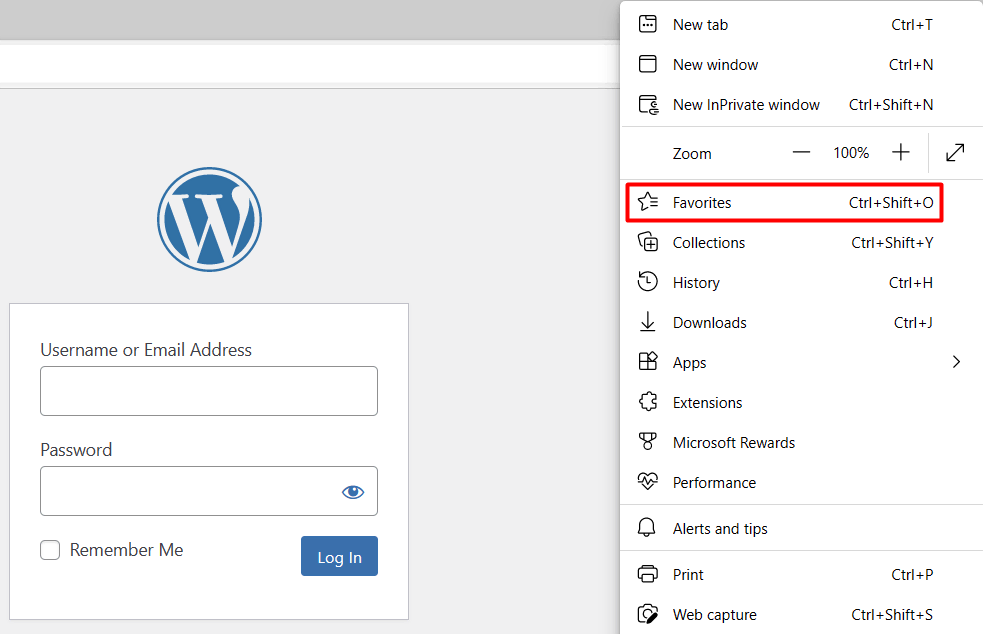 Similar to Google Chrome, there is also an option to edit the Name and Folder of the bookmarked WordPress login page URL.

Conclusion
Accessing the WordPress admin pages via logging in is necessary to create, customize, and manage content on your WordPress site. While there are several WordPress login methods, the easiest way is through one of these URLs:
www.yourdomain.com/wp-admin
www.yourdomain.com/wp-login.php
www.yourdomain.com/admin
www.yourdomain.com/login
Once the login page appears, insert your username and password to access the WordPress dashboard. If you forget the login information, log in to WordPress directly from your hosting account.
WordPress sites with multiple users should have custom login information and URLs to minimize security risks.
Also, use a password manager to store your login information and bookmark the login URL to accelerate the login process.
If you have any questions about WordPress login pages, leave them in the comments section below.
How to Log in to WordPress Dashboard FAQ
Find answers to commonly asked questions about the WordPress login screen.
How Do I Log in to My WordPress Dashboard Without a Password?
To set up passwordless authentication for your WordPress site, use plugins like Passwordless Login. Upon activating the plugin, go to Users → Passwordless Login and copy the login shortcode. Then, create a new login page, paste the shortcode, and test it out.
What Are the Default Username and Password for a WordPress Site?
The default WordPress login credentials are 'username' for the username and 'password' for the password. Similarly, 'admin' is the default username for administrators.
What Is the WordPress Admin Login URL?
It is a link to access your WordPress website's login page. The default WordPress login site URL is www.yourdomain.com/wp-admin.