14 Best Domain Name Generators to Find the Perfect Domain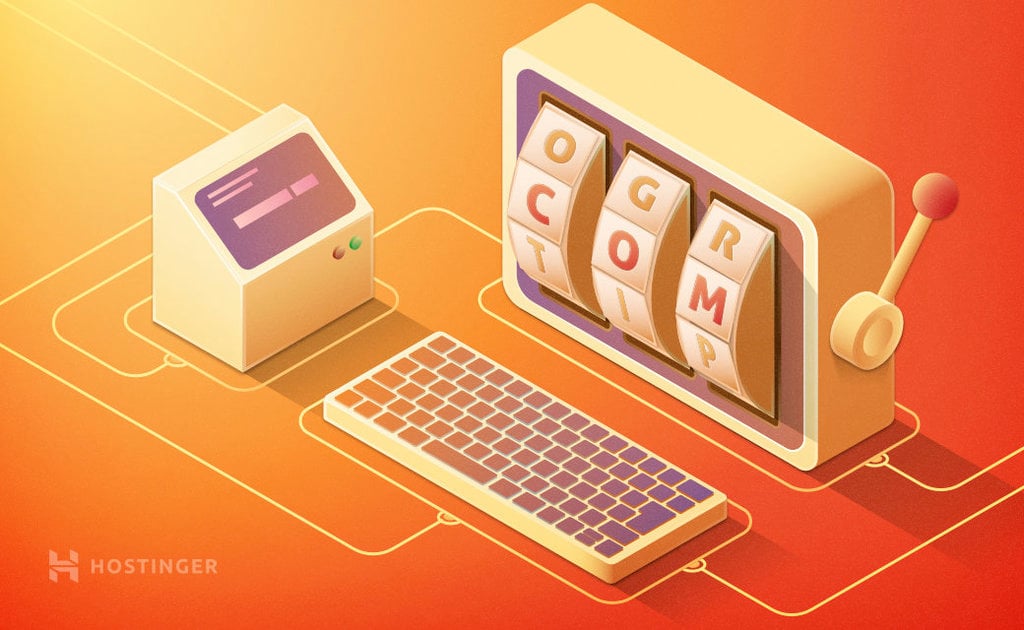 If you're planning on launching a website or an online business, buying a domain name to go with it is one of the most important steps. That's why coming up with a memorable and meaningful name is essential, as it will accompany and represent your business in the long term.
However, finding a good domain is only part of the process. It must also be available to use. This is where domain name generators can help.
A domain name generator is a tool that suggests domain names based on the keywords you provide. It is an excellent way to generate creative ideas rather than brainstorming the name from scratch.
In this article, we've rounded up the best domain name generators to help create awesome domain names for your business and also check their availability.
14 Best Domain Name Generators in 2021
A domain name generator provides an easy way to find available domain names or alternative names for your website.
Generally, it only requires inserting a few keywords or the desired domain name into a search box. Then, it will check the domain availability or suggest different options based on the search terms.
Also, most tools let you choose a top-level domain (TLD), including the popular .com, .org, .net, or country-specific TLDs such as .us for the USA and .uk for the United Kingdom.
Now, we'll share our recommendations for the 14 best domain name generators listed in no particular order.
In addition to web hosting, Hostinger also offers a domain checker tool to find if the domain name you want is available, providing alternatives in case your brand name is already taken.
It displays the price of each extension available so you can easily compare them. The search results include popular top-level domain extensions like .com and .net, but also regional-based domains (.co.uk, .co.jp, .jp.net) and other generic top-level domains (.online, .shop, .site). Feel free to try out our domain checker below.
Domain Name Checker
Instantly check domain name availability.
Once you make a decision, purchase it directly from the same webpage.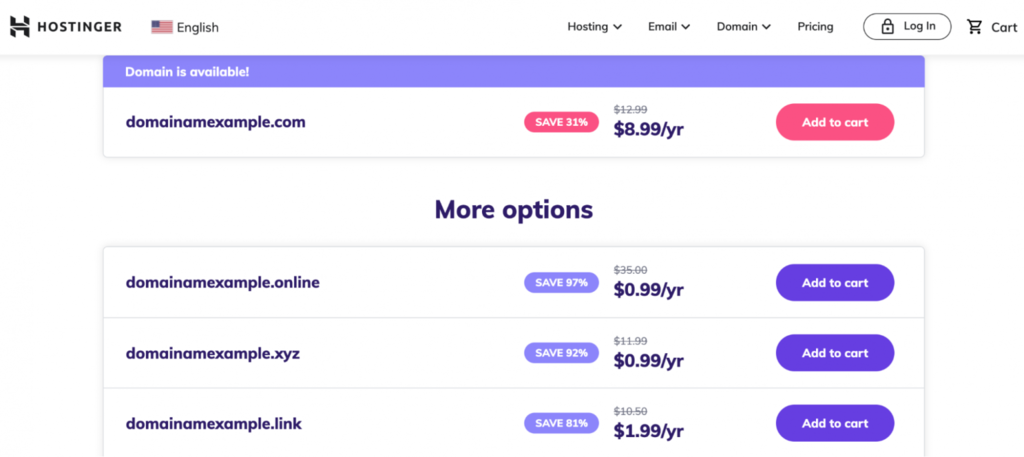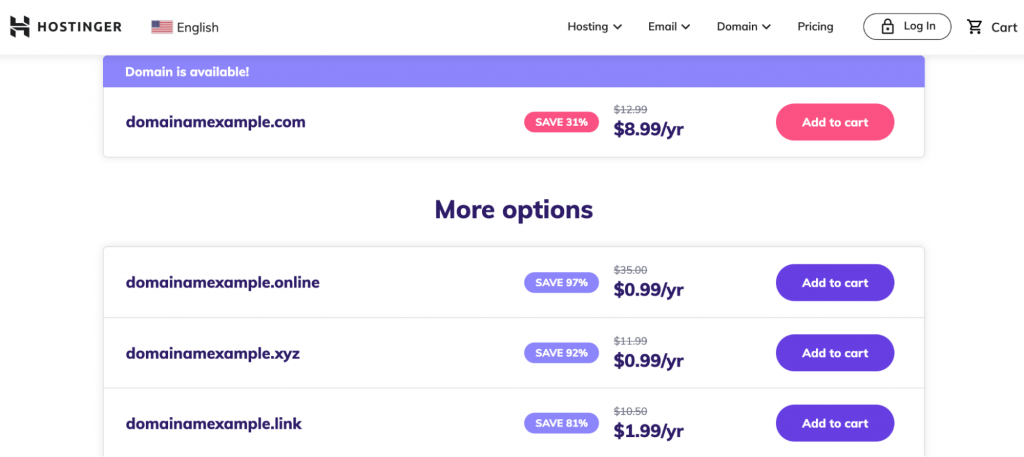 Additionally, a free domain name is included in most of our web hosting plans.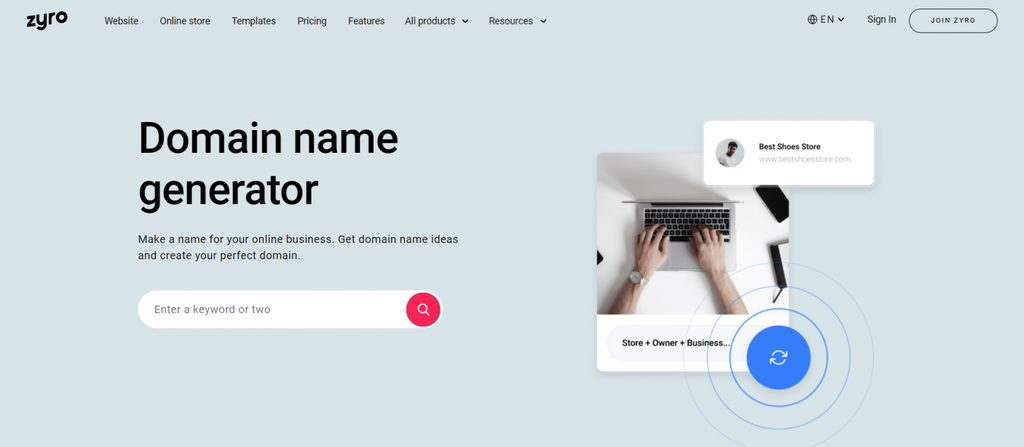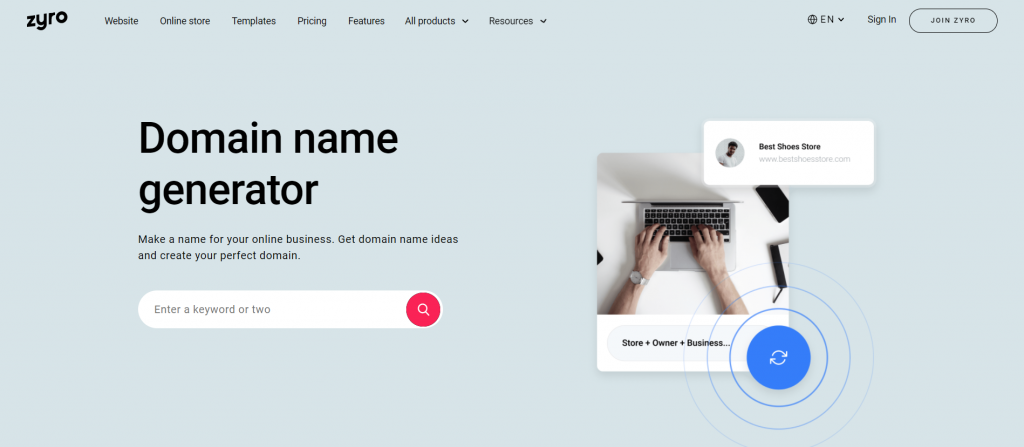 Zyro is an easy-to-use website builder which also offers a great domain name generator tool. Its AI-powered domain name generator conducts an instant domain search based on your brand name or other keywords provided.


This free domain search tool also instantly checks if your preferred domain name is available. In addition to suggesting various extensions, it displays the domain registration and renewal prices, allowing you to buy the new domain directly on Zyro's website.
Additionally, get a free domain name by signing up for most of Zyro's plans.
Nameboy is one of the oldest domain name generators out there. With a straightforward interface, simply add keywords to start generating good domain names.
This domain name generator tool adds relevant words to the keywords provided to broaden the search results. However, if it still doesn't offer a name you like, click Show more results for more domain name ideas or different extensions.
Once you've found a perfect domain name, click Buy to complete the domain name registration.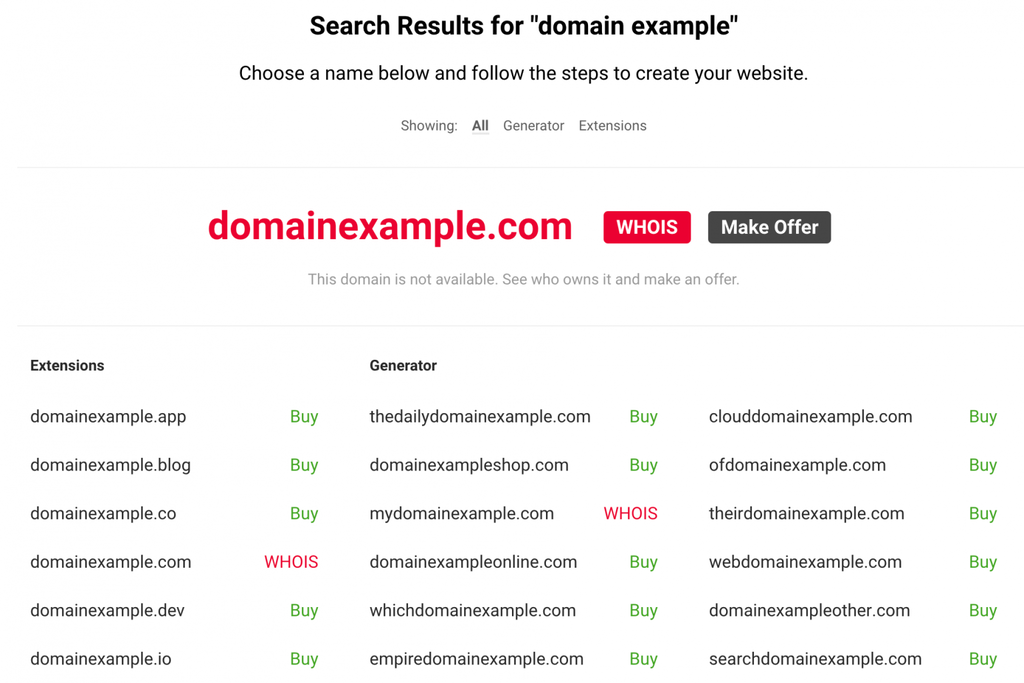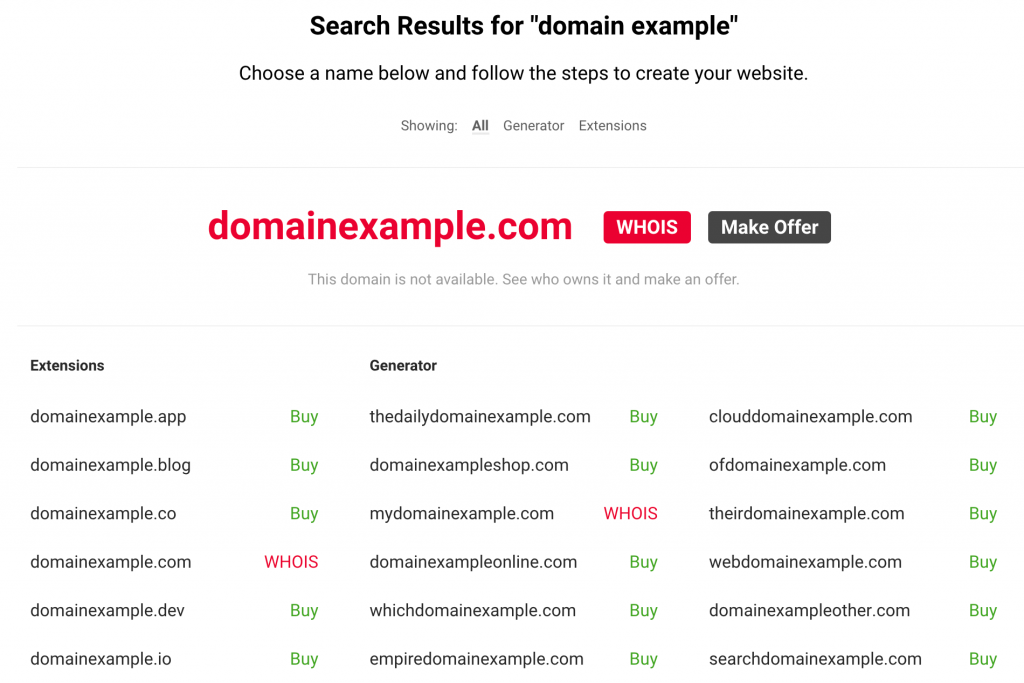 Moreover, Nameboy offers other business names generators such as a blog name generator, podcast name generator, and YouTube name generator. It is an excellent tool if you are also planning to launch a podcast or YouTube channel, as it allows you to check first if a name is available on all platforms to keep your brand consistent.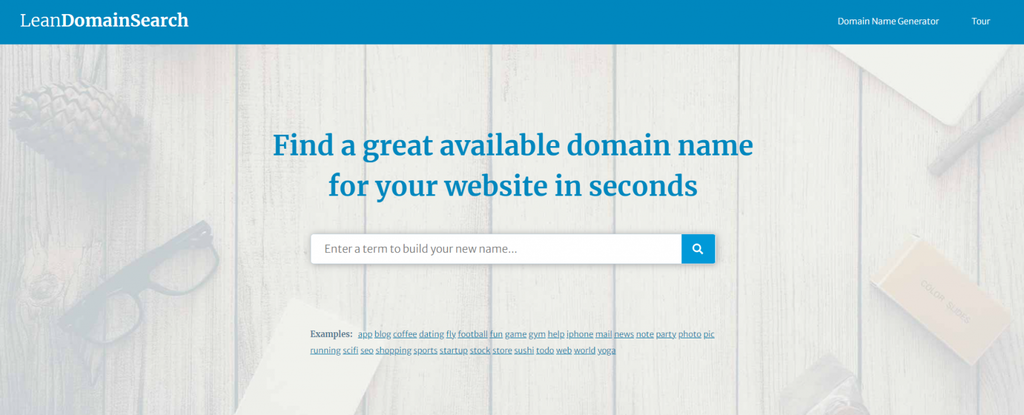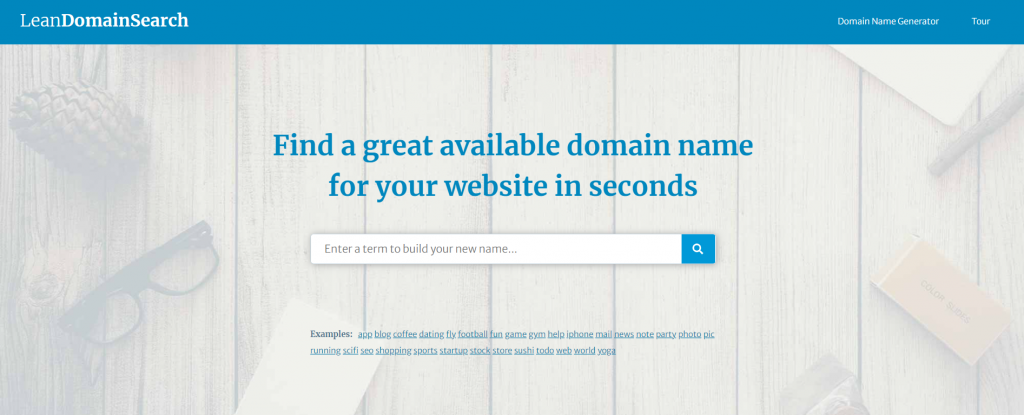 Unlike other tools in our list, Lean Domain Search only shows available domain names with the .com extension. Simply enter the desired terms into the domain name search box, and it will provide tons of .com domain name ideas to choose from.
However, if you are looking for an available domain name with a different extension, check right below the search field after entering the keywords. Lean Domain Search provides one name with an extension other than .com available for registration in that section.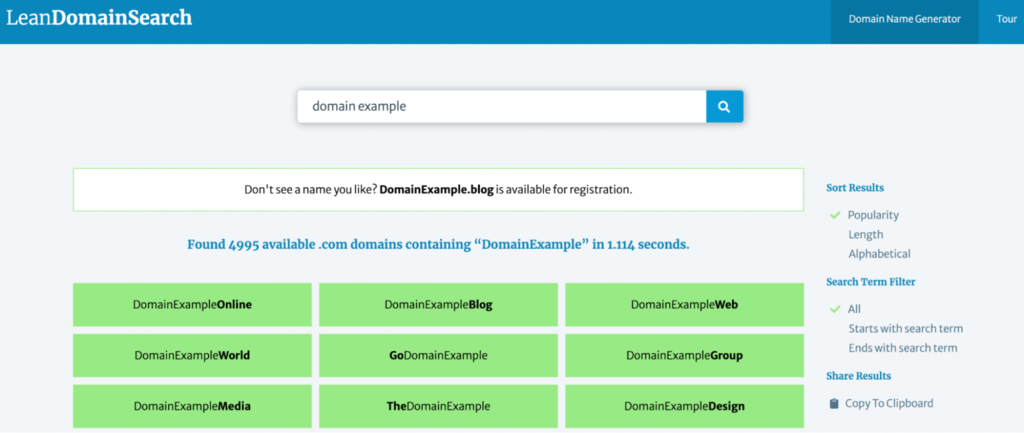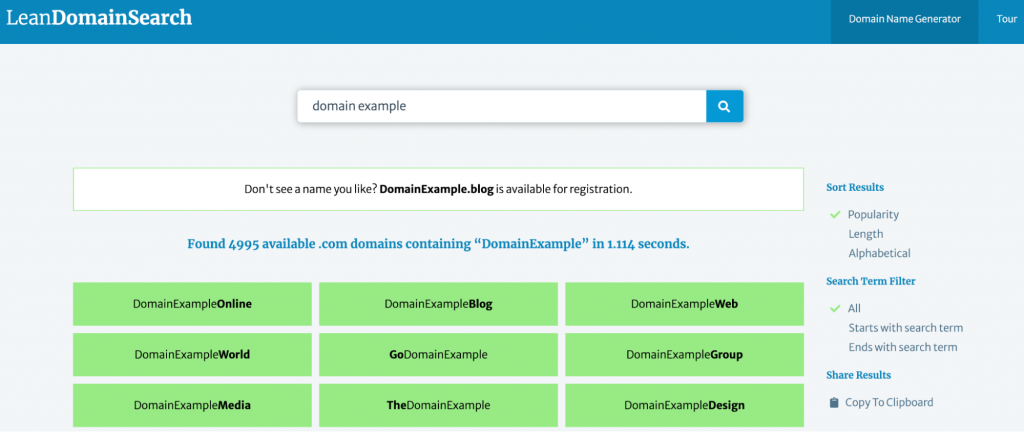 To help you find the ideal domain name, this domain search tool filters the results according to popularity, alphabetic order, and length.
Another notable feature of Lean Domain Search is that it also checks the availability of Twitter usernames, which comes in handy if your brand aims to have an active presence on this social network.

Instant Domain Search is a domain name generator that starts showing domain name ideas as you type the target name.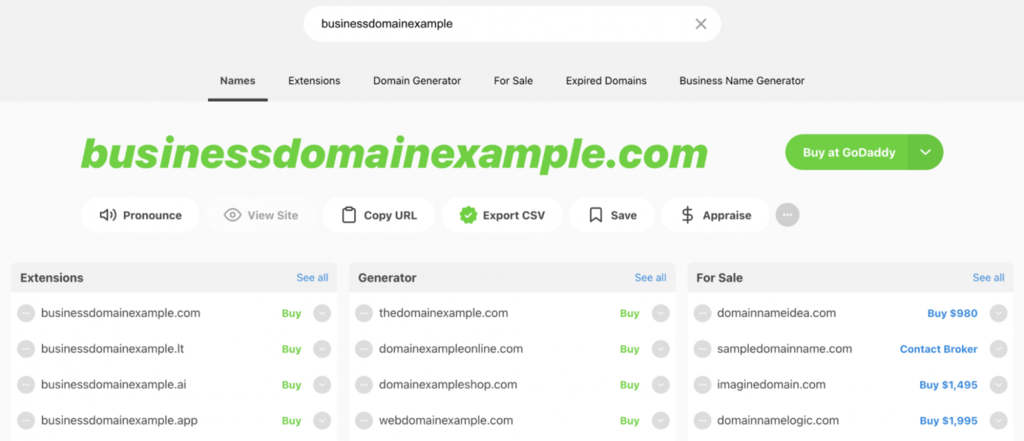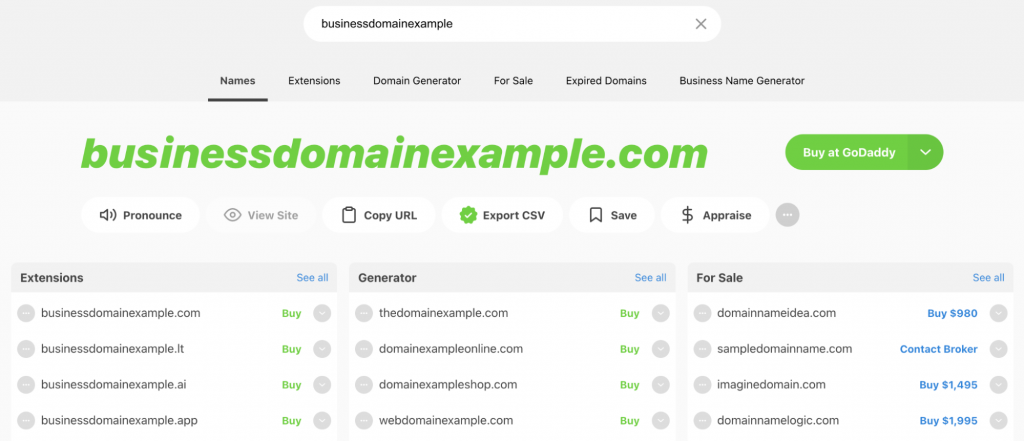 Below the search field are three columns, each displaying your target name with various available extensions, alternative domain ideas with .com extension, and relevant existing domains that are up for sale.
The suggestions will change while typing, showing other available domains related to the initial term and providing other fresh ideas.
Instant Domain Search also showcases domains that are about to expire and are up for auction. Click the WHOIS link next to taken domains to look up who owns it, so you can try to make an offer for that domain.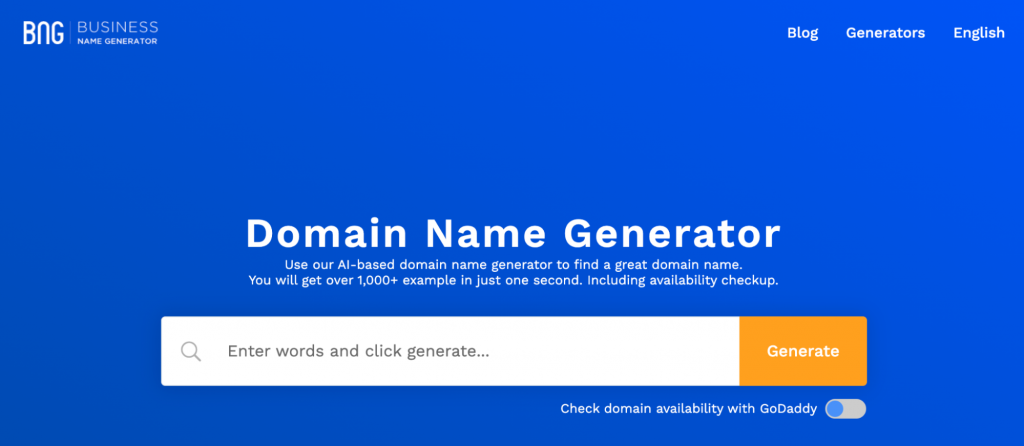 Business Name Generator provides tons of business name ideas for companies or brands. It also checks whether those names have corresponding domain names available for use.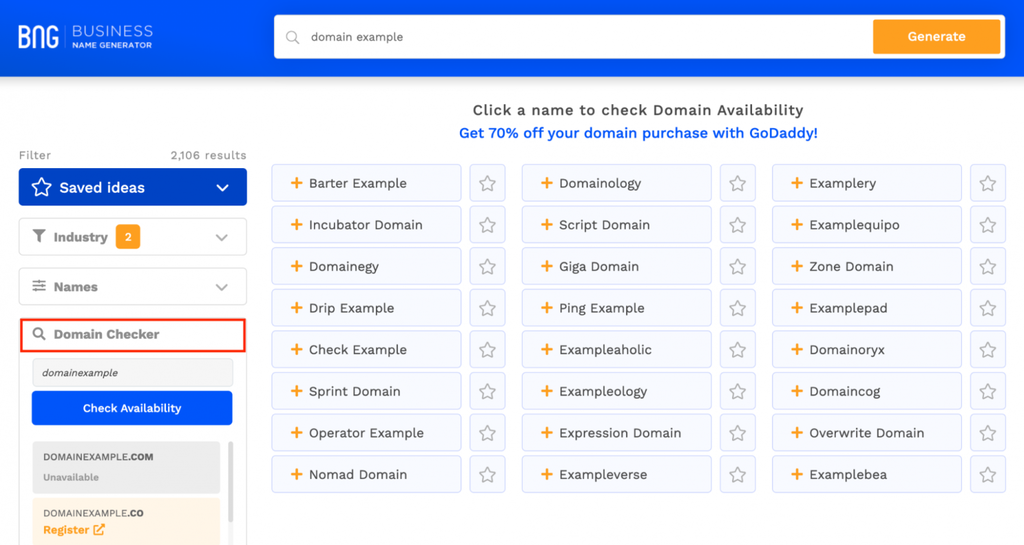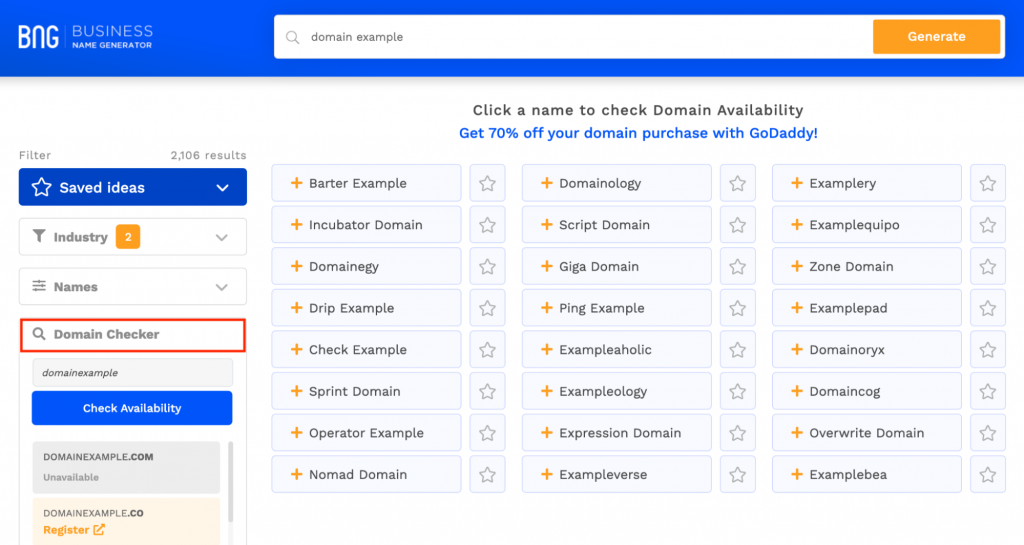 To get started, add the keywords into the search box, then hit the Generate button. Business Name Generator will display several business name alternatives.
On the left side, you'll find a Domain Checker box. Enter the desired domain name in the search field, then click Check Availability. The results will be displayed directly below it.
This name generator tool also filters the search by Industry or name type. Using the Name filter, opt for one or two words, determine the number of characters, the keyword placement, and whether to add rhyming words.
To use PanaBee, type a domain name or a few words that represent your website on the search bar, and it will provide a wide array of name options. Available domain names have a blue heart icon, and the unavailable ones have a broken red heart.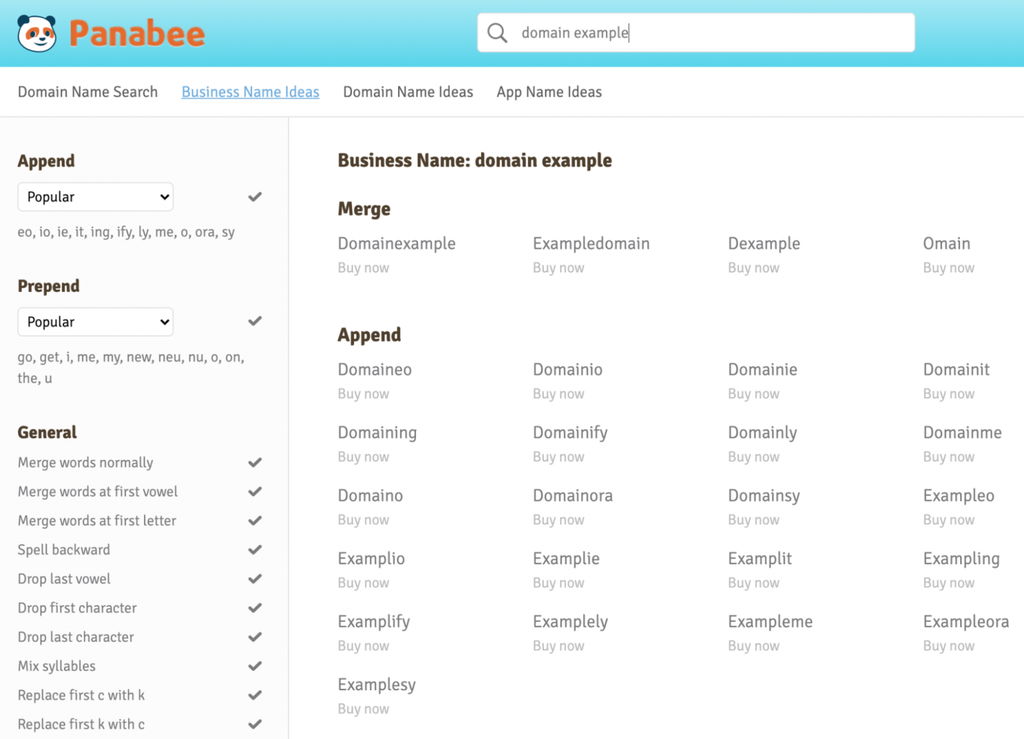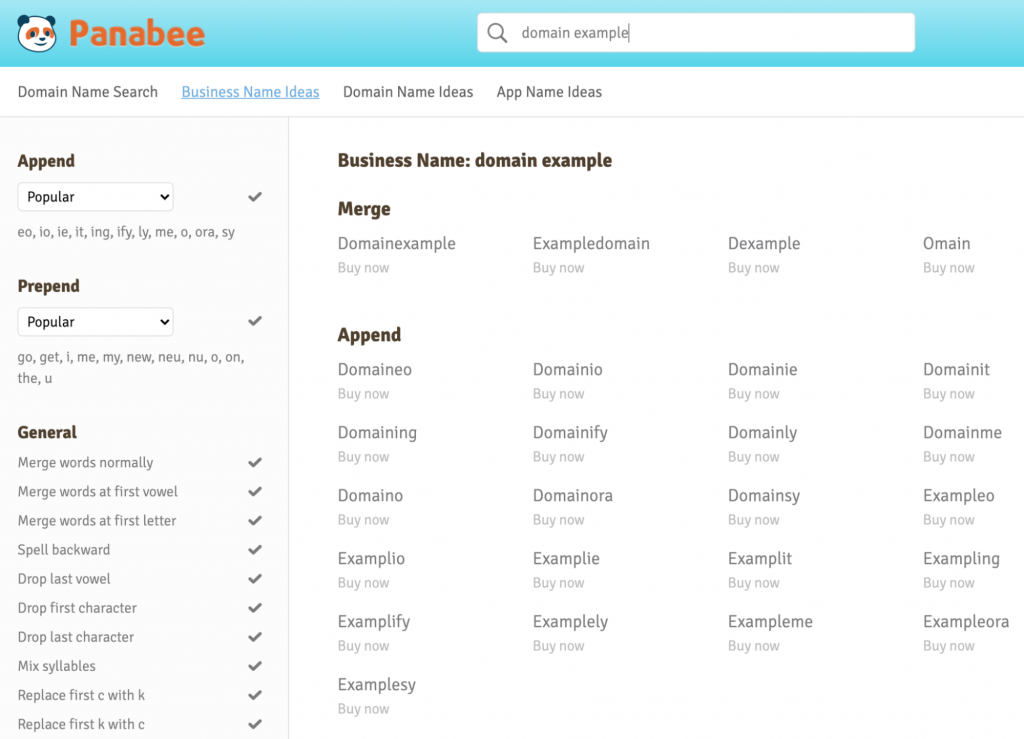 Additionally, this free domain name generator tool has various filters to offer the most desirable results.
The Re-spell filter, for example, is very detailed and helpful in bringing more variations of your preferred name, including Merge words normally and Drop last vowel.
It lets you choose popular extensions like .net or more specific ones, such as Startup extensions, including .tech and .io.
Apart from new domain ideas, PanaBee also checks the availability of your preferred domain name as a mobile app name and social media username. This is a handy feature considering an omni-channel presence strongly benefits a business.
Among other aspects, it requires that social media usernames match the business domain name for easy recognition among customers.
While some domain name generators may provide options that are not entirely adequate for the business names and niches, Domain Wheel's AI-powered domain name search helps generate more practical names.
It mainly uses word combinations, and rhymes related to the keywords searched. It also provides alternative keywords related to your original topic.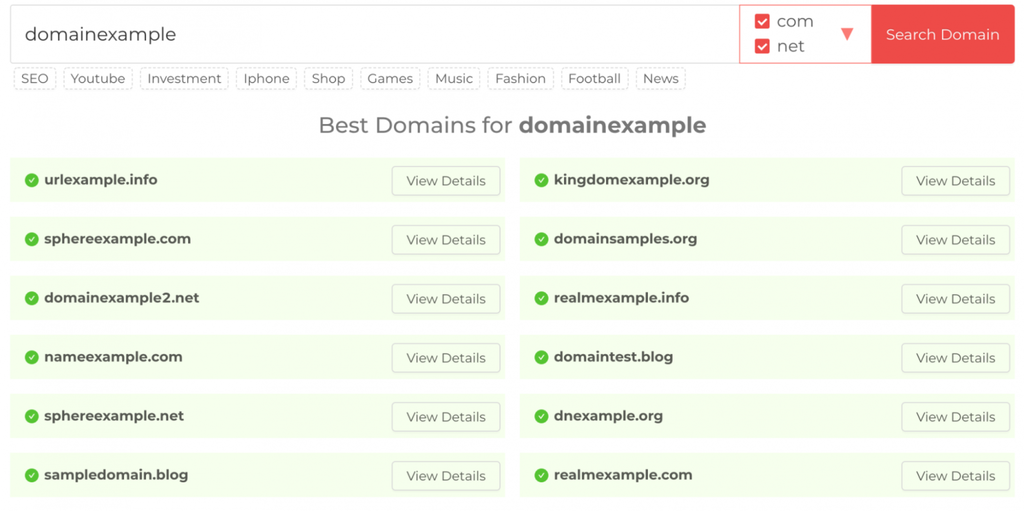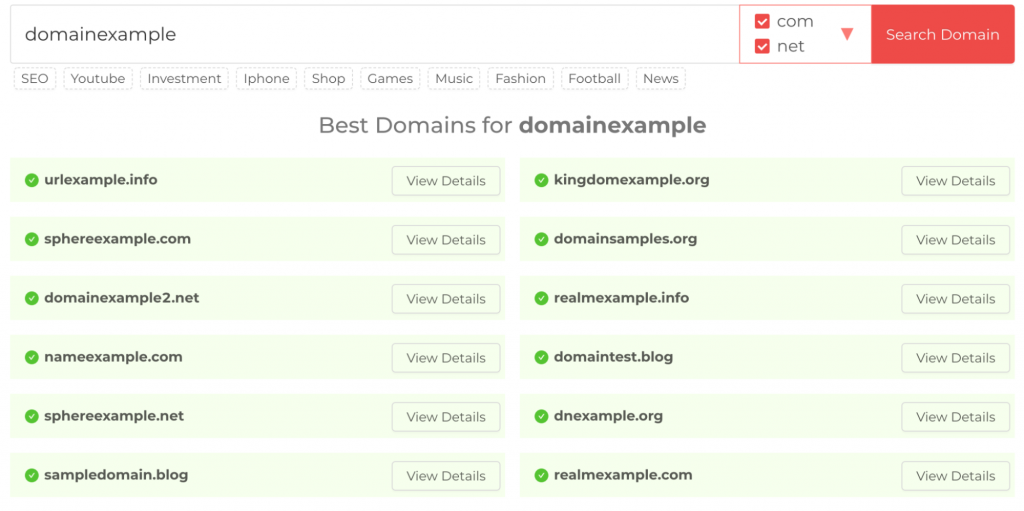 This tool offers 15 extensions to choose from, including less common ones such as .biz, .space, and .club. Narrow down preferred domain names by ticking the extensions filter next to the search bar.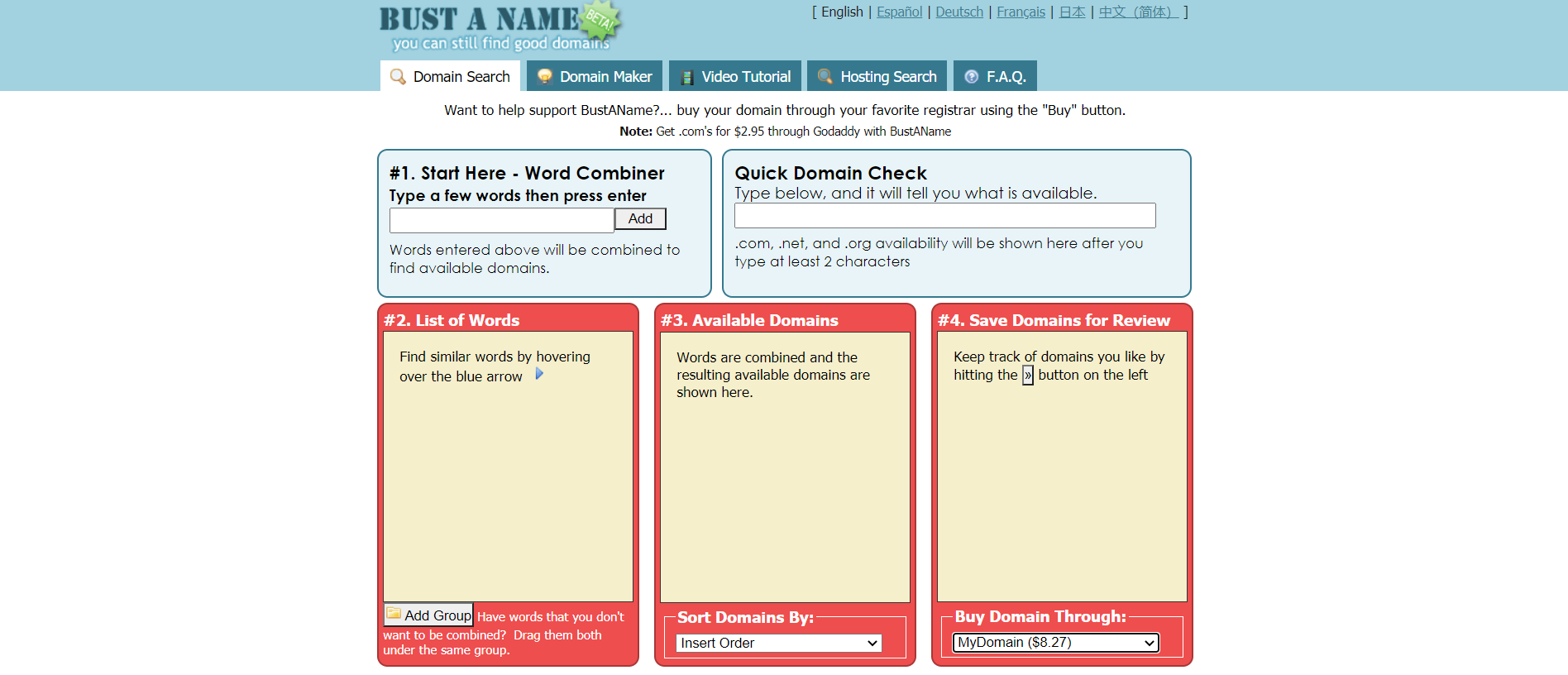 While its site design might look a bit outdated, Bust a Name provides various helpful filters for finding a name that meets your needs.
The search filters include domain extensions, additional prefixes, and an option to show on-sale domains. It's also possible to save domain names for future review.


On the Domain Maker tab, choose whether to start or end a name with a specific word and limit the name to a certain number of characters. The extensions filter is available for five TLDs only, namely .com, .net, .org, .info, and .biz.

Namesmith is a business name generator that suggests creative domain names.
As a domain name generator, it provides website names for 14 top-level domains, including four country-code options. That's great to start the brainstorming process, especially if you plan on using one of these ccTLDs as the extension.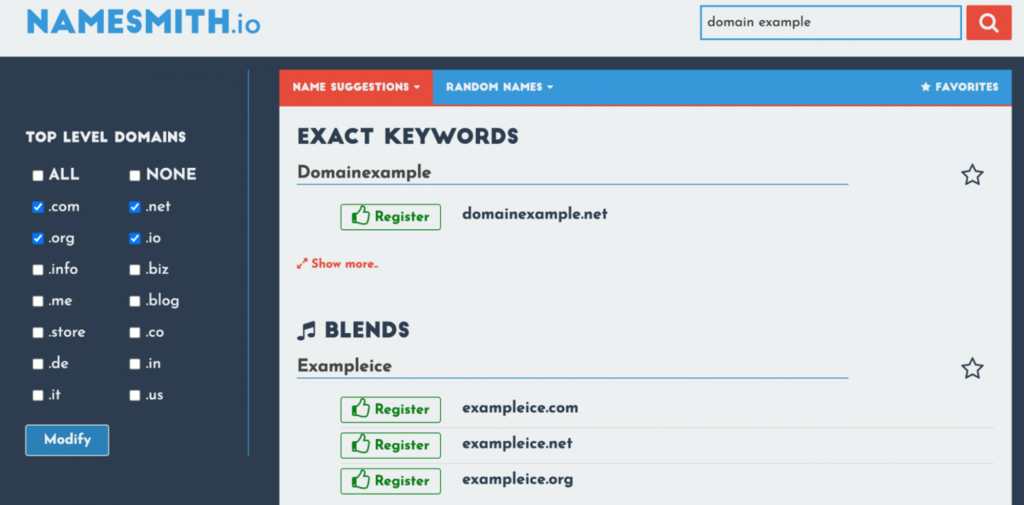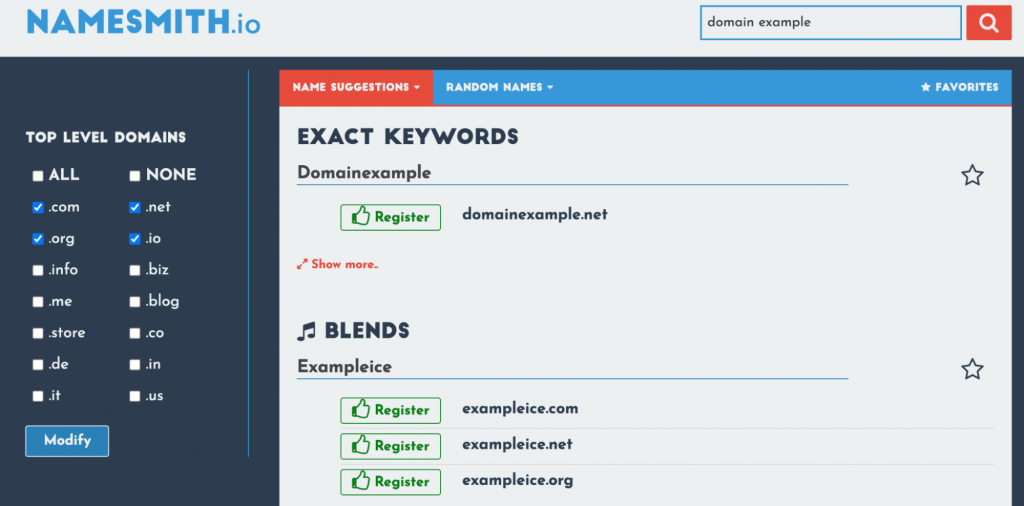 Namesmith's name suggestions include domains with the exact keywords provided, options that rhyme with the original keyword, and domains with additional prefixes or suffixes.
Furthermore, it also has a Random Names section, which comprises random Modern, Greek, Japanese, and Aztec-inspired names.
Simply click the Register button next to the available names to access the domain registration on this website. If you want to save it to review it later, click the star icon next to the name, and it will be added to your Favorites list.


I Want My Name works best when you already have potential website names in mind. That's because this simple tool will not provide different variations of domain name ideas – it will only check domain availability within specific extensions.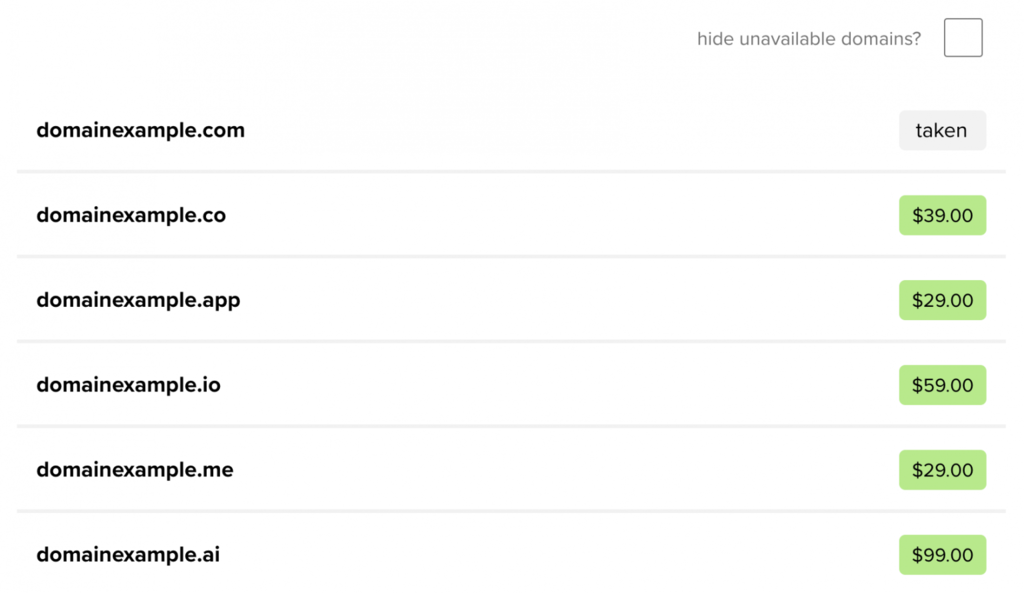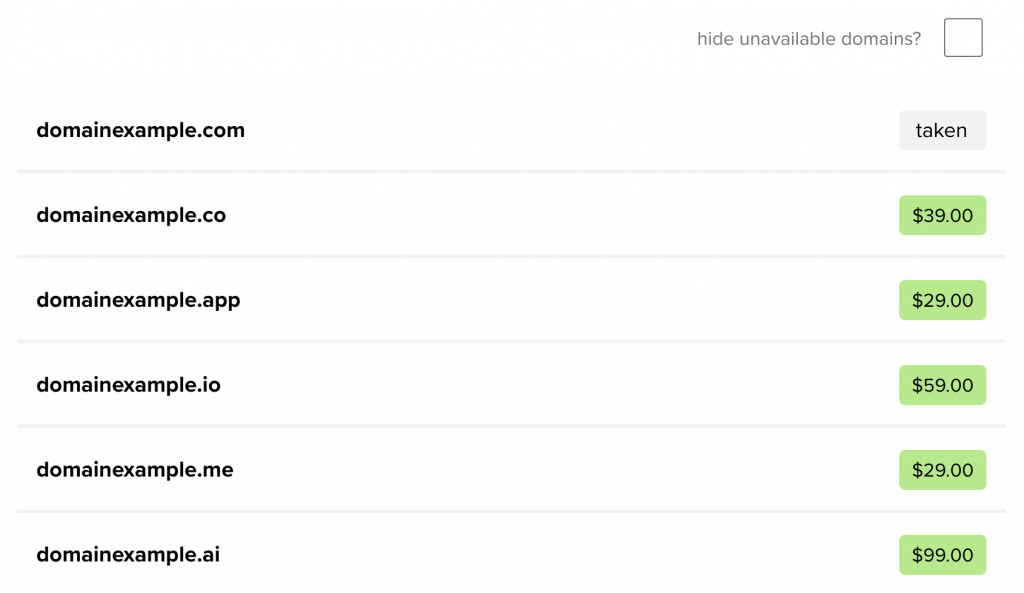 Unlike other domain name generators, I Want My Name offers more than 400 extensions, from the most-sought after .com to more obscure extensions like .coffee.
This gives you a bigger chance of using your preferred domain name. However, keep in mind that the extension needs to reflect your business type.
This domain name generator requires you to sign up for a free account to use their service. It may seem like a hassle at first, but it pays off thanks to NameStation's wide range of features.
This tool's detailed filters help find a domain name that best suits your website more effectively.
Once you enter a few keywords, navigate to the left panel to explore the Name Type categories. These categories include:
Keyword Domains – names that contain the exact keywords provided.
Compound Words – names with additional industry-relevant prefixes or suffixes.
Alliterations – contains names with similar words based on a particular language.
These detailed filters help find a creative name that also suits your niche. Furthermore, you can also host a naming contest on the website to get name suggestions from NameStation's community.
Once you decide, click Register to claim an available name, or click the WHOIS link to see who owns an unavailable name and try to make an offer for it.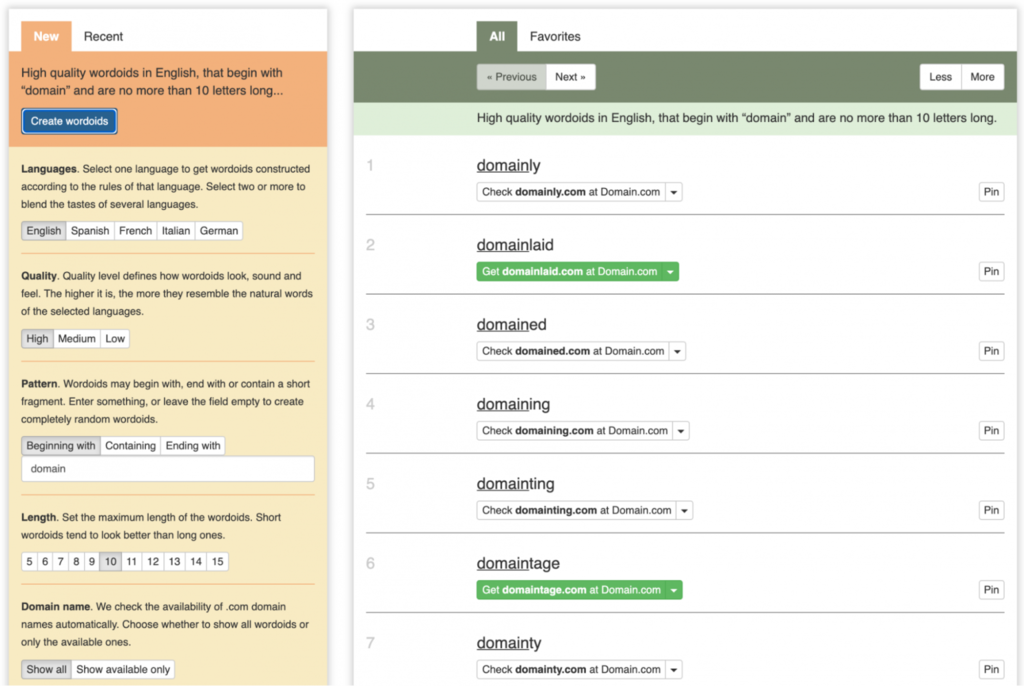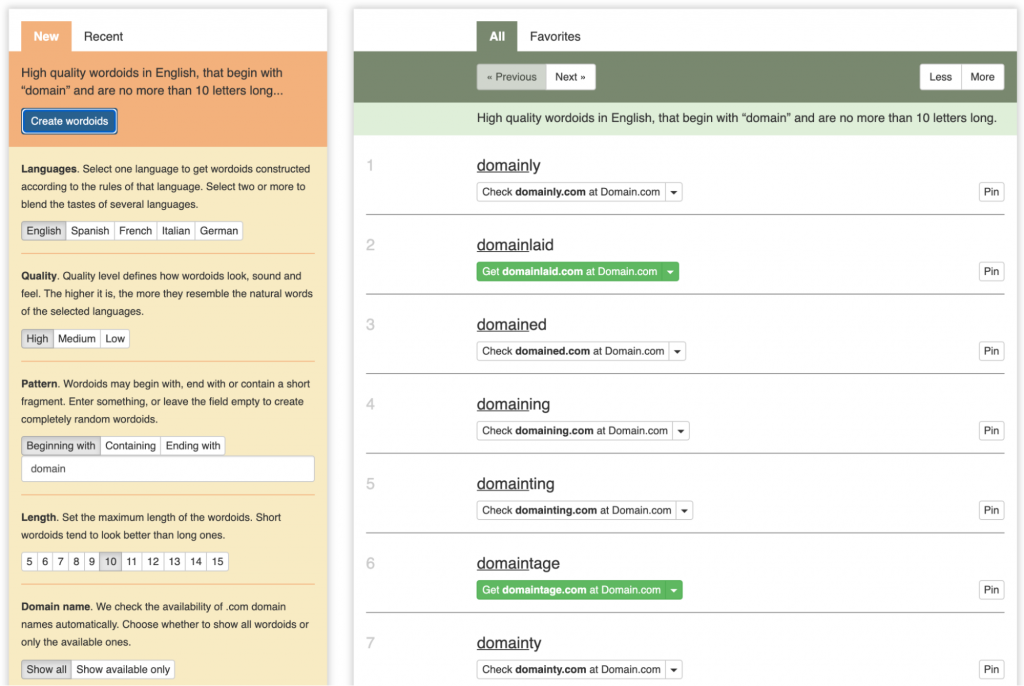 Wordoid is a business name generator that sets rules for language, quality level, and maximum name length to form a domain name that suits your brand.
It also provides options to place a keyword at the beginning, middle, or end of the name.
However, this tool may be a bit confusing for first-time users. The search box to input keywords is not located at the top of the page but towards its middle. Look for it on the left side, right under the Quality filter.
It's possible to use this domain name generator without creating an account. However, you'll need to sign up for a free account to save favorite domains and quickly access the 10 most recent searches.
DomainTyper provides several details about your search, including the availability of multiple extensions, price comparison on different domain registrars, and name suggestions.
It also has a section that lets you check your preferred name's availability on many popular social media sites. This is especially useful to create a consistent brand across various platforms.
If your targeted name is already taken, DomainTyper allows you to make an offer to whoever owns that domain name. Visit the WHOIS page through the provided link to find the domain's details.
What's more, this tool also provides a Domain Hacks section that will show name suggestions if your keywords overlap with an available domain extension. For example, for the keyword mysite, DomainTyper suggests http://my.site as the domain name since the extension .site is available for registration.
Tips for the Best Domain Name
Consider the tips below when choosing the right domain name:
Make it short – a shorter name will be faster to type and easier to promote. Research for the most targeted keywords in your niche to help determine which keywords are the most effective to represent your website or brand.
Choose a suitable extension – besides the popular ones, consider picking an extension that suits your line of business or target niche, such as .store, .edu, or .design.
No hyphen and numbers – when pronouncing a domain name, people may confuse a capital "O" with zero and land on an error page or even on a different website.
Check social media usernames – while it is not essential to have a username that matches your domain, they help customers identify the business and strengthen its branding.
Conclusion
Picking the right domain name for your website or brand is a fundamental step, as it defines your brand in the long term. It needs to be catchy, meaningful, short, and easy to remember.
There are many domain name generators out there, so if you can't find a name that suits your liking on the first site, try to search with other tools. If your preferred name is not available on a domain name generator, search for other domain extensions.
Last but not least, the competition for catchy domain names can be fierce. That means, once you find the perfect domain name, don't wait too long to buy the name, or it might be taken by someone else.
We hope this list helps you find the best domain name for your brand. If you have any other questions about this topic, feel free to leave us a comment.