What Is Website Maintenance: Everything You Need to Know About Keeping Your Website Up-To-Date
People access business websites to find information before making a purchase. If the website doesn't work properly, they are less likely to buy your product. Additionally, business reputation will also be negatively affected.
Thus, website maintenance is essential to keep the website performing well and safe from security issues. It involves several tasks, such as checking if there are any problems, refreshing the content, and updating the web software or applications.
This article will guide you through the main tasks and help you perform website maintenance on your own.
Why Is Website Maintenance Important?
Regular maintenance is crucial to keep the website and business running smoothly.
To better understand the importance of website maintenance, let's look at the four main reasons you should maintain the site regularly.
Prevent Errors and Security Issues
Website maintenance prevents errors and security issues from happening, which, if unattended, might develop into a serious problem.
For example, outdated plugins or themes may contain bugs or other security vulnerabilities that put your website security at risk. Additionally, they may also expose the site and its visitors to threats such as malware.
If you fail to secure your website, you risk losing the customers' trust and data. If attackers breach the website, fixing the situation will be very costly, and your URL may also get blacklisted.
Optimize Speed and Performance
Over time, the website's database may get clogged up with duplicated or irrelevant data, increasing load times.
Poor performance and speed will significantly affect your conversion rates – for example, if the page load time increases from one to three seconds, the bounce rate increases by 32%.
Keeping only the necessary plugins, cleaning up the database, and optimizing images will help improve page load time and website performance.
Improve User Experience
Website maintenance also means ensuring all buttons, drop-down menus, and other interactive elements work as intended. This guarantees users have a pleasant experience on the site, reducing the bounce rate as well.
User experience also can be improved by changing elements to make them more intuitive or attractive to visitors. A/B testing helps compare different versions to implement the correct change.
Optimize SEO Results
Around 53% of all website traffic comes from organic search. Moreover, less than 1% of Google users click on the results from the second page.
If you don't optimize the website consistently, you'll lose many potential customers. SEO maintenance includes keywords research, updating content, and optimizing site speed.
Additionally, ongoing errors or speed issues lead to higher bounce rates, negatively affecting the site's Google rankings. It tells Google that your website doesn't provide useful content or a good user experience.
Can I Maintain the Website Myself?
Yes, it's possible to do website maintenance yourself. As long as you have access to the hosting control panel and WordPress dashboard, you can perform any maintenance task. That said, some website maintenance tasks require technical skills.
Start by creating a website backup. If you make a mistake during maintenance, your website files and data will be safe.
The second step is to put the website in maintenance mode. When updating the WordPress software or changing website appearance, some website elements will not work correctly. It's best to put the website into maintenance mode to avoid poor user experience, among other issues.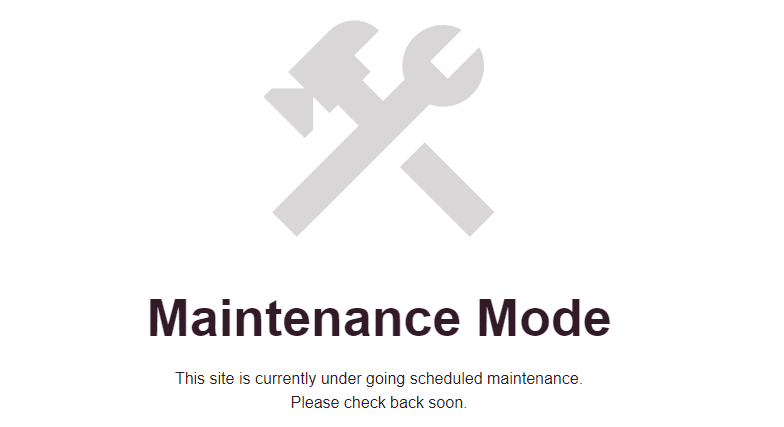 If you're not comfortable with doing such technical tasks, opt for hiring website maintenance services. It will cost you extra money, but it will save time and guarantee that all website elements are updated.
Additionally, most providers offer various website maintenance packages. For example, you can select a specific service such as security maintenance or one that includes backups, updates, and security scans.
How to Maintain Your Website
Web maintenance plans vary depending on the website's needs and the type of maintenance required. For example, personal websites have fewer elements and security concerns compared to business websites.
That said, there are still web maintenance tasks that apply to most websites.
Create Site Backups
Creating a backup of your website is an essential preventive step. You should consider backing up the site at least once a week.
It keeps the website files safe in case of cyber attacks or mistakes made when tweaking the website. This step is also vital to do before starting regular maintenance or updating website software to mitigate errors.
There are three ways to create a website backup:
Manual download. Download your website files using an FTP client or the file manager.
Control panel backup feature. In most control panels, you can download the website files and database in a few clicks using the built-in features.
WordPress plugin. Installing a backup plugin lets you download the WordPress files from the WordPress admin dashboard.
Having backup files, you can always restore the website to its previous state.
Renew Hosting Plan, Domain Name, and SSL Certificate
Another step that you should not forget is renewing the hosting plan and domain name.
Hosting plans need to be renewed according to the subscription length, while domain registration must be renewed annually. Contact your hosting provider and domain registrar to proceed with the renewal process.
Professional's Note
At Hostinger, you can automatically renew your domain, hosting account, and other services. To do that, add a payment method to your account and go to Billing -> Services. Click the Options button next to the desired service to access the Renewal Settings. Then, simply toggle the button to Activate auto-renewal.
Another aspect of the website that can't be ignored is the Secure Sockets Layer (SSL) certificate. It keeps your website secure and renewing it is paramount to protect customer data.
SSL certificates vary in their validity time. For example, a Let's Encrypt's free SSL certificate is only valid for 90 days, while the Comodo SSL certificate is valid for a maximum of two years. Be sure to check your SSL certificate validity and renew it before it expires.
If you use a website-building platform such as WordPress.com or Zyro, it's necessary to renew your plan subscription as well.
Check for Updates
One of the easiest yet critical steps in maintaining a WordPress website is keeping the core software, themes, and plugins updated. To do that, go to your WordPress admin panel and navigate to Dashboard -> Updates.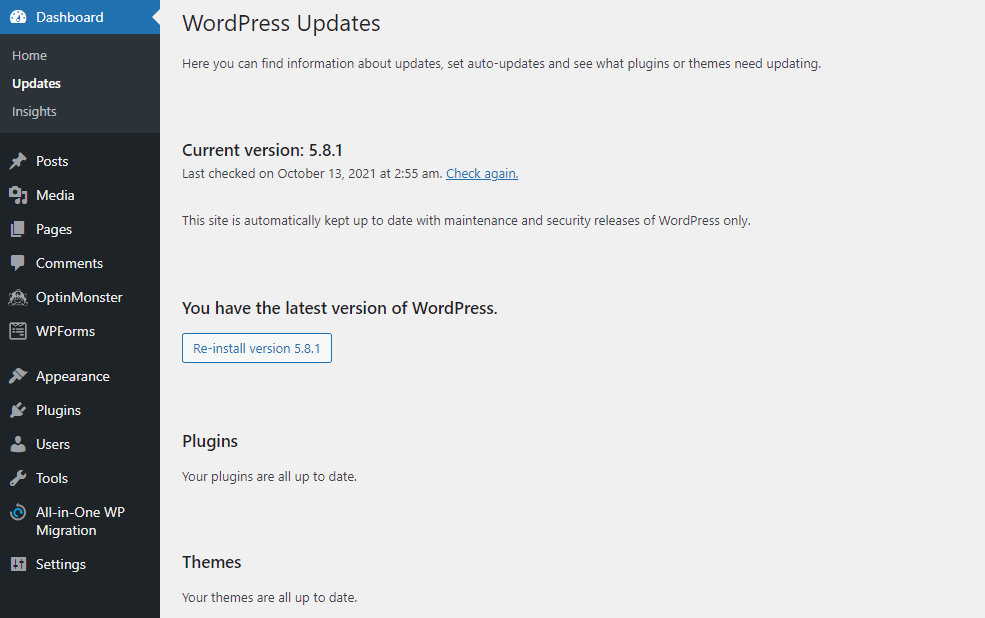 It will display information about the current version of WordPress and all themes and plugins installed on the website. There will be a notification when WordPress updates are available to download, and you can do so with a few clicks.
Also, WordPress has a list of software versions and planned updates. Be sure to check your WordPress version and compare it to this page so that you can plan the software updates accordingly.
Check Website Features and Pages
Your website may have various interactive elements, such as forms, drop-down menus, hover effects, and animation. Regularly check if these elements work properly. If you have changed your contact information recently, be sure also to update the contact information page.
You should also check all pages and links on the website. Make sure to fix any 404 errors, dead pages, and broken links, as they are bad for user experience and, consequently, SEO.
They waste the crawl budget as the crawlers go to an empty page. Plus, the more empty pages they find, the more likely they will consider your website out-of-date, thus lowering its rankings.
Use online tools such as Semrush or Ahrefs to discover broken links. WordPress plugins are also available and make the process even easier, as you can check and fix broken links from the WordPress dashboard.

Scan the Website for Malware and Spam
Malware is software injected by cyber attackers to cause damage to a website or server.
There are various types of malware, including viruses, spyware, and adware. Identifying them is crucial to protect customers' data and provide a safe browsing experience.
There are several WordPress plugins to do so, such as Sucuri Security or Wordfence.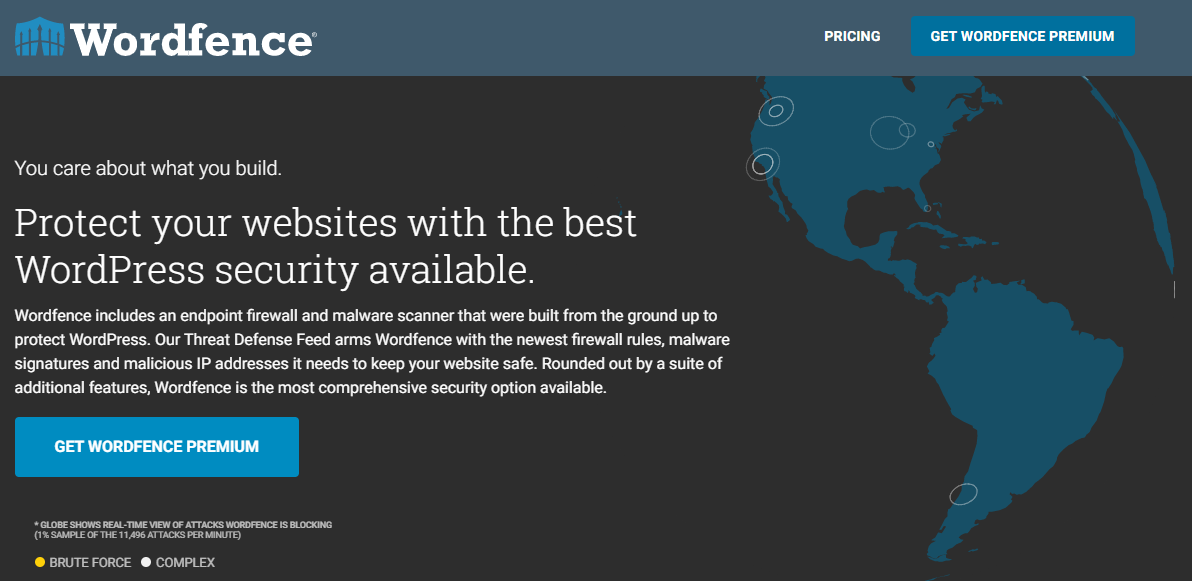 In addition to detecting potential threats, these plugins also remove any detected malware.
If you prefer to do it manually, download the website files, except for the wp-config.php and wp-content.php files, to your computer and scan them with antivirus software.
There's a default wp-config.php sample file on the WordPress GitHub repository. Use it to compare to your site's wp-config.php file and identify any unusual string of code.
After that, remove spam comments from your WordPress posts. They often contain malicious or low-quality links, which affect the website rankings on search engines and leave a bad impression on the website visitors.
Test the Loading Time
Your website can get slower over time due to unoptimized images, poorly-written CSS or Javascript, or broken files.
Use online tools such as GTmetrix and PageSpeed Insights to test the website speed and check if there are any issues.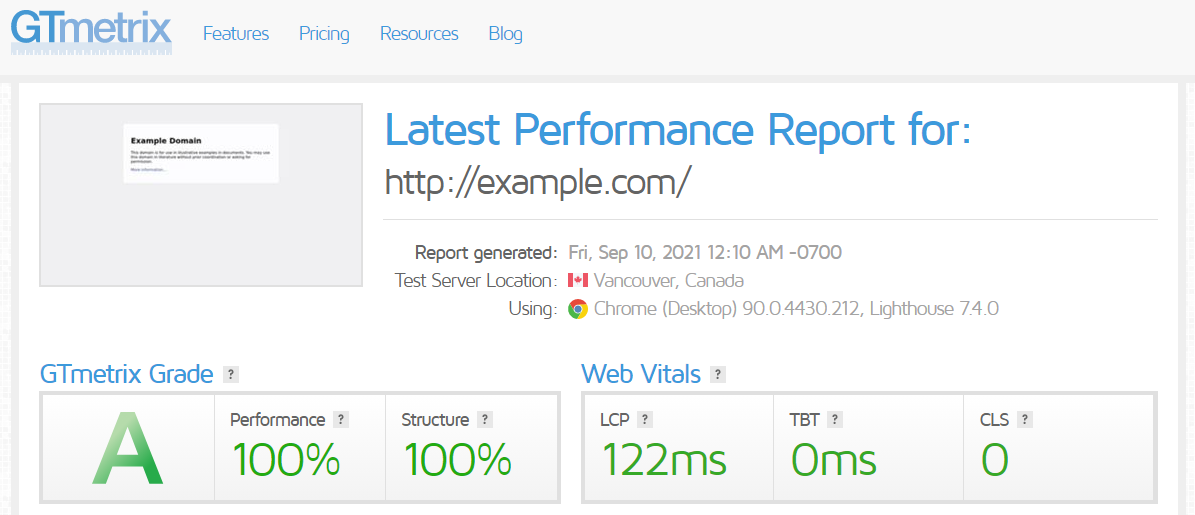 Most of these tools show key metrics such as the page's fully loaded time and the number of requests, but, most importantly, they also provide suggestions on how to improve your website speed.
Additionally, having too many plugins might also slow down the website. Make sure to install only the necessary plugins and remove the unused ones.
Review Website Statistics
While it's not directly related to website maintenance, reviewing Google Analytics can reveal what needs improvements and whether you are on the right track regarding the business and website goals.
Firstly, you should check how much traffic comes to the website, where the visitors come from, and how they interact with the site. Obtaining this information will help you update the website with more relevant content, thus improving conversion rates.
The second metric you should pay attention to is the bounce rate. It measures how many visitors leave your site without interacting with it.
The bounce rate reveals two possibilities – the content may not be relevant to their search intent, or the site provides a bad user experience.
Tracking down the bounce rates from individual pages helps identify the bad-performing ones. Create a priority list of pages that need attention and update the content to make them more relevant.
Those are just a few examples of what you can do with Google Analytics. Performing a thorough website analysis will reveal much more about your website and critical areas for improvement, such as advertising and marketing campaigns' effectiveness.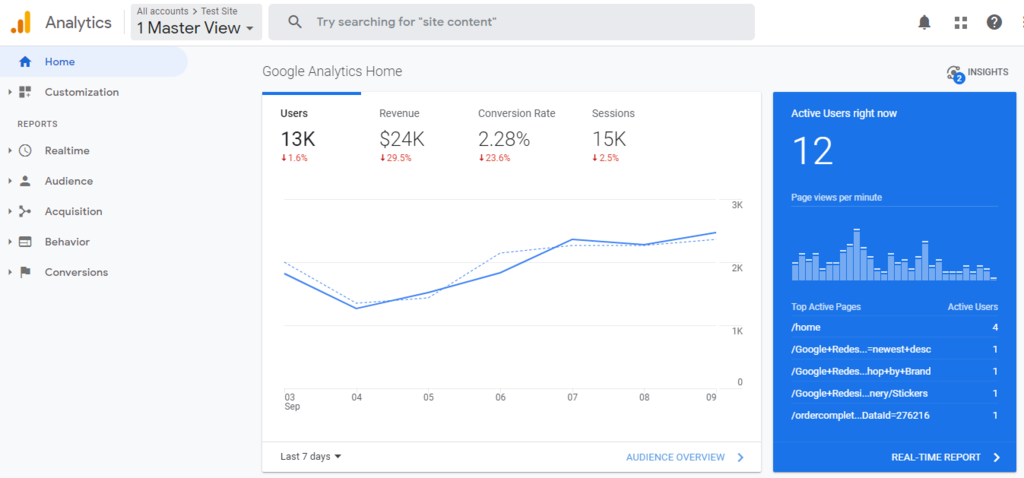 How Much Does Website Maintenance Cost
The cost for website maintenance varies depending on the size of the website. While it's hard to provide the exact website maintenance cost, we can estimate the cost for each website category:
Personal website – $5/month to $25/month. In most cases, a domain name and hosting service are sufficient to run a personal website.
Professional blog or portfolio – $25/month to $75/month. This type of website may require premium plugins and SEO tools.
Small to medium business website – $35/month to $500/month. Small business websites may have similar requirements to a professional blog, but with the addition of eCommerce features and premium tools.
Large enterprise website – $200/month to $4,500/month. Maintaining enterprise websites is expensive as it requires the best possible architecture and involves code customization.
eCommerce website – $1,500/month to $5,000/month. eCommerce maintenance costs vary depending on the scale of the business but usually involve a payment gateway, stronger security, and analytics.
Since the website maintenance cost depends on the size of the website and its components, we'll take a more detailed look at each cost factor:
Web hosting service – hosting comes in several types and plans. A shared hosting plan starts at $1.39/month, while the highest-tiered cloud hosting plan costs $69.99/month. The most expensive type of hosting is dedicated hosting, ranging from $80/month to $300/month.
Domain name – the price of a domain name depends on its TLD. A .com domain can cost $8.99/year, while other TLDs like .net cost $12.99/year.
SSL certificate – there are different types of SSL certificates, costing from $7 for a Domain Validated (DV SSL) to over $2,000 for a multi-domain enterprise SSL.
Security – website security services like Sucuri and MalCare offer plans ranging from $99/year to $599/year for website scanning and malware removal.
Website design – the cost of hiring a professional web designer may vary between $500/year and $1,000/year.
Lastly, a website maintenance service is an optional factor, as you can do website maintenance yourself or with your existing team. However, if you'd like to save time and avoid technical tasks, use a professional website maintenance service.
Several different website maintenance packages vary in prices and services included.
A simple website maintenance package that costs $200/month includes content management system (CMS) software updates, security updates, and website restoration.
The more expensive website maintenance package includes design and development services for up to $4,500/month.
How Often Should You Do Website Maintenance
Maintenance tasks require different time intervals depending on the website to be more cost-effective and efficient. For example, checking for WordPress updates and creating backups are more frequent website maintenance services than renewing your hosting plan and website domain name.
We recommend splitting your website maintenance plan into three periods – weekly, monthly, and yearly.
Weekly Maintenance
A weekly website maintenance plan starts with creating website backups. Don't forget to regularly check the backup health by restoring it to a test site or staging environment.
Next up, check for available updates on WordPress, be it software, themes, or plugins. It's also worth checking the update release dates so that you can schedule a WordPress update on your maintenance plan.
All the forms and pages on the website also need to be checked weekly. Find if there are 404 pages, broken links, or form errors and fix them immediately.
Pro Tip
Remember to put your website into maintenance mode when updating WordPress or fixing major website issues such as broken links and error pages.
Once you've updated your website and resolved any errors, it's time to focus on new content creation. Publish at least one new blog post every week to retain customers and strengthen your website SEO strategy.
It's also a good practice to clear spam comments.
Monthly Maintenance
Every month, you should perform four tasks in addition to the weekly maintenance plan.
Firstly, you should perform a website speed test. Over the month, you may have added extra content that caused the website to slow down, such as unoptimized images.
Removing unused themes or plugins can also help optimize the website's performance and security.
The next task is completing a security scan. You can include this on the weekly maintenance, but scanning the website for malware once a month is generally sufficient.
Reviewing Google Analytics every month gives you relevant information more timely. Plus, it will be easier to check the website performance, such as SEO traffic sources and conversion rates, and keep up with trends.
Once you've done those tasks, get back to your WordPress posts. Apart from adding new weekly content, website maintenance should also include an SEO audit – the process of analyzing how your website ranks on search engines compared to the competitor's site and finding ways to improve it.
It's also a good idea to update the keyword research and content.
For example, you may have published an article such as the "best website maintenance plugin in 2021". However, some of the content is outdated and no longer provides factual information. In this case, update the blog post with fresh information and, if possible, new keywords.
Annual Maintenance
The most important task on annual maintenance is renewing the hosting plan, domain name, and SSL certificate. If you subscribe to premium themes or plugins, don't forget to renew them too.
If you've scaled up the business, you may want to redesign the website to cater to the increasing traffic and create a better user experience.
Changing business goals or branding is also a reason to update the web design to align it with your business.
Conclusion
Ignoring website maintenance can result in a bad user experience and security breaches, which will heavily affect traffic, conversion rates, and your reputation. To recap, maintaining a website involves:
Creating site backups
Renewing hosting plan, domain name, and SSL certificate
Checking for updates
Checking website features
Scanning the website for malware
Testing the loading time
Reviewing website statistics
To perform website maintenance yourself, create a to-do list for weekly, monthly, and annual tasks. This way, you ensure efficient and regular website maintenance.
However, if you're not comfortable with these technical aspects, remember that web maintenance services are available to help.