10 Best WordPress Contact Form Plugins and Why You Should Have One
Adding a contact form is essential whether you're building a WordPress business or personal site. It facilitates interactions, letting visitors easily submit questions, feedback, or project opportunities.
However, designing a contact form can be time-consuming and challenging for those with little web development knowledge. Luckily, WordPress has a range of form builder plugins you can use to streamline contact form creation.
This article will review the 10 best contact form plugins, helping you pick the most suitable one.

Top 10 WordPress Contact Form Plugins
When choosing the best form plugins for this list, we considered the following factors:
User-friendliness – these plugins offer an intuitive visual interface with drag-and-drop functionality to create a contact form on a WordPress site. Users don't need to worry about building one from scratch.
Pricing – plenty of free contact form plugins are available. However, some require purchasing a premium plan to get more features. We will cover the pricing range for each WordPress plugin to help you pick the one that suits your budget.
Functionality – we compiled plugins with varying key features. This will help you choose the best contact form plugin for your needs.
Popularity – we look at reviews, ratings, and the number of active installations to present you with the most trustworthy contact form plugins.
The following sections will look at the best contact form plugins for your WordPress site.
1. WPForms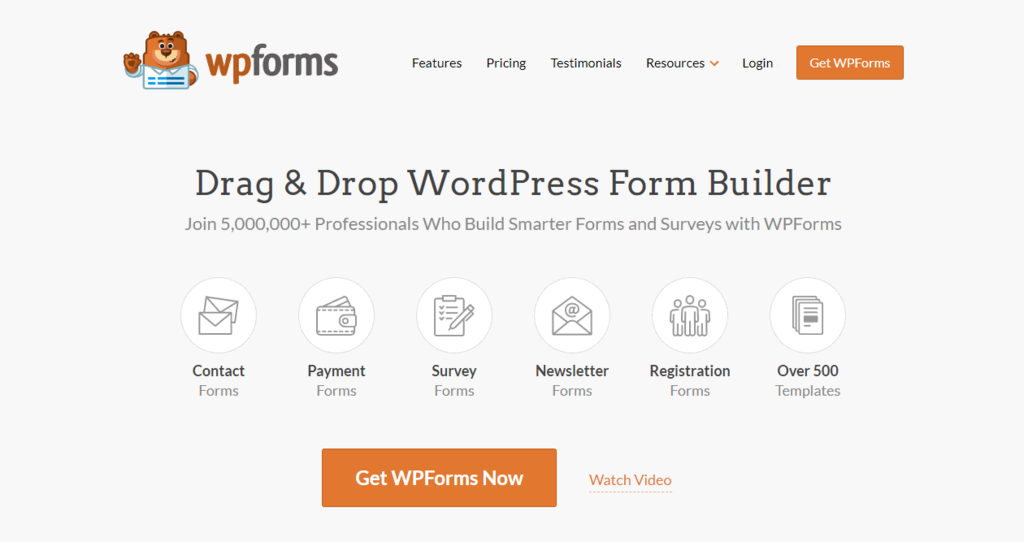 WPForms Stats:
Downloads: 5,000,000+
Rating: 4.9/5
Best for: website beginners looking for an all-rounder contact form plugin
Price: freemium
WPForms is a beginner-friendly WordPress plugin that lets users create a contact form quickly using pre-built templates. It is SEO-ready and fully responsive on mobile, offering excellent speed and performance across devices.
WPForms provides a drag-and-drop builder that simplifies design workflows. Additionally, this contact form plugin has a file uploads feature. This way, you can collect user-submitted content on the WordPress admin panel.
Users can upgrade from the free version to one of the premium plans starting at $49.50/year for the Basic plan to $299.50/year for the Elite plan. The premium version allows you to access premium site management, priority support, and advanced customization features.
Key Features
Unlimited contact forms – create as many forms as you need, including a simple contact form and custom ones.
Protection against spam – this WordPress plugin implements spam protection integrated with hCaptcha and Google reCAPTCHA.
Form Locker – controls form permissions and access with memberships and passwords.
Extensive tool integration – supports various payment and marketing tools to collect fees, grow mail listings, and run customer relationship management (CRM).
2. Ninja Forms

Ninja Forms Stats:
Downloads: 900,000+
Rating: 4.3/5
Best for: developers who need a form builder with technical customizations
Price: freemium
This contact form plugin offers an intuitive drag-and-drop editor to make simple and professional-looking contact forms without hassle. Ninja Forms has many customizable pre-made templates to create advanced forms, including registration and PayPal forms.
This plugin allows users to manage multiple contact forms in a single place. The form builder plugin uses the basic website theme styling to ensure the contact forms blend your other content.
The free version includes basic add-ons, such as file uploads, layout and styles, conditional logic, and multi-step forms. To integrate your form with productivity tools like Trello and Slack, consider purchasing one of Ninja Forms' premium plans, ranging between $49–299/year.
Key Features
Favorite fields – website owners can keep modified form fields as favorites and easily reuse them.
Built-in spam protection – lets users secure their sites by blocking bots and spammers, supported by Akismet and Google reCAPTCHA.
Integrations support – connect Ninja Forms with various tools, including Help Scout, Recurly, and Mailchimp.
Conditional logic – set specific rules and conditions to fine-tune your contact forms.
3. Contact Form 7

Contact Form 7 Stats:
Downloads: 5,000,000+
Rating: 4/5
Best for: business beginners looking for the most cost-effective contact form plugin
Price: free
Contact Form 7 is a free WordPress contact form plugin. It offers many field options to extend its pre-built contact form. One of the best free form plugins, it allows you to manage multiple forms.
However, Contact Form 7 has limited customization options. It doesn't come with a drag-and-drop editor or a live preview. Users must add custom CSS to style their forms.
Unlike other form plugins in this article, Contact Form 7 doesn't have a premium version.
Key Features
Anti-spam form filtering – this free WordPress form plugin integrates with the latest version of reCAPTCHA to block spam.
A wide array of form fields – this free plugin includes fields such as text, checkboxes, email, file upload, number, and date.
Subscribers-only mode – helps users create a specific form for site members. Plus, it can display a message informing visitors to log in for a form submission.
Drop-down menus – lets visitors select an option among multiple values in a form.
4. Calculated Fields Form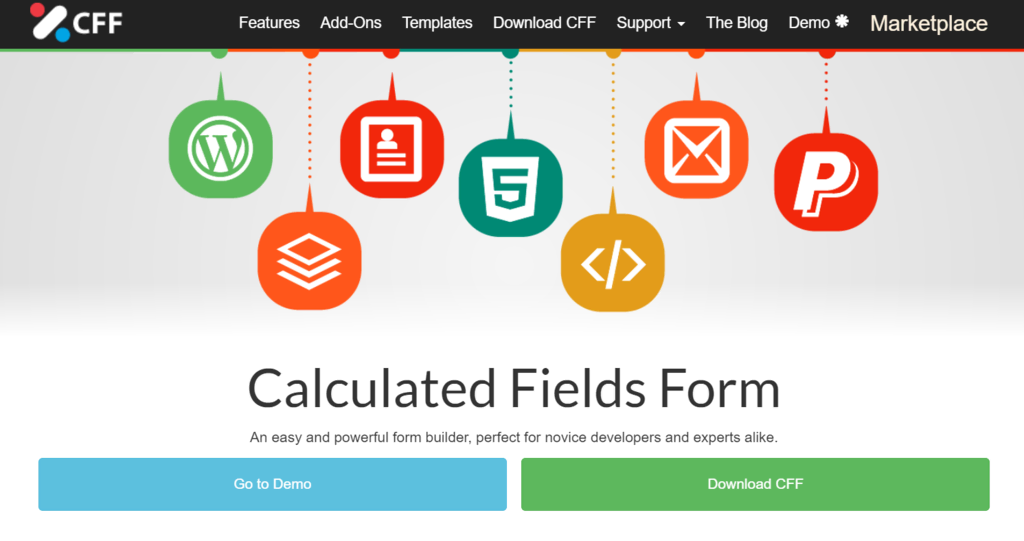 Calculated Fields Form Stats:
Downloads: 60,000+
Rating: 4.9/5
Best for: business owners who want to create forms with calculated fields
Price: freemium
This WordPress plugin provides features for creating a complex or basic contact form, suitable for beginners and advanced users. Calculated Fields Form has a visual form builder, letting users easily add, edit, and remove fields.
It features calculated fields for product and service prices, weight, distance between addresses, and time ranges. In addition, the plugin offers predefined designs to apply to your WordPress forms.
Calculated Fields Form also has fields for multi-page forms, such as survey forms and information summaries.
The pricing for Calculated Fields Form's premium plans ranges from €49.99 to €149.99. The highest-tier plan integrates with tools like Mailchimp and Stripe.
Key Features
Validation rules – define specific rules people have to follow when filling out a form. For example, ensure only numbers are allowed in the phone number field.
Dependent fields – allow users to add fields with multiple choices, including dropdown menus and checkboxes to define dependency for certain values.
Email delivery – notification email settings allow site administrators to receive a copy of all submitted forms.
Resources – the plugin has detailed documentation to help users get familiar with all the form settings and features.
5. Formidable Forms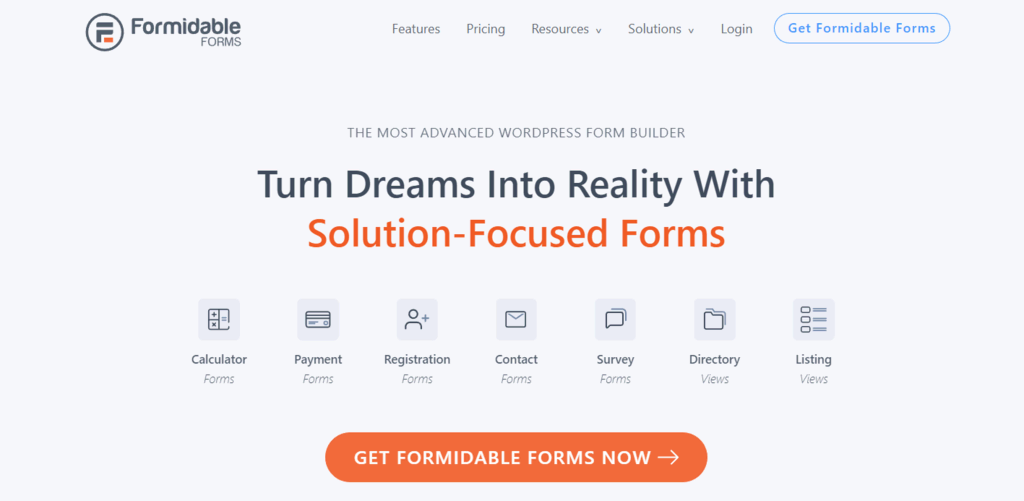 Formidable Forms Stats:
Downloads: 300,000+
Rating: 4.7/5
Best for: site owners who want to easily transfer forms to other sites
Price: freemium
Formidable Forms is one of the fastest, fully mobile responsive WordPress form builders. This form plugin also has a drag-and-drop functionality so users can easily create simple or dynamic forms.
The plugin lets users create surveys with Net Promoter Scores (NPS) and star ratings. It includes reports with graphs for easy data examination. Plus, Formidable Forms has import and export features, allowing users to transfer forms, styles, and entries to other websites.
Unfortunately, some features like file upload and multi-page forms are only available in Formidable Forms' pro plans, which cost $39.50-299.50/year.
Key Features
Formidable views – this feature allows users to display submitted forms on your WordPress site.
Email autoresponders – automatically send confirmation emails to people who submitted information in your contact form.
Custom calculator – easily create a calculator with pre-built form templates, advanced math calculations, and a visual styler to match the site design.
Polls and surveys – use this form builder to add conditional logic-based questions and conversational forms to your surveys and multi-page polls.
6. Forminator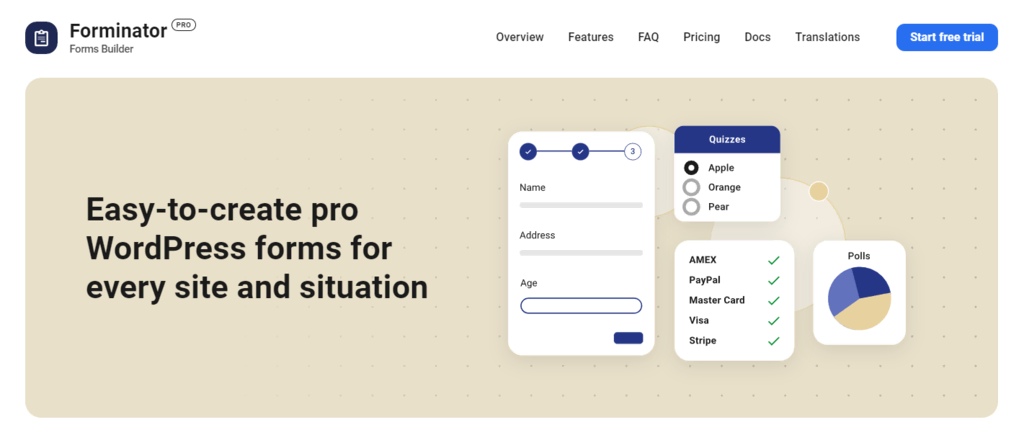 Forminator Stats:
Downloads: 400,000+
Rating: 4.9/5
Best for: users who want to create WordPress payment forms
Price: freemium
This freemium form builder plugin has a drag-and-drop editor, letting users use blocks for name, text, file upload, date, HTML, and hidden fields to create a form.
Forminator integrates with PayPal and Stripe by default, making it one of the best plugins for payment forms. Other contact form plugins usually offer this feature as a premium add-on.
Forminator lets users add time and date picker fields to create schedule forms. For instance, you can allow visitors to book appointment dates with the form.
If you want to collect subscriptions and recurring payments through your WordPress site, consider purchasing the Forminator Pro plan, available from $7.50/month.
Key Features
User registration forms – with this WordPress contact form plugin, users can customize a registration form that matches their branding.
Quizzes – add visually engaging quizzes to your WordPress site to retain visitors longer.
Polls – Forminator lets users create polls with dynamic behavior settings to collect opinions and feedback from site visitors. Users can also show the live stats via eye-catching graphs and pie charts.
Google reCAPTCHA – prevents spam messages from reaching site owners' inboxes as it integrates with Google's system to block bots.
7. Happyforms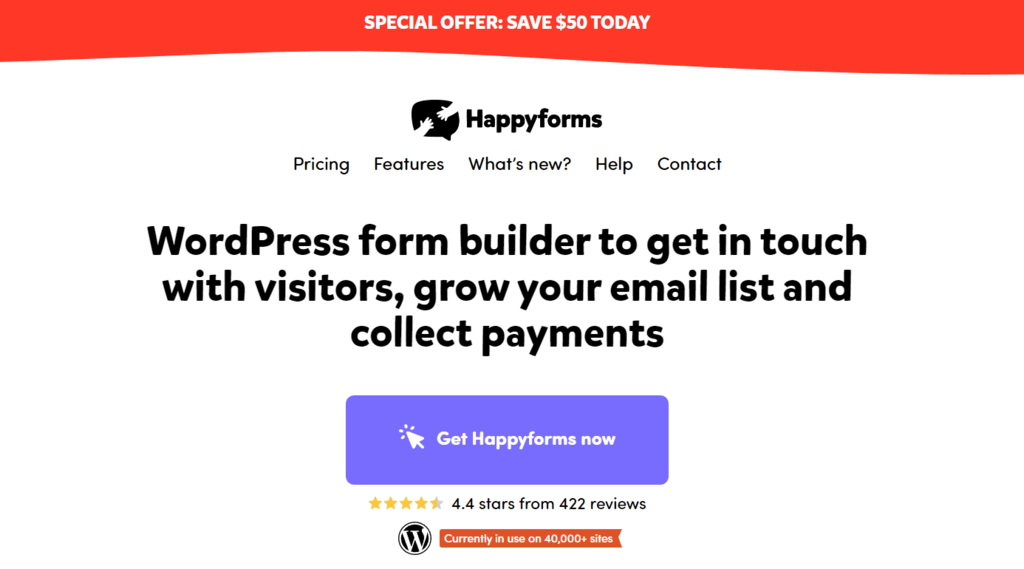 Happyforms Stats:
Downloads: 40,000+
Rating: 4.4/5
Best for: users who wish to track their forms' performance and grow mailing lists
Price: freemium
Another easy-to-use WordPress contact form plugin is Happyforms. Like Contact Form 7, this form builder doesn't offer a custom visual interface. Instead, it uses the default WordPress customizer to preview the form as you create it.
This WordPress form builder plugin allows users to easily duplicate and make multi-page forms. You can also see information like IP addresses, referer pages, and submission dates and statuses.
Happyforms offer more features, including payments and analytics tool integration in its pro version. The premium plans range between $79-299/year.
Key Features
Analytics – Happyforms has a dashboard with metrics like abandonment rates, which is useful for analyzing forms' performance.
Short and long answer fields – users can add fields for a single-line response like email or phone number, as well as large amounts of text like a comment box.
Optimized slider field – Happyforms' slider field is functional on mobile screens.
Scrollable terms field – provides a better user experience when scrolling through the long terms and conditions section.
[DOWNLOAD]
8. Everest Forms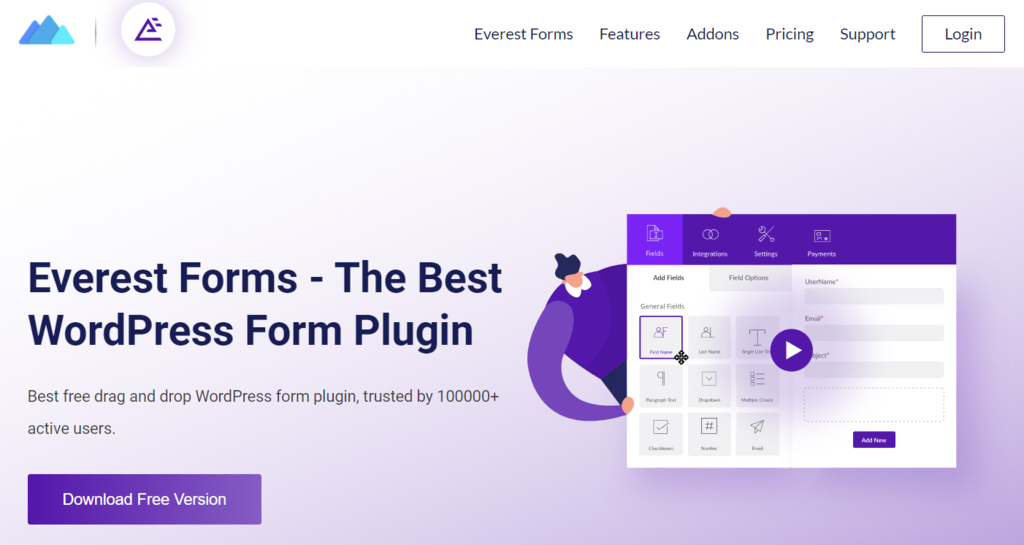 Everest Forms Stats:
Downloads: 100,000+
Rating: 4.9/5
Best for: users who wish to customize design elements for their forms
Price: freemium
As one of the best form plugins for WordPress, Everest Forms offers an intuitive drag-and-drop form builder. Users can quickly create dynamic forms using pre-designed form templates. The contact form plugin also allows users to import and export forms easily.
This user-friendly form plugin allows you to add as many fields as you wish. The Form Designer feature lets users customize elements, including the color, font, background, and spacing, without having to code.
This WordPress plugin will list all form submissions in its dashboard entries. Therefore, users can take a look at all submitted forms in a single dashboard.
To unlock the plugin's full features, users can upgrade to one of the premium plans available from $48.3-199/year.
Key Features
Multiple spam protection – this contact form plugin integrates with Google reCAPTCHA, Math Captcha, and Honeypot to secure your site from spam.
Unlimited email notifications and autoresponders – receive real-time email notifications for each form submission and send confirmation emails to users.
Multi-step forms – this feature spreads your long forms into multiple parts for better navigation.
Multiple file uploads – upload multiple files at once and apply settings to define accepted and restricted file types.
9. Fluent Forms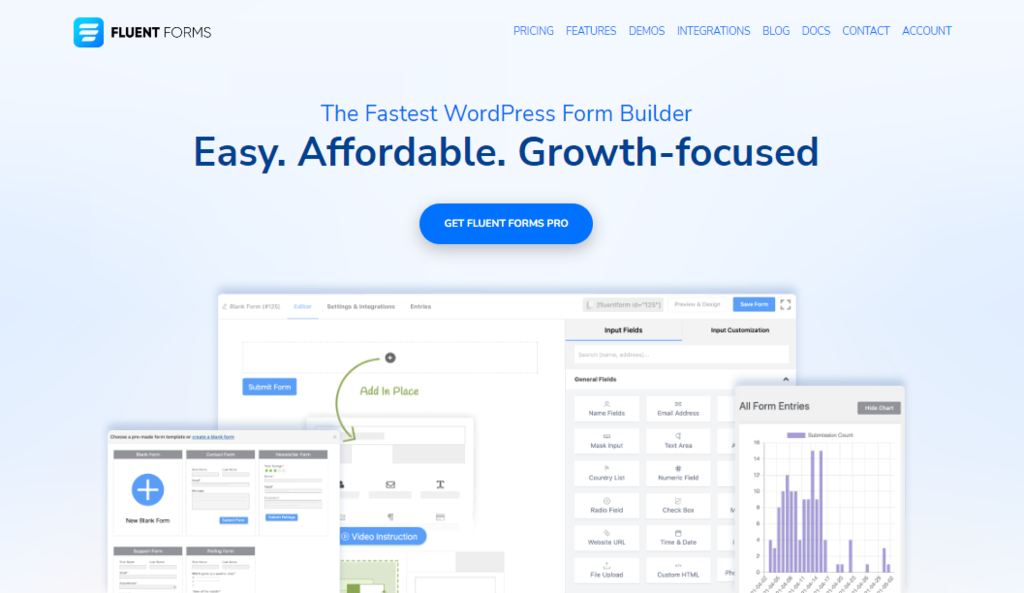 Fluent Forms Stats:
Downloads: 300,000+
Rating: 4.8/5
Best for: users looking to create growth-focused contact forms
Price: freemium
Fluent Forms lets users create multi-step forms for higher conversion rates. Users can also choose from the pre-designed form templates, including a multi-column form layout.
Additionally, this contact form plugin provides customizable input fields for various purposes.
This WordPress contact form plugin offers both a free version and premium plans with prices starting from $41-139/year.
Key Features
Conversational forms – this contact form plugin lets users build interactive web forms with attractive designs.
Quiz module – create trendy quizzes with advanced scoring to provide a fun, engaging element on your website.
Form scheduling – users can schedule a form for visitors to fill out or prevent them from submitting one.
Visual data report – displays charts based on form entries to give users better data measurement.
10. weForms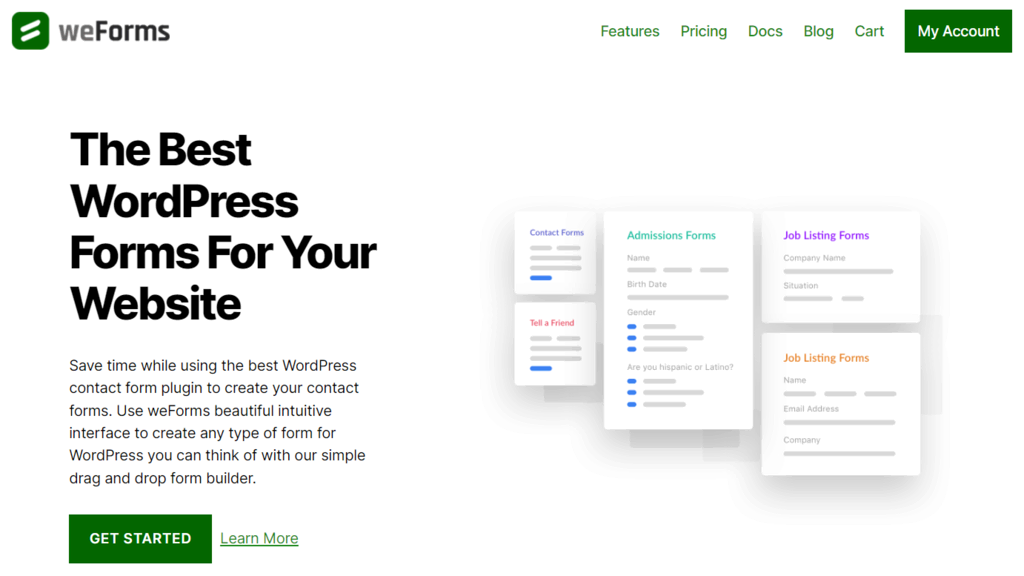 weForms Stats:
Downloads: 20,000+
Rating: 4.6/5
Best for: users who wish to create customized forms with rich features
Price: freemium
weForms provides an easy and fast form builder with a live preview page. This WordPress contact form plugin also offers pre-built form template options to shorten the time-consuming design process. They are all responsive, which will look great on different screen sizes.
weForms offers over 20 custom fields and full customization options to create a contact form. Moreover, weForms lets users create multi-step forms to improve user experience. Another advantage is its easy import feature from other WordPress form plugins.
If you wish to access more advanced features, the weForms premium plans start from $49-$249/year.
Key Features
Add weForms anywhere – site owners can use weForms in different places, such as page builders, widgets, and Gutenberg using a shortcode.
Google Maps integration – easily add Google Maps to your WordPress contact forms to display your business location.
Anti-spam features – the contact form plugin uses reCAPTCHA to block messages sent by bots to minimize security risks.
Conditional logic – allows users to decide how and where to display their forms, providing visitors with a better customer journey.
[DOWNLOAD]
Why You Should Use a Contact Form
A contact form lets site owners provide a simple way for visitors to interact with their brand by filling in and submitting information. You won't need to provide a business or personal email address.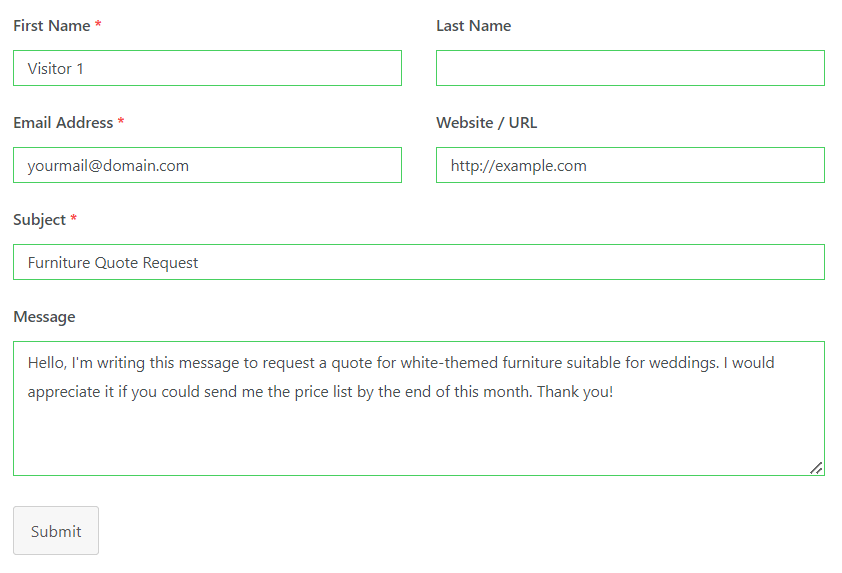 Contact forms are also beneficial in the lead generation stage. For instance, eCommerce site owners can use contact forms to collect email addresses and build lists of prospects for their email marketing strategy.
Here are other benefits of adding a contact form on your WordPress website:
Convenience – a contact form lets visitors quickly contact a site owner without searching for their contact information.
Better security measures – with a WordPress contact form, site owners can filter scams and phishing attempts more easily than with an email address.
24/7 availability – adding contact forms on your WordPress website allows visitors to get in touch with your brand anytime.
Easy file upload – most form plugins offer a file attachment field, letting visitors upload relevant files.
Improved site credibility – a contact form signifies professionalism, giving visitors the impression that the website owner considers feedback and project offers seriously.
Automated email responses – users can send response emails to visitors who submitted forms and get automated notifications for each form submission.


Conclusion
Using a contact form on your site is a simple and secure way to communicate with visitors without providing your email address. By doing so, your site will also look more credible and professional.
Fortunately, a WordPress contact form plugin lets beginner site owners easily create contact forms without coding. Here are our top picks for the best contact form plugins:
WPForms – this drag-and-drop form builder is suitable for beginners looking to create simple contact forms quickly and efficiently.
Ninja Forms – this plugin lets users keep form submissions in a database accessible from the WordPress dashboard.
Contact Form 7 – a free contact form plugin for building basic contact forms.
Calculated Fields Form – this form builder is an excellent choice for building forms with default calculated fields and validation rules.
Happyforms – this plugin provides an analytics feature, helping site owners evaluate the performance of their forms.
Everest Forms – a user-friendly form builder plugin offering design customization options to create visually appealing forms.
We hope this article helps you find the best contact form plugin for your WordPress site. If you have any questions, leave us a comment below.
WordPress Contact Form Plugins FAQ
We've compiled a list of the most frequently asked questions about WordPress contact form plugins.
Does WordPress Have a Built-in Contact Form?
WordPress doesn't come with a built-in contact form. Fortunately, you can easily add one to your site by installing and activating a free or premium contact form plugin.
How to Create a Contact Form in WordPress?
To create a form, simply install and activate a WordPress form plugin. You can start with one of the provided pre-made templates or build from scratch. Then, customize its elements and embed the form on your website.
What Is the Best WordPress Contact Form Plugin?
The best form builder plugin for WordPress will depend on your needs. For instance, if you manage an eCommerce site, use Calculated Fields Form for its default calculated fields. But if you're looking for a design customization feature, consider using Everest Forms.
Can I Get a Contact Form Plugin for Free?
Some plugins offer a free version. However, you must purchase the paid version to access the advanced features. If you want to create forms with a completely free WordPress plugin, Contact Form 7 is the best option for you.