Best 7 WordPress Auction Plugins and How to Create an Auction Website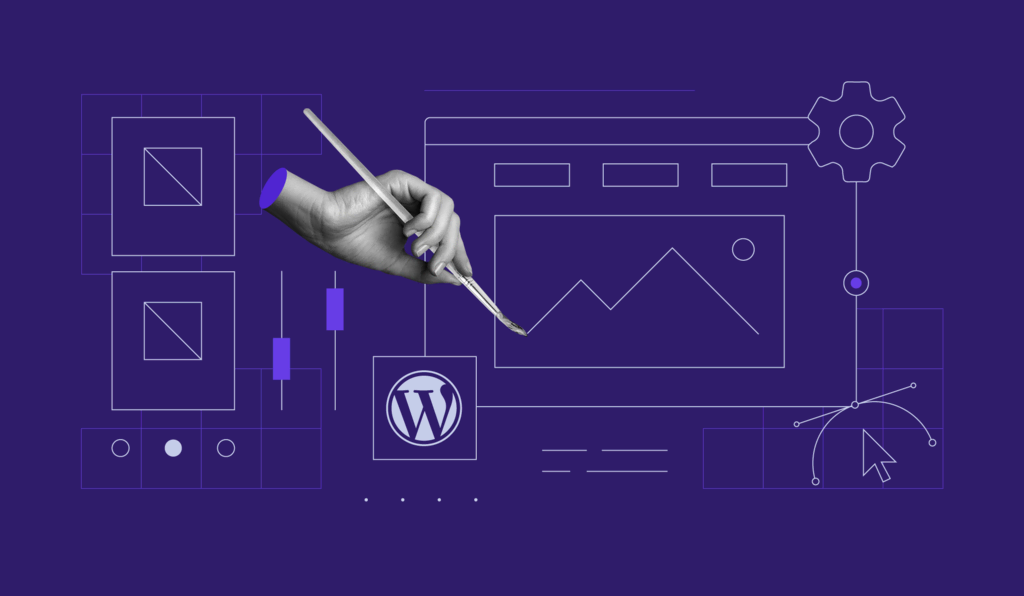 If you sell valuable collectibles or are passionate about online bidding, an auction site can help you achieve both goals. Building a bidding platform simplifies the auctioning process to make money online. You can do so using WordPress, a popular content management system (CMS).
Easily add auction functionality to your website with WordPress plugins, eliminating the need to code. The CMS and many of its plugins are free to use, making it ideal for users with a limited budget or who want to test this business opportunity first.
In this article, we'll explore the top seven WordPress auction plugins and guide you on creating your bidding platform using one of these plugins.


Top 7 WordPress Auction Plugins
After extensive testing, we have carefully handpicked the following auction plugins for WordPress websites. When selecting these best auction plugins, we consider their features, credibility, and compatibility with the most recent WordPress and PHP versions.
They are also safe to use with other best WordPress plugins to optimize your auctions' reach and the site's overall performance.

Standout features: expired auction reactivation, AJAX admin panel, and an auction feed
Price: freemium (Ultimate Auction Pro costs $79-199/year)
Ultimate WordPress Auction is the best WordPress auction plugin due to its affordability and extensive features. Even with the free version, you can run online auctions that require user registration, set starting bids and bid increments, and reactivate expired auctions.
This WordPress auction plugin provides standard bidding engines, allowing you to run reverse, silent, and proxy auctions. Supporting integration with the WooCommerce Multi-Vendor plugin, it enables your audience to become vendors and add auctions to your WordPress website.
Communication with bidders is made simple through email notifications, ensuring users receive alerts for bids and payments. Admins also have access to email notifications for all auction-related activities, ensuring regular updates.
Other key features include an AJAX admin panel, a "Buy Now" function with PayPal integration, and a live auction display on the auction feed section.
Upgrading to the premium version unlocks advanced functionalities, including proxy auctions to prevent sniping and the ability to relist auctions based on specific criteria. All premium plans come with a free 14-day money-back guarantee.
[DOWNLOAD]
2. YITH WooCommerce Auctions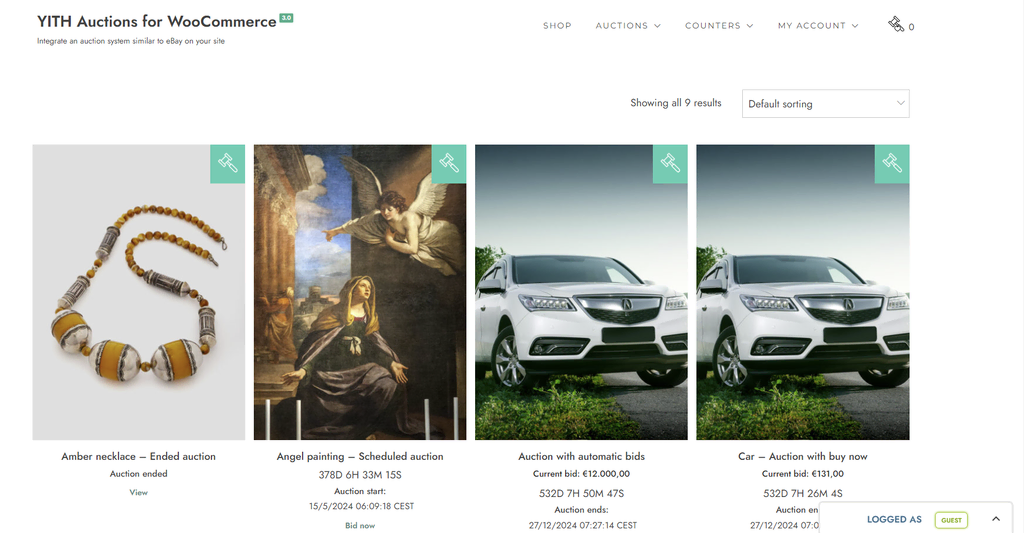 Standout features: manual and automatic bidding, WooCommerce and Stripe integration, and auction rescheduling
Price: $149.99/year
If you already run a WooCommerce store, this plugin can transform it into an auction platform. It enables third-party vendors to run auctions on your website, earning you a commission for each successful sale.
This WooCommerce auction plugin offers various methods to increase revenue, such as requiring registered users to pay a bidding fee and auctioning products at fixed prices. Additionally, it automatically reschedules auctions that lack bids or exceed the reserve price.
Admins have control over auction listings and can show or hide them. They can also suggest similar auctions on ended pages and easily embed listings anywhere on the site using shortcodes. Plus, they can ban users from bidding and hide usernames to ensure security.
The plugin provides impressive tools for bidders as well. Users can follow auctions and keep a comprehensive record of placed bids on their accounts.
YITH WooCommerce Auctions has a higher starting price than other plugins on this list, especially since it doesn't have a free version. However, its robust features make it an excellent long-term investment if you have the budget.
[DOWNLOAD]

Standout features: second chance offer, RSS feed, and anonymous auctions
Price: freemium (Pro version starts at $39/year/site)
WP Auctions is the perfect choice for auctioneers managing multiple simultaneous and periodic auctions. It enables users to create and manage unlimited simple, proxy, reverse, and quick auctions.
This free WordPress auction plugin lets you display all listings in a graphic or list format. Its AJAX support makes running live auctions easier, providing real-time updates without the need for refreshing.
Display the auction feed page in posts and pages using the built-in widget. The responsive layout for embedded auctions delivers a consistent user experience across all screen sizes.
Other key features include time extension to prevent sniping and an auction category system. You can set a flat shipping cost per auction or offer a shipping clause. Additionally, WP Auctions supports PayPal and checking accounts as payment gateways.
What sets this WordPress auction plugin apart is its second chance offer feature. You can allow non-winning bidders to purchase the item at their last bid, preventing lost sales when the reserve price isn't met.
Upgrade to the premium version for $39/year/site to unlock all these WordPress auction plugin features.
[DOWNLOAD]

Standout features: eBay integration, auction filtering and sorting, and easy-to-use shortcodes
Price: free
If you have a stable sales record and a reputable eBay profile but wish to showcase your eBay auctions on a separate website, consider using Auction Nudge.
This free WordPress auction plugin lets you promote eBay listings on posts and pages, saving time and increasing awareness. Using shortcodes, you can easily display up to 100 eBay products per page, along with your eBay profile and feedback.
The plugin's robust filter function enables users to find specific eBay products based on the category, keyword, or listing type. Combined with the flexible sorting system and multiple display options, Auction Nudge effectively highlights your near-expired eBay auctions to encourage biddings.
Unfortunately, Auction Nudge doesn't provide tools for hosting an online auction directly on your WordPress site. If you don't have an eBay account to facilitate the bidding process, consider opting for other auction plugins on this list.
[DOWNLOAD]
5. WooCommerce Simple Auctions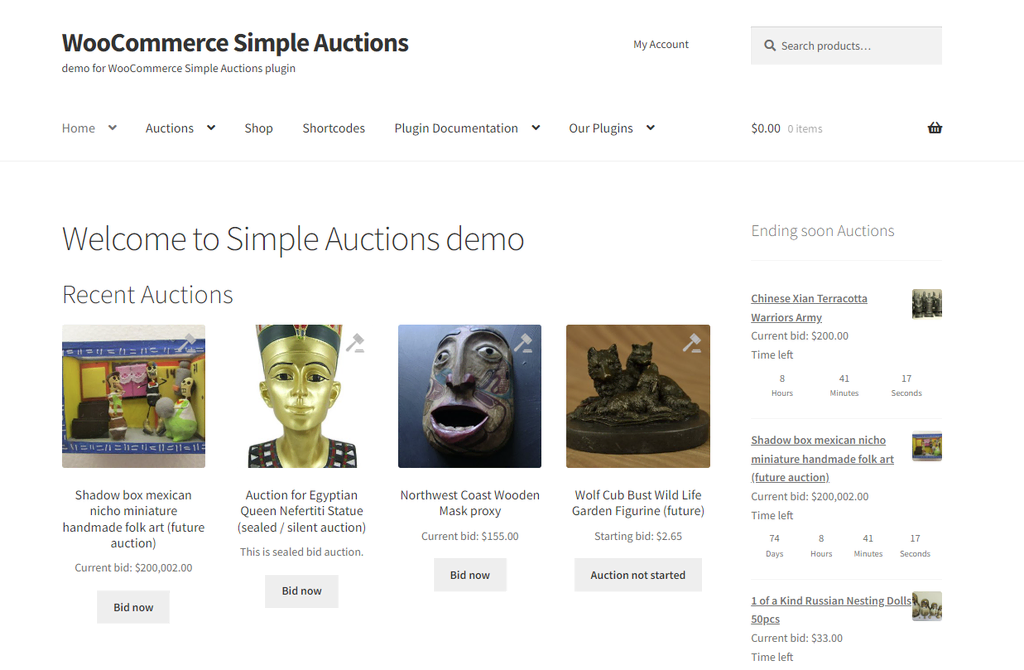 Standout features: native WooCommerce support, customizable widgets, and downloadable-based auctions
Price: $49/website
If you already have a functioning WooCommerce store, consider WooCommerce Simple Auctions as another option. With seamless integration with the popular eCommerce plugin, setting up WordPress auctions becomes effortless.
Use shortcodes and widgets to easily add auctions and their respective countdown timer to any section of your WooCommerce site. Display recently viewed and featured auctions to create a sense of urgency and encourage bidding activity.
This auction plugin lets you create auctions for digital downloadable products like songs and eBooks. Additionally, it works seamlessly with multiple payment gateways supported by WooCommerce.
Key features of this auction plugin include role-based bidding, manual and automatic relisting, and AJAX live updates. It can also verify payment details before accepting bids, ensuring peace of mind for you and your vendors.
[DOWNLOAD]
Standout features: advanced template editor, eBay and WooCommerce integration, and localization
Price: freemium (Pro version costs $49/month)
WP-Lister caters to eBay sellers who operate WooCommerce stores, providing streamlined integration between both platforms. It lets you showcase WooCommerce items on your eBay profile, meaning you can monitor auction products directly from WordPress.
When a buyer purchases your auction product on eBay, WooCommerce's robust eCommerce capabilities can help you handle post-sales activities such as invoicing and shipping labels.
Another highlight of this WordPress auction plugin is its advanced template editor, supporting custom HTML and CSS code. Create personalized listing templates that perfectly align with your requirements.
In addition, it's possible to generate extra income by selling your templates to other sellers or save time by purchasing a template and uploading it to your store.
Upgrading to WP-Lister Pro unlocks premium features, including priority support, inventory sync, and split variations. Furthermore, you can leverage its Gallery Plus feature to upload multiple product images to eBay.
[DOWNLOAD]
7. Auctions Made Easy for WooCommerce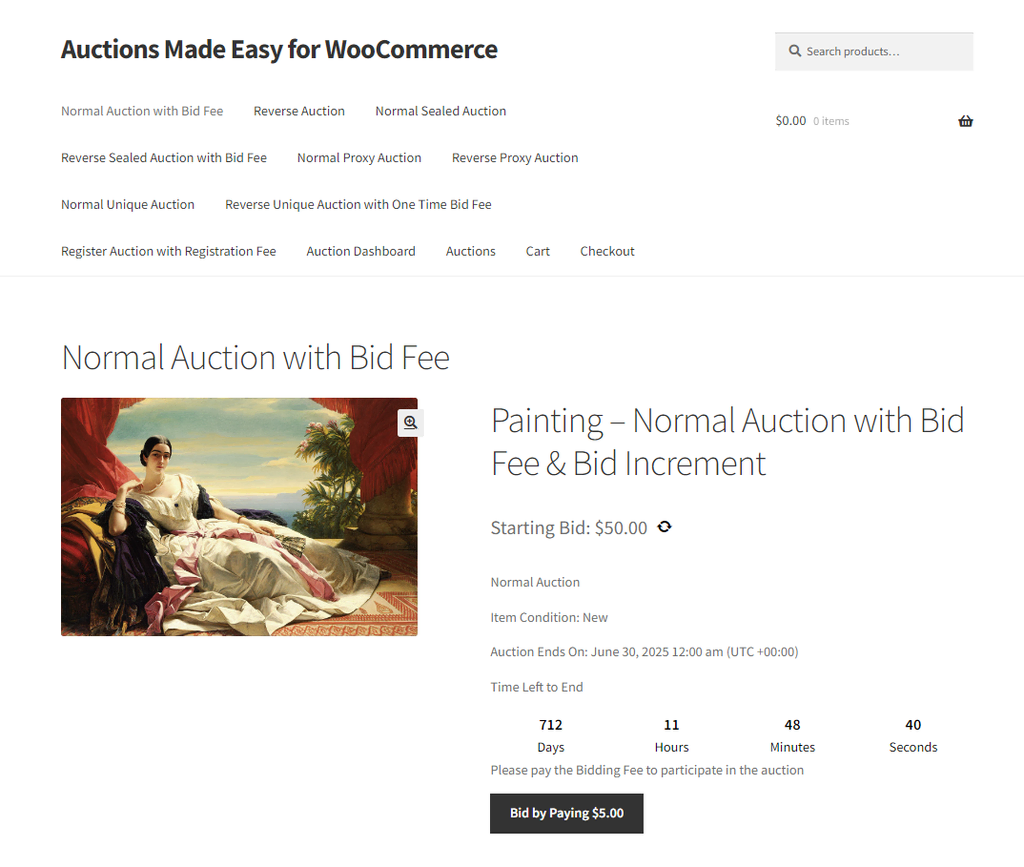 Standout features: penalty fee, product badge, and mandatory bidder registration
Price: $79/year
This is among the best WordPress auction plugin options for users who utilize WooCommerce to power their websites. Developed by the same team behind the popular eCommerce plugin, this add-on equips your WooCommerce store with user-friendly auction tools.
Like the other best auction plugins on this list, it supports various auction types like reverse, proxy, sealed, and unique auctions. Additionally, admins can enforce bidder registration, one-time fees, and charge penalties for late payments.
Though not free, this auction plugin for WordPress offers a straightforward solution to organize auctions on your WooCommerce site while leveraging its core features for a seamless experience. Take advantage of the 30-day money-back guarantee to see if it fits your needs.
[DOWNLOAD]
How to Create an Auction Site on WordPress
Now that we have explored the best WordPress auction plugins, let's learn how to use them. This section will cover the steps of creating an auction website with Hostinger and the free version of Ultimate WordPress Auction Plugin.
1. Get WordPress Hosting + a Domain
While WordPress is free, you'll need web hosting and a domain name to run your website. Consider opting for WordPress hosting, as it is optimized in terms of performance and security to meet the platform's requirements.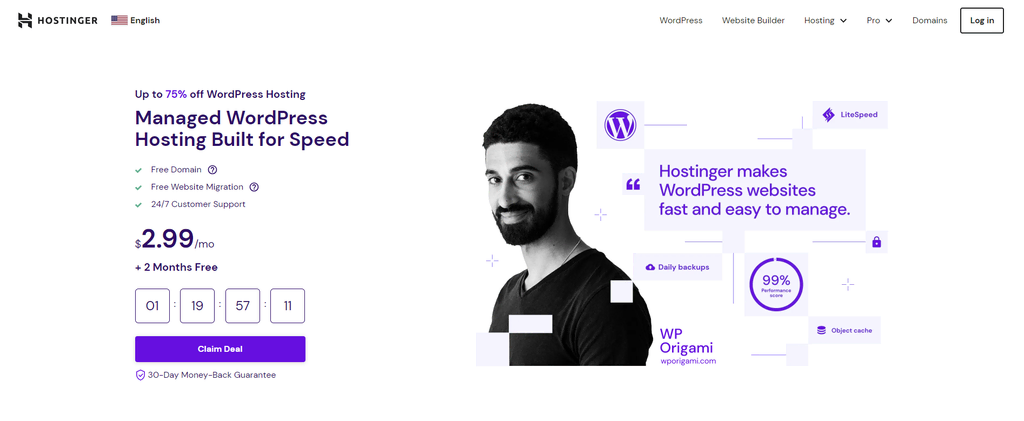 Hostinger's WordPress hosting offers a range of benefits, such as a free domain name, unlimited bandwidth, a professional email account, and an SSL certificate to ensure the security of your WordPress site.
The Business plan, our most popular option, provides 200 GB of NVMe storage, daily backups, and WooCommerce optimization. All hosting plans also come with a one-click WordPress installation, enabling you to get started promptly after purchasing a plan.
Additional features include WordPress AI tools, auto-updates, and a staging tool. Advanced security measures such as enhanced DDoS protection, malware scanning, and a web application firewall are also available.

2. Install and Set Up an Auction Plugin
As Ultimate WordPress Auction Plugin is available via the WordPress plugin directory, start by installing and activating the plugin directly from your WordPress dashboard.

For third-party auction plugins like YITH WooCommerce Auctions, you will need to manually upload the files to your WordPress site.
Refer to our article on how to install WordPress plugins if you need help setting up your chosen auction plugin.
3. Add Auction Items
Once you have the required tools to run auctions, it's time to create one. Navigate to Ultimate Auction → Add Auction from your admin dashboard. You'll see a form with fields to enter the auction details.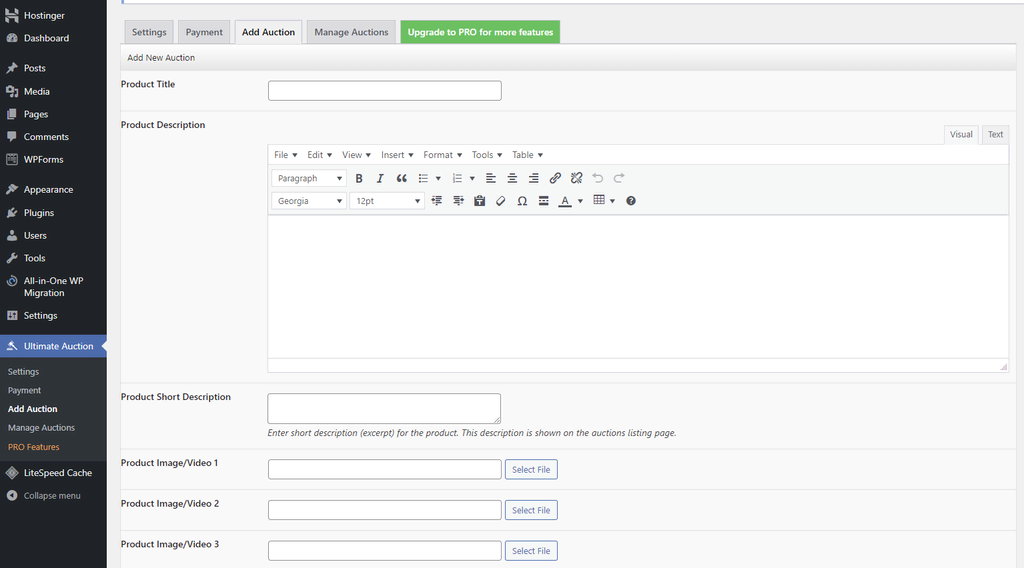 The required information differs depending on the WordPress auction plugin. Generally, most WordPress auction plugins ask for the following details:
Item name. Include the item's category to grab bidders' attention.
Item description. Highlight the item's year of manufacture, creator, serial number, and other information that showcases its origin and value.
Image and video. This is a significant decision-making factor, so it's vital to post photos and videos of the item from different angles in high resolution.
Starting bid and reserve price. Set the minimum acceptable bid amount and the minimum price you are willing to sell the item.
Payment and shipping. Specify the accepted payment gateways, shipping options, costs, and delivery timelines.
After you add the relevant information, select Save Changes to launch your first auction.
4. Manage Bids
With our chosen WordPress auction plugin, you can supervise all the ongoing auctions and bids in the Manage Auctions tab.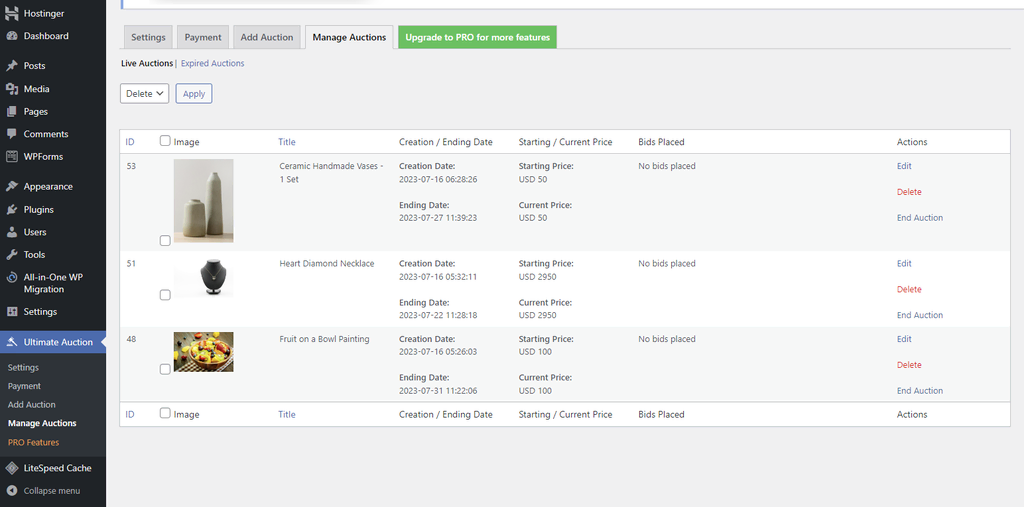 Here are some tips to help you organize auctions on WordPress:
Organize and plan. Set a schedule for your auctions to ensure consistency and avoid overlapping events. Consider setting up a calendar on your WordPress site to showcase upcoming auctions.
Set clear terms and conditions. Include details about bidding rules, payment methods, shipping, additional fees, and dispute settlements.
Promote your auctions. Besides sharing them on social media, encouraging visitors to subscribe to your newsletter is another way to attract attention and build anticipation.
Monitor auction activities regularly. Moderate any inappropriate content or activity, and leverage the plugin's ban feature if necessary to ensure a smooth event.
Do post-auction follow-ups. Gather feedback from bidders using a contact form plugin and use it to improve future events.
Conclusion
Building an auction website using WordPress can be an excellent venture if you have valuable collectibles to sell or are passionate about online bidding. It provides an opportunity to create an additional income stream and build a strong auction community.
With various WordPress plugins for bidding available, you can easily add auction functionality to your website without coding. It's also ideal for those with limited budgets or looking to explore this business opportunity.
Let's recap the seven best WordPress auction plugins to consider:
Ultimate WordPress Auction. A popular WordPress auction plugin with a free version and extensive features.
YITH WooCommerce Auction. Ideal for turning your WooCommerce website into a bidding hub and generating commissions from third-party vendors.
WP Auctions. One of the best auction plugins that let you sell unlimited items simultaneously and offer a second chance offer feature.
Auction Nudge. A free plugin connecting your eBay account to a WordPress website to showcase auction products.
WooCommerce Simple Auctions. Adds auction tools to your WooCommerce store for physical and digital auction products.
WP-Lister. Provides eBay sellers with access to all eCommerce features on their WooCommerce site for post-sales activities.
Auctions Made Easy for WooCommerce. A premium WooCommerce plugin that equips your WordPress website with tools to run popular auction types.
We hope this article helped you find the best WordPress auction plugin to kickstart your bidding platform. Happy auctioneering!
WordPress Auction Plugins FAQ
The following section answers the most common questions about WordPress auction plugins.
Why Add Auctions to Websites?
Adding online auctions to websites helps to create an engaging and interactive experience for visitors. Live auctions can generate excitement and increase engagement, improving user retention and repeat visits. They also provide a unique opportunity to sell products or services at competitive prices, attracting a wide audience and potentially increasing revenue.
How to Make Sure That an Auction Plugin Is Secure?
To find the most secure WordPress auction plugins, ensure they come from reputable developers listed in the official WordPress plugin directory. Additionally, keep the plugin updated to the latest version and follow recommended WordPress security practices like strong passwords and secure hosting to prevent vulnerabilities.