SEO Audit Process in 17 Simple Steps: Boost Your Content Visibility on Search Engines
A search engine optimization (SEO) audit refers to examining your website content strategy for ranking higher on search engines. The better it's optimized, the higher rankings, traffic, and revenue it will have.
Performing regular SEO evaluations can also help you gain insights into your competitors' strategies and identify areas where you can outperform them. In addition, you will be able to identify and fix issues once they arise, avoiding potential penalties, expensive recovery efforts, and lost revenue.
Consequently, you will enhance the overall user experience.
In this tutorial, we will share 17 simple steps to perform an efficient SEO audit for your website. Before we dive deeper into the steps, you will need to define your business goals. Doing so will show you which steps to focus on and how to choose the best SEO tools for a successful audit.


Define Your Business Goals
Before diving straight into an SEO website audit, you should identify the target you aim to hit with this process. The most common goals include:
Increasing your website position on search engine result pages (SERPs) to attract more organic traffic.
Optimizing your user experience and site performance by improving page load times, enhancing mobile responsiveness, and ensuring seamless navigation.
Examining the site performance from a technical point of view.
Setting clear SEO audit targets ensures clarity and alignment with your business goals. It helps you allocate resources, prioritize tasks, and keep track of implemented actions.
Once you have a clear vision of what you want to accomplish, you can perform targeted audit processes and make data-driven decisions for long-term online success.
17 Steps for Conducting a High-Quality Website SEO Audit
Learning how to perform an SEO audit is foundational to planning and building a successful SEO strategy.
While this process can vary from one case to another, we compiled a list of 17 essential steps that most marketers follow as part of their SEO audit checklist.
1. Check Website Crawlability
Website crawlability refers to the search engine's ability to reach and scan your content. If automated bots, also known as spiders or crawlers, fail to crawl your website's pages, they won't be indexed and displayed in search results.
Issues like broken links, looped redirects, or robots.txt misconfiguration can hinder your site's crawlability and prevent you from ranking well on the SERPs and getting organic traffic.
To evaluate and improve the crawlability of a website, you can use various dedicated SEO audit tools. Here are some of the best ones:
Google Search Console
This SEO audit tool offers valuable insights into how crawlers interact with your site by highlighting crawl errors, indexing issues, and other crawlability-related problems. Simply insert the desired URL into The URL Inspection Tool and check out the provided report. A green tick means your page has successfully been crawled and indexed, whereas the grey one indicates that Google has found some issues on this page.
Screaming Frog
Its SEO Spider software is specifically designed to crawl websites and provide a comprehensive analysis of their structure and content. It identifies issues like broken links, duplicate content, missing meta tags, and more, which can hinder crawlability. The platform has a limited free version that you can use to analyze up to 500 URLs. To go beyond this limit, you'll need to pay $259/year.


2. Assess Website Speed
Website speed measures how long it takes for a page to load and display its content. This factor not only affects the user experience but also has a significant impact on SEO.
To begin with, poorly performing websites typically have a high bounce rate. The longer a page takes to load on a website, the more likely users are to leave the website. If left unsolved, this can discourage repeat visits and harm your brand reputation.
For instance, if you're running a website on a CMS like WordPress, using too many themes and plugins can essentially slow down your site. In this case, you'll need to optimize your WordPress site speed and pay special attention to the platform-specific aspects of performance enhancement.
Additionally, search engines typically consider website speed when ranking websites. While website speed isn't a separate ranking factor, it is a crucial part of the Core Web Vitals metrics like Largest Contentful Paint (LCP), Cumulative Layout Shift (CLS), and First Input Delay (FID).
In March 2024, FID will be replaced with a new metric called Interaction to Next Paint (INP). As a result, the faster your website reacts to user interactions, such as clicks, the better. Minimizing the time required to respond to the first user input to at least 200 milliseconds significantly enhances user experience.
This increases your chances of ranking higher on search engines.
Websites with slow speed and heavy page loading time may be subject to a penalty in search results, eventually resulting in a decrease in visibility and organic search traffic.
Marketers aiming to assess and improve website speed usually turn to tools like Google PageSpeed Insights and GTmetrix. These are some of the best SEO audit tools for analyzing metrics like server response time, browser caching, image optimization, and more. Based on the identified findings, they provide detailed reports and actionable recommendations for enhancing speed.
By using Google PageSpeed Insights, you can compile a report that highlights both mobile and desktop performance, offering scores and recommendations for enhancements. It conducts a comprehensive Core Web Vitals assessment and highlights opportunities along with suggested time savings for each.
GTMetrix not only analyzes your site's performance but also provides additional data and insights. For example, it outlines how your page performs in 22 different global test locations and sends you notifications when your page underperforms.
One of GTmetrix's strengths is its ability to generate a waterfall chart that visualizes the loading sequence of your web page's resources. This helps you pinpoint bottlenecks and areas requiring attention. GTmetrix also suggests specific actions to optimize your site, such as enabling browser caching, compressing images, or minifying CSS and JavaScript.
In addition, remember to choose a reliable web hosting provider that offers at least a 99.9% uptime guarantee and delivers high speed. For example, Hostinger offers a built-in CDN to boost your speed by 40% and the LiteSpeed technology for maximum performance.

3. Perform Technical SEO Examination
Understanding the technical aspects of your website is essential to ensure its optimization for search engine crawling and indexing. Specifically, you must pay attention to the following aspects:
XML sitemaps – make sure your XML sitemaps are up to date and include all the important pages on your website. That way, search engines can easily navigate through your pages and content. Structure your XML sitemap by site sections, use descriptive names, include only canonical versions of URLs, and prioritize the important pages by using the priority and change frequency.
Robots.txt files – ensure your robots.txt file doesn't block important pages or assets accidentally. Also, follow standard SEO practices like placing it in the main directory of your site, beginning each directive on a new line, and avoiding the use of spaces, quotation marks, or semicolons when writing directives. Plus, double-check whether separate robots.txt files are created for each domain.
Canonical tags – verify that canonical tags are correctly implemented on pages with similar or duplicate content to signal the preferred version to search engines. When optimizing your canonical tags, remember to utilize one canonical tag per page, use absolute URLs, and specify the correct domain protocol – whether HTTP or HTTPS.
To simplify the process of manually reviewing and optimizing these technical SEO elements, consider using an advanced SEO audit tool like SE Ranking's Website Audit. With its help, you can scan your website under over 120 parameters in just a few minutes, get a prioritized list of identified issues, and receive in-depth issue descriptions with how-to-fix explanations.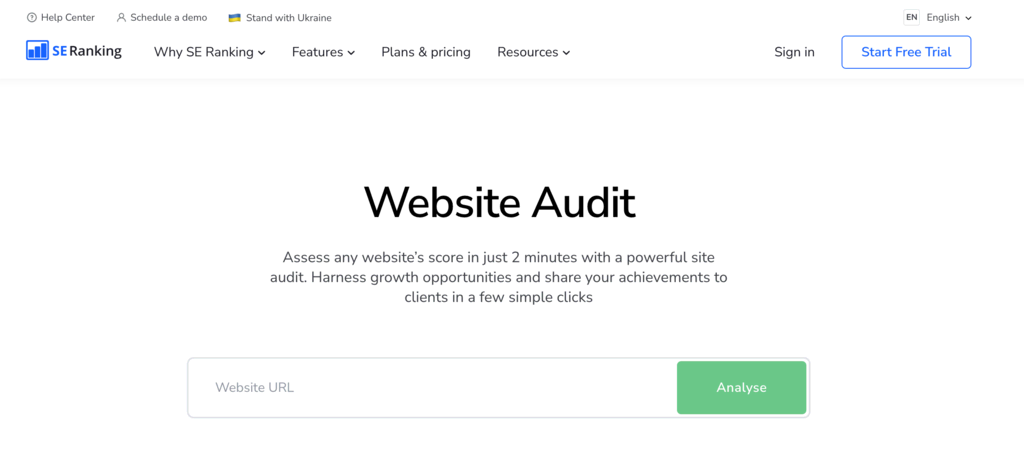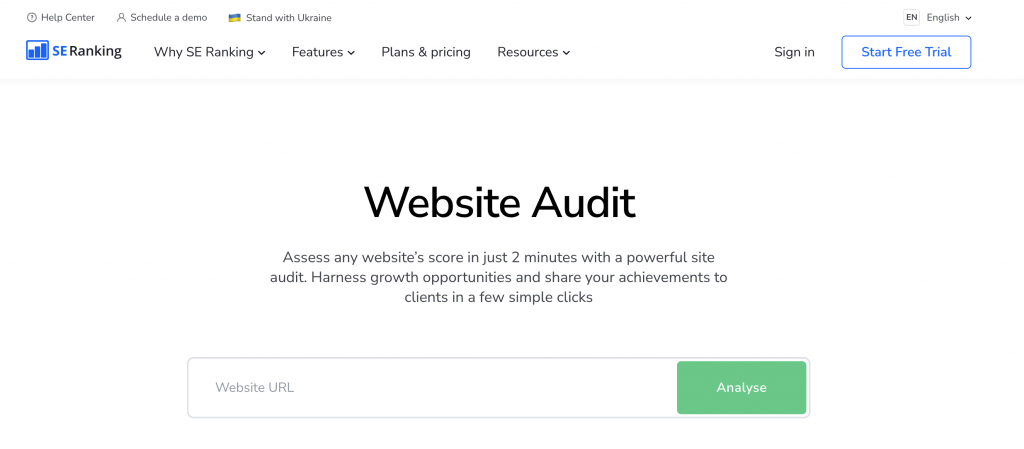 Simply enter your website's domain into the search, and the system will start the website audit right away. You can customize this analysis according to the categories that reflect your needs, specify site audit periods, and share your website SEO audit reports with clients and colleagues via custom reporting.
4. Check for HTTPS and Security Issues
Website security plays a crucial role. Besides building trust with your audience and protecting their sensitive data, security can improve your SEO since search engines like Google prioritize secure websites when ranking them.
One of the first steps in ensuring your website's security is to check for HTTPS. HTTPS encrypts the data transmitted between a user's browser and your website, preventing eavesdropping and data breaches. The presence of HTTPS is a visual indicator of trust for users, as browsers display a padlock icon next to the URL, assuring them that their connection is secure.
With this in mind, we include unlimited free SSL certificates in all our web hosting plans.
Additionally, use the same SE Ranking's Website Audit tool. Apart from analyzing a website's performance for its crawlability, speed, usability, localization, Javascript and CSS files, this tool also takes a close look at website security.
SE Ranking's Website Audit identifies things like HTTP URLs in the XML sitemap, your security certificate expiration date, and whether you use an outdated version of the SSL or TLS protocol. By regularly running website audits with SE Ranking, you automatically ensure that your website remains secure and maintains its SEO performance.
5. Assess Your Backlink Profile
Backlinks are external links pointing to your website from other sites. Both search engines and users see them as a vote of confidence in your website.
Simply put, getting a backlink from a reputable, relevant, and authoritative site will have a positive impact on both your website's visibility and authority on SERPs. Meanwhile, having a similar link from an unreliable and irrelevant website can give you the opposite results. For this reason, assessing backlink profiles is integral to the SEO site audit process.
When assessing your backlink profile, always put quality over quantity.
High-quality backlinks coming from reputable websites in your niche carry more value and contribute more positively to your website's credibility. In contrast, low-quality backlinks, often from spammy or unrelated websites, can harm your SEO efforts.
To assess the quality of backlinks, consider factors like domain authority, page authority, and the relevance of the linking domain. On top of that, a high-quality link profile should consist of a combination of diverse links with varying anchor texts.
In fact, when you're mentioned by an abundance of links with exact-match anchor texts, it might appear unnatural to search engines and negatively affect your own authority. According to Google, links intended to manipulate rankings may be considered spam.
Among a wide range of backlink analysis tools, we recommend considering Ahrefs and Majestic.


Ahrefs provides insights into domain and page-level statistics for any target. It also allows you to monitor the increase and decrease of backlink profiles over a certain period, get a complete breakdown of the target's backlink profile in terms of link type, either dofollow or nofollow, platform, URL rating (UR), domain name rating (DR), referring domains, and more.
Unlike many other tools, Ahrefs offers data on estimated organic traffic to each linking page and referring domain.
Majestic, on the other hand, offers detailed insights into trust flow, or the quality of pointing links, and citation flow, or the quantity of pointing links. This way, it contributes to the overall assessment of backlink quality.


Majestic's Visibility Flow Score assists in determining the importance of editorial-style links that are located on pages with a high Trust Flow. The Topical Trust Flow score indicates a website's position in relation to the leading sites in over 800 categories.
That said, these tools offer the opportunity to detect toxic backlinks negatively affecting the health of your pages and website in general.
Once you identify a toxic link, disavow it. This will either prevent penalties from Google or help you recover from them if your website has already been penalized due to these links.
6. Analyze Site Structure and Internal Linking
Generally speaking, backlinks pass authority juice from one site to another, whereas internal links ensure a logical and organized content structure within your own website.
Internal links help search engines understand where pages fit in the hierarchy and how important they are in relation to other pages. A hierarchical structure with clear categories and subcategories makes navigation intuitive, reducing bounce rates and encouraging users to explore more of your content.
When creating internal links, it's important to use descriptive anchor text that matches the content of the page you're linking to. This contributes to SEO and facilitates easy navigation for users simultaneously.
To streamline the analysis of your site's structure and internal linking, we recommend using an SEO audit tool like the Screaming Frog.
This powerful SEO tool crawls your website and provides insights into your site's architecture. It identifies broken links, helps visualize the hierarchy of your pages, and locates orphaned pages, those without any internal links, that may require attention.
7. Check for Broken Links
Broken links point to URLs that no longer exist or can't be found. Usually, they occur when website owners delete pages or move them without setting up a redirect.
Without fixing broken links, you risk contributing to a poor user experience, which will eventually result in high bounce rates and a decrease in rankings. In addition, broken links are a dead end for search engine crawlers.
To identify broken links, consider taking advantage of these tools:
Screaming Frog – use the SEO Spider as a broken link checker. Simply initiate the crawling of your website and wait until it's completed. Then, filter results by status code, such as the 403 forbidden error, to find broken links.
Ahrefs – this platform offers a separate Broken Links report that provides a list of all outgoing broken links on a website.
Once you've found all broken links, make sure to fix them in one of the following ways:
Update the URL or set up a redirect – if the linked page has moved, update the link to point to the new URL. Alternatively, set up 301 redirects to send users and search engines to the correct location.
Remove dead links – if a linked page no longer exists or is irrelevant, consider removing the link.
8. Analyze On-Page SEO Elements
Upon completing an SEO audit website evaluation, you'll gain valuable insights about your overall performance online. Besides analyzing your website as a whole, we also recommend analyzing your most important pages separately.
This is where on-page SEO analysis comes into play.
By checking how well basic on-page elements like title tags, meta descriptions, and header tags are optimized for relevant keywords, you'll understand what to do to win more clicks.
Since title tags and meta descriptions are your website's first point of contact with visitors, it's important to make them engaging and attention-grabbing to drive clicks. Even if these elements don't directly affect rankings, they have a big impact on your click-through rate (CTR).
Make sure your title tags and meta descriptions accurately represent your page's content and naturally include target keywords. Plus, these elements need to be unique and have a concise length.
Header tags are used to organize the content hierarchically, which significantly enhances readability as well as overall SEO. When crawling websites, search bots pay particular attention to header tags to understand what the content on the page is about. Through this analysis, search engines like Google serve up search results that align with user intent.
As a result, following the best on-page SEO practices, you automatically increase your chances of reaching the first page of search engines.
But to perform a comprehensive SEO page audit, taking a quick look at these elements won't be enough. If you want to ensure both the page's content and its HTML source code are optimized for selected search queries, you'll need to use a sophisticated tool like SE Ranking's On-Page SEO Checker.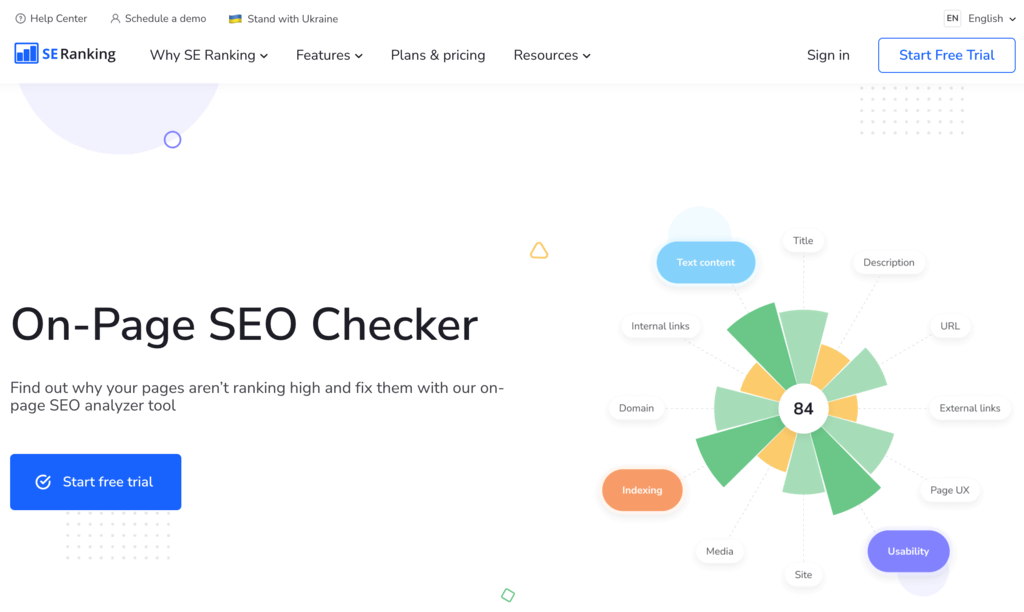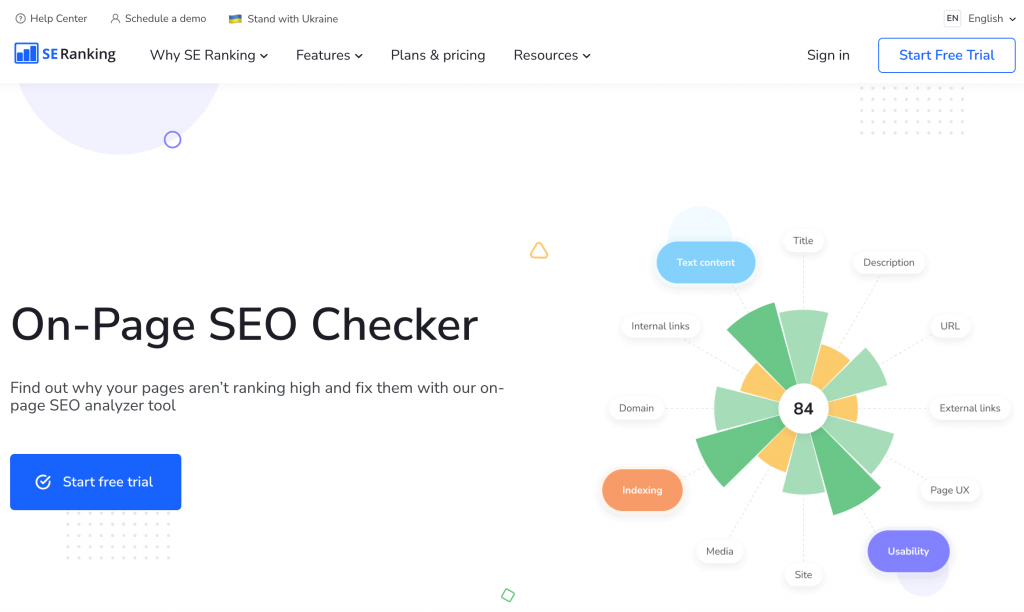 It can measure any page against 94 essential parameters. All you have to do is input your desired page's URL, and the tool will conduct real-time on-page analysis within several minutes. As a result, you'll get a data-driven roadmap with a prioritized list of actions required to outperform your competitors and drive up the SERP.
9. Evaluate Content Quality
High-quality, relevant content is one of the most significant factors determining any website's online performance. However, the concept of content quality might vary among different business areas depending on the website type, as well as the content's topic and purpose.
Still, there are three main content quality aspects that are relevant to any type of website and business objectives. These are originality, relevance, and depth.
To begin with, original content is a must. Even if we don't have data on all the ranking signals that search engines use to set up search results, unique content is undoubtedly one of them.
Incorporating plagiarism checkers like Copyscape into your content writing routine is the most effective way to ensure your content is truly original. They also help you in avoiding potential penalties from search engines. By combining plagiarism checkers with tools like Grammarly, you can also enhance the content's readability and ensure it's polished and error-free.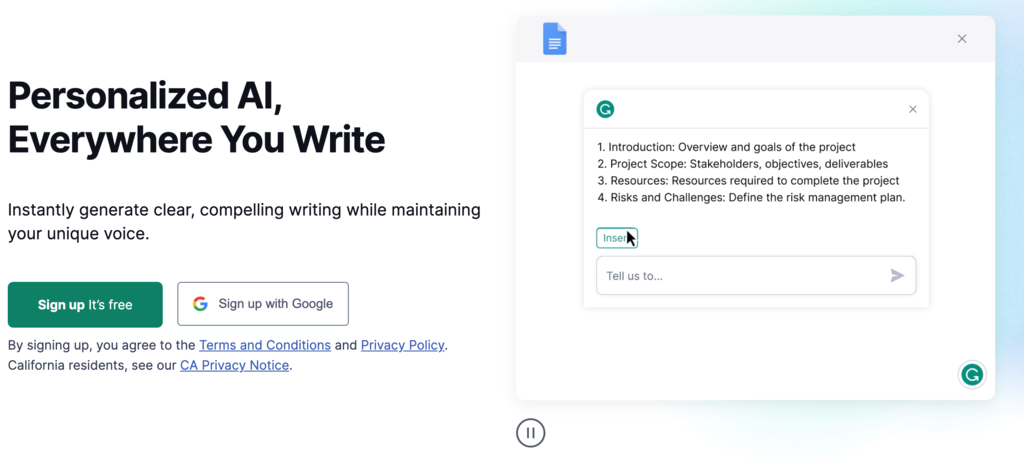 Secondly, when writing SEO-friendly content, always ask yourself whether this content addresses a specific pain point or provides valuable information.
To rank higher, your content must be relevant and cater to your target audience's interests and needs. As evaluating relevance can be subjective, many SEO experts use engagement metrics, such as bounce rates, to determine whether published content is relevant to the audience's needs.
Finally, your content must cover the topic thoroughly. This includes adding actionable takeaways and showcasing your expertise to keep users engaged. Creating in-depth content can set you apart as an authoritative source.
To streamline the content evaluation process while gaining more valuable insights on SEO performance, competition, readability, content uniqueness, structure, and keyword usage, most SEO professionals use automated solutions like SE Ranking's Content Marketing Tool. With its help, you can improve existing content by getting new ideas, generating outlines, or even using AI Writer to produce new articles from scratch based on your request.
While there are also lots of other AI-powered tools, not all of them are suitable for SEO purposes. For example, ChatGPT might provide inaccurate, incomplete, and out-of-date insights.
On the other hand, AI content generators are great for generating articles from scratch. For instance, Jasper, Copysmith, and GrowthBar are arguably some of the most popular AI-based tools for content creation.
Warning! Keep in mind that AI-powered tools can produce low-quality or even duplicate content that targets the wrong audience. For this reason, make sure to proofread AI-produced articles.
10. Monitor Keyword Rankings
If you want to know whether your SEO efforts are paying off, start tracking your keywords. When a website ranks high for a particular keyword, it is more likely to attract more potential customers. This leads to increased organic traffic, a better brand reputation, and increased commercial success.
However, taking a quick look at the position number is not enough for an effective monitoring of search engine rankings. You'll also need to gain and interpret performance data on search volume, traffic forecast, visibility, clicks, content quality score, and more.
Such a complex process requires the use of advanced tools that are specifically designed to perform this analysis. For instance, SE Ranking's Keyword Rank Tracker can assist you in monitoring keyword rankings for up to 100 locations across search engines like Google, Bing, Yahoo, or even YouTube.
Whether you're managing a small website or a large project with huge keyword lists, this tool can conduct a comprehensive keyword rankings analysis. This includes historical data analysis, grouping, and automatic reports. For a more useful overview of your competitive landscape, you can add up to 20 competitors to the tool and track their rankings for the same search queries you target.
What's more, SE Ranking integrates with Google Analytics and Google Search Console so that you can see all the essential data from each tool on a single interface. The tool also allows you to export ranking data in XLSX or CSV file formats for your convenience. Then, visualize these insights through Looker Studio reports and dashboards.
11. Perform Keyword Analysis
Keyword analysis refers to researching the words people use to find a certain brand, product, or service. It also comprises the search terms used by competitors to drive traffic to their websites.
The first major benefit of keyword analysis is that it provides insights into which search terms your site is currently ranking for. When conducted properly, it can give you a clear understanding of how people find you online and which problem they expect to solve using your services or products.
Keyword analysis also helps you determine which search terms can benefit your campaign. Ideally, you should aim to find keywords that align with your business goals and have significant traffic potential, yet are underutilized.
An in-depth keyword analysis can help you uncover those valuable keywords. By taking a close look at the keywords your competitors rely on and the ones they may be missing, you can expand your list of keywords with new opportunities.
To evaluate search terms to use in your content, use the following tools:
Google Keyword Planner – this free tool helps you discover new keywords, analyze search volume, and estimate the competitiveness of keywords.
Ahrefs – a keyword research tool for discovering new keyword ideas, analyzing them against key SEO metrics, finding keywords your competitors are ranking for, and uncovering potential gaps in your keyword strategy.
12. Check Structured Data and Schema Markup
Structured data, also widely known as schema markup, is a set of code designed to communicate the context behind website content to search engines. In other words, crawlers translate your content into code to process it more effectively.
Simply put, structured data is your chance to tell search engines how you want your search results to appear.
Suppose you run an eCommerce site and want to make it easier for potential customers to make informed decisions. To accomplish this, you can use structured data to let search engines know about product prices, ratings, and availability. This can lead to a higher CTR and increased traffic to your website.
There are two easy-to-use tools you can use to verify whether your website is using schema markup correctly:
Google Search Console – after logging into your GSC account and selecting your property, navigate to the Enhancements section. Here, you'll find valuable insights on any errors or issues with your structured data markup.
Google's Schema Markup Testing Tool – input the URL or code snippet into the search bar of Schema Markup Validator, and the tool will provide feedback on detected errors with your schema.org-based structured data.
If you don't have schema markup on your website, you'll need to add it to your website's HTML code. Google's Structured Data Markup Helper can assist you in generating the necessary code for various types of content, from articles to events and products.
13. Examine User Experience (UX) and User Interface (UI)
Optimizing websites for the best UX and UI practices is not just about aesthetics. UI and UX design is primarily about putting the user at the center of your design process and creating experiences that meet the needs of your target audience.
Websites offering exceptional UX and UI design tend to keep users engaged for longer periods. If users spend more time on a site, explore multiple pages, and engage with its content, they are more likely to have a positive user experience. This can significantly improve search rankings.
On the other hand, when people leave your site quickly after arriving because of poor user experience, search engines take this as a sign that the site's content or experience isn't relevant or satisfactory. This considerably lowers your chances of ranking high on SERPs. Simply put, high bounce rates equate to low SERP positions.
If you want to get a better understanding of how users interact with your website, Hotjar is the way to go. It provides valuable insights on how people interact with your site, including heatmaps, session logs, and surveys. Plus, it can help you figure out how to improve your UX and UI design.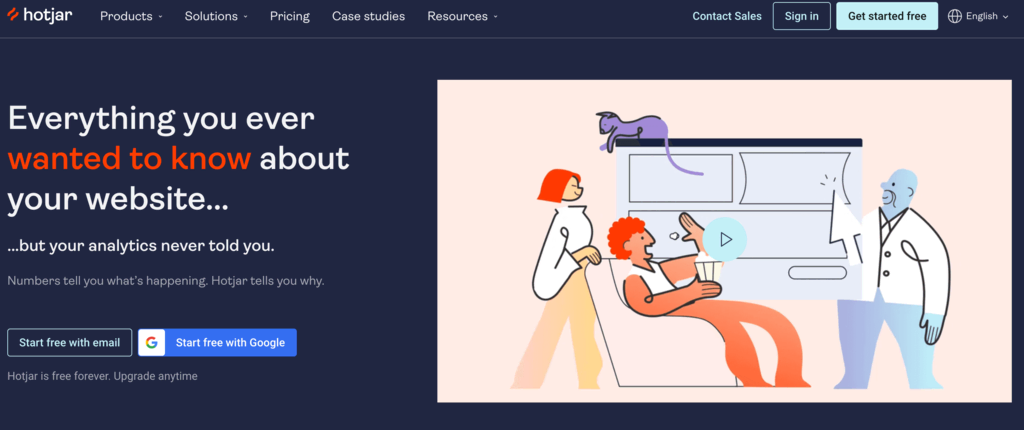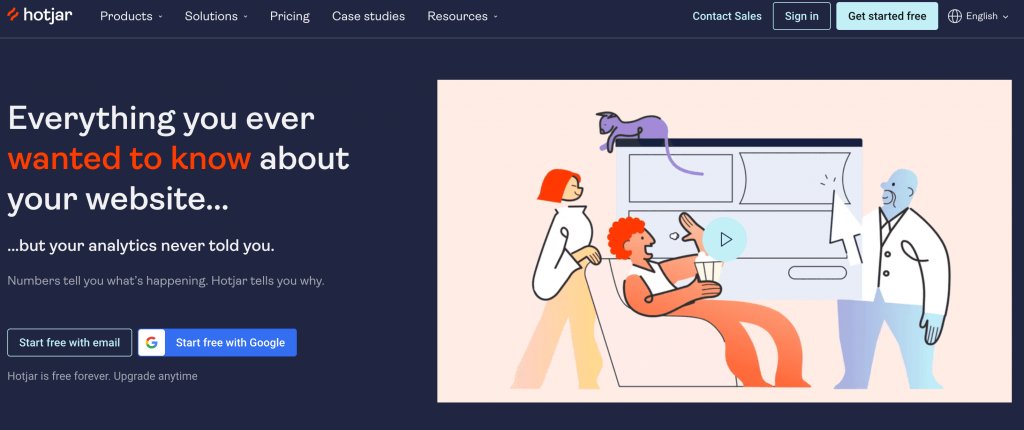 Additionally, Google's Mobile-Friendly Test can help you evaluate how well your site performs on mobile devices. This is a crucial aspect of UX since mobile-friendliness is a major ranking factor.
14. Check Mobile Responsiveness
Since we've already started discussing the importance of mobile-friendly websites in previous sections, let's focus on it further.
With smartphones and tablets becoming the go-to devices for most people, it's fair to say that users prefer mobile-responsive websites. In fact, the global number of mobile internet users is expected to reach 6.7 billion in 2028.
So, if your website fails to adapt to different screen sizes or doesn't integrate touch-friendly interactive elements, this will likely result in high bounce rates and short average session durations.
Mobile optimization is also important due to its SEO impact. When setting up SERPs for a certain keyword, search engines like Google prioritize mobile-friendly websites. With a mobile-responsive site, you can improve your search engine rankings and drive more organic traffic than any competitors of yours whose websites are poorly optimized for mobile devices.
The best way to perform a mobile site test and discover a website's mobile responsiveness score is by using Google's Mobile-Friendly Test.
Simply enter the URL of the page you want to test for mobile-friendliness in the testing tool and wait until the analysis is complete. You'll receive a report that will highlight any issues that need attention, including text size that is too small for mobile screens or viewport configuration problems.
15. Evaluate Local SEO
Businesses with a physical presence in the local area should also include a section for local search results evaluation in their SEO audit template.
Begin by focusing on optimizing your Google Business Profile (GBP). As GBPs with complete information can contribute to a 70% increase in physical visits, make sure to add as much information as possible. This should include the business's name, address, phone number (NAP), website URL, operating hours, business category, and photos.
Also, encourage customers to provide reviews and promptly respond to their feedback. Positive reviews play a significant role in enhancing your visibility and credibility on Google.
Next, conduct comprehensive keyword research tailored to your geographic area to effectively reach your local audience. Establish a list of keywords that are likely to be used by potential customers when searching for your business type. These keywords should be naturally incorporated into your GBP, main website content, and on-page elements. Make sure to prioritize location-specific keywords when targeting your local audience.
Another important factor in improving your local search rankings is local link building. Look for ways to get backlinks from reputable local companies and organizations. Backlinks from these local sources can prove to search engines that your business is an important part of the local community and can be trusted.
To streamline and enhance your local SEO efforts, explore these specialized tools:
Moz Local – helpful for local businesses in the US, Canada, and the UK for its active and continuous syncing of location data to its partner directories.
SE Ranking's Local Marketing Tool – can assist in monitoring your local search performance, tracking rankings, discovering existing issues in GBP and other business listings, and getting prioritized lists of improvement actions for your local business.
16. Create an Action Plan
Let's say you've completed a thorough SEO analysis of your website and gained valuable data on what's working well and what needs improvement.
Now, you need to develop an action plan based on your findings. It will guide you through the process of optimizing your website for search engine visibility and overall performance.
Here are some essential steps to take to create an action plan that drives real results:
Prioritize Tasks
Summarize all the issues and opportunities you've found during your SEO website audit. Break them down into sub-categories, such as on-page SEO, off-page SEO, and technical SEO. Prioritize these tasks according to their importance or urgency. Focus on addressing critical issues that can have a direct impact on your rankings and overall user experience first.
Set Clear Objectives
Define specific, measurable goals that you plan to achieve within a specific period. If necessary, divide these objectives into a series of steps you must take to reach the desired outcome.
Assign Responsibilities
When a team is involved in a project, it is important to establish who will be responsible for each task. Do this by considering the individual strengths, experience, and interests of each team member. You can also outsource your audit SEO project to an experienced SEO agency.
Develop a Timeline
Establish a realistic time frame for each task. Consider resource availability, task complexity, and the interlinkages between tasks. Having a clear timeline will help you set expectations and guide your team in the right direction.
Allocate Resources
Having the financial, technical, and human resources to carry out your action plan is not enough to achieve desired goals efficiently. It's also important to prioritize your resources properly so you don't have to worry about any delays or inconsistencies.
17. Set Up Regular Monitoring and Reporting
Monitoring is an often overlooked yet integral part of the SEO site audit process. Not implementing this step can be detrimental.
Without regular monitoring of how well your website is optimized for search engines, you risk spending your resources for nothing. As Google's algorithms are constantly evolving, new SEO trends are always emerging. In addition, your competitors are constantly thinking about new ways to outperform you on SERPs.
This is why learning how to do an SEO audit is just the first step – you also need to track the impact of your efforts.
After implementing changes based on identified SEO audit insights, we recommend conducting monthly or quarterly SEO audits using tools like Google Analytics and Looker Studio.
Let's go over the frequency of SEO audits in more detail:
Monthly audits – with monthly audit data, you can identify and respond to trends, both positive and negative, in a timely manner. Utilize them if you operate in a highly competitive market or when your website is subject to frequent content updates and modifications.
Quarterly audits – these audits offer a more comprehensive overview and are suitable when SEO strategies are relatively consistent, with incremental modifications throughout the year. Quarterly audits provide the opportunity to observe long-term patterns and evaluate the effects of larger-scale optimizations.
Conclusion
SEO audits are the key to driving your online presence forward. They provide a 360-degree view of your site's performance, identifying strengths to capitalize on and weaknesses to rectify.
Based on the 17 tips provided in this article, you can create an effective SEO audit checklist that suits your website's specific needs.
Be it content optimization, technical enhancement, or backlink strategy refining, getting your SEO audits right will eventually contribute to both the short-term and long-term success of your website's performance.