Google My Business SEO: How to Set Up and Optimize a Google Business Profile for Local SEO
Ranking for local search results can be challenging, even for those familiar with search engine optimization (SEO). One of the best ways to improve visibility on Google Search is by creating and maximizing your Google My Business SEO.
Now called Google Business Profile, this free service lets you manage your business appearance on Google Search and Google Maps.
By creating a Google My Business (GMB) profile, you can add relevant information like opening hours, contact information, a business description, and photos to make your company's profile stand out.
To help you get started, we'll explain everything you need to know about GMB SEO, from setting up a business profile and troubleshooting listing issues to optimization tips for a higher rank on local search results.
Download Checklist: How to Start an Online Business
What Is Google My Business?
Google My Business is a free tool to publish and manage a Google Business Profile across platforms. It lets you add comprehensive company information to improve visibility on local search results, helping customers easily find your business on Google.
Keep in mind that a Google My Business profile is not a substitute for a business website. Instead, it allows you to build a stronger online presence that is more easily discoverable on Google Search.
To rank higher on local search results, it's necessary to work on your on-page and off-page SEO. This includes creating localized content, analyzing website performance, and having an up-to-date profile listing.
Why Is Google My Business Important for Local SEO
The first three elements Google shows to answer local search queries are Google Ads, Google 3-Pack, and organic search results.
A Google Business Profile helps to boost visibility as it provides rich information about a business. With greater visibility, people are more willing to click on a website, helping the company generate leads and sales.
In addition, the information you provide to complete the Google Business Profile listing also helps Google categorize your business better. This includes selecting the right industry and verifying the location, as well as adding descriptions, opening hours, product catalogs, and photos.
As such, an optimized Google Business Profile is more likely to rank higher on local searches. Maximizing your Google My Business SEO will also help you to better engage with potential customers.
For example, sharing your contact information and other business details makes it easier for customers to reach out to ask questions or give feedback about your business and its services. Likewise, it helps you respond more quickly to user queries.
Another benefit of Google My Business is it can display customer reviews. Studies show that online reviews hugely influence a customer's purchasing decision. Therefore, having positive reviews on your listing will increase your business's appeal and credibility, increasing customers' trust.
How to Set Up a Google My Business Account
In this section, we'll cover the steps on how to set up a Google My Business account.
How to Create Google My Business Account
The first step to creating a Google business account is visiting the Google My Business homepage, which is where you can manage your business listing.
Start by signing in to your Gmail account. We recommend using a professional email address that includes your business name.
Once signed in, you'll have the option to add your business to Google.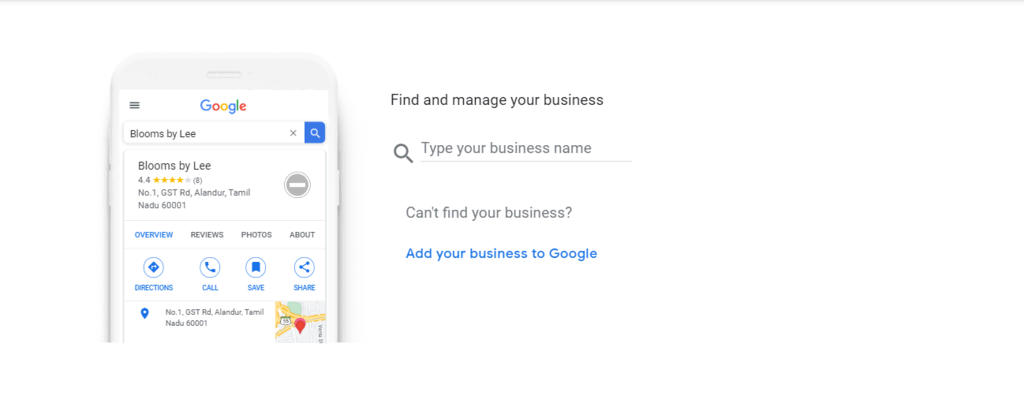 If your business has been around for quite some time, then Google will most likely already have a listing for it based on the data it collects online.
To avoid duplicate listings, type your business name on Google. If one already exists, you can claim the business by requesting ownership.
For new businesses, proceed by filling out the relevant details.
Add Business Name and Category
When adding the business name, make sure to keep it consistent across all platforms. Match it to your business site and social handles to avoid confusion.
Then, select a category that best represents your business – for example, nail salon, web design agency, or tea house. These will determine what queries you can rank for.
While you can choose up to nine categories, the first one selected will be the primary category.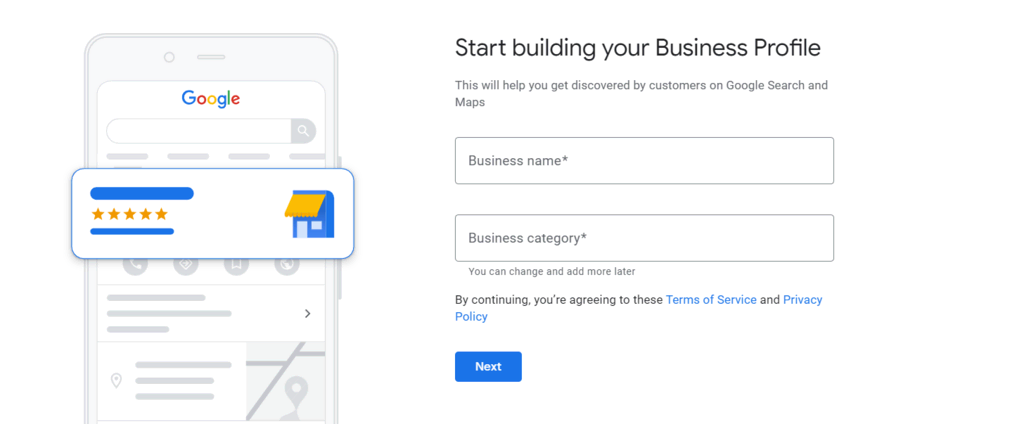 Add Location and Service Areas
The next step is filling out your business address.
For companies with a physical location, ensure the address is the same on every platform, such as on the Contact page of the business website.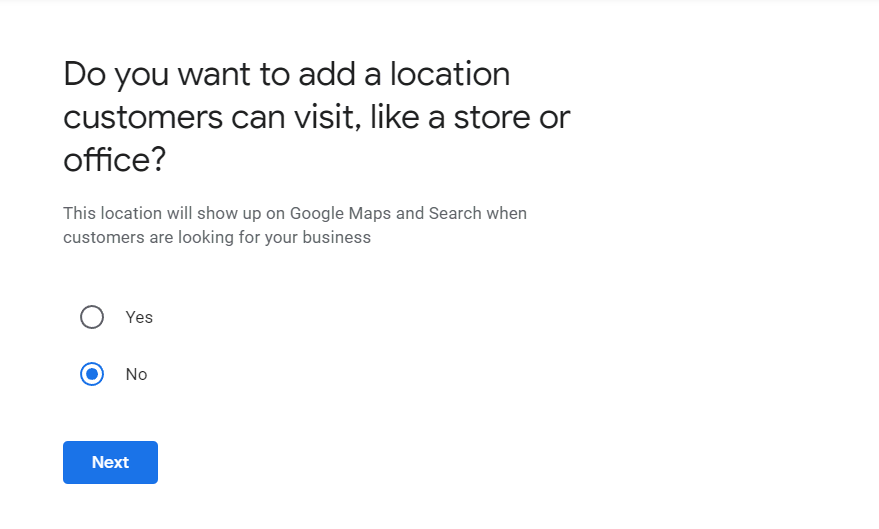 If your business doesn't have a physical store, it will be considered a Service Area Business (SAB). Instead of on-location services or purchases, this type of company will deliver the product to customers. Examples of SABs include plumbing or cleaning services.
In that case, specify your service areas that will appear on the listing based on the city, postal code, or region.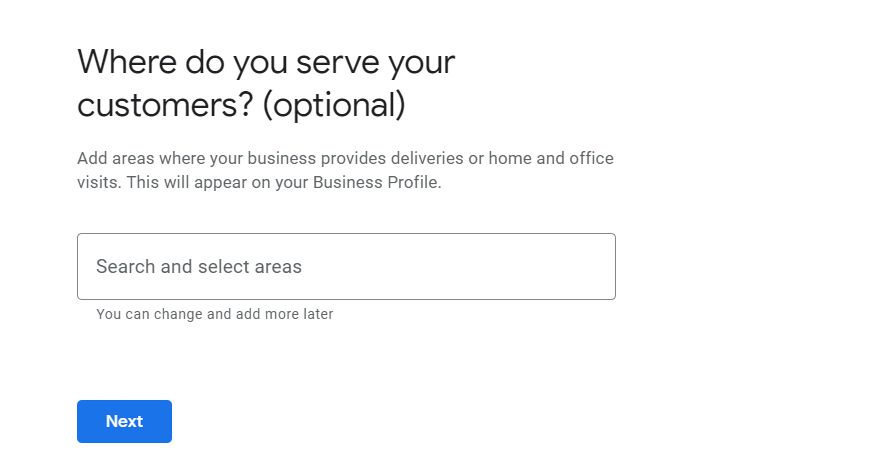 Add Contact Details
To help customers reach you quickly, include your business phone number.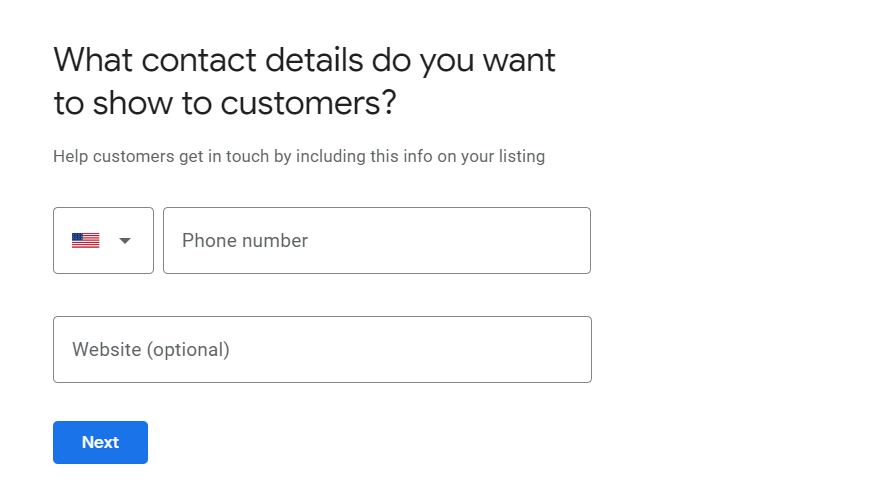 In addition to your primary business number, you may add up to two extra numbers. Note that no faxes are allowed, only mobile phone and landline numbers.
You can also add a business website address if you have one. We recommend doing this as it can help improve traffic to your company's landing page.
Pro Tip
Having a website is important when building a brand, especially if your business isn't yet established or well-known.

Along with valuable content, a business website can help your company establish credibility and rank higher on relevant search results.

Add Business Hours
Display your store's regular opening hours on the Google My Business listing to inform potential customers when you are available to contact.
Once your profile's ready, you can also customize business hours for temporary periods by setting your holiday hours.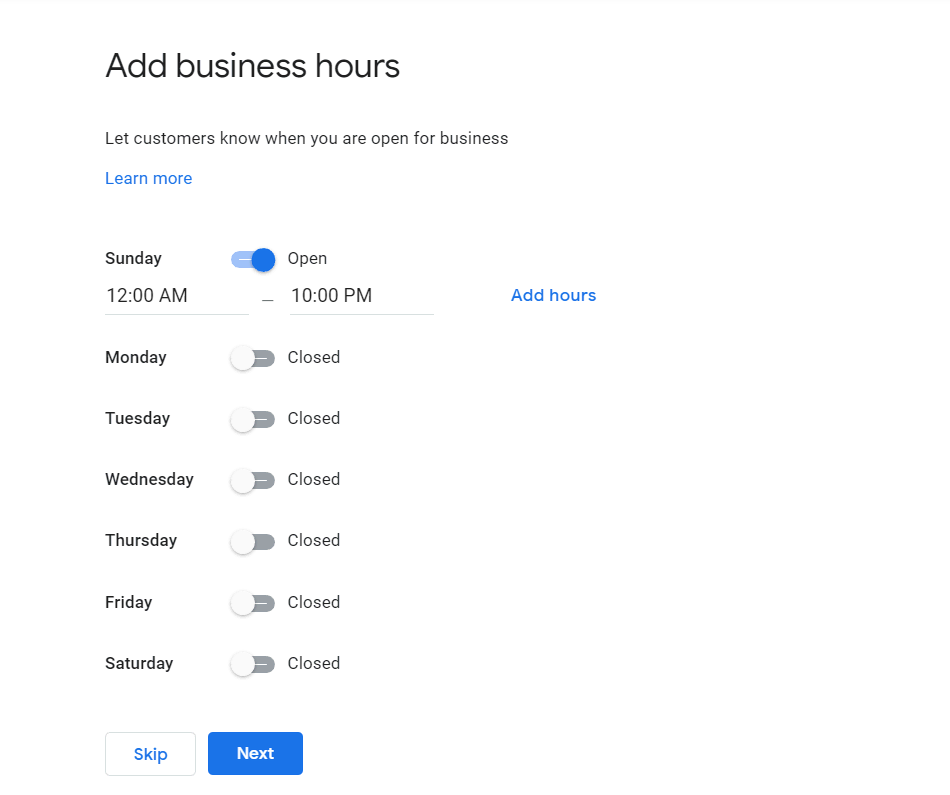 Add Messaging
Google has a feature letting customers send you a message directly from the listing. To activate this, switch on the Accept Messages toggle.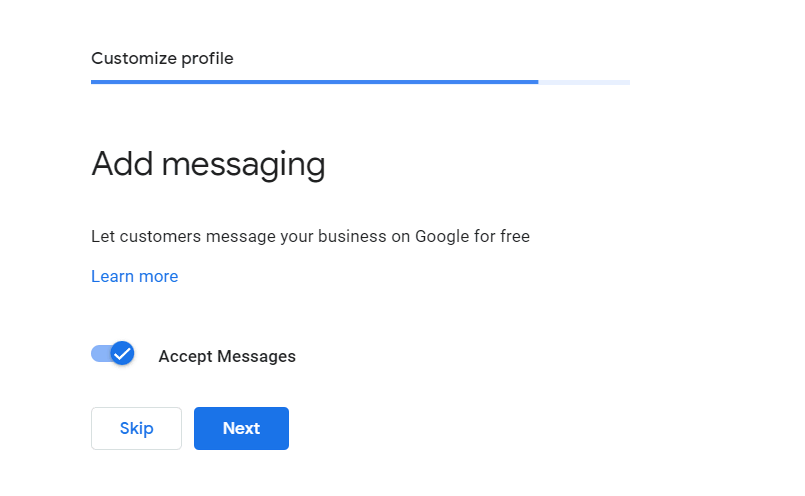 Add Business Description
To complete the Google My Business listing, enter a brief company description. Write down what your local business offers and provide useful information about your products and services.
When creating one, keep it concise and creative to attract potential customers. Don't include URLs or HTML code, and avoid exceeding 750 characters.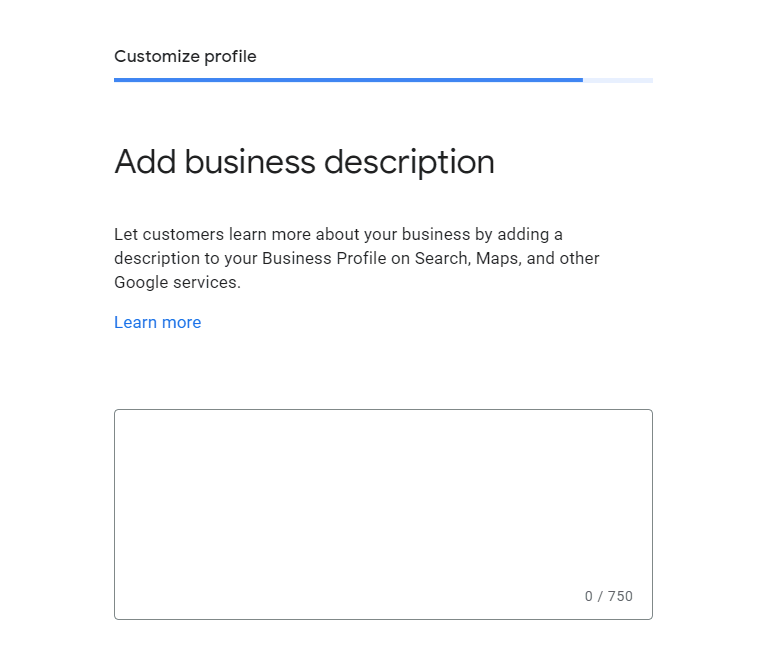 Add Photos of Your Business
To make the GMB listing eye-catching, add photos of your business – for example, the storefront, products, and street view.
Besides increasing engagement, adding photos helps build customers' trust as they can get a better idea of what your company offers. To help people easily recognize your business, it's also good to add an official logo.
How to Verify and Publish Google My Business Listing
To publish your listing, Google requires a verification process to ensure the legitimacy and ownership of your business.
For companies with a physical location, the most common verification method is via postcard. Once you enter a mailing address, Google will send the postcard containing a unique code.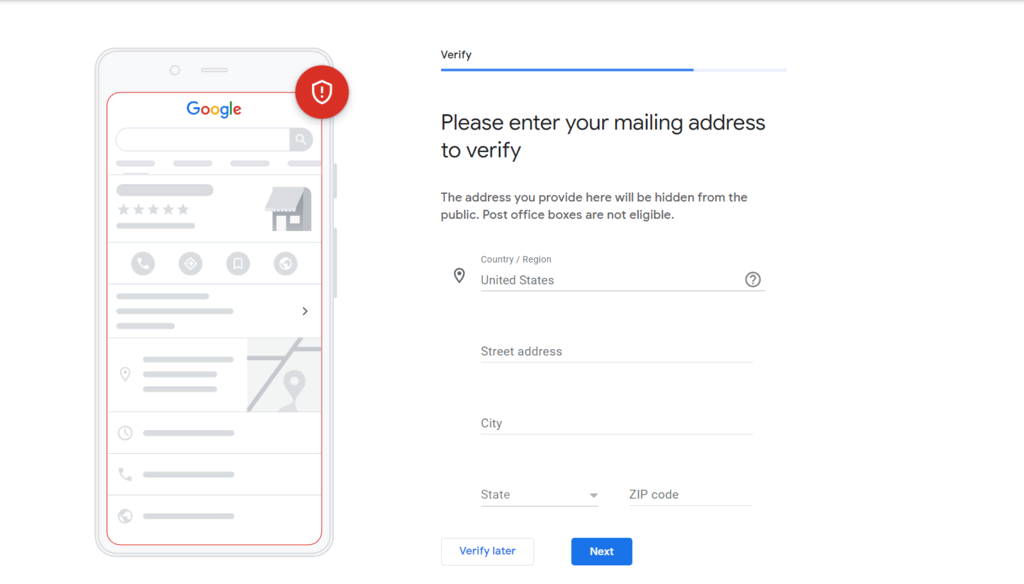 Then, to confirm the business location, go to your Google Business Profile and enter the five-digit verification code from the postcard.
Important! While waiting for the postcard, don't change your business name, address, or category. Otherwise, Google will replace the existing code with a new one.
There are also other methods to verify your business, including SMS, email, video recording, and live video call.
Once the verification process is complete, Google will officially publish your Google Business Profile.
How to Troubleshoot Google My Business Account Issues
Running into issues while operating a Google My Business account can drag down your local SEO efforts. So, it's good to know what obstacles to expect as well as how to solve and avoid them.
Fixing a Suspended Google My Business Account
The most common issue with Google Business Profiles is a suspended account. It means you won't be able to manage your listing, or it may not appear on Google Search at all. This harms its visibility and can negatively impact lead generation.
Typically, an account is suspended because Google suspects that the business violates one of its guidelines. Some common reasons for this include:
An inaccurate business name.
Listing your business address at a virtual office or a co-working space.
Using a P.O. Box or a residential address as the business address.
Posting inappropriate content.
Displaying a physical address while being a service business.
Making a lot of edits to your profile in one go.
To solve a suspension issue, you have to reinstate your account.
However, asking Google to review your account without investigating the problem is counter-productive. Before that, you have to identify what caused your account suspension.
Since Google won't inform users about the cause, we recommend re-evaluating Google's guidelines and assessing your account to identify the root issue. Once found, take the time to fix your listing.
Then, fill out the reinstatement form. You may need to submit a few documents as proof, such as legal documentation, utility bills, pictures of your physical store, or the GMB listing's dashboard URL.
To avoid future suspensions, it's good to check your listing regularly to ensure all details are correct.
Flagging a Negative Review
Negative reviews that are about a former employment experience or your competitor are against Google guidelines.
Luckily, you have the option to remove the review by reporting it. Simply log in to your GMB account, select the review, and click the three dots next to it to flag the comment as inappropriate.
Reports are usually processed within three days. If the review hasn't been removed, we recommend contacting the Google Business Profile support team.
Trouble Signing In to Your GMB Account
Whether you forgot your password or email address or have trouble with the two-step verification process, experiencing issues logging in to your account can be frustrating.
In these cases, head to Google Accounts Troubleshooter to find solutions to various sign-in problems.
Google Business Profile also has a helpful community forum that discusses common issues and how to solve them.
How to Report a Google My Business Account
Optimizing your business for local SEO takes a lot of work, and seeing a spam listing get a higher position can be discouraging. In that case, knowing how to report a fake Google My Business listing can bring you a step closer to a better search engine ranking.
A Google Business Profile spam listing can be in the form of:
Fake listings. These businesses do not exist or are not located at the specified address.
Duplicate listings. These are businesses that accidentally verify more than one listing or purposely create multiple listings to dominate the map pack.
Keyword stuffing. These companies add targeted keywords or street addresses to their listing names.
When you find a listing that fits any of the descriptions above, it's good to take action and report it to Google right away.
The easiest way to report is to suggest an edit. On the business listing, look for the Suggest an edit option. You can use this to propose a change of name, category, address, opening hours, or other business details.
On the other hand, if the listed business doesn't exist or is a duplicate, select the Close or remove option.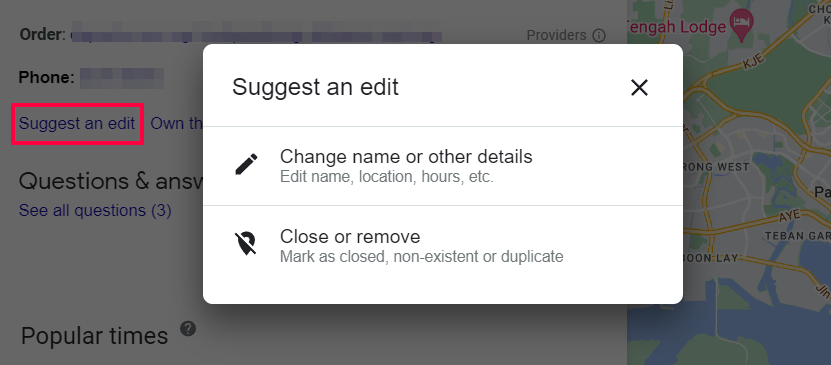 Keep in mind that you should always suggest factual edits to spam listings. If you use the feature to submit inaccurate information, Google will penalize your own listing.
Pro Tip
When you report a false listing, provide proof with pictures. Use Live View on Google Maps to check the specified area and prove whether the business is actually located there or not.
Another way to report a Google Business Profile account is by submitting a Business Redressal complaint form. Use it to report multiple spam listings, misleading information, or fraudulent activity that violates GMB's guidelines.
Determining Google My Business Ranking Factors
When determining local search rankings, Google considers the following factors:
Relevance
Google evaluates how well your business matches customers' search intent.
Being clear about what your company offers helps Google to identify your business as a possible solution for relevant searches.
So, ensure you fill in all the necessary information and select the right category for maximum visibility.
Proximity
Another factor that determines local search rankings is proximity. This refers to the distance between the location mentioned in the search query and potential search results.
For example, if your business is located in Canada, you can't rank for local search in New York.
If there's no specified location, Google might use historical location data or content to determine the most relevant local businesses for users' queries.
Prominence
Local search rankings are also determined by how well-known a business is. Google evaluates this by gathering information about a listing from articles, the number of reviews, local events, or directories.
Additionally, Google considers the company's reputation for places that are more popular offline, such as museums, landmarks, or retail brands.
The business' official website's ranking is also a factor, so it's important to optimize your site. Keep the information up-to-date and publish new photos and posts regularly to engage and convert visitors.
Monitoring Google Business Profile Insights
Google Business Profile also has a built-in analytical tool called Insights that shows users how their listing has performed over time in local results.
Knowing these metrics can help you identify how to improve local SEO and plan better marketing strategies.
GMB Insights has several sections:
How Customers Find Your Profile
This section shows whether customers find your profile through Direct or Discovery Searches.
Direct searches are calculated when users type your business name or address into the search engine.
On the other hand, when they enter a more generic search query based on category, it will count as a Discovery search – for example, "restaurants near me" or "housekeeping service near me."
Where Customers Find You on Google
Here is where users can see how customers discover their business listings.
The data is split into impressions from Google Search, displayed as Search Views, and Google Maps, displayed as Maps Views. Impressions from Google Maps can be taken from the desktop or the app.
In the bulk insights report, users can see the total number of views based on certain timeframes, from daily to quarterly impressions.
These insights into your impression data can help you focus on what to optimize. For instance, restaurants and other in-store businesses should expect significant impressions from Google Maps and can benefit from optimizing their business profile on the app.
Customer Actions
This section shows a graph of what customers do after finding your business profile. It includes the total number of actions and other metrics like website visits, driving directions requests, and phone calls.
With data on customer behavior, you can determine where to focus your Google Business Profile efforts. For example, if you get a significant number of site visits from the listing, consider promoting your website and optimizing it.
Likewise, if you receive more directions requests, consider publishing information about nearby parking spots or sharing tips on how to use public transport to reach your business.
Directions Requests
Local business owners can also receive data on customers' locations when they request directions. You can see their ZIP code, city, and state to get a better understanding of customer demographics.
With this data, local businesses can also compare the number of directions requests with the number of in-store visits they have on any given day.
Phone Calls
The insights from your business profile also display the number of calls customers make after seeing your business listing.
You can view a specific time in a day or week to check when customers will most likely search for your products or services. This data indicates when your staff will be the busiest, helping you determine whether you need to hire more people for the customer service team.
Tips for Optimizing GMB Account For Local SEO
To help your listing rank higher in the Google 3-Pack, we recommend following these Google My Business optimization tips.
1. Keep Your Information Up to Date
As your company's virtual search engine storefront, customers will rely on your listing to discover offers and how to contact you. So, ensuring the information stays accurate and up to date is a must.
Regularly look at your business information to see if anything has changed.
Check your business name, address, phone number, description, and opening hours. Then, re-check your calendar, and don't forget to customize the opening hours for holidays and special occasions.
Furthermore, ensure that everything is consistent with the information on local web directories and your official local business website.
A mismatched name, address, or phone number can risk a penalty for your profile, so be extra careful when filling in your business information.
2. Select Primary and Secondary Categories
Choosing a business category is a required step when creating a GMB listing.
Besides determining which queries you can rank for, your business' primary and secondary categories are considered ranking factors for Google's local pack.
With around four thousand categories available, take some time to decide which ones to select. Understand the options and be strategic to find the right categories for your business.
One of the most important factors to consider is the search volume – the higher it is, the more impressions your listing can potentially attract. Keyword research tools like Semrush or Ahrefs are great for determining a keyword's traffic potential.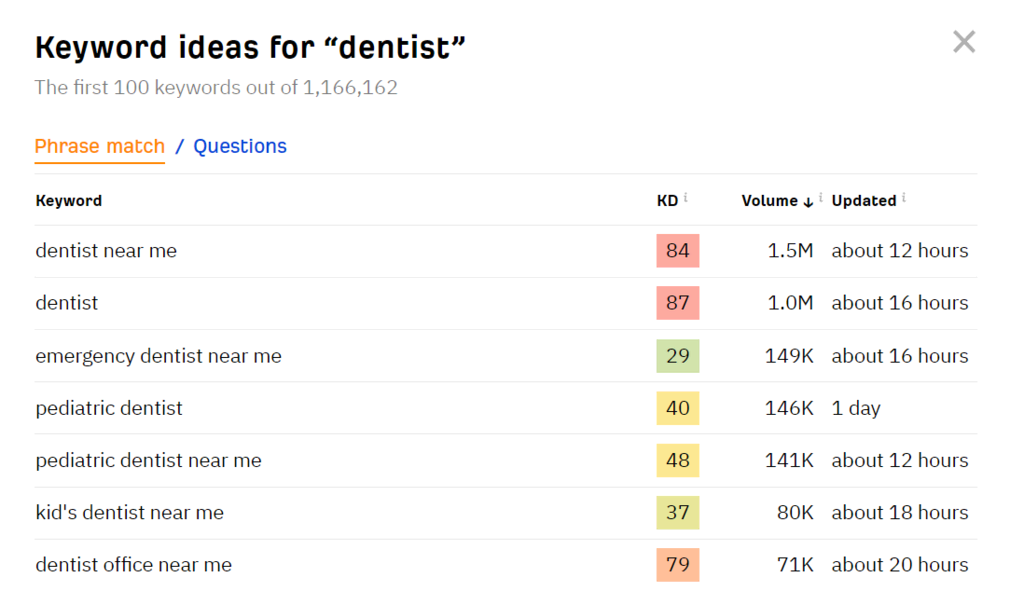 Furthermore, consider local competitors. Research similar businesses by looking up a target keyword and expanding on the local pack to see the business category.
Usually, only the primary category will be visible. To discover the secondary categories, use a chrome extension like GMB Everywhere.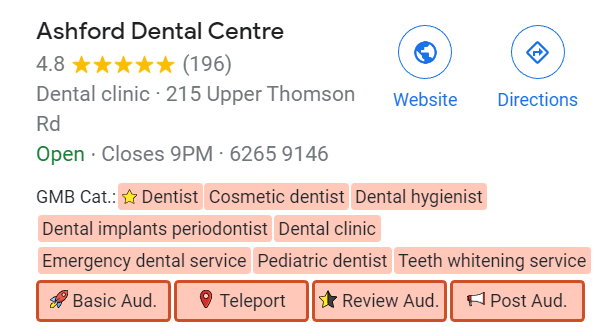 While you can choose up to nine secondary categories, don't include ones that are irrelevant to your company. It's important to only select those that truly represent your business to avoid violating Google's guidelines.
3. Add Your Products and Services
Adding products and services to your Google My Business listing will help improve visibility. Customers will know what you're offering, and the listing will stand out from competitors.
To add products and services, log in to your Google Business account and find your profile. Simply look up "my business" or type your business name in the search bar.
Once found, select View Profile, then click the Edit Profile button. Depending on what you're adding, choose either Products or Services.
You will then be prompted to complete the relevant fields, such as the product name, category, image, price, and description.
Note that Google doesn't allow users to add regulated products or services to a listing. This includes tobacco, gambling services, health or medical devices, financial services, alcohol, and unapproved supplements.
Violating this policy risks the removal of your entire product catalog, including permitted products.
4. Use The Product Catalog
To attract prospective customers' attention, show your product catalog directly on your profile.
Google provides a Products tab where customers can:
Select product categories.
Expand on product cards for more details.
Call the business owner.
Click a button or link to order online.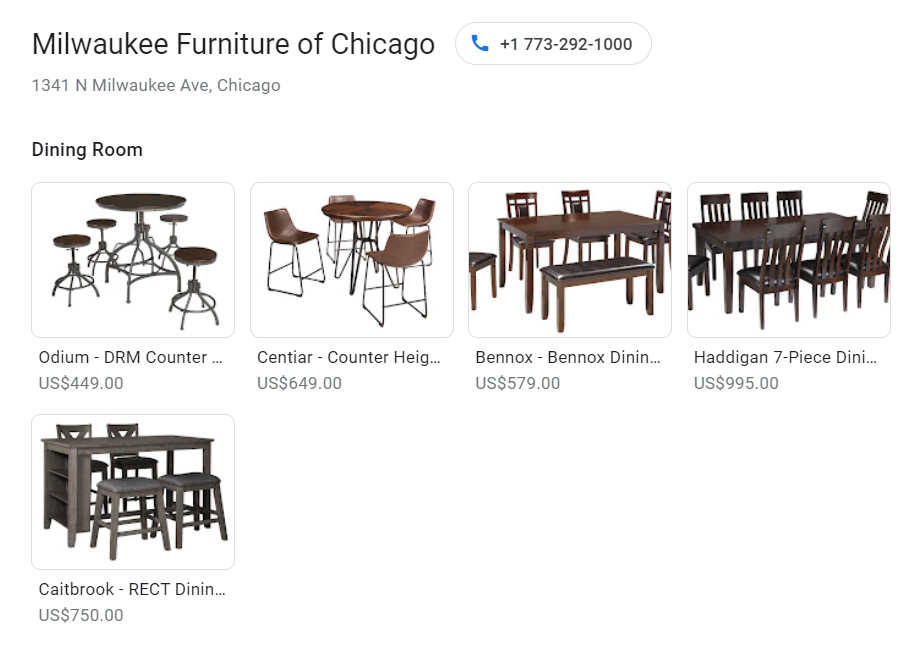 5. Set Up Messaging
Another tip for optimizing Google My Business is to configure the messaging feature.
Setting up instant messaging enables customers to easily reach out to you. As a result, it helps to establish trust, improve customer satisfaction, and boost engagement.
Google Business Messages lets customers send a chat directly from the business listing on the search results page. All they need to do is click on the Chat button, which will appear on both Google Search and Google Maps.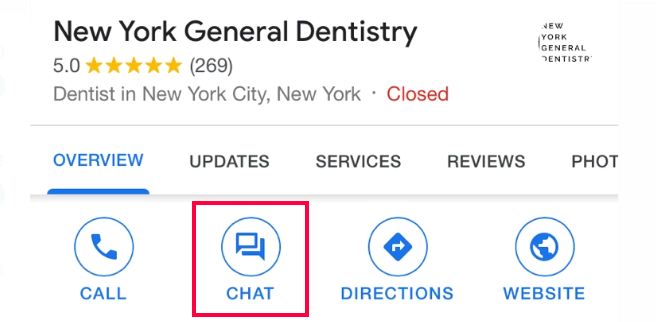 To enable it, activate the Messaging feature – you'll get notified when customers send a message. It's also possible to create a custom automated welcome message and share pictures with customers in the chat.
Important! Google requires messages to be replied to within 24 hours. Otherwise, it may deactivate your chat feature.
6. Use Special Attributes
Special attributes are additional categories that tell visitors what your business offers.
For instance, restaurant owners may choose to add special attributes such as takeout, dine-in, outside food allowed, or delivery.
Doing so helps to increase your company's chance to rank for queries related to these attributes, like "dine-in restaurants near me" or "delivery restaurants near me."
Depending on your chosen business category, you can add various special attributes to help the profile stand out. For example, inform users of the amenities offered, languages spoken, activities to do, accessibility options, and available payment methods.
You can even highlight women-owned businesses in newer updates of Google My Business.

Important! Make sure to double-check your special attributes periodically, as Google changes attribute names over time to match people's search queries.
7. Answer Client Questions
When potential customers discover your Google Business Profile, they want to find accurate information. In addition to improving lead generation, this enhances the customer experience.
Google offers a Q&A section in your listing. The section is community-based, meaning anyone can post answers to available questions.
Often, Google will provide auto-generated answers for recurring questions based on past responses or content from customer reviews. Questions and answers that get the most likes will appear higher.
As you can't guarantee the quality and accuracy of such answers, it's best to reply to the messages yourself.
Moreover, some people often mistake it for a messaging system, so the questions asked could've been a sales lead. Therefore, you risk losing potential customers if you don't regularly monitor the Q&A section.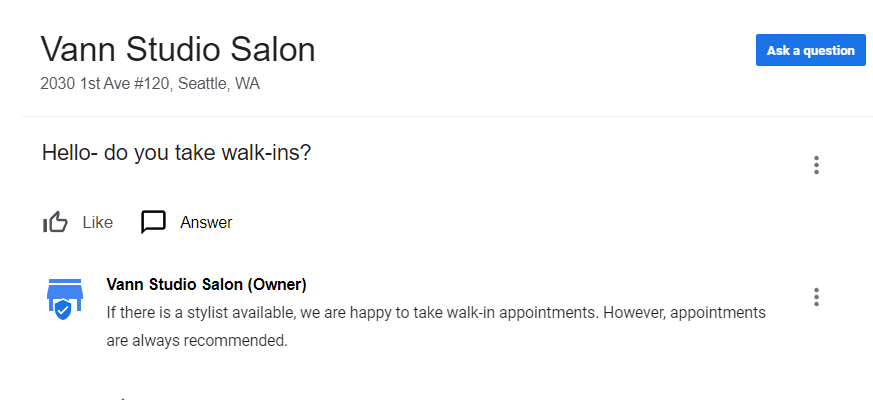 8. Publish Posts and Photos
Actively publishing new photos and posts can help build customers' trust and show Google that you're a legitimate business.
Photos give people an inside look – whether that's a peek into your hotel lobby, café menu, or the general store ambiance. Furthermore, adding a human aspect to your images is a great way to show customers the type of service they can expect.
Make sure to optimize your images, such as aiming for high-quality or semi-professional quality. Then, add alt text, titles, and captions, and turn on geotagging to further improve your local search ranking.
In addition to photos, Google My Business enables users to publish updates directly from their profile with the Posts feature. You can share announcements, seasonal offers, and upcoming events to engage with your customers.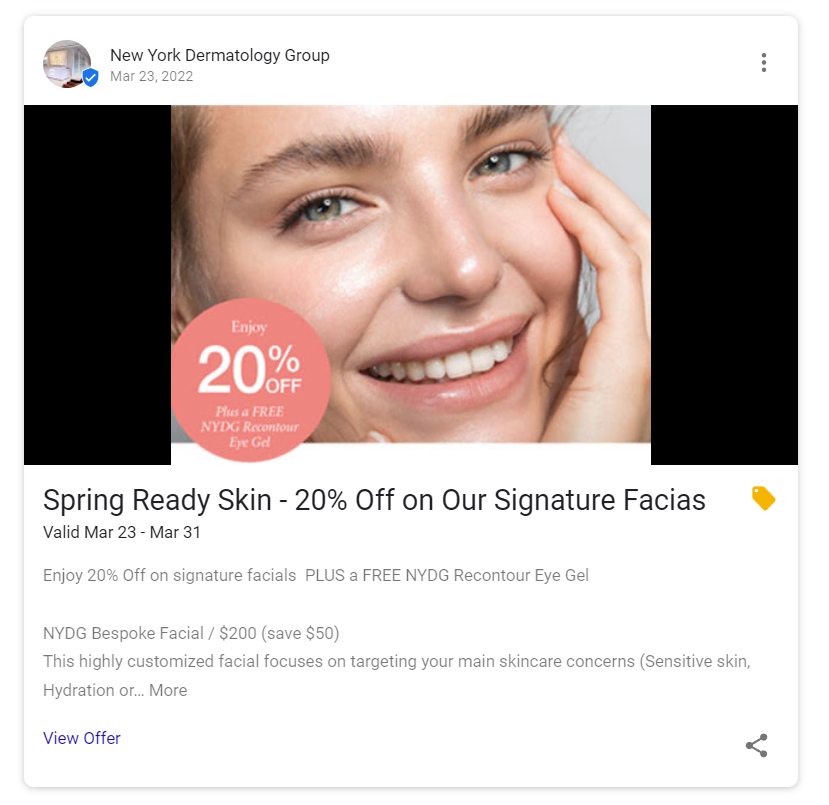 Remember to include target keywords when creating posts, ensure the copy is error-free, and provide accurate information. Then, make them more appealing by attaching visuals like digital brochures or campaign images and adding links to your landing pages.
Keep in mind that Google My Business posts expire after six months. Before then, it's good to frequently review and update them to ensure customers don't miss out on your latest promotions.
9. Respond to Reviews
Monitoring and responding to your Google Reviews are crucial, as they are considered conversion factors.
Positive reviews are important social proof to establish credibility and convince potential customers of the quality of your business.
By responding to reviews, you show customers that you value their input and care about their experience. Note that Google Reviews are public and may be displayed within the Knowledge Graph, so how you handle them will influence people's perceptions of your business.
It's good to respond in a clear, helpful, and friendly way. Avoid one-worded answers, and aim to address or solve the customer's pain points in your reply.
If you get a bad review, responding to it is an excellent opportunity to offer compensation and get the customer to revise their testimonial.
Conclusion
As more people discover businesses online, having a Google My Business profile is crucial to improve your company's visibility on search engines. It helps people easily find your products, contact details, and store location.
When setting up your account, be as accurate as possible about your business operations. Also, ensure you're not violating any of Google's guidelines to avoid risking issues like account suspension.
In addition to creating an account, it's also important to maximize the available features and follow some Google My Business optimization tips. Doing so improves your chances of appearing on the top of Google Search results and in the Google 3-Pack.
That said, a Google Business Profile is not the only solution for your local SEO. Besides a GMB listing, make sure you put in the effort to maximize your on-page and off-page SEO – including having a well-optimized site and publishing valuable content.
Google My Business SEO FAQ
In this section, we'll answer some common questions about GMB SEO.
Is a Physical Address Required to Rank in the Local Market?
Yes. Having a physical address boosts visibility in local searches. If you don't list a physical address, your company will not appear in Google's local 3-Pack. That said, there are other ways to improve the local ranking of an online store without a physical location, such as publishing localized website content. 
How Do I Know if Someone Else Isn't Going to Claim My Google Business Listing?
To claim a business listing and be approved by Google, you must go through the verification process that proves you're the owner. Since there can only be one owner, you will have to request ownership if someone else has claimed your listing. 
When Can I Edit After My GMB Profile Has Been Reinstated?
Google typically reviews a reinstatement or ownership request within two weeks. After your profile is reinstated, we recommend waiting several days before making edits to avoid suspension.