What Is UX Design – Differences With UI Design, Career Insights, and More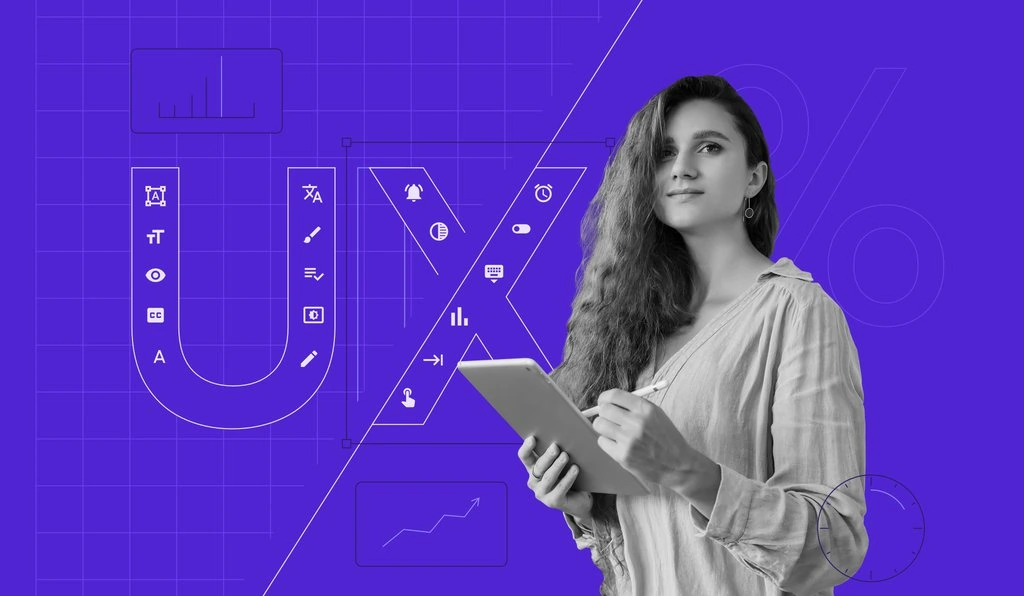 The terms user experience (UX) design and user interface (UI) design are often used interchangeably, which might result in some confusion. Although both are essential aspects of web design, they aren't technically the same.
For aspiring web designers, understanding the distinction between those two is essential for developing your web design skills and knowledge.
This article will provide the ultimate guide to user experience design, including what is UX design, how it differs from UI design, and relevant career opportunities.


What Is UX Design – Video Tutorial
Get to know what is UX design and what is a typical day for a UX designer.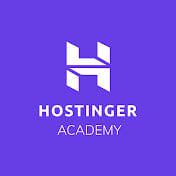 Subscribe For more educational videos!
Hostinger Academy
Subscribe
What Is UX Design
User experience design is the process of creating a seamless experience throughout the entire user journey. From the check-in sign at an airport to the ease of finding the checkout button on an eCommerce store, UX design exists in every aspect of our lives.
The goal of UX design is to create a product or service that meets the users' needs, solves their problems, and creates an overall enjoyable experience. When done right, UX design can help businesses increase customer satisfaction.
The term "user experience" itself was first coined in 1993 by Don Norman, an expert in cognitive science. When he joined Apple, Norman came up with the term to boost the industrial design of Apple's products, enabling users to set up and use computers easily.
Since then, UX design has transformed into a diverse field with many specific roles, including those of a user experience researcher and interaction designer.
Although applicable to physical interaction and non-digital objects, UX design typically refers to digital products, such as websites, apps, and software.
The Difference Between UX and UI Design
After learning what is UX design, we can move further into user experience and user interface design. These are often together referred to as UI/UX design and there are misconceptions around those terms. While related, UI and UX design have some differences.
UX design is a broad concept with many dimensions, in which the goal is to create a smooth user experience for a product or service.
UX designers focus on the big picture. They create sitemaps and user stories based on how users interact with a business, including its employees, products, and services.
On the other hand, UI design focuses on the visual design and interactive elements of a product, such as colors, layouts, animations, buttons, and typography.
UI designers focus on the human-computer interaction, going into detail on each page, button, layout, and image to create a product that's easy to use and visually appealing.
To sum up, UX design focuses on the users, while UI design focuses on the products. User experience and user interface design work closely together, as it's nearly impossible to create an enjoyable user experience without a good user interface.
UX Design vs UI Design
| | |
| --- | --- |
| UX Design | UI Design |
| How a product feels | How a product looks and functions |
| Deals with the end user's interaction with every element of a company | Deals with human-computer interaction |
| Focuses on the emotional aspect of users | Focuses on the visual elements of a product, such as colors, layouts, animations, buttons, and typography |
| The goal is to create smooth and seamless user experiences | The goal is to create an aesthetically appealing product |
The Four Disciplines of UX Design
User experience design is a diverse field consisting of four main disciplines:
Experience Strategy (ExS) – refers to a company's strategy for creating the best possible user experience from start to finish.
Interaction Design (IxD) – focuses on implementing an engaging and intuitive interface that enables users to complete tasks efficiently.
User Research (UR) – refers to any survey, interview, study, and test conducted to understand the customers' needs, pain points, and preferences. Then, this data is used to design a product or service that solves their problems.
Information Architecture (IA) – is the structure of information within a product, helping users understand how to use it.
What Does a UX Designer Do
UX designers aim to enhance the user's experience of using a product, service, or system by implementing a design thinking process. According to Stanford d.school, the design thinking process is divided into five stages: empathize, define, ideate, prototype, and test.
The empathize step is about understanding the target audience. During this stage, a user experience designer conducts user research, interviews, surveys, and other data collection methods to gain insights from the customers' perspective.
After collecting data, a UX designer analyzes it and defines the goals users want to achieve or the core problems they need to solve.
Then, UX designers create user personas to represent the target audience during the design process. Personas also help designers understand the user flow from start to finish and create a sitemap based on it.
The third stage is the ideation phase, where UX designers brainstorm and generate design ideas based on different touch points of the customer journey. Web UX designers will answer questions like "how to design a website optimized for different screen sizes?" or "how to improve the interaction design of a website?".
The next step is to create a prototype, the scaled-down version of the final product. A prototype can be anything, from paper sketches to website test pages. A user experience designer uses a method called wireframing to arrange the information architecture of the prototype.
UX designers then use this prototype to conduct user testing. The idea is to see how users interact with it and collect their feedback.
After finalizing the process, the user experience designer must present the findings to the clients, the company's stakeholders, or their design team. Once approved, they'll collaborate with UI designers, interaction designers, and web developers to execute those ideas.
To understand what does a UX designer do varies depending on the company's size and industry. Large corporations might have different people working on certain stages, while smaller organizations might hire one designer for all UX design-related tasks.
What Types of Projects Does a UX Designer Do
Before landing your first job as a UX designer, you must create a well-diversified portfolio highlighting your strengths and abilities. Here are some UX design project examples to get you started.
Website Design
Every business needs a website to stay relevant, making web design one of the most promising career opportunities.
There are many types of websites you can work on, from blogs and personal sites to eCommerce shops and business sites. Each has different purposes and thus requires different approaches. Take a look at this example for your website design inspiration.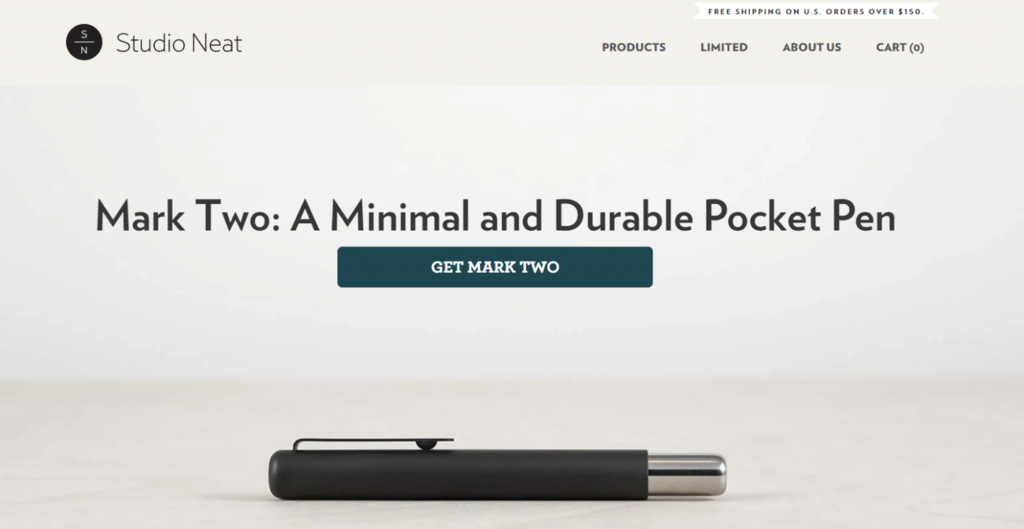 Studio Neat is a small business that focuses on solving customers' problems with simplicity in mind, resulting in a user-friendly interface.
Instead of confusing the site's visitors by mentioning all their products at once, the homepage simply displays its best-selling one, Mark Two. You can easily find the other products by accessing the Products option on the top menu.
For an eCommerce website example, let's use Sephora.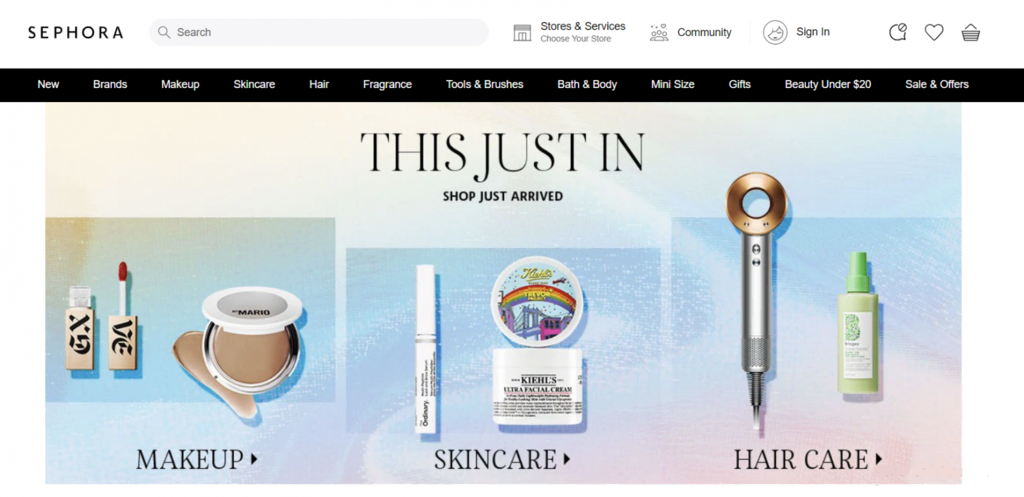 Again, the homepage doesn't overwhelm visitors with loads of information. It highlights only three categories. To find a specific product, users can easily navigate through the on-site search engine or the categories listed on the top menu.
When users visit Studio Neat and Sephora, they're either looking for more information about a product or to directly make a purchase. The information architecture of these websites help users smoothly achieve their goals.
Landing Page
Landing pages focus on generating leads and persuading visitors to take action. To create an effective landing page, you must first define its primary goal. Do you want visitors to subscribe to a newsletter, download an eBook, or make a purchase?
A UX designer is responsible for creating an interactive page that encourages users to convert based on different goals. A landing page has three crucial elements:
Simple yet engaging visual design. Using the right images, typography, and amount of white space can make all the difference.
Effective and persuasive copy that encourages users to perform the desired task.
A call to action (CTA) that stands out from the rest of the content. Without a CTA, users might not know what to do next and simply leave your landing page.
Airbnb has an excellent example of a landing page:

It has a simple yet appealing layout, effective copy, and an easy-to-locate CTA button.
If the property owner decides to proceed, they'll create a listing in just six steps:
Sign up
Select the property details (room type, amenities, and rate)
Input the address
Upload the property's photos
Confirm the owner's contact information
Publish the listing
Thanks to the clear path set, it only takes a few minutes from accessing the landing page to listing a property.
App, Software, and Game Design
Apart from websites, UX design is also present in other types of digital products, such as apps, software, and video games.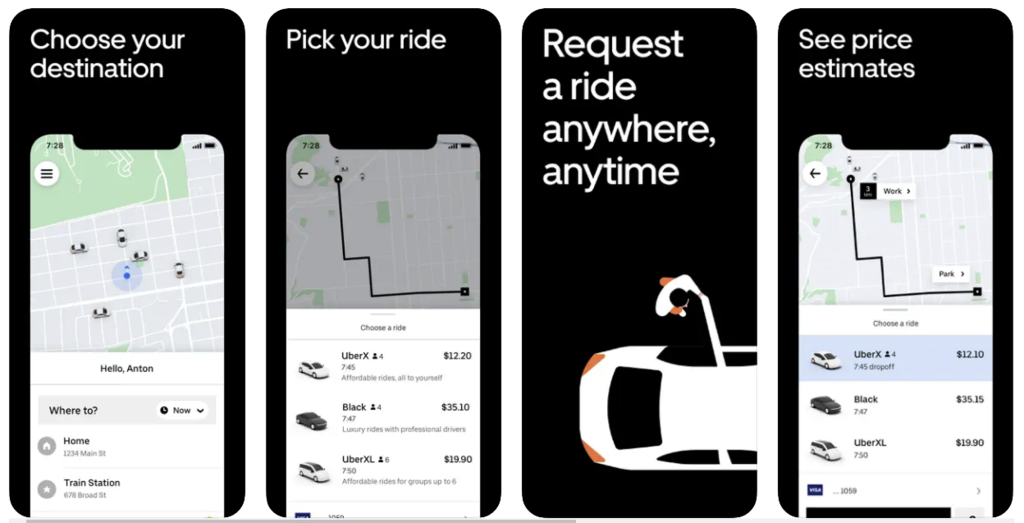 Let's take Uber as an example. The mobile app has a simple interface and offers step-by-step instructions so first-time users can easily request a ride. All they need to do is log in, inform their location, choose a destination, pick a ride, and provide a payment method.
If users enable Uber to access their devices' location, the experience is even smoother, as they'll no longer have to add their pickup addresses manually.
While the UX design process of apps and software is similar to websites, video games are a lot more complex. Instead of static interfaces, you'll deal with constantly changing scenarios.
To create a good gaming experience, UX designers can ask questions like:
Will players understand the game rules and mechanics?
Are the levels too easy or too hard to complete?
What will make players come back for more?
Usually, UX designers work with scriptwriters, UI designers, and game designers to ensure the game has an easy learning phase, simple mechanics, and compelling storytelling.
Voice Design
The voice assistant industry is constantly growing, with 41% of adults using voice search daily, and has transformed how users interact with devices. Instead of physically tapping on a screen or a remote, users can give commands using their voice.
Good voice design is not only about using beautiful voices or providing the correct information – it's about giving the voice a personality as if users were conversing with an actual human. Apple's Siri is one of the best examples of that practice.
Siri is a voice assistant that helps users complete daily tasks, such as opening an app, calling a contact, searching a nearby restaurant, and showing the weather forecast.
However, what makes Siri special is its personification. Users can talk about random topics and even play jokes with Siri. They can also customize Siri based on their preferred language, accent, and gender.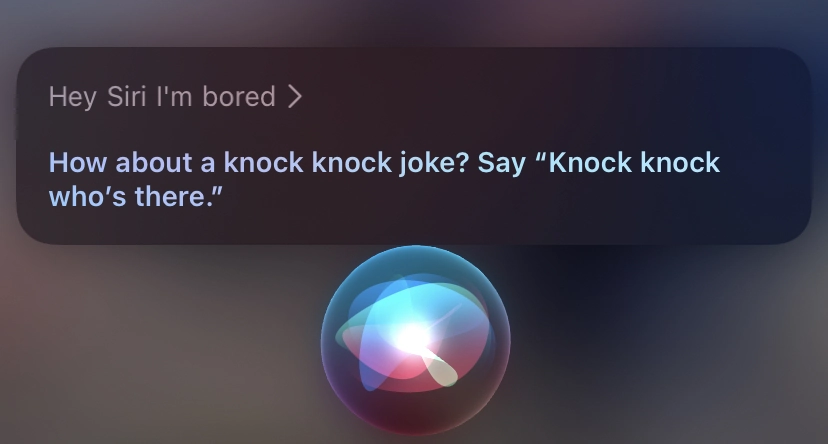 It's like having a personal assistant available at any time, boosting the user experience of Apple devices.
Augmented Reality (AR)
Augmented reality (AR) is a technology that enhances physical objects in the real world with computer-generated animations, images, and sound. In online shopping, AR enables customers to see how a product fits their environment.
UX designers can play a significant role in helping businesses get ahead of their competitors by implementing AR in their user experience design. IKEA, for example, launched an AR application called IKEA Place.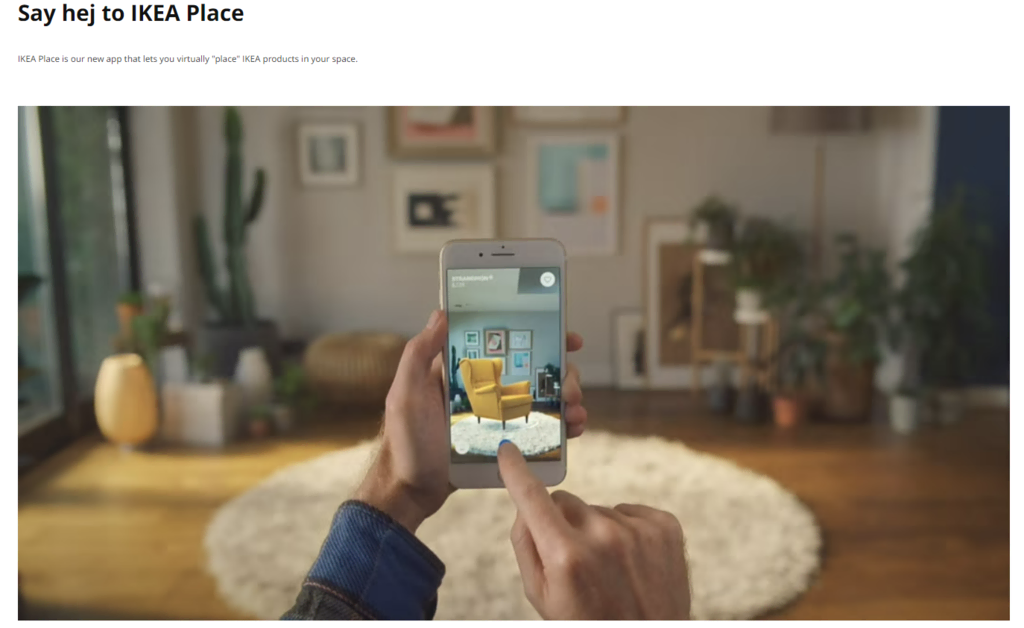 The app enables users to explore IKEA's library of 2,000 products, select their desired option, and see what it would look like in their chosen area. Users can also directly purchase products through the app, simplifying the buying experience.
What Skills Do You Need to Become a UX Designer
Acquiring and practicing different UX web design skills is essential for a successful career in this field. This section will cover the hard and soft skills a UX designer should have.
Hard Skills
Hard skills refer to the technical abilities of a user experience designer, such as visual design, user research, data analysis, and prototyping.
Visual design – the general understanding of graphic design, interaction design, and information architecture (IA).
User research – conducting or analyzing different UX research methods, such as user interviews, focus groups, and surveys to gain insights into the target audience.
Data analysis – the ability to process raw data and extract critical information to help with the decision-making process.
Prototyping – the process of creating a sample for testing purposes and receiving user feedback on how to improve the product or service.
Soft Skills
Soft skills are the attributes that enable you to understand users, collaborate with other team members, and develop yourself.
Empathy – is the ability to understand the users' emotions. Good UX designers spend time learning about the customers' feelings and motives.
Communication – you must present your ideas clearly, whether it's to the clients or the company's stakeholders.
Collaboration – refers to your ability to work with others, such as UI designers, web developers, and business analysts.
Curiosity – refers to your willingness to evolve, learn new things, and find new ideas.
Open-mindedness – enables you to be adaptive to changes and receptive to new suggestions.
Critical thinking – is the ability to identify core problems and develop innovative solutions.
Expert Tip
Here are some tips to improve your hard and soft skills as a UX designer:
1. Learn and practice the basic theories of interaction, experience, tools, and graphic design.
2. Connect with mentors, senior designers, or experts to get direct insights about your future career.
3. Create a dummy project or a real social project to establish a portfolio and get more experience in a real working environment.
How to Become a UX Designer
After learning about what is UX design, the type of projects UX designers do, and the required job-ready skills, you might be wondering where to start. Here are the five steps to becoming a UX designer.
1. Learn the Basics of UX Design
If you feel that a career in UX design fits you, start learning the basics. Whether acquiring a formal degree or taking online courses, the opportunity to learn UX design is there for you to explore.
In fact, you can even learn about UX design from the very man who invented user-centered design, Don Norman. His company, Nielsen Norman Group, offers a UX Basic Training course which costs $923-$961.
The company also offers more specific courses for those who want to be experts in user experience (UX) management, user experience (UX) research, and interaction design.
2. Learn the Key Tools
The second step is to learn the essential tools that support your work as a UX designer. We recommend the following tools based on the different stages and purposes of the design process:
3. Practice Your Skills in UX Design Projects
After learning the necessary UX design skills and tools, it's time to practice them on real projects. We recommend starting with web design first, as it's relatively easier than game design, voice design, and AR design.
At this step, you may need to find a platform to host your client projects. Hostinger offers web hosting for freelancers available to ease your search. These specifically designed business hosting plans will guarantee that your web project will work smoothly.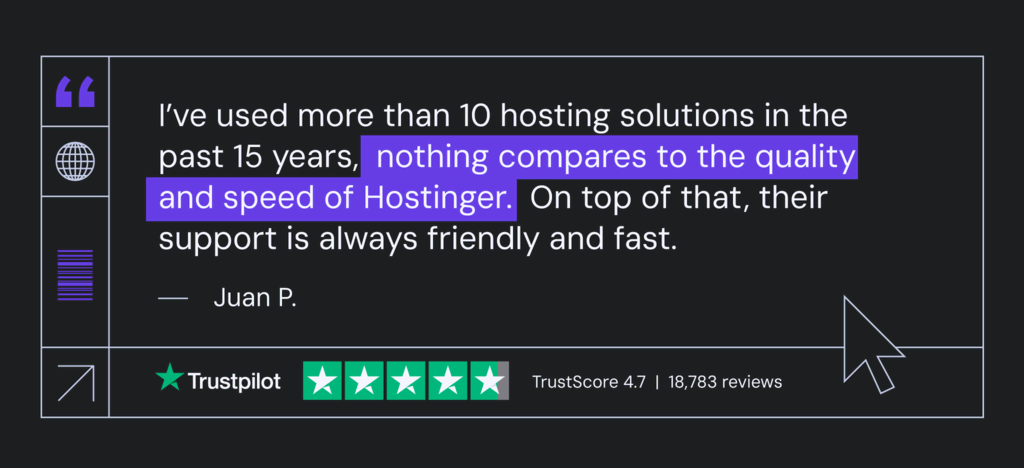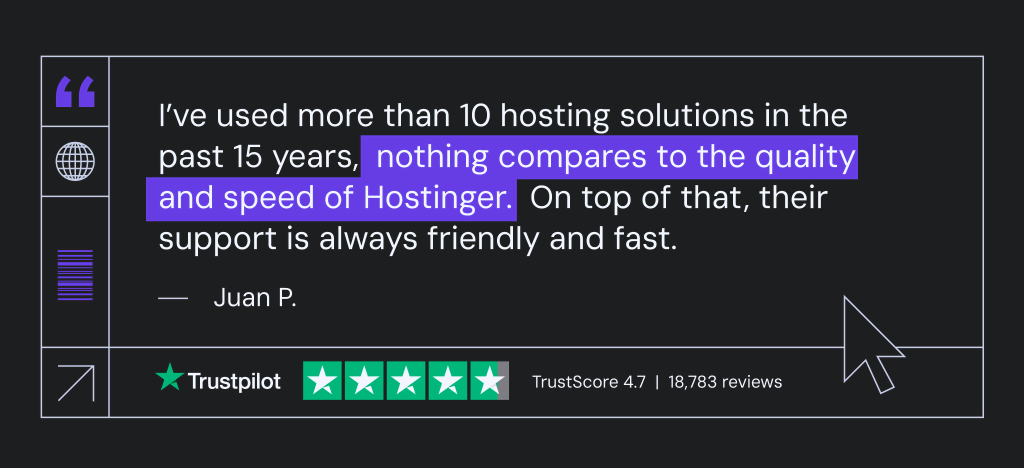 4. Build Up Your UX Design Portfolio
Once you've mastered web design, you can work on other types of projects to gain more experience and diversify your portfolio.
The best freelance websites, such as Fiverr, Upwork, and Toptal, offer a good starting point for finding user experience-related jobs and building your portfolio.
Alternatively, make your own online portfolio website to stand out from the competition.

5. Start Applying for UX Design Jobs
With a well-diversified portfolio in hand, you can start applying for UX design jobs. Remember that the requirements may vary depending on the industry and company.
Conclusion
User experience refers to how a user interacts with a product or service. UX design encompasses all aspects of that experience, including user interface design, usability, and information architecture.
In contrast, UI design refers to the visual design of a digital product, such as animations, images, buttons, and other interactive elements. A good user interface makes the whole user experience enjoyable.
As technology develops, the demand for UX designers has also increased, making it one of the most promising career paths. In this article, we've shown you how to become a UX designer, what does a UX designer do, including the necessary skills, different projects to work on, and the resources to start.
We hope this post has helped you understand what is UX design better. Let us know if you have any thoughts in the comments section below.
What Is UX Design FAQ
Here are some of the frequently asked questions about UX design.
Is UX Design a Good Career?
Yes, a UX designer is one of the most sought-after tech jobs nowadays. Glassdoor includes UX designer as one of the top 50 best jobs in the US, with around 7,000 job openings currently.  
How Much Do UX Designers Make?
Depending on the role and company's size, the average UX designer salary in the US is around $93,000/year. A more specific role, like user experience researcher, has an even higher wage, averaging $100,000/year.  
Can I Get Into UX Without a Degree?
Yes, you can. While having a degree will help, you can learn to be a UX designer by attending various bootcamps and courses. After that, practice the skills on different UX design projects.