30 Top Personal Website Examples for Design, Content, and UX Inspiration 
Your personal website is your online calling card. It's a chance to showcase your work, share your story, and connect with potential clients and employers.
But with so many personal websites, blogs, and portfolios out there, it can be hard to know where to start.
We've rounded up 30 of the best personal website examples for design, content, and UX inspiration. These websites are all from different creative fields, so you're sure to find something that speaks to you. We will also talk about the main characteristics that all the best personal websites have in common.
Download Website Launch Checklist
10 Best Personal Websites for Design Inspiration
Fost most personal websites, design plays a crucial role in keeping the readers engaged with your site.
When designing a personal website, there are several visual aspects to consider, including element placement, color composition, and website layout choices.
To help you get started, the following website design inspiration examples should help you identify the types of site designs that best suit your brand.
Made with: Hostinger Website Builder
Notable features: hero image gallery, sticky menu
If you're a digital creator looking to display your work online, consider using Borhen Kachbouri's site design as your point of reference.
Kachbouri immerses the visitors with a hero image gallery, showcasing his best work. This helps potential clients evaluate whether this style fits their specific needs.
The sticky menu, completed with a dropdown menu for all available services, ensures visitors don't get lost while they browse. Also, note the strategic positioning of a call-to-action menu link in the middle of the menu. This makes it easy for customers to take action and place an order no matter where they are on the site.
If you're looking for an intuitive AI-powered builder tool for your own site, consider using Hostinger Website Builder.


Made with: WordPress
Notable features: animated elements, contrasting color scheme
Ine Agresta's personal website is all about playful colors and eye-catching page elements.
The contrasting color scheme helps to highlight important sections, ensuring that even a casual browser is gently guided deeper into the site.
The animated logo displayed both in the header, and the footer of the website is another fun and engaging touch to Agresta's site design. Combined with plenty of whitespace and big, bold images, the website encourages visitors to keep browsing.
Consider using accent colors and animated elements in your website branding for a similar effect.
Made with: WordPress
Notable features: whitespace usage, clean layout
If you are looking for inspiration for a minimalist personal site, you might want to check out Neil Oseman's portfolio.
Oseman's resume website is an excellent example of using a whitespace-heavy design. As a cinematographer, Oseman knows how to guide the visitor's eye to what matters the most – and in his website's case, it's his work.
Thanks to the simplistic header, populated with icons only, and a hidden hamburger menu, site visitors aren't distracted, and they can focus on browsing the best parts of Oseman's work.
If you work in a visual field, a minimalist design with plenty of whitespace is a great way to ensure website visitors are focusing on the most important things.
Made with: WordPress
Notable features: simple menu, minimalist design
Continuing the minimalist trend, Blue Sky Eating takes food blogging to the next level.
The simplicity of the menu bar helps users navigate through the different sections of the website. By not giving the visitors too much choice, the design encourages visitors to take action and either browse through the whole recipe catalog or search for their favorite recipe.
If your website has a lot of content that falls under a couple of main categories, this type of design approach could be great for improving conversions and engagement.
Made with: WordPress
Notable features: animations, avatars, black background
Jake Sinclair's online portfolio uses animations and digital avatars to create a fun and engaging browsing experience.
The loading screen animations and parallax scrolling effects add depth to the design and showcase Sinclair's skills as a designer. The black background helps to set a professional tone but also ensures that page sections and elements are easily visible to site visitors.
Consider getting familiar with color theory prior to deciding on your brand colors. This way, you will fully understand which colors work best together and can set the right one for your brand.
Made with: Hostinger Website Builder
Notable features: typography hierarchy, copy-centric hero design
Great web design is essential to communicating the key selling points of your personal brand to potential customers.
Dr. Gillian Jack's digital portfolio does this well. The hero section is built around a short copy section and a historical illustration, highlighting Dr. Jack's research focus at a glance. The typography has a clear hierarchy, with the main headline standing out from the body copy.
This way, visitors know immediately what to expect from the website. It's also important to use the right text formatting if you wish to properly optimize your website for search engines.
Made with: Hostinger Website Builder
Notable features: animated hero section
If you want to encourage visitors to remain on your website, consider creating a welcome screen similar to Anulika Nwankwo's.
Working as a product designer in user experience and user interface design, Nwankwo knows how to use interactive illustrations in her personal website design to grab the attention of the casual browser.
On top of looking unique, it also demonstrates Nwankwo's skills as a designer and developer. Remember to consider how you can use your personal website design to not just tell a compelling story but also showcase your skillset in practice.
Made with: WordPress
Notable features: extensive menu, image-focused page layout
Nicole Windle's website is a comprehensive online space for all things yoga.
The extensive menu bar helps users to navigate through all the content on the site, while the image-focused page layout balances out the information-heavy pages. This results in a dynamic and pleasant browsing experience, helping to reduce bounce rates and engage users to stay on your site for longer.
Consider linking to the most important pages on your website in your menu bar, especially if your personal website has a lot of content on it.
Made with: Hostinger Website Builder
Notable features: unique typography
If you're looking for inspiration on how to incorporate unique typography into your personal website design, take a look at Amacie Design Studio's website.
Well-chosen typography helps to elevate any website design and create a unique and memorable brand. In Amacie Design Studio's case, the bold header font is the centerpiece of the site design: it's present in the hero section, used to separate page sections, and dominates the visuals.
Made with: WordPress
Notable features: accent colors
Andrew Clay's personal website is a mix of a traditional resume and an online blog with a distinct design.
The seemingly simple color scheme of neutral beige, black and white is contrasted with sage green. The neutral colors help the images stand out from the page design, and the green is cleverly used to highlight important information, like links, on the page.
For an engaging and intuitive website design, consider using an accent color to emphasize important information to your visitors.
10 Best Personal Website Examples for Content Inspiration
Great website content helps to keep your visitors engaged for longer, resulting in lower bounce rates and more conversions. Properly formatted and optimized content also helps your site to appear in search results, too.
The following personal websites do a great job of presenting their content in an effective and interesting way.
Made with: WordPress
Notable features: striking graphic design, informative content
Vytautas's website curates his portfolio as a tattoo artist. The website's clean and minimalistic design ensures that the focus remains on the content itself, resulting in a seamless and immersive browsing experience.
On top of emphasizing his skills as a tattooist, pay attention to how much informative content can be found on this site. From sharing his personal story to detailing how to make a booking and answering frequently asked questions, Vytautas ensures that his site is both good-looking and helpful for potential customers.
Whether you're a tattoo artist or a content creator in a different domain, Vytautas's site exemplifies how to combine visually striking and memorable web development with informative content.
Made with: WordPress
Notable features: unique front page sections
Food bloggers can draw inspiration from the Minimalist Baker website's homepage features.
From featuring the latest recipes to including a "pick of the week" section and a list of recent readers' favorites, Minimalist Baker keeps readers engaged the moment they land on the site.
Consider including new and different sections on your landing pages to boost your content. This way, it's easier to track the content's performance and get more insights into how your target audience views your site.
Made with: WordPress
Notable features: combining storytelling with practical information
Sailing Woolamai is a personal website that documents the adventures of Rick and Marie, who quit their corporate jobs to travel the world on their sailboat. The website is a great example of a personal website with informative and inspiring content.
The blog is full of interesting stories about their sailing adventures, from tips on how to live aboard a sailboat to stories about their encounters with wildlife. The photo gallery is a beautiful collection of images that capture the beauty of the places they have visited.
If you plan to base your personal brand around content, remember to keep your articles informative and engaging. Update your site regularly with new content, and don't underestimate the importance of high-quality images and videos.
Made with: WordPress
Notable features: animated loading screen
Morgan Sun is a motion designer and art director, and visitors know it intuitively once they land on his website.
That's because his personal website hooks site visitors in with its unique loading screen animation. In fact, the whole site is used to demonstrate Sun's skills, and the content reflects that. On the dedicated page for his art director work, visitors can watch his highlights reel from past projects. The "Work" page, on the other hand, is used to solely showcase his skills as a motion designer.
Morgan exemplifies how resume websites don't have to conform to a traditional CV format. Instead, if you work in the creative industry, think outside the box and display your website content in a way that best highlights your talents and skills.
Made with: WordPress
Notable features: clean header design
Unlike many personal websites listed here, Kristi Hines doesn't use visuals or menu links in her header design.
Instead, her homepage displays her articles chronologically, with her Instagram and Twitter feeds integrated into the sidebar. This allows visitors to engage with various content, increasing engagement and interaction with zero distractions.
Made with: WordPress
Notable features: short, impactful copy
Kalogirou Rania is a freelance writer, and as such, she knows how to use the written word to catch the attention of her audience.
Using short copy throughout her site, the content is easy to read, making it perfect for smaller screens and busy readers. Mobile optimization is also important for SEO, helping your site appear higher in Google search results.
Pay also attention to how Rania uses call-to-action buttons throughout the website. Strategic call-to-action button placement in the website footer, header, and elsewhere on the pages ensures new visitors are prompted to not just browse but also actively take action.
Made with: Hostinger Website Builder
Notable features: use of whitespace, menu organization
More On Milan is another great example of a minimalist web design for a personal blog or website. The use of whitespace and a black-and-white color scheme helps to highlight the visual content on the page. This is especially fitting for a portfolio site where you want your work to speak for itself.
To mimic how content is organized on More On Milan, consider adding main menu links to different types of content in your portfolio – in this example, Milan differentiates between art direction, photography, graphic design, and video content.
Made with: WordPress
Notable features: hero image, grid image gallery
Carlos Villarreal Kwasek is a game designer and uses his personal website as a space for showcasing the work he's most proud of.
A full-screen hero image gallery dominates the homepage, with image links to individual pages discussing the different projects in more detail. If your portfolio consists mainly of visual media, consider adopting a similar approach to Kwasek: set up your homepage in a grid layout with minimal text and a link to a dedicated page.
Made with: WordPress
Notable features: unified page layout, image grids
O-D-A's architecture website relies on a page layout that very clearly and systematically organizes written and visual content into columns and grids.
If you want to create a seamless browsing experience, consider using a similar page format throughout your site. This creates familiarity and makes it faster for readers to find the information they need on any given page. Grids also make it easier to view lots of images at once if you have an image-heavy website.
Made with: WordPress
Notable features: accent colors, illustrations
As the name suggests, this personal website features stills and a film gallery, focusing on modern creative storytelling – with short but meaningful website copy.
The yellow highlights and illustrations stand out against the white background, guiding the reader through the pages. If your website has a lot of multimedia content, consider using accent colors to highlight important information on your site.
10 Best Personal Websites for UX Inspiration
Your personal website should be easy to navigate. Several factors, including menu structures and page layouts, all affect how easily visitors find the information they need.
This section covers personal sites that have paid close attention to effective user experience (UX).
Made with: WordPress
Notable features: side menu, mobile-responsive design
Ira Lupu's website uses a side navigation menu, complementing the simple web design. Thanks to infinite scrolling, visitors can easily navigate through all of Lupu's projects directly through the homepage.
Lupu's website is also mobile-responsive, meaning that all of the site contents look good no matter the screen size. This is important for the overall user experience, as many browse on mobile devices.
Made with: WordPress
Notable features: cursor animations, parallax scrolling
Full-length high-quality images are central to Rafal Bojar's website design. This results in an immersive browsing experience, especially when paired with parallax scrolling and cursor and loading screen animations.
If your brand revolves around visual storytelling, consider adding a parallax scrolling effect to your main pages for a more immersive user experience.
Made with: WordPress
Notable features: intuitive navigation
Kira Olsen's personal website has a minimalist design, presenting her work in seismology and geophysics with a clean, uncluttered layout, impressive imagery, and ample whitespace.
This creates an elegant user experience that allows the scientific portfolio to be the main focus of Olsen's site. Thanks to the simple and intuitive navigation and focused content, visitors can easily explore her projects without distractions.
Made with: WordPress
Notable features: clear menu, well-structured footer
Lee Shaw Williams' website captivates visitors with visual storytelling, immersing them through still photography and video reels. The intuitive menu bar with clear page descriptions makes the browsing experience user-friendly and engaging.
Also, pay attention to how Williams has structured the footer of her website. Even after the visitor reaches the bottom of the page, they are still reminded to either visit Williams' social media profiles, get in touch with her, or browse her portfolio. Consider adding only the most relevant and important information into your footer for a similar effect.
Made with: WordPress
Notable features: dynamic scrolling, hover animations
Sabrina Tran is a UX designer, so it is no surprise that her site impresses with interactive UX elements. The web design incorporates dynamic scrolling and engaging hover animations throughout, and the simplified side menu makes navigation easy. The clean UI results in an immersive and captivating experience for visitors.
If you are a graphic designer, a web designer, or work in software development, it's especially worth showcasing your creativity in your design. Consider adding creative touches, such as interactive elements, to your personal website design, for the best user experience.
Made with: WordPress
Notable features: sticky menu
As far as resume website examples go, product designer and photographer Selome Welday ensures that her portfolio offers a seamless and neat user experience at all times.
The sticky menu bar guarantees that visitors can switch between different pages with minimal scrolling. The minimalist page layouts make it easy to skim through the content on each landing page, ensuring that the browsing experience is pleasant on mobile devices, too.
Made with: WordPress
Notable features: dropdown menu
There are no words on the homepage of Jacob Maentz's professional website. Instead, visitors are greeted with a curated image gallery of some of Maentz's best work.
As a professional photographer, Maentz uses the "show, not tell" principle in his web design. The dropdown menu is structured so that visitors can easily browse through different aspects of Maentz's work, eliminating the need to click around to find the right content.
Consider adding a dropdown menu to your personal website for a better user experience, especially if you have a content-heavy site.
Made with: WordPress
Notable features: image gallery, minimalist header
This portfolio is structured almost like a one-page site. The simplicity of the design leaves little room for doubt about navigational errors, resulting in a smooth user experience.
The minimalist header and menu bar help shift the main focus of the site onto the image gallery displaying Passas' work. Consider opting for a similar layout if you want to create a simple but effective browsing experience for your visitors.
Made with: WordPress
Notable features: one-page website layout
Frederikke Mathiesen demonstrates that one-page websites can be just as dynamic and effective as more complex sites.
Mathiesen's resume site relies on the user continuously scrolling down the page. The on-page design elements, like the arrow illustrations and sticky menu with on-page anchor links, intuitively help the user navigate through the site.
To improve your site's UX, consider including visual aids, such as arrows, in your web design.
Made with: WordPress
Notable features: clear navigation, typography hierarchy
Greg Ross' photography website has a cohesive and clear design, making it easy to follow along on each landing page, even without sticky menu navigation.
The site has a clear design and typography hierarchy, with more important page elements being bigger and brighter than less important ones. This helps to guide the readers and keep them engaged with the site. Consider using size to differentiate between important and less important information on your pages.
What Makes a Great Personal Website
Now that you are familiar with some of the best personal website examples available, it's important to understand the main factors to consider in your own website creation process.
Focus On Personal Branding
Your site should reflect your distinct personality to set it apart from others. To do so, it's important to define your target audience and start building a brand. Think about your unique selling point, your niche, and your overall mission and values.
Then, incorporate your brand identity into a representative visual design and start drafting a compelling brand message. This way, your site will have a unique personal touch, differentiating you from your competitors. Consistent branding makes it also easier for visitors to recall who you are and what your brand stands for in the long run.
Share Your Story
Make sure to include an About Me section to introduce yourself and connect deeper with visitors. This strategy is particularly important if you want to obtain new clients for your business. Since prospective collaborators will likely engage with a brand that aligns with their values, interests, and work style, make sure you are communicating your core mission and values clearly.
Optimize for Search Engines
When creating your website, don't forget to pay attention to search engine optimization (SEO) efforts by using keywords relevant to your brand. Each page should have a focus keyword, proper formatting, and high-quality content that showcases your expertise and personal life story.
Include Contact Information
Whether you're building a personal or business website, adding contact details is essential. Not only does this approach let users reach you easily, but it also establishes your credibility. Plus, including contact information on your site can help you increase visibility in local search results.
Don't forget to include social media information as well. Most of our favorite personal websites integrate social media icons and feeds on their homepage. This lets visitors interact with your content on different platforms, contributing to wider audience reach, community engagement, and consistent brand recognition.
Conclusion
Whether you opt to create a professional resume website for a web developer or a personal site for a marketing strategist, the key to a successful online presence lies in developing a distinct brand identity.
In order to create the best personal website, you need to pay attention to your site's design, content, and overall user experience. For best results, consider developing a personal brand, making your contact information easy to find, and using effective storytelling to connect with your audience.
We've explored 30 sites to give you some personal website ideas. If you're feeling inspired, get started with Hostinger Website Builder and create your dream website in a matter of moments.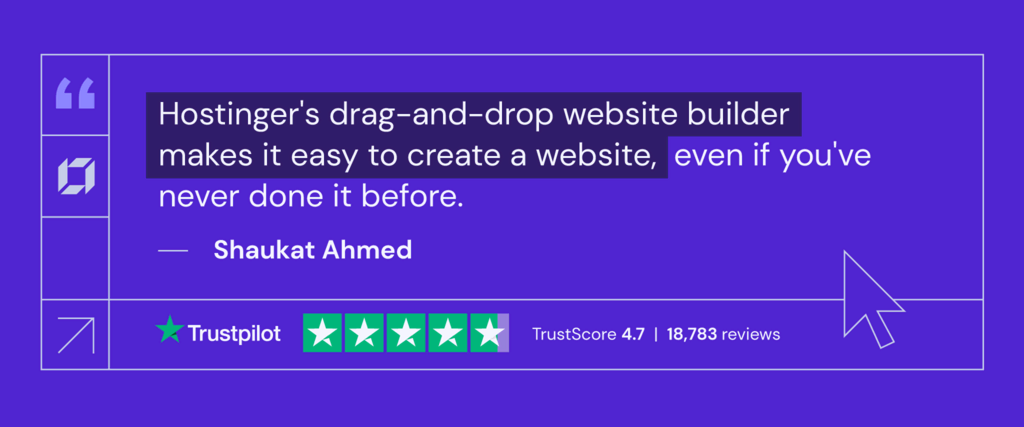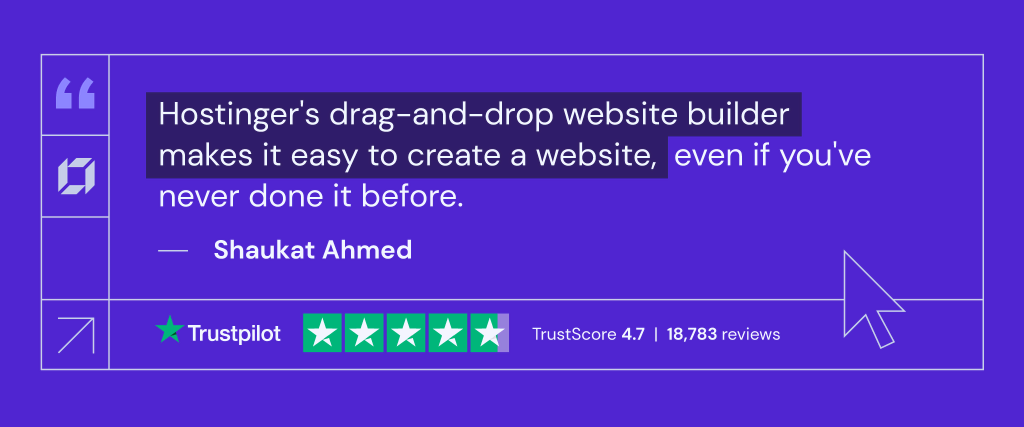 Personal Website Examples FAQ
Find answers to some of the most frequently asked questions about personal websites below.