8 Best WordPress Hosting in 2023 + How to Choose the Right WordPress Hosting
To create a successful WordPress website, you need more than just an attractive design and engaging content. Choosing the right hosting provider is crucial as it determines the performance and reliability of your website, as well as the support you receive.
With numerous WordPress hosting options to choose from, finding the best managed WordPress hosting service that suits your specific needs can be challenging.
That's why we have listed the top WordPress hosting services for 2023 to help you make an informed decision. This article discusses each hosting provider's pricing, types of hosting available, and key features.
By the end of this article, you can make an informed decision on the best WordPress hosting company for you.

8 Best WordPress Hosting Providers
These WordPress hosting providers have been carefully selected based on their performance, features, customer satisfaction, and overall reputation in the industry.
So, let's review the best WordPress host options in 2023.
1. Hostinger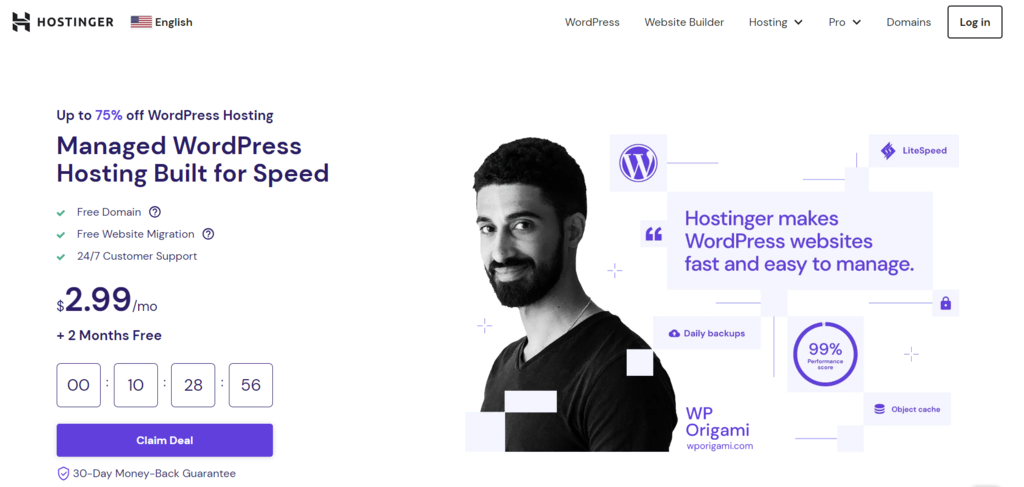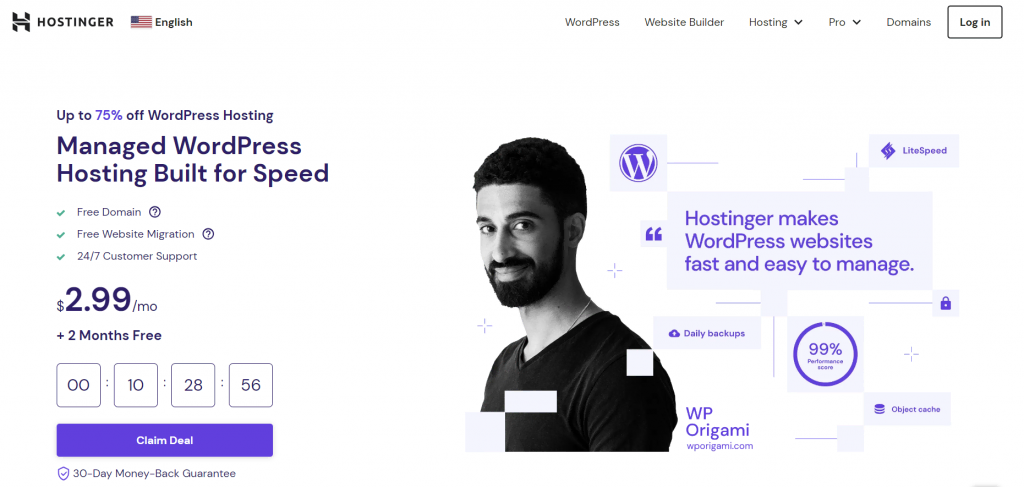 Hostinger Stats:
Rating: 4.9/5
Best for: all types of users and businesses
Price: starting at RM9.99/month
Type of hosting: shared hosting and cloud hosting
Hostinger is a leading WordPress hosting provider known for its exceptional performance and comprehensive features. With a user-friendly interface, reliable speed, and top-notch customer support, it is the ideal choice for WordPress website owners.
For starters, all of Hostinger's managed WordPress plans offer a free domain name valued at $9.99. WordPress site owners will also benefit from unlimited databases, Multisite support, WooCommerce optimization, WP-CLI access, and built-in AI tools.
Hostinger is also one of the fastest WordPress hosting providers by utilizing LiteSpeed, resulting in lightning-fast load times and an enhanced user experience. Our in-house content delivery network (CDN) ensures low latency from any location, providing seamless browsing for your visitors. We also offer a 99.9% uptime guarantee.
Additionally, our multilingual Customer Success team is available 24/7 to address any technical issues or questions. You can reach out anytime via email or live chat to get expert help immediately.
Another advantage of choosing Hostinger is our WordPress staging feature. This tool enables you to safely test website changes and updates before making them live. That way, you can ensure smooth deployment and maintain a stable website.
To better understand the benefits of Hostinger's comprehensive features for creating and managing successful WordPress websites, take a look at the list below.
Key Features:
Managed WordPress hosting features. Our WordPress hosting plans include free site migration, one-click WordPress installation, and auto updates.
Powerful hPanel. Our custom control panel has an intuitive design, making it easy to navigate. With dedicated tools to manage domains, FTP accounts, and databases, you can run websites hassle-free.
Comprehensive resources. Depending on the plan, Hostinger's WordPress solutions enable users to host up to 300 websites with 200 GB of NVMe storage.
Enhanced security. Robust security measures include enhanced distributed denial-of-service (DDoS) protection, a web application firewall (WAF), a malware scanner, free SSL certificates, and free domain WHOIS privacy protection.
Automatic backups. Hostinger helps protect your data by automatically backing up your website. Our Premium plan offers weekly backups, while the Business and Cloud Startup plans have daily backups.
Free email. All WordPress plans include a free email service, where you can create up to 100 email addresses to enhance your business credibility.

2. SiteGround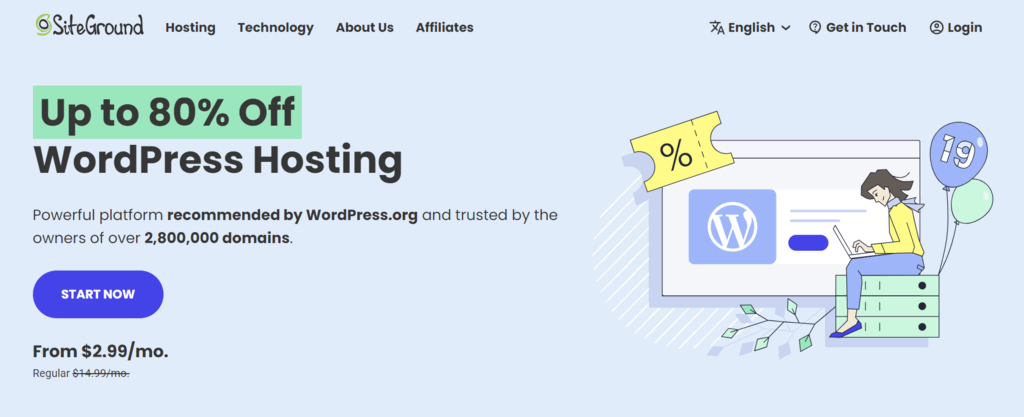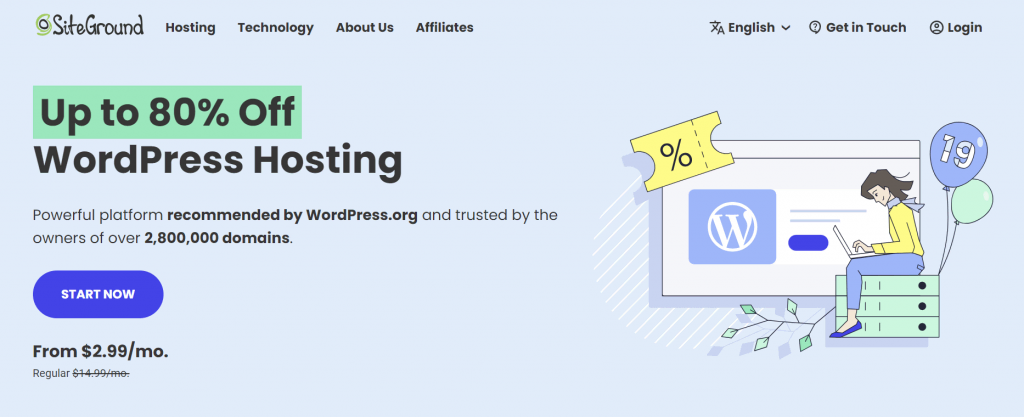 SiteGround Stats:
Rating: 4.7/5
Best for: businesses, eCommerce stores, and agencies
Price: Starting at $2.99/month
Type of hosting: shared hosting
SiteGround is another option to host WordPress sites. Its user interface is intuitive, with plenty of guides and tutorials to assist users.
One notable feature of SiteGround is its unique WordPress collaboration functions. With these tools, you can transfer websites between SiteGround users and provide hosting or feature recommendations for clients. You can also add collaborators to your site and have them build or maintain it for you, which is useful for designers, developers, and agencies.
On top of that, SiteGround offers a white-labeling service. With certain hosting plans, you can grant clients access to the Site Tools page. So, when your clients log in to their website's Site Tools, they won't see the SiteGround logo or name.
Another feature is the SiteGround SuperCacher, which is available on all plans. It's a caching solution that improves website load times.
Unfortunately, SiteGround doesn't offer a free domain, and its storage limits are lower than other providers. For instance, the cheapest plan only supports one website and 10 GB of storage.
Key features:
WordPress Starter plugin. Build a new WordPress site easily with this in-house plugin. It guides you in choosing WordPress themes and adding website functionalities.
SiteGround Migrator. Users can move their existing site to this web host with an in-house migration plugin, minimizing the risk of downtime.
eCommerce features. SiteGround offers integrations with popular eCommerce platforms like WooCommerce.
3. WP Engine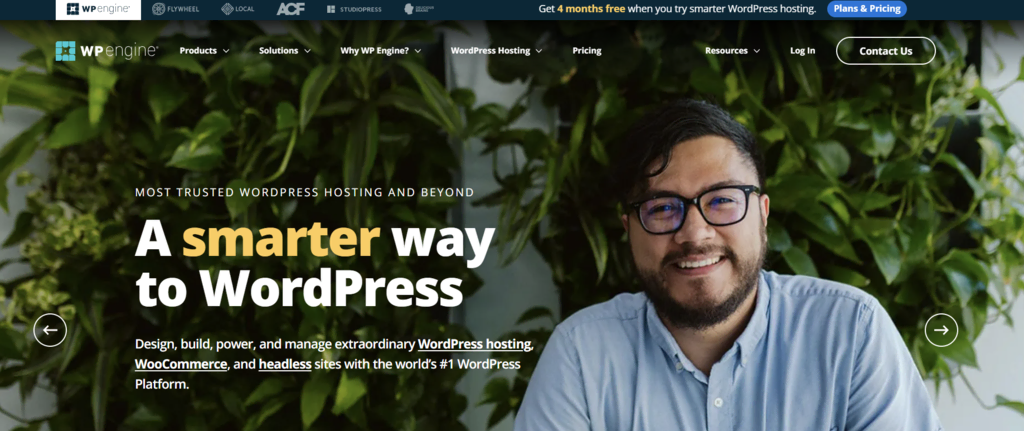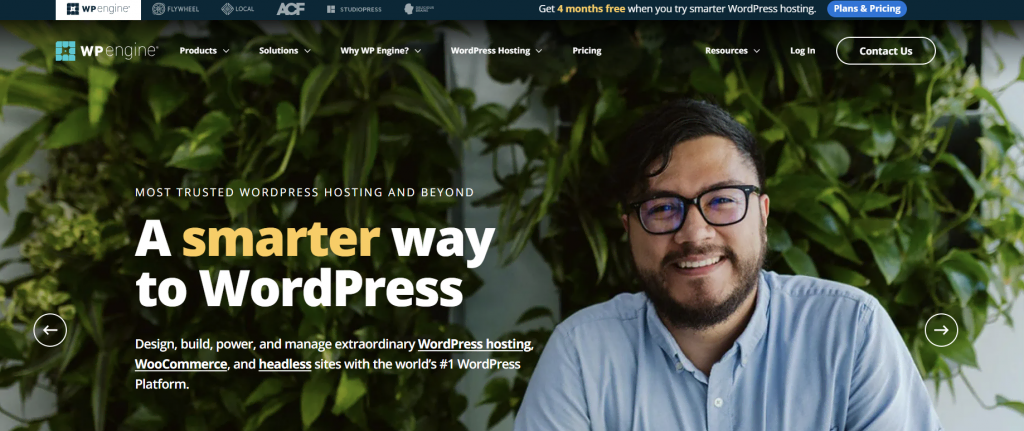 WP Engine Stats:
Rating: 4.6/5
Best for: high-traffic websites and enterprises
Price: starting at $20/month
Type of hosting: shared hosting
WP Engine is considered one of the best WordPress hosting services that specialize in managed hosting. The platform has strong security features and upgradable options tailored to high-traffic WordPress sites.
Aside from regular plans, it also offers custom solutions for larger businesses. Determine the number of sites and expected traffic, and WP Engine's team will customize a plan for you.
Another key feature is the advanced staging tool, which facilitates seamless website development without disrupting the live site. It offers three environments for an efficient workflow:
Development. A place for building WordPress websites.
Staging. A copy for testing and implementing changes.
Production. The live version for final deployment.
Furthermore, WP Engine uses EverCache technology with WordPress-specific features. This reduces server load and boosts page speed, making WP Engine a reliable WordPress hosting provider.
While WP Engine offers many premium features, it's pricier than other providers, making it unsuitable for budget-conscious users. Furthermore, it doesn't provide email services or unlimited email accounts with its plans.
Key features:
Premium customer service. Except for the cheapest plan, WP Engine offers direct phone access to their WordPress specialist support team. However, all plans include 24/7 live chat support.
Optimized performance. WP Engine harnesses Google Cloud to minimize server load and maximize WordPress speed.
Automated daily backups. This web host retains backups for 30 days. The backup system covers your WordPress production, staging, and development site data.
4. DreamHost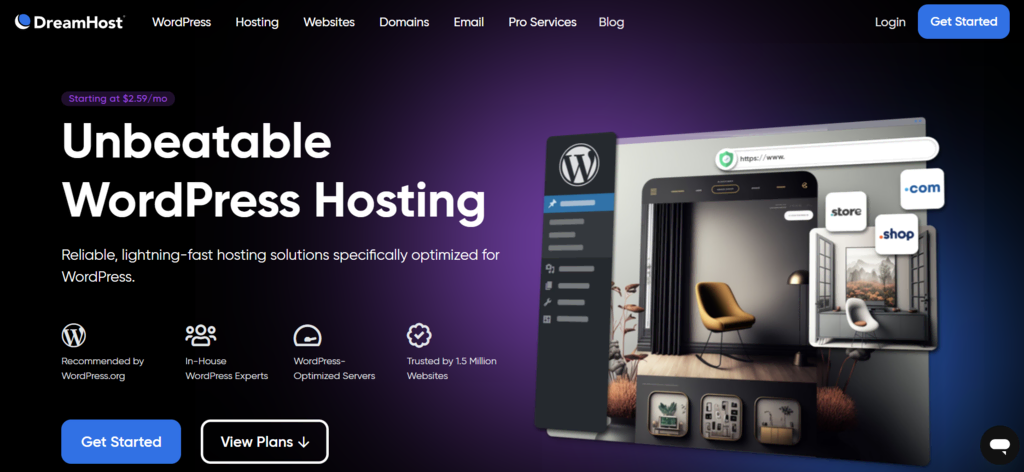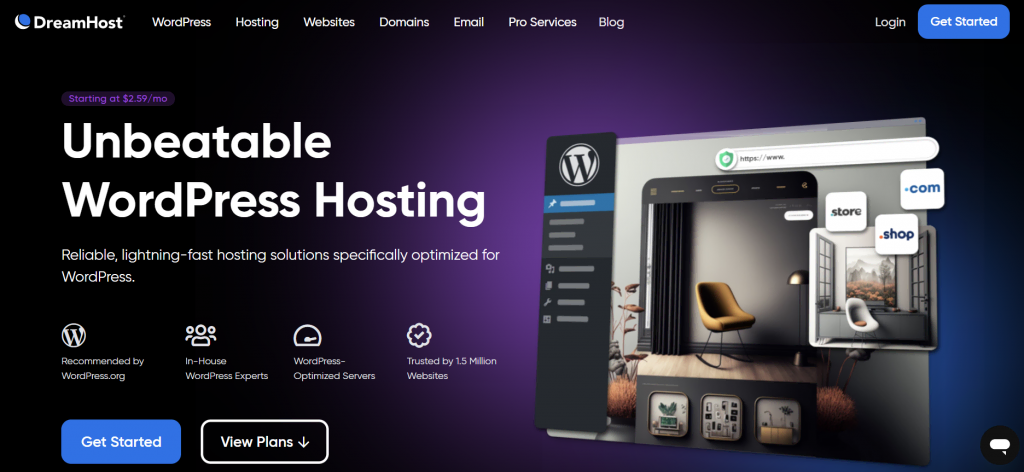 DreamHost Stats:
Rating: 4.5/5
Best for: beginners and budget-conscious users
Price: starting at $2.59/month
Type of hosting: shared hosting and virtual private server (VPS) hosting
DreamHost offers robust WordPress hosting with unmetered traffic. It's one of the recommended web hosting companies by WordPress. Regular plans include a 97-day money-back guarantee, while DreamPress plans are refundable within 30 days.
This web host offers plenty of WordPress plans. However, only the Shared Unlimited plan allows you to host unlimited websites. The other options don't let you host multiple WordPress sites.
If you sign up for the one-year or three-year plan, you will be eligible for a free domain name. Additionally, DreamHost offers unmetered bandwidth on all plans, enabling you to handle high volumes of traffic on your website without worrying about additional costs.
Starting at $2.59/month, DreamHost's web hosting services offer good value for money. Its beginner-friendly interface and various hosting options make DreamHost a sound choice for many users. It also offers VPS WordPress hosting plans for better resource management.
Unlike other web hosts, DreamHost charges an additional $3/month for its malware scanner tool called DreamShield. This ongoing cost can accumulate over time, but without it, your website will be at risk for security breaches.
Key features:
One-click staging tool. DreamPress hosting plan users can utilize an easy-to-navigate staging environment. You can push changes from staging to live or revert them back without hassle.
DreamHost Automated Migration. This web host offers an easy-to-use plugin to migrate your existing WordPress website.
Auto WordPress updates. It offers automatic updates for WordPress core and security on all plans.
5. Bluehost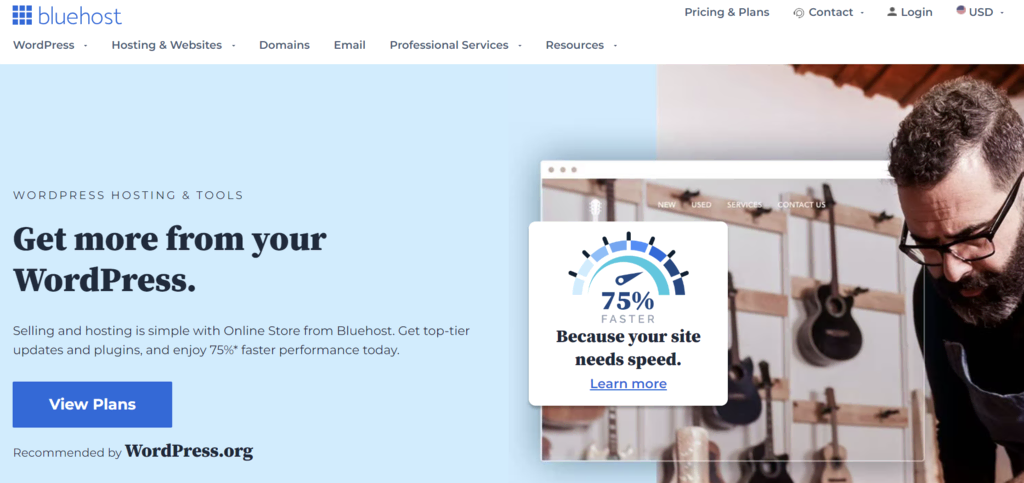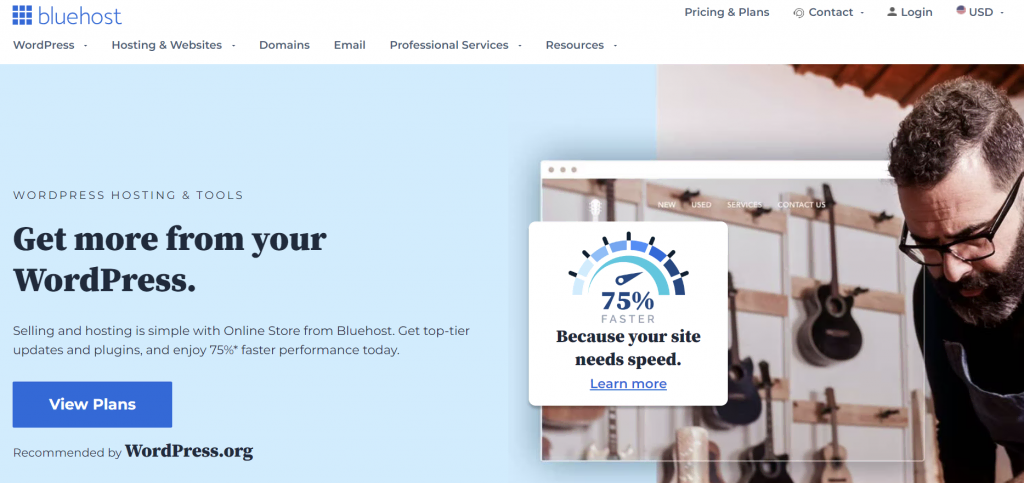 Bluehost Stats:
Rating: 4.4/5
Best for: beginners and eCommerce websites
Price: starting at $4.95/month
Type of hosting: shared hosting
Bluehost is a user-friendly WordPress web hosting service offering an optimized environment for this popular CMS. As a WordPress-recommended host, this hosting service is relatively easy-to-navigate and affordable, making it a viable choice for beginners.
Aside from the Basic plan, all Bluehost's WordPress hosting plans offer a free domain name and CDN.
This web host also has a plan specialized for online stores. At $12.95/month, you get access to $450 worth of plugins, including online payments support, a product search and filtering feature, and a bookings and appointments tool.
However, while Bluehost's initial term pricing is competitive, the renewal rates are significantly higher. Furthermore, while the cheapest plan is $2.95/month for a 12-month term, it doesn't come with a free SSL certificate, malware scanner, or domain privacy.
Key features:
Automatic WordPress installation. Bluehost offers a one-click WordPress installation process to get your site up and running.
Free migration. You can migrate one WordPress website for free from other hosting companies.
Consultation service. Bluehost offers a digital marketing service at an extra cost to help you with search engine optimization (SEO) and pay-per-click (PPC) campaigns.
Suggested Reading
Find out why Hostinger is an excellent Bluehost alternative when it comes to managed WordPress hosting.
6. HostGator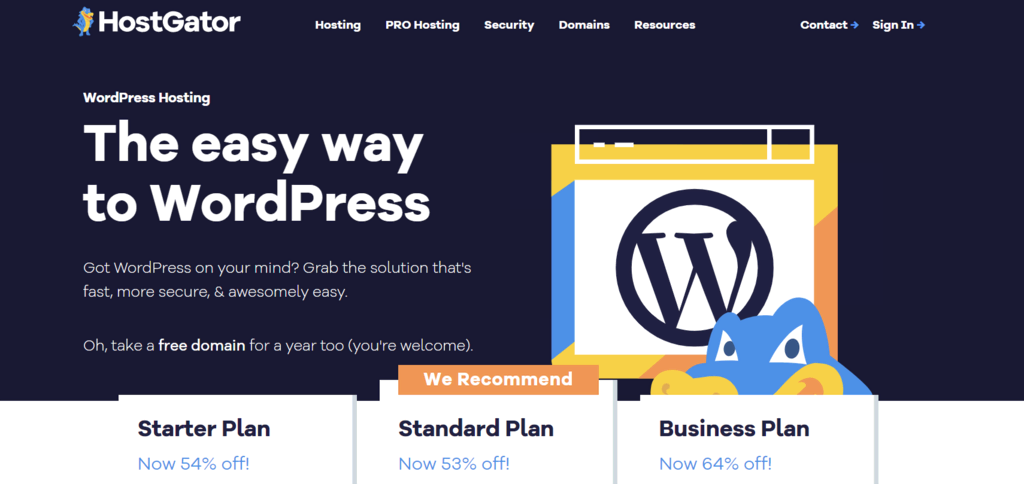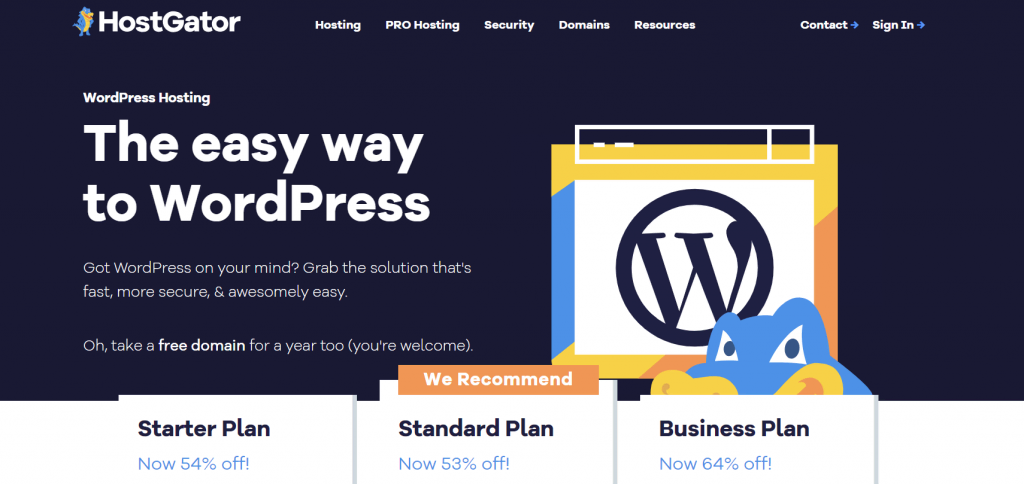 HostGator Stats:
Rating: 4.3/5
Best for: larger websites
Price: starting at $5.95/month
Type of hosting: shared hosting
This WordPress hosting company is known for its performance and various hosting options. The hosting plans offer a hassle-free experience with a simple control panel and pre-installed WordPress for easy setup.
Additionally, it provides unlimited bandwidth, so this web host can accommodate content-heavy and high-traffic websites, ensuring a smooth user experience. All hosting plans also include 24/7 customer support.
In terms of security features, HostGator provides free SSL certificates and SiteLock for malware protection. On top of that, users can access CodeGuard for free – useful for daily backups and easy restoration.
However, HostGator doesn't have an in-house staging environment, and the high renewal rates can impact budget-conscious users. It also doesn't support unlimited websites – the most expensive Business plan only sustains three sites.
Key features:
Free site migration. Move your website from another hosting company at no additional cost.
Spend match Google Ads credit. Shared web hosting clients can benefit from $500 of Google Ads credit after spending an initial $500 on the platform. This is beneficial if you run a PPC campaign.
Free email. HostGator offers a free email service on all plans. This feature also includes SpamAssassin, an email anti-spam tool.
Pro Tip
Looking for a HostGator alternative? Read our review to learn why Hostinger is a better option for your hosting.
7. Kinsta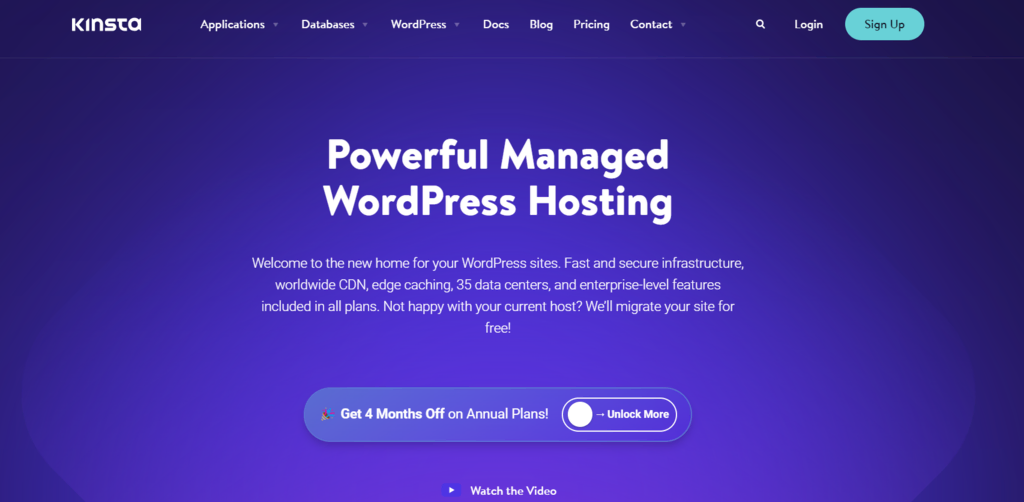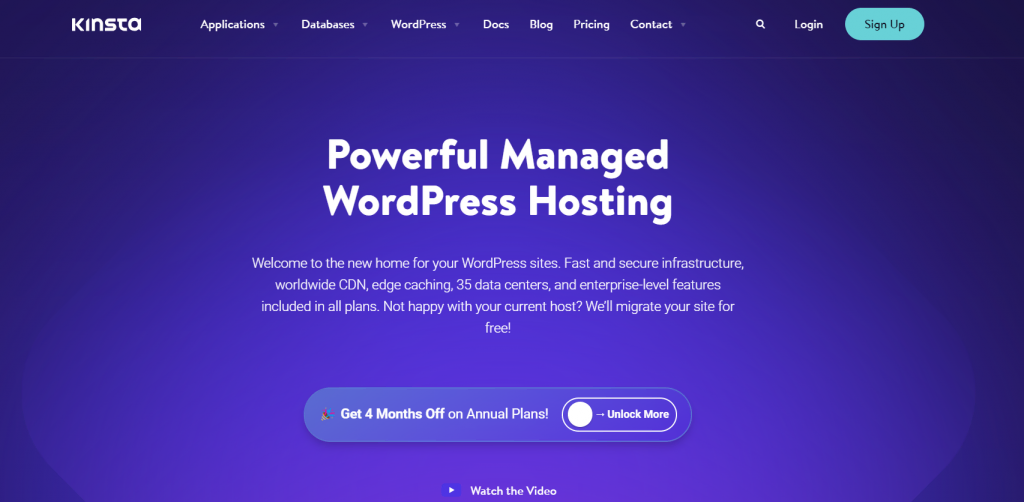 Kinsta Stats:
Rating: 4.2/5
Best for: high-traffic websites, enterprises, and agencies
Price: starting at $24/month
Type of hosting: cloud hosting
Kinsta is one of the popular managed WordPress hosting companies. It specializes in premium managed WordPress hosting plans, leveraging Google Cloud server hosting. Customers can enjoy stable performance across highly-distributed Google Cloud regions.
In addition to a one-click WordPress installation for easy setup, Kinsta offers a site cloning tool for web agencies. You can quickly copy any live WordPress site or staging environment to efficiently create a new website.
Additionally, all plans include free premium migration conducted by Kinsta's engineers. However, the number of migrated websites is limited depending on the plan.
On top of that, Kinsta offers multilingual 24/7 customer support, available in English, Spanish, French, Italian, and Portuguese.
Despite its impressive features, Kinsta's managed WordPress plans start at $24/month, which is significantly higher than other providers offering similar benefits. Additionally, there are limitations to storage and bandwidth, with additional charges for exceeding them.
Key features:
MyKinsta dashboard. Users can manage their WordPress sites, use staging and site preview tools, and monitor site analytics from one dashboard.
Application Performance Monitoring (APM). This in-house tool, available with all plans, visualizes site performance issues and enables you to take action easily.
Database disk space add-on. You don't need to upgrade to a higher plan if you run out of storage. For an extra $10/month, you get an additional 10 GB, which is adjustable depending on your needs.
8. IONOS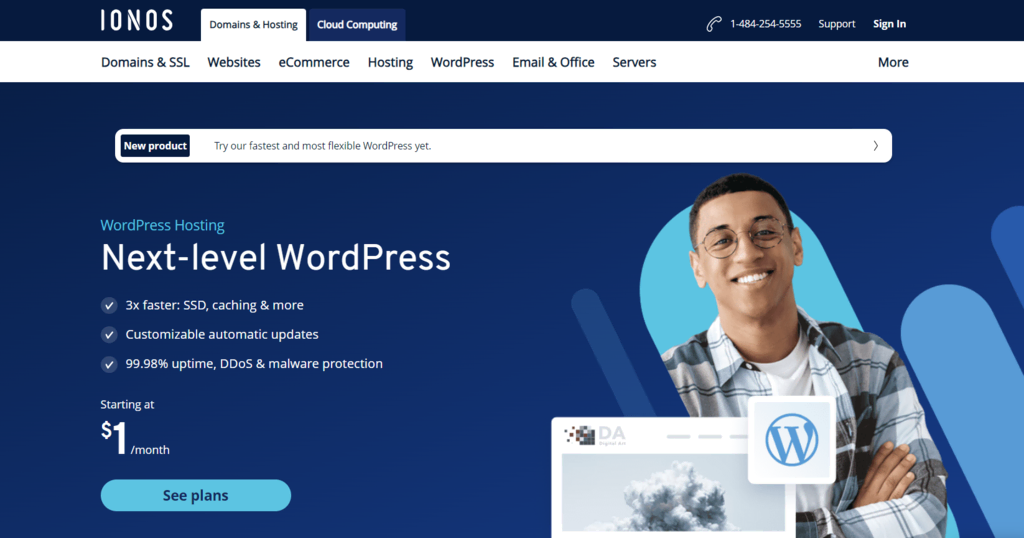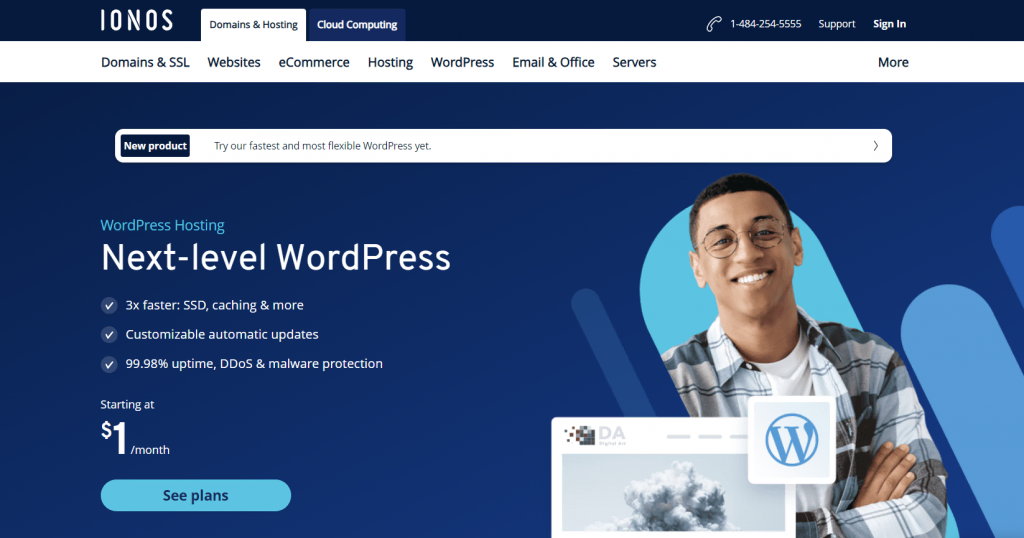 IONOS Stats:
Rating: 4.1/5
Best for: beginners and small businesses
Price: starting at $1/month
Type of hosting: shared hosting
IONOS is one of the more affordable WordPress hosting solutions. It offers managed hosting services with scalable resources. Founded in 1988, this is one of the oldest companies in the WordPress hosting space.
With an introductory rate of $1/month and a free domain name, IONOS suits beginners and budget-conscious users.
Aside from hosting, IONOS also provides a professional website development service. Its team can help users with web designing and copywriting – another beneficial feature for beginners.
Furthermore, this WordPress web host offers a free professional email with up to 2 GB of storage. The email service comes with anti-phishing and anti-spam features.
On top of that, IONOS supports unlimited website traffic, enabling users to accommodate a high volume of visitors without any additional cost.
However, IONOS doesn't have an automatic WordPress migration tool. If you want to transfer an existing site, you will need to migrate your WordPress installation manually.
Key features:
Free Wildcard SSL. IONOS offers a free SSL certificate that is applicable to a domain and all its subdomains.
Free Jetpack. Some IONOS plans offer Jetpack at no additional cost for a year. This plugin offers daily backups and site performance tools.
24/7 support. Customer support is available round-the-clock via phone, email, and chat.
How to Choose the Right WordPress Hosting
Now that we have explored the best WordPress web hosting platforms, let's discuss some key factors to consider to choose the right hosting option for your website.
Learn More About WordPress
Storage
The amount of storage and bandwidth offered by a hosting plan is crucial. It determines how many files and databases you can store on your website. Assess your storage needs based on your site's size and the content you plan to upload.
Conduct thorough research and choose a hosting plan that provides sufficient storage space to accommodate your data. Include a buffer of at least 20% to account for future growth. This ensures that you won't hit storage limitations too quickly as your website expands.
Another option is to look for a WordPress hosting plan that offers unlimited storage.
Uptime
Uptime refers to the amount of time your website is operational and accessible to visitors. Perfect uptime is near impossible, as you need to account for downtime during scheduled maintenance. However, it's essential to choose a hosting provider that guarantees close to 100% uptime – like the industry-recommended 99.9%.
High uptime is crucial for user satisfaction. It also plays a significant role in search engine rankings.
We recommend looking for a reliable hosting provider with a robust infrastructure and backup systems to ensure your website remains online. Find a web host that has a track record of minimal downtime and offers uptime guarantees in its service-level agreements (SLAs).
Traffic Allowed
Consider your website's expected traffic when selecting a hosting plan. Different web hosting services offer varying levels of bandwidth. It determines how much data can be transferred between your website and its visitors.
If you anticipate significant traffic or have a content-heavy website, it's important to choose a hosting plan with ample bandwidth to accommodate your site. This ensures that your website can handle the traffic without experiencing performance issues.
Furthermore, consider the number of sites allowed per plan. If you aim to host many sites, you may want to get a hosting plan with unlimited bandwidth for maximum performance.
Setup Process
Ensure that the setup process of the hosting provider aligns with your technical capabilities. Look for a web host with a user-friendly control panel that enables you to seamlessly access your WordPress dashboard.
A user-friendly control panel also makes it easy to install WordPress and configure your account. Furthermore, it helps ease domain and email setup as well as file management.
Some of the best WordPress hosts, like Hostinger, offer an auto-installer that simplifies the setup process, making it perfect for those without advanced technical skills.
Business Features
For business owners, look for hosting companies that provide features tailored to businesses. These features can enhance your website's functionality, security, and customer experience.
Some features you may need are:
Custom email addresses. Having a professional email address that matches your domain name adds credibility to your business. Look for hosting companies that offer custom email accounts with an easy setup.
Free SSL certificates. SSL certificates encrypt the transfer of data that occurs on your site, ensuring secure transactions and protecting sensitive information. Find web hosts offering unlimited free SSL certificates.
eCommerce integration. If you have an online store, seek hosting providers that offer built-in eCommerce features and integrations with popular platforms such as WooCommerce.
Advanced analytics tools. Website analytics are crucial for monitoring performance, tracking visitor behavior, and making informed business decisions. Look for hosting providers that offer built-in analytics tools or integrations with platforms like Google Analytics.
Support and Customer Service
When choosing a WordPress host, reliable customer support is essential. Look for providers with responsive and knowledgeable support teams that are ready to address your technical issues swiftly.
Evaluate the support channels offered by the hosting company and make sure they align with your needs. Popular support channels include:
Live chat. It provides quick and real-time interaction with the support team for immediate assistance and troubleshooting.
Phone support. This gives you direct and personalized assistance from knowledgeable agents for complex issues. However, you might have to deal with long wait times.
Ticketing system. Submit inquiries for timely responses and structured issue resolution.
Email support. Conveniently address detailed queries and non-urgent issues via email.
Knowledge base. Access comprehensive online resources, guides, FAQs, and tutorials for independent troubleshooting and expanding your understanding of WordPress hosting.
The best WordPress hosting services offer 24/7 customer support to ensure assistance is available at all times, especially during emergencies. Prompt support is crucial for minimizing downtime and preventing data leaks or security breaches.
Scalability
As your website grows, you will need to scale up your hosting resources to accommodate an increase in traffic and website files. Therefore, it's essential to choose a scalable web hosting plan.
Look for providers that enable you to easily upgrade to higher-tier plans or add resources as needed. This ensures that your website can handle more visitors without sacrificing performance or user experience.
If you're a WordPress agency, consider if the plan can handle unlimited WordPress websites. Some providers only allow for one hosted website, while others like Hostinger support up to 100 websites – even on the lowest-tier plan.
Security Measures
Website security is crucial to protect your data, your visitors' information, and your online reputation. Choose a hosting service that prioritizes security, offering robust measures to safeguard your WordPress sites.
Below are some of the best WordPress hosting security features you should consider:
Regular backups. Ensure automatic backups so you can restore your website in case of issues or data loss.
Malware scanning and removal. Choose a host conducting frequent scans to swiftly detect and remove malware.
SSL certificates. Protect user data with encrypted connections to establish trust.
Firewalls. Add an extra layer of security by selecting a provider with robust firewalls.
DDoS protection. Safeguard against overwhelming traffic surges that can compromise your site.
Automatic updates. Choose a host that automatically updates WordPress core files with the latest security patches.
Reputation and User Reviews
Before making a final decision, research the hosting provider's reputation and read real user reviews. Look for feedback on its reliability, customer support, performance, and overall user experience.
Pay attention to detailed reviews to get a comprehensive understanding of the hosting provider's pros and cons.
This research will help you gauge the level of satisfaction among existing customers and make an informed decision to narrow down the best WordPress hosting platform.
Pricing and Value for Money
Compare the pricing structures and features offered by all the best WordPress hosting companies to ensure you are getting the best value for your investment.
However, pricing shouldn't be the sole determining factor. Be cautious of extremely low-cost hosting plans, as they may come with limitations in terms of performance, support, or security. At the same time, high prices don't always mean better service, so consider the long-term costs as well.
Some providers offer promotional rates for the initial term but significantly increase the prices upon renewal. Others may offer low rates on the hosting plans but charge extra for important tools like a malware scanner or website migration.
Therefore, consider the website hosting cost holistically with all the features it comes with.
Conclusion
With an abundance of WordPress hosting options in the market, choosing the best WordPress hosting provider for your needs is crucial. That's because web hosting significantly affects the performance and security of your website.
Consider factors such as storage, uptime, traffic limits, ease of setup, features, support, scalability, security, and pricing when making your decision.
We've listed the best WordPress hosting services in this article. Our final recommendations are below:
Hostinger. The overall best hosting for WordPress offering a user-friendly interface, high performance, eCommerce integrations, and AI-powered features.
SiteGround. Suitable for agencies with its collaborative features and white-labeling service.
Kinsta. A good premium managed WordPress hosting option, leveraging Google Cloud for performance.
HostGator. Offers unlimited storage and bandwidth, making it suitable for content-heavy websites.
Bluehost. A beginner-friendly hosting option with specialized plans for online stores.
Don't forget to consider your specific needs, budget, and the long-term costs when selecting a hosting provider. Compare the offerings and prices of different hosts to ensure you get the best value for money.
Remember to also research the hosting provider's reputation and read user reviews to gain insights into its reliability, performance, and customer support.
Ultimately, choosing the right WordPress hosting provider will help you establish a stable and secure hosting environment, ensuring your website's success.
Best WordPress Hosting FAQs
This section answers the most asked questions about WordPress hosting.
Which Type of WordPress Hosting Is Best for Online Stores?
Managed WordPress hosting is highly recommended for online stores. Providers like Hostinger offer managed hosting plans with specialized features, optimized servers, and robust security measures that are crucial to support an online store's traffic and transactions. Ensure that your WordPress host seamlessly integrates with popular eCommerce platforms like WooCommerce to ease management.
How Much Does WordPress Hosting Cost?
The cost of WordPress hosting varies based on the hosting provider and the specific plan you choose. The exact price will also depend on the level of storage, number of supported websites, bandwidth, and other features, like whether a free domain is included in the plan. Prices can start at $1/month to $24/month and higher.
Can I Get a WordPress Hosting Plan for Free?
While some providers might offer free WordPress hosting, it's important to consider the limitations. Free hosting plans will have limited storage, bandwidth, and technical support. Additionally, the host may display ads on your website, which impact your site's professional appearance.