Joomla vs WordPress: Which CMS Should You Use?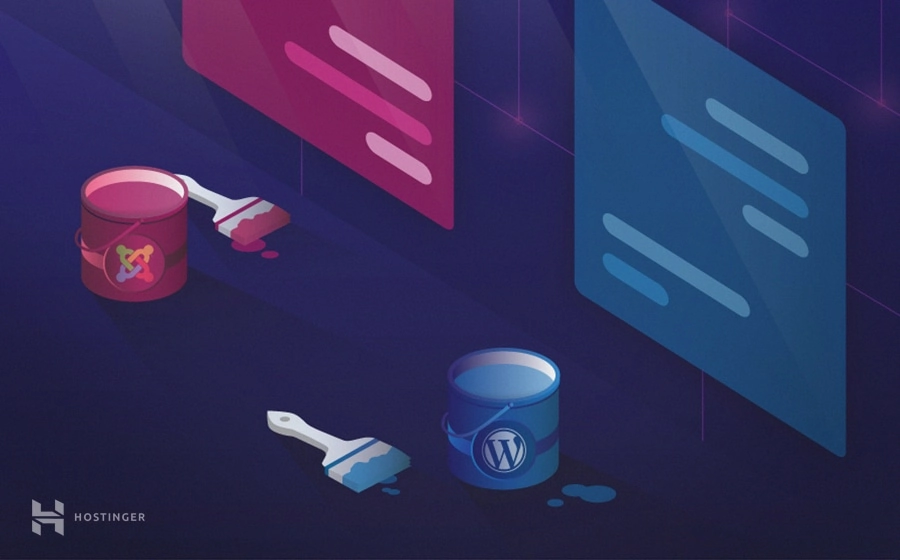 Joomla and WordPress are two of the most popular content management systems (CMS) today. As these CMS platforms offer different yet equally powerful web development tools, knowing which one best suits your needs can help you make a successful website.
This article will compare the pros and cons of WordPress vs. Joomla in more detail. We will focus on how both CMS platforms differ in certain aspects, such as security features, functionality, and eCommerce capabilities.
Keep in mind that starting with the right toolset can ease and quicken the process of completing your site. By the end of this comparison, you will have a clearer idea of which platform will deliver the most suitable functionality to your website.


Joomla vs. WordPress ‒ The General Statistics

Joomla is a free, open-source CMS that powers about 2.1% of all sites. It currently owns 3.5% of the market ‒ making it the third most used CMS after WordPress.
Originally, the Joomla CMS was designed to create portal-like websites with features such as login forms and membership systems. Today, it's used by over 4 million websites in various niches.
Some excellent examples of websites powered by Joomla are Harvard University, MTV Greece, and theFashionSpot.

In comparison, WordPress was initially meant to be a blogging platform. With continuous updates and improvements, WordPress is a free, open-source CMS that now accommodates websites of various sizes and types.
Today, WordPress powers 40.6% of all websites and owns 64.5% of the market. Like Joomla, it's distributed under the GNU General Public License, allowing web developers to use and modify the software for free. 
Some great examples of websites built using WordPress are Sony Music, Whitehouse.gov, and PlayStation Blog.
Joomla vs. WordPress: Which One is Better
The main difference between Joomla and WordPress is that Joomla has more flexibility, but does have a steeper learning curve, while WordPress does not require a lot of technical knowledge and is a better fit for beginners. On the other hand, WordPress has a lot of plugins, extending its functionalities.
The following section will compare the perks of WordPress and Joomla in several aspects:
Ease of use
Content management
Appearance and functionality
Search engine optimization (SEO)
Official support
Security
eCommerce and payment gateways
1. Ease of Use
This aspect covers the installation process, navigation around the administrator area, and both platforms' overall learning curve.
WordPress

As it is the most popular CMS today, many hosting companies include a one-click WordPress installer in their hosting plans. It's also easy to find WordPress hosting services, which usually come pre-installed with this CMS software, as well as its themes and plugins.
Another thing to look at is the control panel. It's very beginner-friendly, so people with limited technical knowledge don't have to take long to learn what each setting does.
The navigation is straightforward, and actions take no more than two clicks. For example, you only need to navigate to Posts and click Add new to add a new blog post.
Joomla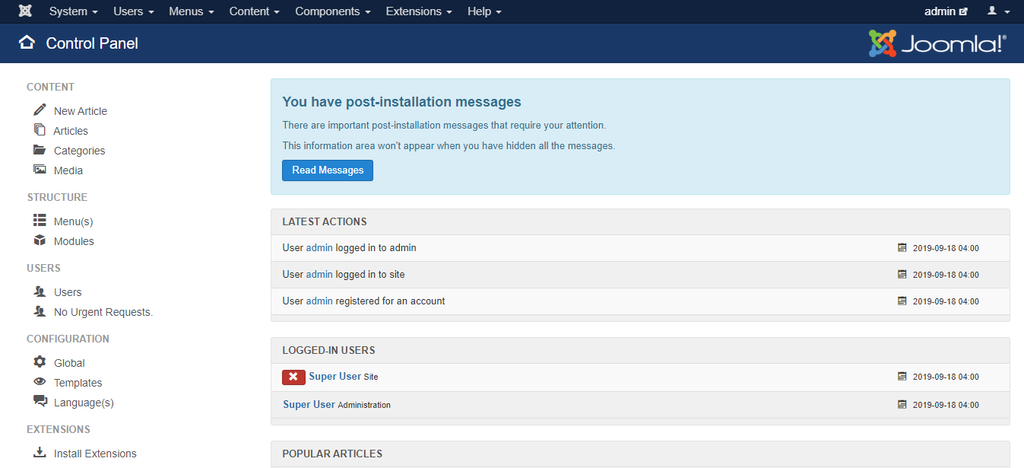 Like WordPress, there is a good amount of CMS hosting providers that offer specific Joomla web hosting or include a one-click installer. For example, Hostinger's Joomla hosting plans come with Joomla-optimized servers, a domain name, and a large library of extensions and themes.
Unfortunately, Joomla's control panel is full of website development terminology, making it not beginner-friendly. The abundance of admin pages and various settings tend to complicate the navigation system of this platform further.
Joomla compensates for its complex user experience with easy-to-use tools like page builder extensions. It also has numerous forums and step-by-step tutorials for beginners to refer to.
Winner
Despite being equally accessible hosting-wise, WordPress's dashboard requires less time to understand than Joomla. Newbies with limited technical knowledge can easily navigate through the admin dashboard and manage their sites with ease.

2. Content Management
This section will explore how you can use WordPress and Joomla to manage website content and user access, as well as the system's functionality when it comes to blogging.
WordPress
WordPress was initially developed for blogging. Therefore, it has a robust system for managing a large amount of content and various media files of all sizes.
Even before adopting Gutenberg as its default editor, it was already easy to create posts and pages with the Classic Editor.
What's more, even while being completely code-free, Gutenberg still supports HTML for advanced customization.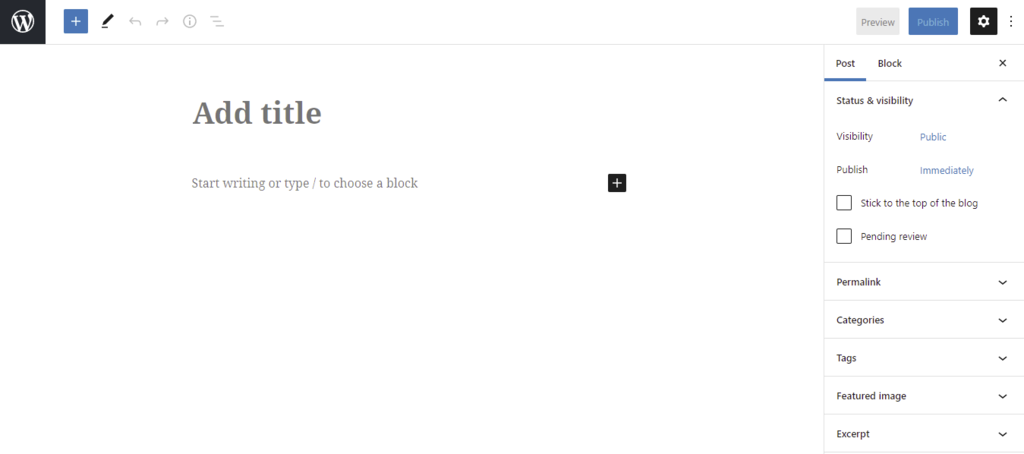 WordPress offers static and dynamic page types – the former aims to accommodate blog posts. You can decide on a page type when creating a post and use WordPress taxonomy to group pages and posts.
The CMS provides six predefined user roles, making it easier to manage access and restrictions on your website. Adding new user groups and expanding the user management functionality is possible with plugins, many of which are available for free.
Joomla
Joomla has three page types that determine the website content's appearance ‒ single format, category blog, and custom module. As mentioned earlier, you must create a category first before you can publish a post.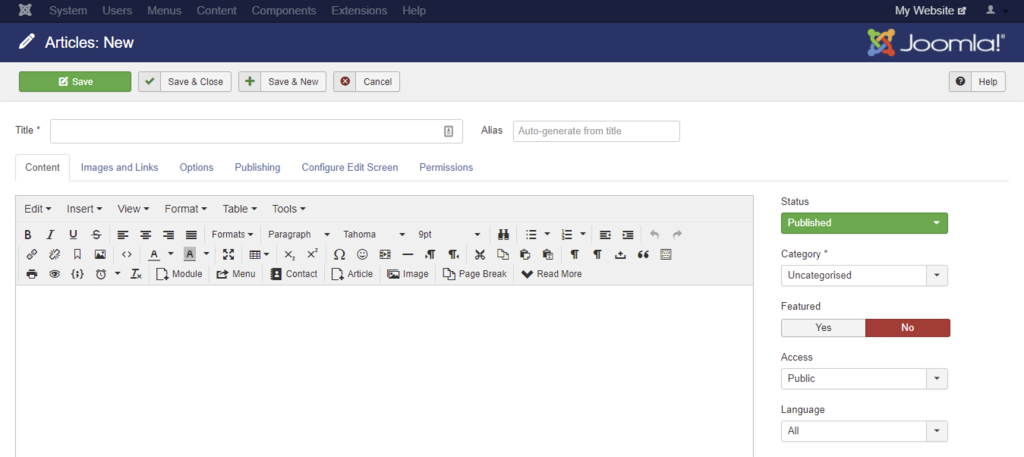 The platform provides a default what-you-see-is-what-you-get (WYSIWYG) editor called TinyMCE, which looks similar to WordPress's Classic Editor. You're also able to install editing extensions to make the templates easier to modify.
Unfortunately, Joomla doesn't have a built-in taxonomy content system. You have to install a content system extension or build one from scratch, which can be time-consuming and complex.

The good news is that Joomla offers robust user management. It comes with advanced access control for page restriction and a user action log, which helps monitor any actions made by specific IP addresses on your website.
Winner
With a powerful system for managing content, WordPress is a better choice for blogging than Joomla. Having the ability to create a custom taxonomy makes managing a large amount of content much more straightforward.
3. Appearance and Functionality
We will compare the templates and extensions offered by WordPress and Joomla in terms of availability, functionality, and usability.
WordPress
The platform provides more than 58,000 free and paid plugins that include additional customization tools, security improvements, and website analytics functionality.
To install a plugin, you simply need to navigate to Plugins → Add New. Then, search for the desired plugin and click Install → Activate.
Installing third-party add-ons, however, must be done manually by uploading the plugin file directly or via an FTP client.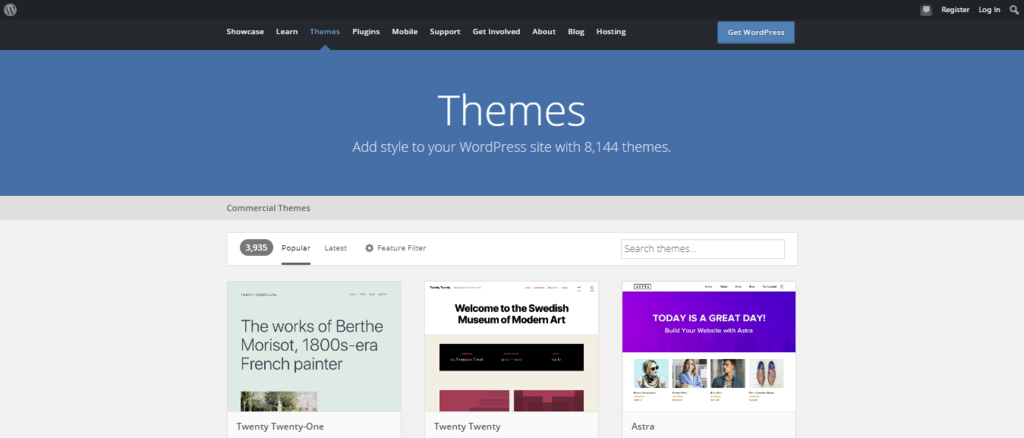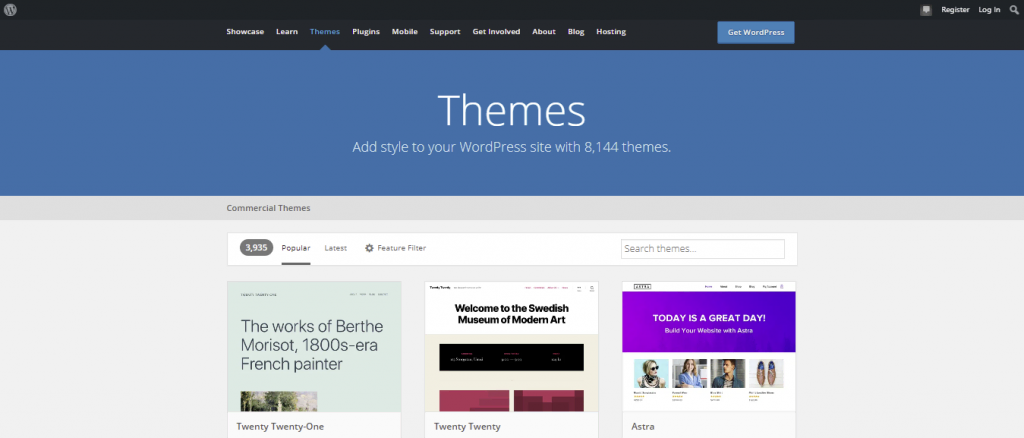 When it comes to web design, there are over 8,000 free and paid themes on the WordPress theme directory and many more on other, third-party marketplaces.
While the platform provides a customizer tool to modify an installed theme, customization potential is usually limited to individual themes. Users can either edit the theme's CSS code or install a page builder like Elementor, Beaver Builder, or Divi Builder for advanced customization opportunities.
Unfortunately, WordPress only allows one active theme at a time.
Joomla
Joomla has around 8,000 extensions listed in its official library. Aside from these additional functions, this platform is already equipped with many built-in features.
For instance, you can enable browser caching in Joomla by navigating to System → Global Configuration → System.
Choose Conservative Caching or Progressive Caching under the Cache Settings section.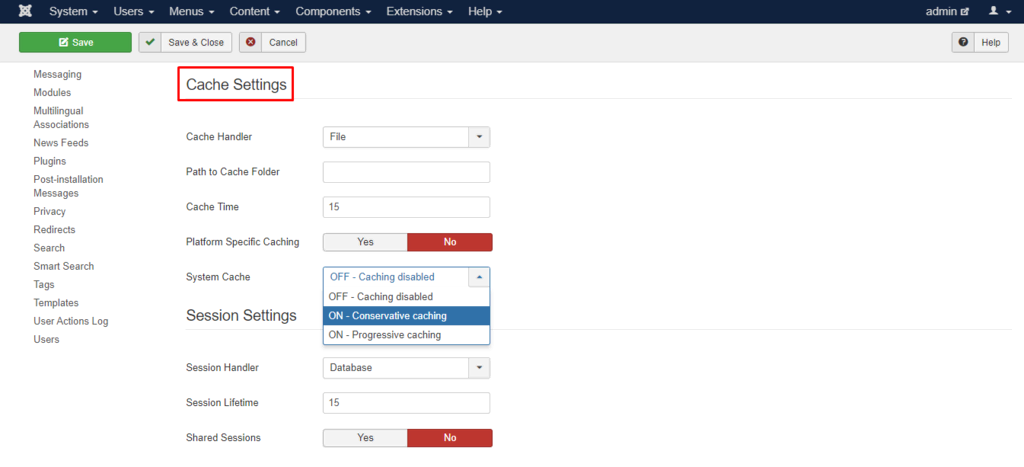 Installing a Joomla extension, however, involves more steps than WordPress. This is because the extension directory isn't accessible directly from the admin dashboard. Users need to download the extension from the directory and then upload it to the installation page manually.
Appearance-wise, Joomla uses two template types ‒ front-end templates and back-end templates. Since the platform doesn't have an official template directory, users can access third-party sources like ThemeForest and JoomShopper to have more options.
Editing the template can be done via the Joomla editor, and the customization options depend on each individual template. Alternatively, install a tool like Joomlart Page Builder to get the drag-and-drop functionality.
In comparison, Joomla lets users use more than one template per website. You can assign a different template to each page based on your needs.
Winner
WordPress wins against Joomla, as it has a more extensive collection of plugins. Plus, the installation and activation process is much faster and smoother with WordPress.
4. SEO
SEO is a practice that helps your site rank higher in search engine result pages (SERPs). This section will cover built-in features, and additional extensions both WordPress and Joomla offer to improve the site's SEO.
WordPress
WordPress comes with various basic SEO features, such as meta tags, permalinks, and image alt text. Most themes, whether developed by WordPress or third-party developers, also offer SEO features via the WordPress editor or a page builder plugin.

Plenty of robust SEO plugins are also available to help optimize a website for search engines. For example, Yoast SEO uses the traffic light system to improve page ranking performance. Some of the guidance indicators include internal linking suggestions, readability checks, and keyword optimization.
Additionally, WordPress has plenty of analytics and tracking feature plugins for monitoring traffic, internal and outbound links, and marketing campaigns. Two of the most popular analytics plugins are MonsterInsights and Analytify.
Joomla
Joomla comes with decent built-in SEO tools. The SEO settings in the global configuration allow users to include site names in page titles, add a .html suffix to the URL, and enable search engine-friendly URLs by omitting index.php from web page addresses.
If you want more advanced SEO options, use an SEO extension like EFSEO or a page builder like Quix. EFSEO lets you control the website metadata from the back-end and front-end, whereas Quix offers an SEO feature called Quix Rank for the website and page-level optimization.
Unfortunately, proper on-site optimization for Joomla sites requires a lot of technical knowledge. Beginners may need more time to understand the settings and the layout of these tools.
Winner
When it comes to Joomla vs. WordPress, both platforms have versatile SEO tools right out of the box. However, WordPress has great user-friendly SEO tools to compensate for missing features that are available as defaults in Joomla.
5. Official Support
Having access to reliable support is one of the most vital factors in determining the best CMS to use. This section will cover the type of support both platforms provide for their users and how accessible their support channels are.
WordPress
Being a community-driven platform, WordPress doesn't have live support. Despite this, it has free active support community forums with members that range from beginners to advanced WordPress users.
Should you need hands-on assistance, plenty of developers are up for hire on freelance job portals like Upwork and Toptal. As many people use this platform, commissioning a web developer to support your website is easy and relatively affordable.
Joomla
Joomla has an active community forum as its support channel. A decent number of tutorials and guidelines are also available online.
Unfortunately, finding a professional to assist you with technical issues can be more challenging and more expensive compared to WordPress. For example, a third-party company called Joomla Department sells its support plans for $39-$299/month.
Winner
Both CMSs have numerous active communities that provide comprehensive tutorials. However, WordPress has a slight upper hand as more professionals are specialized in WordPress than those for Joomla, making the active community larger.
6. Security
This section will explore the security measures both platforms provide for their users, including the built-in tools and security extensions.
WordPress
All sites running on WordPress version 3.7 and above will get automatic maintenance and security updates. The automatic updates for the plugins and themes are available on version 5.5 and above.
Additional security measures are available via plugins. While you have the freedom to custom-pick your security plugins, this may backfire if you don't know how to set them up properly, don't update them regularly, or install a faulty plugin. According to Astra, plugins have caused 56% of hacking incidents in 2019.
Joomla
Since Joomla isn't as popular as WordPress, the CMS faces fewer cyberattacks than its competitor. Even so, it still equips its users with built-in security tools, such as two-factor authentication (2FA) and Google ReCaptcha, to combat bots.
Joomla ensures that your site is GDPR compliant, allowing you to set cookies based on visitors' consent.

To make your site even safer, follow the official security checklist and install additional extensions.
Winner
WordPress's vast number of security plugins provides a better chance of preventing cyberattacks than Joomla. While the setup process may be challenging for beginners, you can always refer to online tutorials or hire a professional for help.
7. eCommerce and Payment Gateways
We will explore how both CMSs support eCommerce functionality such as online business tools and payment gateways.
WordPress
The software has plenty of free and premium eCommerce plugins to choose from.
One of the most popular solutions is WooCommerce, which supports over 100 payment gateways that accept local and international payments. WooCommerce can accommodate most eCommerce business needs, from creating product pages to handling shipping.
While WooCommerce is free to download, you need to purchase the extensions to access additional functions. The premium tools include Store Finder by WPExperts, SkyVerge Membership Solution, and Smart Coupons. You can also find eCommerce site templates via the WordPress theme directory, WooCommerce store, or theme marketplaces.
Joomla
Joomla also provides eCommerce functionality via free and premium extensions. For example, HikaShop lets you build product catalogs and a shopping cart page, manage transactions, and accept payments via over 60 payment gateways.
Similarly, eCommerce templates are available for download on various marketplaces.
Winner
As the two software offer robust eCommerce functionality, it's fair to say that there's no winner. You only need to find the right add-on for your project's needs and the target market's preferred payment method.
Conclusion
WordPress and Joomla have their advantages and disadvantages. As such, there are a few things you should consider before settling down with one:
Usability
Data organization
Appearance and functionality
SEO
Official support
Security
eCommerce and payment gateways
If you have little to no technical knowledge, WordPress may be more convenient to use. Besides being more beginner-friendly, it has a wide selection of plugins and themes to expand your site's functionality and customization capabilities.
On the contrary, Joomla can be an excellent option for users who have technical experience. It offers more flexibility and functionality right out of the box, allowing you to get creative with your project.
Base your choice on your needs and knowledge, and you're sure to pick the CMS that will help you launch a site in no time.
Joomla vs WordPress FAQ
If you are looking to know more about the difference between Joomla and WordPress, here are the frequently asked questions.
What Type of Website Is Joomla Best For?
Joomla is best for eCommerce sites or medium to big businesses, which often require more advanced features than most website builders. This CMS offers a wide range of functionality to its users, including user registration, multimedia uploading, third-party extensions and plugins, and multilingual support.
Is Joomla Good for Beginners?
Joomla can be a good option for beginners, but it may have a steeper learning curve compared to other website builders like WordPress. However, Joomla is known for its flexibility and scalability, making it a popular choice for more complex websites and web applications.
What Percentage of Websites Using Joomla?
According to W3 Techs, Joomla is used by 2.7% of all the websites whose content management system we know. This is 1.8% of all websites.