16 Best WordPress Alternatives For Your Site in 2023
WordPress is the most popular platform for website creation, powering over 43% of existing sites.
However, that doesn't necessarily make it the perfect solution for everyone. Some may be looking for a more beginner-friendly platform, while others may want one that focuses more on eCommerce.
This article will show you the 16 best WordPress alternatives to create your own website with. We'll go through each of the platform's notable features, together with its advantages and disadvantages.
The WordPress alternatives list consists of the most commonly used web creation tools – content management systems (CMSs) and website builders. We'll also touch upon the difference between the two ways of creating a site to help you decide which one suits your needs better.

The 16 Best WordPress Alternatives
We will compare each alternative to the free self-hosted version of WordPress – WordPress.org. Here are the top 16 WordPress alternatives selected by our experts.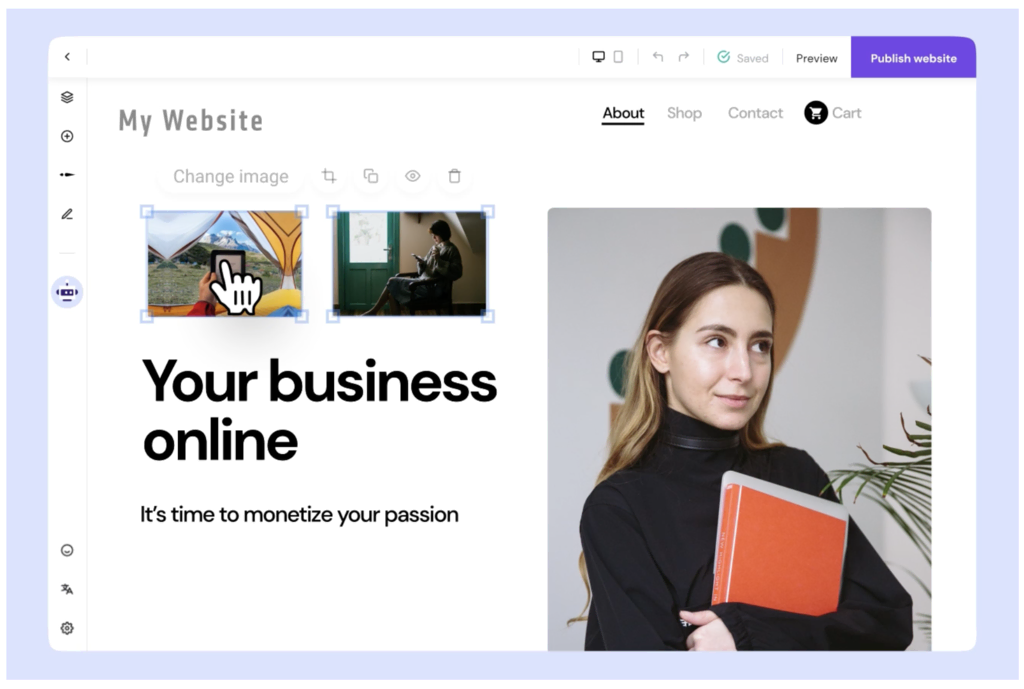 Type: website builder
Notable features: eCommerce functionality, AI tools, fully customizable templates
Price: freemium, included with all Hostinger web hosting plans
Hostinger Website Builder is your go-to WordPress alternative if you're looking for an intuitive website builder with a drag-and-drop editor and ready-made website templates. Aimed at novices, this platform assumes nothing and makes sure that even total beginners can build and publish a stylish and modern website.
With Hostinger Website Builder, you get the following:
AI tools – Use the AI Builder tool to help with the website building process, AI Writer to generate copy for your pages or AI Logo Maker to create a stunning logo for your brand.
eCommerce functionality – Set up shop with the in-built eCommerce features and manage your inventory and orders from one place.
In-built SEO tools – Ensure your site is found and optimized for search engines by editing meta titles, descriptions, and alt text directly within the page editor.
Designer-made, fully customizable templates – Choose your favorite from fully mobile-responsive, designer-made website templates.
If you're looking for a WordPress alternative for a portfolio, business website, or small online store, Hostinger Website Builder has your back. Offering the essential tools for creating, launching, and growing an online presence (and business), the development team is constantly implementing new, user-requested features, too.
Since Hostinger Website Builder is included with every web hosting plan, you can influence your spending by opting for a web hosting plan that best suits your needs. You'll also need a domain to launch your site, but the builder makes it easy to purchase one directly from your dashboard when you begin building your site.
Pros
Small learning curve
24/7 live support, directly available from the site editor
Fully optimized for speed
Included in all hosting plans
Cons
Must have a Hostinger hosting plan to access
No multi-level user access
Best For
Hostinger Website Builder is a top pick for people who want to have a good-looking website without needing to spend lots of time researching themes, plugins, and other add-ons. Since you only need to customize your chosen site template, you can get your site online in an hour or less.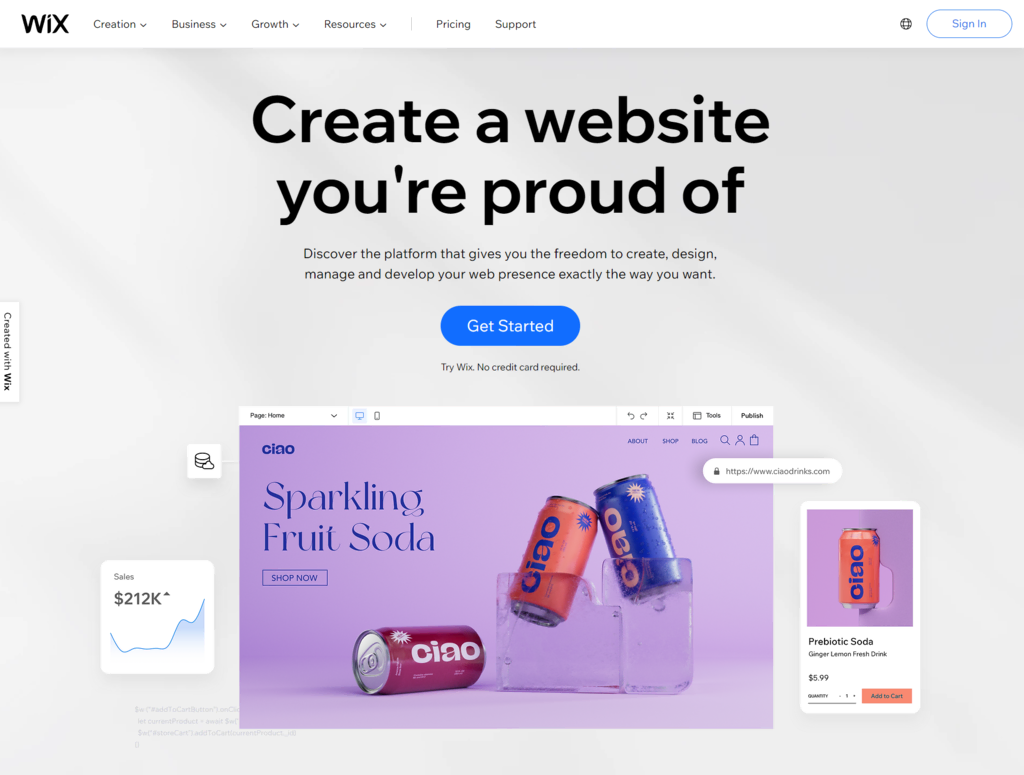 Type: website builder
Notable features: customizable templates, eCommerce functionality, AI-based website design
Price: freemium, premium plans ranging from $4.50-$35/month
Wix is one of the most popular hosted website builders on the market. The Wix Editor lets users create a website without any coding knowledge with its drag-and-drop feature.
Here is some of what Wix has to offer:
Wix ADI – answer a few questions, and Wix will design a website for you using its Artificial Design Intelligence. While it's a convenient alternative to the classic Wix Editor, its customization options are more limited.
eCommerce functionality – all of the eCommerce plans include abandoned cart recovery and secure online payments. Plus, there are no transaction fees.
App integrations – the Wix App Market provides more than 250 apps to improve the site functionality.
Customizable templates – resize, recolor, rotate all design elements. Wix is also one of the few website building tools that let users create custom animations.
While Wix provides a free plan, you'll be assigned a URL with a Wix subdomain. Upgrade to one of the premium ones to use a custom domain name and access more advanced features.
There are the Website Plans, optimized for personal and professional sites, ranging from $4.50-26/month. Meanwhile, the Business and eCommerce Plans are optimized for accepting online payment, ranging from $17-35/month.
Pros
No coding knowledge required.
Includes free web hosting.
Powerful eCommerce functionality for small online stores.
A vast library of customizable template designs with more than 800 templates.
Built-in SEO tools to help your site perform better on search engines.
Cons
Its free plan includes Wix ads and a Wix subdomain.
Once the site goes live, you can't switch to a new template unless you start from scratch.
No live chat customer support.
Best For
Wix is a great all-in-one solution for those who are new to website creation and want to launch a website quickly. Besides, you will not have to take care of hosting, as Wix will provide it.
This platform is easy to navigate, while WordPress requires more learning and takes more time to set up. Wix, compared to WordPress. has fairly limited customization options compared to WordPress, which can be a downside for those who favor greater customizability.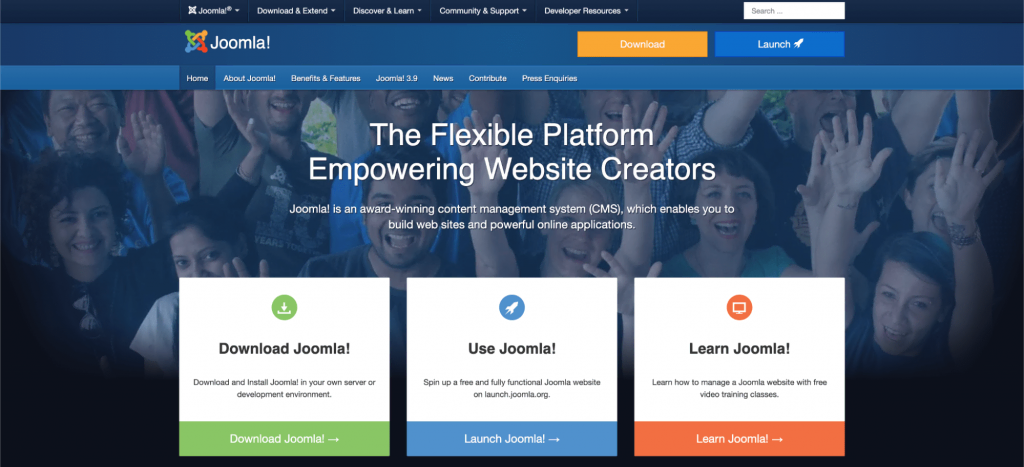 Type: CMS
Notable features: multiple templates for a single site, user management tool, built-in security tools
Price: free
Joomla is a widely popular self-hosted and open-source CMS. It comes with plenty of useful built-in features.
Like WordPress, Joomla is a versatile platform to create a blog, a complex social networking site, or any types of websites.
This WordPress alternative offers the following features:
Multilingual system – create multilingual sites with over 70 language translation packs and built-in support for multilingual content organization.
Access Control List (ACL) – manage site users' access. It also logs user actions, monitoring specific IP addresses' activities on a site.
Extension directory – extend website's functionality using over 8,000 extensions from the Joomla Extensions Directory.
Flexible design – use multiple templates on a single website.
Security functionality – comes with built-in security features such as two-factor authentication, Google reCAPTCHA, and the ability to make a site GDPR-friendly.
Joomla is free to use. You will need to pay for the domain name and Joomla web hosting as this CMS is self-hosted.
Pros
Extensive built-in user management controls.
The WYSIWYG editor enables non-technical users to edit content easily.
Built-in SEO tools, security functions, and a multilingual system.
Even though it doesn't have an official template library, Joomla templates are easy to find on third-party sites.
Cons
No customer support. The community portal and forum also have a smaller number of members compared to WordPress.
A steep learning curve.
Best For
Joomla is a great WordPress alternative for users with sufficient technical knowledge.
Compared to WordPress, the setup process for Joomla and its interface are more complex. Its control panel contains many admin pages and various settings that use web development terminology, which can be intimidating for beginners.
However, those options provide greater control over site management, which advanced users may be looking for.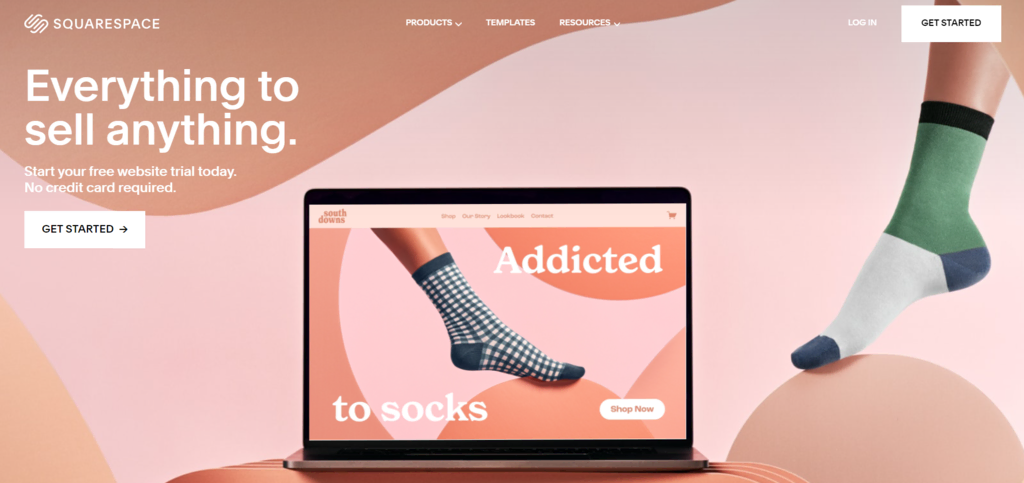 Type: website builder
Notable features: minimalist templates, built-in marketing tools, mobile app
Price: $12-$40/month
Squarespace offers visually engaging and professionally designed templates as its main selling point. This WordPress alternative is one of the most popular site builders in the industry.
See this list for more of its features:
Blogging features – manage multiple contributors by giving them various access levels to the website. Squarespace also lets you host podcasts on your own site, not just embed them in an audio player.
eCommerce functionality – provides necessary tools for eCommerce stores such as inventory management and abandoned cart recovery. It also supports the sales of digital content, subscriptions, and services, such as online classes and appointments.
Built-in marketing tools – provides email campaigns, social media tools integration, and built-in analytics.
Squarespace Video Studio – make and share videos to grow your business. Its features include adding branded elements to a video, incorporating smart voiceovers by uploading scripts, and a video resizer.
Squarespace mobile apps – edit and manage a site via mobile devices using Squarespace's iOS and Android app. You can also connect it with a Square account to sell offline and sync it with your online inventory.
This hosted website builder doesn't have a free plan but offers a 14-day free trial period. It provides the following plans – Personal at $16/month, Business at $26/month, Basic Commerce at $35/month, and Advanced Commerce at $54/month.
Pros
Clean, modern pre-designed templates with responsive design that are free to use.
All plans include unlimited bandwidth and storage.
Comes with free web hosting and a domain name.
Its mobile apps enable users to edit pages on the go.
24/7 customer support via Twitter and email, plus live chat on business days.
Cons
The drag-and-drop editor is more section-based, meaning you can't just drag the elements anywhere you want. It may take a bit more time to get a grip on this tool.
A smaller number of templates and plugins.
No content versioning or auto-save feature, therefore you will have to save changes manually.
Best For
This platform is the best WordPress alternative for image-rich sites, such as websites of designers, photographers, and visual artists.
Squarespace's minimalist templates work best when paired with high-quality images. If your site is text-heavy, it may be challenging to make the most of Squarespace's main advantage – therefore, a CMS like WordPress may suit you better.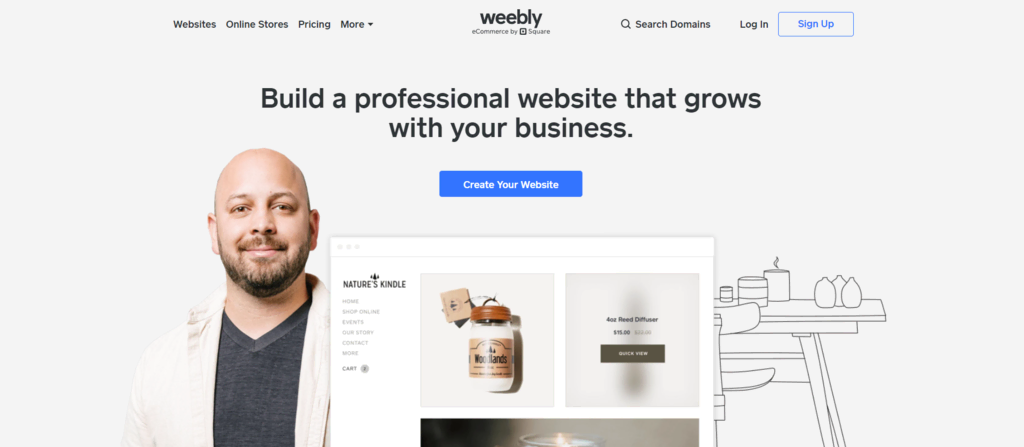 Type: website builder
Notable features: eCommerce features, mobile app, beginner-friendly
Price: freemium, premium plans range from $5-$38/month
Weebly is a user-friendly platform for building and designing various websites, like portfolios, blogs, and eCommerce stores.
Let's find out more about the features of this WordPress alternative:
eCommerce functionality – includes inventory management, quick shop, and in-store pickup. It integrates seamlessly with the digital payment platform Square.
Blogging features – offers built-in RSS and social sharing, custom contact forms, and advanced comment management.
SEO guide – provides the Ultimate Search Engine Optimization Guide in its help and support center, which covers SEO strategy and the tools for it.
Mobile app – edit, check analytics, and publish a website from a mobile device using the Weebly app.
Huge app center – add advanced functionality to your site with many free and paid apps from Weebly's app center.
Weebly has a free version with limited features. Plans optimized for websites range from $5-$25/month, and the ones for online stores range from $12-$38/month. All plans are billed annually.
Pros
Offers an all-in-one solution by providing hosting, a domain name, and plenty of built-in features users may need to create a simple website.
Themes can be switched even after publishing the site.
24/7 email support. Live chat and phone support are available during standard business hours.
It's possible to manage a website on the go via Weebly's mobile app.
A handy SEO guide.
Cons
The free version contains Weebly branding and ads.
Limited customization options, but users with coding knowledge can use Weebly's Code Editor.
If your site goes down, you can only wait for the Weebly support team to restore it.
Best For
Weebly is a great WordPress alternative for non-technical users and small businesses. This all-in-one platform enables users to create a website quickly with its simple drag-and-drop editor.
However, compared to WordPress, Weebly's customizations are way more limited. WordPress may suit you better if you want a platform that provides greater customization control.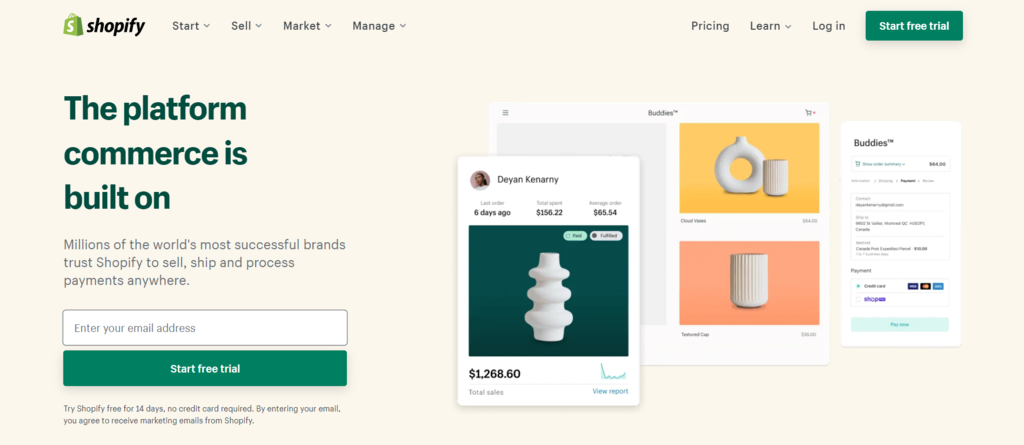 Type: website builder
Notable features: eCommerce functionality, mobile-commerce ready themes, a huge app marketplace
Price: $9-$2,000/month
Shopify is one of the WordPress alternatives focusing specifically on eCommerce stores. It's a hosted solution suitable for small to large companies.
Check out this list for more of Shopify's features:
eCommerce functionality – provides features like built-in abandoned cart recovery, customer groups, and fraud analysis.
App marketplace – offers over 4,000 free and paid apps to extend a site's capabilities.
Supports dropshipping – use Shopify's dropshipping app, Oberlo, or use third-party app integration to set up a dropshipping business.
Stylish mobile-responsive themes – the themes are customizable and have clean designs suitable for various industries, from food to electronics.
Blogging platform – publish articles, display categories, and moderate comments. It also offers eCommerce-specific and blogging-specific SEO tools.
Shopify has no free version. There are three main plans – Basic Shopify at $29/month, Shopify at $79/month, and Advanced Shopify at $299/month. All plans offer a 14-day free trial.
In addition, Shopify also offers Shopify Lite and Shopify Plus plans. At $9/month, Shopify Lite allows selling products in person via a point-of-sale (POS) app or adding a buy button to an existing website. Meanwhile, Shopify Plus is an enterprise plan for higher-volume businesses, starting at $2,000/month.
Pros
An intuitive interface and an easy-to-use editor.
Plans come with a hosting plan and a domain name.
Powerful eCommerce security tools, such as fraud analysis.
24/7 live chat, email, and phone support.
Supports over 100 payment gateways, including its own Shopify Payments.
Cons
Limited built-in features make you reliant on apps to boost a site's functionality.
Charges a transaction fee for payments via third-party processors.
No archive functionality and blogging analytics.
Best For
Shopify is a great WordPress alternative for eCommerce websites. It's also a convenient option to have a blog on the side as one of the marketing efforts.
While Shopify also provides several blogging features, it's not a blogging platform, so the features are limited, especially when compared to WordPress.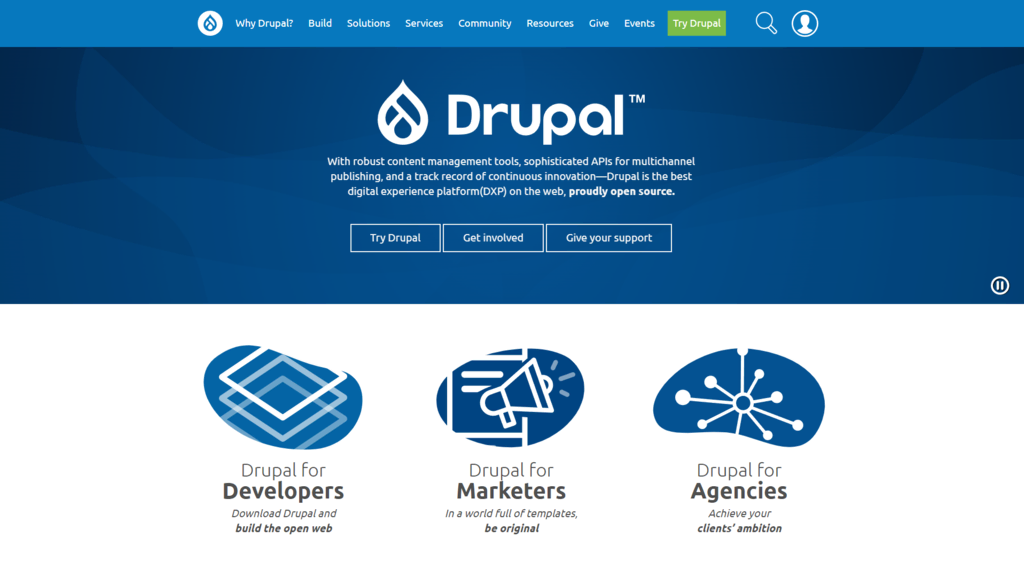 Type: CMS
Notable features: strong security, built-in multilingual system, advanced user management
Price: free
Drupal is one of the most well-known WordPress alternatives, often used to build sites that belong to the government, higher education institutions, and global companies.
Let us elaborate further on its notable features:
Security features – its rigorous security system includes user access control, database encryption, and malicious data entry prevention.
Multilingual system – create a multilingual site with Drupal's ability to translate site components into various languages. It also detects the preferred language based on the location and browser settings.
Advanced permission control system – compared to WordPress, Drupal offers greater flexibility in terms of user management and control.
Distributions – these are Drupal's installation packages made to cater to various specific website niches. They bundle up the Drupal core and additional related software into one complete package.
Marketing automation – integrates with automation platforms for different marketing tasks, such as real-time sales alerts and drip campaigns triggered from user interactions.
This open-source CMS is free to download and use. You only need to pay for your site's domain name and Drupal web hosting.
Pros
Reliable security functions.
A huge library of 48,000+ modules to extend a site's functionality and 2,900+ themes to customize a site's appearance.
Advanced user access management.
Built-in multilingual system.
Excellent for handling a large amount of content with its in-depth taxonomy system.
Cons
A steep learning curve. It requires technical expertise to set up and customize.
Website updates may require hiring a developer since you cannot do it from Drupal's user interface.
Best For
Drupal is a great WordPress alternative for more experienced users. These two open-source CMS platforms are equally flexible to create various websites.
Compared to WordPress, Drupal has a steeper learning curve. While updating a Drupal site requires sufficient coding knowledge, WordPress users can do this task in just a few clicks.
However, once a user gets a grip of it or gives developers the technical workload, Drupal is an excellent platform, especially if the website has a lot of content. It's also suitable for those looking for a CMS with superior security features.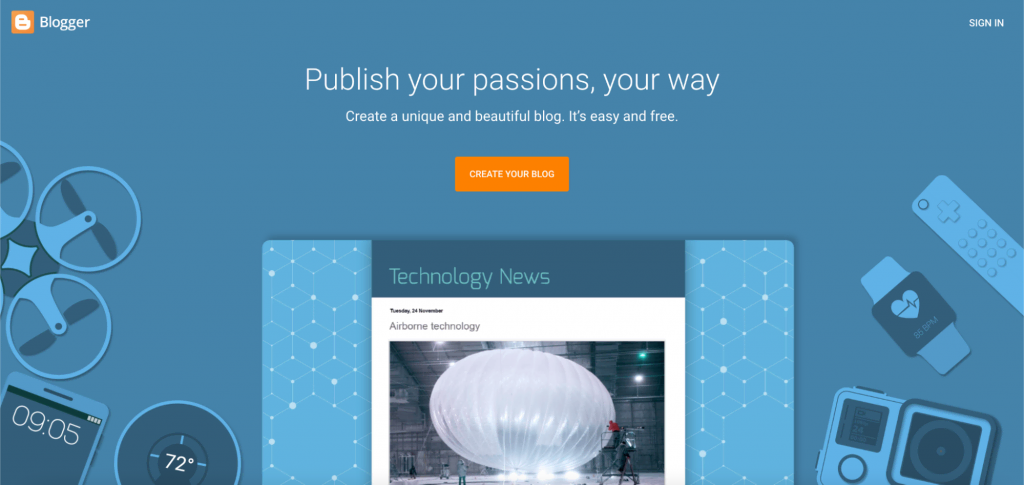 Type: CMS
Notable features: simple blogging, integration with Google apps and services, reliable security
Price: free
Blogger is a free blogging platform owned by Google. It's best for personal blogs and basic websites that don't require a high degree of customization.
Here's more information about Blogger's features:
Ease of use – you only need a Google account to start building a blog on Blogger.
Integration with Google apps and services – seamless integrations with services like Google Analytics, Google Adwords, and Google Photos to increase the site's capabilities.
Templates geared for personal blogs – the options are limited, but they allow basic customization by tweaking the HTML and CSS or using the visual editor.
Automatic spam filter – keeps the comment section organized and spam-free.
Blogger is a free blogging platform – you will get free hosting and a free Blogspot subdomain name.
Pros
Free web host service and an SSL certificate.
Made specifically for blog creation.
Beginner-friendly WYSIWYG editor.
Reliable security and constant updates because Google manages this platform.
Cons
Uses a Blogspot subdomain by default.
Minimal customization options.
A small selection of themes and gadgets. They are Blogger's equivalent to WordPress plugins.
Best For
Blogger best suits non-technical users who want to create a simple blog. It's also a great WordPress alternative for those on a budget since it lets users build a completely free blog.
Compared to WordPress, Blogger has minimal customization options and flexibility compared to WordPress. If you aim to create a custom website like an eCommerce store, Blogger may not be your best bet.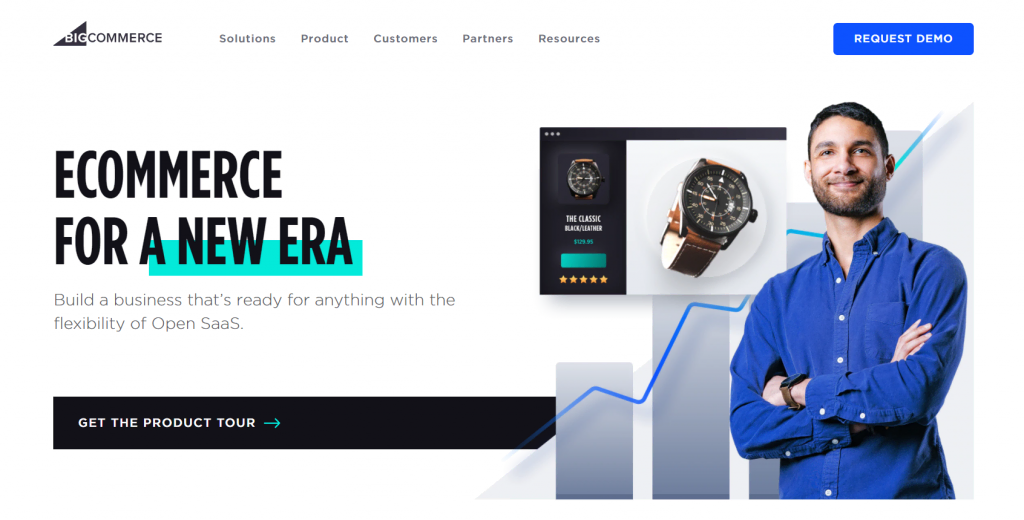 Type: website builder
Notable features: advanced built-in eCommerce functionality, POS integration, headless commerce
Price: $29.95–$299.95/month
BigCommerce is a WordPress alternative focusing on eCommerce and larger companies. This hosted solution comes with plenty of built-in tools to manage an eCommerce store.
Here are more details on BigCommerce's features:
eCommerce functionality – offers many powerful features such as the Channel Manager for multi-channel selling, customer segmentation, and advanced analytics tools.
SEO tools – drive more traffic and improve site rankings with features like custom URLs, rich snippets, and a CDN for a faster-loading site.
Unlimited staff accounts – manage your team by giving specific permissions to the team members.
POS integration – syncs online and offline payments and inventory. This especially benefits online stores that actively sell in their physical stores.
WordPress integration – BigCommerce supports headless commerce. This means that the front-end and the back-end are separated, so it's possible to update one side without affecting the other. In this case, BigCommerce's technology will take care of the eCommerce functionality in the back-end, while WordPress handles the content and visuals in the front-end.
BigCommerce offers a 15-day free trial period. There are four plans – Standard at $29.95/month, Plus at $79.95/month, Pro at $299.95/month, and the Enterprise plan, whose price is available upon request.
Each plan has an annual sales threshold. For example, the Standard plan has a $50,000/year threshold. BigCommerce will automatically upgrade your plan to a higher tier if your sales exceed that amount.
Pros
Extensive built-in eCommerce functionality.
Plans come with hosting and a domain name.
24/7 customer support via phone and live chat.
No transaction fees for using third-party payment gateways.
Easy drag-and-drop visual editor.
Cons
Each plan has a yearly sales limit.
Its advanced tools may require some time to get used to.
Best For
BigCommerce is a robust WordPress alternative for large-scale and fast-growing business websites.
While WordPress is more suitable for content-centric websites, BigCommerce is a more robust choice if your website is business-centric. Fortunately, BigCommerce also offers WordPress integration, so it's possible to get the best of both of them.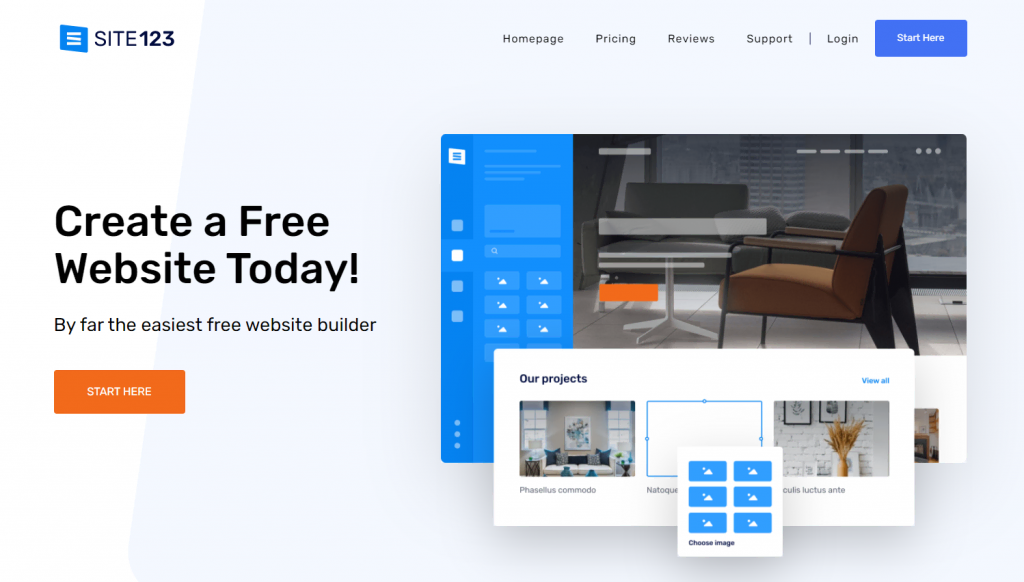 Type: website builder
Notable features: multilingual options, free stock images, booking and reservation support
Price: freemium, premium plans ranging from $7.80-$25.80/month
Site123 is a hosted solution equipped with useful features for building a one-page or multi-page website.
Let's explore more features of this WordPress alternative:
eCommerce functionality – the Professional and Gold plans offer tools for running an eCommerce store, such as accepting online payments, displaying an unlimited number of products, and allowing customers to create wishlists in their accounts.
Social media tools integration – add social network links to your website.
Multilingual options – some of its paid plans include a website translator, language flags and icons, and multilingual SEO.
Free image and icon library – use free stock images and royalty-free icons to make the website more attractive.
Booking and reservation support – supports the sales of appointment bookings, event tickets, and restaurant reservations.
Site123 offers a free plan with limited features. It also provides a 14-day money-back guarantee for its premium ones – Basic at $7.80/month, Advanced at $13.80/month, Professional at $19.80/month, and Gold at $25.80/month when choosing a subscription plan that lasts 12 months. The prices vary depending on the length of the plan, and the options are available from three to 36 months.
Pros
Easy to use the intuitive website editor.
Its plans come with a free hosting service and a free SSL certificate.
24/7 live chat support.
All of the templates are mobile-responsive.
Cons
Its free plan includes ads and a Site123 subdomain. Purchase a premium plan to use a custom domain name.
The site template is unchangeable once it goes live.
Best For
Site123 is a reliable WordPress alternative for creating a simple website, including a one-page website. The setup process is quick and easy.
However, when compared to WordPress, Site123 has limited customization options and functionality. WordPress might be a more reliable option to create a complex and scalable website.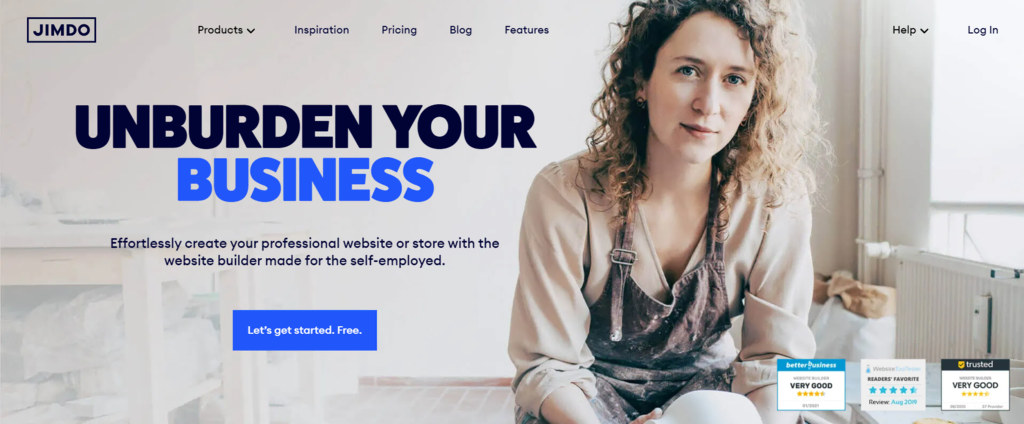 Type: website builder
Notable features: AI-based builder, eCommerce functionality, Logo Creator
Price: freemium, paid plans ranging from $9-$39/month
Jimdo is a beginner-friendly website building tool that targets self-employed professionals. It offers features for building a site with artificial intelligence.
Here are more details about its features:
AI-based builder – its intelligent design system, Jimdo Dolphin, uses artificial intelligence to build a basic website by asking a series of questions. Jimdo also offers a template-based builder, Jimdo Creator.
Legal Text Generator – creates personalized, GDPR-compliant legal pages like Terms and Conditions, Privacy Policy, and Return Policy.
eCommerce functionality – offers tools such as sale and discount codes, local pickup, and social media tools integration with Facebook and Instagram.
Copyright-free images – access high-quality images for free to complement website content.
Logo Creator – helps design a logo for your business or personal brand in just a few steps. It has no license fees.
Jimdo has two types of plans. The Website plans include the free Play plan, Start at $9/month, Grow at $15/month, and Unlimited at $39/month. Meanwhile, the Online Store plans include Basic at $15/month, Business at $19/month, and VIP at $39/month.
Pros
No need to purchase a hosting plan and a domain name.
Artificial intelligence design assistance.
Necessary business features like Business Listings, statistics, and search engine optimization.
Advanced SEO tools for the Online Store plans.
Cons
Its free version contains ads and uses a Jimdo subdomain.
The Legal Text Generator is only available for Europe-based websites.
No live chat and slower customer support.
Best For
Jimdo is a reliable WordPress alternative for self-employed professionals who aim to create a personal site, a portfolio, or a simple online store website.
If you live outside of Europe and aim to create an online store, WordPress can be a better option. This is because Jimdo's features like Legal Text Generator and tax are designed for European countries, making it less inclusive than WordPress. However, if your site doesn't include transactions, Jimdo can be a great WordPress alternative.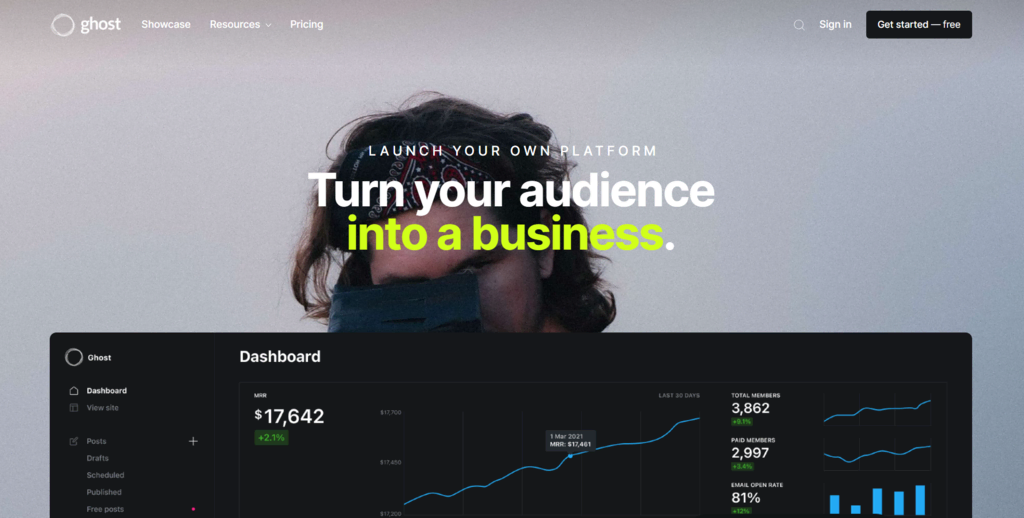 Type: CMS
Notable features: membership and subscription features, flexible content organization, Markdown support
Price: free, the hosted solutions ranging from $9-$2,415/month
Ghost is a publishing platform with the essential tools to grow a website that offers paid content or subscriptions.
This content management system offers two publishing solutions – the free self-hosted solution and the fully-managed PaaS called Ghost(Pro).
Here is more information on Ghost's features:
Full-Screen editor – allows you to focus on content writing without distractions.
Markdown support – Ghost's editor works directly with plain text formatting syntax Markdown, allowing users to write rich, structured content quickly.
Flexible content organization – control content categorization further with hashtags to privately categorize content types. Moreover, structure your site using dynamic routing, for example, split the site into two collections of content like /podcast and /writing.
Memberships and subscriptions – manage members and subscribers with tools like a native signup system, email newsletter, and detailed engagement analytics.
Team management – give different access permissions for your team, such as author, editor, and administrator.
The Ghost(Pro) pricing is based on the size of your membership audience, and Ghost provides a handy calculator on its pricing page. There are four plans – Starter, Creator, Team, and Business – for an audience of 500 members, the subscriptions range from $9-$199, billed annually.
For websites that have over 400,000 members, the subscription fee is available upon request. All plans include a 14-day free trial period.
Pros
Detailed member analytics to help understand the most active audience and what content attracts them most.
No payment fee for premium content sales.
Plenty of tool integrations, such as social sharing, payment gateways, and referral programs.
Features faster load time due to being written in Node.js.
Import members from external platforms and vice versa.
Cons
Support for the self-hosted Ghost is only available in the community forum.
A small selection of themes.
Best For
Ghost is an excellent platform for creating a website with paid member-only or subscriber-only content. It offers more built-in membership and subscription features compared to WordPress.
As Ghost is primarily a publishing platform, it's not the best option if you plan to add a shop to your site. WordPress can be a better choice for it, as it offers more robust eCommerce functionality.

Type: CMS
Notable features: advanced product management, one-page checkout, PrestaShop Experts
Price: free, the fully-managed plans range from €300-600/month
PrestaShop is an open-source CMS and one of the best eCommerce platforms.
Let's take a look at PrestaShop's features:
eCommerce functionality – comes with advanced tools such as a product management system, multiple payment methods, and location-specific tax calculations.
Support customizable products – allows customers to order personalized products like t-shirts by uploading their own design to your website.
PrestaShop Experts – connects eCommerce site owners with trusted developers and agencies to partner in developing the business.
Multilingual options – available in 75 languages to reach a wider audience.
One-page checkout – simplifies the process of creating a user account to decrease cart abandonment rates.
There are two types of PrestaShop – self-hosted and fully-managed. The self-hosted one is free, but you'll need to purchase a hosting plan and a domain name.
Meanwhile, the fully-managed one, the PrestaShop Platform, has three plans. Size M is €300/month, Size L is €600/month, and Size XL's rate is available on demand.
Pros
Comprehensive eCommerce functionality.
Built-in multilingual system.
No commission fees for your sales.
Non-technical users can develop their site with trusted professionals from PrestaShop Experts.
Cons
You should update your exchange rate manually or create a cron job to enable automatic updates.
Limited free templates and modules may increase the total website setup costs.
Best For
PrestaShop is a great WordPress alternative for creating an eCommerce website, especially if you offer customizable products.
PrestaShop can suit you well if you don't have a blog for your marketing efforts. If you do, WordPress may serve you better, as it offers more robust blogging tools than PrestaShop.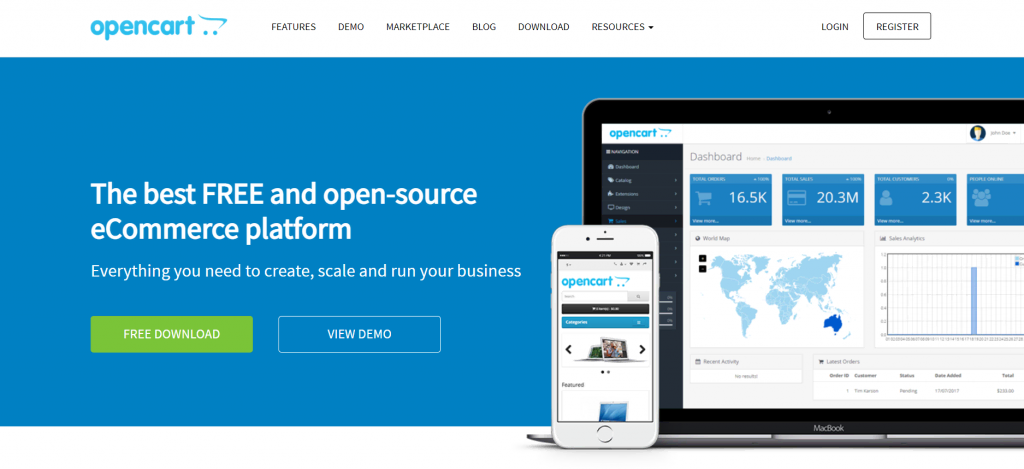 Type: CMS
Notable features: multi-store management, intuitive dashboard, multiple currency and language
Price: free
OpenCart focuses on creating eCommerce websites and offers plenty of built-in advanced features.
Here are some of the features of this WordPress alternative:
eCommerce functionality – comes with features like a marketing analytics tool, product filtering, and sales report.
Intuitive dashboard – provides a convenient way to see information about your online store's performance at a glance.
Multi-store sales – manage multiple stores from a single admin interface. Each store can use a different theme and set different product prices.
Affiliate system – set different percentages for each affiliate partner and use various payment options ranging from PayPal to cheques.
Multiple currencies and languages – prepare your site for international sales by facilitating your customers to shop with their local currency and preferred language.
While Opencart is available to use for free, you will have to find a hosting service and a domain name.
Pros
Plenty of built-in features, so you don't need to spend your budget on too many add-ons.
The Guest Checkout feature lets website visitors shop without the hassle of creating an account.
Unlimited product display.
Supports a diverse range of payment methods.
Mobile-responsive by default.
Cons
Store customization may require some coding skills.
No live chat customer support, and the phone support is only available from Monday to Friday.
Best For
OpenCart is a reliable WordPress alternative for creating an eCommerce website. With its multi-currency and multilingual features as well as plenty of other advanced built-in features, OpenCart may suit medium to large businesses aiming to sell internationally.
Compared to WordPress, this platform is not as flexible or customizable. However, OpenCart is still a robust WordPress alternative, especially if your site doesn't offer creative blog articles.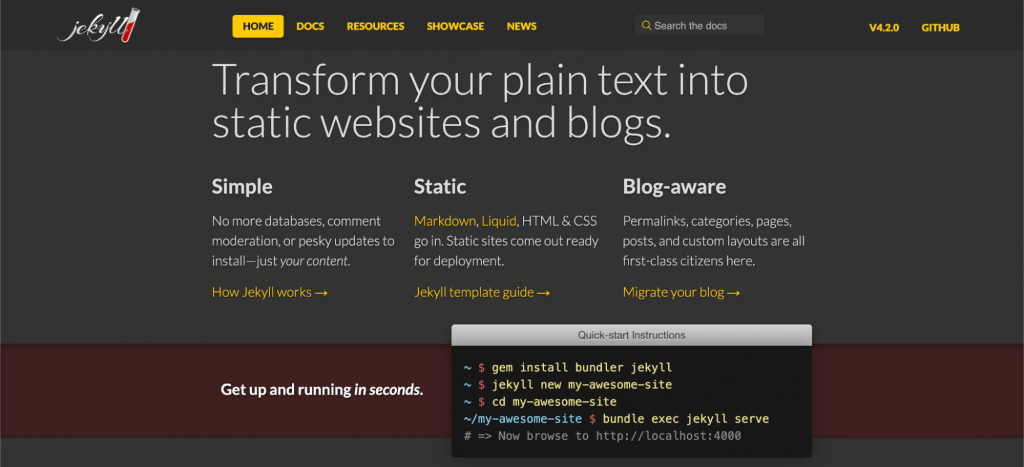 Type: static site generator
Notable features: content-centric, command-line based editor, lightweight
Price: free
Jekyll is a static site generator written in Ruby. This open-source platform provides a more straightforward approach to blog creation.
Creating sites with Jekyll requires coding knowledge, as it involves Markdown, Liquid templates, and some tweaking of HTML and CSS.
Take a look at some of its features:
Focus on content – concentrate on content creation without having to take care of databases, moderating comments, or installing updates.
Built-in blog features – offers basic features such as categories, pages, posts, permalinks, and custom layouts.
Themes – customize your site's presentation with Jekyll themes. They come with default layouts, includes, and stylesheets, but you can override any of them with your own website content.
Plugins – add custom features to your site via Jekyll's plugins. Its plugin system allows you to write custom code without modifying the site's source code.
Jekyll is entirely free to use. You don't need to take care of a hosting service or a domain name as Jekyll websites are hosted on GitHub servers. Users will get a GitHub subdomain.
Pros
Free web hosting is included in the plans.
Faster load time and a lesser chance of crashing.
More straightforward and content-centric.
Version control available.
A huge community.
Cons
Your domain name will have a GitHub subdomain.
A steep learning curve as it involves a lot of coding.
No graphical interface as it operates straight from the command line.
Best For
Jekyll is an excellent option for advanced users who are comfortable with HTML, CSS, and Markdown. It best suits users who want to create a static web page. For example, landing pages that require infrequent changes or a prototype of a new project.
It's not as beginner-friendly as WordPress, but if your priorities are speed and security, then Jekyll is your way to go. If you want to have a website with dynamic content or frequent content updates, WordPress is a more sensible option.

Type: CMS
Notable features: eCommerce-focused features, mobile-optimized shopping experience, customer segmentation
Price: free
Adobe Commerce is an eCommerce-oriented content management system. It offers two solutions – Magento Open Source and Adobe Commerce. The latter was formerly known as Magento Commerce and Adobe Commerce Cloud before the two officially consolidated.
Here's more information about the features available in both Magento Open Source and Adobe Commerce:
WYSIWYG page builder – enables even non-technical users to create a website with ease.
eCommerce functionality – plenty of built-in features such as catalog management, integrated payments, and shipping.
App Marketplace – enhance your site's performance with free and premium extensions and themes.
Mobile-optimized – provide a convenient mobile-app-like experience with progressive web applications (PWAs). All templates also have responsive designs.
Additionally, Adobe Commerce provides more advanced features not available in Magento Open Source, such as customer segmentation, web application firewall, and performance monitoring tools.
Magento Open Source is free, so you will have to find a separate hosting service, a domain name, and an SSL certificate. Meanwhile, Adobe Commerce is a cloud-hosted solution whose quote is available upon request.
Pros
More scalable and suitable for large businesses.
Supports more than 300 payment gateways.
AI-based customer segmentation analyzes customers' behavior to provide them personalized shopping experiences like product recommendations. This can bring a positive impact on the sales rate.
The open-source solution is highly-customizable if you're comfortable with code-editing.
A staging environment lets you update your site without having potential losses due to site downtime.
Cons
No built-in blog features.
Not beginner-friendly.
Customer support is only available via tickets and only for Adobe Commerce account owners.
Best For
Magento is a powerful WordPress alternative for creating an eCommerce site. It's especially suitable for large-scale enterprises, and it's packed with plenty of advanced features – especially its hosted solution.
Magento Open Source and Adobe Commerce lack native blogging tools compared to WordPress. However, Adobe Commerce supports headless commerce, meaning you can combine its powerful eCommerce technology with another platform to handle the blogging aspect.
CMS vs. Website Builder: What Is the Difference?
In the WordPress alternatives list above, we've included both content management systems and website builders. Let's examine the differences between WordPress and website builder.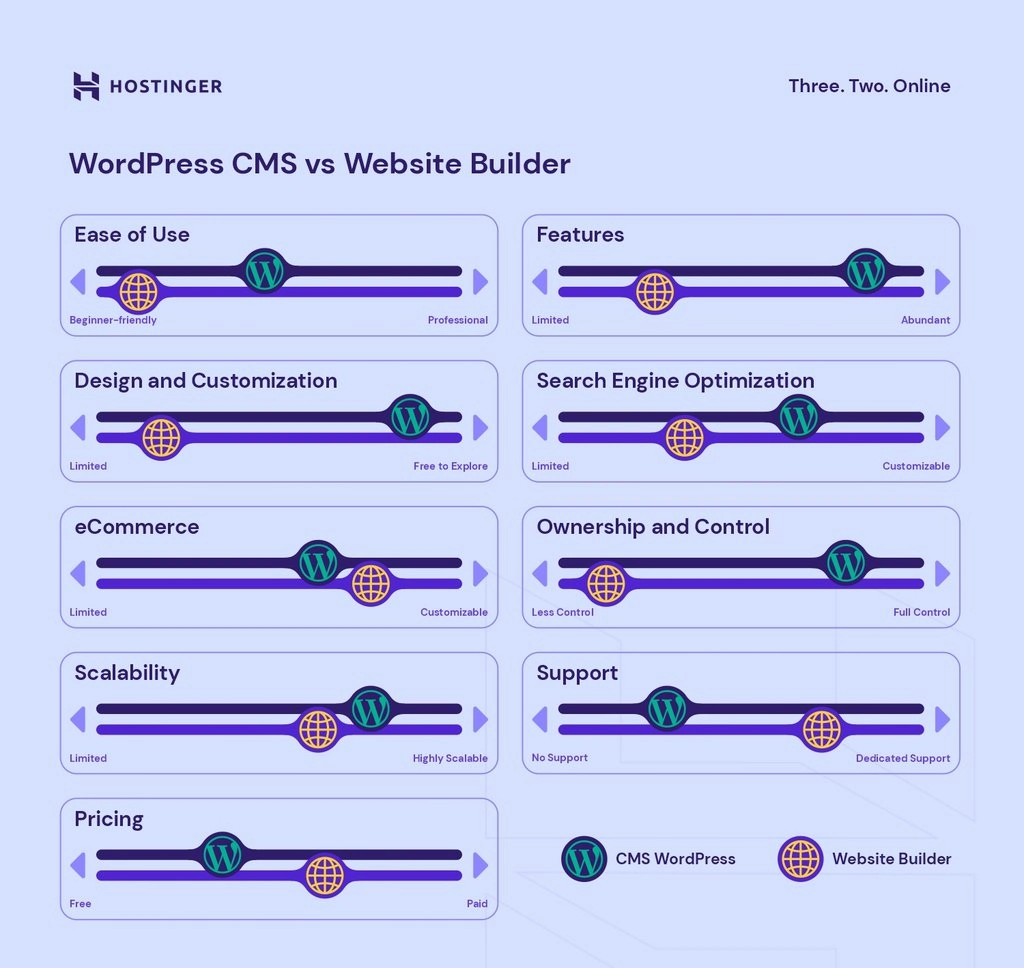 Mainly, the difference lies in their ease of use and customizability.
CMSs provide greater control over the website-building process and more creative freedom in web design.
This flexibility makes CMSs a better choice for more tech-savvy users and experienced developers who aim to create a highly-customized website. It can work for beginners as well, but it may require them to spend a bit more time understanding the platform.
On the other hand, website builders are more beginner-friendly. They manage site updates, the hosting, and the domain, so users can focus only on building their websites. It's also a great option for those who don't want the hassle of managing their own website updates.


However, website builders have more limited customization options compared to CMSs.
Additionally, the difference between these two website-building tools is how users pay for them.
CMSs are free, but users have to get a CMS-supporting hosting service and a domain name to start building a site. Meanwhile, website builders offer monthly or annual paid plans, including a hosting plan and a domain name.
Conclusion
Numerous CMSs and website builders can serve as suitable WordPress alternatives. Ultimately, everything will depend on your budget and the type of website you intend to build.
We hope this article has helped you decide which WordPress alternative suits you best. Good luck in starting a new website-building journey.