Top 9 Google Analytics WordPress Plugins for Advanced Tracking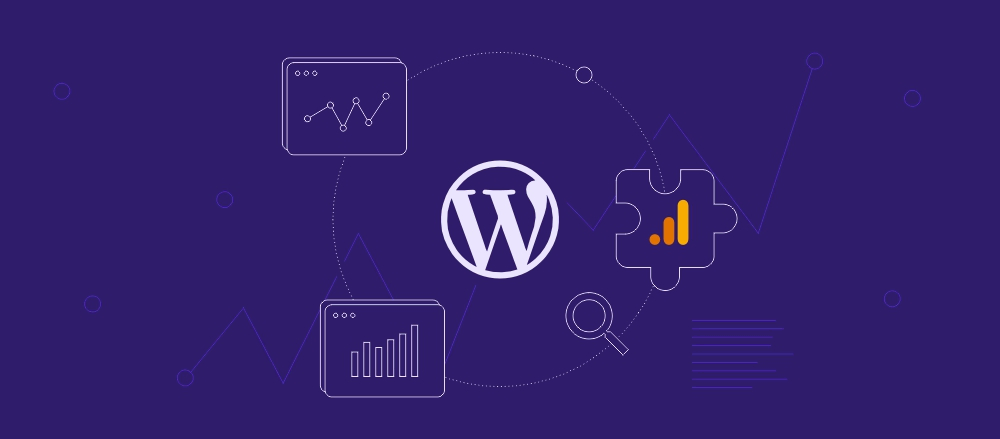 When managing a WordPress website, it's important to properly measure user engagement to assess its effectiveness and strategize its growth.
Users can use Google Analytics WordPress plugins to access their site stats directly from the dashboard. Several WordPress plugins are available for this purpose, sharing similar benefits and features.
We've compiled a list of the nine best WordPress Google Analytics plugins to help narrow down your options. In addition, we'll discuss the importance of using a Google Analytics plugin and explain how to install it on WordPress.

How to Add Google Analytics Plugins in WordPress
Google Analytics is a freemium service with robust tracking features, enabling you to gather valuable data about your site visitors and their behavior.
Before adding Google Analytics to WordPress, make sure you already have an existing WordPress site. Our WordPress web hosting plans include one-click installations and customer support to help with server setup.
Here's how to add Google Analytics to WordPress:
Register an account on the Google Analytics website.
Install Google Analytics on your WordPress website. There are two primary ways to do this:

Connect Google Analytics manually by inserting a code snippet and tracking ID into the functions.php or header.php file.
Use a Google Analytics plugin to set it up without any code editing.
Here are some benefits of using Google Analytics:
Produce content that converts. Identifying which links and pages receive the most clicks lets you create tailored content for your audience's needs and preferences.
Create audience segments. Group your audience based on their behavior, demographics, traffic source, and conversion rate. This will help optimize your marketing efforts.
Improve SEO. An analytics tool helps you find keyword opportunities and gain insight into traffic sources.
Optimize the User Experience (UX). Web designers often use analytics tools to reveal navigational issues and design flaws. They may be inferred from the tool's behavior analysis feature, which shows user interactions on each web page.
Top Google Analytics WordPress Plugins
We have explained the steps of adding Google Analytics to WordPress and why it's important. Next, let's examine what each Google Analytics WordPress plugin offers.
We compiled the list of the best Google Analytics plugins based on the following criteria:
Ease of use. The plugin should have a user-friendly interface and navigation elements.
Features. The purpose of a Google Analytics WordPress plugin is to simplify website performance tracking. Evaluate each plugin's features to ensure it fulfills your needs.
Types of data and reporting. Decide what metrics and data your business should measure based on its goals. An eCommerce store might need a more in-depth report than a personal blog.
Pricing. Compare the pricing, functionality, and support a plugin provides compared to its competitors. Choose the best Google Analytics plugin that offers features and good support for a reasonable price.
Release version and updates. Using outdated plugins can harm your WordPress site's security and performance. Ensure that the plugin is updated frequently and compatible with the newest version of WordPress.
Reviews and active users. Positive reviews and a decent number of installations reflect the plugin's credibility.
Responsive support. Occasionally, plugin users may encounter errors. So, consider choosing a plugin with well-documented support. This shows that the developer is actively involved in addressing known issues.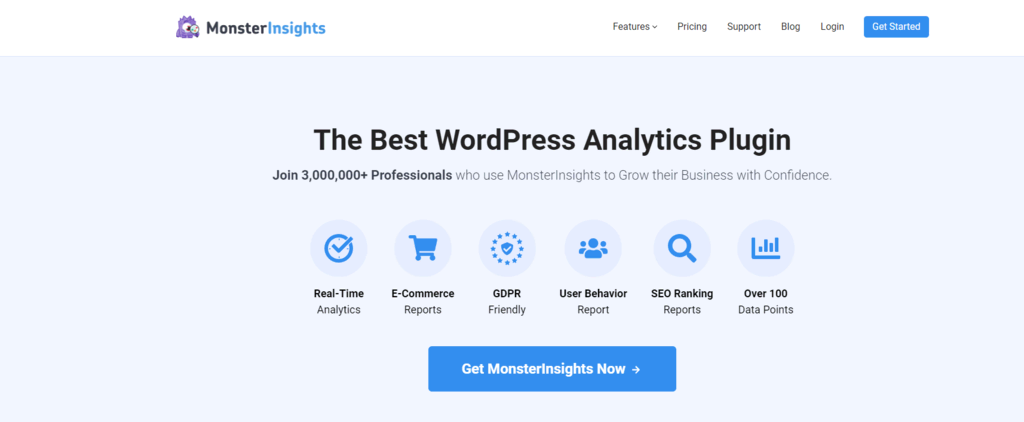 MonsterInsights stats:
Downloads: 3,000,000+
Rating: 4.6/5
Best for: eCommerce tracking
Price: freemium, with paid plans starting at $99.50/year
MonsterInsights is the best Google Analytics plugin for comprehensive eCommerce reports. It includes many tracking features to ease your website monitoring tasks.
The latest version of MonsterInsights offers better user journey analytics and an improved activation process.
The free version of MonsterInsights is available with basic functionality, like outbound link tracking and real-time stats. Consider upgrading to one of its Premium plans to enjoy the exclusive features, costing from $99.50 to $399.50/year.
Key Features
Enhanced eCommerce tracking. Track the performance of eCommerce sites, such as their conversion rates, average order value (AOV), and top-selling products.
Event tracking. Identify specific actions and goals site visitors take when visiting your WordPress site.
Built-in Google Analytics dashboard. View real-time web analytics and actionable Google Analytics reports from the WordPress dashboard.
Customized reporting. Users can customize reports through an intuitive interface.
Simple setup process. Simply go to the WordPress admin menu, activate the plugin, and connect your Google Analytics account.
Affiliate and Google AdSense tracking. Users can track the clicks on affiliate links, Google Ads, and other outbound links.
Dual tracking feature. Simultaneously integrate Google Analytics 4 (GA4) and Universal Analytics (UA) into your WordPress site.
Automated email reports. Automatically compile vital web statistics into simple reports that will be sent directly to your email inbox.
EU compliance add-on. Get your site compliant with WordPress GDPR, CCPA, and other privacy laws.
Seamless integration. MonsterInsights integrates well with other WordPress plugins, from eCommerce tracking tools to form add-ons. They include WooCommerce, Easy Digital Downloads, and Google Optimize.
Cons
More expensive. Its paid plans can be too pricey for small business owners.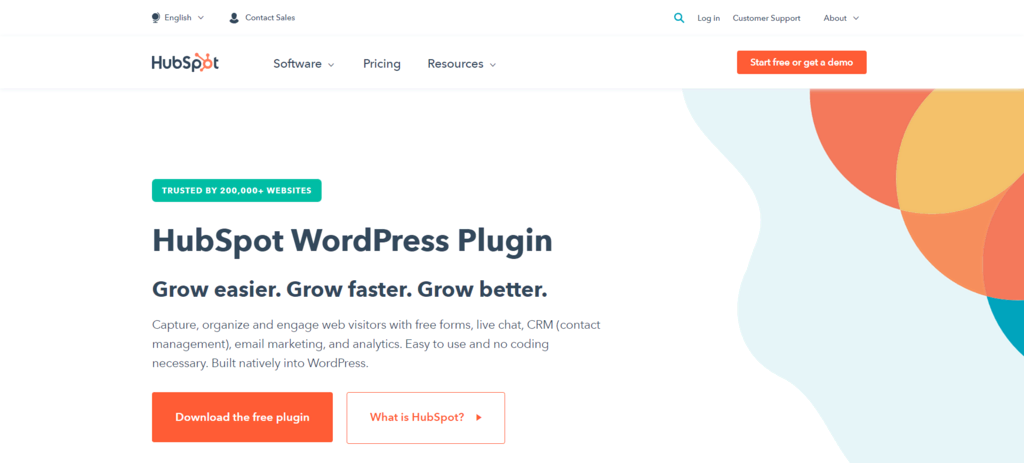 HubSpot stats:
Downloads: 200,000+
Rating: 4.3/5
Best for: large businesses looking for an all-in-one growth solution
Price: freemium, paid plans starting at $45/month
HubSpot is one of the best WordPress plugins for customer relationship management (CRM), marketing, and site analytics. Designed for large businesses, HubSpot's tools will help you engage with visitors better.
The current version of HubSpot adds event tracking to review banners and Gutenberg block preview images.
Key Features
Multiple software integrations. Aside from Google Analytics, the plugin also supports integration with 1,000+ marketing, sales, and operations tools.
Website traffic analytics. Analyze your content's performance with detailed filters, such as bounce rate and page views.
Pop-ups and forms. Design compelling forms and pop-ups with an intuitive drag-and-drop interface.
Campaign reporting. Use specific content pieces to create campaigns. Then, analyze which aspects of your landing pages or blog posts need to be improved to reach more conversions.
Predictive leads ranking. Automatically predict site leads' score and ranking. Focus on leads who are most likely to convert.
Behavioral event triggers and reporting. Automate tasks such as sending notifications and emails when a visitor takes a specific action on your website. Analyze the success of events based on their completion reports and customizable funnels.
Cons
Includes many non-analytics features. Users may be overwhelmed with HubSpot's tools since it doesn't solely focus on analytics.

WP Statistics stats:
Downloads: 600,000+
Rating: 4.1/5
Best for: creating demographics reports
Price: free, premium add-ons bundle starts from $99/year
WP Statistics is an excellent WordPress analytics plugin for beginners. It presents well-designed charts and graphs to visualize raw analytics data.
The latest version, 13.2.4, has some enhancements, such as adding the REST API status check and Cross-Site Request Forgery (CSRF) protection.
Key Features
Data filtering function. It only collects relevant analytics data, sorting out unnecessary information from reports.
Statistical reporting emails feature. Get automated email reports containing your WordPress website statistics.
Visitor locations. Locate visitors' geographical position on an interactive GeoIP-based map and indicate areas you should focus more on.
Automatic updates. Remove outdated data and update GeoIP automatically.
Redirects and keyword tracking. Keep track of your visitors' search queries and redirects from well-known search engines like Google, DuckDuckGo, and Bing.
Data protection. Ensure users' privacy by storing personal information locally on the WordPress database. Additionally, users can limit access to login or admin pages and IP addresses.
Exporting feature. Export analytics reports as downloadable files in TSV, XML, or CSV formats.
Function API. Allow other WordPress themes and plugins to retrieve site statistics.
Cons
Limited options. Most of its advanced features, like customization options and chart creation, are only available if you purchase the premium add-ons bundle. It costs from $69 to $289/year.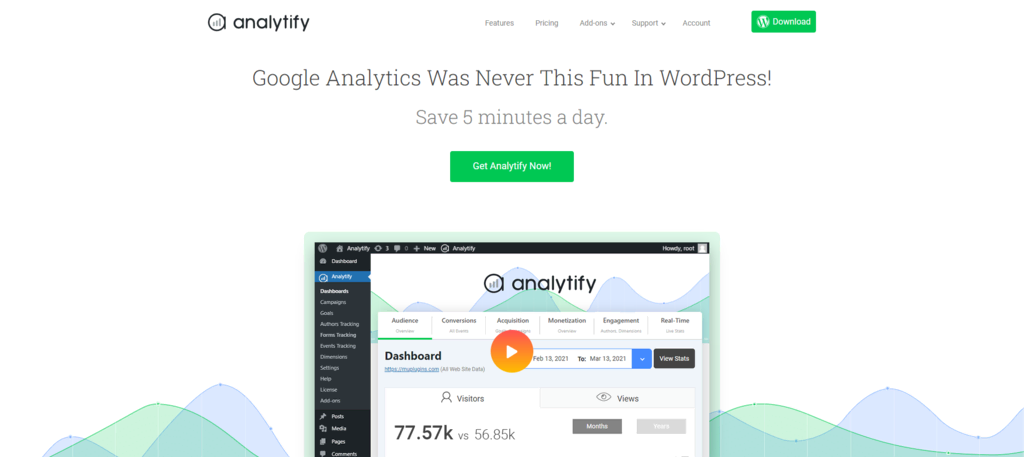 Analytify stats:
Downloads: 60,000+
Rating: 4.7/5
Best for: creating detailed and accurate reports
Price: freemium, paid plans starting from $59/year
Analytify is one of the must-have Google Analytics plugins for WordPress. Besides offering easy installation, it has a clean and straightforward Google Analytics dashboard. It allows users to access an overview of their site stats easily.
The current version of Analytify, 4.2.1, adds a Fluent Forms integration. The plugin's developer also fixed several bugs and lets users sync the dashboard's timezone with WordPress settings.
As for pricing, Analytify offers a free version and three premium plans, ranging from $59-$299/year.
Key Features
Front-end reporting feature. Display web traffic and other statistics on your website without logging in to the WordPress dashboard.
UTM campaign tracking. Improve your business campaign strategy by monitoring your cart abandonment and bounce rate.
Social media reporting. This Google Analytics plugin helps monitor your social media campaign's performance.
Customized post tracking. Keep track of custom post types, such as galleries, portfolios, and testimonials.
Shortcodes feature. Add stats to any custom WordPress template, including posts, pages, and HTML widgets.
Cons
Known errors and ads. Some users report glitches while loading full analytics. There are also complaints about the free version having too many ads.

Conversios.io stats:
Downloads: 40,000+
Rating: 4.8/5
Best for: creating advanced eCommerce statistics
Price: freemium, paid versions starting from $19/month
Conversios.io is a popular Google Analytics plugin designed for eCommerce business owners. It offers a robust eCommerce tracking feature to assess your online store's performance.
Its latest version, 4.8.0, introduces the Performance Max Campaigns feature, allowing you to target users on all of Google's advertising networks.
The upcoming release will also introduce a Rule-based Campaign Report feature that will display clicks, conversions, and sales from a campaign.
This plugin's Starter package is free. It includes basic features like universal analytics tracking and product feed sync for up to 100 products.
Users can also choose from its three premium plans:
Hustle. Includes full Google Analytics tracking features, starting from $19/month.
Growth. Get premium customer support and a free Google Analytics audit for $29/month.
Leap. Offers unlimited product auto-update and sync, starting at $49/month.
Key Features
Actionable dashboard. Display performance metrics of your eCommerce business by fetching essential data from Google Analytics, Google Merchant Center, and Google Ads.
Complete eCommerce Analytics reports. Support data tracking for customers' shopping and checkout behavior. This information will let you identify areas of improvement on your eCommerce site, ensuring a smoother shopping experience.
Comprehensive Google Shopping automation. Advertise your product on Google Merchant Center easily. With this WordPress plugin, you can create automated shopping campaigns for your products and create high-quality product feeds before listing them on the Google Search Network.
Dynamic remarketing ads. Automatically enable active remarketing tags for eCommerce events. This lets you display ads for your best-performing products to target high-impact audiences.
Cons
Limited product type and theme support. Conversions.io only supports reports for simple eCommerce products. If you want to track complex products, consider a more advanced option like MonsterInsights. Moreover, this Google Analytics plugin is also incompatible with certain WordPress themes.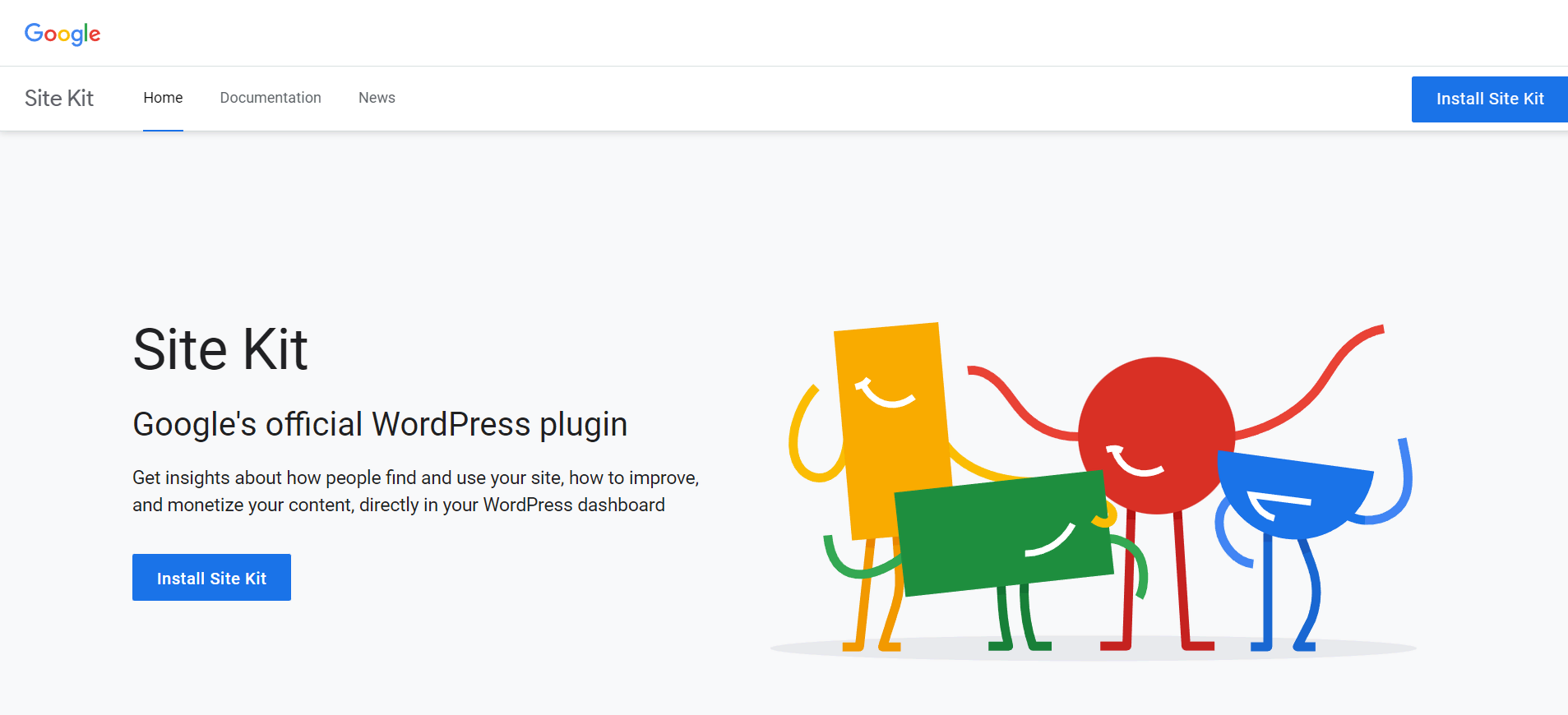 Site Kit stats:
Downloads: 2,000,000+
Rating: 4.2/5
Best for: creating easy-to-understand analytics reports
Price: free
Site Kit is Google's open-source plugin that lets users connect their WordPress site with other Google services. It generates reports for all Google services in a single, centralized dashboard.
Its latest release improved Site Kit's viewing feature by enabling secondary view. It also simplifies the dashboard when showing Search Console data.
Key Features
Integration with multiple Google services. Retrieve analytics data from Google Search Console, AdSense, and PageSpeed Insights.
Code-free environment. Lets beginners use different Google tools without any coding experience.
Disconnect feature. Lets users easily disconnect Google services from their website.
Cons
Lacks eCommerce and form tracking features. Site Kit doesn't support integration with eCommerce and form plugins. You need to install another plugin to track eCommerce performance and contact forms.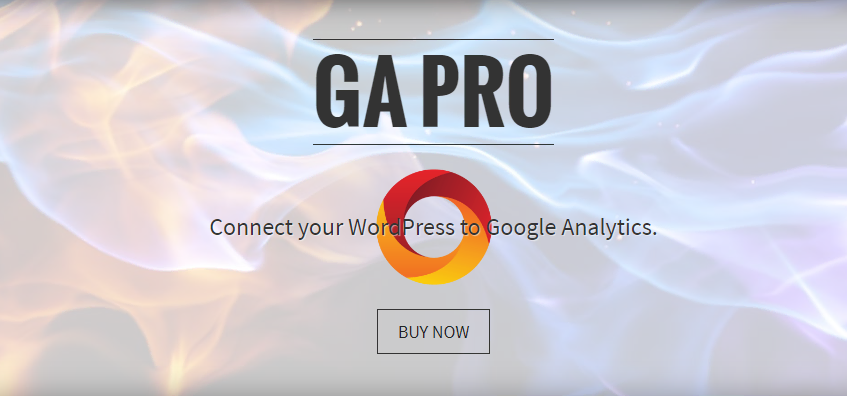 GA Google Analytics stats:
Downloads: 600,000+
Rating: 4.9/5
Best for: extracting Google Analytics data
Price: freemium, the paid plans start from $10/year
GA Google Analytics is one of the best Google Analytics plugins. It was developed by Jeff Starr, a WordPress expert with 15+ years of experience. This Google Analytics plugin supports all tracking methods, providing valuable insights into your website visitors.
In addition to a free version, the Pro versions of GA Google Analytics have more to offer:
Personal, at $10/year.
Business, at $20/year.
Advanced, at $40/year.
Developer, at $100/year.
Key Features
Multiple tracking codes. Set up multiple Google Analytics tracking codes in any blog post or page in the WordPress admin panel or front-end. You can also specify the location of each tracking code and preview it live.
Advanced options. Disables tracking for users that are logged in the admin area.
User opt-out box. Offers visitors the option to not participate in GA Google Analytics tracking.
Comprehensive documentation. Gain access to all plugin updates and information from the Help tab.
Cons
Limited features on the free version. It won't display in-depth information or insights like other advanced WordPress Google Analytics plugins on the list.
Additionally, it requires you to log in to your Google Analytics account to view reports and data.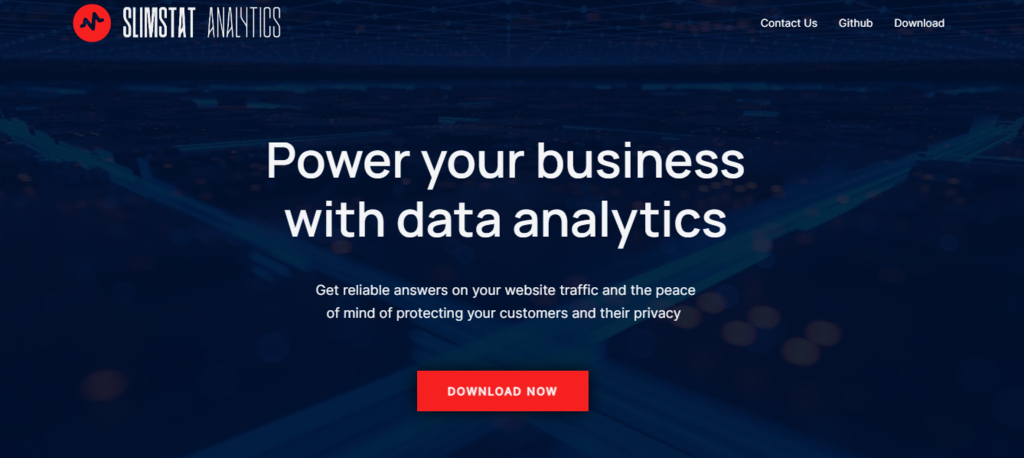 Slimstat Analytics stats:
Downloads: 100,000+
Rating: 4.8/5
Best for: privacy-focused analytics
Price: free
Slimstat is an open-source WordPress analytics plugin that lets you monitor registered users, track JavaScript events, and evaluate email campaigns.
Key Features
Community support. As a free and open-source software platform, this Google Analytics plugin provides information accessible to users of all levels.
Cache integration. Compatible with popular website caching plugins such as Cloudflare, W3 Total Cache, and WP SuperCache.
Privacy mode. Hides visitors' IP addresses to keep their information private.
Customizable cookie pop-up. Displays users' cookie policies without installing separate plugins.
Cons
Only covers basic analytics. It is less suitable for someone who wants to go in-depth into their visitors' behavior.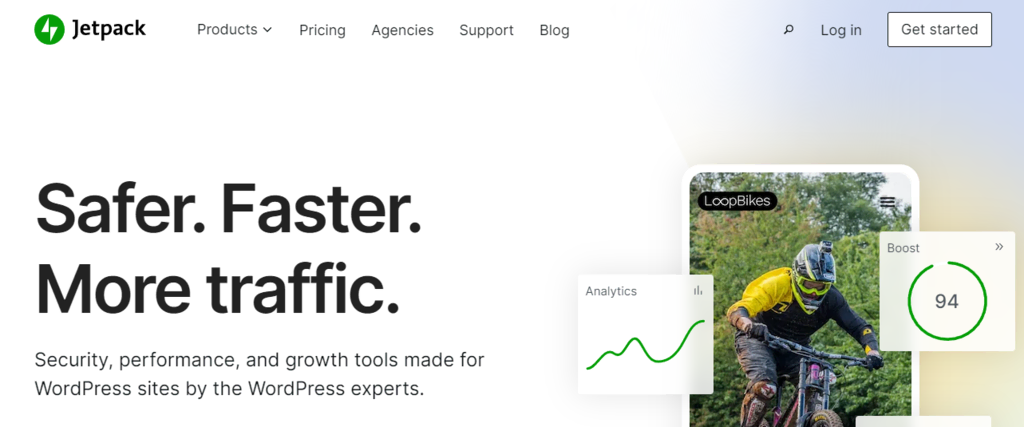 Jetpack stats:
Downloads: 5,000,000+
Rating: 3.9/5
Best for: viewing basic analytics stats
Price: freemium, with Google Analytics-integrated plans starting at $10.95/month
Jetpack is an all-in-one plugin for WordPress. It provides various functions, including site security, CRM, and performance tools.
Jetpack's growth tools include Google Analytics integration, letting you view your website's traffic stats via the WordPress dashboard.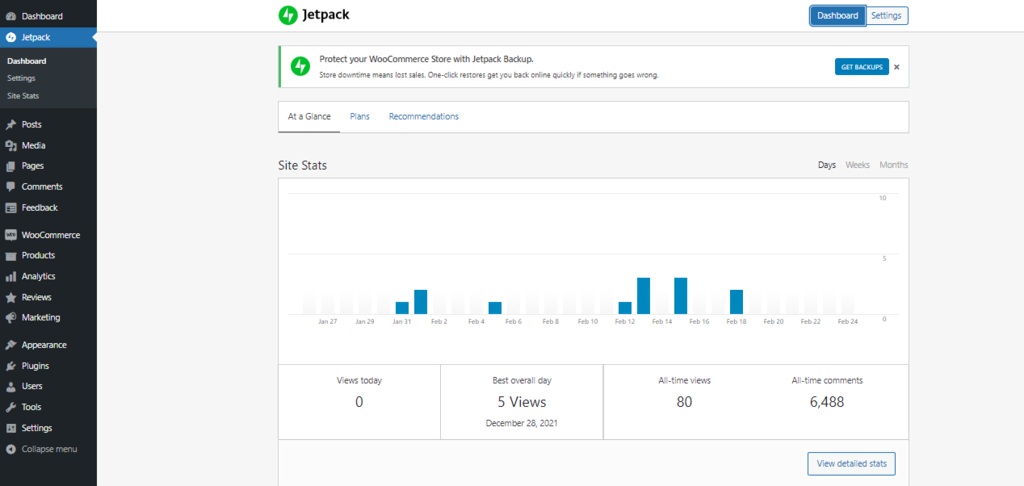 WordPress users can enjoy Jetpack's basic package for free, which includes basic features like downtime monitoring and site stats. We recommend purchasing its Security package at $10.95/month to unlock all growth tools and more security and performance features.
Key Features
Multisite management. Handle multiple WordPress sites from a single dashboard.
Downtime monitoring. Monitor your site status and get notified when downtime occurs.
Beginner-friendly. Suitable for novice users since the interface is pretty straightforward, providing basic statistics of your website's traffic.
Content delivery network (CDN). With a free CDN, Jetpack serves images and static files on its servers instead of your own, saving costs and bandwidth.
Site protection. This WordPress plugin offers several security features like automatic malware scans, daily backups, and spam protection.
Activity log. Using the activity log, users can easily keep track of site changes.
Cons
Not an analytics-focused plugin. The analytics feature is part of the Jetpack plugin bundle, which is packed with other features. This may make the interface seem bloated and sluggish.

Conclusion
WordPress analytics plugins automatically generate a Google Analytics tracking code for your site. They provide a user-friendly analytics report inside your WordPress dashboard.
When choosing the best Google Analytics plugin for you, consider the plugin's credibility, ease of use, and support. You must also examine your own business needs.
Here is a recap of our top nine picks for the best Google Analytics plugins for WordPress:
MonsterInsights. Best for advanced Google Analytics eCommerce tracking.
HubSpot. Best for large businesses looking for an all-in-one growth solution.
WP Statistics. Best for creating geographical reports.
Analytify. Best for creating detailed analytics reports.
Conversios.io. Best for WooCommerce event tracking.
Site Kit. Best for creating easy-to-understand analytics reports.
GA Google Analytics. Best for Google Analytics-like reporting.
Slimstat. Best for privacy-focused analytics.
Jetpack. Best for viewing general analytics stats.
We hope this article has helped you choose the best Google Analytics plugin to improve your overall web strategy. Good luck!