How to Start Dropshipping Business in 2021 – A Comprehensive Guide
In 2020 alone, over two billion people were buying goods and services online, so having an online store is one of the most profitable ways to earn money. 
If you want to join the online market and be an entrepreneur, we recommend starting a dropshipping business. It brings profit, requires very little investment, and is relatively easy to manage.
This article will explain what dropshipping is, how to start a dropshipping business, and set up an online store.
What Is Dropshipping?
Dropshipping is a retail business strategy. In short, you will sell another company's products under your own brand.
In other words, you only help the customer to buy the product. There's no need to handle inventory management systems, storage, shipping costs, and logistics in dropshipping business.
However, dropshippers still have to calculate mark-up prices, do product marketing, and generate dropshipping business ideas. Furthermore, if a customer comes across a problem with shipping or product, he will contact them first.
How Does Dropshipping Work?
Before we get into the basics of setting up a dropshipping business, you need to understand how the dropshipping business model works.
As the dropshipper, you have to find suppliers that make the products you want to sell. The items are then listed under your brand on a website or selling platform.
Customers will buy from your online store at a retail price. Then, you'll forward the order to the supplier and pay a wholesale price. The supplier will then pack and ship the products directly to the customer.
5 Steps to Start a Dropshipping Business in 2021
Outlining your dropshipping business plan will ease setting up your store and help you manage it.
Here are five helpful tips on how to get started.
1. Pick a Niche Business Idea
When starting a dropshipping business, it's important to decide what is your target audience and fill a niche in the market. Otherwise, it could be difficult to choose what to sell.
A market niche is a specific category of business industry. It determines the type of products and services, price range, and quality aimed to satisfy the customer's needs.
Here are a few ways to pick your dropshipping niche:
Determine your interest or passion. Choose a niche you are most familiar with. Having prior knowledge of the products you sell can make the process of managing a business easier and more enjoyable.
Find a solution. If you're struggling with a problem, other people probably have the same issue too. Customers will naturally find your business if you offer solutions to their problems.
Research high-selling products. There's a chance of earning a lot of money by selling goods that are currently on-trend. Use tools like Google Trends and TrendHunter or go through the popular product section on marketplaces to see what people are currently buying.
Other than that, commodities such as sanitary products and food ingredients are always in high demand. Go for a niche with items people need on a daily basis.
Keep in mind that you might encounter high competition with popular dropshipping products, especially from large retailers.
Once you've found a business idea, brainstorm dropshipping business ideas and make a list of products you want to sell. Then, get started with market research.
2. Do a Market Analysis
Market analysis is a thorough assessment of the business industry you're in. It includes an evaluation of the target market, competition, and strategy for promoting your brand.
A good market analysis should answer these questions:
Who are my potential customers?
What are their needs and buying patterns?
How large is the market, and how much are people willing to pay for the product?
Who are my main competitors? What are their strengths and weaknesses?
Market research is crucial because you'll know your customers' needs. It is also useful for advertising purposes, estimating the revenue and profit, and predicting the growth of your business.
Here's how to come up with a good market analysis:
Research tand value of the industry. This includes detailed statistics on the size, trends, outlook, and growth rate. You need to know if there are enough customers interested in the products you're planning to sell.
Determine your target audience. Start with its demographics segmentation – age range, gender, income level, hobbies, and lifestyle preferences.
Take note of the market size and customer buying habits. It is important to observe people's buying patterns and behavior. From this, you'll also see what motivates and drives their demands. By knowing your target market, reaching out to that market will be an easy task.
Research and understand your competitors. Use tools like Similarweb and Alexa to find competitor sites and examine their performance.
Make a SWOT analysis to see their strengths and weaknesses. Find out what you can learn from their mistakes and create a benchmark for your business. Furthermore, researching your competitors reveals a product's average retail price and sell rate.
Finding dropshipping suppliers won't be difficult if there's a solid list of products to sell based on the market research you've conducted.
3. Find a Supplier
It's crucial to find a dropshipping supplier. Make sure the company or entrepreneur is reliable and meets your list of criteria.
Here are some tips when looking for a supplier:
Ensure they are legit and legal. Work with suppliers that you trust. Watch out for scammers, as you don't want to lose money and time dealing with them. Ask for the supplier's business license or unique ID number, and verify it through their local administrative government website.
Check the company's phone number and address. Make sure the information is on Google Maps, and is not registered to a different company. Check if they have a professional business email address and not the one made from a free email service.
Find out if they have experienced and helpful staff. Don't be afraid to call them and ask questions.
See if the product is of good quality. Order a few samples and verify them. Do they look like the photos posted on the supplier's website? Does the description on the site match the product?
Check if the packaging is presentable and secure. Try ordering a fragile item. See if the suppliers are consistent with packaging by shipping some products to your friends.
Make sure the shipping and order fulfillment meets your criteria. How long does it take for them to process an order and ship? Do they handle returns well?
SaleHoo, Modalyst, and Spocket are a few dropshipping websites to find reliable suppliers.
By working with a trusted dropshipping supplier, you won't have to worry about losing or not getting customers.
4. Build an eCommerce Website
Once you've set the products and dropshipping suppliers, it's time to create your online store. You don't need prior knowledge in web development or coding. Simply follow the tutorial below:
Register for Domain and Hosting
Every website needs a domain name and web hosting. The domain name will act as your address to the website, while web hosting makes the site accessible on the internet.
Use your dropshipping business name for the domain name. If you haven't come up with one yet, make it short and memorable. You can base it on a keyword related to your niche or a new brand name representing your business.
Check if the domain name is available using a domain checker. If it is, register it straight away or later during web hosting sign-up.
Domain Name Checker
Instantly check domain name availability.
When choosing a hosting plan, make sure it has enough features to build an online store and scale as your business grows.
If you're low on budget, it's okay to pick the most affordable plan first. You can upgrade it when the dropshipping business expands.
Install WordPress or an eCommerce CMS
To create a website without having to code, you need to install a content management system (CMS). It's a tool used to build, edit, and manage a website for people with minimal technical knowledge.
One of the most popular CMSs is WordPress. It's open-source and free to use. What is more, WordPress has a beginner-friendly user interface and an intuitive drag-and-drop block editor to design pages and posts.
To install WordPress using our auto-installer, follow the steps below:
Login to your hPanel.
Press Install.
If you encounter any problems, our customer support team is ready to help 24/7.
You can also try other popular eCommerce CMSs to build an online store, for example, Magento, Prestashop, and OpenCart.
Install an eCommerce Plugin
With WordPress, you can turn your website into an online store. The platform's functionality is extendable using a variety of different plugins.
One of the most popular WordPress eCommerce plugins is WooCommerce. It adds eCommerce features, such as a customizable checkout page, payment gateways, and product pages.
Here's how to install and set up WooCommerce:
Access your WordPress dashboard and hover over Plugins on the left-side menu.
Click Add New and enter WooCommerce in the search bar.
Continue with all the five steps in the Setup Wizard to get your online store up and running.
When everything is in place, it's time to customize the store and start adding products.
Customize Your eCommerce Store and Upload Products
WordPress has a wide range of website themes, including themes made specifically for WooCommerce.
Follow the steps below to install a WordPress theme and customize it:
On your WordPress Dashboard, hover on Appearance and select Themes.
Go through the selection and hover on a theme of your choice. Press Install, then Activate.
Keep in mind that there are limitations to how much a website can be customized using WordPress built-in tools. If you need more editing options or a user-friendlier solution, there are WordPress page builders available to try.
Feel free to design the online store however you like. However, remember that the overall design will represent your dropshipping business.
With WooCommerce, adding products can't get easier:
From the WooCommerce Dashboard, hover above Products and select Add New.
Fill in the product name, data, description, and upload a high-quality photo.

Click Publish.
5. Marketing and SEO for Your Dropshipping Business
After you have created the website, it's time to work on promoting your business. These are some options to consider:
Create a "Coming Soon" or a landing page. It builds hype before the official launch of your store. Keep it simple as it should mainly display your brand name, logo, and a short description of your dropshipping business. Feel free to add a couple of product photos as well.
Create social media profiles to drive traffic to your website. Instagram and Pinterest are great platforms to share high-quality product photos.
Implement search engine optimization (SEO) practices. If done right, your products will rank high on search engine result pages, increasing the chance of people clicking and purchasing them.
Researching higher-ranking keywords related to your niche is an essential step when it comes to SEO. There are online tools like Google Keyword Planner and Keyword Generator that can help with the process. Place the keywords on your product names, descriptions, tags, and image alt texts.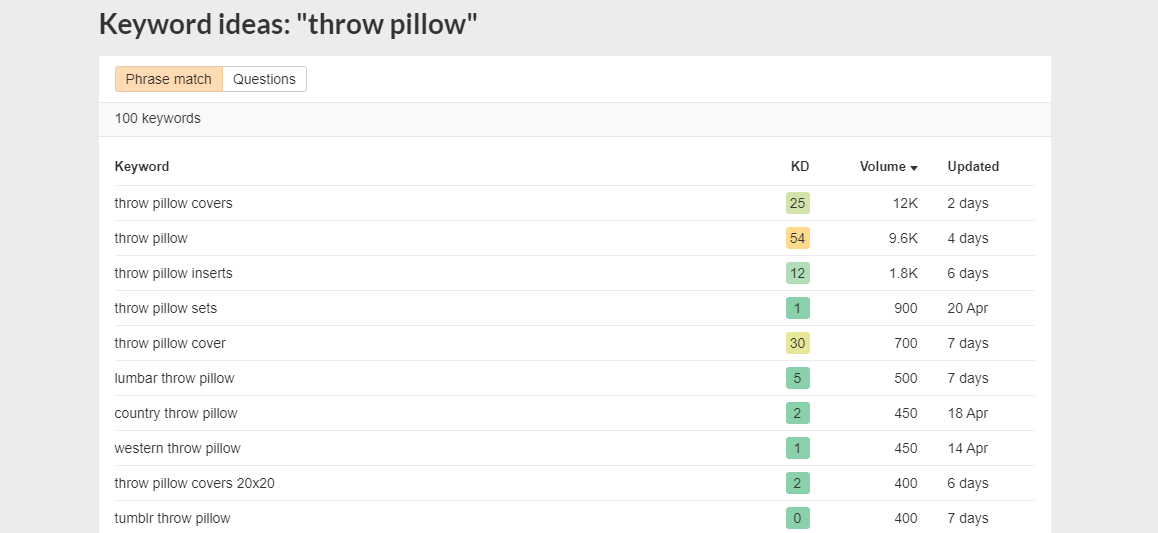 Do content marketing. Start with creating a blog page. Writing niche-related content and articles surrounding your business will boost the site's SEO and traffic.
If you don't have new products, upload blog posts. It'll keep your website active and updated.
Use the email list for email marketing. Regularly send marketing emails to your subscribers about new products, content, events, and discount offers. Not only can it boost your site's traffic, but also turn your subscribers into customers.
If you have the budget, invest in advertising. Display product advertisements through Google Ads and Facebook Ads. You will get a wider reach and higher conversion rates.
Use influencer marketing. Approach experts in your niche who have a dedicated social profile with lots of followers and propose a deal to promote one another.
Look for other ways to promote your website. For example, look through Reddit or Facebook groups to find people discussing topics related to your dropshipping business. Keep in mind to check the group rules to see if promotions are allowed.
eCommerce Website vs Selling Platform
You can manage a dropshipping business on your website or a marketplace. However, which one is better? These two methods have their own pros and cons, so the choice depends on your needs and budget.
A great thing about managing your own online store is having complete control over your business and creative freedom in building and designing it.
There's no need to worry about additional expenses, like selling or listing fees. Plus, you set your own profit margins.
Unlike marketplaces, you won't experience any direct competition from other sellers.
The downside of your own site is it takes time to set it up. Also, you have to pay for a domain name and web hosting services.
Moreover, you'll begin entirely from scratch. You'll need to invest a great amount of time and effort to come up with SEO and marketing strategies to attract customers. It will also take some time for the website to rank on search engines.
Unless you have a dedicated team, you'll be fully hands-on in managing the website as well. You'll need to run software updates, take care of site security, and make regular website backups.
On the other hand, setting up a shop on online marketplaces is relatively easy and quick. It won't cost you a lot of money to sign up as well.
Another advantage of eCommerce platforms is that they already have a tremendous amount of traffic. They've also established customer loyalty and trust. Hence, there's a chance your business will make a significant amount of profit.
However, keep in mind that marketplaces charge selling and listing fees. There's also limited control over your brand and no creative freedom.
Furthermore, people can choose from a lot of products. Hence, the competition among sellers under similar niches is high.
Below is the list of the most popular eCommerce websites available:
Amazon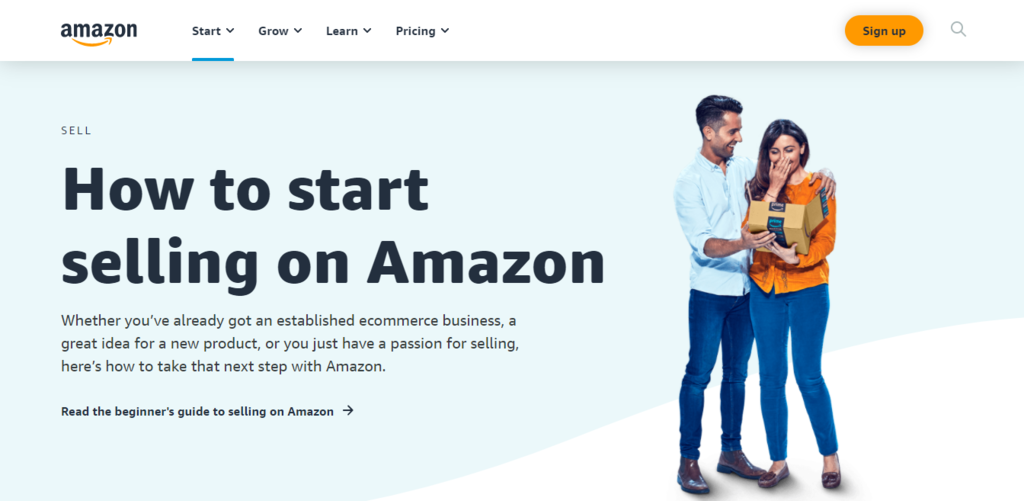 Amazon is the largest and most well-known marketplace with more than 150 million Prime members worldwide.
This online retail platform operates as an open market so that anyone can sell and buy an extensive range of products, such as books, electronics, fashion items, and personal care.
Amazon has established a very high number of loyal users, and its traffic continues to grow. You won't need to worry about people not discovering your products.
Other than that, it's relatively easy to set up shop on the platform. Simply create an individual seller account with your email address, and start listing your products. There's no need to worry about the layout and design of the store.
With Amazon, your dropshipping business can go global as the platform has reached out to over 200 countries and territories.
However, despite its advantages, selling on the platform has its downsides. You'll be competing with the Amazon brand itself. Also, since most niches are saturated, it'll be hard to differentiate yourself from other brands.
There's no guarantee you'll be making sales straight away. Plus, for every item sold, Amazon will charge you $0.99.
Hence, Amazon is best for dropshippers who sell unique products with a high enough margin.
eBay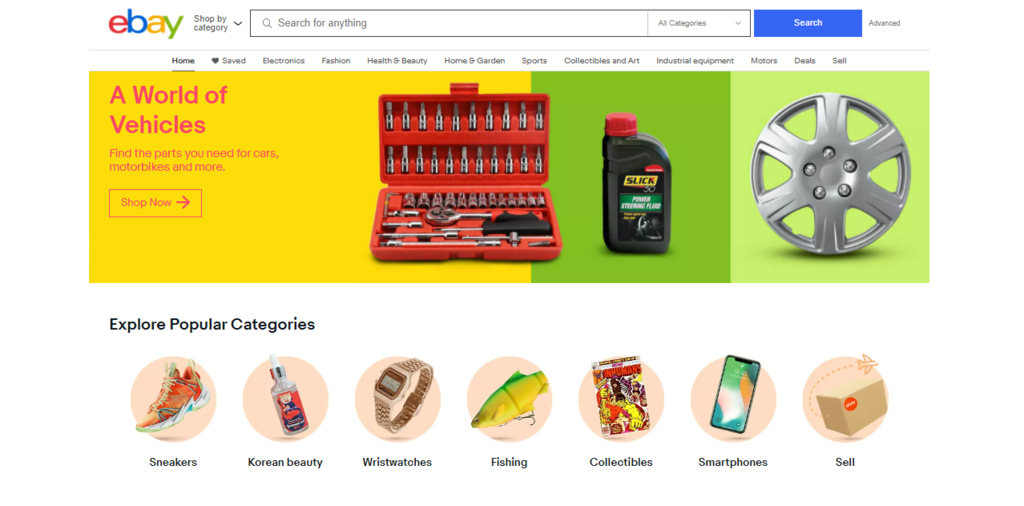 eBay is a popular marketplace where people can trade any type of product. The platform implements consumer-to-consumer sales and the auction system.
So when you list an item, specify its price, and buyers will place bids on it. When the listing ends, the one with the highest bid wins.
There's also the Buy It Now system, where the first person willing to pay the seller's price will automatically get the item.
Setting up shop on the platform is free and takes only a couple of minutes. Having 187 million buyers globally, you will have access to a lot of potential customers.
You won't be competing with the eBay brand since the platform doesn't sell its own products. Plus, with the auction system, sellers can get a higher price for an item.
However, eBay charges listing and sales fees. The value depends on what kind of product you're selling.
Moreover, you have limited control over listings, and there's a chance it can get canceled. Competition among sellers is high, and you'll find bargain buyers across the platform.
Thus, eBay is a good platform for selling collectibles and rare merchandise.
Etsy
If you're looking for an eCommerce platform that focuses on handmade goods and crafts, then Etsy is worth checking out.
The platform is user-friendly, making it easy to set up and manage. Furthermore, there's built-in analytics to track your sales and engagements.
Etsy has over 81 million active buyers, so you'll get a large audience from the start who'll see your dropshipping business.
You'll find the community is very supportive. The Etsy forum page is packed with helpful information if you need assistance using the platform.
However, selling on Etsy can be pricey. The platform charges $0.20 for every listed item, including a 5% transaction fee. There are also fees for shipping, payment processing, and currency conversion.
What is more, you will face a lot of competition since the market has become saturated. Furthermore, it's essential to follow Etsy's Seller Policy and Reselling Policy if you don't want them to ban your account.
Therefore, Etsy is ideal if you sell unique local handmade and vintage items.
AliExpress
AliExpress is another online retail platform similar to Amazon and eBay.
Creating a business account is free, but registering requires you to submit fiscal, legal, and other documents that support the authenticity of your business.
Selling on AliExpress costs less than other eCommerce platforms on this list as there are no monthly or listing expenses.
AliExpress has more than 150 million active buyers and is available in 220 countries and regions. It also supports 38 payment gateways, making it easier to sell internationally.
Other than that, AliExpress doesn't sell its own products. So you won't have to compete with the brand.
The downside of the platform is that there's a 5% to 8% transaction fee, depending on the product type.
Since AliExpress is well known for very affordable goods, there's also high competition between sellers regarding pricing.
Moreover, the shipping takes around three to four weeks. The refund and return process can be problematic as well.
AliExpress is fit for selling low to medium quality and affordable goods.
Why Start a Dropshipping Business?
Despite the challenges, being a dropshipper is one of the most lucrative ways to make money online. To begin with, a dropshipping business model is easy to set up. You can set everything up and start selling online within a day, even hours.
It doesn't require a lot of investment. Since you won't be holding any inventory, there are no upfront purchases. No warehouse storage is needed, and no worries about packaging and shipping costs either.
Dropshipping is flexible. You can work from the comfort of your home with only a laptop. Listing new products can be done anytime and anywhere.
Because you're not carrying inventory, there's a low risk of unsold items. Take that as an opportunity to sell a variety of products. Or, plan out an exciting product range for your store.
There's no rule saying dropshipping is a full-time job. Though it can be, you also have the choice of making it a side hustle. Feel free to make your dropshipping business as big or as small as you want.
Dropshipping is also an easy-to-manage business. All you need to take care of is your online store besides marketing and customer service once you've found trusted suppliers.
You don't need prior business experience to manage a dropshipping store or additional team members. Simply have the courage to take the first step and get it going.
Is Dropshipping Profitable in 2021?
According to Grand View Research, the global dropshipping market was valued at $102.2 billion in 2018. By 2025, the growth rate is predicted to increase by 28.8%.
Google Trends shows that dropshipping has a stable worldwide search interest.
Furthermore, the dropshipping trend has been increasing consistently for the last five years.
Dropshipping has little to no manufacturing and shipping costs as they are carried by the supplier. Plus, there are no upfront costs since you don't import products and stock up inventory. What is more, the profit margins can be adjusted to your preferences.
Remember to Check Your Finances
When planning a dropshipping business, make sure to separate personal and business finances to avoid confusion. Plus, it makes accounting much more manageable and cleaner.
Ensure you have all the essential documents to run a dropshipping business. You will need them for any financial help or solving legal disputes in the future.
Here's a checklist of what a retailer should do:
Open a business checking account and credit card. Use them to pay for your business expenses and collect revenue. For income, remember to transfer it to your personal account.
Apply for local licenses and permits. Look into your local laws and regulations to see if you need any legal documents. Usually, it's a general business license, tax permit, and a resale certificate. If you're in the United States, check your Secretary of State's website for more information.
Collect sales tax from customers. In the U.S., you are to collect sales tax from customers living in states where you have sales tax nexus.
Pay tax to suppliers. Check if your dropship supplier also has a sales tax nexus in other states. They may need to collect the sales tax from you as well. If you have a resale certificate, there's a chance that you don't have to pay tax to the supplier. But keep in mind that not all vendors accept it.
By covering the points above, you show that you are serious about your dropshipping business. It can improve the relationship with your suppliers and customers in the long run.
Conclusion
For those looking for an online business opportunity but who have limited experience and budget, starting a dropshipping business is an excellent idea. It doesn't require an inventory and is low-risk work, resulting in fewer costs and expenses.
Starting a dropshipping business is easier than you might think it is. Here's a recap of the steps you need to take:
Pick a business niche. Decide in which industry and category your eCommerce business will revolve around.
Do market analysis. Determine your audience and observe their buying behavior. Make a list of items that people are willing to buy.
Find dropshipping suppliers. Ensure the vendor is legit and fits your criteria, from the product quality and order fulfillment to shipping.
Build an eCommerce website. Register a domain name and choose web hosting. Then, set up an online store using WordPress and WooCommerce.
Advertise your dropshipping business. Attract potential buyers by implementing search engine optimization, content marketing, and advertising.
Overall, don't be afraid to take the leap, and good luck on your dropshipping journey.