How to Buy Hosting From Hostinger: Main Benefits + Plans Comparison
Hostinger offers various web hosting plans to cater to different user needs. Whether this is your first time launching a website or you want to migrate from your current provider, continue reading this article to learn more about how to buy hosting from Hostinger.
This article will break down the process into four simple steps. We will also explain the benefits of purchasing hosting from Hostinger and the best practices after buying it.
Download Guide To Using Hostinger
Why Buy Hosting From Hostinger
There are thousands of web hosting service providers worldwide, which can make choosing a web hosting provider difficult. Hostinger stands out due to its many advantages, including:
24/7 support. Users can contact Hostinger's Customer Success team for help anytime via email or live chat.
High-performance. Hostinger has multiple data centers worldwide and uses LiteSpeed web servers to ensure optimal performance.
Reliability. Hostinger web hosting has a 99.9% uptime guarantee and uses solid-state drive (SSD) storage, which is more durable than traditional hard disk drives.
Free services. Most Hostinger web hosting plans include a free domain, custom email address, and unlimited secure sockets layer (SSL) certificate.
Money-back guarantee. If our hosting plan doesn't fit your needs, you can request a refund within 30 days of the date of the transaction. This feature is available on all Hostinger hosting plans.
How to Buy Hosting From Hostinger in 4 Steps
This section will explain how to buy hosting from Hostinger in four simple steps.
1. Choose the Hosting Plan
Hostinger offers various services for different purposes – from building a personal website to launching an online business. To help you choose a hosting plan, here's an overview of their features and use cases:
Web Hosting
In a web hosting plan, the server hosts multiple websites and divides its resources among them. It is the most affordable option, making it popular for personal use and small to medium-sized businesses.
Hostinger offers Single, Premium, Business, and Cloud Startup web hosting plans starting at RM3.99/month. They differ in resource allocation and features included.
Note that all web hosting and cloud hosting plans come with Hostinger Website Builder. The tool allows you to create your website by customizing pre-made templates or using artificial intelligence. When choosing the latter, you only need to input your brand and site type, then add a business description – our AI tools will generate a website for you in a matter of minutes, giving you a good starting point.
Web hosting features:
Unlimited SSL certificates
50 GB to 200 GB of SSD storage
Bandwidth starting at 100 GB
Weekly or daily automated backups
We recommend the Premium Web Hosting plan for new users as it includes a free domain name and domain-based email addresses.

Cloud Hosting
Cloud server hosting provides users with dedicated resources for optimal website performance. It offers the simplicity of traditional web hosting with the performance level of a virtual private server.
This web hosting type is ideal for resource-intensive web applications or high-traffic websites like large online stores.
Regular web hosting users can upgrade to a cloud plan anytime through our custom control panel, hPanel. We also offer three different plans starting at RM49/month.
Cloud hosting features:
Host up to 300 websites and 100 email accounts
From 200 GB of storage space, 3 GB RAM, and two CPU cores
Unlimited bandwidth and daily backups
Free migration from any web host
Pro Tip
If you want to try a higher-performance plan before committing to an upgrade, we recommend boosting your existing hosting account. Once a month, you can upgrade your plan for 24 hours for free.
CMS Hosting
Content management system (CMS) hosting is similar to regular web hosting, but it comes with adjustments to boost performance and help users set up and manage their CMS website easily.
Hostinger offers web hosting services for the three popular CMS – WordPress, Drupal, and Joomla. Each of them has multiple plans with different prices and features.
CMS hosting features
Easy CMS installation through our auto-installer
Free SSL certificates
Weekly or daily backups
50 GB to 200 GB of SSD storage
Unlimited bandwidth on higher-tier plans

VPS Hosting
Virtual private server hosting (VPS) provides users full access to dedicated resources from a virtual server's partition. It offers the highest hosting performance, flexibility, and customizability.
However, managing a VPS is more difficult than web or cloud hosting as it requires technical expertise. Therefore, we don't recommend VPS for beginners.
Hostinger offers four VPS plans with different server resource allocations, starting at RM27.99/month.
VPS hosting features:
Up to 8 vCPU cores, 32 GB of RAM, and 400 GB of storage
1 TB to 8 TB of bandwidth per month
Dedicated IP address
Server snapshot and weekly backups


2. Select the Hosting Period
After choosing a plan, select your hosting period. At Hostinger, we offer 1, 12, 24, and 48-month subscriptions – all with a 30-day money-back guarantee. Choosing the longer periods will help reduce your website hosting costs, as we offer a bigger discount.
To pick a hosting period, follow these steps:
Open the Hostinger homepage and click Hosting on the top menu. Then, select your desired hosting type from the drop-down menu.
Click Add to Cart next to the desired plan.
On the checkout page, select your preferred hosting period.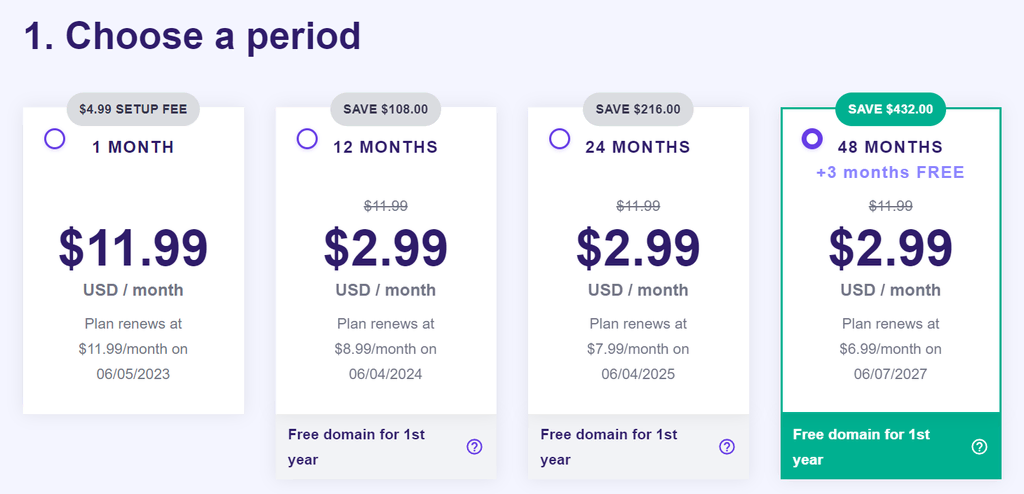 Users can change their billing cycle anytime through hPanel. If you upgrade your Hostinger plans, we will convert your investment and add the remaining subscription length to the new plan.
3. Enter Account Information
Once you choose the subscription length, enter your account information. If you already have an account, click Log in and enter the login credentials.

Otherwise, provide an email address or use social login to create a new Hostinger account. Once you log in successfully, the Log Out button will appear on the top right of your screen.
4. Make the Payment
Select your preferred payment method and enter the required information. The available payment methods and currencies varies depending on your region, but generally, we accept the following:
Debit, prepaid, and credit cards
eWallets
Cryptocurrencies and more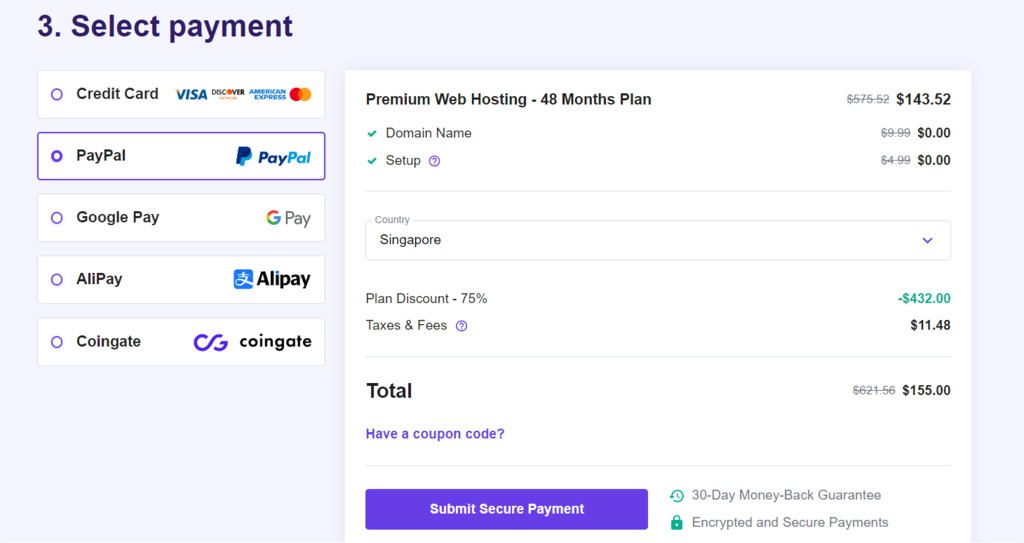 After double-checking the payment information, click Submit Secure Payment to proceed.
Once you complete the purchase, the Set New Password pop-up window will appear. Enter your password and click Confirm to finish the process. Note this is not necessary when you use social login.
What to Do After You Buy Hosting From Hostinger
After you buy a hosting plan from Hostinger, configure your account. To do so, open hPanel and click the profile icon on the top right corner of your screen → Account Information.

Enter your phone number, company profile, and additional information. You can also enable two-factor authentication (2FA), account sharing, and social logins.
What to Do After Learning How to Buy Hosting From Hostinger
For new users, we have a tutorial on how to use Hostinger to teach you more about our control panel, services, and features.
After setting up your account, migrate your existing site or create a new one. Before proceeding, claim your free domain name if you've chosen a plan that includes it. Then, follow these steps:
On the top menu, click Websites.

Select Create or migrate a website.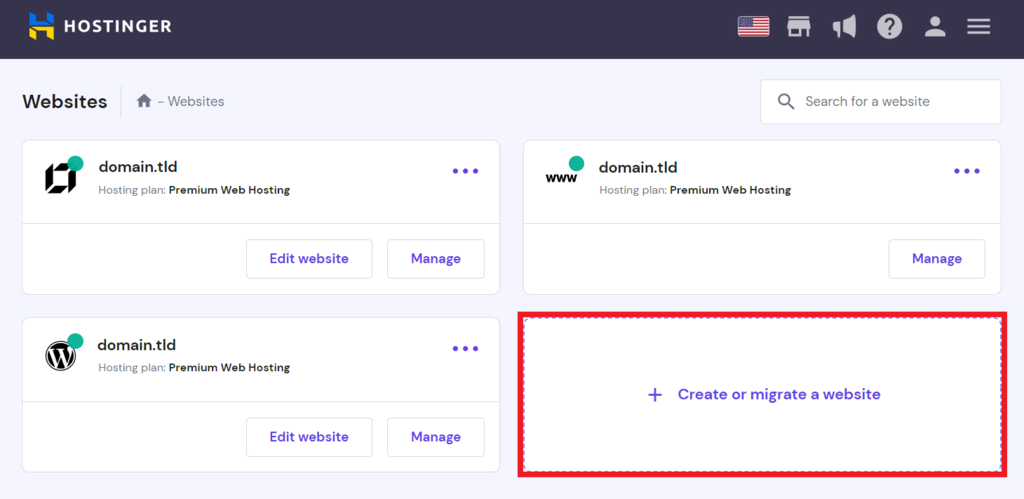 From the dropdown menu, select the plan you want to add your website to. Click Select Plan to confirm.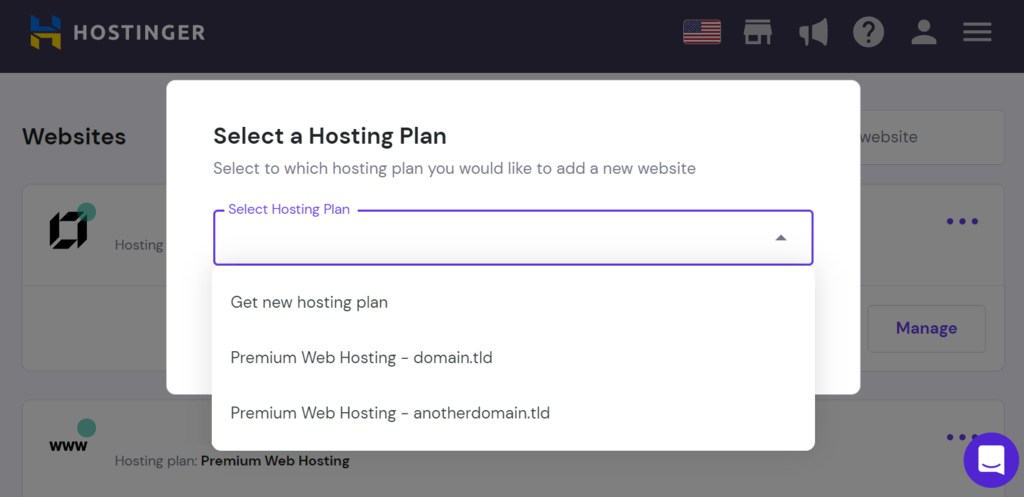 In the website creation screen, click Start Now.
Choose whether you want to migrate or create a website. For this tutorial, we will choose the latter.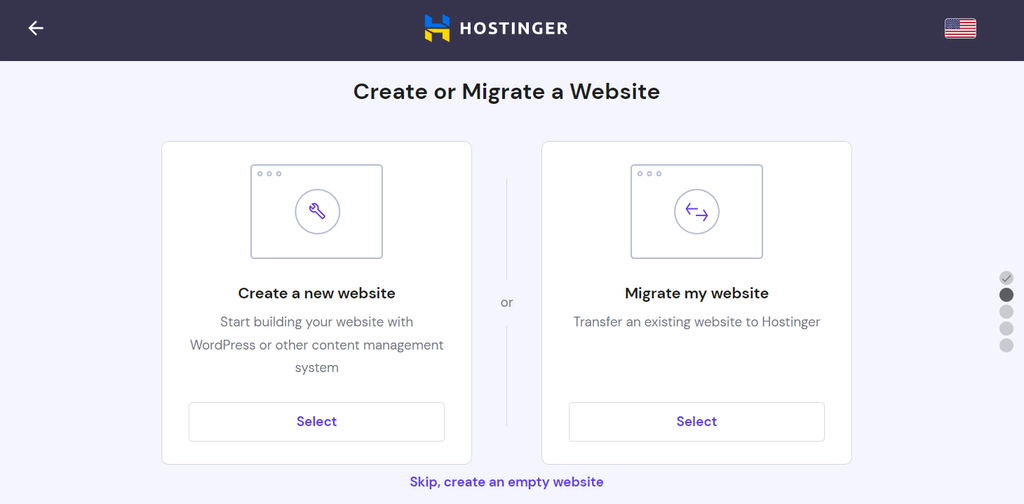 Select your desired platform. For beginners, we recommend Hostinger Website Builder as it is easier to learn and set up.
Select Use an Existing Domain, enter your domain name, and click Continue. If you don't have a domain name yet, select Choose a domain later to skip this step.
Wait until the site generation process finishes, and start customizing it. Check our tutorial to learn how to use Hostinger Website Builder and its features.
Conclusion
Hostinger is a web hosting service provider offering reliable and high-performance plans. We also offer excellent value for money, as all our plans come with free SSL certificates, 24/7 customer support, and an email account.
In this article, we have explained how to buy hosting from Hostinger in four simple steps:
Choose your hosting plan. Pick between web, cloud, VPS, and CMS hosting. Ensure to select one that fits your site needs and budget.
Select the hosting period. Choose between 1, 12, 24, or 48 months subscription. The longer it is, the cheaper the monthly fee.
Enter your account information. Log in to your existing account or enter your email address to create a new one. Alternatively, use your Facebook or Google account social login.
Make the payment. Choose your preferred payment method and enter the required information. Then, click the submit payment button to finish the process.
After purchasing a plan, log in to hPanel and configure your account, like enabling 2FA and changing its password. Then, migrate your existing site or create a new one with our builder platform.
How to Buy Hosting From Hostinger FAQ
This section will answer several questions on how to buy hosting from Hostinger.
Is Hostinger Good for Web Hosting?
Hostinger is good for web hosting for its reliable and high-performance servers. We offer premium services with a 99.9% uptime guarantee starting at RM49/month.

Read Hostinger reviews to learn more about customers' experience with our services. 
Can I Change My Hostinger Hosting Plan?
Yes, you can upgrade your hosting plan anytime through hPanel. However, you must contact our Customer Success team to request a downgrade.

When switching to a cloud or WordPress hosting package, your data will be transferred automatically to the new plan. If you switch to VPS, you must migrate the site files manually.
Does Hostinger Offer a Free Domain Name With Its Hosting Plans?
Yes, Hostinger's web, cloud, and WordPress hosting plans offer a free domain name in their 12-month and longer subscriptions.