How to Fix WordPress White Screen of Death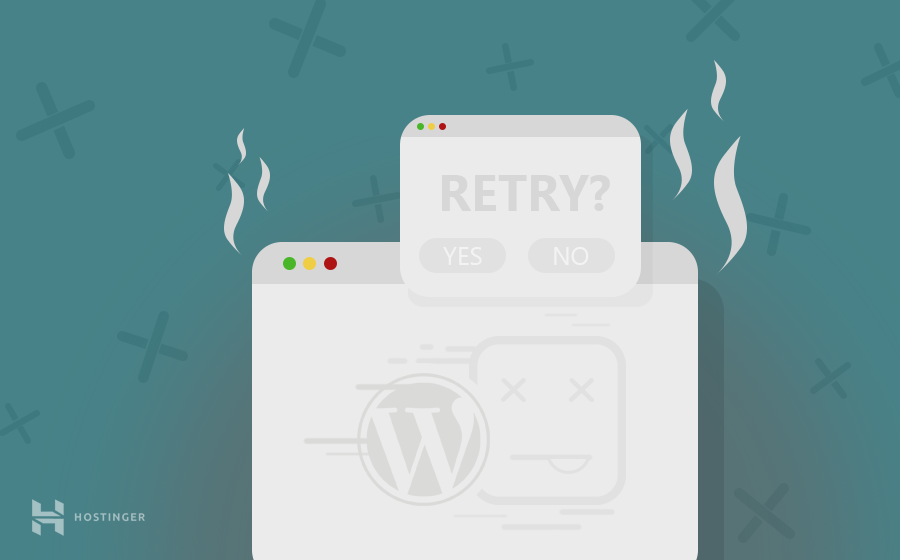 Are you experiencing a WordPress white screen error and wondering why your website is only showing a blank page? Don't worry, as we've all been there. Read below to find out the reasons behind this particular issue and the various ways to fix it.
Let's get started.
Why Do You Get WordPress White Screen of Death?
WordPress white screen error can cripple your whole website or parts of it. Everything may seem to be working fine, but then you get this error on a specific post, a page, or even more than one page.
Here are the possible reasons the error occur:
Exhausted memory – lack of available memory due to your PHP scripts' excessive memory consumption.
Plugin and theme incompatibility – one or some of your plugins may not work seamlessly with your current theme.
Corrupted plugin or theme – you've installed a poorly coded plugin or theme that breaks down as you update your WordPress files.
Server-side issues – there are certain issues with your web hosting server, such as limited memory allocation, network connectivity, etc.
Whichever the cause, the error can be easily fixed with a bit of troubleshooting.
Ways to Fix the WordPress White Screen of Death Issue
Tackling the issue may seem troublesome at first, but it's relatively simple to fix. You will only need to access the File Manager or phpMyAdmin on your hPanel.
Method 1. Increasing WordPress Memory Limit
Insufficient memory might be one of the possible issues behind the white screen. So in order to fix this, you'll need to:
Press File Manager and look for the wp-config.php file within the public_html folder.
Right-click on the file, then select Edit.

Right before the line that says /* That's all, stop editing! Happy blogging. */, add the following function:

define('WP_MEMORY_LIMIT','64m');

Save & Close the file.
Reload your website, and see if this has fixed the WordPress white screen error.
It's also possible that your hosting provider sets a low PHP memory limit on the server-side. You can check this using the phpinfo() function.
Method 2. Checking Plugins
If boosting the memory limit didn't help, you probably already have a high memory limit. It is then better to check your plugins.
To detect any possible plugin issues, you'll need to disable all the plugins at once instead of doing it one by one.
Follow these steps to do so:
Navigate to public_html -> wp-content.
Right-click on the plugins folder and rename it to something different — for example, plugins-disabled.


This is to trick WordPress that the plugins folder does not exist. So, it will not load plugins on your website.

Reload your website.
If the problem is solved, it's clear that the WordPress white screen of death is the result of a problematic plugin.
To identify which plugin that's causing the issue, perform these steps:
Rename the plugins folder back to plugins and access it.
Now deactivate the plugins one by one by renaming their folders.

After each rename, check whether or not your website is working normally.


Alternatively, if you can access your WordPress admin area, deactivate and activate the plugins from the Plugins -> Installed Plugins section.

Once you know which plugin is causing the issue, delete its folder. You can also try to reinstall or replace the plugin.
Method 3. Checking Themes
If the previous methods still yield no result, the WordPress white screen issue might be due to a broken or incompatible theme. Confirm it by switching your website's theme to the default Twenty Seventeen theme.
To do so, follow the steps below:
Access your hPanel and head over phpMyAdmin -> EnterphpMyAdmin.

Click on the wp_options table and find the template and stylesheet values.


Tick the Show all option to show all of the rows.

You should see your current theme name on the option_value column. Double-tap on the name, and change it to twentyseventeen.


This will forcibly disable your current theme and switch your website to the latest default theme.

Now, reload your site.
If the error disappears, then the main problem is your theme. Use a different one, or try to re-install the corrupted theme.
Method 4. Checking WordPress Error Logs
If nothing seems to fix the issue, it is time to check the WordPress error logs. Do so with the help of the WordPress debug function. Perform the following steps to activate it:
Access the wp-config.php file within the public_html folder.
Add the following code right before the /* That's all, stop editing! Happy blogging. */ line.

define('WP_DEBUG', true);

If you've got a WP_DEBUG line within your wp-config.php file, change the value from false to true.

Save and Close the file.
When you reload your site, the WordPress white screen of death will showcase warnings, errors, and notices. These will help you determine the primary cause behind the issue.
Now, all you need to do is solve the problems by following the instructions shown on your screen.
Conclusion
WordPress white screen of death error can be irritating as your site will not show its actual content. The issue is usually caused by memory exhaustion, plugin and theme incompatibility, corrupted files, or server-side issues.
Here are the methods that you can try to solve the error:
Increasing WordPress Memory Limit
Checking Corrupted Plugins
Inspecting Incompatible Themes
Determining WordPress Error Logs
Turn's out that the error is relatively easy to tackle. By following the tutorial, the error will disappear in no time. Good luck!