29 Best Free WordPress Blog Themes
Blogging has become an effective solution in digital marketing strategies for businesses all around the world.
When it comes to blogging platforms, WordPress remains one of the most popular options available. It provides access to thousands of free blog themes and plugins to help build your blog quickly and efficiently.
However, with around 70 million posts being published on WordPress each month, setting yourself apart in such a saturated market can be difficult.
Choosing the proper theme is crucial to highlight your content and give your website a more professional look. To avoid feeling overwhelmed, you can start analyzing design possibilities by exploring free WordPress blog themes.

Characteristics of Great WordPress Themes
A theme plays an essential role in building a WordPress website. It defines your site's appearance and usability. However, with countless free WordPress themes available, choosing the perfect one for your website can get overwhelming.
This article provides a list of the best free themes to help you get started. Before we delve into it, it is important to understand the characteristics of a great blog theme.
Mobile-friendly. More than 50% of website traffic comes from mobile devices. Thus, having a responsive, mobile-friendly theme is crucial. A mobile-friendly theme will automatically scale to fit different screens by resizing the website content. It allows visitors to have an optimal user experience across multiple devices.
SEO-optimized. A WordPress theme has a significant role when it comes to website rankings. It can affect several factors, such as your site speed, content structure, and usability. That said, to improve your site's SEO, make sure to install a fast WordPress theme, is cross-browser compatible, and supports SEO plugins.
Flexible customization options. The best WordPress theme will offer a variety of customization options to make your site unique. Most themes allow you to modify and add functionality without any coding knowledge. Others even provide pre-built demo sites that you can import into WordPress.
Easy to use and navigate. Your WordPress theme should not only be simple to navigate from the front-end, but its back-end should also be easy to use. In other words, everything from installing and setting up the theme to altering and configuring the elements should be hassle-free.


29 Best Free WordPress Blog Themes
Here's our hand-picked list of some of the best free WordPress blog themes you can start using today.
Theme Stats
Downloads: 1,000,000+
Rating: 5 / 5
Notable Features: Lightweight, compatible with several page builders, offers various starter sites
Astra is a highly customizable WordPress theme, compatible with popular WordPress page builders such as Elementor and Divi. Besides that, it is a performance-focused theme.
Astra only requires 50 KB of resources, considerably less than most WordPress blog themes, allowing it to load within only half a second.
Thanks to its flexibility, Astra will suit any type of website, such as a lifestyle, business, or personal blog.
Astra has a wide variety of starter sites to choose from. It also gives the option to filter out the starter sites based on your preferred page builder plugin. Once you find the page templates you like, importing them to your site is only one click away.
Besides that, Astra also has developer-friendly features, including hooks and filters to allow developers to extend its functionality.
Furthermore, if you want to convert your site into a fully responsive online store, Astra has you covered with its seamless integration with WooCommerce.
Theme Stats
Downloads: 9,000+
Rating: 4.9 / 5
Notable Features: Stylish design, social media integration, translation-ready
Olsen Light has a minimalist design and a full-width header that quickly grabs visitors' attention. This theme is a great option for blogging sites focusing on specific niches such as photography, food, fashion, or lifestyle.
This simple WordPress blog theme features several social media features, including sharing options for 15 social networks. There is also an Instagram integration feature that displays your Instagram posts in an interactive slider.
Olsen Light uses the WordPress built-in customizer to let you easily tweak the site's appearance, from choosing the color scheme and background image to coming up with a logo and a site favicon.
It also provides three custom widgets to display the author profile, latest posts, and social media icons, making your site's overall design more appealing.
Additionally, this theme is translation ready and compatible with WordPress most popular plugins such as Yoast SEO, WPML, and WPForms to enhance your site functionality.
Theme Stats
Downloads: 2,000+
Rating: 4 / 5
Notable Features: Newsletter integration, SEO-friendly, live customizer
Hello Fashion is a WordPress blog theme for fashion, beauty, and lifestyle blogs that comes with several customization options to help build your brand's identity.
The theme design focuses on highlighting your website's visual elements to capture the visitors' attention. It includes an image carousel, with controls for the loop, captions, and transition effects.
With this theme, you can also choose a header style and homepage layout. These features allow you to get creative and decide how you want to showcase your content.
In addition to its visually-appealing design, the Hello Fashion theme also provides 22 easy-to-add custom widgets to include features such as popular posts, email newsletters, and a contact form.
Theme Stats
Downloads: 700,000+
Rating: 5 / 5
Notable Features: Responsive design, in-depth customization options, numerous extensions
OceanWP is a multipurpose WordPress theme that works great for blogs, portfolio sites, and online stores. It incorporates a full-width header image on the homepage, perfect for displaying a featured story or highlighting a product.
With the WordPress Customizer, you can easily modify the theme. It is possible to control your blog's general layout and adjust the header padding to fit different screen sizes. In addition to that, this is a fully responsive theme.
If you want to use a page builder to design your site, OceanWP works well with Brizy, Thrive Architect, and Divi. This WordPress theme also offers a variety of free extensions to improve the site's functionality.
Furthermore, if you want to start a business on your blogging site, OceanWP provides eCommerce built-in features. They include options to customize the number of up-sells, cross-sells, and the checkout page.
Theme Stats
Downloads: 50,000+
Rating: 4.5 / 5
Notable Features: Multiple layout options, Retina-ready, responsive design
Hueman is a free WordPress blogging and magazine theme that not only has a modern design but is also flexible and easy-to-use. This theme comes with a grid layout that works well for a content-rich website.
Its multiple customization options allow you to choose how to display content on your website. You can set a full-width layout or use up to two sidebars on each side.
Besides, Hueman doesn't limit the number of widget sidebars on your site. You're free to add a widget area to a specific page, post, or section, including a full-width header that works great to display an advertisement banner.
This theme also offers flexible design and color options, allowing you to choose primary and secondary accent colors, as well as setting a topbar, footer, and header image.
Guaranteed to be Retina-ready and fully responsive, Hueman can easily scale down from a full-HD resolution to properly fit mobile screens. On top of that, this blog theme supports ten WordPress post formats, allowing you to display content in several ways.
Theme Stats
Downloads: 10,000+
Rating: 5 / 5
Notable Features: Header and footer builder, compatible with Gutenberg WordPress editor, a one-click demo importer
As the name suggests, Blocksy was designed to be compatible with the WordPress block editor Gutenberg. It also functions well with other page builders such as Beaver Builder, Brizy, and Elementor.
Its main attraction is the header and footer builder, where you can simply drag and drop components. With nine header elements available, you can create navigation menus according to your blog needs.
This WordPress theme also provides an option to add a sticky navigation bar and a mobile header to provide better usability across several devices. Moreover, Blocksy allows you to import posts, widgets, and starter sites with one click.
Currently, Blocksy offers six different demo versions for blogs, charities, and businesses. The starter site made specifically for blogs features a clean design and efficient use of white space to improve readability.
Theme Stats
Downloads: 1,000+
Rating: 4.3 / 5
Notable Features: Featured content, mobile-friendly design, support forum
Zubin is another free WordPress blog theme that enhances the visual elements of your site. It has a slideshow that allows you to display images of featured posts and add descriptions for them.
Because of its versatile design and flexible customization options, this free blog theme suits several niches, such as business, photography, and wedding sites.
Moreover, its responsive design automatically adapts to different screen sizes, making your site look consistent across devices.
Despite being free, Zubin provides reliable support via a forum where users can simply post a query if they ever come across a technical issue.
Additionally, if you need help, the company responsible for Zubin has a partnership with Codeable. You can hire their services to customize or implement advanced features on your website.
Theme Stats
Downloads: 1,000+
Rating: 4 / 5
Notable Features: Featured content, multiple theme options, testimonials
Catch Revolution has a striking design with a featured image layout that best suits photography and travel blogs. It offers various fonts that you can apply in different site sections, such as the site title, headline, and content body.
In addition to that, this stylish WordPress theme is fully responsive, keeping the design quality in different devices. It also has a featured content option where you can display your best or recent posts, along with their titles and meta descriptions, on the homepage or the entire site.
Furthermore, it provides a testimonial section that you can use to include comments from your audience or clients.
Theme Stats
Downloads: 3,000+
Rating: 5 / 5
Notable Features: Gutenberg-ready, flexible design options, easy to use
Zita Storefront is another free WordPress theme that provides flexible options to fit different purposes such as business blogs, eCommerce, or blogging sites.
Besides being compatible with popular page builders, this theme also provides a live customizer that doesn't require coding knowledge. If you prefer to use Gutenberg WordPress editor, Zita is the right choice.
The Blog and Archives feature allows you to modify the blog page layout, changing the columns and choosing which elements to include.
Zita also provides eight layout options for both header and footer, giving you flexibility when designing your site. Additionally, the theme offers free customizable demo sites so you can create your WordPress website even quicker.
Theme Stats
Downloads: 200,000+
Rating: 4.6 / 5
Notable Features: Fast loading time, 80+ pre-built websites, drag-and-drop feature
The next free WordPress theme on the list is Neve, a beginner-friendly solution ideal for eCommerce and corporate blogs.
Besides a growing collection of ready-to-import websites, Neve is compatible with the Gutenberg editor and several page builder plugins to help you customize your site.
You can arrange your blog and archive pages by simply dragging and dropping elements as you wish. The same goes for designing your header and footer.
However, what makes this clean WordPress blog theme stand out is its focus on speed and efficiency. Its total install is only 28 KB, and it can load as fast as 0.6 seconds on a default install.
In addition to that, this theme supports Accelerated Mobile Pages (AMP) to optimize the user experience on mobile devices.
Theme Stats
Downloads: 20,000+
Rating: 4.5 / 5
Notable Features: Clean design, easy navigation, parallax scrolling
Hemingway comes with a full-width header image and a clean two-column layout. This theme offers a minimalist design and puts your content in the center for optimal readability, making it a good option for text-heavy blogs.
With its simple theme options and quick setup, Hemingway is an easy-to-use option for beginners. However, it doesn't mean this free WordPress blog theme offers limited customization.
Instead, Hemingway allows you to change accent colors and add a custom header image to fit your blog style. This blog theme also supports four different post formats to display your content.
One thing to keep in mind is that Hemingway's parallax effect available doesn't always work on mobile browsers. You might need to consider disabling it on the mobile version of your blog.
Theme Stats
Downloads: 4,000+
Rating: 4.8 / 5
Notable Features: Optimized loading time, live customizer, translation ready
GuCherry Blog is another free WordPress blog theme suitable for such blogging niches as food, travel, beauty, and lifestyle.
The theme was designed to enhance your blog's content with an eye-catching image slider. There is also a hovering effect that highlights the post title as you roll your cursor over it, adding a touch of interactivity to your design.
GuCherry Blog offers an easy way to customize your site with the WordPress Customizer and the Gutenberg editor. There are options to upload a logo, header images and change the font to fit your brand.
Theme Stats
Downloads: 1,000+
Rating: 4 / 5
Notable Features: Mobile-friendly, lightweight, image carousel
As the name implies, The Minimal is a free WordPress blog theme that focuses on improving usability through a clean and minimalistic design. To complement it, this theme incorporates light typography that allows visitors to read your content easily.
The Minimal also provides an interactive slider to showcase your most recent posts along with some featured images. That said, this WordPress theme is a good choice for any type of blogger that focuses on visual content, including art, photography, food, or beauty.
With this blogging theme, you can either opt for a full-width page layout to enhance your visual elements or a sidebar layout for easier navigation. Thanks to its responsiveness, there is no need to worry about how your design looks across devices.
Theme Stats
Downloads: 4,000+
Rating: 4.2 / 5
Notable Features: Masonry grid layout, custom header, hero content
Bold Photography is a free WordPress blogging theme that incorporates a dark color scheme with solid typography in its design. This design not only makes your site stand out but also encourages visitors to explore it.
Blogs that include visual content, especially those related to food, photography, or travel, can take advantage of its full-width header to enhance the site's overall appearance. In addition to that, the masonry layout allows you to display your online portfolio directly on the homepage.
Moreover, Bold Photography offers a color-changing effect to display your content. It turns a monochromatic image back to its original colors as you hover over it, bringing a slight sense of interactivity to the website.
This theme also offers various options to complement its unique design, including featured content, service, and testimonial sections. Besides, you can easily include links to your social media channels in the header.
Theme Stats
Downloads: 6,000+
Rating: 4.9 / 5
Notable Features: Mobile friendly, easy customization, simple navigation
Tracks offers a dynamic approach to displaying your content. It presents recent posts along with short excerpts and featured images.
Because of its versatile design, Tracks can fit any type of website, including photography, lifestyle, and personal blogs. This free WordPress blog theme also has a simple one-column layout and places the content on the page's center, directing readers' focus.
In addition to its simple front-end navigation, Tracks also provides a few theme options. Since the themes include most of the essential elements, you only need to adapt them to fit your blog style.­
Other design modifications include uploading a custom logo, setting navigation menus, adding a site title and a tagline.
Another interesting feature of this theme is the possibility of customizing the footer text. It allows you to add various elements and remove the link to the creator's website, so you can make your blog look more professional and authentic.
Theme Stats
Downloads: 100,000+
Rating: 5 / 5
Notable Features: Custom widget areas, one-click demo importer, compatible with WooCommerce
ColorMag is a magazine-style WordPress theme that presents a variety of posts from different categories in a neat and clean design. It supports different widget styles, giving you a chance to modify the way you want to display each post.
It also allows you to assign different colors to different post categories, keeping your website well-organized. Besides that, ColorMag provides a wide range of customization alternatives, such as uploading a site logo, enabling a sticky menu, and choosing different blog layouts.
This free theme is an ideal solution for magazine-style and news blogs because of its dynamic and flexible design. If you want to monetize your site and sell products or services, you can create a WooCommerce page within your blog.
ColorMag also provides a library of starter sites with multiple templates. Whether your blog talks about technology or business news, you can find a suitable template and import it with just one click.
Theme Stats
Downloads: 4000+
Rating: 4.5 / 5
Notable Features: Newspaper design, widget areas for advertising, WooCommerce integration
Inspired by the New York Times' website, Mission News combines a classic newspaper styled website with a fluid design that adapts itself to fit all devices. It has a three-column layout to display posts from various categories.
This WordPress theme that you can install uses a modular scale for font sizing and keeps 75 characters per line to provide optimal readability. On top of that, this theme offers multiple layout options that you can apply to different pages on your blog.
Mission News also includes seven widget areas, including the sidebars, where you can place ads, helping you monetize your blog. If you want to add an online store to your site, you can easily do so with WooCommerce.
Because of its well-organized, classic design, the Mission News theme is best suited for content-heavy blogs, such as magazines or news sites.
Theme Stats
Downloads: 10,000+
Rating: 4.3 / 5
Notable Features: Jetpack support, two-column layout, focus on readability
Lovecraft is an excellent option for travel, lifestyle, or personal blog. It pays close attention to the site readability, incorporating a neutral background color with serif fonts.
This free WordPress blog theme features clean navigation, including a dropdown menu option and a full-width header image.
Although Lovecraft comes with a default two-column layout, you can choose to remove the sidebar and display your content in full-width. This template works great for long-form articles as it keeps the readers focused.
You can personalize the design by uploading your brand logo and changing the accent color. There are also four widget areas and three custom widgets to add more functionalities to your site.
Furthermore, this free blog theme has built-in support for Jetpack's Infinite Scroll, allowing new posts to be loaded as soon as the readers reach the bottom of your page. With this functionality, it's possible to build better engagement by keeping the readers more engaged with your content.
Theme Stats
Downloads: 50,000+
Rating: 4.4 / 5
Notable Features: Optimized for SEO, post-slider, promo boxes
If you're looking for a lightweight, free blog theme with plenty of features and customization options, then Ashe might be the one for you. This multi-author WordPress theme allows you to display a full-width header image and include an interactive slider to display featured posts.
There are various layout styles that you can apply to different sections of your personal blog, including full-screen slider, boxed, left sidebar, and list layout. This theme can easily suit different blog niches, such as fashion, travel, food, and photography, because of its flexibility.
When it comes to placing advertisements or highlighting popular posts, Ashe makes it easy with its "promo boxes" feature. There is also a default shop page that you can customize and turn into a functional online store with its WooCommerce integration.
Ashe is also compatible with several WordPress SEO plugins and includes RTL support.
Theme Stats
Downloads: 600+
Rating: 4.2 / 5
Notable Features: Off-canvas sidebar, logo and title customization, dedicated support
Minimal Blocks displays your content in a masonry layout with a featured post slider on the homepage. It allows you to display numerous blog posts while optimizing space, making this theme a good choice for content-heavy blogs.
Instead of using a traditional header menu, this lightweight WordPress theme uses an off-canvas sidebar accessible by clicking on the "hamburger" button on the page's top-left side.
You can include different post categories, pages or even promote your online shop. This feature helps you direct your visitors to the most critical sections of your blog.
Minimal Blocks allows you to customize the background color and make the design uniquely yours. You can also add multiple post formats and choose layout options for your pages.
Thanks to its WooCommerce compatibility, you can add eCommerce features to your blogging site and easily build a functional online store. Moreover, this theme includes detailed documentation along with tutorial videos to help get your blog up and running.
Theme Stats
Downloads: 20,000+
Rating: 4.5 / 5
Notable Features: Spacious layout, clean typography, image slideshow
Poseidon is another theme that suits different types of blogs, from personal to travel sites. The Magazine Posts widgets available on Poseidon allow you to create a magazine-style homepage, displaying various post categories.
This free theme also comes with a full-screen post slideshow to highlight your most important content. You can customize it by setting the number of posts, speed, and animation effects.
It is also possible to modify the way you display posts and the author's description and decide how to include related posts.
As for layout options, the theme offers five different styles, including featured image header, full-width, and different sidebar templates.
Theme Stats
Downloads: 5,000+
Rating: 4.2 / 5
Notable Features: WooCommerce integration, CSS editor, custom widgets
Unwind uses a strictly reviewed, high-quality code to make your site load faster and boost your ranking on search engine results.
This free WordPress blog theme was designed to work seamlessly with the Page Builder plugin, allowing you to customize the blog website fully. It enables you to build custom page layouts for your Home, Contact, and About Us pages.
With neat typography and an integrated post slider, Unwind provides an enjoyable reading experience and ensures that visitors focus on your content. This theme also gives you four headers and several blog layouts, allowing you to create a unique design.
Furthermore, Unwind also offers Jetpack Portfolio support so that you can showcase your skills and include projects on your blog. This is an excellent feature for travel, photography, and food blogs.
If you plan on selling services or products on your blog, this theme also provides various elements to integrate your site to WooCommerce.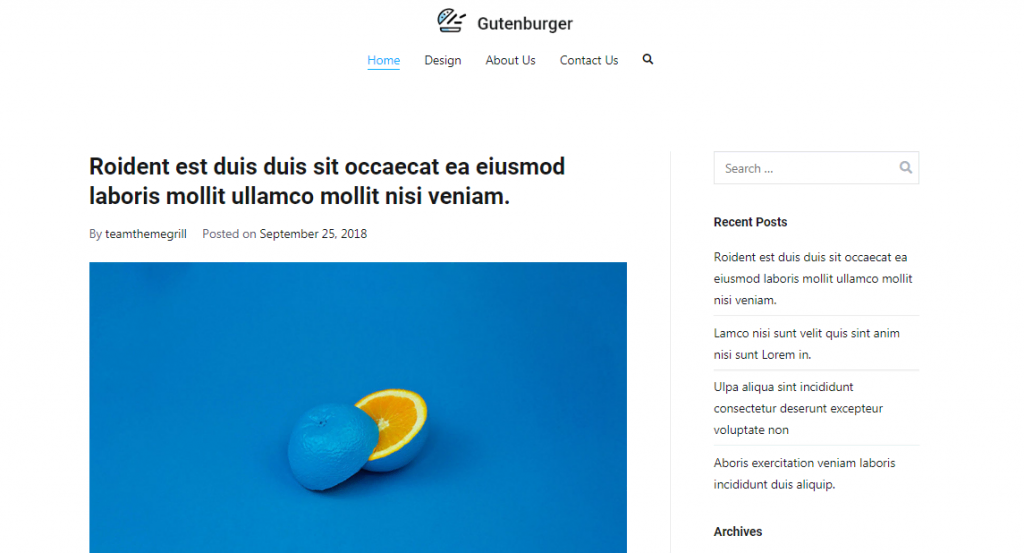 Theme Stats
Downloads: 50,000+
Rating: 5 / 5
Notable Features: Easy customization, lightweight, fast performance
Zakra is a multipurpose WordPress theme offering a wide array of features, including responsive design, advanced typography, and multilingual support. It provides more than 50 pre-made demo sites to help you build unique websites no matter your subject.
You can also adjust this theme to fit any blog niche. To make your work easier, Zakra comes fully integrated with the Gutenberg editor and the page builder Elementor.
Some of its customization features include changing the font size and the line height and choosing between three header styles and layout options. You can also set a primary color so that links, menus, and buttons on your blog will reflect your brand style.
Zakra also boasts fast loading times, which showed excellent results in multiple speed tests. Furthermore, Zakra follows the best SEO practices and supports popular SEO plugins to boost your site's ranking.
Theme Stats
Downloads: 10,000+
Rating: 4.3 / 5
Notable Features: 600+ Google fonts, breadcrumb navigation, custom WordPress favicon
Writee, as the name suggests, is a lightweight WordPress theme designed for bloggers and writers. The theme combines white space with bold typography to direct the visitor's attention to your content.
You can customize various elements of the theme's design, from selecting colors and backgrounds to uploading your custom logo and favicon files. Furthermore, with just one click, you can import a collection of layout templates such as boxed, no sidebar, and grid layout.
It also supports various post types, from gallery to video, making it easier for you to diversify your content.
Besides that, Writee allows its users to enable WordPress breadcrumbs on their blog. You can also select from a library of more than 600 Google Fonts, add social widgets, and set pagination options.
Theme Stats
Downloads: 2,000+
Rating: 4 / 5
Notable Features: Two skins, frontpage banner, WooCommerce integration
Juliet offers elegant aesthetics that work great for personal, beauty, fashion, and food blogs. It comes with two built-in skins – Classic and Contemporary. This WordPress theme has a front page banner set to capture the readers' attention at first glance.
Even though the default theme features a pastel pink color palette, the options include changing the background color and your blog feed layout. You can also change the banner's overlay color along with the default image to make your design unique.
Regardless of the style you choose, its well-organized design manages to keep the readers focused on your content.
If you are looking for eCommerce features, Juliet is fully integrated with WooCommerce, allowing you to have an online store up and running with just a few clicks.
Theme Stats
Downloads: 60,000+
Rating: 5 / 5
Notable Features: Modern design, responsive, one-click demo import
Spacious is another responsive WordPress theme for blogging that suits different niches thanks to its modern and clean design, available in two color skin options, light, and dark.
It provides more than 15 starter sites that you can import with one click. A split-screen layout displays the featured images on one side and the post's title and excerpt on the other, making the design look more dynamic.
If you opt to use the WordPress Customizer, this free theme provides a flexible page layout option that you can easily set up. You can also add a primary color to match your brand logo and include social links to share your content.
Like most of the best free themes on the list, Spacious is also compatible with WooCommerce and multiple popular plugins. Furthermore, it provides extensive documentation to help you get started.
Theme Stats
Downloads: 3,000+
Rating: 4 / 5
Notable Features: Fluid layout, multi-language, focus on content
If you are a blogger searching for a classic and vintage look, Verbosa is the best theme for your site. It has a fluid layout that adjusts each element on the site to fit various screen sizes, keeping the design consistent.
The efficient use of white space, contrast, and typography allow your content to be well-organized and easy to read. For those running photography, writing, or a personal blog, Verbosa is an excellent option.
Verbosa incorporates a banner image with a call-to-action button, a sticky sidebar that serves as a widget area, and provides convenient navigation. If you prefer to display your post in full screen, Verbosa gives you the option to do just that.
It also supports multiple post types, making your content more diverse. In addition to that, Verbosa is a translation-ready theme and allows you to apply more than 700 Google fonts to your blog.
Theme Stats
Downloads: 1,000+
Rating: 4.5 / 5
Notable Features: Retina optimized, widget ready, custom background
Block Lite is an excellent option for photography blogs and online portfolios, as it directs the visitors' attention to the images on your site.
It presents the latest posts in blocks, with an extensive image occupying the header section. The theme also incorporates interactive effects that add a dynamic touch to the blog.
The main selling point of Block Lite is its compatibility with the Gutenberg editor, to give its users more control when it comes to the theme's appearance. Similarly, you can use WordPress Customizer to access the theme options.
Block Lite is also compatible with many widgets, allowing you to create diverse styles for your pages and make your blog look more professional. Some of the interesting ones are the content slideshow, portfolio, and testimonial widgets.
Theme Stats
Downloads: 1,000+
Rating: 4 / 5
Notable Features: Cross-browser compatibility, page layout options, featured slider
BlogBell has a neat, straightforward way of presenting your content on the front page. It displays a full-screen slider at the top, followed by a section for featured posts and one for the latest posts.
Although the theme focuses on personal blogs, its customization options allow you to modify it to suit different niches, such as travel, lifestyle, or food sites.
It incorporates a classic handwritten font with a soft-toned color scheme to create an elegant-looking design. Besides that, BlogBell allows you to change the accent color and upload custom images for the header.
You can also alter the classic blog layout on each page and post, including a sidebar or stretching it to full screen. It's possible to include a short excerpt under the featured images to encourage visitors to explore your blog.
BlogBell will automatically render to fit various screen sizes and ensure your site looks beautiful across devices.
Benefits of a Great WordPress Theme
Aside from making your blog stand out with a beautiful design, here are some other benefits you get by choosing a fitting free WordPress blog theme:
Gives you quick results. With easy customizations and pre-made designs, building a website doesn't require any coding knowledge, and you can have a functional site ready within minutes.
Offers extended functionality. Quality WordPress themes allow you to add numerous features and elements to increase your site's usability and improve user experience.
Boosts visibility on search engine results. Features like cross-browser compatibility, responsiveness, easy navigation, and fast loading time help you improve your WordPress site's SEO.
Maintains site's security. Regularly updated themes keep your site secure and protect you from cyber threats. Before downloading it, check when was the last update and if the theme is compatible with the latest WordPress version. Check out other tips to secure your WordPress site.
Conclusion
Free WordPress blog themes are an excellent alternative for those who are just starting a blog and want to keep their budget as low as possible.
Besides that, all the WordPress directory themes go through multiple reviews to meet the guidelines, guaranteeing their quality.
Remember to keep in mind essential features such as ease of use, SEO optimization, and mobile-friendliness to pick the best theme for your blogging site.
Now that you have a list of the 29 most popular WordPress themes, it's time to start building your blog.
WordPress Blog Themes FAQ
Here are the answers to some frequently asked questions about WordPress blog themes.