How to Create a Dropshipping Store | Dropshipping Tutorial on a Low budget
Creating a dropshipping store doesn't have to be difficult or expensive. In this tutorial, you'll learn how to do so without having to make any huge investments.
You don't need any prior knowledge either, as this dropshipping tutorial is meant both for beginners and experienced WordPress users. If you follow the steps, your dropshipping store will be ready within an hour.
Keep in mind that a professional dropshipping website needs a domain name and web hosting. You can get your web hosting at Hostinger for as low as RM3.99/month.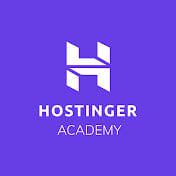 Subscribe For more educational videos!
Hostinger Academy
Subscribe