How to Resell Website Hosting: Benefits + Best Hosting Reseller Services
Reselling web hosting can be a lucrative move for freelance developers and web agencies. Imagine running your own web hosting business minus the hefty server maintenance costs.
However, like any venture, this business model presents its unique challenges. Apart from selecting the right reseller hosting company and pricing your services competitively, providing reliable customer support is also necessary.
This guide will explain everything you need to know about hosting reselling – how it works, its benefits, and how to get started. We will also compare some of the best web hosting providers to maximize your potential earnings.
Download Web Development Proposal Template
How Web Hosting Reselling Works
Web hosting reselling is a business strategy where you buy hosting services from a provider and then resell them to your clients. This approach lets web developers and designers deliver more value with their services while also earning extra income.
As a hosting reseller, you can start a website hosting venture with minimal upfront investment and technical know-how. The web hosting company will manage the infrastructure and deal with technical issues that arise.
Before choosing a provider, note that the pricing system differs from one web host to another. Some hosting brands have dedicated reseller plans, while others offer a partner program.
When signing up for a reseller hosting service, the hosting provider allocates a certain amount of server space to your account. You can then split these hosting resources into smaller packages and sell them to potential clients.
On the other hand, joining a partner program enables you to earn a commission for every successful referral transaction. Instead of manually dividing the hosting packages, you can buy established plans on behalf of your customers.
Both options are equally great – it just depends on your preferences.
Since most providers' hosting costs are fixed, buying reseller plans means having more flexibility in determining your profit margins. However, if you prefer a more direct reselling approach, choose a commission-based structure.
Suggested Reading
Learn how website hosting works and the different types of hosting services in this comprehensive web hosting guide.
What Are the Benefits of Reselling Web Hosting Services
Whether you're a freelance designer or a web development company owner, reselling hosting comes with plenty of benefits:
Expanded services. Offer a one-stop website-building solution by bundling managed hosting plans with your primary services. This hassle-free experience will help you get more clients and improve their satisfaction.
Diversified income. Unlock a new income source and diversify your revenue stream. This strategy helps ensure a stable financial outlook for your business, even in challenging times.
Cost-effective. Since the hosting provider handles all the technical aspects, starting a hosting reselling business requires low initial investment and maintenance costs.
Scalable. As your business grows, you can easily adjust the reseller hosting plans to accommodate more clients without worrying about server management.
How to Resell Web Hosting in 3 Steps
Reselling hosting may seem daunting initially. However, the process becomes more manageable once you break it down into smaller tasks.
This section will guide you through each step of launching a successful reseller business.
Step 1: Choose a Reseller Hosting Provider
Start by finding a reliable web hosting provider that offers reselling opportunities. To streamline the selection process, use the following criteria:
Good reputation. Conduct customer research on platforms like Trustpilot or discussion forums like Reddit. This method will give you a better idea of the web host's track record and service quality.
High uptime. Website downtime can negatively affect customer satisfaction. So, pick a provider that offers a 99.9% uptime guarantee.
24/7 customer support. The best web hosting reseller should always be ready to address client issues. Find a hosting company to help you deliver such services through fast response times and multiple support channels, like email and live chat.
Intuitive control panel. With an easy-to-use control panel, you can conveniently manage various clients and projects in one place.
Top-notch protection. Select a web host that offers advanced security measures, including free SSL certificates, a malware scanner, and automatic file backups.
Reseller-friendly features. Make sure the hosting provider offers competitive pricing and management tools like WHM or Web Host Manager.
After choosing a web host, find information on how to join its reseller web hosting program. With Hostinger's reseller hosting, the process is very straightforward:
Go to the Hostinger Partner Program page.
Click the Join Now button.
Create a new account.
Once the Hostinger PRO Panel appears, click Get Started.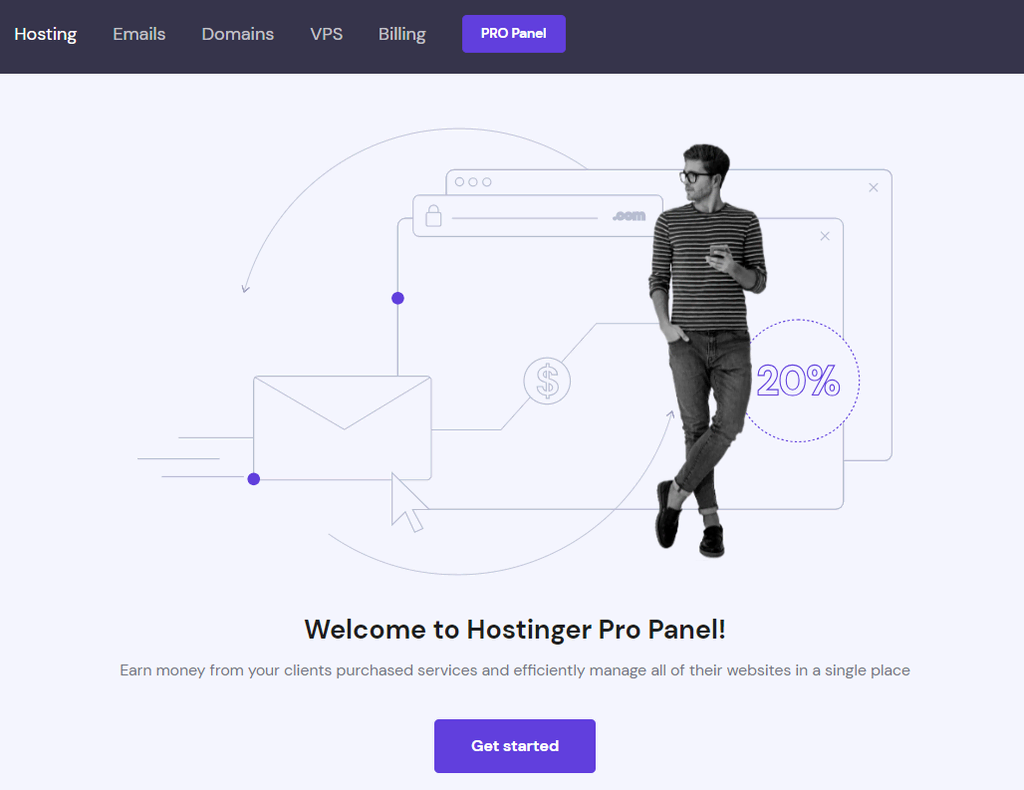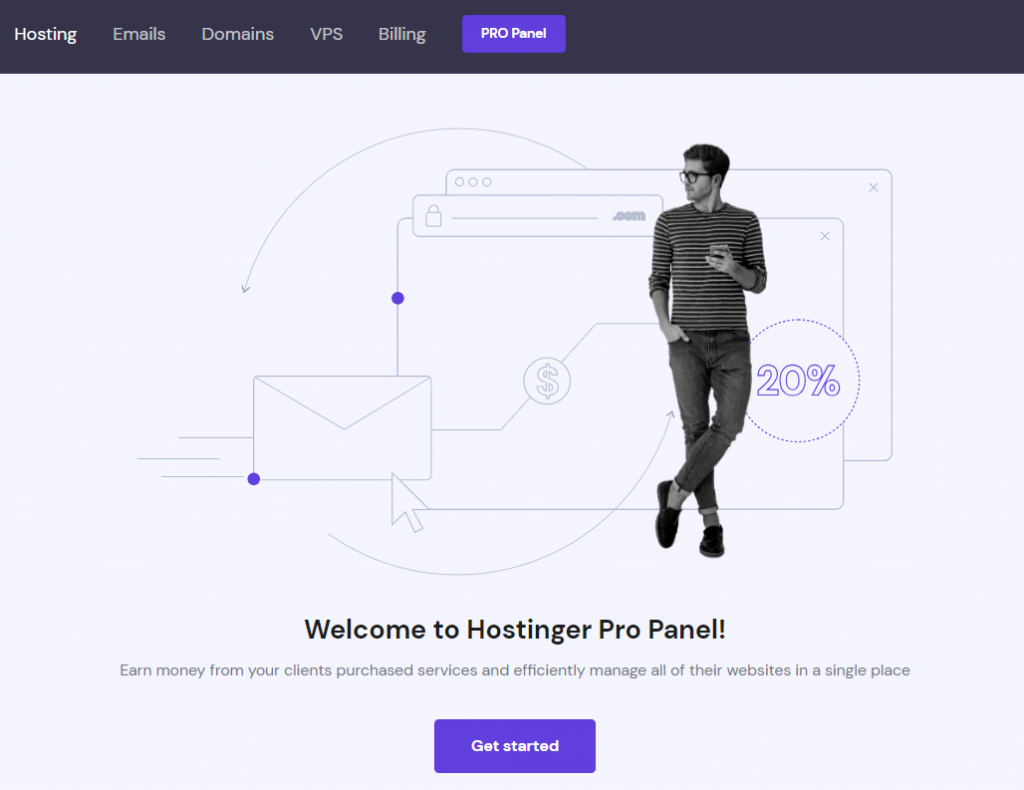 Choose a payment method for receiving rewards – such as PayPal or wire transfer.
Make the first purchase for your client and start earning commissions.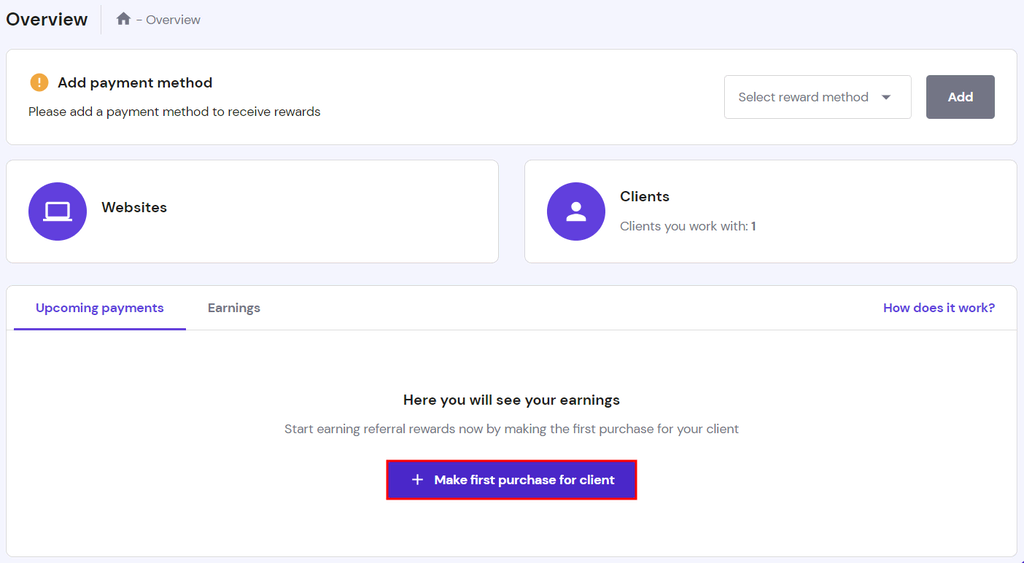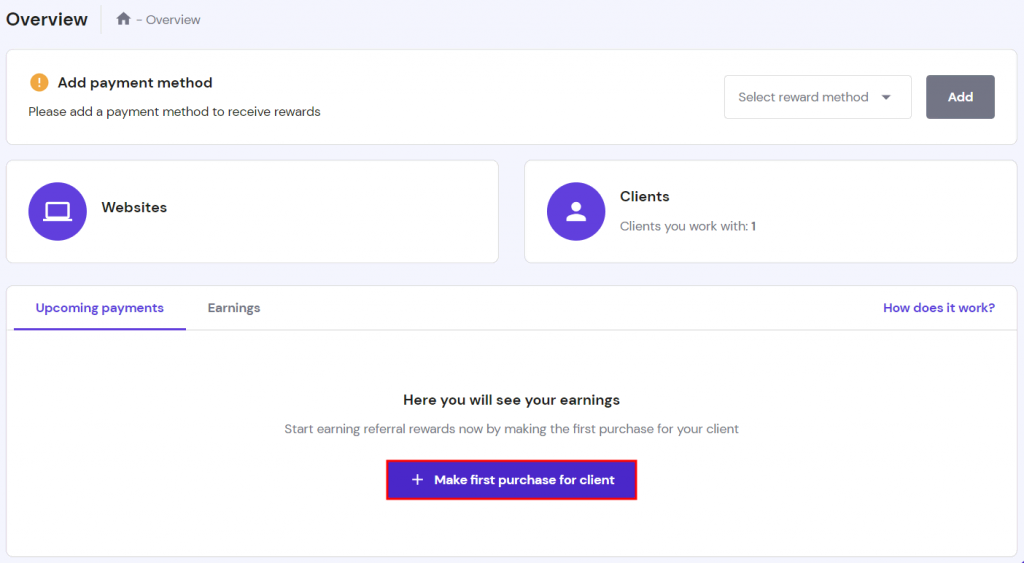 Step 2: Set Up Your Web Hosting Business
Once you've joined a reseller web hosting program, it's time to define your hosting services and prices. Start by asking the following questions to understand your potential market better:
What type of website will my clients create?
What features and resources do they require?
How much traffic will their site obtain each month?
For instance, a personal blog might not need advanced functionality, while an eCommerce site requires more resources to handle high traffic.
Based on this analysis, create different hosting plans tailored to various user needs:
Name your reseller hosting plans to reflect each buyer persona.
Allocate disk space and dedicated server resources to each hosting package accordingly.
Calculate the web hosting costs and your profit margins.
Set your hosting prices.
While it's crucial to set competitive rates, remember to consider your other services, whether that's user experience (UX) design, website maintenance, or even search engine optimization.
Structure your hosting plans to reflect the provided value. To make them more appealing, offer bundled services or additional features like free domains and a money-back guarantee.
If you decide to join the Hostinger Partner Program, there is no need to calculate profit margins and develop new hosting names.
To start earning recurring commissions, simply promote our existing plans, such as:
Shared hosting. It offers a cost-effective solution for creating standard websites like personal blogs or online portfolios. Our shared hosting plans also include up to 200 GB of storage, 300 hosted websites, and unlimited bandwidth.
Cloud hosting. This service combines the power of a virtual private server with the simplicity of a managed hosting plan. Cloud-based hosting is perfect for high-traffic websites like eCommerce stores and news outlets.
WordPress hosting. If your clients want to build fast-loading WordPress sites, pick this option. Our Business WordPress plan comes with various performance enhancements specifically optimized for this CMS, such as object caching and a content delivery network (CDN).


Step 3: Create a Customer Support System
Clients will turn to you when experiencing hosting issues. Therefore, it's crucial to establish a reliable customer support system. Whether through email or live chat, make sure your team is ready to assist when needed.
As a Hostinger Pro partner, you do not need to worry about this. If your clients run into trouble with their websites, our Customer Success agents are always available round-the-clock, all year round.
Plus, our team can speak multiple languages, minimizing communication barriers for resellers with clients from around the world.
Best Reseller Hosting Providers
Now that you're ready to start reselling website hosting, here are the three best hosting resellers you should consider partnering with.
1. Hostinger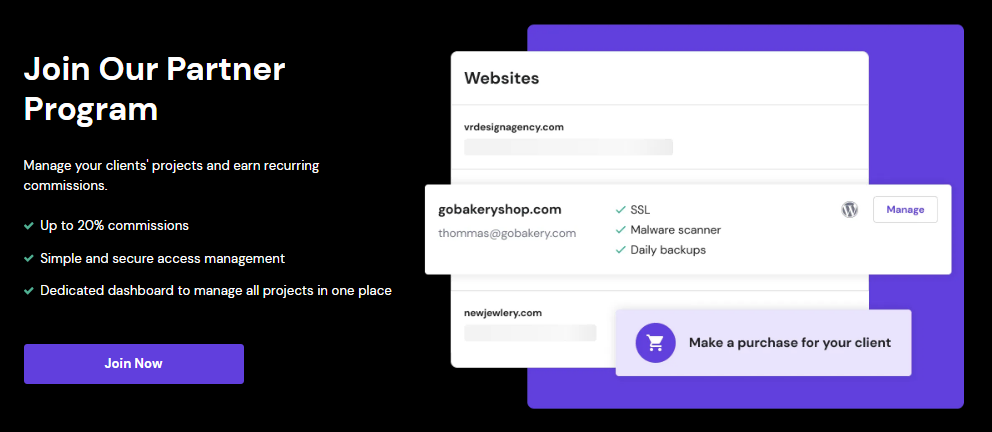 Price to join: free
Key features: intuitive custom control panel, global data center locations
The Hostinger Partner Program offers various agency tools designed to help you build a successful reseller business.
Through our intuitive hPanel, you can easily onboard new customers, manage their projects, and receive timely notifications if any issues arise – all through a centralized interface.
To become a Hostinger partner, simply create a free account and invite people to use our products. You will receive a 20% commission for every successful first-time purchase. When the user upgrades, renews, or buys a different plan, another 10% will be added to your earnings.
This presents an excellent opportunity to generate recurring passive income and scale your freelance business to the next level.
There is no need to worry about website downtime either – Hostinger offers a 99.9% uptime guarantee thanks to its globally-distributed servers. We have 10 data centers strategically located across Asia, Europe, North America, and South America.
Pros:
Easy to start. The Hostinger Partner Program offers an easy signup process. Simply create a free account, and you're ready to go.
Free website migration. Transfer all your clients' websites to Hostinger at no additional cost.
Intuitive panel. Easily manage your clients' websites via one dashboard.
Vast income possibilities. Invite as many clients as you want and earn recurring passive income.
High performance. Your customers will enjoy fast loading times and stable site performance, all made possible by our global data centers and LiteSpeed-powered servers.
Cons:
With the commission-based program, the pricing structure is fixed.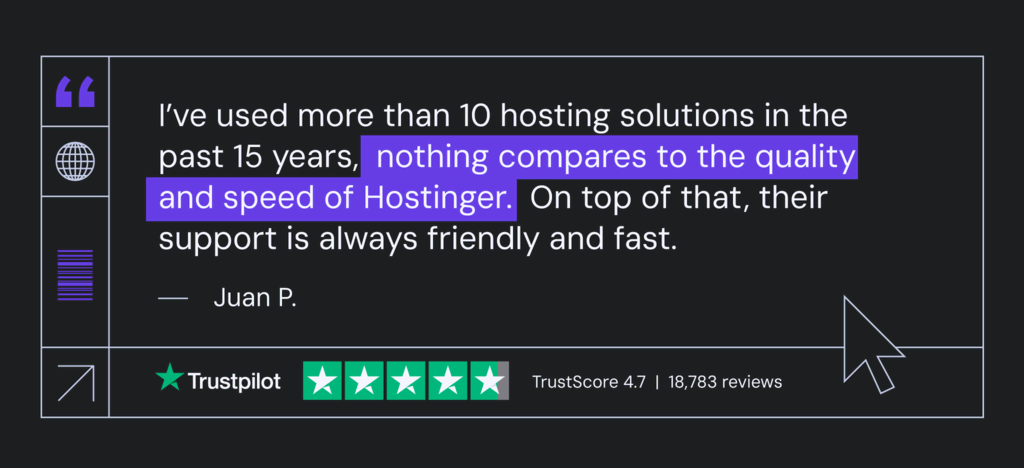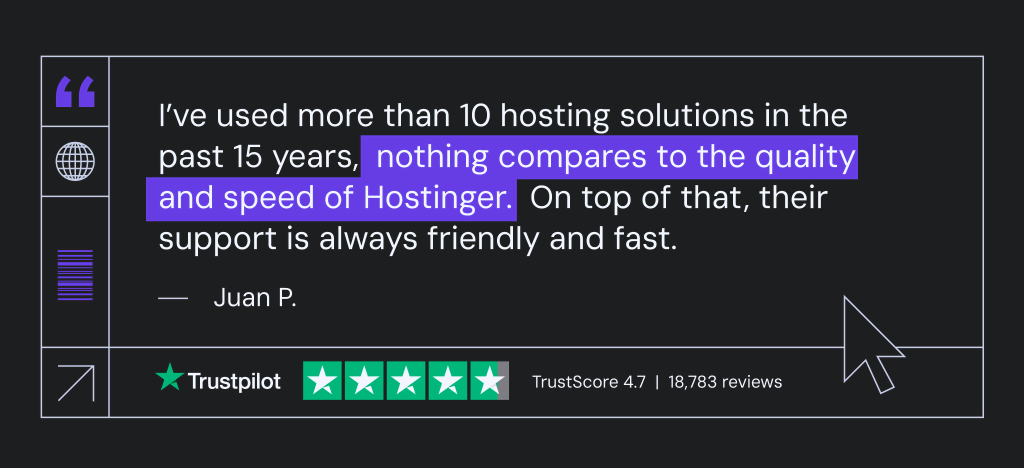 2. InMotion


Price to join: starts at $15.99/month
Key features: dedicated IP, white label
If you're looking for a hosting provider with dedicated reseller hosting plans, InMotion is a viable choice.
The R-1000N plan, starting at $15.99/month, comes with 80 GB of SSD storage, 1,000 GB of bandwidth, and 25 cPanel licenses. In other words, you can onboard 25 clients to your account.
InMotion also offers a domain reseller account, making it easy to bundle popular top-level extensions with your hosting solutions.
On top of that, its white-label feature enables resellers to create their own hosting brand.
That said, if you want to establish a worldwide clientele, InMotion might not be suitable. Unlike Hostinger, it only has data centers in the USA and the Netherlands.
Furthermore, starting a reseller hosting brand from scratch means investing more money and effort to promote your business.
Pros:
Flexibility. You are in full charge of your hosting prices and profits.
Product variety. Apart from hosting, InMotion also supports domain reselling.
Personalized branding. With its white-label feature, establishing your own hosting brand is possible.
Cons:
InMotion's data centers are not spread worldwide, making it more difficult to guarantee global hosting performance.
3. HostGator


Price to join: starts at $19.95/month
Key features: unlimited accounts, user management tool
HostGator is another option suited for those looking for premium reseller hosting plans.
Its basic Aluminum package, priced at $19.95/month, supports unlimited domains, websites, email accounts, and MySQL databases.
This hosting company also offers a Web Host Manager panel for monitoring the server status, managing client accounts, and limiting server space for each user.
However, it only has data centers in the USA and offers support solely in English, which can be less appealing to the global market.
If you're on a tight budget, HostGator's reseller plans are also more expensive than what Hostinger and InMotion offer.
Pros:
Web Host Manager. Create new accounts, monitor server uptime, and allocate resources for each client.
Feature-rich plans. HostGator puts no restrictions on the number of websites, databases, and email addresses you can create.
Pre-installed billing software. Easily send invoices to your customers from one dashboard.
Cons:
HostGator is the most expensive option on this list.
The lack of multilingual support may hinder client satisfaction.
Conclusion
Becoming a hosting service reseller comes with many perks. Besides making extra profits, you can deliver more value with your web development services.
Plus, it requires low startup investment and minimal to no technical expertise. The hosting provider will handle the infrastructure and its maintenance tasks.
While many hosting companies offer reselling opportunities, Hostinger has one of the most competitive payout structures.
To start a lucrative hosting business with Hostinger, follow these steps:
Create a new Hostinger account free of charge.
Access Hostinger Pro Panel to buy a hosting plan for your client. We will automatically send the invoice link to their email address.
When the user clicks the referral link and makes a purchase, you will earn a 20% commission.
Grow your business by inviting more customers and easily managing their websites via the panel.
We hope this article has helped you kickstart your reseller hosting business. Leave a comment below if you have any questions.
Resell Website Hosting FAQ
Find answers to commonly asked questions on how to resell web hosting.
Is Starting a Website Hosting Reselling Business Worth It?
Yes. Hosting reselling enables you to earn additional income with minimal investment and technical expertise. Plus, it can enhance your service offerings, making your business a one-stop solution for clients.

How Hard Is It to Resell Web Hosting?
Reselling hosting solutions requires careful planning and proper client management. However, with a reliable hosting provider, strategic pricing, and quality support, freelancers and business owners of all skill levels can successfully run a reselling business.