How to Block Emails on Different Email Clients + Prevent Unwanted Emails
Learning how to block emails is important, especially if you often receive spam or junk messages. Not only do they take up storage space in your personal or business email, but they can also pose security risks to your data and devices.
This article will provide a step-by-step guide to blocking emails on different email clients and share the best practices to prevent spam or unwanted emails.


What are Spam Emails?
Spam emails are unwanted messages sent out in bulk that are commonly used for commercial purposes. Besides email, a spam message can be sent via text and social media. Most spammers use a botnet, a computer network infected with malware, to distribute these emails.
Many spam messages contain phishing or malicious links. When clicked, the recipient will be prompted to enter their personal information, which will be stolen and used for data theft.
People typically get junk emails after sharing their email accounts with an unsecured or untrustworthy website. From there, the owner of the platform will collect and sell their mailing list to spammers.
How to Block Emails on Email Clients
Since each email service has its own configurations, we'll explore the different methods to block unwanted emails on major platforms.
How to Block Emails on Gmail
Gmail provides two methods to block annoying emails – by blocking a specific sender or a domain name.
Here's how to block an email address on Gmail:
Open an email from a sender you want to block.
Click the three vertical dots next to the reply button. On the drop-down menu, select Block "sender".
A pop-up will inform you that Google will mark this sender's future messages as spam. Then, choose Block.
Another way to block unwanted emails on Gmail is by blocking specific domains:
From your Gmail inbox, click the Show search options bar slider icon on the search bar.
Enter the domain name you want to block in the From field.
Select Create filter. Then, tick the Delete it box to automatically delete emails from the targeted domain.
Press the Create filter button.


How to Block Emails on Outlook
Outlook has three version applications – web, desktop, and mobile. We'll show you how to block senders for each version.
On the web, you can block emails from the sender directly via your inbox or use a blocked senders list. Note that users who have Outlook web linked to a third-party email provider cannot use the first option.
Follow these steps to block a specific sender on the web app:
From your Outlook inbox, open an email from the sender you want to block.
Click on the three horizontal dots → Block → Block sender.
Creating a blocked senders list might be more helpful if you want to block multiple email addresses. Here's how:
Go to Settings → View all Outlook settings at the bottom of the page.
Navigate to Mail → Junk email.
Under Blocked senders and domains, click +Add.

Type the email addresses or domains you want to block.
Press Enter and click Save.
As for the desktop version, follow these steps:
On the app, open an email from a sender you want to block.
Right-click on the email and select Mark as Junk. Outlook will permanently block emails from this sender in the future.
Blocking emails on the Outlook mobile version follows similar steps to the desktop app. However, instead of clicking Mark as Junk in the last step, select the three vertical dots → Move to spam.
How to Block Emails on Yahoo
Yahoo lets you create a blocked list containing up to 1,000 blocked addresses. However, you'll need to use different methods for the web and mobile apps to stop receiving junk mail.
Here are the steps to block email addresses on the web version:
Log in to your Yahoo account.
Navigate to Settings → More settings.
Select Security and privacy from the list of categories on the left.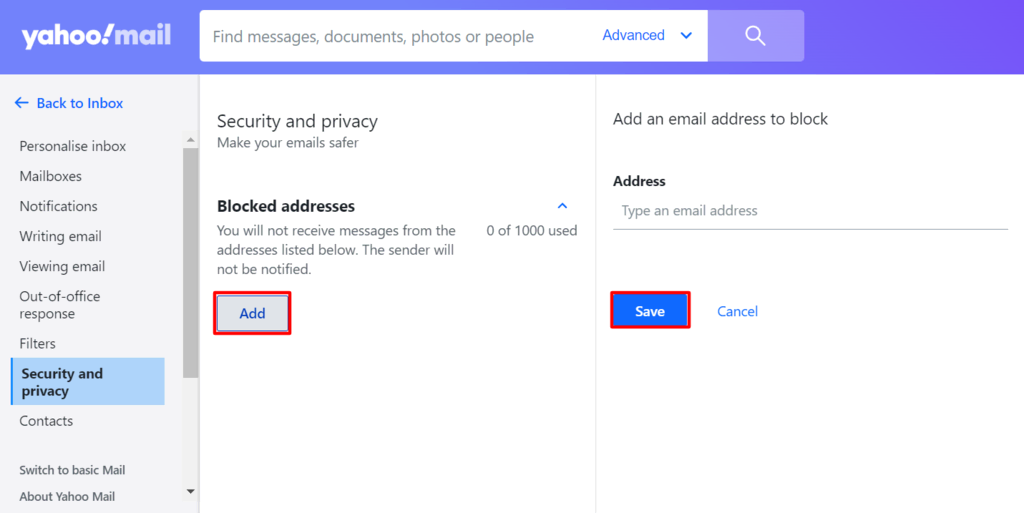 Press the Add button and enter the suspicious email address you want to block.
Click Save.
To block an email sender on the Yahoo mobile app, follow this guide:
Open your inbox and search for the email you want to block.
Tap on the three vertical dots on the top-right corner of the screen.
Select Spam or Unsubscribe.
How to Block Emails on Thunderbird
Unlike most email clients, Thunderbird does not provide an option to block junk mail from a specific domain or email address. However, it offers spam filters that automatically eliminate unwanted messages.
Here's how to filter spam messages on Thunderbird:
Go to your Thunderbird account and find the spam email.
On the sender's address, right-click and select Create Filter From.
A Filter Rules box will appear with the email address already inserted. Then, type the filter name, such as Blocklist.
Under the Perform these actions section, choose Delete Message.
Hit OK to save the filter.
Note that since this feature operates on a per-account basis, users must configure it on each account in their Thunderbird email client.
How to Block Emails on Proton Mail
Proton Mail provides various ways to block junk emails, including creating a blocklist and a custom filter. It utilizes a smart spam detection system to automatically filter messages to your inbox or spam folder.
To create a blocklist, follow these steps:
Log in to your Proton Mail account.
Click Settings → Go to settings.
Under Proton Mail, select Filters → Spam and block list.
Press Add address, then enter the email or domain you want to add to the blocklist.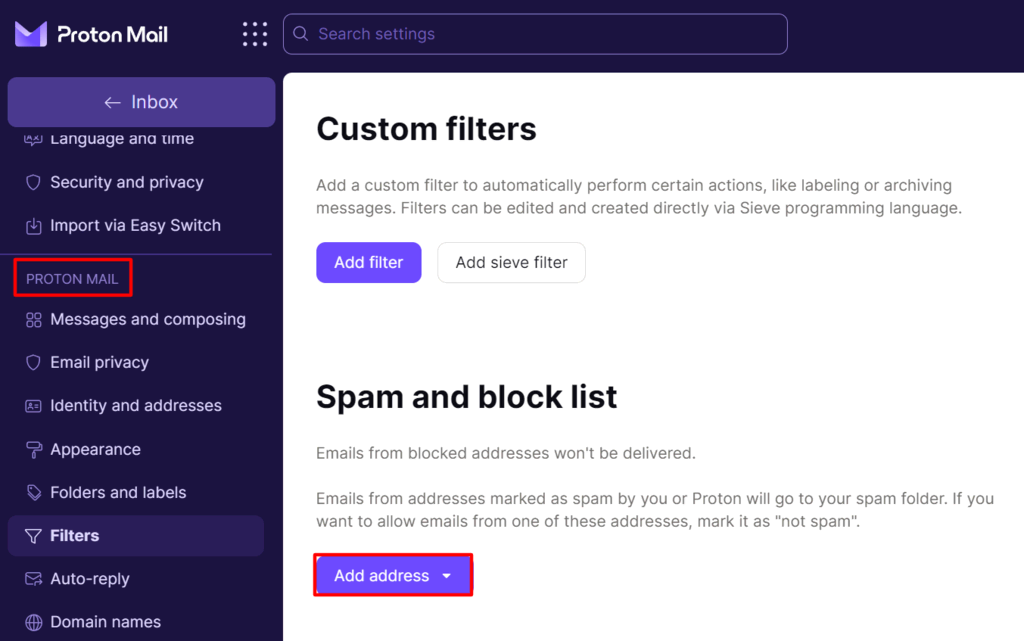 Alternatively, you can create a custom filter. Here's how to do it:
From your email dashboard, click Settings → Go to settings.
Choose Proton Mail → Filter → Custom filters.
Select Add filter and name it, then click Next.
Add a condition to activate the filter. Click Insert if you want to add extra keywords for filtering.
Press Next to configure the actions you want to set after receiving the filtered emails, like moving them to the spam folder or sending an auto-reply.
Once finished, hit Save.
How to Block Emails on Apple Mail
If you have set up your email account on Apple Mail, blocking emails is simple. Like most email clients, Apple Mail allows you to block a specific person or a group of senders, helping you stop receiving annoying emails.
Here are the steps to block a sender on macOS:
Open an email from the sender you want to block.
In the message header, click the arrow next to their name.
A drop-down menu will appear, then choose Block Contact. You'll see a blocked icon show up next to the sender's name, and a banner will display on the message.

It's also possible to add addresses directly to the list of blocked senders, where there are many options to manage your junk mail. Keep in mind that the steps might differ depending on the macOS version.
How to Block Emails on iOS
If you use an iPhone, you can block an email through Settings or the iOS Mail app. To use the first method, make sure to save the email address you want to block in your device's Contacts app.
Here's what you need to do to block senders via iOS Settings:
Go to Settings → Mail → Blocked Sender Options.
Select Move to Trash, then go back to the Mail section.
Tap on Blocked → Add New.
Choose the contacts you want to block.
To block specific senders across all your Apple devices, enable Mail in the device's iCloud settings.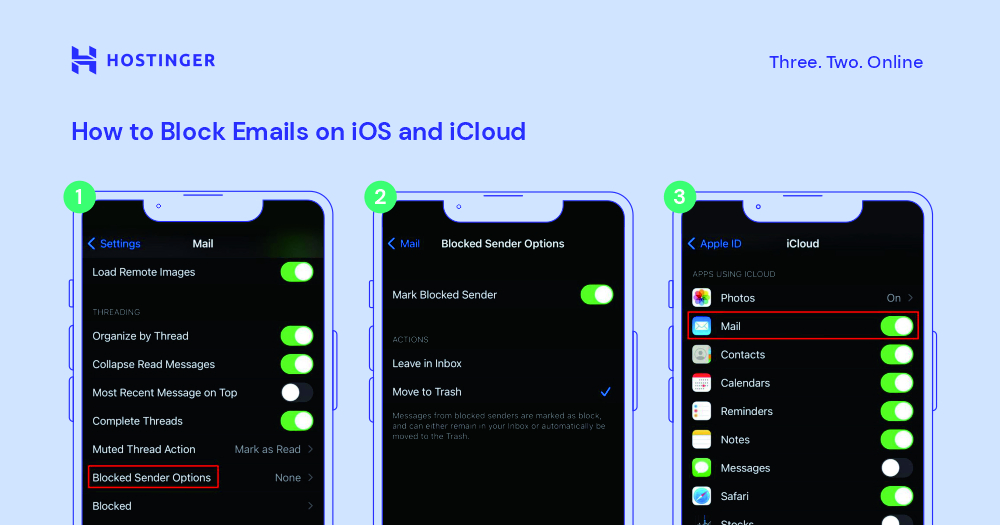 On the other hand, follow these steps to block spam messages via the iOS Mail app:
In the app, open an email from a sender you want to block.
Press the sender's name, then tap Block this Contact.
Select Block this Contact again to confirm your action.
How to Block Emails on Android
If you're an Android user, you can block spam messages by following the steps for the Gmail method, as it is the default mail app. Another way is to unsubscribe from mass emails like newsletters or promotions.
Here's how to do it:
Open an email that you want to unsubscribe from.
At the bottom of the message, click Unsubscribe or Change Preferences. If these options are unavailable, you can block the sender's email.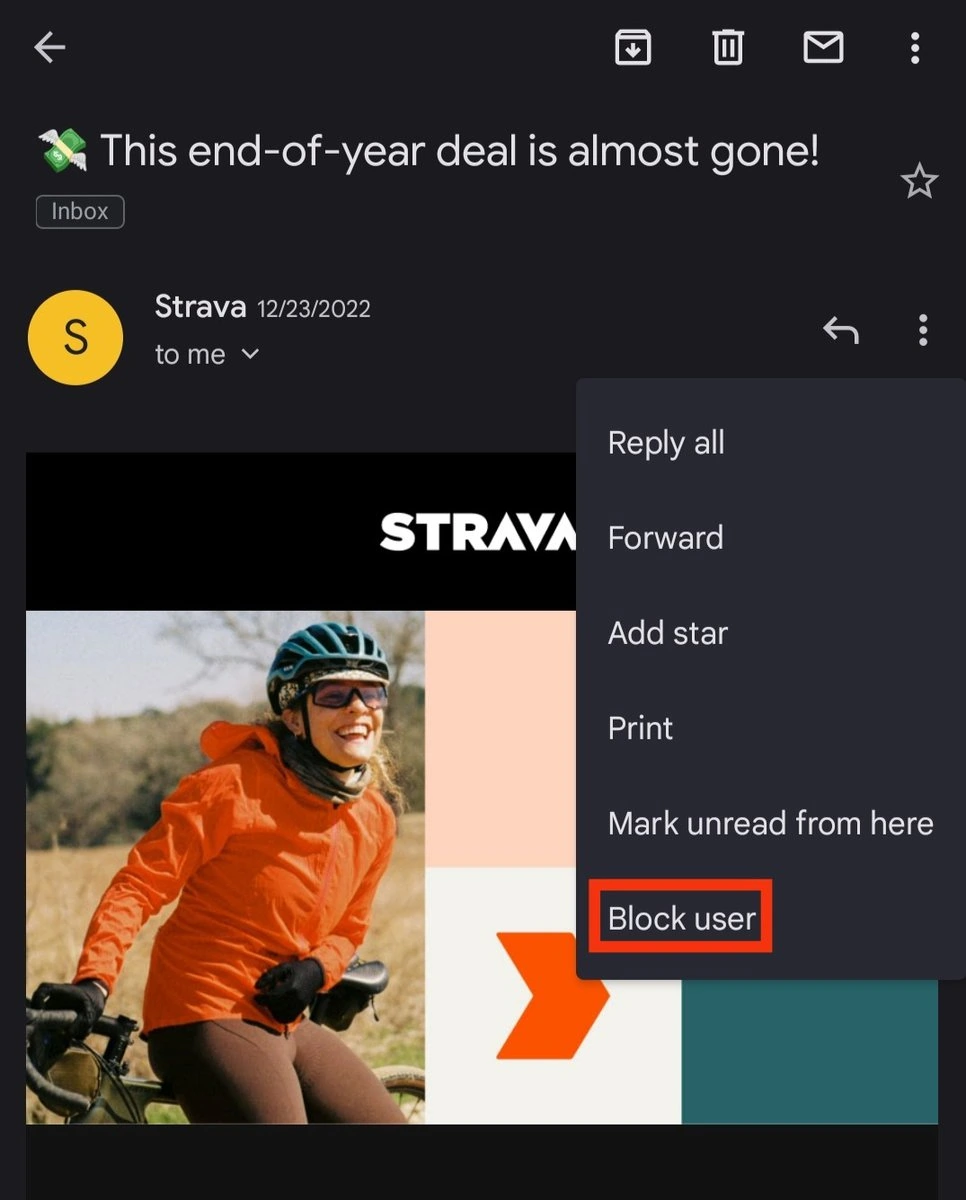 How to Prevent Receiving Unwanted Emails
Now that you know how to block junk emails on different email services, let's cover the best ways to prevent receiving them in the first place:
Don't open suspicious emails. Otherwise, spammers will know that your email address is active through their tracking pixel. This will lead you to get more spam messages.
Report spam. It will help your mail service provider learn to identify spam messages effectively and filter them in the future.
Keep your email private. Don't publish your personal email on any online platform, like social media channels and websites, where spammers and scammers can easily find it.
Use a secondary email address. Make sure to use different email accounts based on purpose. For example, create a professional email for work communication only.
Protect your devices with third-party tools. Use antivirus and spam filter software to enhance your inbox security and prevent you from receiving malicious content.
Conclusion
Blocking senders is one of the most effective ways to stop junk email or spam, enabling you to declutter your inbox and protect it from malware. However, each email client and device provides different steps to block these unwanted emails.
We have covered various methods to help you block email addresses and create a blocklist on different platforms, from Gmail and iOS to Proton Mail. Aside from that, we reviewed some best practices to prevent unwanted emails, like not sharing your email publicly and using spam filter tools.
Hopefully, this article has helped you reduce spam emails on your account and organize your inbox.
How to Block Emails FAQ
This section will answer some common questions related to blocking emails.
Can You Block Specific Senders?
Yes. The process will depend on the email service you use. You can also click the unsubscribe link to stop promotional emails.
Can You Block Emails Permanently?
Yes. Generally, you will stop seeing junk emails after blocking an email address. However, if you still receive such messages, report the sender as spam in your mail app.
What Happens to Blocked Emails?
Although the blocked sender can still deliver a message to your account, it will go to the junk or spam folder, not your inbox. These spam messages will be automatically deleted within approximately 30 days, depending on your email provider.