What Is a Creative Agency + 20 Best Creative Agencies
If you're looking for a strategic partner to elevate your brand, hiring a creative agency might be the solution.
With expertise in brand development, web design, social media management, and digital marketing, agencies offer tailored services to enhance your online presence and engage your target audience.
In this article, we'll explore what exactly creative agencies do and go through the top 20 agencies list. We'll also highlight key factors to consider when selecting the right agency for your business.


What Is a Creative Agency?
A creative agency is a company that offers an array of marketing services under one roof. These can include branding, advertising, digital marketing, social media management, web design, and graphic design to help your business achieve your marketing goals and build strong, lasting relationships with your target audience.
What Does a Creative Agency Do
Full-service creative agencies specialize in various marketing services, from branding and design to influencer marketing and social media. The exact services will depend on your chosen creative agency.
For example, some ad agencies might only help with your advertising efforts.
In short, utilizing creative agencies can help your business. Coupled with Hostinger Pro hosting and a good domain, you can improve your branding and online presence even further.


Now, let's explore digital services that creative agencies typically offer in more detail:
Brand Strategy
Creative agencies work closely with you to create a strategic plan that defines your brand's unique personality, positioning, and business goals. Their branding experts also set metrics to measure various marketing campaigns, enabling you to see whether your investment pays off.
Market Research
To understand your target audience better, creative agencies conduct in-depth research. They analyze consumer preferences, behavior, and market trends to generate effective marketing strategies.
Advertising Campaigns
An advertising agency excels at crafting compelling campaigns. Ad agencies offer diverse services, such as writing copy, designing visual deliverables, planning media placements, and ensuring maximum impact across different channels.
Social Media Management
Creative agencies can manage and improve your social media presence. They create engaging content, schedule posts, interact with followers, and analyze performance to promote your business effectively. Furthermore, creative agencies can determine which social media platforms you should focus on and which ones are irrelevant to your target customers.
Web Design
Creative agencies have skilled web designers capable of creating user-friendly and visually appealing websites. As a result, your visitors will have a positive experience navigating your site.
Graphic Design
Graphic design plays a crucial role in establishing your brand's image. Creative agencies produce visually attractive materials such as logos, infographics, and brochures that reflect your brand guidelines and create emotional connections with your audience.
Digital Marketing
To drive online growth, a full-service creative agency utilizes various marketing strategy techniques like search engine optimization (SEO), creative content marketing, email campaigns, and pay-per-click (PPC) advertising. Creative agencies also apply certain measures to find out whether their digital marketing campaigns generate more leads, engage users, and boost conversions. On top of that, they have a variety of agency tools at their disposal.
Public Relations (PR)
Managing your brand's communication with the public is vital to ensure your brand is seen. Creative agencies provide branding consultation, develop PR strategies, craft press releases, handle media relations, and monitor your business' reputation to maintain a positive image.
Video Production
Creative agencies also offer high-quality video services for promotional, educational, and entertainment purposes. From scriptwriting to post-production, they create visually compelling video content that effectively conveys your business' message and captivates your audience.
Top 20 Creative Agencies
Our experts have curated the list of the twenty best creative agencies for your business. We have chosen these agencies based on factors like their services, reputation, and portfolios.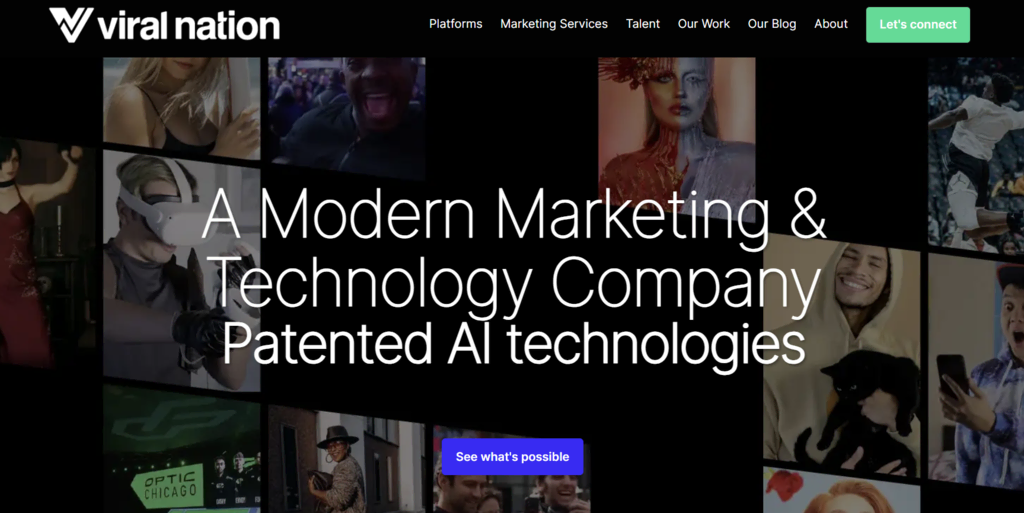 Viral Nation Stats:
Best for: influencer marketing
Services offered: influencer campaign, paid media planning, creative content production, analytics, market research
Clients: Disney, Canon, Logitech, Tencent
Viral Nation is a renowned global creative agency and a pioneer in influencer marketing. This agency excels at making your content go viral through strategic influencer partnerships.
Viral Nation ensures a comprehensive approach to influencer marketing campaigns. It has a big network of influencers across popular platforms such as Facebook, Instagram, TikTok, Twitter, Snapchat, and Twitch. The agency offers a full-service process, which encompasses custom strategy, creativity, return on investment (ROI) measurement, and reporting.
This creative agency gains a competitive advantage by creating its own technology, such as Viral Nation_Secure for social media monitoring, Viral Nation_Empower for employee-generated content, and Influsoft for an all-in-one campaign management platform.
Additionally, this creative agency offers services tailored for influencers, content creators, and professional athletes. It provides partnership opportunities, brand deals, content distribution, events, and merchandising.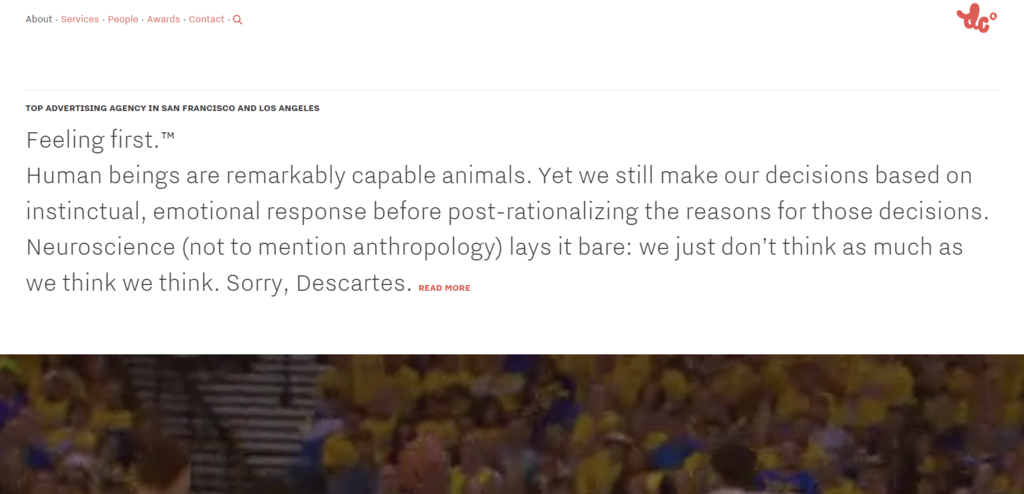 Duncan Channon Stats:
Best for: advertising and experiential marketing
Services offered: paid media campaign, marketing strategy planning, content production, media planning
Clients: Birkenstock, Sephora, Hard Rock, e.l.f Cosmetics
Duncan Channon is an award-winning integrated advertising and design agency based in San Francisco. This production company is known for its expertise in integrated campaigns and rebranding projects, seamlessly blending strategy, creativity, and design for success.
With over 20 years of experience, it is a trusted partner in the industry. Duncan Channon also specializes in experiential marketing, creating unique customer experiences that go beyond traditional methods. For instance, this Sephora makeover event reached 45,000 passersby and educated people about the brand.
Additionally, this creative agency offers its own advanced analytics dashboard called The Table. This tool allows brands to compare results across channels, integrate third-party data, and view key performance indicators (KPIs) for targeted messages.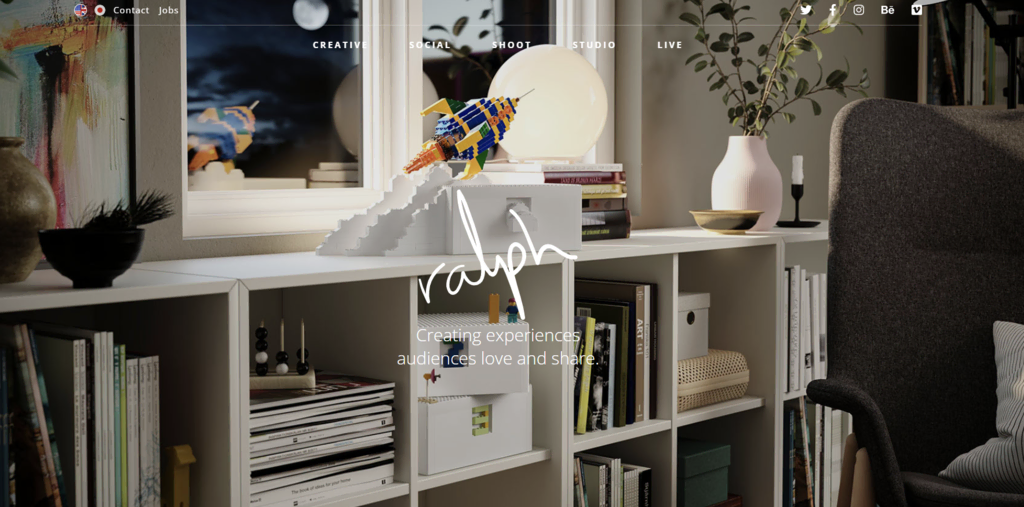 Ralph Stats:
Best for: creative video production and social media campaign
Services offered: content creation, campaign handling, events management, social media marketing, creative design
Clients: Netflix, National Geographic, Warner Bros
Cost: starts at $50/hour
The Ralph production company operates in four locations: London, New York, Los Angeles, and Tokyo. It consists of five divisions: Creative Ralph for concept planning, Social Ralph for social media marketing, Shoot Ralph for video production, Studio Ralph for creative content design, and Live Ralph for event organizing.
This British Interactive Media Association award-winning agency has built a strong reputation for its work with entertainment brands, such as Netflix, Apple TV, FX, Spotify, and Sony Music.
Ralph has also partnered with international artists like Little Mix, Maluma, Franz Ferdinand, and CNCO in creating videos that have reached millions of views. In short, if you're seeking a creative agency focused on entertainment, Ralph is an excellent choice.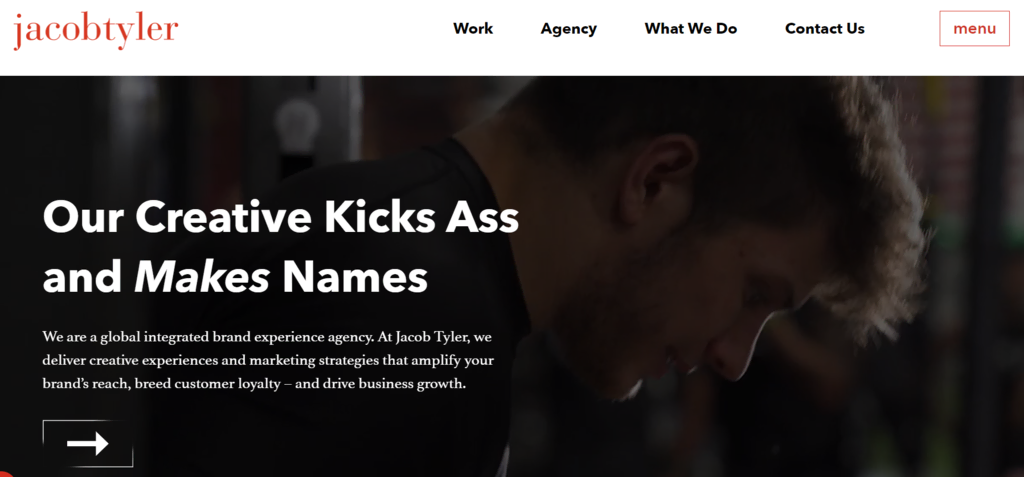 Jacob Tyler Stats:
Best for: branding and website design
Services offered: user interface (UI) and user experience (UX) design, user acceptance testing (UAT), brand positioning, web design, mobile application development
Clients: Hilton, Morgan Stanley, American Cancer Society, U.S. Department of Defense
Cost: starts at $150/hour
Jacob Tyler is a renowned creative agency based in San Diego. Through a blend of strategy, design, and technology, it creates visually appealing brand experiences that scale businesses and resonate with their target audiences.
With over 18 years of experience, Jacob Tyler offers innovative ideas and a versatile skill set that caters to different types and sizes of brands.
Its digital services include brand strategy, content production, digital marketing strategy, and web design. However, while the agency can handle various marketing forms, its primary focuses are branding and web design.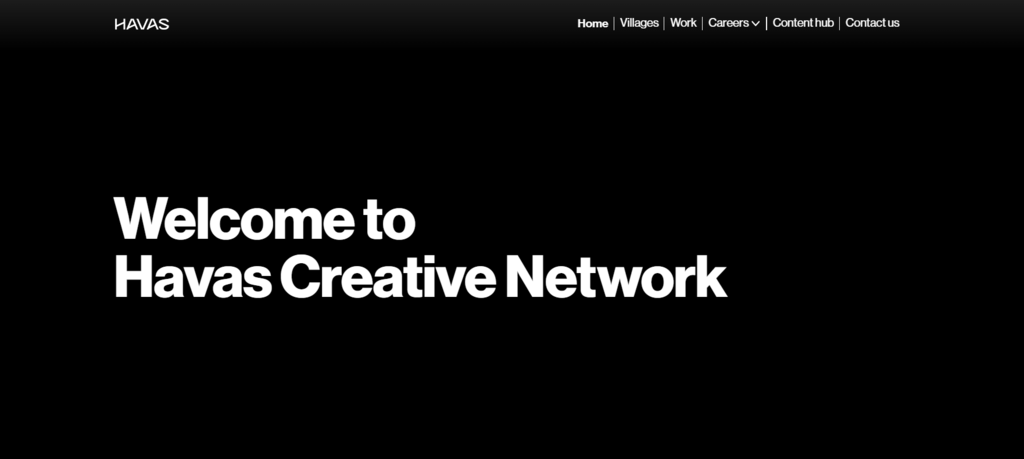 Havas Creative Stats:
Best for: advertising and branding
Services offered: media planning, brand building, public relations, video production, analytics
Clients: Marvel, KFC, LEGO, Amnesty International
Havas Creative is a global powerhouse in integrated marketing solutions, known for its collaborative Village model.
Its integrated marketing solutions and diverse expertise suit businesses across various industries and sectors. These include large multinational corporations like Coca-Cola, non-profit organizations like the Ali Forney Center, and even government bodies like the Fiji Tourism Board.
Furthermore, Havas Creative's Prosumer Reports allow this creative agency to anticipate future trends and behavior, helping businesses shape their marketing strategies. This digital agency is right for you if you want data-driven marketing solutions.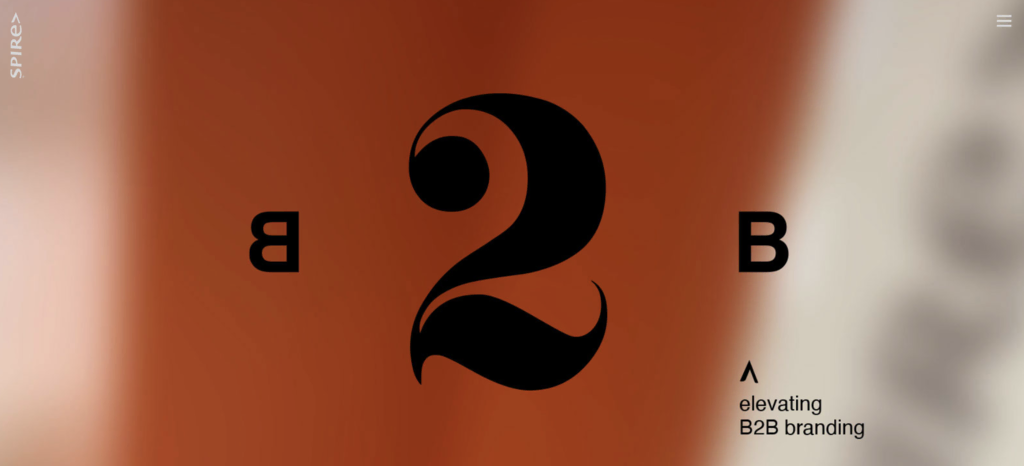 Spire Stats:
Best for: business-to-business (B2B) branding
Services offered: brand concept planning, market research, product launching planning, marketing strategy planning, advertising, web design
Clients: Airbus, Avantax, Texas Capital Bank
Cost: starts at $150/hour
Another award-winning agency on the list, Spire is a Dallas-based creative agency that focuses on developing strategic and purpose-driven brands with a focus on B2B markets.
Spire caters to all the needs of B2B businesses, including lead generation, market and buyer analysis, creating sales pitch decks and proposal templates, and managing trade shows and events.
As a specialized B2B marketing agency, Spire excels in repositioning brands to drive growth. Their expertise lies in revitalizing B2B brands, making them a top choice for businesses looking to enhance their market presence and expand their reach.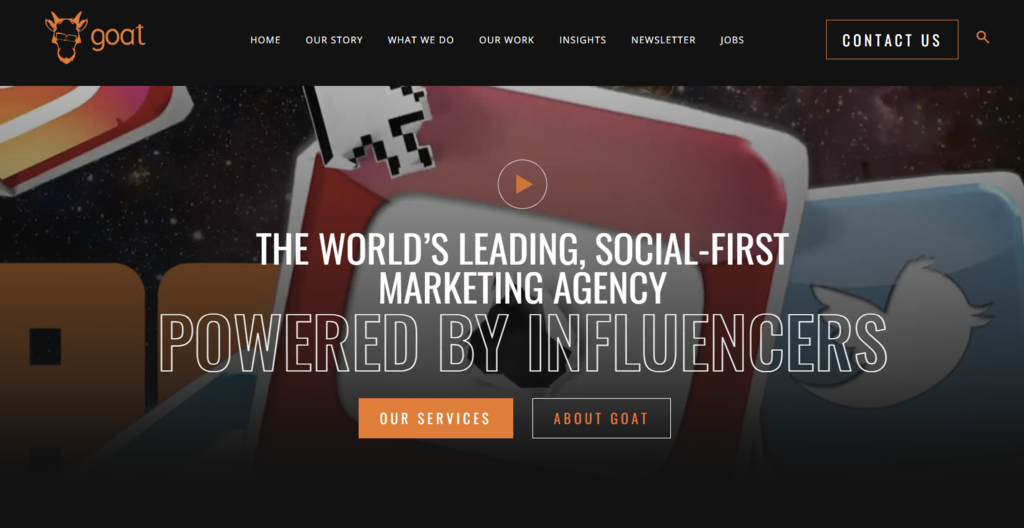 Goat Agency Stats:
Best for: influencer marketing
Services offered: influencer marketing, strategy development, campaign execution, social media marketing
Clients: Audi, Dell, Nivea, UEFA
Goat Agency is a global leader in influencer marketing, with a strong presence in the UK, Singapore, and the US. It excels at executing successful digital campaigns worldwide by strategically connecting with audiences through influencers. The agency's in-house video production, editing, and design team, along with its extensive network of influencers, form the backbone of its capabilities.
Founded in 2015, this creative agency leverages data from its customer relationship management (CRM), which tracks over 60,000 influencers. Goat Agency combines performance insights with human relationship management, social-first creative strategy, paid media integration, as well as tracking and reporting for effective campaigns.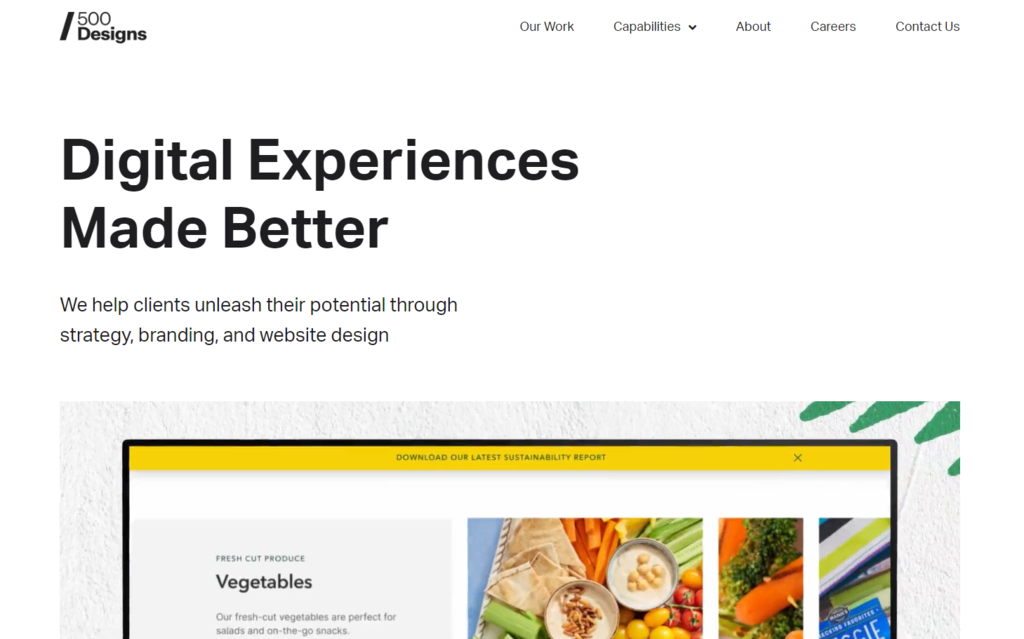 500 Designs Stats:
Best for: website and digital design
Services offered: UI/UX design, web design, graphic design, mobile app development
Clients: Google, Nike, Cisco, 3M
Cost: starts at $100/hour
500 Designs is a California-based creative agency specializing in UI and UX design as well as branding. It has a spot on the prestigious Inc. list of America's fastest-growing private companies, showcasing its success.
By creating beautiful and functional designs, 500 Designs excels at enhancing user experiences and bringing brands to life. Its ability to seamlessly blend aesthetics and functionality makes it the prime choice for businesses looking to optimize their digital user experience.
This production company offers a comprehensive range of services, including UI/UX design, website design, graphic design, and mobile app development. With its diverse skill set, it provides solutions for all kinds of businesses.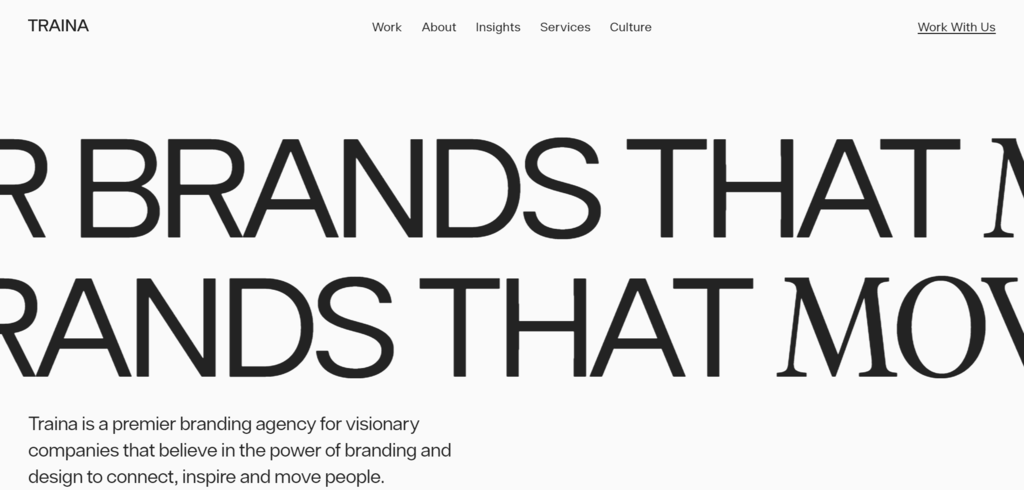 Traina Stats:
Best for: branding and creative solutions
Services offered: brand positioning, visual identity production, brand research, reputation management, brand consulting services
Clients: NASA, Microsoft, University of California San Diego
Cost: starts at $150/hour
Another creative agency based in San Diego, Traina is famous for its exceptional branding process. It specializes in crafting visually stunning brand identities that capture the essence of each business it works with. From rebranding NASA's visitor center to creating digital assets for Brooklyn Brewery, its portfolio showcases diverse and impressive projects.
It offers comprehensive branding services, including research insights, name and tagline generation, vision and values creation, and visual asset development. Traina is a great choice for newly formed businesses or brands seeking to rebrand. It also posts useful insights regularly to help your business.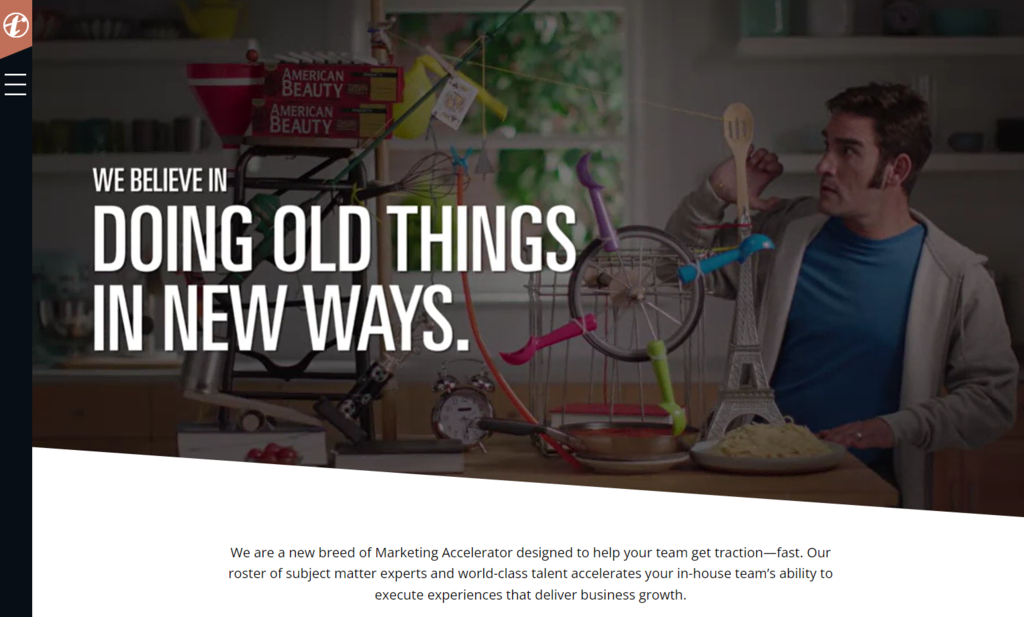 Traction Stats:
Best For: creative media production
Services offered: campaign planning, content production, copywriting, analytics
Clients: Apple, Dolby, Lenovo, Adobe, Salesforce
Cost: starts at $200/hour
With 19 years of industry experience, Traction has amassed an impressive list of awards. Its diverse portfolio spans industries such as finance and banking, software, and retail, showcasing intriguing case studies. For example, its Real or Fake campaign with Adobe achieved a remarkable 737% increase in lifetime engagement and garnered 8 industry awards.
This agency offers diverse services, but Traction excels in marketing, advertising, and innovative solutions. It is renowned for its out-of-the-box creative campaigns and holistic approach to marketing, making it an excellent choice for businesses seeking a versatile and innovative creative partner.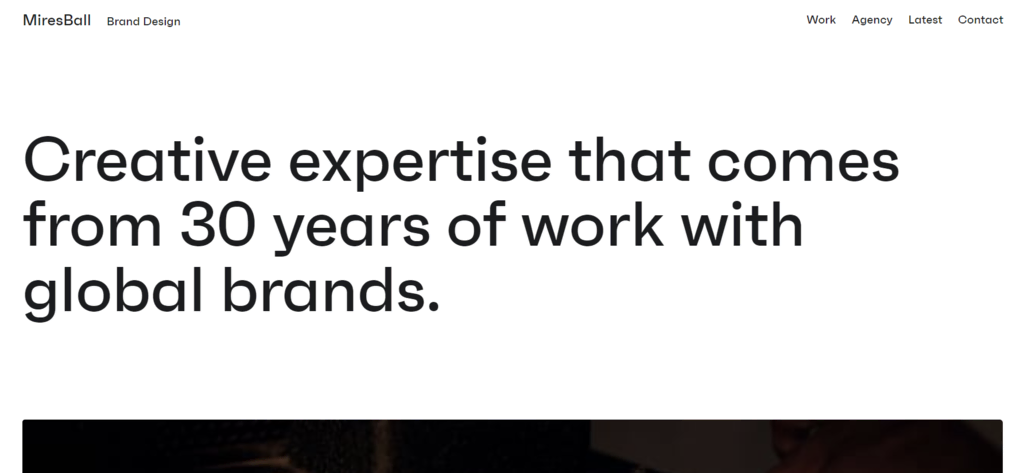 MiresBall Stats:
Best for: branding
Services offered: brand positioning, packaging design, visual design
Clients: Shure, Comic-Con International, Sega
Cost: starts at $150/hour
MiresBall is an award-winning creative agency that provides brand strategy and creative services. With over 30 years of experience, it has a track record of building successful brands with thoughtful and appealing designs. It is experienced in different industries, from tech giants to craft beer breweries.
This top creative agency can provide everything a brand needs, like visual identity, brand positioning, packaging design, and campaign execution. However, if you sell only digital services, you won't be able to benefit from all MiresBall's services.
THIEL Stats:
Best for: branding
Services offered: advertising, print and package design, video production, employee branding, perception research
Clients: University of Wisconsin – Milwaukee, USAA Real Estate, Oral B
Cost: starts at $100/hour
THIEL is a Milwaukee-based creative agency that offers a wide range of solutions, from research to digital marketing services. It specializes in creating and enhancing brand identities, aligning them with business goals. This approach ensures that each campaign resonates with target audiences and delivers measurable results.
It offers extensive branding services, from name planning, brand strategy building, qualitative research, brand positioning, and key messaging planning. As such, THIEL is a perfect fit for businesses just building a brand.
This ad agency has also developed a mobile app that makes engagement with distributors and sales reps easier. All parties involved can access product and promotional information. You can also create push notifications for real-time communication, streamlining your day-to-day operations.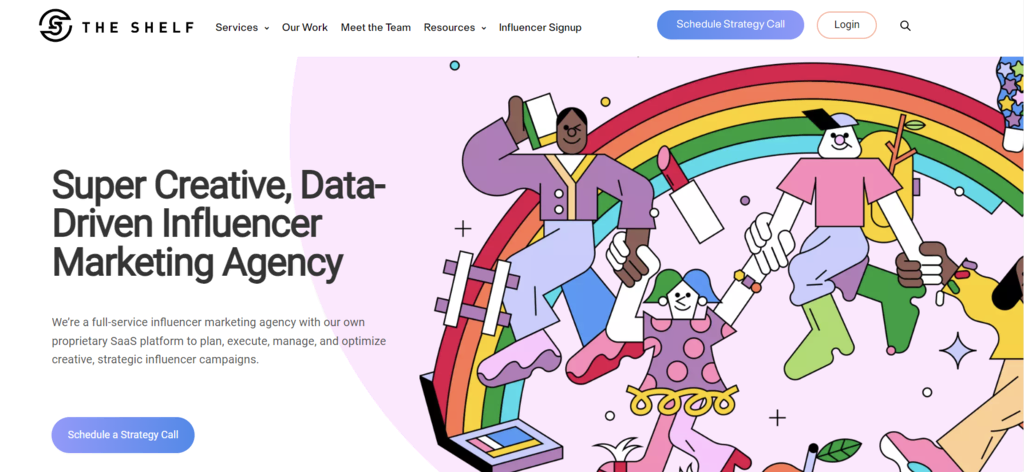 The Shelf Stats:
Best for: social media and influencer marketing
Services offered: campaign strategy planning, connection to content creators, analytics
Clients: Walmart, Hulu, Neutrogena, Pepsi
Cost: starts at $150/hour
The Shelf specializes in social media and influencer marketing. It customizes campaigns to achieve your desired results. This agency has access to a wide network of creators, including niche influencers.
With a data-driven approach, The Shelf goes beyond creative ideas. The agency leverages analytics and insights to develop campaigns that deliver measurable results. By combining creativity with strategic analysis, The Shelf maximizes your marketing impact.
Additionally, this digital agency provides a user-friendly dashboard that allows clients to track campaign performance, review contracts, and access analytics. This all-in-one solution adds convenience and effectiveness to its services.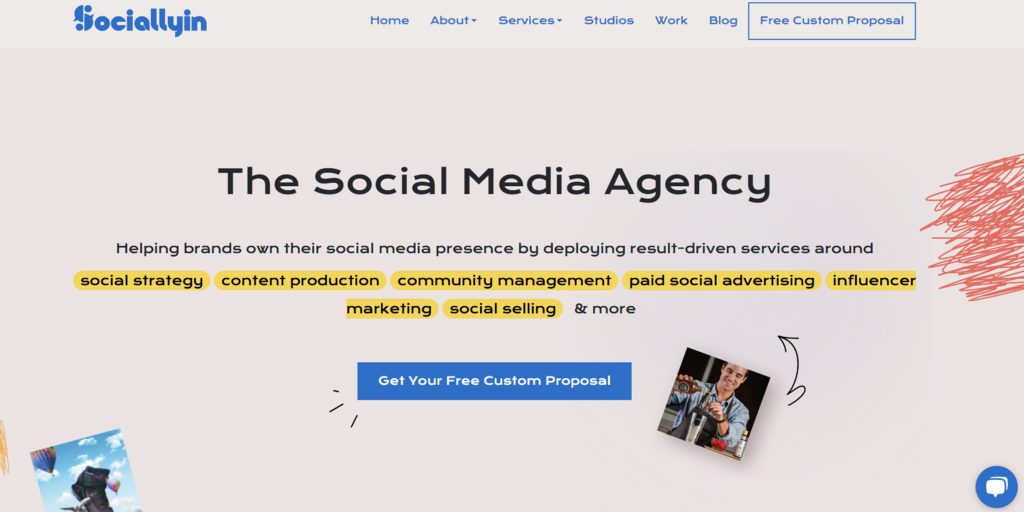 Sociallyin Stats:
Best for: social media marketing
Services offered: social media management, community management, content production, paid social advertising, analytics
Clients: TikTok, Nikon, Samsung, Asus, Marriott
Cost: starts at $100/hour
Sociallyin is an award-winning creative agency dedicated entirely to social media marketing. It specializes in strategy development, content creation, and social media advertising, helping brands grow and engage their social media presence through targeted, creative strategies.
With a diverse client base that includes tech giants, five-star hotels, and startups, Sociallyin has proven experience across different industries. You can explore its portfolio page to see the types of campaigns it has executed for various businesses, sorting them based on business type, industry, objectives, and services offered.
This digital agency also provides community management services designed for building engaging online communities. This is a great approach for building brand loyalty.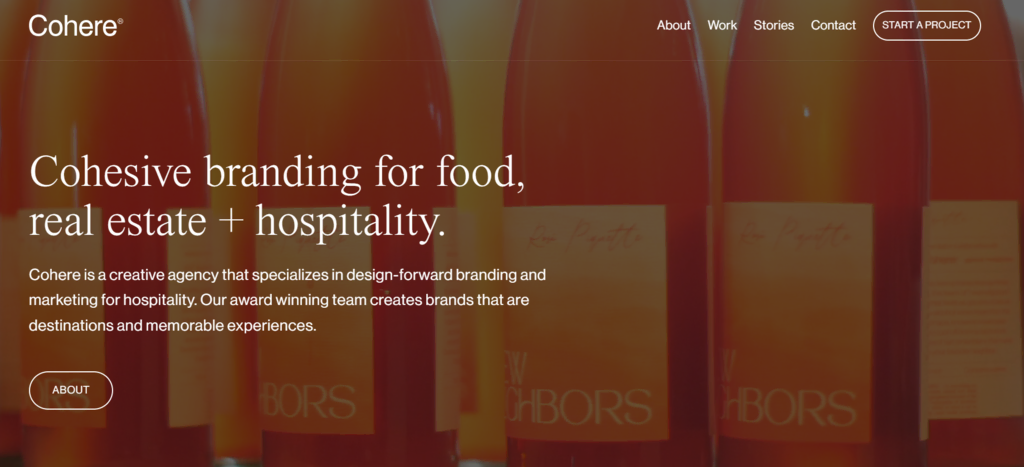 Cohere Stats:
Best for: branding, web development, digital advertising
Services offered: branding, web design, offline marketing, print design, interior design, social media marketing, virtual events handling, brand consulting services, innovative solutions
Clients: Marriott, National Real Estate Advisors, Historic Hotels of America
Cost: starts at $150/hour
Cohere is a creative agency that specializes in the food and beverage, hospitality, and real estate industries. Its storytelling approach helps establish strong connections between brands and their audiences.
This creative agency offers comprehensive services, from initial launch to post-production, covering market research, brand concept design, web development, offline signage, print materials, packaging and merchandise production, and even interior design.
This ad agency also has an initiative called Cohere FoodLab. Through it, Cohere provides valuable insights and resources to food entrepreneurs through workshops and advisory services.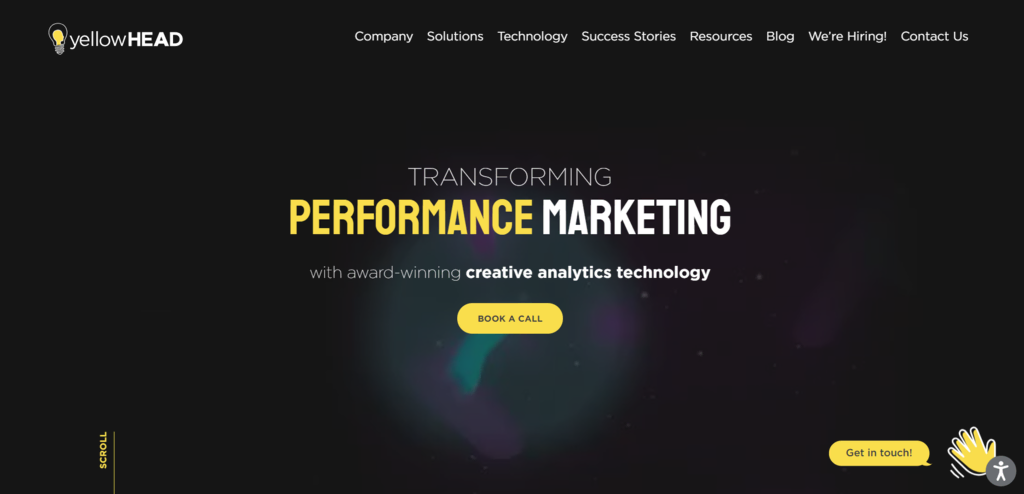 yellowHEAD Stats:
Best for: performance marketing
Services offered: search engine optimization (SEO), app store optimization (ASO), user acquisition (UA), user-generated content (UGC)
Clients: Airbnb, Gillette, League of Legends, monday.com
Cost: starts at $100/hour
yellowHEAD is a creative agency that specializes in performance marketing. It refers to online advertising efforts where businesses pay only when a specific action occurs, such as a sale or a click.
By using a data-driven approach and a range of analytical tools, yellowHEAD helps businesses enhance their visibility on app stores and maximize their marketing ROI. Operating across the US, Europe, and Israel, this marketing agency has partnered with renowned global brands to strengthen its digital presence and drive growth.
With its expertise in marketing strategy and creative production, this ad agency is a top choice for businesses looking for both creative work and measurable marketing results.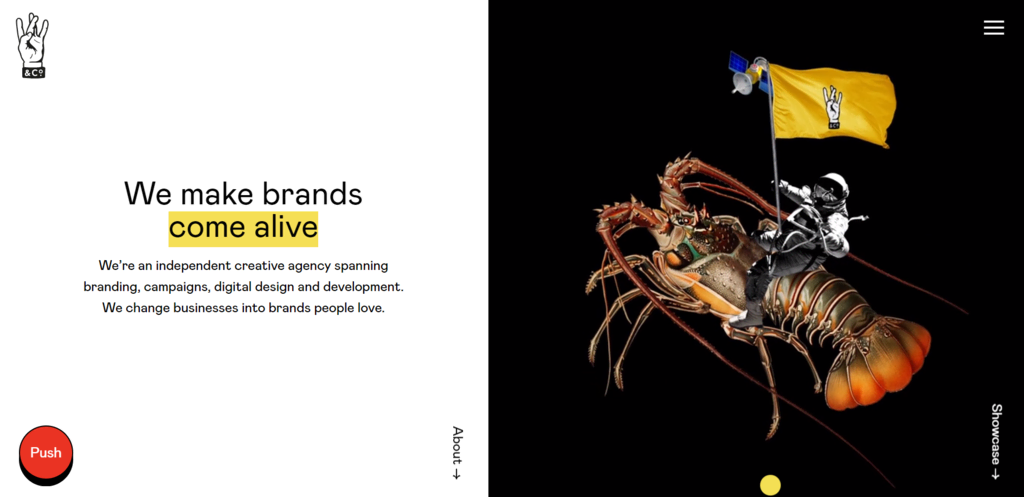 Wildish & Co Stats:
Best for: branding and digital design
Services offered: brand strategy planning, brand identity design, web development, packaging design, content production
Clients: Penhaligon, Penguin X Jamie Oliver, Oxford Philharmonic Orchestra
Cost: starts at $100/hour
Wildish & Co is a highly regarded creative agency based in London. It earned the top spot in the UK for branding and creative services and was awarded as Global Leader on Clutch.
The agency excels at building meaningful brands from scratch, transforming existing ones, and creating positive digital and physical experiences. Its diverse client list shows the agency's ability to adapt to different industries.
This creative agency specializes in brand strategy, design, and digital communication. Its services include branding, illustration, web design, and print materials. Despite being a relatively smaller and newer agency, it provides innovative design and all-in-one solutions that cater to businesses of all types and sizes.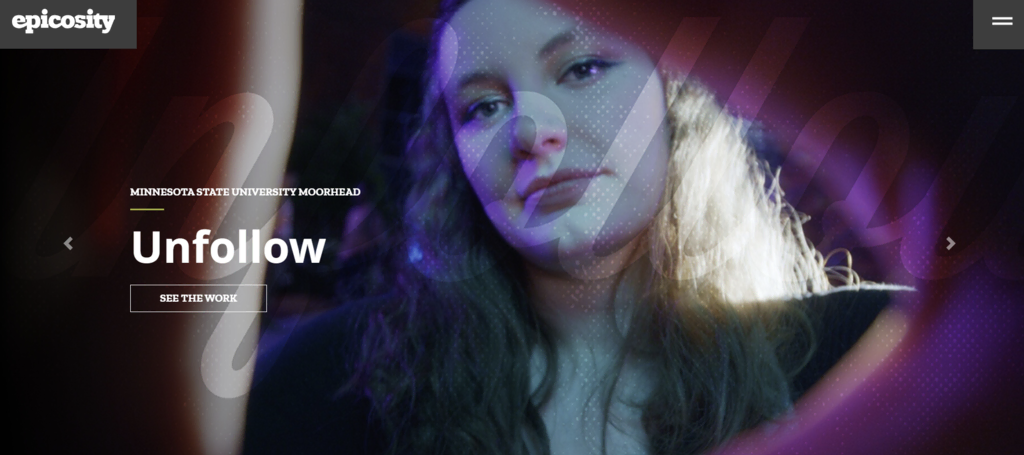 Epicosity Stats:
Best for: integrated marketing solutions
Services offered: advertising, public relations, video production, creative services
Clients: American Bank & Trust, University of Pittsburgh, Western Technical College
Cost: starts at $150/hour
As a full-service marketing agency, Epicosity offers a wide range of services to support clients in accomplishing their marketing goals. Its areas of expertise include brand development, media planning, and digital strategies. Epicosity follows a unique 5-D strategy, which stands for discover, define, develop, do, and deliver.
While this South Dakota-based agency can work with any industry, its creative team usually works in the higher education and financial fields. Notably, it has a specialized team dedicated to university and college marketing through its Epic Commons initiative.
This creative agency is a good choice for brands in the education or bank industries looking for an all-in-one solution.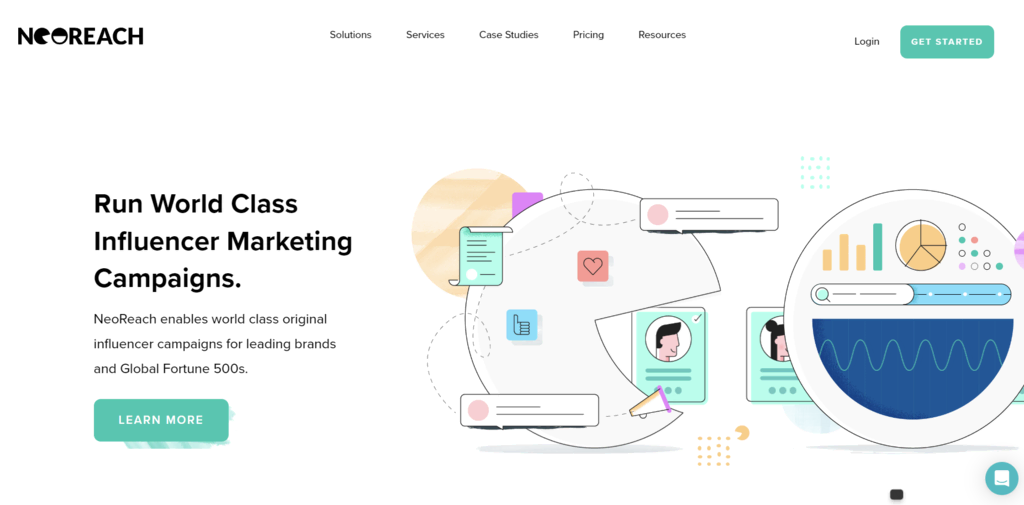 NeoReach Stats:
Best for: influencer marketing
Services offered: influencer campaign, social media campaign, paid media advertising solutions
Clients: Nvidia, Netflix, TikTok, Walmart
NeoReach is a leading agency specializing in influencer marketing and social intelligence. It combines technology and creativity to drive successful campaigns and increase customer engagement. With its advanced data analytics, it maximizes ROI and ensures precise targeting of the desired demographic.
This creative agency stands out with its ability to source top-performing niche creators, making it a suitable choice for all types of businesses. It offers both organic influencer marketing and paid media campaigns, handling everything from ad auctions to budget planning, copywriting, and visual creation.
What sets this digital agency apart is its sophisticated influencer marketing platform and data-driven approach. Its all-in-one software allows for efficient influencer search, creative execution of campaigns, and tracking of user-generated content. This streamlined platform enhances the overall performance of influencer marketing campaigns.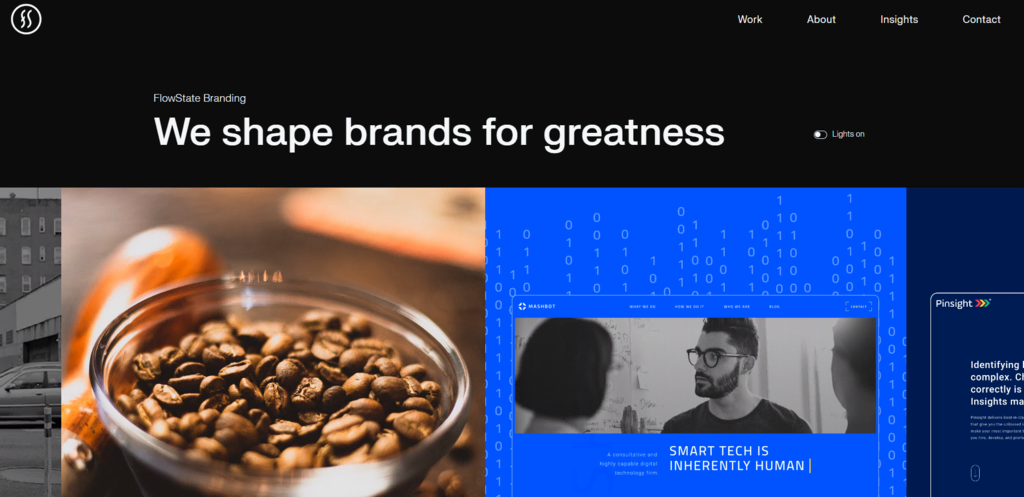 FlowState Branding Stats:
Best for: creative branding and custom merchandise
Services offered: product design, merchandise production, copywriting, packaging design, illustration, motion and video production, asset library production
Clients: Escapely, TeamBridge, Plyo
Cost: starts at $150/hour
FlowState Branding is a Denver-based creative agency specializing in branding and custom merchandise. It excels in creating strong brand identities and delivering custom merchandise that stands out. Its holistic approach to branding and marketing strategy results in cohesive and impactful brand messages.
This creative agency is a top choice for businesses seeking innovative marketing solutions beyond the digital space. You can create high-quality merchandise such as t-shirts, hats, hoodies, activewear, drinkware, and event collateral with its expertise. This agency covers everything from product design, manufacturing, warehousing, and delivery, providing a comprehensive solution for its clients.
Factors to Consider When Choosing a Creative Agency
While we've curated a list of the top creative agencies. Now, it's essential to consider several factors to ensure the agency aligns with your specific needs and goals.
Services. Look for an agency that offers a comprehensive range of services to meet your marketing objectives, including branding, PR, and social media. Based on your needs, you may need a full-service creative agency or one with specific expertise.
Specialization. For the best results, collaborate with an agency specialized in your preferred platform.
Industry experience. Prioritize agencies with experience working with businesses in your industry, as they understand the unique challenges and opportunities you face.
Case studies and portfolios. Review the agency's portfolio and case studies to assess its style and see whether it aligns with your brand.
Collaboration and communication. Choose an agency that values transparent and efficient communication, ensuring you're kept informed about project progress.
Pricing and budget. Evaluate the agency's pricing structure to ensure it aligns with your budget while providing good value for money.
Reputation and references. Seek out reputable agencies with a track record of satisfied clients. You can check online reviews on sites like Clutch and request client references.
Conclusion
Choosing the right creative agency is a significant decision that can shape your business's future. By considering the factors listed above and reviewing our top agency suggestions, you are well-equipped to make an informed decision.
While all creative agencies listed are exceptional in their unique ways, the best one for you will ultimately depend on your specific needs, goals, and budget.
Our final recommendations for the best creative agencies are:
Ralph – best for content production.
Duncan Channon – best for experiential marketing.
Viral Nation – best for influencer marketing.
Traina – best for branding.
Sociallyin – best for social media marketing.
Spire – best for B2B marketing.
We hope you can find the best creative agency for your business. Browse our other tutorials for more insights.
Creative Agency FAQ
This section answers the most frequently asked questions about creative agencies.
What Are the Types of Creative Agencies?
There are several types of creative agencies, including a full-service agency, a digital agency, an advertising agency, a PR agency, and a branding agency. Each agency type specializes in different areas of marketing, and the right one for your business depends on your specific needs. There are also traditional agencies that only work with conventional media like television or newspaper.
How Much Do Creative Agencies Charge?
The cost of hiring a creative agency can vary significantly based on the agency's size, the scope of the project, and the services required. Creative agencies may charge hourly, per project, or via a retainer for long-term engagements.
What Value Does a Creative Agency Bring to a Business?
A creative agency brings immense value to a business by offering expert marketing services. They can help a business improve its brand image, reach its target audiences effectively, run successful campaigns, and increase sales.