10 Best Marketing Agency Metrics: KPIs to Measure Your Growth and Success
Tracking the right marketing agency metrics is essential to evaluate your agency's growth and make informed business decisions.
With numerous options available, it can be challenging to determine which metrics are most relevant to your agency's goals and strategies. In this article, we have compiled a list of the 10 best marketing agency metrics that can serve as key performance indicators (KPIs) to measure business progress and guide marketing efforts.
By the end of this article, you will have a solid understanding of the best metrics marketing agencies should track and how to use them to measure success and growth.
Download Checklist: How to Start an Online Business
1. Return on Marketing Investment
Return on investment (ROI) measures the profits you get from your marketing activities relative to the investment made. ROI is a critical metric for all marketers and can be applied to any project. It provides a clear overview of the financial impact of your marketing activities.
Why Measure ROI
Measuring ROI helps you determine the effectiveness of your marketing campaigns in generating revenue or reducing costs. It enables you to evaluate the profitability of different marketing initiatives and prioritize resources accordingly.
By tracking ROI alongside metrics such as gross profit, net profit, gross margin, and profit margin, you can identify high-performing strategies and optimize the marketing budget allocation. This can lead to better overall campaign results.
How to Measure ROI
To measure ROI, you need to calculate the revenue generated or cost savings achieved from your marketing efforts and divide it by the total marketing investment.
The formula for ROI is:
[(revenue - marketing investment) / marketing investment] X 100
Based on the results, you can assess how profitable your marketing campaigns are and optimize your operating cash flow and strategies accordingly.
2. Brand Awareness Metric
The brand awareness metric measures the extent to which your target audience recognizes and remembers your brand. It indicates the level of familiarity and how potential customers regard your brand.
This metric is relevant for marketing agencies aiming to improve brand awareness and reputation. It is especially important for those who manage their clients' brand identities to increase brand visibility.
Why Measure Brand Awareness Metric
Measuring brand awareness gauges your marketing efforts' reach. It helps determine the impact of your branding initiatives and identify areas for improvement. By tracking this metric, you can assess the success of your brand-building campaigns over time and optimize your marketing spend.
How to Measure Brand Awareness Metric
The various techniques below can help measure brand awareness:
Surveys. These tools gather direct feedback from your target audience about their familiarity with your brand. You can use platforms such as Typeform.
Social media listening tools. Tools like Hootsuite enable you to monitor online conversations related to your agency on social media channels. Use these tools to check social media metrics like engagement, comments, shares, and the number of likes related to mentions about your client's brand.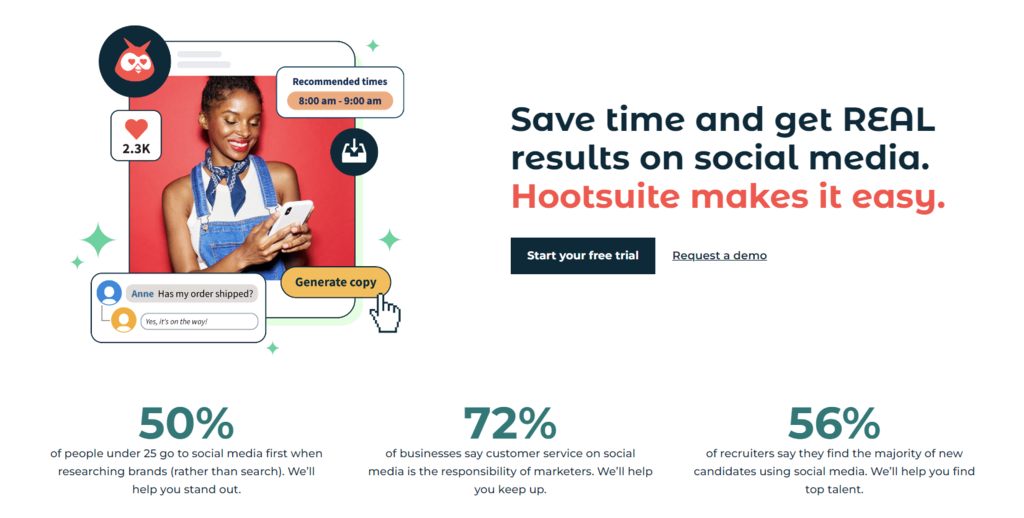 Website analytics. This data provides insights into the number of visitors, repeat visits, and referral sources. One of the best tools for this is Google Analytics.

3. Cost per Action
Cost per action (CPA) is a metric that measures the cost incurred to acquire a specific action from your target audience. It could be a website click, form submission, or purchase.
CPA is relevant for marketing agencies with clients focused on performance marketing and aiming to drive conversions from their target audience. It is particularly important for web agencies managing digital advertising campaigns to maximize the return on the total marketing spend.
Why Measure CPA
Measuring CPA assesses the efficiency of your marketing initiatives. It helps you to evaluate the ROI for each desired action.
By tracking this metric, you can identify which advertising channels and campaigns deliver the best results at the lowest cost per action. That way, you can optimize the marketing budget and focus on strategies that deliver a good balance of CPA and results.
How to Measure CPA
To measure CPA, you need to track the cost associated with your marketing campaigns and divide it by the number of desired actions obtained.
The formula for CPA is:
total campaign spend / number of actions acquired
For example, if you spent $1,000 on a marketing campaign and received 100 form submissions, your CPA would be $10 per submission.
4. Customer Lifetime Value (LTV)
This metric predicts the total revenue a customer is likely to generate over the course of their engagement with a business. It considers factors such as average purchase value, purchase frequency, and customer retention rate.
LTV is important for marketers who want to assess the long-term value of their customer base. It is especially crucial for businesses that offer ongoing services or products like subscriptions that rely on customer loyalty.
Why Measure LTV
Measuring LTV reveals the profitability of your customer relationships. It helps you identify which customer segments are the most valuable to allocate resources accordingly.
Marketing agencies should track this metric to focus on strategies that maximize the customer lifetime value and enhance loyalty. This leads to improved customer satisfaction, higher retention rates, and, ultimately, better business growth.
How to Measure LTV
To measure lifetime customer costs for a business, you need to analyze historical consumer data and calculate the average revenue generated per customer over their lifetime.
The formula for LTV is:
(average purchase value X average purchase frequency) X average customer lifespan
5. Monthly Recurring Revenue
Monthly recurring revenue (MRR), or monthly recurring profit, is a vital metric for agencies, especially those providing subscription-based services or products. It offers valuable insights into the stability, growth, and profitability of your agency's revenue stream.
By measuring MRR alongside other key financial indicators such as gross profit, net profit, gross margin, profit margin, operating cash flow, and sales closing ratio, you can gain a comprehensive understanding of your agency's financial health and operational efficiency when adopting this recurring revenue model.
Why Measure Monthly Recurring Revenue
Measuring MRR evaluates a business' revenue stability and growth potential. It also provides a clearer picture of the predicted monthly income.
By tracking changes in MRR over time and analyzing its relationship with other metrics, you can identify trends or patterns that may impact your business.
This information empowers you to make informed decisions to optimize your pricing, marketing strategies, client acquisition efforts, and overall sales effectiveness. All of these factors lead to a lower customer churn rate and an increase in retention.
How to Measure Monthly Recurring Revenue
To measure MRR, you need to calculate the total revenue generated from subscriptions on a monthly basis.
The formula for MRR is:
number of subscribers monthly X average revenue per user (ARPU)
Remember to include and adjust the revenue based on new subscriptions, upgrades, downgrades, and cancellations.
6. Web Traffic Sources
The web traffic sources metric analyzes various sources of website visitors, such as search, direct, referral, paid searches, and banner ads.
It provides insights into the traffic generated by each source, giving agencies a deeper understanding of specific channels like search and referral. This analysis can be further segmented based on landing page and keyword rankings for search traffic and categories such as blog mentions, social referrals, and service listings for referral traffic.
This metric is relevant for marketing agencies to analyze the performance of their clients' online marketing strategies and drive high-quality traffic to their websites.
Why Measure Web Traffic Sources
Measuring web traffic sources identifies the top marketing channels driving visitors to your website. By tracking this metric, you can optimize your marketing budget and focus on primary lead sources that generate the highest quality traffic. This leads to improved lead generation and website visibility.
Furthermore, doing monthly website traffic analysis can help you gauge peak traffic times to optimize your site accordingly.
How to Measure Web Traffic Sources
To measure web traffic sources, you can utilize website analytics tools such as Google Analytics. These solutions provide detailed reports on the sources of your website traffic, including organic traffic, direct traffic, referral traffic, and paid search.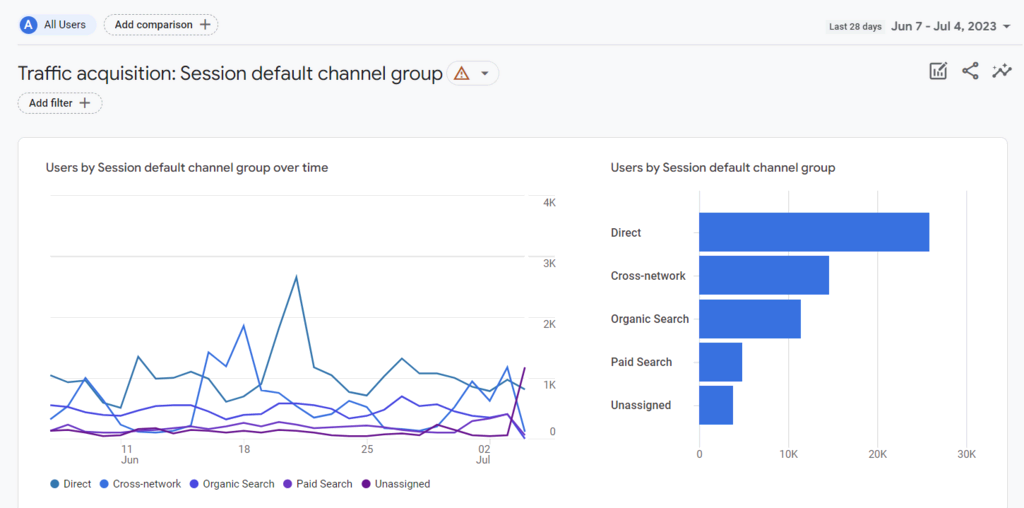 7. Click-Through Rate (CTR)
Click-through rate (CTR) is a metric that measures the percentage of users who click on a specific link out of the total number of users who view it. It indicates the level of engagement and interest generated by your marketing campaigns.
CTR is important for marketers who want to assess the effectiveness of their online advertisements to optimize their messaging.
Why Measure CTR
Measuring CTR assesses the performance of your online advertisements. It helps agencies understand how compelling their ad copy, visual design, and call-to-action are in capturing users' attention.
By tracking this metric, you can refine your advertising strategies to drive higher click rates and increase sales conversion rates.
How to Measure CTR
To measure CTR, you need to divide the number of clicks on a specific link or advertisement by the total impressions, or number of views, it received. Online advertising platforms and analytics tools usually provide CTR data for your campaigns.
The formula for CTR is:
total clicks / number of impressions X 100
8. Referral Traffic
Referral traffic measures the number of visitors that come to your site or your client's site through indirect or external sources.
It indicates the effectiveness of your online partnerships, backlinks, and content marketing efforts in attracting users. This metric can also give insights into your SEO strategy since search engines see quality referrals as positive ranking signals.
Why Measure Referral Traffic
Measuring referral traffic helps you understand the success of your partnership programs, influencer collaborations, and content marketing initiatives. It enables you to identify the external websites, blogs, or social media platforms that generate the most traffic to your website.
Tracking referrals is an excellent starting point for nurturing valuable partnerships, optimizing your content distribution strategies, and driving more referral traffic.
How to Measure Referral Traffic
To measure referral traffic, you can utilize web analytics tools like Google Analytics that provide detailed reports on the sources of your website visitors. They show the websites, social media platforms, and other online channels that refer visitors to your site.
9. Bounce Rate
Bounce rate measures the percentage of visitors who leave your website after viewing a single page without exploring further or interacting with any web elements. It indicates the level of engagement and relevance of your website content to visitors.
Identifying the bounce rate is important for marketers who want to assess the effectiveness of their landing pages and website's user experience.
Why Measure Bounce Rate
Measuring bounce rate helps you evaluate the performance of your landing pages and website content in capturing visitors' interest. With it, agencies can identify potential issues contributing to a high bounce rate, such as slow page load times, a poor user experience, or irrelevant content.
Another benefit of analyzing bounce rates is that you can optimize the website design, content strategy, and user experience to increase engagement.
How to Measure Bounce Rate
To measure website performance in terms of bounce rate, you can utilize Google Analytics. It provides data on the number of single-page visits compared to the total number of visits, and will even show the bounce rate percentage.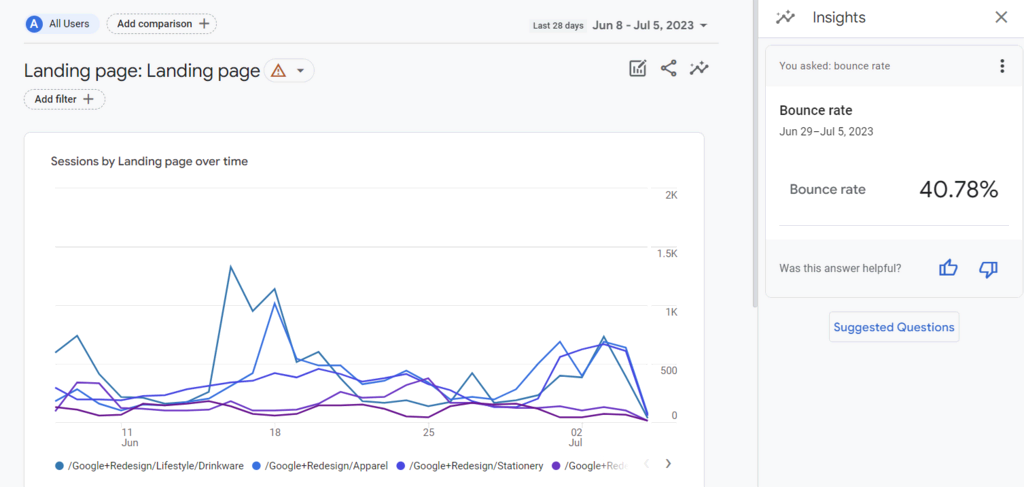 Average bounce rates vary from site to site. Below are some bounce rate averages to help you benchmark your own:
| | |
| --- | --- |
| Average Bounce Rate | Website Types |
| 20-45% | eCommerce |
| 25-55% | B2B websites |
| 30-55% | Lead generation websites |
| 60-90% | Landing pages |
| 65-90% | Dictionary, blog, and news sites |
| 35-60% | Non-eCommerce content websites |
One of the proven ways to reduce bounce rate is by having a good website performance and fast page loading time.
Hostinger's web hosting plans accelerate website speed using LiteSpeed web server technology and advanced caching solutions, resulting in optimal performance.
Furthermore, by incorporating object cache for WordPress, response times can be reduced by up to three times. As such, you can provide a seamless browsing experience that reduces bounce rates and encourages user engagement.
We also offer a 99.9% uptime guarantee, ensuring your and your clients' websites are always accessible to visitors.


10. Conversion Rate
Conversion rate measures the percentage of website visitors who complete a desired action, such as making a purchase, filling out a form, or subscribing to a newsletter.
This metric is crucial for marketers to assess the performance of their websites and optimize their conversion funnels.
Why Measure Conversion Rate
Measuring conversion rate helps you evaluate the effectiveness of your website in the sales process of converting visitors into marketing-qualified leads, then into new customers.
Marketing-qualified leads (MQL) are the kind of visitors that are interested in your products. You can evaluate them based on which page or call-to-action (CTA) button they click on. If you engage with an MQL correctly, they can become a sales-qualified lead (SQL), meaning they're ready to engage with your sales team and be new customers.
Tracking this metric alongside the customer acquisition cost, actual project cost estimates, and the amount of profit generated is crucial. With such information, you can optimize the sales funnel, messaging, and user experience to increase conversions and achieve your marketing goals.
How to Measure Conversion Rate
To measure the conversion rate, divide the number of conversions by the total number of clicks or interactions, depending on the platform or campaign. Website analytics tools and conversion tracking platforms can also provide data on conversions and visitor behavior.
The formula for measuring conversion rate is:
number of conversions / total interactions X 100
For example, if you had 500 conversions from 5,000 clicks, your conversion rate would be 10%.
How Do I Know Which Metrics My Marketing Agency Should Track
Aside from agency-focused data, there are also general business metrics you can implement in your agency to make more informed business decisions.
Let's explore the steps for identifying the metrics that are most relevant to your marketing agency.
Define Your Goals
First, clearly define the goals and objectives of your marketing team. Are you aiming to increase brand awareness, generate qualified leads, improve customer retention, or boost revenue?
Additionally, distinguish whether the metrics are focused on your team's performance or the customer's experience.
Metrics like labor costs, utilization rate, total billable hours, and gross margin are relevant to internal agency operations. However, metrics such as profit generated, customer churn rate, customer acquisition cost, and lifetime customer revenue are more client-oriented.
Keep in mind that you can combine and measure client-side KPIs with internal ones. By aligning metrics with overall goals, you can effectively measure progress and success.
Identify Key Performance Indicators
Once you have defined your goals, it's time to identify the key metrics that will help you measure your agency's performance. These metrics should provide actionable insights and help you make data-driven decisions.
For example, if you aim to build a brand, you may track brand awareness metrics, website traffic sources, or referral traffic. If lead generation is a priority, you might focus on metrics like conversion rate or CPA.
Remember to also measure financial metrics like cash flow, actual project cost estimated, actual project time estimated, and annual revenue to gauge how efficiently your agency is operating.
Prioritize Metrics
While there may be numerous metrics available to track, it's important to prioritize those that have the most significant impact on your goals and objectives. Consider the metrics that align closely with your business strategy and have the highest potential for improvement.
By focusing on a select few, you can allocate your resources more effectively and gain a deeper understanding of your agency's performance in key areas.
Set Benchmarks and Targets
Establishing benchmarks or industry standards for the metrics you choose to track is vital for evaluating your agency's competitiveness. This helps you compare the results against industry averages or past performances.
By setting realistic targets for improvement, you can identify actionable areas that require further optimization. For example, if the industry average for website conversions is 3%, consider setting a target to achieve a 5% conversion rate and track the progress on your marketing dashboard.
Use a Data-Driven Approach
Collecting and analyzing data on a regular basis is fundamental for tracking your selected metrics effectively.
Utilize agency management software, marketing dashboard platforms, and customer relationship management (CRM) systems to gather accurate and relevant data in real time. These agency tools can provide valuable insights into consumer behavior, campaign performance, and other key metrics.
By incorporating a strategic approach and focusing on data-centric metrics, your marketing agency can make informed decisions to drive growth. Among others, take note of the revenue and gross margin, number of quality leads, sales qualified leads, leads generated, utilization rate, and operating cash flow.
Conclusion
Tracking the right metrics is essential for the growth and success of your marketing agency.
In this article, we have listed the top marketing agency metrics to consider. Each of them provides valuable information about different aspects of your and your clients' marketing performance.
By measuring relevant marketing metrics, you can gain valuable insights into the effectiveness of your strategies, identify areas for improvement, and make informed decisions to scale your business.
To find the most impactful metrics, define clear goals, identify relevant KPIs, collect and analyze real data, and use analytics tools for the most accurate results. With this approach, you can measure your agency's performance and optimize growth strategies.
Marketing Agency Metrics FAQ
This section answers the most frequently asked questions about marketing metrics.
Are Marketing KPIs Different from Marketing Metrics?
Yes, marketing agency KPIs and metrics are two distinct terms. Marketing KPIs are specific goals or outcomes that the agency is trying to achieve. Metrics, on the other hand, are the data points used to measure progress toward achieving a KPI. For example, if the KPI is generating leads, the metrics involved may include CPA and conversion rate.
Why Is It Important to Track KPIs for Marketing?
Tracking marketing agency KPIs is important because it helps monitor your agency's progress toward its goals. By setting and measuring an agency KPI, you can assess the effectiveness of your marketing strategy, identify areas of improvement, and make data-driven decisions. KPIs provide a clear focus and help you prioritize your resources and efforts.
How Many Metrics Should My Marketing Agency Use?
The number of metrics your marketing agency should use depends on various factors, including your agency's goals, resources, and capacity to analyze data effectively. We recommend focusing on a manageable number of key metrics that best align with your agency's strategic objectives.
 
Start with a core set of metrics that directly reflect your goals and gradually expand as needed. Keep in mind that the quality and relevance of metrics are more important than quantity.