What Is Plesk? Overview of the VPS Control Panel Features and Pricing
Plesk is a web hosting control panel for virtual private or dedicated servers offering a user-friendly interface and automation tools. These comprehensive and time-saving tools make Plesk a popular option for web professionals.
Web hosting companies provide this control panel on Windows or Linux servers. For example, Plesk is available in Hostinger's VPS hosting plans for CentOS and Ubuntu operating system templates.
In this article, we will explain Plesk's benefits and key features to help you determine if it is the right control panel for you. In addition, you will learn how Plesk's versions differ and their pricing.


What Is Plesk?

Plesk is a hosting control panel for dedicated and virtual private servers with an intuitive graphical user interface. It lets users easily manage the hosted services on their server, including websites, databases, and emails. As for compatibility, it works with Windows and most Linux distributions, including Debian and CentOS.

Why Use Plesk
In this section, we will explain the main benefits of using Plesk for your dedicated or virtual private servers.


Simplifies Website Management
Plesk offers various features that help users manage their domains, databases, and email accounts with a single tool. For instance, it has a built-in file management feature, allowing a server administrator to modify website files without a file transfer protocol (FTP) client.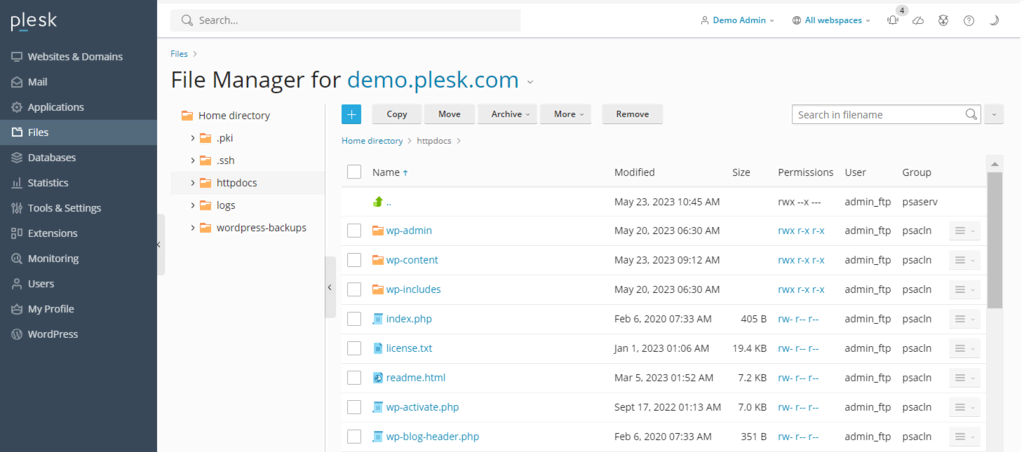 Moreover, it lets users manage multiple virtual hosts with a single control panel. This capability makes Plesk suitable for web hosting companies, resellers, or users with many websites.
Improves Efficiency
Plesk's automation feature enables you to manage your websites or web applications more efficiently. You can schedule a command execution, PHP script runtime, and URL fetching.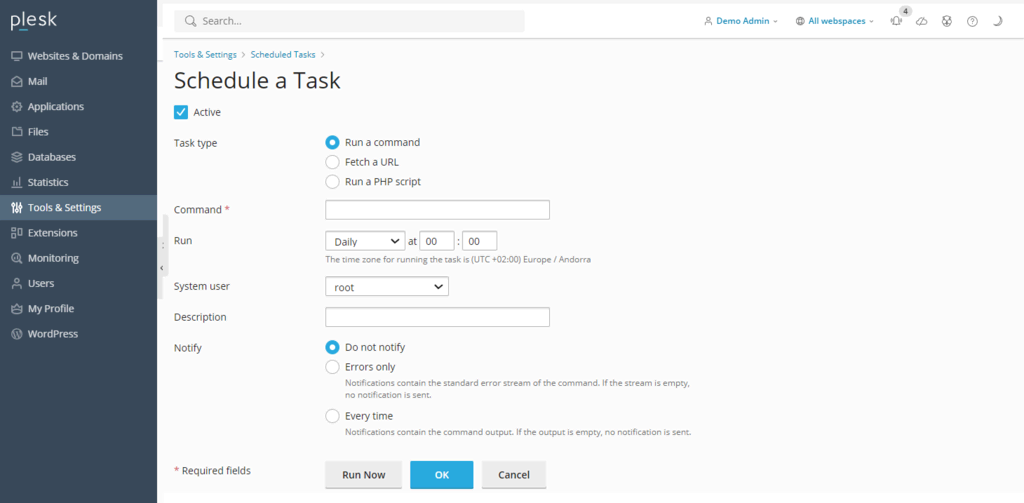 Using it saves time and effort, especially for automating recurrent tasks like updating. Moreover, Plesk offers many extensions, like a built-in HTML code editor, that can help simplify various tasks.
Provides Flexibility and Scalability
Plesk lets you access your server using SSH for more control and customization options. For example, you can change server access permissions to prevent malicious users from modifying your servers.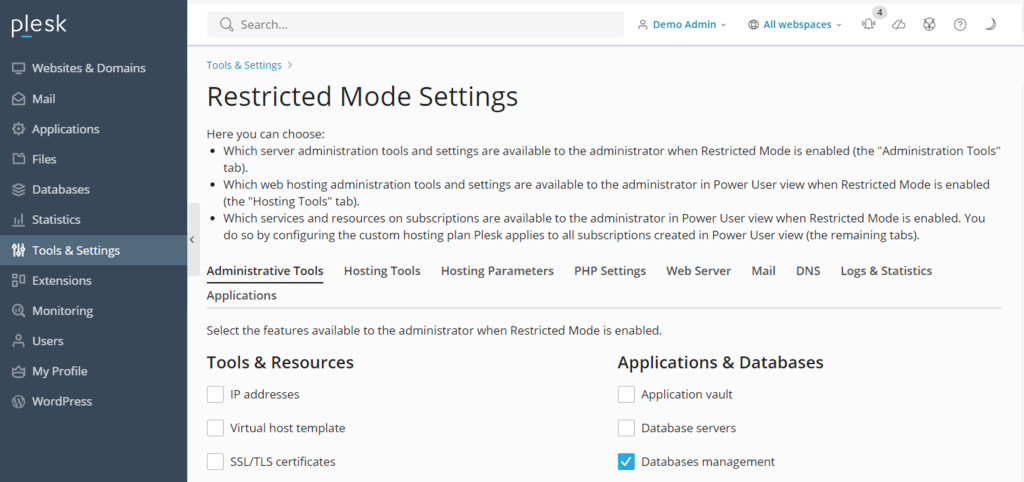 Plesk server also offers flexibility in managing computing resources, making it scalable for high traffic. Moreover, it has a built-in NGINX caching feature that improves your website performance.
Plesk Key Features
In this section, you will learn about Plesk's key features for enhancing your server management workflow. Remember, they may be specific to its newest version.
Modern Web Stack
Plesk includes an optimized web stack, allowing you to quickly deploy a website on your VPS. Its stack consists of the following:
Composer – helps manage PHP software libraries and dependencies. You can install dependencies with a single click without worrying about compatibility.
Docker integration – enables users to easily pack and distribute their web applications within a container. Plesk also lets you run additional services on the server directly from the Docker Hub.
MongoDB Database – provides a flexible, scalable, and easy-to-use database. Users can handle all the database management directly via the control panel.
Integrated Security
When managed poorly, a virtual private server is prone to security and performance issues. To ensure optimal VPS security, Plesk comes pre-configured with various security features:
SSL It! – purchase and configure Secure Sockets Layer (SSL) certificates from various providers directly from the Plesk dashboard.
Firewall management – protect your server from connections that may compromise its security.
Self-repair tools – diagnose potential issues on your server and automatically repair them.
Server Name Identification (SNI) – improve security by preventing unwanted parties from spying on your email conversations.
Advanced server monitoring – track system resource consumption per domain to help determine potential performance issues.
Web Project Lifecycle
Plesk provides all the web stacks and functions that help streamlines users' web project lifecycle. It lets users plan, develop, deploy, and maintain their web applications or sites with a single tool.
Its redesigned user interface (UI) allows users to easily manage multiple websites via one dashboard. Moreover, it offers advanced notification systems that help you quickly address server maintenance needs.
Backup and Restore
Plesk lets you create a space-efficient, cloud-based backup of your account configuration and hosted services' data, including the content of your website, email, or domain.
You can also schedule an automatic backup to ensure your data is safe from potential cyber attacks. To restore the data, simply upload the backup to your Plesk control panel.
Domain and Email Management
Users can easily add, remove, or move domains to another web hosting platform on a single screen. In addition, you can change your domain names, hosting types, statuses, and root folder directories.
This control panel also has an email autodiscovery feature that lets users automatically configure their email clients to speed up the setup process.
WordPress Toolkit
Plesk WordPress toolkit simplifies the following tasks of managing CMS-based websites:
Installation – installs WordPress, databases, themes, and plugins directly from the hosting control panel.
Staging – creates a separate development environment to test changes and deploy them to the live website with one tool.
Securing – scans WordPress websites for potential issues and hardens the selected items to improve security.
Updating – automatically updates WordPress, themes, and plugins. It also lets users create a clone website to test the updates' compatibility.
Pro Tip
While the toolkit is only available for WordPress, Plesk also supports other popular content management systems (CMSs) like Joomla and Drupal.
Plesk Versions and Pricing
Currently, there are two main versions of Plesk, the legacy Onyx and the newest Obsidian. While some web hosting providers may still offer the end-of-life Onyx, Hostinger's VPS plans use Plesk Obsidian.
Pro Tip
If you have purchased the Plesk Onyx license, you don't need another license to upgrade to Obsidian.
Since Plesk is license-based, purchase the control panel before installing it into your VPS. At Hostinger, you can install and buy the control panel license directly from your VPS operating system configuration menu.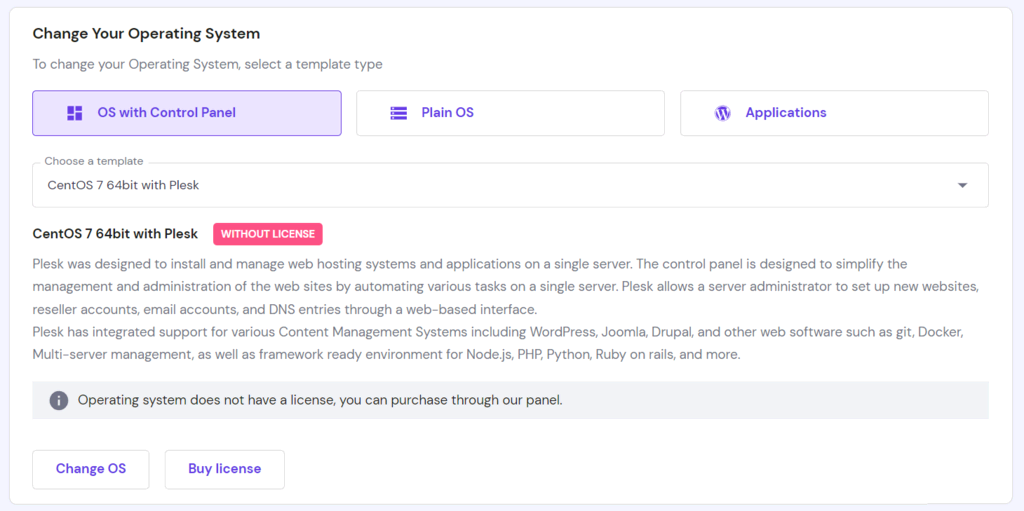 To help you choose, here's a comparison table of Plesk plans, pricing, and key features:
| | | | |
| --- | --- | --- | --- |
| Web Admin Edition | Web Pro Edition | Web Host Edition | Business Plans |
| Starting at $12.38/month | Starting at $18.79/month | Starting at $32.54/month for VPS and $53.63/mo for the dedicated license. | Starting at $250/month |
| 10 Domains | 30 domains | Unlimited domains | All Plesk editions and extensions |
| WordPress toolkit with limited features | WordPress toolkit | WordPress toolkit | Priority 24/7 support |
| | Subscription and account management features | Subscription, account, and reseller management features | Dedicated account manager |
Conclusion
Plesk is a hosting control panel for dedicated or virtual private servers offering an intuitive graphical user interface. It is developer-friendly and compatible with different operating systems, including Windows Server and popular Linux distributions like Ubuntu.
The Plesk control panel is flexible and scalable. In addition, it offers various features that help simplify and improve your website management efficiency:
Modern web stack – provides MongoDB database, Composer, and Docker NextGen.
Integrated security – offers a built-in SSL management tool, SNI, issues alerting, and a firewall to improve security.
Web project lifecycle – provides an all-in-one interface that helps streamline web development and maintenance tasks.
Backup and restore capabilities – allow users to create a cloud-based, space-efficient hosting file backup for easy restoration.
WordPress toolkit – helps simplify WordPress management tasks, such as installing or updating the CMS, themes, and plugins.
The Plesk control panel starts at $12.38/month and has two versions, the legacy Onyx and the new Obsidian. Hostinger's VPS web hosting plans offer the new version in the CentOS and Ubuntu templates, which you can easily install via hPanel.
What Is Plesk FAQ
In this section, we will answer several commonly-asked questions about the Plesk control panel to help you understand more about it.
What Is Plesk Used For?
Plesk is a secure hosting control panel that lets users host, secure, and manage their sites or web applications in a VPS. It can also automate various development tasks, like running an update script, and offers domain management functionality.
What Platforms Does Plesk Support?
Plesk offers multi-platform support for a dedicated server and VPS hosting. It is compatible with Windows Server and various Linux distributions, including Ubuntu, Debian, and CentOS.

Refer to the Plesk software requirements documentation to learn more about its compatibility. 
Is Plesk Easy to Use?
Yes, Plesk offers an intuitive graphical user interface that makes the control panel easy to use, even for users with minimal server management experience. The UI is simple, allowing users to find each feature and manage their website easily. 
What Are Plesk Alternatives?
Popular Plesk alternatives for VPS include cPanel, Webmin, and DirectAdmin. Hostinger VPS hosting users can switch to these control panels easily through hPanel.