How to Create Your Online Store in Under 1 Hour Using WooCommerce
If you want to learn how to create an online store, this is the tutorial for you. With the help of this video, you will learn how you can easily create your own website using WooCommerce.
The best part is that you don't need any prior knowledge or large investments. All you have to do is follow the steps provided and your WooCommerce store will be ready within an hour.
In this tutorial you will learn:
How to set up hosting and install WordPress
How to navigate WordPress
How to install and navigate WooCommerce
How to create important pages for your customers
How to add payment gateways
How to add shipping zones
How to add products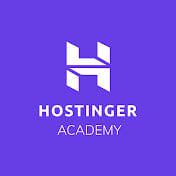 Subscribe For more educational videos!
Hostinger Academy
Subscribe