9 Best Blog Name Generators to Find the Perfect Name in 2024
Finding the right name can be one of the most critical steps when starting a blog, as it's the first element of a site that people will recognize.
Luckily, it's possible to come up with a blog name in no time with the help of a blog or domain name generator.
A blog name generator can create and suggest good blog names based on the words that you enter, while some also check whether the name you choose is available as a domain.
In this article, we'll go over the top 9 blog name generators that can produce appealing and brandable blog name ideas.


The 9 Best Blog Name Generators
In this section, we'll go over the top online tools that can help you choose the perfect name for your blog.


Hostinger offers a website maker that features many free tools in its arsenal, including an easy-to-use AI-powered business name generator.
This generator can produce dozens of different ideas related to your blog niche, making it an excellent solution to discover unique, creative blog names.
To use the Hostinger business name generator, input keywords that represent your blog topic separated by commas and click the Generate Ideas button.
The following example contains fashion blog name ideas generated after entering the keywords "fashion", "style," and "trend":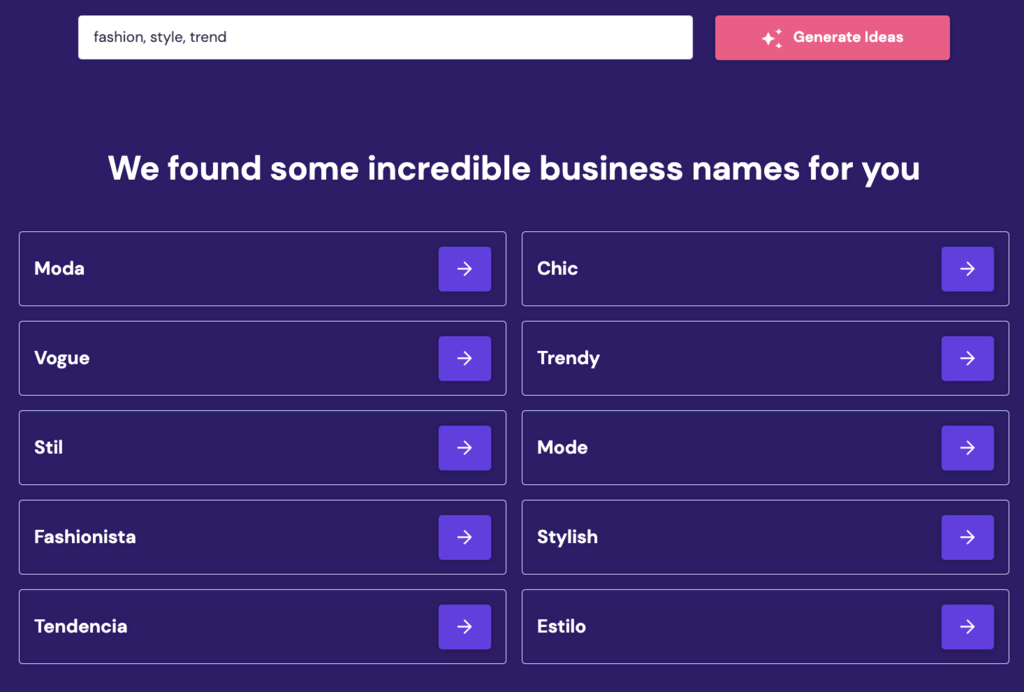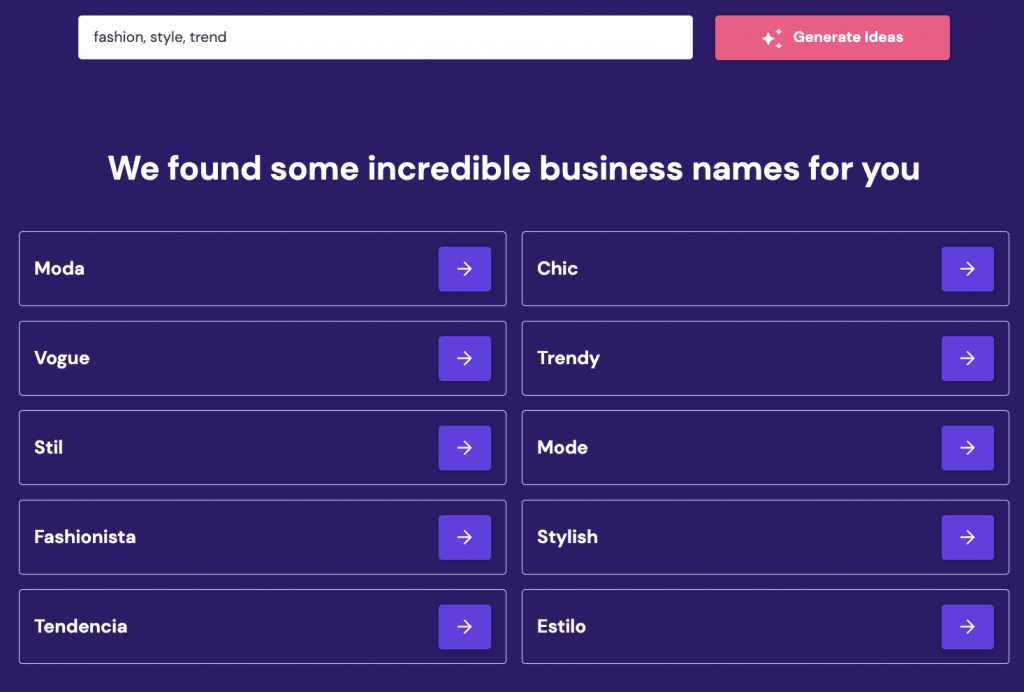 Since this generator doesn't show domain name availability, make sure to use a domain finder to see whether a name is available.

Nameboy is one of the best blog name generators out there – it can produce plenty of good blog name ideas in just a few seconds.
Aside from generating blog names, Nameboy can also help users find a name for their business, podcast, or eCommerce store.
Nameboy is extremely straightforward to use as well. Just enter one or two keywords, and it will generate suggestions based on these terms.
Let's say you intend to start a travel blog with the intent to travel alone and write about your experiences. "Solo travel" is an example of a keyphrase related to this niche – enter it into Nameboy and it will generate the results, like this: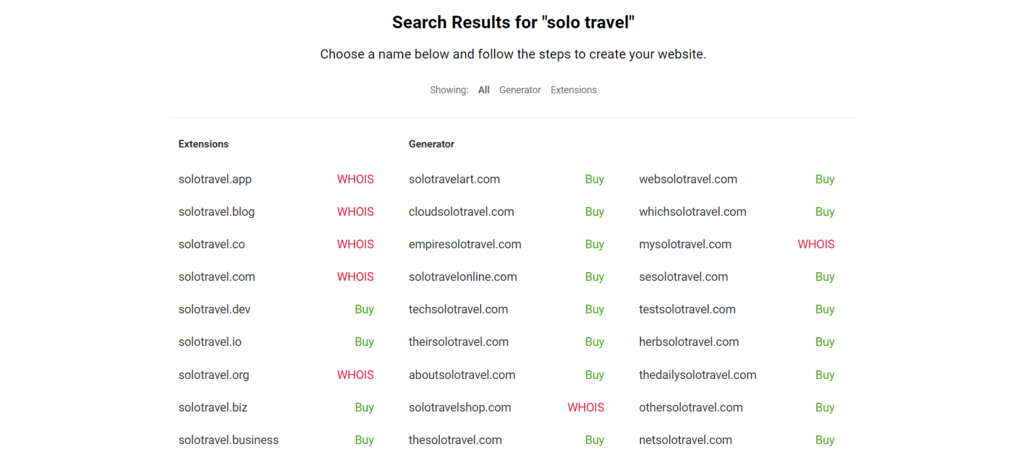 Nameboy includes the terms you enter into all of its name suggestions, making this generator an excellent solution for people who want to add specific keywords to their personal blog name.
Other than that, this site links users to a WHOIS lookup tool, letting them discover who owns domains that are already taken.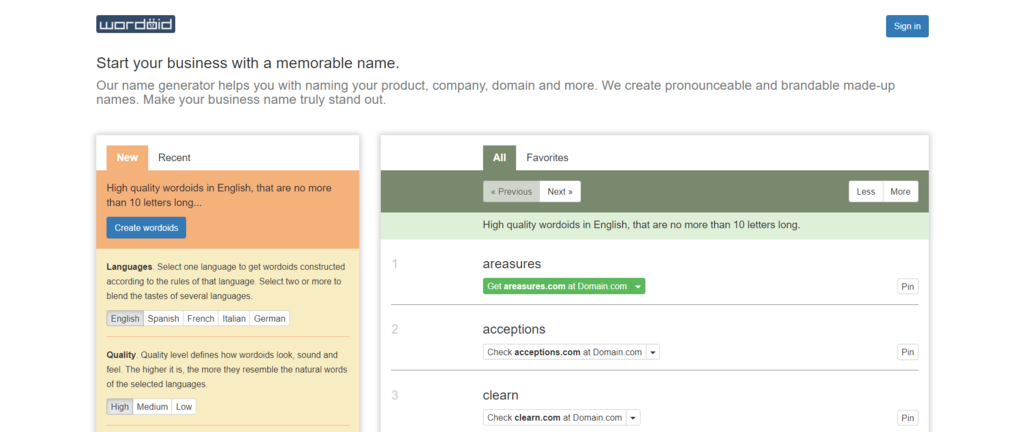 Another blog name generator to create a catchy name with is Wordoid. This tool can help you find good blog name ideas for different niches.
Wordoid creates pronounceable and brandable made-up names called wordoids. They might sound like real words, but you won't find them in a dictionary.
This name generator tool comes with an intuitive smart interface. It also provides various options to assist users with their blog naming process.
Firstly, you can pick between five languages for wordoid generation – English, German, Spanish, French, and Italian. One or more may be used at the same time.
Furthermore, there's a quality level setting that defines how the wordoids will look, feel, and sound. Users can choose between high, medium, or low options. The higher the quality, the more natural the wordoid will be.
The options also let you adjust the pattern of wordoids, making them begin, contain, or end with a specific word.
As for the length, users can set it to up to 15 characters. To make the wordoids look better and be easier to remember, stick with a length of five to ten letters.
Lastly, you can opt to hide wordoids with unavailable .com domains.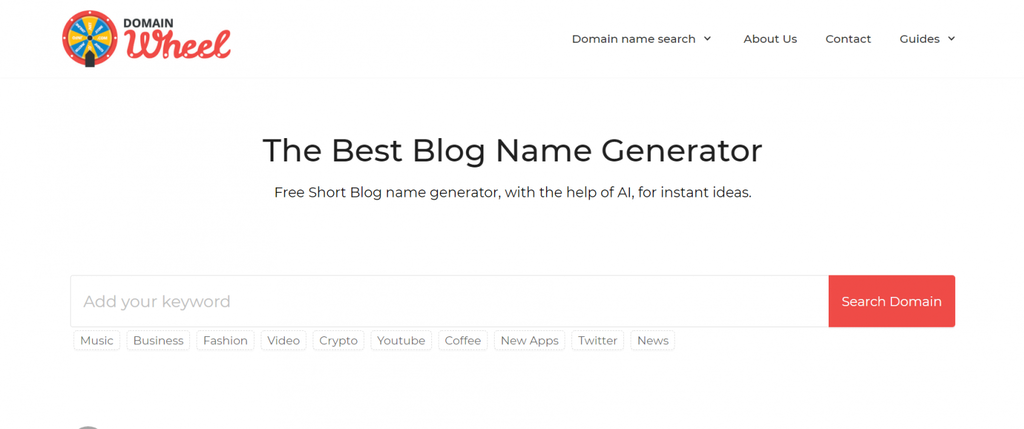 Domain Wheel is a free online tool that helps users find suitable names and domains for business sites or personal blogs.
To use the Domain Wheel, type a keyword into the search box and click Search Domain. It will then display a list of available domain names. Once a query is submitted, you can filter the results by extensions.
If you enter the word "travel" to generate travel blog names, the search results will look like this: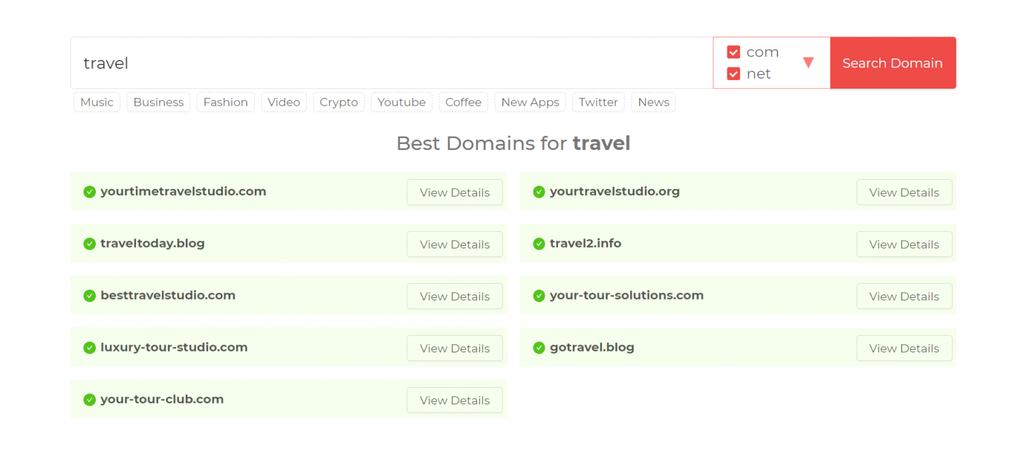 If you discover the perfect domain name for your blog, it's possible to register it by clicking on the View Details button.
On the other hand, if the initial recommendations aren't to your liking, scroll down to check out other unique and random ideas that don't include your keyword.
Domain Wheel also recommends other words that rhyme and sound like your keywords, offering you plenty of creative suggestions to choose from.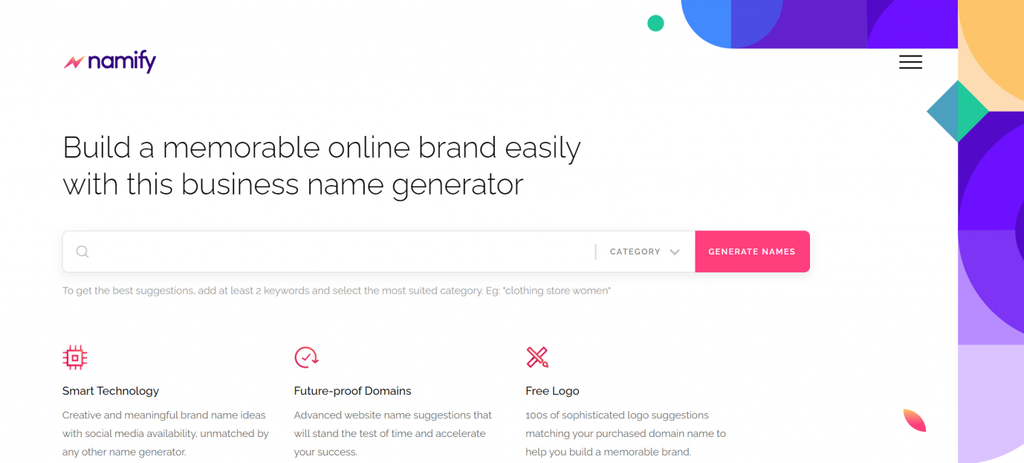 Namify is another excellent name generator. Although its primary aim is to help users find business name ideas, it can also help discover some eye-catching blog names.
Namify offers thousands of creative blog names based on the data you enter. Most of the suggestions are more modern and shorter than what other generators come up with.
When using Namify, make sure to enter at least two keywords to get the best results. This tool also requires you to pick a category that describes your niche the best.
For example, if you're looking for food blog names, input keywords like "meal" and "recipe" and choose the Food category. Then, Namify will present the potential name ideas like this: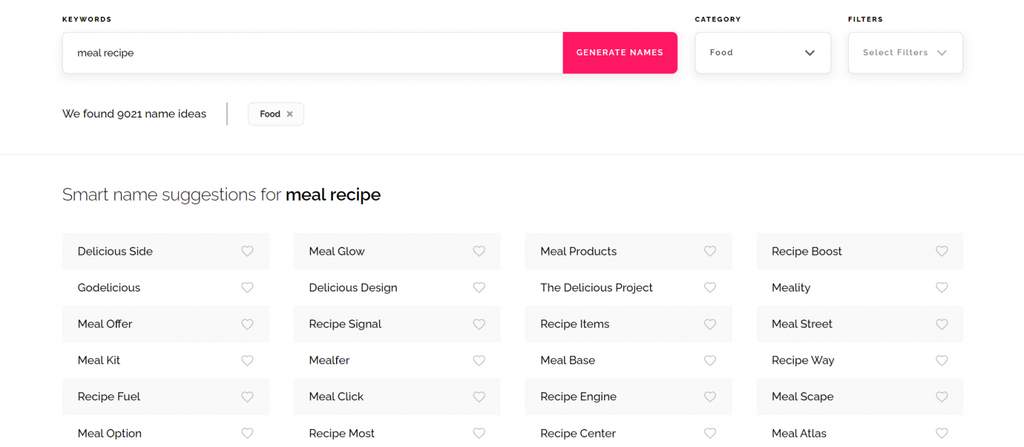 Click on a name that you like to check the domain availability. If the .com domain isn't available, Namify will display other extensions.
Another excellent feature of Namify is social media availability. It lets you know if the name you picked is available on different social media platforms.
Finally, Namify offers sophisticated logo suggestions that match your chosen name to improve the credibility of your blog.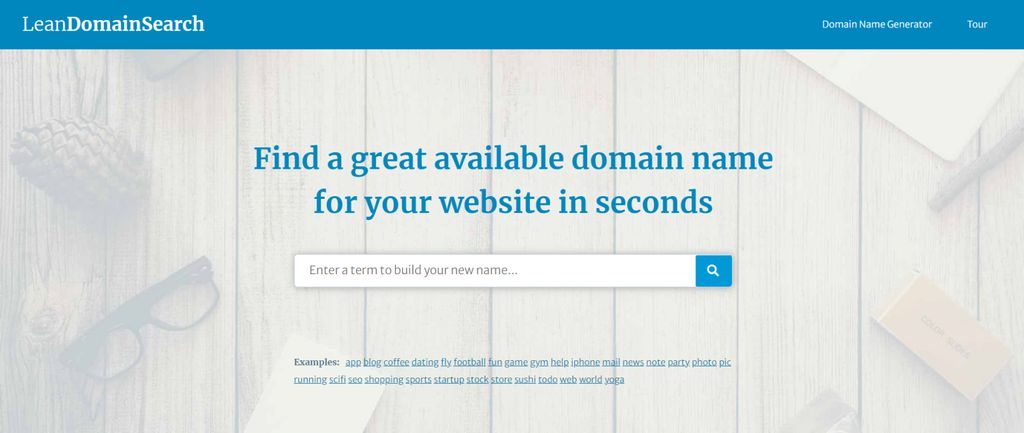 Lean Domain Search is a free domain name generator that can instantly come up with hundreds of available names.
As it focuses on efficiency, this tool only offers .com domain suggestions and ignores less popular domain extensions.
To start using Lean Domain Search, enter a single keyword and click on the search icon. In under a second, the tool will generate tons of available domain names.
Here's what the results page looks like after inputting "fashion" to get a list of possible fashion blog names: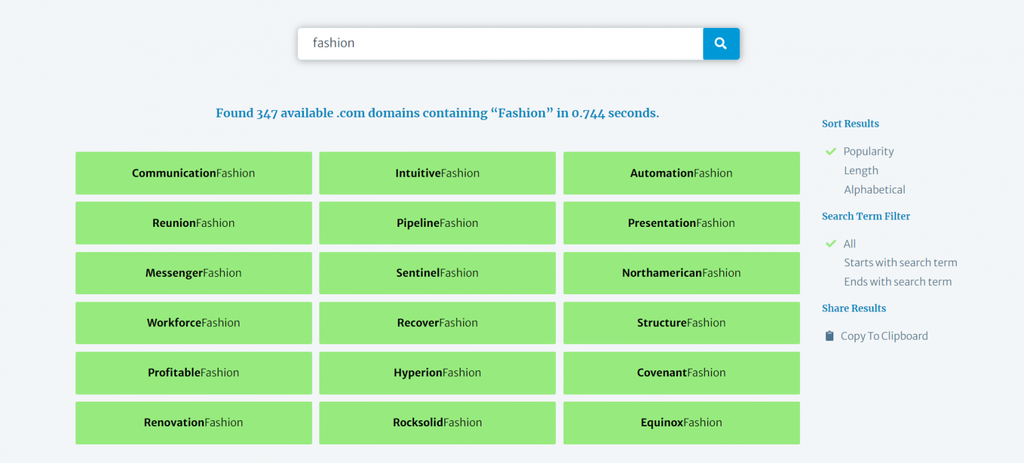 Users can sort the results by popularity, length, or alphabetically. They can also filter the names that start or end with their search term.
Moreover, it's possible to copy all of the results to the clipboard to save them or share them with others.
Finally, Lean Domain Search can also check whether the name is still available to register on Twitter.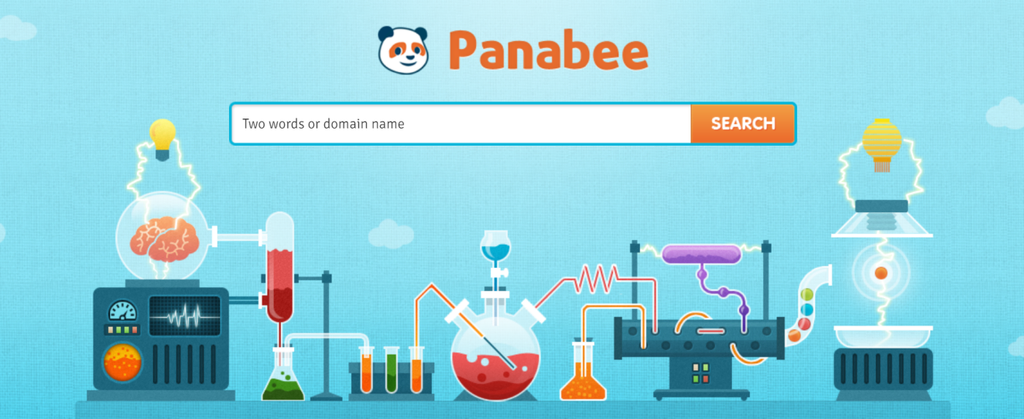 Panabee is one of the most popular tools for generating blog, domain, and app names. It comes with an appealing design and a simple interface.
This blog name generator creates names by merging keywords, eliminating or doubling letters, and swapping related words.
To use Panabee, type in words describing your niche and click Search. Consider entering more than one keyword in order to view unique and interesting names.
For instance, if you wish to start a blog on the beauty industry, input words like "beauty" and "glam" into Panabee to get some ideas for beauty blog names. Here's what the results will look like: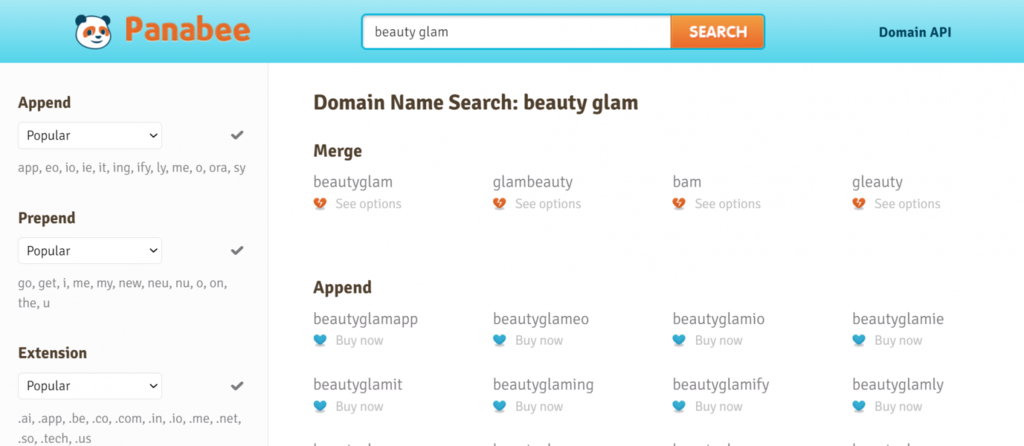 To figure out which domain names are available for registration, look for suggestions with a blue heart next to them. If the name you like is unavailable, click See options for alternatives. Some taken domain names will be available for purchase as premium domains.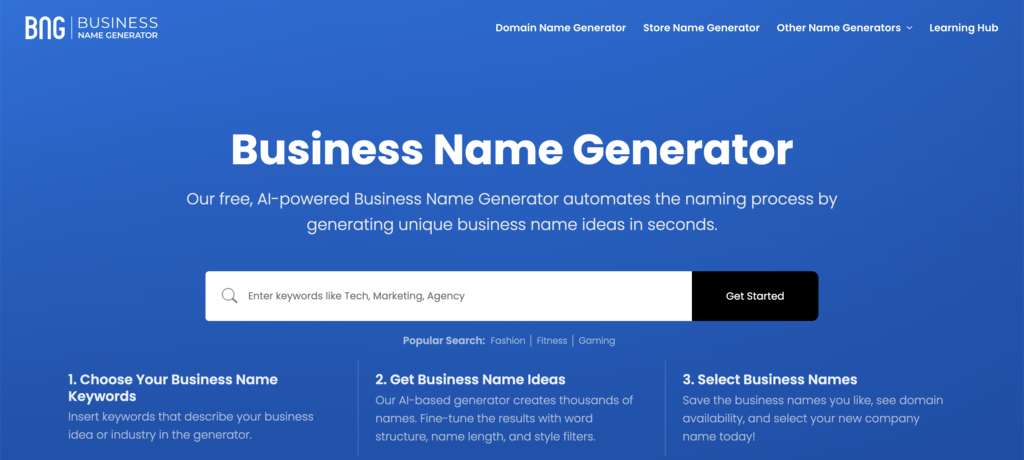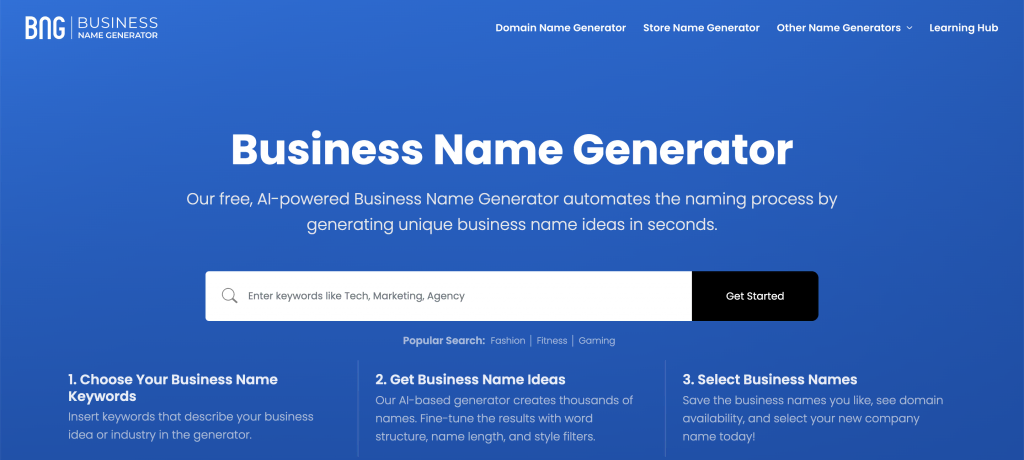 If you're looking for a catchy domain or brand name that suits your industry, BNG Business Name Generator is the best blog name generator for you.
Users need to enter a few keywords for this AI-powered system to produce hundreds of names. The generator will also automatically assign the industries that match the query.
After inputting keywords to find a lifestyle blog name, for instance, BNG Business Name Generator will show suggestions like this: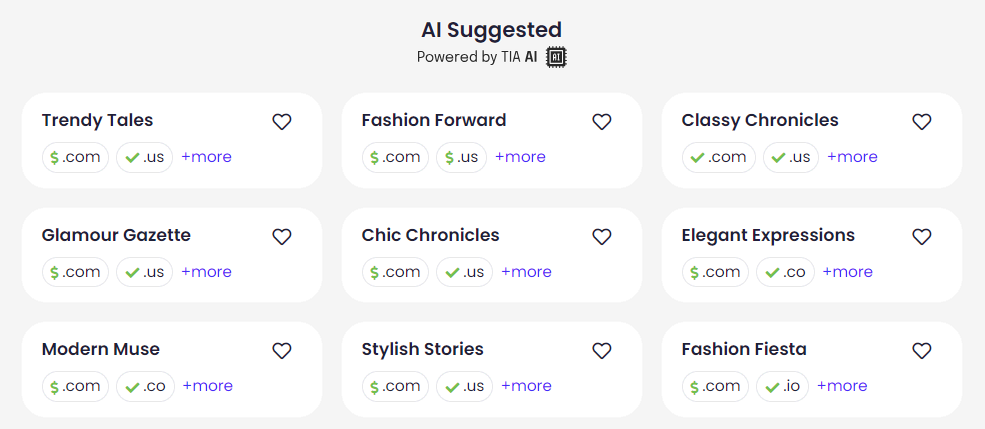 To check domain availability, click on your preferred name, and this tool will show the available domain extensions.
Pro Tip
.life extension is a pefect choice for lifestyle blog or community website. You can register .life domains with Hostinger for only $2.99/year.
Users can filter results by character count and their preferred industry. They can also choose whether the keywords should appear before or after the generated text and if the name should contain one or two words. Additionally, the generator can also produce names that rhyme.
Lastly, BNG Business Name Generator allows you to save your favorite ideas. Doing so will allow you to return to previously performed searches.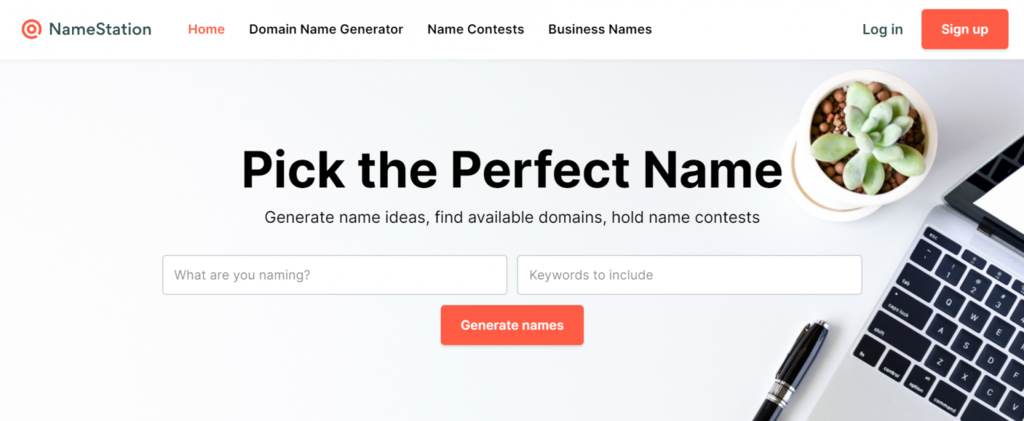 NameStation is a popular blog name generator. However, it has a few limitations, such as having to register for a free account before using the tool.
To generate name suggestions on NameStation, type in what you're naming and the important keywords to include.
Here's what the results page looks like if you input the word "allure" into this blog name generator to create a name for a beauty blog: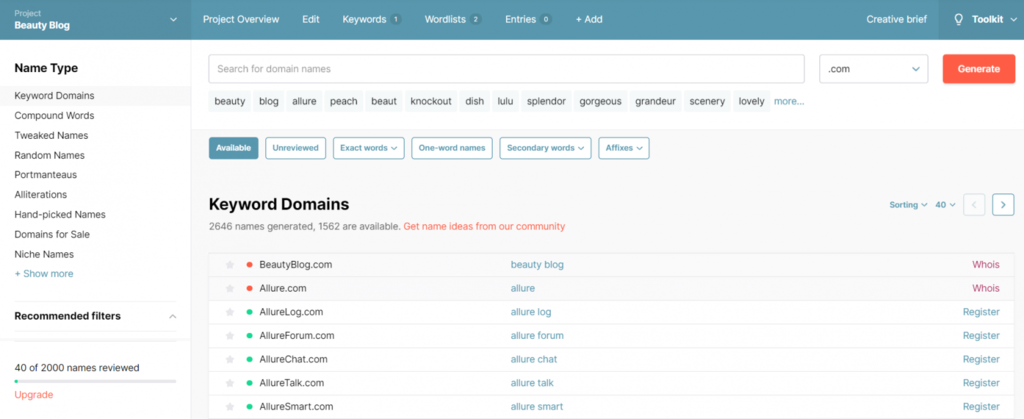 On the left side of the page, users can explore a list of various tools, including the option to combine words by adding prefixes and suffixes.
The free version of NameStation only displays domains ending in the .com TLD. Names with other extensions can only be viewed after purchasing a premium plan.
Ultimately, the most unique feature of NameStation is name contests – users can choose to crowdsource domain name ideas. To start a contest, click on New Contest after logging in and enter the requested information. The contest will end once you pick the winning name.
Why Do Blog Names Matter
Your blog name is your online identity, which plays a vital role in establishing the credibility of your personal brand.
A blog name can also help draw readers in by providing clues on what a blog offers. Hence, creating a name is a crucial step to take before you start blogging.
A few examples of successful blogs with unique names are Dooce, Everyday Carry, and The Everywhereist.
To grow from a casual to a professional blogger, you'll definitely need a catchy name that stands out.
Here are a few qualities of a good blog name:
It is easy to pronounce and memorable.
It represents one or more of the benefits your blog offers.
It will still fit as the blog grows.
It's not associated with negative or stigmatized concepts.
While coming up with a blog name that embodies all of these features may be difficult, there is a solution to this problem.
How to Find the Perfect Blog Name
In the following section, we'll discuss brand-based names and keyword-based names, and which might be the better choice for your blog title.
Keyword-Based Name
Keywords are words or phrases that users type in search engines when they are looking for information.
It's essential to include relevant keywords in site elements, such as blog post titles and meta descriptions to boost your blog's rankings on search engine results pages (SERPs).
Additionally, it will also benefit you the most to include a keyword in your blog name.
Since using keywords in a blog name can make it easier for the site to rank high on SERPs, this can dramatically increase the number of visits your site receives. In fact, 53% of all web traffic comes from organic searches.
To find your target keywords, conduct keyword research. It is an essential search engine optimization (SEO) tactic to find popular words or terms that people enter into search engines.
Start the keyword research process by listing a few words related to your niche. Then, input them into a keyword research tool like SEMRush or Google Keyword Planner.
These tools will provide you with a list of keywords that you can use when coming up with the name for your blog. They will also be useful when you write blog posts – keyword implementation will allow your content to rank higher on SERPs.
Brand-Based Name
Brand-based names are usually created from unique coined words. They are easy to recall and simple to spell.
A brand-based name doesn't need to be relevant to your niche or have meaning. In some cases, it can be a random word altogether. If it sounds nice and catchy, it has the potential to grow and develop.
Google, Amazon, and Facebook are examples of successful brand names that are unrelated to the industries of these companies or their target audiences.
One tip to create brand-based names is to play around with idioms or puns – try out a tool like Pun Generator for some computer-generated puns.
It's also common for a blogger to use their own name for a personal blog. Examples include Ryan Holiday's and Marie Forleo's blogs.


Conclusion
Picking out a blog name for your blog is essential as it makes up a huge part of your online identity.
If you want to make money blogging and become a successful blogger, your blog name should be brandable and easy to remember.
With the help of blog name generators, you can glide through the name creation process with ease and register your domain name in no time.
Here's a quick recap of the top 9 blog name generators to choose from along with their key features:
Hostinger Business Name Generator – offers dozens of different names that are related to your niche.
Nameboy – suitable for users who want optimized keywords in their domain name.
Wordoid – lets users blend up to five languages.
DomainWheel – recommends words that rhyme with and sound like the entered keywords.
Namify – has a social media availability feature and offers logo suggestions.
Lean Domain Search – generates names very quickly and checks Twitter availability.
Panabee – creates names by merging keywords and swapping related words.
BNG Business Name Generator – allows users to save their favorite names.
NameStation – lets people crowdsource domain name ideas.
To increase your blog's chance of ranking high on search results, consider using keyword-based names. Alternatively, if you want to stand out from the competition, a brand-based name might be the best option.
All in all, take your time and utilize blog name generators to create an unforgettable and unique new blog name.
Blog Name Generator FAQ
In this section, we'll answer some of the most frequently asked questions about blog names.
How Do I Decide on a Blog Name?
Think about your blog topic, target audience, and brand voice carefully when brainstorming a unique blog name. You could also use blog generators, like Wordoid, to combine your brand, catchy phrases, and relevant keywords to create the perfect blog name.
Should I Name My Blog After Myself?
Self-named blogs are great for those who want to grow their personal brand. Many experts, consultants, and coaches run blogs under their own names. If you want to promote your business and sell products, it might be better to choose a name that fits your niche.
How Long Is Too Long for a Blog Name?
The ideal blog name is 6-15 characters long – anything above that is considered too long. Long blog names are harder for audiences to remember it. It's best to keep your blog name short and memorable. A short name also works well for social media handles.
What Is the Best Top-Level Domain for a Blog?
We recommend going with the .com top-level domain because it's the most popular domain extension. Many people associate blog and website addresses with .com and type it in automatically. If you have a specific niche, choosing unique domain extensions such as .photo or .tech can help you stand out.