35 Most Profitable Affiliate Marketing Programs to Join in 2022
Download Marketing Plan Template
Joining affiliate marketing programs is a great way to earn extra income or make a full-time living. However, choosing the best affiliate programs can be difficult with so many choices available, especially if you're a beginner.
We will give some tips on how to make the most out of affiliate marketing. We've also handpicked 35 top-paying affiliate programs to consider and draw inspiration from. Keep reading to find out more.
What Is an Affiliate Program and How Does It Work?
Affiliate marketing programs are partnerships that pay commissions for recommending a product or service on your websites or social media.
Each sale is tracked using affiliate links, and the profit is taken from the percentages set by the vendor or affiliate network. These links will track the IP of the referred users, as well as validate purchases and conversions.
Affiliate links also use cookies that stay in the users' web browser for a set amount of time. As a result, the affiliate marketer will earn a commission if users perform the desired action within this period.
To join an affiliate program, simply look for products or services you like. Many brands offer in-house affiliate programs, though you can also join an affiliate platform that partners with many vendors.
Affiliate marketing is performance-based and can be evaluated based on three primary methods:
Pay-per-sale. This is the most common way to make money from affiliate marketing. As the name suggests, payment is based on how many sales the marketer can make.
Pay-per-click. True to its name, the earnings are based on how much traffic affiliates can bring to a merchant's website.
Pay-per-lead. A lead is a potential customer. This system rewards publishers when they can convert prospective buyers to perform specific actions, like signing up for a newsletter or downloading a PDF file.
Is Affiliate Marketing Still Profitable in 2022?
A report by Awin shows that affiliate marketing is worth $16 billion and growing at an approximately 10% rate each year.
It's a popular method to earn passive income as a content creator with an established audience, like blog subscribers or social media followers. PayScale reports that affiliate marketers can earn approximately $51,217 per year, with top publishers earning $71,000 on average.
With that being said, here are some of the best affiliate marketing programs to get started with this year.
Program Stats
Industry: web hosting
Commission rate: 60%
Cookie life: 30 days
Pros: high conversion and commission rate, easy to join and maintain, personal affiliate manager
Cons: only supports PayPal and bank transfer as the payment method, high threshold payout
As a prominent player in the web hosting industry, Hostinger is trusted by millions, making it a brand with high conversion potential. What's more, Hostinger's affiliate program offers a 60% commission rate, with no limit to how much publishers can earn.
The program is easy and free to enlist. Fill in this form with information such as contact details, the link to your website or social media, and the type of content you provide. The review process may take up to three business days.
As soon as your account is approved, you can start promoting immediately. There are tons of marketing tools and materials available for your websites. Plus, you will be assisted by a personal affiliate manager.
However, keep in mind that affiliates can only request a payout once it reaches the minimum amount of $100. The payment is made once per month on the 15th of each month via PayPal or bank transfer. Commissions are only applied for first purchases, which means that renewal costs don't count.
Affiliates can promote any of the company's web hosting products, including shared hosting, managed WordPress hosting, VPS, and cloud hosting. The only exceptions are external services like domain registration, SSL certificates, and Cloudflare protection.
Program Stats
Industry: marketing
Commission rate: 40%
Cookie life: 120 days
Pros: easy registration process, rewards for trial signups, expert marketing team
Cons: high competition, high payout threshold for wire transfers
SEMrush offers one of the best affiliate programs for content marketers. Affiliates will earn a 40% monthly commission for all SEMrush subscription plans, $200 on the first sale, and $10 on trial activations.
BeRush used to be this brand's primary in-house affiliate network. However, as of October 2020, the company partnered with ShareASale to improve its affiliate and business model.
In contrast to the old BeRush program, the new one uses the last-click attribution system. Meaning, marketers earn a commission from the last ad that converted a customer, helping them track the ads that need the most optimization. Plus, the cookie life is reduced from 10 years to 120 days.
Given the brand popularity, high competition is to be expected. Luckily, marketers can take advantage of over 40 marketing tools and a team of experienced account managers to boost their earnings.
SEMrush supports PayPal and wire transfer as its payment methods. However, while the former's minimum threshold is $50, the latter is $1000, which is relatively high.
All payments are processed twice per month, on the 10th and the 25th.
Program Stats
Industry: eCommerce
Commission rate: from 1% to 10%
Cookie life: 24 hours (extendable to 90 days)
Pros: well-known reputation, a wide variety of products, cookies are applicable to other item purchases made via your affiliate link
Cons: widely varying commission rates, no PayPal support
Amazon Associates is one of the biggest affiliate networks with over two million product creators and marketers. As a marketplace, it has a wide variety of products for any niche to choose from.
Thanks to Amazon's brand authority, the conversion rate of Amazon Associates is high. However, the commission rates depend on the industry.
The maximum fixed rate is 10%, and it applies to luxury beauty niches and products purchasable with Amazon Coins. Meanwhile, the lowest rate is 1%, applicable for groceries, physical video games, and video game consoles. To see the complete list of all rates, check out this list.
It's also worth noting that Amazon's cookie life only lasts 24 hours. However, it's extendable to 90 days as long as the customers add a product to their cart.
Additionally, the cookies apply to other kinds of products the customers add to the cart within the first 24-hour purchase, not just the one you promoted via affiliate links.
Amazon Associates send payments via direct deposits, gift cards, and checks. While there is no PayPal option, an international bank transfer is supported in 52 countries. Alternatively, you can also use Payoneer as a workaround.
Program Stats
Industry: affiliate marketing
Commission rate: vendor-based, negotiable
Cookie life: none (cookieless tracking)
Pros: deep link generator and automation, mobile-friendly conversions, comprehensive reporting
Cons: non-intuitive dashboard, the program charges a monthly fee
Previously known as Commission Junction, CJ Affiliate is a leading affiliate network that helps affiliates connect with various brands.
Not to mention, it offers comprehensive tools to help businesses increase performance and conversions. However, this abundance of features makes the learning curve a bit steep for beginners.
Due to the platform's nature, it's hard to define the range for the commission rates. In some cases, it's even negotiable with the advertiser so long as you hold enough influence within a niche.
A notable feature of CJ Affiliate is the cookieless tracking, which can boost mobile conversions. The reason for this is because, unlike browsers, most apps don't store data in cookies. Plus, cookieless tracking is more privacy-friendly.
CJ Affiliate also streamlines work with its in-depth linking automation. By dragging a bookmark to your browser bar, you can directly generate unique links on product or service pages.
However, it's worth noting that CJ Affiliate charges $25/month. If your balance is below that, your account will be removed.
As for the payment options, CJ Affiliate supports checks, bank deposits, and Payoneer for non-US residents.
Program Stats
Industry: online labor marketplace
Commission rate: 10%
Cookie life: 30 days
Pros: generous payouts, lots of marketing materials, brand recognition
Cons: commissions are limited to first-time referrals, high competition
With Fiverr's affiliate program, publishers earn money online by sharing links promoting Fiverr's services. All payments are made through bank transfer, Fiverr Revenue card, or PayPal, and there are four commission plans to choose from:
Fiverr. The commission rate ranges from $15 to $50, depending on the service categories. For Instance, eCommerce gigs pay a $50 commission while other services unspecified within the tiers pay a flat $15.
Fiverr Pro. For vetted professionals' premium services, the commission rate is a flat $150 regardless of the gig price.
Learn. Earn a 30% rate from Fiverr's online course subscriptions.
And Co. Similar 30% rate as Learn but applies to promotions of And Co's products, a Fiverr branch that offers dedicated tools for freelancers.
However, keep in mind that Fiverr only pays commissions for new first-time buyers, making this platform less ideal for those looking to earn from recurring orders.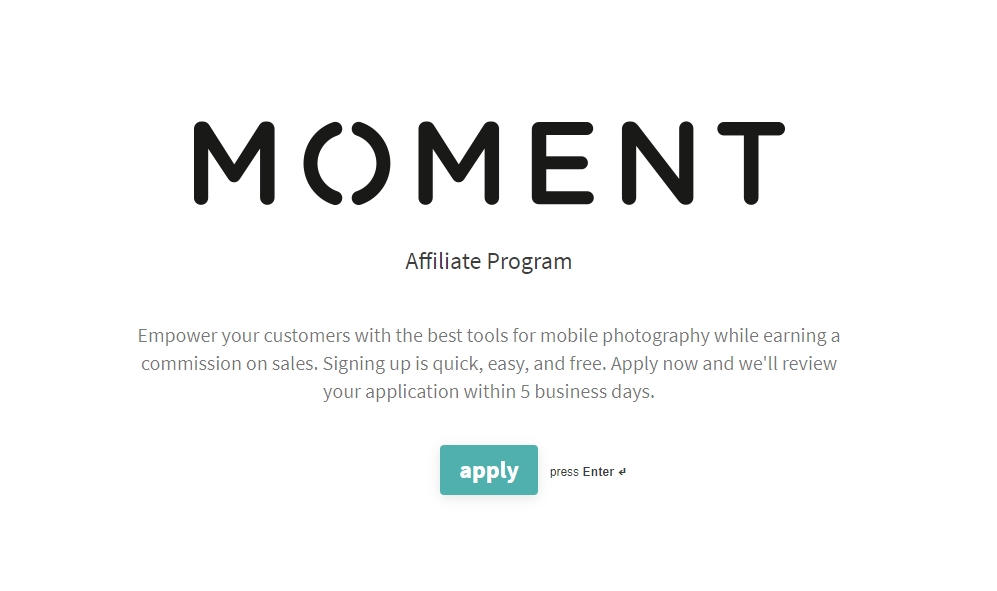 Program Stats
Industry: photography
Commission rate: from 6% to 15%
Cookie life: 30 days
Pros: exclusive access to resources and gears, joining a community of creatives, monthly training sessions with certified guides
Cons: 90-day payment hold for commissions that include traveling, the long waiting period for payments
If you're passionate about photography and traveling, joining the Moment Squad is something worth considering. Not only will you get payments ranging from a 6% to 15% rate on all gear recommendations, but you'll also earn 10% from promoting courses and $100 for travels.
Plus, joining Moment's affiliate program will give you access to a community of other creative professionals, from photographers to designers. It's an excellent opportunity to learn and gain exclusive access to gear.
However, it's not without some downsides, and the most notable one is the long duration of payment. As an affiliate marketer, you'll need to wait at least two months to get paid. For commissions that involve traveling, the waiting period is 90 days.
Program Stats
Industry: eCommerce
Commission rate: from 1% to 4%
Cookie life: 24 hours
Pros: generous customer bonuses and signups, worldwide brand recognition, lots of niches to choose from
Cons: short cookie lifespans, capped earnings on some categories regardless of the item's value
eBay Partner Network is one of the largest platforms for affiliate marketing. It has over 182 million users and 300 categories to choose from. It's one of the best affiliate programs for those who want a wide variety of niches.
As with other marketplaces, the amount you can earn depends on the product category. On average, however, affiliates can expect 50% to 70% from sales and auctions.
However, the earnings from high-ticket items like real estate are limited to $100, regardless of their actual value. It's also important to note that cookies only last 24 hours, which is not very reliable when it comes to capitalizing on seven-day auction periods.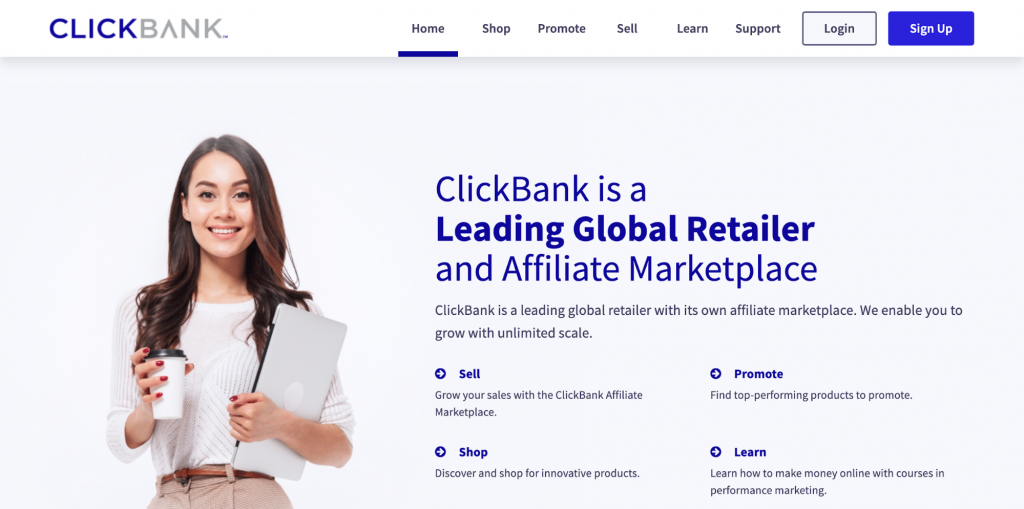 Program Stats
Industry: affiliate marketing.
Commission rate: from 1% to 75%
Cookie life: 60 days
Pros: a vast selection of physical and digital products, well-established network, no approval process required
Cons: inactive fee, cluttered and outdated interface
Established in 1998, Clickbank is one of the oldest affiliate networks. It primarily specializes in selling digital products like software and info products. With over 200 million users in 200 countries, it's undoubtedly one of the largest too.
ClickBank is quick and free to join. After registering, you can immediately start promoting as there's no review process. As such, this program is the best for beginners with no affiliate experience.
There are also tons of physical and digital products to choose from, so don't worry about not finding the perfect fit for your content.
However, the quick application process also makes it easy for many low-quality products to be listed. Aspiring Clickbank affiliates must be extremely critical in choosing what to promote. This can be tedious to do, especially with an outdated-looking dashboard full of clutter.
Last but not least, be mindful of inactivity. After 90 full days without a single transaction, the affiliate marketing program will charge a $1 fee daily. After 180 days, the amount will rise to $5. After a year with no sales, the price will increase to $50.
Program Stats
Industry: affiliate marketing
Commission rate: 5%
Cookie life: 30 days
Pros: user-friendly interface, sub-affiliate payments, simple registration process
Cons: no mobile apps to manage affiliate campaigns, lack of onboarding options
With over ten years of experience, FlexOffers is one of the leading affiliate marketing networks. It offers a wide array of content delivery tools and formats, an easy-to-use dashboard, and a quick signup process.
The FlexRev-$hare program is the highlight of this affiliate network. It lets publishers earn extra money for every sale made by the sub-affiliate they referred to FlexOffers.
However, this platform is not very suitable for beginners as the training resources are limited. You also need to have a decent following to get accepted. Plus, it doesn't offer any additional tools to manage campaigns on mobile.
Program Stats
Industry: billing
Commission rate: 50%
Cookie life: based on the browser's active session
Pros: recurring payments for four years, secure and easy to use, no referral limit
Cons: extremely short cookie lifespan, PayPal is the only payment method
InvoiceNinja is a brand that specializes in invoicing. With this open-source software, users can accept online payments and track orders.
It integrates with over 1,000 apps, including Quickbooks and MailChimp. As such, this brand is a great choice to recommend to entrepreneurs, big or small.
It's also one of the highest-paying affiliate programs on this list, with a minimum 50% rate. This payment is recurring for four years as long as the referred user stays subscribed to either the Pro or Enterprise plan during that period.
However, the cookie duration is very short as it lasts only as long as the link stays open. Any purchase made after the session is over won't earn you a commission. The program also doesn't accept any payment method other than PayPal.
Program Stats
Industry: health and fitness
Commission rate: from 3% to 12%
Cookie life: 15 days
Pros: lots of regular incentives and promotions for partners, high brand recognition, accessible on both PC and mobile devices
Cons: only eligible to websites based in the U.S. and Canada, high competition
Fitbit is one of the leading brands in fitness gadgets, with over 72% market share in the industry. The commission rate starts as small as 3% but can go up to 12% for the highly-sought-after products.
However, despite the benefits, the Fitbit affiliate network is limited to the U.S and Canada region as of now. It also features high competition due to its popularity, making it harder to profit in some situations.
Program Stats
Industry: photography
Commission rate: from 4% to 5%
Cookie life: 24 hours to 30 days
Pros: Google product feed, deep linking, lots of products to promote
Cons: region-locked program, only accept payment through PayPal
Consider this opportunity if you're passionate about action cameras and want to make money from promoting relevant affiliate products.
GoPro offers partnerships through Amazon and CJ Affiliate, with the former offering a 4% payout rate and the latter offering a 5% cut. The cookie lifespans are also different, with Amazon's only lasting a day and CJ Affiliate's lasting for a month.
However, the GoPro affiliate program is only limited to certain countries such as the US, Canada, and the UK. Plus, the payment method is also only limited to PayPal.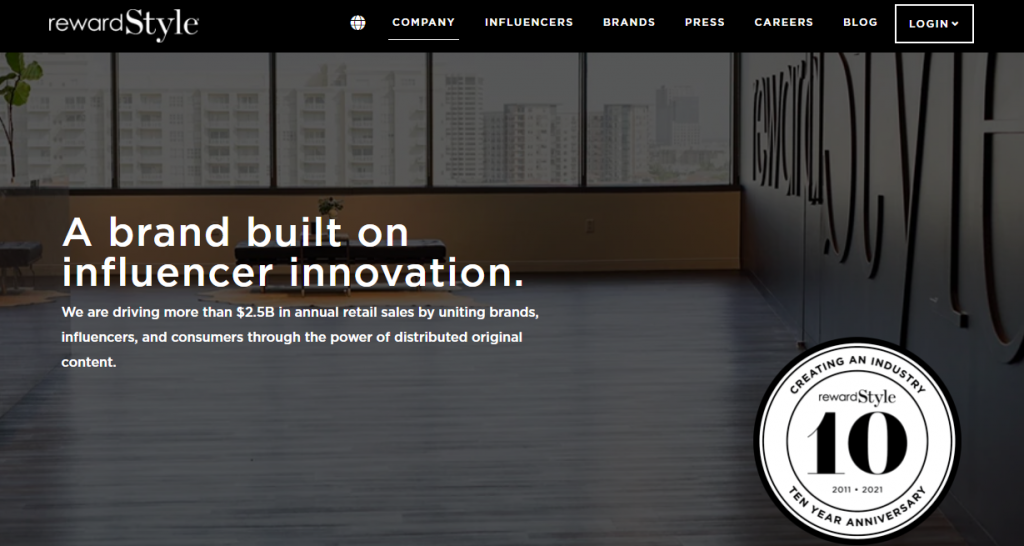 Program Stats
Industry: fashion and home decor
Commission rate: from 10% to 25%
Cookie life: 30 to 60 days
Pros: exposure to many high-paying brand collaborations, tons of convenient influencer tools, ease of use
Cons: low approval rate, long review process
Whether you're an Instagram beauty influencer or an owner of home interior websites, rewardStyle has got you covered. With over 1 million brands across the globe, there's no shortage of partnerships to choose from.
On top of exposing influencers to high-profile brands, rewardStyle offers access to comprehensive influencer marketing tools like the LiketoKnow.it app for seamless cross-posting.
However, the application process is strict and complicated. Plus, it can take months, while underperforming affiliates can also be kicked out of the platform.
Program Stats
Industry: fashion and apparel
Commission rate: from 2% to 11%
Cookie life: 14 days
Pros: a high-profile retailer, a wide variety of luxury products to choose from, lots of affiliate support
Cons: difficult to get accepted, low commission rates on most products
Nordstrom is another excellent brand to work with if you're a beauty and fashion influencer. It offers tons of premium fashion products which can be sold for high profit, especially with the brand's well-known reputation.
It partners with Rakuten, which provides many affiliate marketing tools at your disposal. Affiliates can choose from over 800,000 product links to promote 100 email templates and 400 banners and illustrations.
However, despite being a luxury item retailer, most affiliate products' commission rates are fairly low. Plus, passing the review process can be difficult due to the low acceptance rate.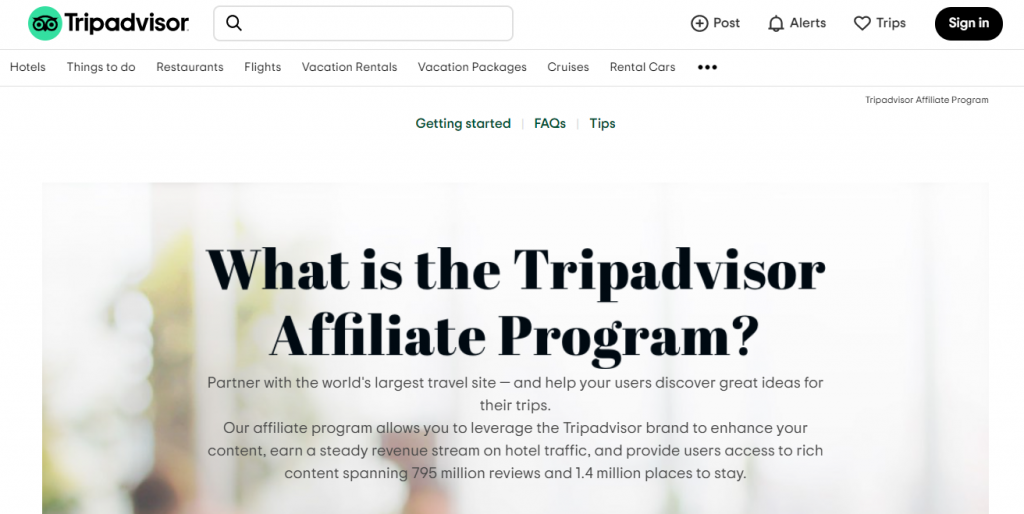 Program Stats
Industry: travel
Commission rate: 50%
Cookie life: 24 hours
Pros: extensive network available in multiple languages, a well-reputable brand, high-paying commission.
Cons: short referral duration, no white-label marketing.
Tripadvisor is a prominent online travel brand with a comprehensive booking database spanning over 500,000 cities, translated to over 40 languages. The promotional tools include banners, widgets, and links.
As expected from a well-known brand, it features an up to 75% conversion rate, making it one of the best affiliate marketing programs for profit on this list.
However, the cookie tracker only lasts for a day. Plus, you can't white-label Tripadvisor's services, so you have to find another option if you want to do so.
Program Stats
Industry: travel
Commission rate: from 25% to 40%
Cookie life: based on the browser's active session
Pros: no startup costs, incredibly user-friendly, high commission rate
Cons: minimum payment threshold is too high, short cookie life
Booking.com is another well-known brand with excellent affiliate offers, especially with more than 2 million accommodations to promote.
This program is one of the highest-paying affiliate programs on this list. Over 500 bookings can yield at least 40% payout, with the amount increasing the more monthly reservations there are.
However, Booking.com also has a high payment threshold, with a minimum of $110, while the cookie period is also very short. Transactions have to be made during the initial browsing session. Otherwise, it won't be tracked. Plus, the company will only send the payment two months after the reservation is complete.
Program Stats
Industry: travel
Commission rate: 5%
Cookie life: based on the browser's active session
Pros: high commission rate, easy and free to join, lots of lodging options to promote
Cons: high minimum payment threshold, short referral duration but long approval process
Agoda's affiliate program specializes in promoting flights and hotels, with revenue that grows according to monthly bookings. 40 reservations per month will net in 5% commission rate per sale. This rate can increase up to 7% once you drive at least 1,000 bookings or more.
Unfortunately, you have to earn at least $200 to collect payments. While it's doable, it's not ideal for most beginner affiliates. Plus, the referral duration only lasts the first time the link is accessed.
Program Stats
Industry: travel
Commission rate: from 65% to 75%
Cookie life: unspecified
Pros: simple integration with your website, many promotion tools to choose from
Cons: requires high-traffic websites, higher commissions are targeted for affiliates with at least 1 million visitors each month
True to its name, Cheapflights offers services for affordable flight tickets, hotel reservations, and other travel bookings. It's also one of the highest-paying affiliate programs within the industry.
Thanks to the partnership with Commission Junction and WebGains, affiliates get access to a vast selection of assets and seamless website integrations.
For example, you can use widgets that enable visitors to book from your website directly. Moreover, many of these tools can be white-labeled using your brand.
However, the Cheapflights application process is competitive. The network typically only accepts content creators with a large following.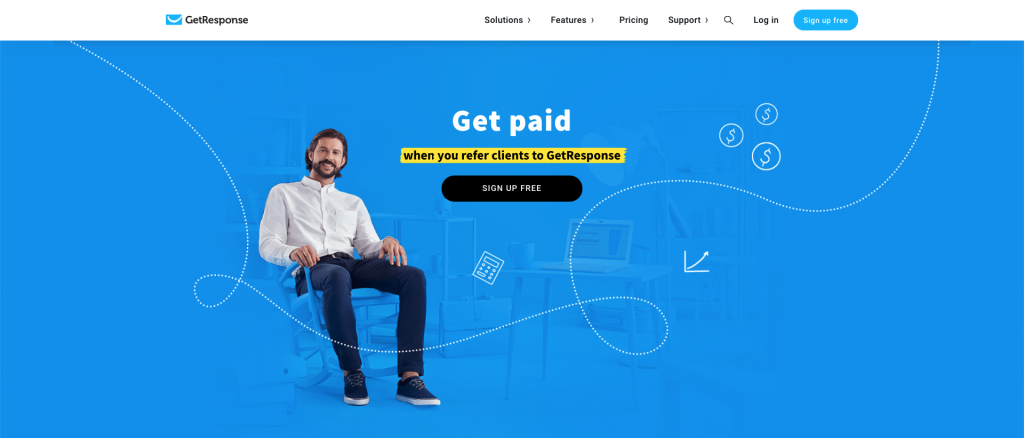 Program Stats
Industry: digital marketing
Commission rate: 33% for repeated payments
Cookie life: 120 days
Pros: offers a high-paying one-time payment, an option for recurring commissions, and has an excellent brand reputation
Cons: its features are comparatively lacking than other competitors, highly competitive
GetResponse is a leading vendor in digital marketing. It's an affiliate niche that's perfect for marketing agencies and other online marketing professionals.
It offers two types of commission models – one-time and recurring. The former pays a flat $100 for one-time referrals, while the latter pays 33% per sale on a regular basis. Plus, the minimum payment threshold is $50, which is a reasonable option.
If you're interested, you can register via the official website or Commission Junction. The latter is recommended for an existing CJ Affiliate marketer who wants to manage everything in one place.
Program Stats
Industry: website builder
Commission rate: 70%
Cookie life: unspecified
Pros: high commission rates, easy-to-use dashboard, quick and straightforward application process
Cons: high payout requirements, the brand is relatively new
Zyro is an AI-driven drag-and-drop website builder, targeting an audience with little to no coding experience.
For a new commission program, it's generous with its payouts. However, you need to earn at least $100 sales to get paid. Plus, only transactions older than 35 days are eligible.
The fact that it's a new product can be a double-edged sword, too. On the one hand, the opportunity has less affiliate competition. On the other, the brand may take a while to gain traction.
Program Stats
Industry: affiliate marketing
Commission rate: from 7% to 9%
Cookie life: 30 days
Pros: easy registration process, negotiable commission rates, lots of brands to work with
Cons: 90-day payment duration, 25% cut from earnings
Skimlinks is an affiliate network that connects marketers with over 40,000 vendors. The brands don't directly pay the publishers. Instead, the platform pays affiliates the revenue generated by all commissions.
One notable advantage of this program is that some vendors offer higher commission rates, maximizing the potential income. Not to mention, the data from the reports are extensive. It can help affiliate marketers improve their campaigns.
However, Skimlinks is not without its drawbacks. For one, the platform cuts a 25% fee from the earnings. Plus, affiliates need to wait three months to receive payments, with a minimum revenue of $65.
Program Stats
Industry: digital marketing
Commission rate: flat $250 to $1,000
Cookie life: 90 days
Pros: an industry-leading brand, generous flat commissions, tons of affiliate marketing support
Cons: PayPal support only, long sales cycle for expensive items
HubSpot is a one-stop marketing solution that offers customer relationship management services, marketing automation, and various sales resources.
This program is recommended for any affiliate marketer looking to earn a high flat commission from promoting digital marketing products. There are three tiers:
Starter/Basic – $250
Professional/CMS – $500
Enterprise – $1000
The downside is that it can take a while to sell expensive affiliate products. Additionally, HubSpot only pays via PayPal.
Program Stats
Industry: digital marketing
Commission rate: 30%
Cookie life: 365 days
Pros: long cookie period, an option to choose recurring payment or a one-time commission, well-established reputation within the email marketing industry
Cons: only supports PayPal and checks, highly competitive
AWeber is an email marketing platform that offers such products as a landing page builder, newsletters, and other marketing automation tools. Its target audience consists of small to medium business owners.
Affiliate marketers who are interested in the AWeber affiliate program can choose between a 30% recurring payment or a one-time bounty.
If you register via CJ Affiliate, you'll get an upfront payment of $300 for each new registration. However, you won't receive additional fees after two months.
The email marketing program has a high acceptance rate, which also means increased competition. It's also worth noting that payments are only made via checks or PayPal.
Program Stats
Industry: digital marketing
Commission rate: flat 5€ to 100€
Cookie life: 90 days
Pros: no application review, real-time affiliate commission tracking, high brand visibility, and conversions
Cons: payment methods are limited to wire transfer and PayPal, with no automatic invoicing
Similar to AWeber, Sendinblue is a remarkable brand in digital marketing. It has more than 90,000 users and is available in six languages.
Sendinblue only offers the Blogger program that caters primarily to blog owners when it comes to affiliate programs. There are two commission models – a flat 5€ for every new Sendinblue registration and a 100€ payout for every premium upgrade.
All earnings and campaign data are easily tracked and managed using Sendinblue's Tapfiliate integration.
However, all invoices have to be made manually, and publishers have to settle with either a bank transfer or PayPal to receive payments.
Program Stats
Industry: eLearning
Commission rate: from 10% to 45%
Cookie life: 30 days
Pros: weekly access to exclusive Coursera newsletter, professional banners, and text links for promotions, earning a commission from an already registered user
Cons: transactions are limited to courses, Coursera Plus, professional certifications, and specializations
If you want to earn by promoting courses and other educational materials, we suggest the Coursera Affiliate Program. While payments are non-recurring, the commission rate is relatively high. Affiliates can withdraw money once their payout reaches a minimum of $50.
With this program, affiliates can get paid multiple times from a single user's purchases, as long as it's made using the same affiliate links. Plus, it doesn't have to be a new user.
With that being said, this program is not eligible for university-issued courses and degrees like MasterTrack, for example.
Program Stats
Industry: beauty and fashion
Commission rate: from 8% to 10%
Cookie life: 30 days
Pros: no brand limitations, free samples and free shipping for orders over $50, exclusive offers for affiliate members
Cons: applications take a long time to be approved
Sephora is an ideal program for beauty websites. There are over 13,000 high-quality products to promote, ranging from luxury cosmetics to niche skincare products. Plus, there are no restrictions on which brands to sell.
The sign-up process is easy and free of charge. You'll also get access to special promotions, member-only newsletters, and many other affiliate marketing assets.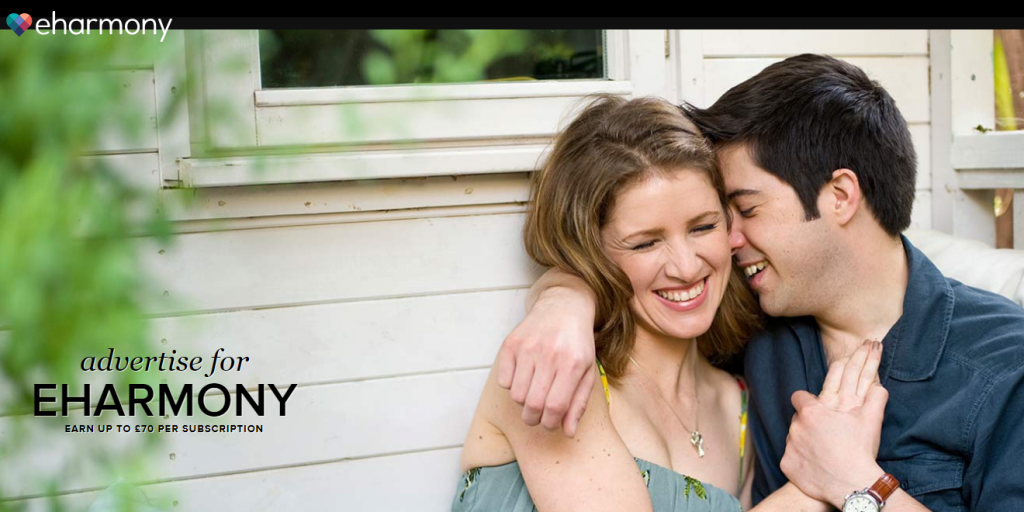 Program Stats
Industry: dating service
Commission rate: from 20% to 35%
Cookie life: 45 days
Pros: a well-established brand, strong TV and internet promotion, lots of pre-made marketing materials to get started
Cons: long registration process for new leads, particular target audience
eHarmony is a dating website with over 20 years under its belt. As such, it has established strong brand recognition, with more than 10 million active users.
An affiliate marketer can join this program and earn a commission from completed subscriptions, registrations, and questionnaires. The rate varies between 20% to 35%, with a cookie tracker lasting 45 days.
However, promoting the service can be challenging, considering that new users need to fill out 70 questionnaires to sign up. Plus, the narrow target audience may limit your scope since eHarmony is geared explicitly towards a middle-aged demographic that is interested in marriage.
Program Stats
Industry: Online dating
Commission rate: 7%
Cookie life: 45 days
Pros: active TV and internet marketing campaigns, highly-recognized brand, lead-based commissions
Cons: low commission rate, unclear requirements
EliteSingles is one of the most well-known players in the online dating scene, with over 300,000 monthly active members. The brand is actively marketed by its parent company, Affinitas GmbH, on television and various internet channels, boosting its visibility.
Similar to the previous program, EliteSingles offers a chance to make money from leads instead of sales to the website. Every personality test completed will yield a 7% commission.
Some requirements must be met to earn the commission. However, this information is left unspecified.
You can sign up for this program through many platforms, but CJ Affiliate is its primary portal. The referral duration lasts 45 days.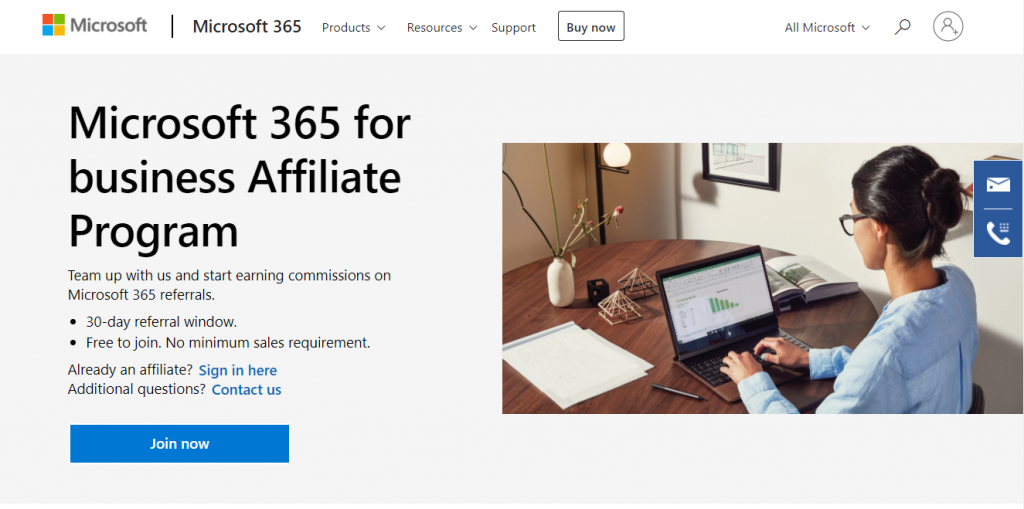 Program Stats
Industry: computing and software
Commission rate: from $5 to $20
Cookie life: 30 days
Pros: no minimum sales threshold, a trustworthy brand, a wide range of banners, and creative assets
Cons: only flat commission rate, a 90-day waiting period to claim payments
Microsoft 365 is a one-stop package that offers Microsoft Office apps and cloud-based productivity tools. Some notable examples include OneDrive and Skype.
Unlike Microsoft Office, the payment for Microsoft 365 is recurring on a monthly or annual basis. That's why Microsoft 365 Affiliate Program is a great way to earn long-term passive income. Plus, there's no sales limit to claim your commissions.
What makes this particular program great is that Microsoft has a strong brand authority which means that there will always be a market for the products. Not to mention, the promotional effort is made easy thanks to Microsoft 365's abundance of marketing materials.
However, Microsoft 365 only pays in flat bounties. In addition, there's a 90-day window before you can claim earnings.
Program Stats
Industry: live-streaming platform
Commission rate: 5%
Cookie life: none
Pros: generate more profit using Twitch's features, multiple subscription options, priority partnerships.
Cons: Twitch takes a portion of subscriptions and other payments, no multi-stream or cross-posting videos outside of Twitch for the first 24 hours of publication.
Unlike the other affiliate programs in this list, the earnings are generated not from links, but from viewer paid subscriptions.
The pricing structures are divided into $4.99, $9.99, and $24.99. Each plan comes with ad-free viewing and custom emotes. Viewers can also opt to subscribe via the Amazon Prime membership for free.
Similarly, Twitch affiliates can earn from tips, and unique currency called Bits, which are special emotes viewers buy to show for your favorite streamer.
To qualify as a Twitch affiliate, you need to have at least 50 followers. Plus, a total 500-minute broadcast is watched by at least three concurrent viewers within a month for seven different days.
Program Stats
Industry: aerial photography
Commission rate: from 3% to 5%
Cookie life: 30 to 60 days
Pros: high-ticket products, an industry-leading brand, excellent reputation
Cons: low commission rate, the in-house affiliate program pays affiliates in DJI credit instead of cash
DJI is a well-known manufacturer of drones for aerial photography. It also manufactures related products such as action cameras, flight platforms, and camera stabilizers.
If you're interested in the DJI affiliate program, you can join via its partner network, ShareASale, or the official website. Some differences between the third-party and in-house affiliate programs are the commission rates and the cookie lifespans.
The in-house program offers a 5% up to 8% payment rate, while the ShareASale counterpart provides 3% to 7%. The former's cookie tracker lasts for a month, while the latter is stored for up to two months.
While the in-house affiliate program has a higher rate, keep in mind that it pays in DJI credit instead of cash.
Program Stats
Industry: footwear and apparel
Commission rate: from 7% to 10%
Cookie life: 30 days
Pros: excellent reputation, recurring payments for the next three purchases
Cons: has strict application requirements, some Adidas vendors forbid promotion on social media
Adidas has become one of the leading vendors for sportswear. If this is a niche you're interested in, you're in luck because Adidas offers a competitive affiliate program that pays 7% to 10% sales on average.
Plus, all affiliates are equipped with adequate marketing tools and support. Usable assets include links, banners, deep linking, caption templates, newsletters, promotions, and an extensive database of over 3,500 products.
The only downside is that you need to have an established audience that aligns with Adidas' target customers. Namely, men and women between the ages of 18 to 24 who are passionate about sports.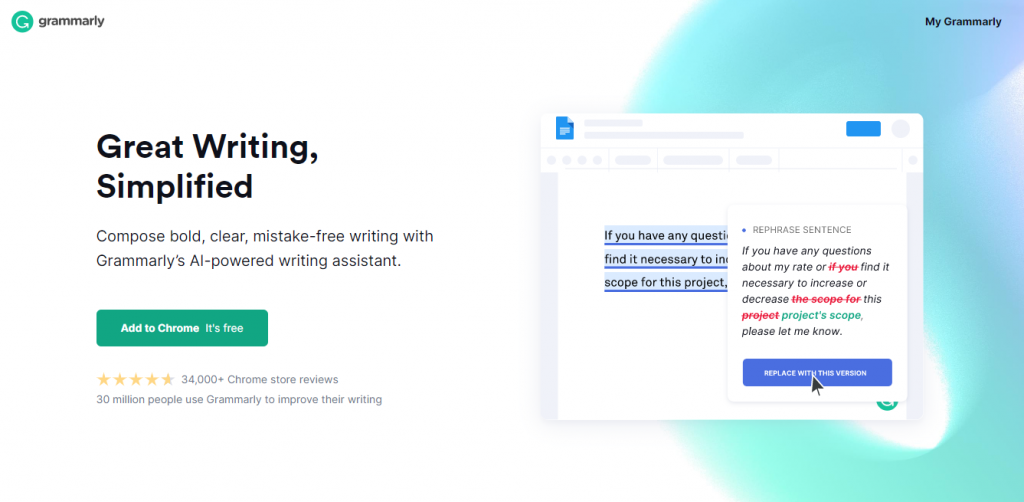 Program Stats
Industry: writing and editing
Commission rate: flat $20
Cookie life: 90 days
Pros: high conversion rate, plenty of bonuses, excellent and well-known brand
Cons: no recurring payments, lower prices need to be balanced with higher sale volumes
Grammarly is a proofreading tool and plagiarism checker. Thanks to its arsenal of high-quality features, Grammarly has become a brand trusted by more than 10 million active users.
You can earn a decent profit with Grammarly's affiliate program. It offers many bonuses, ranging from $0.20 for free trial registrations to $25 first-time signup bonuses for writing about the service and using the affiliate banner ad.
Other than that, all premium upgrades are worth $20 per sale. Not to mention, if you manage to refer someone as an affiliate using your link, you'll get 10% out of their lifetime earnings.
The only notable downside is that Grammarly doesn't have a recurring payment model. This might not be a problem for higher-priced subscriptions. However, you might need to increase the sales quantity of lower-cost services just to break even.
Program Stats
Industry: eCommerce
Commission rate: from 5% to 7%
Cookie life: 24 hours
Pros: lots of marketing assets, weekly affiliate newsletters, API integrations for product details
Cons: low payment rates, takes 60 days to claim payment
BestBuy offers a decent affiliate program with lots of marketing resources like banners, weekly newsletters, API for product or service information, and sale notifications.
The brand itself is well-established within the marketplace industry. However, the commissions are so low that we don't recommend this one for those who want to earn big.
The highest rate is 7%, and it only applies to fitness and baby furniture products. Meanwhile, if your niche is focused on video games and computers, you might want to choose other options because the commission rate for these categories is 0%.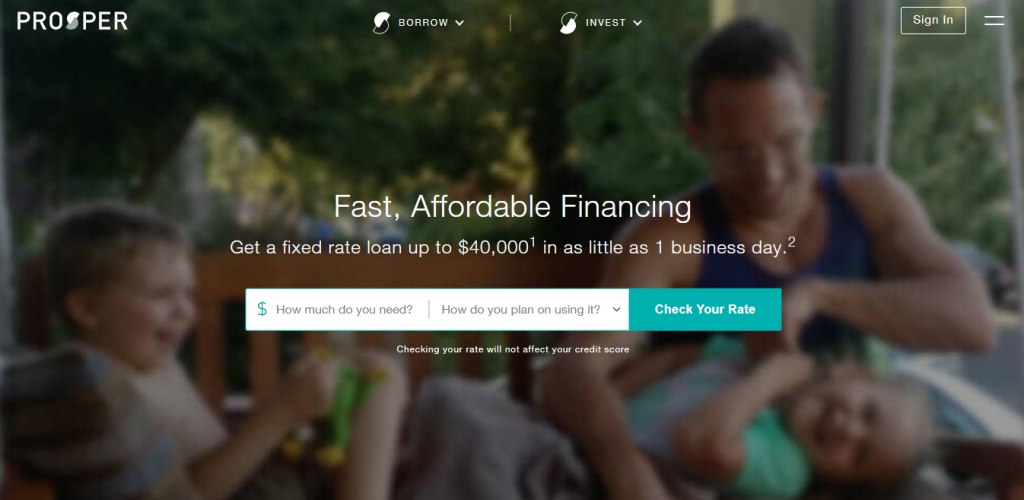 Program Stats
Industry: banking and finance
Commission rate: 10.40% of sales
Cookie life: 30 days
Pros: free to join, high payouts with tiered bonuses for lender and borrower leads, comprehensive marketing tools, and reports
Cons: only web-based, high origination and late fees, borrowers have to track prepayments manually
Prosper is a peer-to-peer lending network for small business loans, debt consolidation, and automobile and home improvement. Affiliates get a commission every time they refer a new borrower or investor to Prosper services.
Borrower leads are visitors who complete the loan application and publish a listing on Prosper's website. Meanwhile, investor leads are lenders who transfer the money to the network for the first time.
Unfortunately, you need to have a website to promote Prosper services. Plus, borrowers need to track all prepayments manually. That, combined with a high upfront fee from 2.41% to 5.99% and late loans fee that ranges between 5% or $15, may turn some leads away from the program.
What to Look for in an Affiliate Program?
First, check for affiliate programs that fit your niche or relevant industries – it's easier to convert an audience that resonates with your content.
Next, conduct market research. Turn to popular affiliate websites and marketplaces to see which products or services are trending. Pay attention to the vendors' reputation, make sure it has excellent reviews, as well as transparent conversion metrics and reports.
Then, narrow down your list of programs using indicators such as:
Commission rate. Refers to the percentages or fixed rates of a sale made from referral links.
Cookie lifespan. The duration of affiliate trackers stored within a user's browser. When a transaction is made before the period expires, they will record the commission.
Easy application process. Make sure to consider the requirements, whether or not it charges a signup fee and the application review time.
Earnings-per-click. The average amount of money earned from the affiliate link clicks. It applies to paid marketing campaigns.
Payment methods. Is it available internationally or within your country? Make sure to consider the transaction fee and the minimum payout threshold as well.
Conclusion
In this article, we have reviewed some of the best affiliate marketing programs to get started with this year.
For those interested to become affiliate referrals, check out our article on referral program. Also check out the best referral programs that you can sign up for.
We hope this article helps you find the best affiliate programs for your website. If you have any questions, feel free to comment down below.
Was this tutorial helpful?