10 Best AI SEO Tools in 2023 to Improve Organic Performance Faster and More Effectively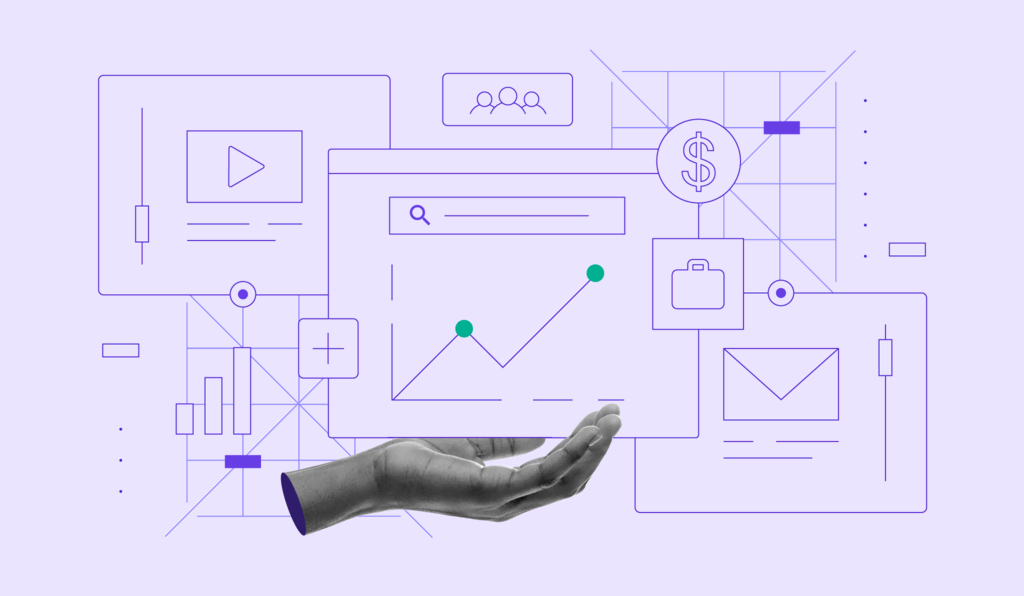 Search engine optimization (SEO) helps promote your website for free. However, it involves such tasks as keyword research and internal link building, which can be tedious and time-consuming when doing it on your own.
This article will explore the 10 best AI SEO tools that help speed up your website optimization workflow. These tools assist in analyzing ranking metrics and provide suggestions to let users easily optimize their content.
We will also cover how to optimize your website using these artificial intelligence SEO tools to get you started. We have assessed all entries in this list based on their ratings, pricing, and key features.
10 Best AI SEO Tools to Optimize Your Website
In this section, we will provide the 10 best AI SEO tools that help optimize your website for better ranking in search engines. For a quick comparison, here's a summary:
| | | | |
| --- | --- | --- | --- |
| AI SEO Tool | Pricing | Ratings | Key Features |
| Surfer SEO | $49/month | 4.8/5 | Terms assistant, AI growth management, content score analysis |
| MarketBrew | $25/crawl or $200/search engine model | 4.8/5 | A/B testing, SEO Teams CRM, Radar Plot Tool |
| KeywordInsights | $49/month or $550/year | 4.9/5 | Keyword discovery, Actionable clustering insights, intent analysis |
| Frase | $14.99/month | 4.9/5 | Content brief generator, performance analytics, SERP data enrichment |
| SE Ranking | $39.2/month | 4.8/5 | Page Changes Monitor, website auditor, index checker |
| GrowthBar | $29/month | 4.8/5 | AI writer, meta description generator, keyword ranking tracker |
| NEURONwriter | €19/month | 4.3/5 | Built-in document management, AI templates, content ideas suggestion |
| Serpstat | $55/month | 4.6/5 | Keyword extraction, AI editor and proofreader, batch analysis |
| Outranking | $59/month | 4.6/5 | AI Content Wizard, information extractor, keyword heatmap |
| Diib | Freemium (from $7.99/month) | 4.1/5 | RankGuard, issues alerting, a monthly snapshot |
Important! Search engine optimization is a long-term strategy for generating more organic traffic, so it can't deliver results fast. In that case, complement your SEO efforts by investing in performance marketing.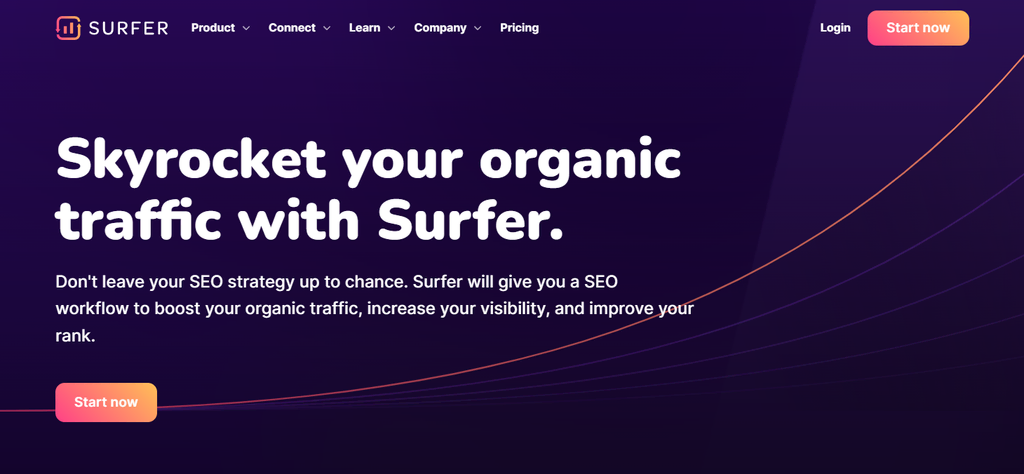 Surfer Stats:
Rating: 4.8/5
Best for: bloggers and media companies
Price: starting at $45/month
Surfer is an AI SEO software that improves content planning and creation workflow. It helps simplify tasks such as competitor research, keyword optimization, writing, and content auditing.
This tool provides real-time quality and keyword usage analysis, making the SEO content creation process more efficient. In addition, it integrates with Google Docs and Jasper, resulting in a seamless workflow between different applications.
Surfer is ideal for bloggers and media companies that regularly make optimized content. This AI-based SEO tool offers four plans starting at $45/month.
Key Features:
Terms assistant. This machine-learning feature automatically adds keywords to your content with a single click.
Website audit and analysis. Users can analyze their old content's keyword density, backlinks, and natural language processing (NLP) sentiment to find SEO opportunities.
Content Score analysis. Surfer summarizes your content quality relative to competitors for uncomplicated and "quick glimpse" analysis.
Cons:
Occasional inconsistency. Surfer occasionally provides inaccurate data followed by vague recommendations after you modify the content.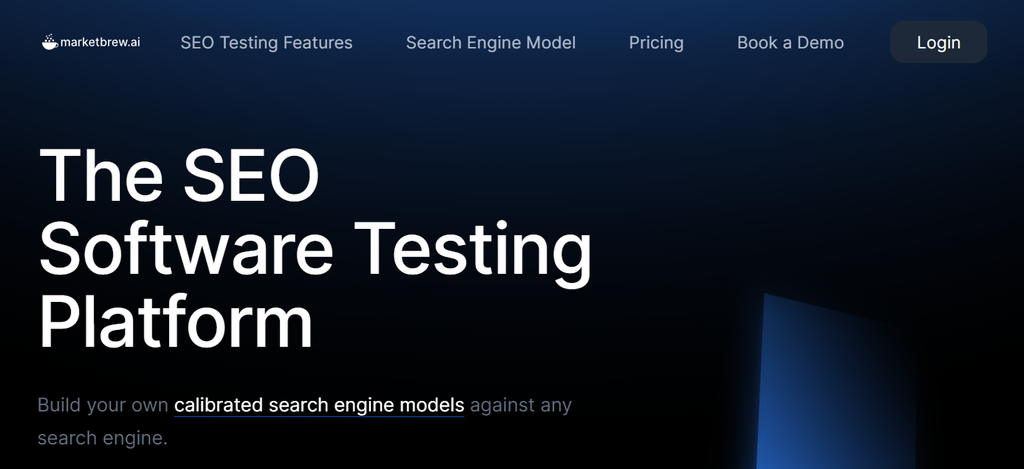 MarketBrew Stats:
Rating: 4.8/5
Best for: SEO experts and large-scale companies
Price: $20/crawl and $200/search engine model
MarketBrew is a search engine modeling tool that lets users forecast their pages' search rankings position before publishing. This tool analyzes different types of information, including Google Analytics data, keywords, and organic traffic trends.
Users can create a custom testing environment for their content based on different search engine models. In addition, this tool provides detailed reports to help users develop an effective SEO content strategy.
MarketBrew has two license types, starting at $20/crawl and $200/search engine model. Due to its high price and advanced features, this tool is more suited for SEO experts and large-scale companies.
Key Features:
A/B testing. Users can make use of different SEO strategies to see which one yields better results.
SEO Teams. This centralized CRM solution lets users manage all testing environments, data, and optimization tasks within a single dashboard.
Algorithmic radar chart tool. MarketBrew provides a graphical summary of a website's on-page and technical SEO performance based on several different factors for simpler analysis.
Cons:
Specific use-case. Compared to other SEO tools, MarketBrew's features are niche and only suitable for particular needs, usually for seasoned SEO experts.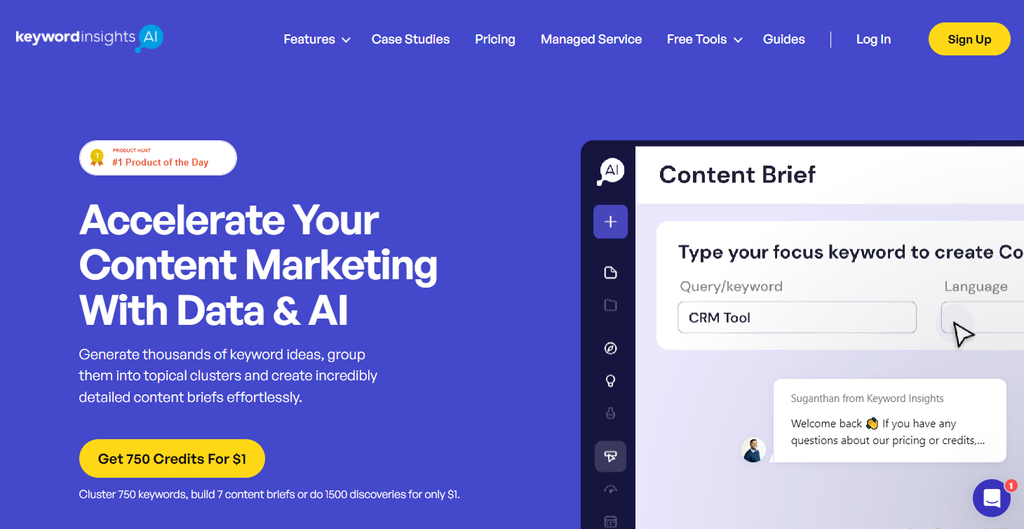 KeywordInsights Stats:
Rating: 4.9/5
Best for: content marketers and planners
Price: $49/month or $550/year
KeywordInsight is excellent for users preferring a beginner-friendly AI-powered SEO tool for content planning. It lets you generate keywords with a simple prompt and automatically cluster them using natural language processing.
Users can also analyze their top competitors' posts and use their headings to quickly create content briefs. However, this tool isn't ideal for content production since it offers features dedicated specifically to planning tasks.
KeywordInshights has several plans with three billing options – monthly, annual, and pay-as-you-go. If you wish to try this tool, purchase 750 credits for $1 and use it to demo any of the features available.
Key Features:
Keyword discovery. Users can enter their seed term, location, and language to quickly generate hundreds of keywords using their metrics.
Actionable clustering insights. KeywordInsights highlights the most relevant keyword from each topic cluster to improve the content production process.
Intent analysis. It helps to accurately identify and classify keywords' search intent from SERPs using ever-evolving machine learning algorithms.
Cons:
Lack of content production tools. Unlike some other SEO software tools, KeywordInsights doesn't offer a built-in document editor, AI content writer, or paraphrasing tool.
Pro Tip
If your SEO tool lacks an AI writer feature, use a third-party content generator instead. Check out our best AI content generator article to learn more about the options, prices, and features of such tools.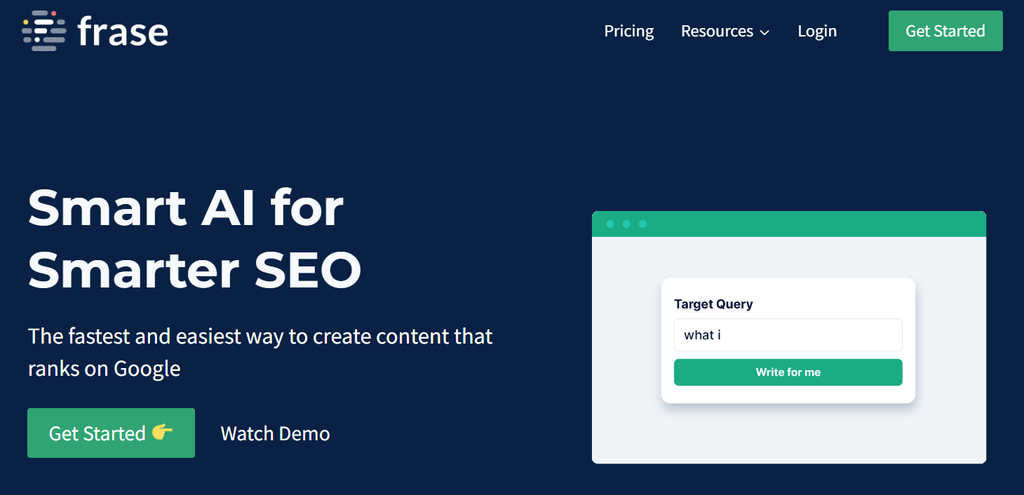 Frase Stats:
Rating: 4.9/5
Best for: freelance content writers and bloggers
Price: $12.99/month
Frase is a beginner-friendly AI SEO software offering a straightforward interface for planning, creating, and optimizing content. Enter your post's title, and it will automatically analyze top-ranking competitors' content.
This AI SEO platform presents all analysis results within the editor screen's sidebar, letting users optimize content while writing. In addition, use the built-in AI writer to help generate ideas and simplify the content creation process.
Frase also provides a crash course to help new users learn about its systems. This tool's starting plan costs $12.99/month, fitting for brand-new bloggers or freelancers publishing one weekly article.
Key Features:
Content brief generator. Frase automatically generates content briefs based on top-ranking articles on Google, which users can add to their articles with a single click.
Performance analytics. Its Google Search Console-based dashboard lets users easily track their content performance and find new keyword opportunities.
SERP data enrichment. Users can gather SERPs' domain authority and backlink analysis data to develop more in-depth strategies.
Cons:
Premium add-ons. Keyword search volume within the outline builder, SERP data enrichment, and AI-writer are only available as add-ons costing $35/month.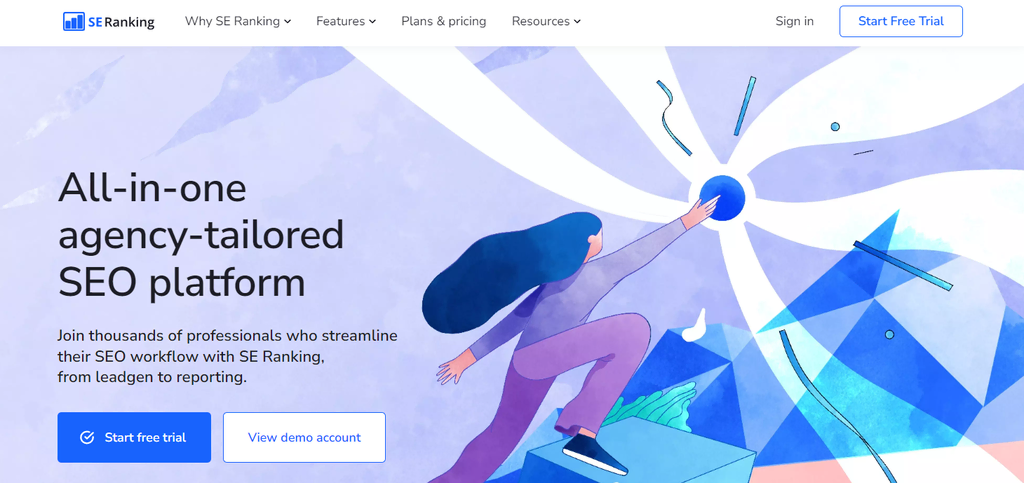 SE Ranking Stats:
Rating: 4.8/5
Best for: content marketers and SEO agencies
Price: $39.20/month
SE Ranking is an excellent AI-powered tool for creating a robust on-page and off-page optimization strategy. It features comprehensive toolkits for keywords, backlinks, competitors, search traffic, and social media performance analysis.
This AI tool offers a white-label solution and API-based SEO reports, making it ideal for marketing agencies or enterprises. Moreover, its built-in Lead Generator widget helps optimize website conversion rates.
SE Ranking offers three plans and a free trial for registered users. However, the $39.20/month starting plan lacks features like the White Label; hence the plan is more suitable for beginner freelancers.
Key Features:
Page Changes Monitor. This feature tracks changes in your competitors' and your content for easier SEO performance monitoring.
Website auditor. Users can see their website's critical performance metrics within a single dashboard, including core web vitals, crawled pages, and overall health scores.
Index Checker. SE Ranking lets you verify if search engines have properly indexed your web pages to ensure they rank in SERP.
Cons:
Hidden costs. Aside from the subscription cost, users must pay for the SE Ranking's Agency Pack, Content Marketing Module, and Pay-As-You-Go data collection to leverage the tool fully.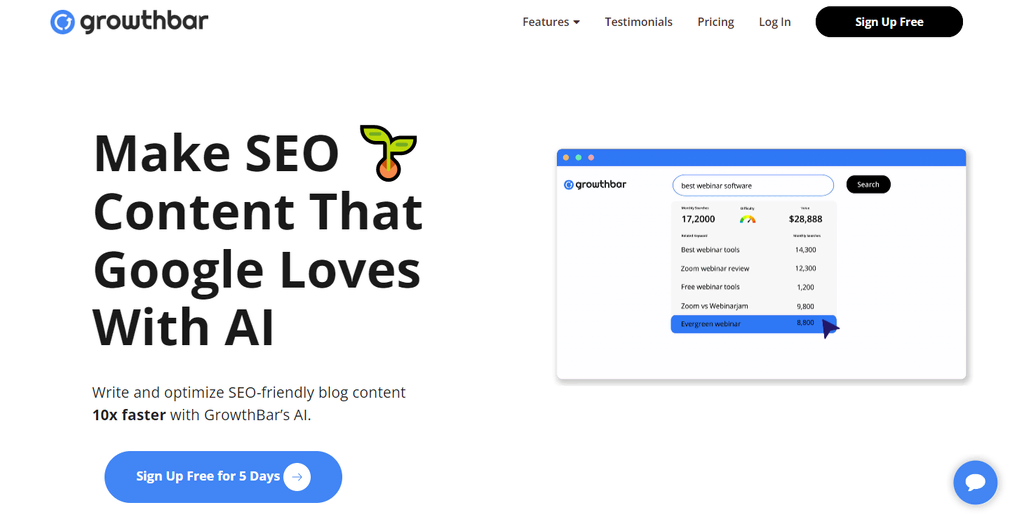 GrowthBar Stats:
Rating: 4.8/5
Best for: businesses and agencies with a dedicated content team
Price: $29/month
GrowthBar is an AI SEO tool with a built-in blog ideas generator, post outline builder, and content writer tool. To generate a full-length blog post, drag and drop the suggested headings and enter your keywords.
GrowthBar offers comprehensive content planning features, including a keyword research tool and competitor analyzer. This tool also has a built-in collaboration platform, making it ideal for building a strong team environment.
The AI SEO software offers three plans with similar features but different usage limits starting at $29/month. If you want to try GrowthBar without purchasing, sign up for its five-day free demo.
Key Features:
AI writing suite. In addition to blog posts, GrowthBar helps with different content types, including chat messages, product descriptions, and press releases.
AI meta description generator. GrowthBar lets you add a few words to quickly generate full-length SEO-optimized meta descriptions.
Keyword ranking tracker. Users can track thousands of keywords across multiple websites in real time to develop a more effective SEO strategy.
Cons:
User support. GrowthBar only offers live chat functionality for its most expensive plan and email support for the cheaper ones.
Suggested reading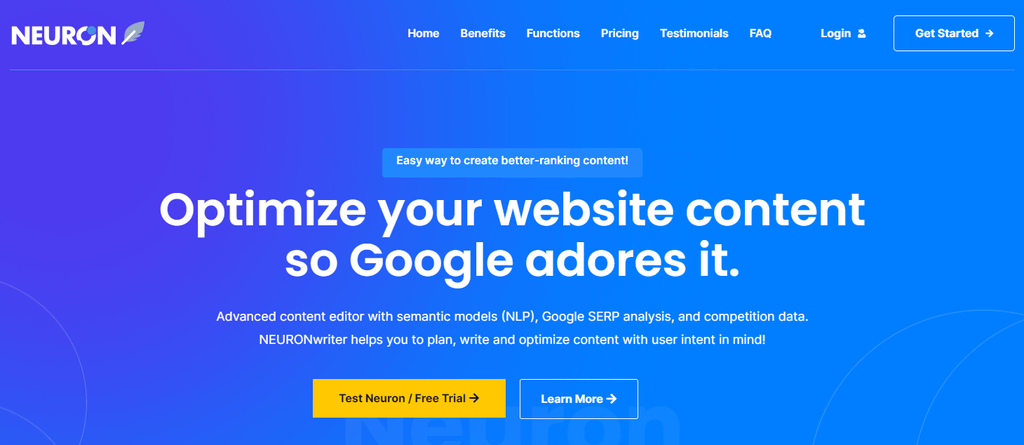 NEURONwriter Stats:
Rating: 4.3/5
Best for: businesses and SEO agencies
Price: €19/month
NEURONwriter is an SEO tool with an integrated text editor, document manager, and third-party software integrations. For instance, it integrates with Google Search Console, WordPress, and several popular web browsers.
It also supports multiple languages and offers a GPT-powered AI writing tool that helps simplify content creation tasks. These features and integrations can improve content production efficiency since you don't need to switch to another piece of software.
NEURONwriter offers five plans to cater to different needs, including small businesses and professional SEO agencies with multiple projects. Its plans start at €19/month and also provides a free trial.
Key Features:
Built-in document management. The content calendar shows a task list and statuses to improve collaboration efficiency.
AI templates. AI templates let you generate content using simple input, including product descriptions, article introductions, and email messages.
Content idea suggestions. NEURONwriter gives topic suggestions concurrently with your writing process based on competitors' headers, users' search queries, and YouTube videos.
Cons:
Credit-based usage. All NEURONwriter's plans come with limited credits spent when users use any of its features.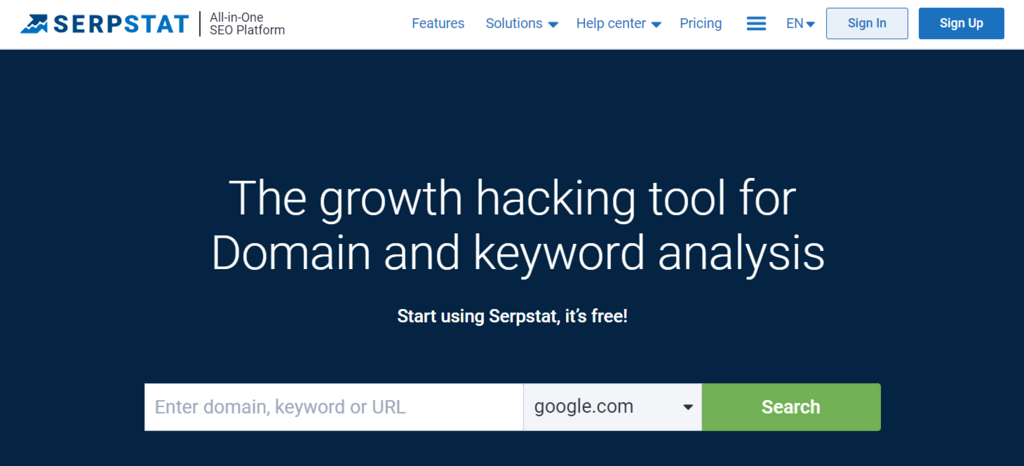 Serpstat Stats:
Rating: 4.6/5
Best for: small to medium-scale businesses
Price: $55/month
Serpstat is an AI SEO tool offering beginner-friendly yet comprehensive website performance analytics. In addition to typical SEO metrics, it lets you track traffic distribution, SERP historical data, and market share fluctuations.
Serpstat also has a local SEO tool to improve your business presence and reputation in Google Business Profile. Moreover, it integrates with other SEO tools, scheduling software, and Google products like Looker Studio.
This AI SEO tool offers five plans starting at $55/month and a limited on-demand demo. However, you must spend an additional $20/location to use the local SEO features.
Key Features:
Keyword extraction. This feature lets users input competitors' content to instantly extract main keywords for tracking or analysis.
AI editor and proofreader. Serpstat's AI tool helps detect plagiarism, automatically-generated content, grammar errors, and misspelling.
Batch Analysis tool. Users can simultaneously analyze multiple domains and keywords' performance, improving workflow efficiency.
Cons:
No built-in writing tool. Serpstat only provides content optimization tools and no document editor, which makes the content writing process more complicated as you need another tool.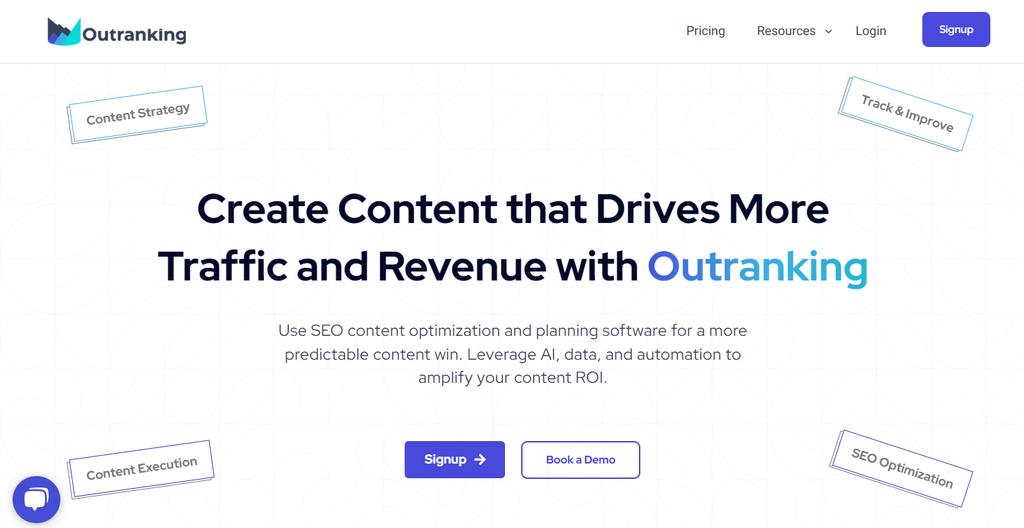 Outranking Stats:
Rating: 4.6/5
Best for: professional content marketers and businesses
Price: $59/month
Outranking is an ideal AI SEO tool for content marketers, offering extensive features that help plan content optimization strategies more efficiently. It lets users analyze keywords, build a topic cluster, and create a content silo with a single tool.
This tool is well-known for its on-page optimization characteristics, including title, content, and internal linking analysis features. Outranking analyzes ten ranking factors to provide detailed reports, including the number of sections and sentences in your content.
Outranking has four plans starting at $59/month and an on-demand demo. Its cheapest plan only connects to one domain and is suitable for a small business website.
Key Features:
AI Content Wizard. Users can use artificial intelligence to generate a long-form content outline, including its meta title, meta description, and headings.
Information extractor. Automatically extract your resources' research materials, information, and reviews to speed up the writing process.
Keyword heatmap. The Heat Map feature summarizes topics and keyword competition to help find ranking opportunities.
Cons:
Expensive. Outranking's starting price is higher than other AI-powered SEO tools with similar features.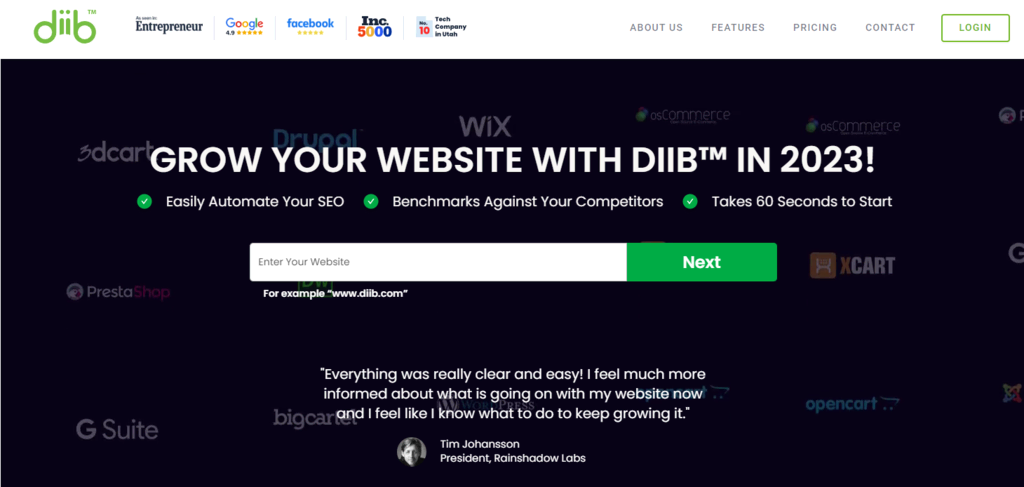 DiiB Stats:
Rating: 4.1/5
Best for: content strategists and marketers
Price: freemium (premium plan costs $7.99/month)
DiiB is a freemium AI-powered SEO and traffic analysis tool. It lets you create a custom growth plan to monitor important metrics impacting your page ranking, including keywords, backlinks, and competitors' strategies.
In addition to your page's SEO performance, DiiB lets you track email deliverability and social media engagement. Users can also use the dashboard to monitor their website's overall health score, ranking, and growth opportunities.
DiiB only offers two plans – one free and one paid. The paid plan costs $7.99/month and renews at $44.99/month.
Key Features:
RankGuard. Regularly scans keyword rankings on Google and provides optimization suggestions to improve its position.
Issues alerting. DiiB alerts users about potential issues, such as an unusual traffic drop, backlink spam, and security breach, allowing them to take action immediately.
Snapshot. Users will get a weekly or monthly overview of their content and competitors' SEO data for easier regular site audits.
Cons:
Limited plan selection. DiiB doesn't offer other premium plans with lower prices or more features.
How to Optimize Your Website Using AI SEO Tools
AI SEO tools help speed up various optimization tasks to improve your website ranking. This section will cover how to use these features to optimize your website.
Keyword Research
Keyword research is a process of analyzing queries users enter into search engines to find their desired information. Search engine optimization, simply known as SEO, refers to different strategies to use those queries in your content and to your advantage so users land on your website.
You also must analyze keyword metrics like difficulty, search volume, and trends. In addition, pick the right keywords based on the target user intent – whether learning new information, finding a specific website, comparing products, or making a purchase.
In traditional SEO practices, you must determine those keywords, find the related search terms, and analyze their metrics yourself. Such a process is complicated and time-consuming but worth the effort.
AI SEO tools let you enter your content's topic to automatically generate a target keyword list. The process is quick since these tools use machine learning to gather, analyze, and compile the data.
Users can simply choose relevant keywords and add them to their content. Since a single tool can handle the entire process, your research becomes much quicker.
Create SEO Strategy
A robust SEO strategy ensures your content ranks on search engine results pages. To create one, determine your SEO goals, like improving search engine rankings, generating more leads, or increasing traffic.
Then, create an actionable plan for reaching those goals. AI tools let you analyze numerous on-page and off-page ranking factors to help make an actionable plan, including:
Keyword optimization. Keywords to include in your content based on the post's topic and targeted users' search intent. Optimizing target keywords results in a better search engine ranking.
Site structure. The connection between topically-related pages on your website through internal linking. A robust link-building strategy helps search engine crawlers discover your content easily.
Backlinks. An incoming hyperlink from another website to your content. It improves your site authority and crawlability, resulting in a higher ranking.
Content quality. The length, readability, and topical coverage depth of your content. High-quality content is more likely to rank higher on SERPs.
Search engines' algorithms. The method search engines use to assess and rank a website on search engines.
Competitor gap. You can exploit the weakness in competitors' content and keyword strategies to improve your website ranking. You don't need competitor analysis tools for this, as most SEO optimization tools already include this functionality.
Some AI tools also monitor and crawl your website to find ranking opportunities or areas for improvement. These insights are crucial to help you create a more effective content strategy.
Generate Optimized Content
Some AI-powered SEO tools provide a real-time score analysis to ensure you deliver well-optimized content. This feature gives insights into what aspects to improve in your writing to achieve a higher ranking.
Several tools have a built-in AI writer that generates and optimizes content based on your research. It lets you create content like articles or social media posts with simple text inputs.
AI SEO tools also have a content brief generator that lets you create a post outline by simply dragging and dropping the suggested headings. In addition to saving time, it helps ensure your content follows the right SEO strategy.
Important! Nothing's perfect. Always double-check AI-generated content, as it will likely contain grammar, readability, originality, and fact errors.
Keep Your Website Up to Date
Since your competitors' content and SEO strategies may regularly change, you must update yours to maintain your ranking. AI SEO tools have features that help simplify this task.
For instance, these tools actively track competitors and notify you about a change, allowing you to adjust your content strategy immediately. They also analyze your website performance which may impact its ranking.
In addition, AI tools have an SEO audit feature that analyzes existing content to find areas for improvement. Based on the data, they give users actionable insights to improve their optimization strategies.
Pro Tip
If you want an all-in-one solution for your business website, consider Hostinger Website Builder It has built-in SEO features and AI-powered tools for content writing, allowing you to create a professional website quickly.


Conclusion
While search engine optimization is essential to help drive more organic traffic to your website, it takes quite a lot of time and effort. Fortunately, artificial intelligence tools can significantly improve your website and content optimization workflow.
In this article, we have listed the 10 best AI tools for SEO to help you find the best one for your needs. Here are our best picks:
Surfer SEO. Great for personal bloggers and media companies who wish to write content while optimizing.
MarketBrew. Best for large businesses and SEO professionals in need of advanced SEO analytics.
KeywordInsight. Ideal for content marketers looking for keyword research and analysis tools.
Frase. Excellent for freelancers and bloggers looking for a built-in content brief generator and writing features.
SE Ranking. Suitable for SEO agencies and content marketers needing a white-label solution.
These tools are advantageous for different tasks, including keyword research, SEO strategy planning, content optimization, and site audit. Finally, complement your SEO efforts by investing in performance marketing for optimal results.
Best AI SEO Tools FAQs
To help you understand more about what these powerful AI SEO tools can offer, we will answer some of the most frequently asked questions.
What Is an AI-based SEO? 
AI-based SEO tools use artificial intelligence to analyze competitors' and search engines to provide optimization suggestions for your content. In common SEO, you do such research manually. 

AI automates various SEO tasks, including keyword research, internal link analysis, content optimization, and meta tags research. 
How to Improve My Organic Performance with AI SEO Tools?
AI SEO tools use machine learning to automatically analyze your website, competitors, and search engine data to provide optimization recommendations. 

For example, these tools study the trending keywords, internal linking strategies, and your website's content gap to apply optimal website content strategies.
How to Choose the Right AI SEO Tool?
Consider your budget and use cases to choose the best AI SEO software. For example, you don't need a tool with a brief generator and AI-writing features if you only use it to create an SEO strategy.

We recommend choosing tools with a free demo or trial so you can try them out first. Otherwise, pick a solution that offers a money-back guarantee.
How Effective Is AI in SEO?
Artificial intelligence can analyze large amounts of data and provide valuable insights quickly, which is crucial for SEO. In addition, it can automate numerous optimization tasks, saving time and resources.