How to Start a Web Design Business: From Freelance to Business + Success Tips
Web design has been growing as one of the most profitable and highly demanded technical jobs. The growth rate for web designer employment is forecast to reach 23% in 2031, much faster than other occupations. With such potential, many freelance web designers consider elevating their services into established businesses.
However, starting a digital design or web development company has its challenges. Web design is a competitive niche, so you will need a proper business plan and branding strategies to succeed. If you're still wondering how to start a web design business, you've come to the right place.
This article will guide you through the steps to start a web design company. Also, we've gathered some valuable tips to help you grow your web design business.


How to Start a Web Design Business – Video Tutorial
Learn how to start a web design business in this video tutorial.
How to Start a Web Design Business in 14 Steps
Let's examine the essential steps to start your own web design business.
1. Choose a Working Sphere
As a new web design company, working on your business presence and standing out from the competition is essential. Therefore, consider picking a specific web design niche to start your online business and help you find suitable clients easier – for instance, eCommerce or architectural firm websites.
Also, deciding on a web design niche allows you to choose areas in which you're interested and skilled. However, you will need to consider the profitability factor.
List down a few options you like and look at your previous projects. Having experience as an in-house web designer or freelancer, you'll be able to identify your strengths and weaknesses. You can also track which projects generated a significant amount of money.
Or, you may dive into a completely different niche if there's a demand. However, make sure you conduct proper research – analyze the competition, the possibility to scale, and whether it makes good money.
Once you've found a suitable web design niche, take some time to think about your working environment. Creating a space that supports your productivity and maintains a balance between work and personal life is essential. Consider factors like location, office design, and facilities before deciding.
Try to think of what didn't work in your previous workplace or freelance work. It could be the workload, unsuitable industry type, or schedules. Then, start planning how your company workspace can be better.
Arrange a home office if you want a more secluded space. If you prefer a more dynamic environment, there are options like coworking, cafes, and purchasing a physical office space.
Invest in the proper working tools – web design devices, internet service, professional hosting, software, and productivity apps for smoother workflow. Also, make sure to set your own working hours to keep up with your personal tasks and set boundaries with clients.
Once you've decided on a web design niche and work environment, it is time to move on to the next step.
2. Set Your Goals
Define your company's vision and define it into specific and achievable goals. Doing so will help you track your progress and ensure your web design company is moving in the right direction.
It is essential to know your business positioning before setting up goals. SWOT analysis is a popular tool that can help you discover your business's strengths and weaknesses, as well as opportunities and challenges. Therefore, you can determine elements such as competitive values, the possibility to scale, and profitable channels, to set realistic goals.
Then, apply the SMART objectives (specific, measurable, attainable, realistic, and timely) approach when setting up your business goals to increase their effectiveness:
Specific. Your goal should be precise. Define what you want to accomplish and list the steps that will lead you to achieve that goal.
Measurable. Now that you have a business goal, tracking the progress is important to know if it's working effectively. Therefore, add variables you can evaluate. For example, your goal is to increase the number of your business' site visitors. Think of how much growth you desire in measurable quantity, such as increasing the number of site visitors by 5%.
Attainable. You're managing a new web design business, so set reasonable goals depending on your current company situation. Consider if you have sufficient resources and workforce to achieve that goal.
Relevant. As a business owner, you should know if it's the right time to reach specific goals. For instance, setting up a market expansion goal as your short-term plan might burden your business. While it's important to aim for business growth, you need to focus on what's applicable at the moment.
Timely. Don't forget to set clear timelines for your goals so it will be easier to measure the results. For example, the aforementioned increase in the number of site visitors by 5% in the next five months.
3. Choose the Best Web Design Tools
A web design tool lets you streamline complex design processes and visualize ideas into great websites. Therefore, choosing the best tools for your web design business is essential.
Depending on your scope of work, there are tools for different usage, including graphic design, website creation and development, marketing and collaboration. The latter can be handy with management tasks as a sole proprietor.
Make sure to specify your company's web design services before making a decision. When choosing your tools, consider your project type, compatibility with devices and operating systems, and pricing. Also, see if you need more tools to provide additional services to your web design plans.
For instance, your business niche is an eCommerce website. As a start, you may offer bundled services, including:
Web design
Brand strategy
Logo design
Managed hosting service
Search engine optimization (SEO)
For example, Hostinger's website maker is a suitable option for performing such tasks. It comes with a professional hosting plan, a free AI logo maker, and built-in SEO tools, so you're saving up business expenses while getting a lot of helpful features.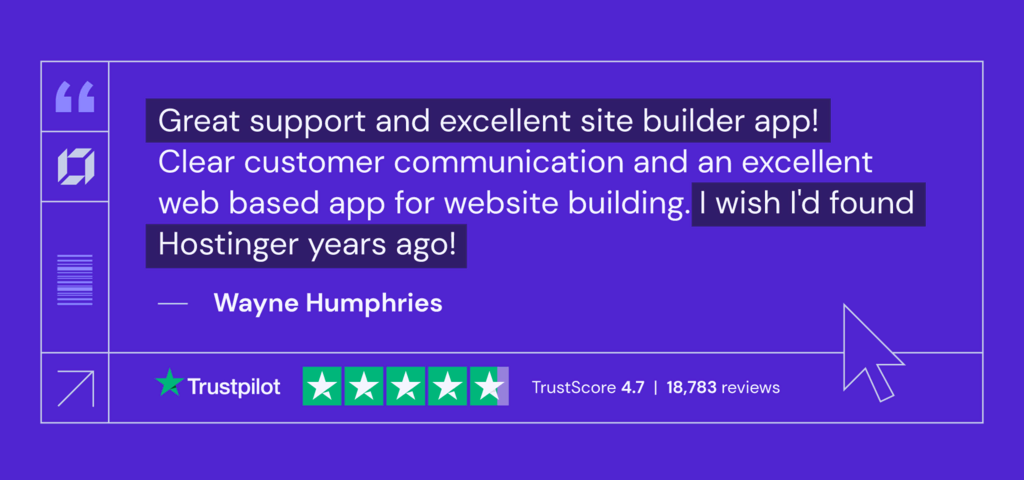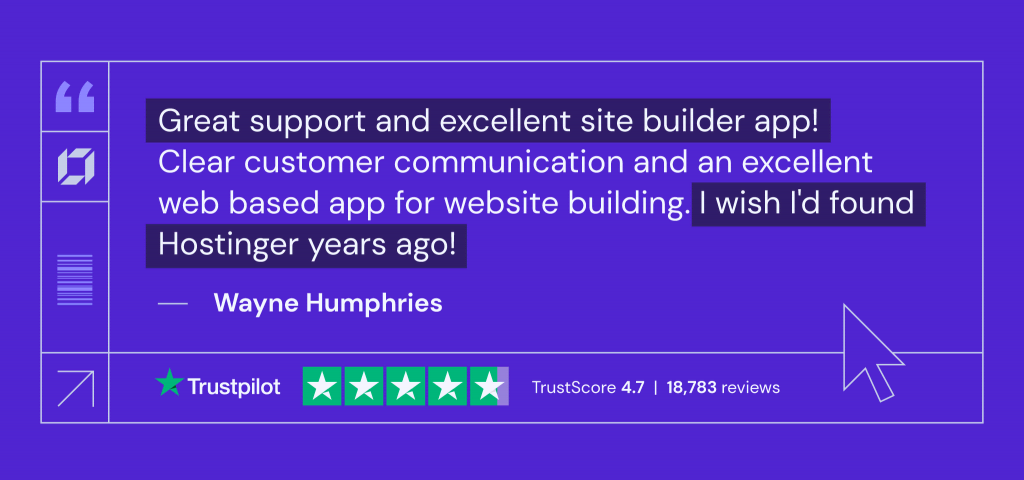 Furthermore, designing a website with Hostinger's easy-to-use page builder is less time-consuming as you will find numerous customizable ready-to-use templates. Therefore, you can focus more on your brand and SEO strategy services.
If you prefer to handle just a few clients in a certain period, consider selling a complete web design package for a year. As an example, Photography Web Designs offers this type of service that includes a custom web design and advanced SEO targeted at specific clients: established photographers.
However, you may need more tools to offer a complete web design service. Check our best web design tool picks to help you find the right tools.
4. Set the Pricing for Services
Remember that making a profit should be your priority in delivering professional web design services. Therefore, you must understand how to price your web design services strategically
As a newcomer, you might think of starting with a low price to attract new clients faster. However, you will need to cover tools and supporting elements expenses for web design work. Thus, ensure you can cover your upfront investment to maintain your business and gain profits.
Start by evaluating competitors' pricing strategies. Assess how they set rates for different types of services in various niches. Some web design niches have higher demand, so you may sell your services at a higher cost. However, pay attention to not upselling your product beyond the market rate as a new business.
Also, base your pricing strategy on project complexity and your client's business scale. Depending on your niche and products, you may handle big websites that require specific technical skills and a longer time to finish. You may consider charging more for your services due to these reasons.
Align your service cost with your experience as well. You want clients to return for your services, so ensure you deliver value over such a service rate.
Once you've set service costs, decide your pricing model. Typically, web designers use these payment schemes:
Flat rate. You will charge clients with a fixed price as agreed before the work starts. Whether the project takes longer due to client demands, the price won't change. However, this model can lead to disadvantages when you don't calculate your pricing and work hour estimations properly.
Hourly rate. Clients will pay for your service based on how many hours are spent to finish the projects. It is a more flexible option as you can adjust your price if the project ends sooner or later than expected.
Monthly rate. This option is suitable for services like SEO or full-range web design as you will work for certain clients over some time. However, more established companies are more likely to use this model. Nonetheless, it makes a great strategy once your web design business grows.
5. Choose the Web Design Business Name
Choosing a representative business name is crucial as it is part of your personal branding.
Some web designers use their legal name for their business, while others create a new one not associated with their name. However, the key is to make your company name memorable.
Be careful when trying to make a distinguished business name. Avoid using too generic and difficult terms, as well as acronyms. Ideally, your name should reflect what services you're offering with your web design business. Make it easy to identify, as you may want to use your company name for your domain and social media business accounts.
Apart from that, put naming your business into serious consideration as you may get exposed to intellectual property rights or legal issues. Check if companies use similar or similar business names in your niche.
You can visit the United States Patent and Trademark Office (USPTO) site to access their trademark database. Usually, large-scale companies register their business name to prohibit other companies from using that specific name.
6. Write a Business Plan
A business plan covers essential aspects to help you achieve your company goals. Knowing how to write a business plan is essential as it allows you to set action plans regarding your business goals, financial planning to gain funding from investors, and company direction.
Some types of plans, including lean startup business plans and summary business plans are suitable for new ventures.
The first type outlines essential elements to track business growth, such as target market, business goals, promotion plans, and important metrics to evaluate your internal business strategies. Meanwhile, the latter mainly summarizes all the aspects of a lean business plan. This summary format is helpful for pitching to potential investors or other relevant parties.
Overall, a business plan should cover elements such as company description, market analysis, business structure, products and services, financial plan, as well as sales and marketing strategies.
When your business plan is ready, it's time to complete other important documents.
7. Address Legal Requirements
Operating a web design business requires you to follow regulations in your territory like any other business. We will cover the following requirements for businesses in the United States.
Business Name Registration
You must comply with a state's law when your web design business operates as a physical workplace, gains most of the revenue, hires employees, and handles web design projects and clients in the state.
Usually, small businesses will need to register their business name at a state and local government level. Businesses using a Limited Liability Company (LLC) or corporation structure operating in multiple locations may need to file registration in all states exposed to your services.
There's no need for registration if you're operating your business with your legal name. However, if you decide to use a name other than your real one for your company, you will need to register your business as a fictitious or "doing business as" (DBA).
Here are some benefits you can get from operating a business as a DBA:
Registering as a DBA allows you to use your business name for legal purposes even though you're not running a business in a corporate structure.
Having a DBA simplifies some banking processes like business bank account creation as most banks require businesses to have it.
You can get privacy protection when conducting business as a DBA if you don't want to use personal information, such as your legal name.
DBA registration doesn't require a high cost, and the filing process is much more simple.
Tax Registration
Your company structure defines how you will pay your business taxes. It is important to know your tax requirements and how to pay them. For instance, small businesses should pay several taxes, such as income tax, self-employment tax, sales tax, and employment tax.
Licenses and Permits
You may need business licenses if you're running a web design business under regulated activities listed by SBA in the United States. Therefore, make sure you do your research about the requirements.
Open a Business Bank Account
Using a business bank account can give you benefits such as:
Improving your business' trustworthiness as clients will pay through your company instead of your personal account
Access to business loans or more funding options for your business
Protection for your business since you manage private funds in a different account
Special rates and transaction fee offers for merchants
Typically, you will need to prepare these documents to open a business bank account:
Employer Identification Number (EIN) or social security number
Your company's formation documents
Licenses or permits
Proprietorship agreement
8. Create a Web Design Portfolio
Having a well-designed online portfolio is essential for web designers. You can showcase your projects in attractive visuals and make an online portfolio that may increase your visibility and chances to reach more potential clients.
You can use a website builder or a content management system (CMS) to build your professional portfolio. However, we recommend using WordPress for its features:
Various pre-built templates for different types of industries
Adjustable cost based on your specific website requirements
Documentation, forum, and established WordPress community that can help you learn its features
More room to grow your website using a range of plugins and themes
Once you've picked a platform, it is time to start designing your online portfolio. Look for design inspirations to match the kind of clients or companies you want to work with. Also, pick your best works to showcase your skills and artistic style to potential clients.
For example, Kokoro Tobita showcases his web design works with a simple layout, highlighting the brands he collaborated with and the type of services he provided for each project.
Another example is efelle creative's portfolio page. It uses an image grid of their works for different brands, and you can see the project descriptions when clicking on each image. Doing so keeps your portfolio design simple, but potential clients can learn more about your creative designs in the process.
Consider the following elements to make your portfolio look professional:
Use a clean and easy-to-navigate design so that visitors can browse your creative works comfortably
Add only high-quality images and videos to your portfolio
Use plugins like Visual Portfolio to customize your layout, add effects, and create galleries for a unique portfolio design
Include a professional profile that covers your area of web design specialty, awards, and notable projects to give clients more idea of your expertise
Ensure your online portfolio is mobile-friendly as more visitors will likely visit your page through mobile devices.
9. Create Your Proposals and Contract Templates
A web development proposal contains information about the services you will provide, a project timeline, and detailed requirements from clients. Therefore, a web designer and a client can reach an agreement before the project starts.
When creating a proposal, ensure to cover these aspects:
Executive summary. A proposal should start with a problem overview, so both parties can understand the main issue and what services should be provided. Then, include your proposed solutions to resolve the problem according to the client's needs.
Timeline. Depending on a project's complexity, define a detailed timeline to let your clients know how long it will take to complete the project. The stages in web development projects include project planning, front-end development, back-end programming, beta testing, and website launch.
Scope of work. Add details on the services you will provide. As a web designer, you have to fulfill elements of your proposal, and the client should not ask for additional services throughout the project.
Cost. Break down your service fee and extra expenditure to finish the project. Also, include your payment scheme in the proposal or provide further details in a contract later.
Once both parties agree, provide a contract outlining the proposal's aspects and additional terms and conditions.
Similar to a web development proposal, a web design services contract should include some important elements, such as:
The parties involved. The contract should start with detailed information about the parties – the web design service provider and the client. Include the name of both parties, full addresses, email addresses, and phone numbers.
Timeline. Break down the stages of the project from the start until the finish and mention exact dates.
Scope of work. Put in details of the web design services to clearly define the rights and responsibilities of both parties.
Payment terms. Define how you charge the client for the project – flat, hourly, or monthly rate. Mention down payment, settlement terms, and payment dates, if needed. Also, don't forget to provide your bank account details in this part.
Special clauses. To accommodate potential risks, you may add additional terms for breach of contract, cancellation, and force majeure.
10. Create and Design the Business Website
Once you've defined your niche, business name, services, and rates, it is time to create and design your website.


Like creating a portfolio website, you can use WordPress to build your business site. But first, you should buy a domain name. With Hostinger, you can buy a top-level domain (TLD), including the popular .com domain suitable for any type of business.
Pick a simple and memorable domain name. Then, use our domain name checker to ensure your domain name is available before purchasing one.
Or, you can get a free domain name by purchasing our web hosting plan. For small business web designers, we recommend starting with shared website hosting.
After getting your domain and hosting plan, start with your website creation. You can find themes specifically designed for different niches on WordPress' repository. Also, there are themes suitable for any type of website like Astra.
When choosing a theme or design for your business site, ensure it represents your web design company and your services. For instance, add a homepage, portfolio menu, contact form, and pricing table on your website.
Also, your website is the platform to showcase your web design skills and artistic style to attract clients. Therefore, customize your site colors and visual elements according to your needs.
Another important element to consider is your brand guide. Creating one is essential to shape your visitors' perception of your company image. You can refer to color psychology when determining your brand color.
Using multiple colors for your brand guidelines is a great idea to make it more unique as well. Mailchimp's website showcases a great example of this technique, combining warm-toned colors to display their features.
There are tools like Adobe Color Wheel, used to generate a palette for brand guidelines quickly.
After creating a visually appealing website, apply our WordPress SEO tips to increase your website exposure. Some important aspects include optimizing your page speed, using meaningful URLs, improving your site's mobile-friendliness, and simplifying your site navigation.
11. Choose Payment Tools
Deciding on a suitable payment solution for your web design services is essential. While PayPal is a common platform for online transactions, it's unavailable in some countries. Therefore, you need to consider using other payment tools to ensure efficient transactions and improve customer satisfaction.
A payment tool can process credit cards, debit payments, money transfer apps, and digital wallets. The last two options are increasingly popular nowadays as the mobile payment method is faster and more convenient.
Apart from a payment tool's functionality, you need to look at several factors when making a decision:
Pricing. Using payment tools requires installation fees, transaction fees, and monthly fees. Therefore, calculate the overall cost to invest in this platform and match it with your budget.
Security. As you will process sensitive data like credit card numbers through the payment gateway, looking for tools offering high-security standards is essential. Ensure your chosen platform complies with the Payment Card Industry Data Security Standard (PCI DSS).
Accepted payment methods. Research which payment types are supported by the payment tool – credit or debit card, mobile payment, digital wallet.
International currencies. If you accept clients from different countries, ensure your payment tool can process transactions in various currencies.
Supported cards. Use a payment tool that supports common credit cards like Amex, Visa, and MasterCard. Also, it would add great value if the platform accepts other cards used by your clients.
Check out some excellent payment gateways for small businesses like Square, Authorize.net, and Stripe that support different payment options and security features like fraud risk prevention.
12. Establish Project Management and Communication Procedures
As a web design business owner, managing communication and projects effectively to deliver timely results is crucial.
Using these tools can help you keep up with managerial tasks and increase productivity:
Project management software. Investing in the right platform allows you to collaborate and track projects alongside your internal team and clients. Even if you're a sole proprietor, you can use this management software to organize your resources and project timeline faster. We recommend using tools like Trello and Asana for project management.
Accounting software. You can easily use accounting software as a starting point to keep up with your finance-related tasks. Wave is an example of free accounting software that offers invoice management and multiple currency features.
13. Build Digital Branding
Developing excellent digital branding strategies helps boost your company's reputation and trustworthiness, especially when starting as a small business.
When you're maintaining a good brand image, people will see your web design business as credible. Therefore, you may get wider exposure, drive traffic to your website, and increase your opportunities to gain revenue.
Here are some steps to take to build a brand identity for your business:
Define your web design business' vision and values – divide them into short, medium, and long-term business goals
Find your target market and create specific personas to help you analyze which group engages with your brand the most
Conduct a competitor analysis to assess problems your business can solve
Define your unique selling proposition (USP), brand positioning, and brand guidelines
Develop effective brand communication so that clients can understand your company values and objectives better
Pay attention to your brand's visual elements – logo, images, website branding
Apply digital marketing strategies such as content marketing, social media marketing, SEO, and paid ads.
Now that you've learned about business branding, let's discover ways to get clients.
14. Find Clients
Getting more clients can take time for a new web design business. However, having a specific niche is an excellent starting point for growing your client list.
You're offering specialized services, meaning you already have your target audience. To convert real clients, specify your audience persona further.
Start by listing the type of clients you prefer, which may include their scale or business size, geographical aspects, and types of web design services you offer. For example, SmartSites is a New Jersey-based web design business focusing on Drupal development.
Once you've defined your target audience, promote your web design business on social media to extend your network. We will use LinkedIn as an example. This platform allows you to post what your company is offering and engage with your existing networks. Through the interactions, you might land new connections or projects.
Another helpful method is developing a content marketing strategy. You can create a blog for your business to let visitors know more about your services through content. Also, use lead magnet strategies, including free file downloads and online courses, to obtain contact information. Later on, you can use the contact details from the lead generation to build mailing lists and track prospective clients through the customer relationship management (CRM) tool.
Now you've reached the final step to starting a web design business.
Tips for Growing a Web Design Business
Making a web design business profitable in the long run can be daunting for small business owners. We will uncover some tips to help you grow a successful web design business.
Scale and Automate the Business
As a web design business owner, you will reach a point to scale your business eventually. The idea is to utilize existing resources effectively while increasing your profitability. Consider automating your business processes to achieve this, for instance, marketing.
Once you've got contact details from lead magnets, use email marketing and CRM to automatically send personalized messages and marketing materials to retain existing and prospective clients.
AI-based tools can minimize your digital marketing efforts, allowing you to focus on other areas like business development and finance.
Don't Limit Yourself to Just One Type of Service
Adding more services can give you access to diverse clients. Most web design agencies like AVX Digital combine their services with digital marketing and specialized SEO services.
It gives your client added value as they can source multiple services under one company – it's budget and time efficient. Also, you can strategize on product bundling to gain more revenue.
Have Multiple Lead Generation Channels
Use organic traffic and pay attention to SEO and content marketing to drive more potential clients. Don't just depend on a single channel; look for opportunities to get more quality leads.
You can provide downloadable content and survey forms through email marketing for a cost-effective digital marketing strategy.
Establish Yourself as an Expert in Your Field
Becoming a successful web designer is not only about your company branding but also your expertise. Therefore, it's crucial to sharpen your web design skills and knowledge as a web developer by pursuing online courses or higher education.
Alternatively, consider getting more certifications, entering web design competitions, or taking project collaborations. You can add this information to your business site or visual portfolio for higher credibility.
Starting a Web Design Business vs. Working as a Freelance Designer
If you're still wondering which option is more profitable for web designers – stay as a freelancer or start a web design business, consider their key differences as follows:
Cost. Working as a freelance web designer doesn't require much budget as your projects are typically smaller and manageable by yourself. Meanwhile, starting a website design business involves significant initial investments, staffing, and more resources to handle large-scale projects.
Flexibility. You can take on projects or clients depending on your availability as a freelancer. But as a company, you will need to work by schedule and might work on several projects simultaneously according to your timelines.
Expertise. Freelancers usually focus on a specific skill set. Meanwhile, as a company, you can offer multiple services by recruiting staff with different skills. The best option will be according to your preference – whether you're looking to provide a specialist or more general services.
Credibility. Although there are many skillful web design freelancers, a web design company can show more trustworthiness through company values and brand identity – especially when you've created extensive networks with former clients and other professionals.
Overall, working as a freelance web designer might be an affordable and flexible online business idea for web designers. However, starting your web design business brand gives you more room for growth which may lead to more profits – gain multiple revenue streams, extend professional networks, and get exposure to different web development services.
Conclusion
Web design is a profitable online business niche to pursue. However, transitioning from being a freelancer to starting a web design business is challenging.
To answer how to start a web design business, we have listed 14 important steps to take:
Choose a specific web design niche and work environment
Define your business goals
Pick the right web design tools for your business
Set your web design services rate
Create a representative business name
Write a solid business plan
Fulfill legal requirements where you operate your business
Customize an attractive online portfolio
Draft your web design proposal and contract template
Make a business website
Choose the right payment tool for smooth online transactions
Use specialized software to track your projects and communication
Build a strong company branding through social media channels
Attract new clients
We hope this article helped you understand how to start a web design business and generate profit from it.
Feel free to leave a comment if you have further questions or suggestions. Good luck!
How to Start a Web Design Business FAQ
To learn more about starting a web design business, check our list of frequently asked questions.