Which Is the Easiest AI Website Builder?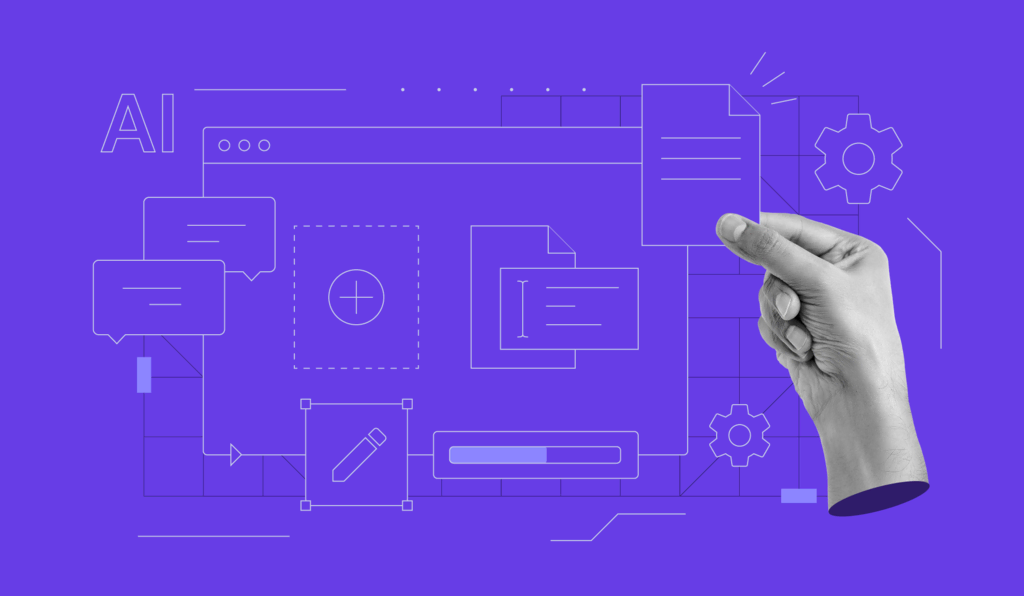 Thanks to artificial intelligence technology, building a website no longer requires extensive coding knowledge or design skills. With the rise of easy AI website builder platforms, anyone can create a professional website in just a few clicks.
In this article, we will explore the best website builders powered by AI that prioritize simplicity and user-friendliness.
Whether you're a business owner, blogger, or looking for a creative outlet, these AI website builders will help bring your idea to life without the complexities traditionally associated with web development.
Download Website Launch Checklist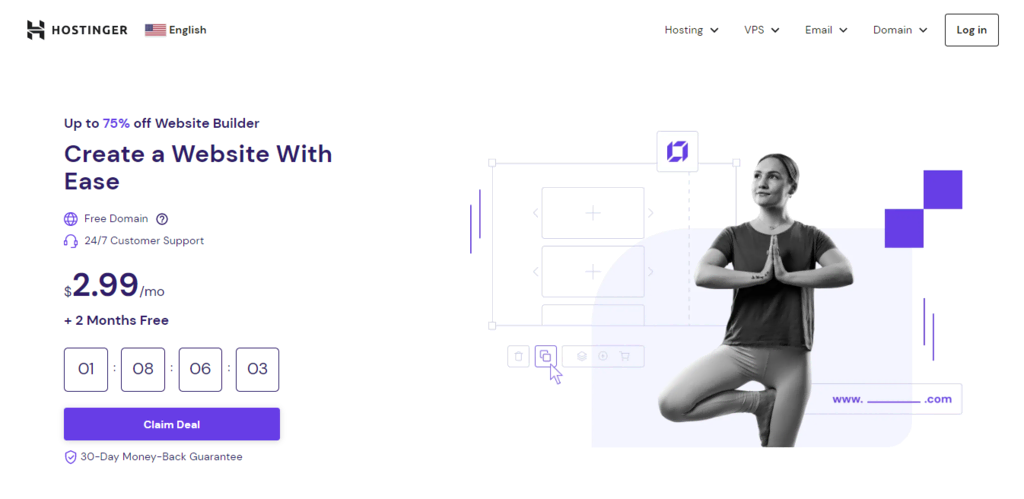 Hostinger Website Builder Stats:
Best for: users who need an attractive website quickly and hassle-free
AI tools: AI website builder, content writer, logo maker, and heatmap analysis
Price: freemium (starts at RM9.99/month)
With its easy-to-use interface, advanced AI features, and affordable pricing, Hostinger AI Website Builder stands out as the easiest builder for creating websites of all shapes and sizes.
This all-in-one platform makes the website-building process easy, with all tools you need conveniently available in one place. Simply sign up, provide a brief brand or business description, and let our innovative AI builder do the rest.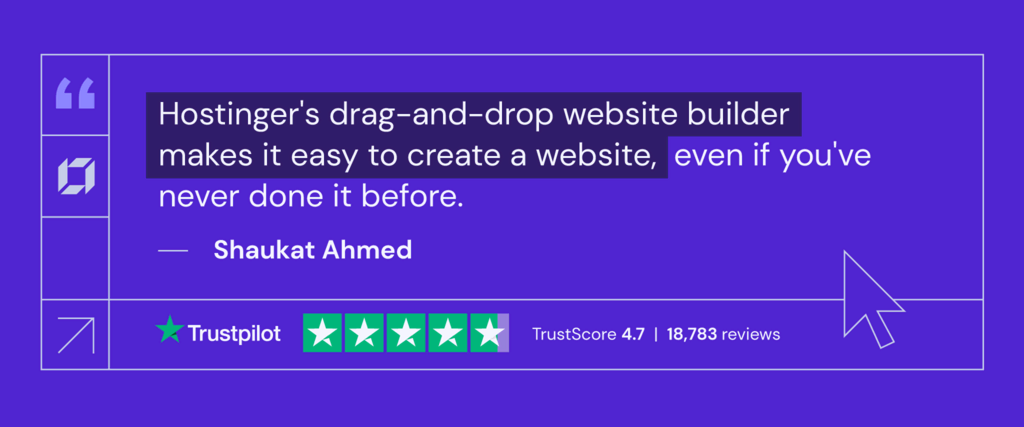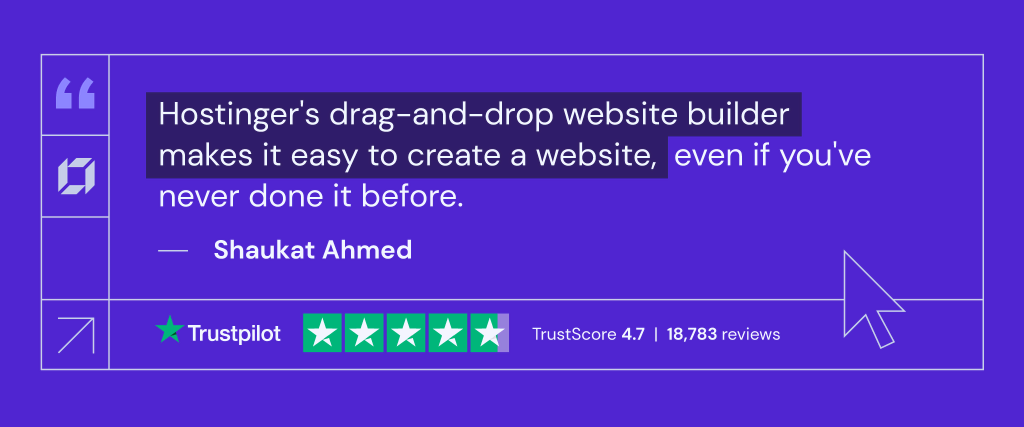 Hostinger's AI technology generates a unique template tailored to your needs within minutes. On top of creating a responsive site design, our AI website builder automatically generates compelling content, selects relevant images, and incorporates essential design elements like contact forms and image galleries into your website.
If you want to make further adjustments, the drag-and-drop editor makes editing a breeze. Hostinger Website Builder also has built-in SEO tools, making it easy to improve your site's rankings on search engines.
Pros:
Cutting-edge artificial intelligence. The AI builder generates a custom design from scratch, utilizing advanced algorithms that analyze page design and generate engaging website content. All sites are mobile-friendly by default, too.
High security. Hostinger prioritizes the security of your data with unlimited SSL certificates, automatic backups, and Cloudflare-protected nameservers.
Budget-friendly. Hostinger Website Builder plan, starting at RM9.99/month, includes access to all tools, eCommerce features, top-notch security measures, and a free custom domain name.
Try before you buy. Users can explore and evaluate the builder's AI features before committing to a plan.
Cons:
Collaboration limitations. While you can add contributors to your website, simultaneous editing is not supported.
Absence of member area. Similar to other AI website builders, it does not offer the ability to create paywalls or members-only pages.
Hostinger Website Builder's AI Tools:
AI website generator. Craft a personalized website by describing your brand and desired website type.
AI writer. It automatically generates compelling content on various topics based on your input.
AI logo maker. Enter your business name, slogan, and industry, and the logo creator generates a captivating logo for your brand.
AI heatmap. Gain insights into the effectiveness of different website elements in capturing visitors' attention.
AI Business Name Generator. Simply type in your niche-related keywords to create a perfect business name.


2. Durable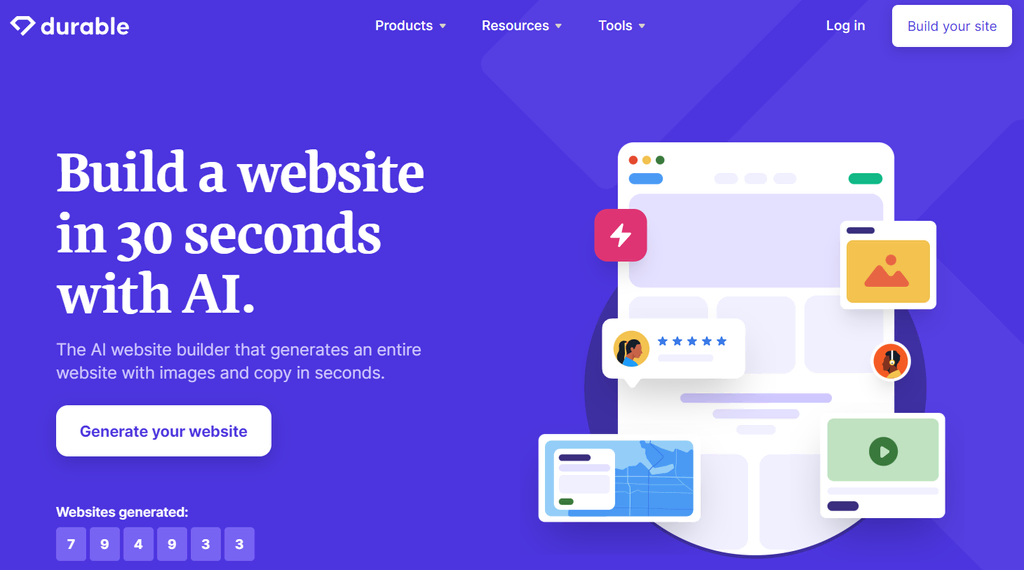 Durable Stats:
Best for: entrepreneurs
AI tools: Google Ads writer, business name generator, and image picker
Price: starts at $12/month
Durable's AI website builder is an excellent option for creating professional websites efficiently. Using a two-question questionnaire, it generates a website template that serves as a solid foundation for a custom website.
Beyond Durable's sleek user interface, this AI website builder automatically incorporates essential elements like contact forms and social media buttons automatically into your site design. Each section can be easily customized later with the website editor to fit your preferences perfectly.
It also provides powerful AI content generator tools, which help speed up website development. You also have access to site analytics, customer relationship management (CRM) tools, and invoicing features, making Durable particularly well-suited for businesses.
Pros:
Easy setup. Simply answer a few questions, wait a few minutes, and your AI-generated website is ready.
Smooth onboarding. Durable's AI website generator has built-in onboarding to help new users master it fast.
Access to free AI-powered tools. Non-subscribers can use Durable's AI ad writer and brand name generator.
Cons:
Business-focused. Durable is primarily tailored to generating business and eCommerce sites.
Output quality. Its AI site generator and tools aren't the most advanced, especially compared to other easy website builders on our list.
Customer support limitations. Users can only reach the customer support team via email or live chat during working hours.
Durable's AI Tools:
Google Ads helper. Create copy for your Google Ads by describing your business and desired ad tone.
Business name generator. Write a short description, and Durable generates multiple business name ideas.
Image and icon picker. Automatically populate your web page with high-quality images and icons.
3. 10Web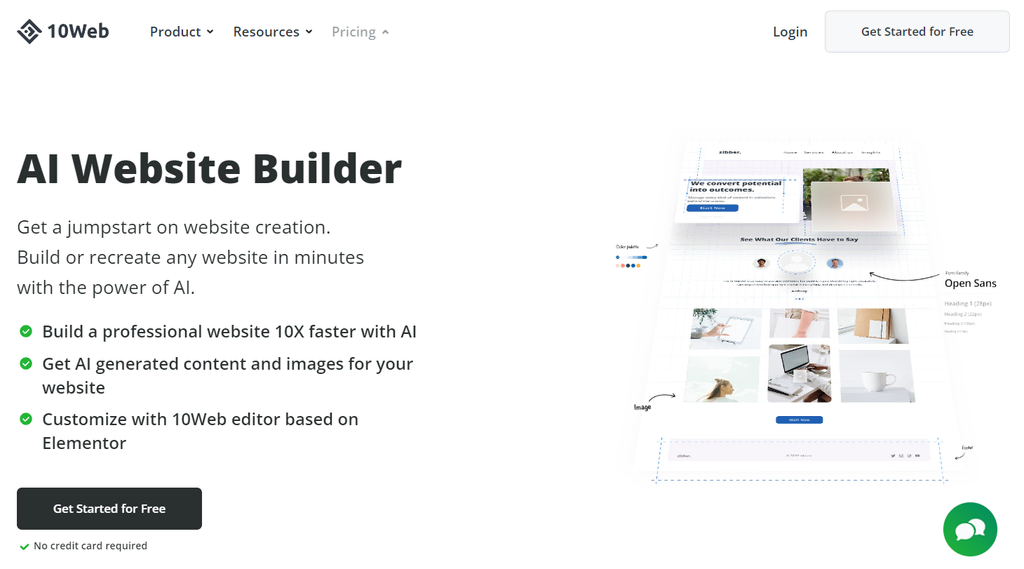 10Web Stats:
Best for: users who want to create a WordPress website
AI tools: content and design generator, page importer, and WordPress converter
Price: starts at $10/month
10Web offers a feature-rich block editor focused on WordPress. This AI-powered website builder has advanced security features, back-end optimization, and other useful tools to ensure a functional and professional-looking WordPress website.
As a platform, 10Web is ideal for users who want to easily create a new website design and then enhance its functionality by installing WordPress plugins. For example, integrating the WooCommerce plugin lets you transform your site into an online store.
Or, if you're a marketing agency, you can look for plugins with email marketing features to add extra functionality to the website.
On top of creating brand new websites, 10Web can also import existing pages to a new site design. To speed up the process, you can use the AI assistant to generate SEO-optimized content for landing pages, blog posts, and more.
Pros:
High performance. Users can optimize their websites through caching, code minification, and image compression, improving loading speed.
Robust security features. 10Web supports Cloudflare CDN, provides a free SSL certificate, and conducts regular malware scans to safeguard your website.
Transparent pricing. The tool doesn't have hidden fees for its available services and features.
Cons:
Limited payment methods. Users can only purchase 10Web using credit cards and PayPal.
Scalability constraints. All 10Web plans have restrictions on server storage and traffic.
Absence of built-in eCommerce functionality. Users need to install third-party eCommerce plugins to create online stores.
10Web's AI Tools:
Content and design generator. Use AI to automatically generate website content and images tailored to your specific needs.
Page importer. Seamlessly import layouts and content from an existing website by simply entering its URL.
WordPress converter. Recreate your WordPress site on 10Web by using the builder AI tool.
4. Phonesites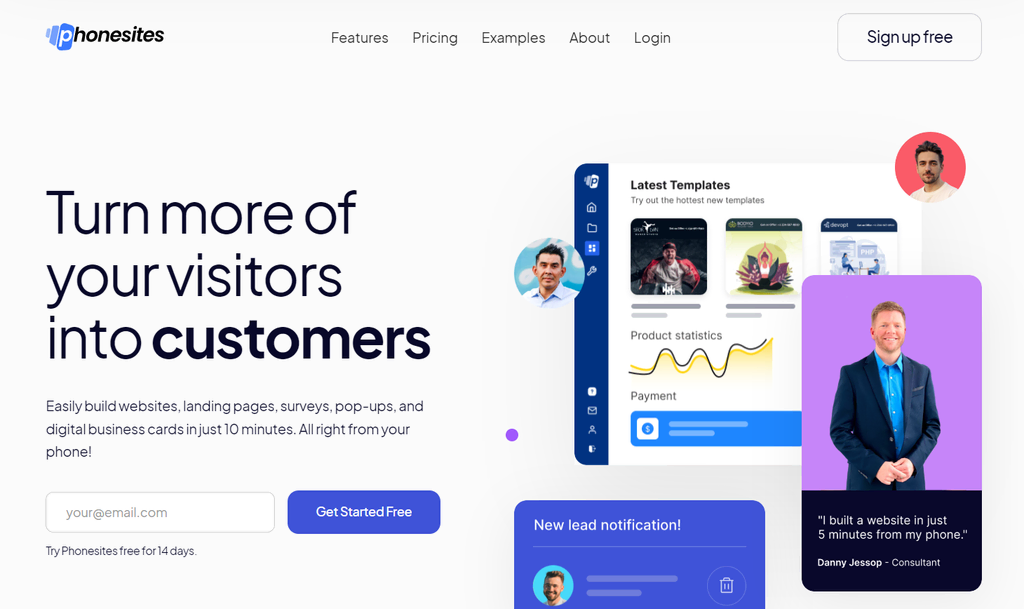 Phonesites Stats:
Best for: business site owners wanting to scale fast
AI Tools: ad writer, headline creator, and blog idea generator
Price: starts at $79/month
Phonesites is a mobile-focused website builder that lets users create custom websites on their phones. You also get access to all the tools you need to help convert website visitors into customers.
For example, Phonesites lets you feature a survey or a pop-up form on landing pages to collect potential customers' data. This AI editor also offers real-time analytics, email automation, and CRM integrations.
Its drag-and-drop editor makes it simple to create professional websites and has various AI-powered tools to improve your content marketing strategy, too.
Pros:
Free domain and hosting. Quickly get your custom site up and running – hosting plan and custom domains are included.
Phone customer support. Contact Phonesites' customer support team via phone calls or Zoom for easy troubleshooting.
Mobile-first design. All website templates use a mobile-first approach to ensure usability across all devices.
Cons:
Expensive. Despite the clear pricing scheme, Phonesites plans are more expensive than other tools in our list.
Credit system. Each Phonesites plan has limited credits for using the AI writer.
No free plan. There is no free plan, so you need to be sure you want to commit to this builder.
Phonesites' AI Tools:
Ad writer. Automatically generate ad copy for social media and Google.
Headline creator. Easily create a unique and compelling landing page headline to promote your business.
Blog idea generator. Speed up your content creation process to drive more traffic to your blog.
5. B12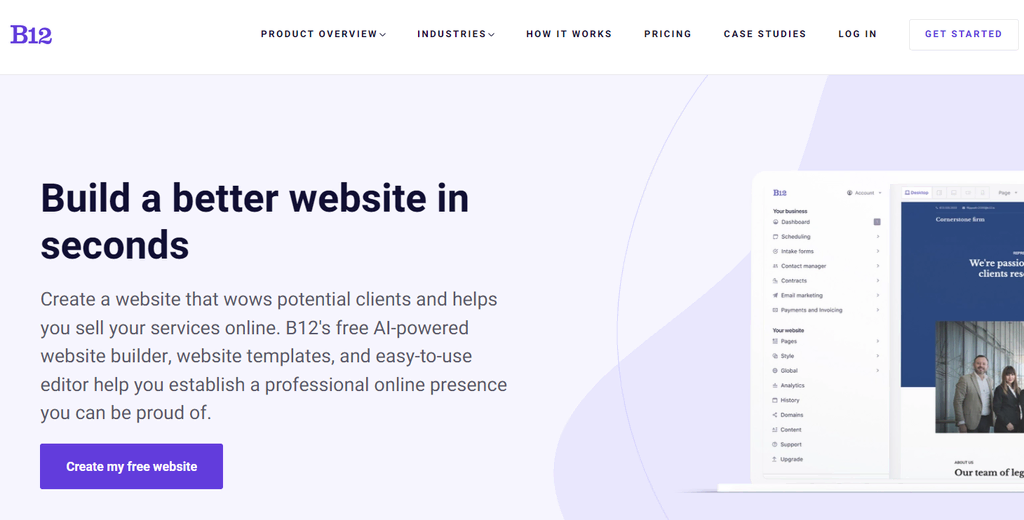 B12 Stats:
Best for: established business owners
AI Tools: website design and layout drafter
Price: starts at $42/month
If you want to quickly launch your business online, consider B12. In addition to an AI builder, this service offers professional web designers, SEO specialists, and copywriters to help build your site.
These professionals will handle the entire process of creating a business-ready website for you – note that the service is not available for users of the Basic plan. B12 also provides tools to help improve client engagement, such as live chat and email automation.
While great for business website creation, B12 doesn't have built-in eCommerce functionality. To create an online store, you must integrate it with a third-party platform.
Pros:
Extensive third-party integrations. Integrate your website with various software, including a calendar, reservation app, and commenting system.
Comprehensive marketing features. Easily reach potential customers with email marketing automation, online scheduling, and client contact management.
Professional assistance. In addition to the website builder, B12 also offers services to help design and create content for your website.
Cons:
Expensive. B12 is more expensive than other tools – professional assistance costs an additional $1,999.
Customer service. Users can contact B12's customer support team via chat, email, or scheduled calls, but only during working hours.
Lack of other tools. Users must use third-party AI-powered tools for other tasks since B12 only has a layout generator.
B12's AI Tools:
Design and layout drafter. B12 uses AI to generate a website draft, which its design team will review.
Conclusion
The appearance of easy-to-use AI website builders has improved and simplified the way we create websites.
These powerful tools have leveled the playing field, allowing individuals and businesses of all backgrounds to establish their online presence effortlessly. With intuitive interfaces, drag-and-drop editors, and unique templates and content, building a professional-looking website has become a seamless and enjoyable experience for users of all levels.
Whether you're a beginner or an experienced web designer, AI website builders offer a range of features and customization options to suit your specific needs. Start building your dream website today and launch it in a few clicks.