Customer Reporting: A Complete Guide for Businesses and Agencies
Whether you run a WordPress agency or small business, your company needs satisfied, paying customers to grow. With customer reporting, you can keep clients updated on your progress and ensure that you meet their expectations. However, this can feel overwhelming if you've never put together a client report before.

What Is Customer Reporting?
Customer reporting is the process of collecting, analyzing, and presenting data related to customer interactions with a company. It helps businesses identify patterns, measure success, and make data-driven decisions to improve the customer experience.
Client reports are results-driven documents that show your customers what you've done to help them reach their goals. These reports can vary slightly, depending on the industry, but they share some similarities.
Fortunately, the process is easier than you might think. You can create and present special reports to your customers by utilizing client reporting tools to streamline your workflow.
In this guide, we'll explain the importance of customer reporting. Then, we'll show you how to put together high-quality client reports and look at some tools that can help you simplify the process. Let's get started!
An Overview of Customer Reporting
A client report typically contains the following:
A summary and overview of how your business has helped your client work on their goals
Detailed numerical data related to your client's core goals and metrics
Graphs and other visual aid
Statistics about the client's industry and how their competitors are performing
Proposed steps toward meeting the client's future goals
If you own a digital marketing agency, client reports will outline your steps to help customers increase their online presence.
You could include percentage breakdowns to show this progress across social media platforms and compare similar brands within the same industry.
Finally, your customer report should propose a new (or ongoing strategy) to improve these metrics.
Client reports can come in different formats. You might create a simple document or PDF that outlines all the information with images and graphs.
Moreover, some businesses generate complete customer report dashboards, similar to the image below.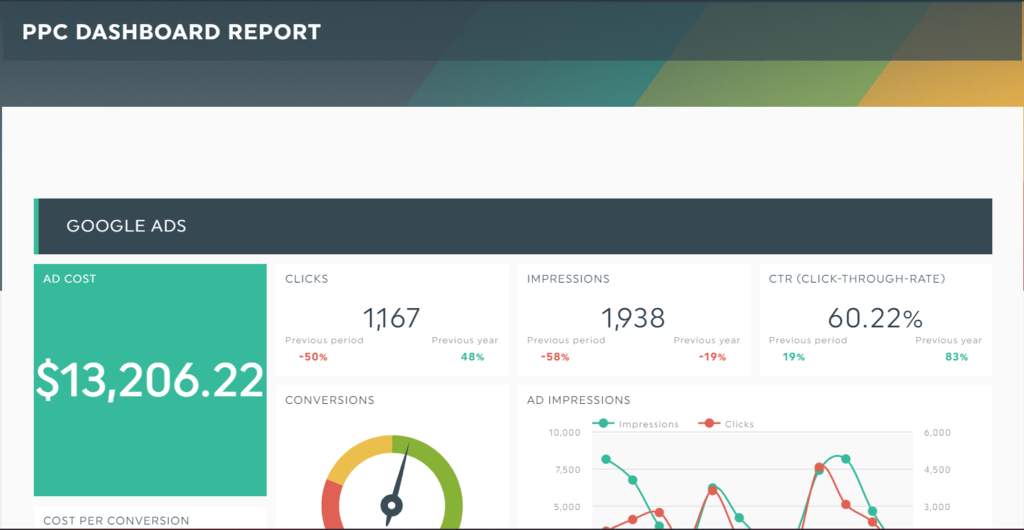 This way, customers can log into their accounts to view their progress. We'll look at some tools that can help you create effective customer reports later in the article.
Importance of Client Reporting
Customer reporting is essential to your company's success. This section will discuss why your agency should prioritize client reports.
Demonstrating Your Value
You might already be focusing on how to get more clients, as adding new customers to the books can undoubtedly increase your profits and boost brand awareness.
However, you'll also need to deliver consistent results for existing clients if you want to scale your business. This is where client reports are so essential.
Customer reports can demonstrate that your agency is delivering on its promises and helping clients meet their goals. If you consistently perform well, your customers will likely stick with your business long-term.
Communicating With Your Clients
Regular client communication can help you build a positive relationship with your customers. Besides emails and phone calls, client reports provide an opportunity to sit down and discuss progress.
After all, a customer data report is more than just a document. Ideally, it should open a conversation where you can talk about results, progress, and potential approaches for the future. Clients can share grievances, ask for changes to your strategy, or provide constructive feedback for the project's next phase.
Furthermore, regular progress meetings are crucial for addressing minor issues. Communicating with your customers every month or quarter enables you to address any problems before they become too big to handle.
These meetings are also essential if you're unsure how to fire a client. Suppose the customer is no longer a good fit for your agency, or they're presenting unreasonable demands. In that case, a client report can lay out the data objectively and open the space for a professional conversation.


Maintaining Accountability
Customer reporting is essential to maintaining accountability on both sides. When you start a new project, your customer typically comes to you with specific goals for their business. Then, you set up a strategy to meet those objectives, along with measurable metrics.
Therefore, creating customer reports enforces accountability for your agency because you will need to prove that you can deliver results. Meanwhile, your clients will be accountable for developing specific goals that you can measure.
Helping Your Clients Learn
Customer reports are important from an educational perspective.
Your client has likely hired you because they don't want to spend all their time and effort figuring out ways to improve their business. However, learning more about what your agency does can help customers develop more realistic goals.
For instance, your client may not fully understand metrics such as conversion rate, so they might not value it for their business. If you address this metric within your strategy and show your customer what it means, they might see the value of focusing on it more deeply.
Plus, it could help them develop more precise goals for their businesses.
How to Prepare a Customer Report (In 5 Easy Steps)
If you've never created a customer report before, you might not know where to start. No need to worry, as we'll show you what to include and how to deliver the information to your clients.
Step 1: Send a Questionnaire
If you've just acquired a new client, we recommend familiarizing yourself with their needs before jumping in with goals and metrics. This will enable you to fully understand your customer's priorities and business model and tailor your strategies accordingly.
Here are some questions you might want to ask your client:
What are your specific goals for your business?
How do you prefer to market your brand?
Do you have any goals for this collaboration?
Who is your target audience?
What is your budget?
Do you have any metrics in mind for measuring your progress?
You could simply write all these questions in a list and send them to your client via email or schedule a phone call.
If you prefer doing business over email, make sure to buy a business email service that allows you to create custom email addresses with your domain. A domain-based email will make you look more professional.
Alternatively, setting up a formal survey can help streamline the process:

With SurveyMonkey, you can design a free questionnaire using templates and different question types, including checkboxes and free responses. Then, simply send the link to your client and ask them to fill it out!
Step 2: Choose Goals and Metrics for the Report
This next step in doing client reports is collaborative. It involves zoning in on the core goals for your client's business and how you will measure them. You'll also need to determine how frequently you'll send customer reports and in which format you will create them.
This step is crucial, as poorly-defined goals may be impossible to achieve or measure. Therefore, we recommend approaching this stage with SMART goals in mind.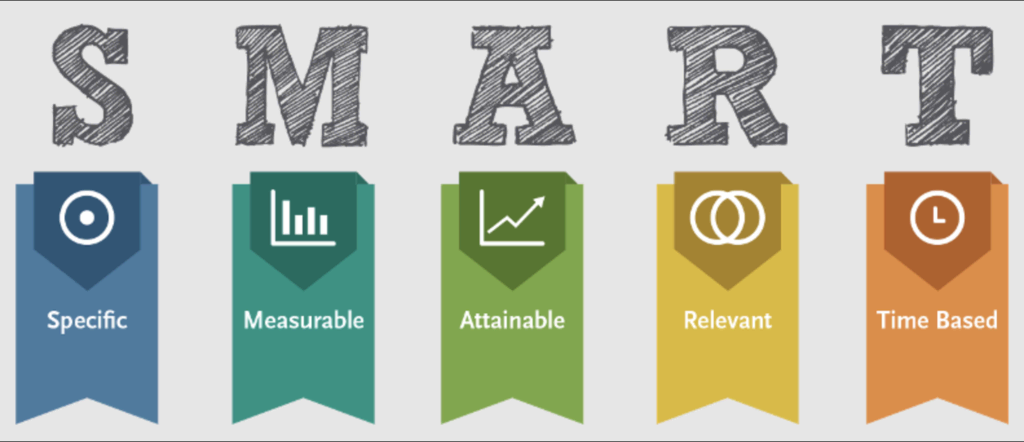 Image source: Wikimedia Commons
For example, your client may want to increase their monthly website visitors to 100,000 by the end of the year. Depending on your customer's current traffic levels, this goal may be attainable and easy to measure.
Your agency can then develop strategies to achieve it, such as focusing on search engine optimization (SEO) techniques and migrating your client to premium web hosting that can handle the visitor influx.
You can even create mini traffic goals for each month until you achieve the final aim.
Step 3: Create a Summary
Once you've worked on your strategy and collected data for a set period, it's time to put together your customer report. Since there might be a lot of information in the document, we recommend creating a summary of its contents.
A report summary will highlight essential information. Rather than going through heaps of pages of data, clients can get an overview of whether the strategy is working.
You'll want to start by addressing the client's goals and key performance indicators (KPI). You must show tangible progress toward the customer's aims, and you can do this with statistics, simple data, and a few graphs.
You'll also need to address the budget in your client report summary. You can mention how much money you spend, where it went, and how that spending correlated with results. This can help assure clients that you're not wasting their money.
Step 4: Include Key Data
After the summary, you'll want to move on to your key data. This information provides deeper insights into your strategies, data collection methods, and the metrics used to measure results.
It may feel tempting to leave out some data, so you don't overwhelm your client. However, they will likely want a complete breakdown if they're serious about improving their business.
We recommend organizing the information into sections. For example, comparing the results to industry benchmarks can be handy. This will give the client a better idea of where they stand and whether the project is helping them overtake their competitors.
You'll also want to include plenty of visual data points in the form of graphs. This can help make the information easier to scan and digest without overly simplifying it.
Step 5: Propose Next Steps
Finally, it's wise to propose the next steps for the project. This can show the client that you're thinking about their future.
Furthermore, a change in strategy might be necessary if you identified new opportunities during the data collection phase.
Creating future goals and projects can also ensure ongoing business from your client. If you simply deliver on a single project and don't follow up, you could be losing out on more work.
6 Best Practices for Customer Reporting
Creating high-quality customer reports is an art form in itself. With these tips, you can improve your reports and keep your clients happy.
1. Personalize Your Reports
Your agency likely works with many clients across different industries. It might feel tempting to reuse templates to streamline your workflow and create your reports more efficiently.
However, personalizing your customer reports is key to keeping your clients happy. It shows that you've considered their specific goals rather than re-using the same strategies for all your customers.
There's no reason you can't still use a template. Still, it's worth approaching each report as a new document and changing its content as needed. You might also consider including your client's branding (such as their logo and font) within the report for an extra personal touch.
2. Keep Things Simple
Including enough information in your reports can be tricky without overwhelming your clients. In most cases, it's better to lean on the side of simplicity, particularly in the main summary section.
Many clients will simply want to know whether your strategies are working. Breaking data into digestible chunks of information can help you communicate your efforts without getting lost in the details.
Moreover, we recommend using simple language over technical jargon wherever possible. Many clients focus on your campaign's results rather than the intricate details of the process.
Of course, this approach will depend on the client. Some customers prefer to see all the data to draw conclusions. Therefore, it's worth discussing the quantity of data at the start of the project so that everyone is on the same page.
3. Use Visual Aids
We've already touched on the importance of including graphs, charts, and other visual aids in your reports. You might also consider including screenshots of your client's website as they relate to specific strategies.
Using visual aids can help break up large walls of text and numbers. Doing so can make your reports more engaging for your customers.
Image source: Hubspot
Furthermore, people tend to process visual information much faster than the written word. Therefore, including graphic elements in your reports can help your clients understand the data more quickly and efficiently.
4. Be Honest and Transparent
It can feel tempting to only focus on your successes when presenting a report to your clients. After all, you want them to continue using your agency's services.
That said, honesty and transparency can go a long way toward building customer trust. If they discover any weaknesses or errors in your strategies on their own, they might feel like you're trying to deceive them.
Furthermore, you can use weak points in the project to propose new solutions to your clients. If your current strategy isn't working well, consider suggesting a new course of action.
This proactive approach can instill further trust in your work and convince the client that your agency has their best interests at heart.
5. Make Time for Discussion
Customer reporting isn't just about compiling and sending information to your clients. It's also worth setting up a discussion so that you can go over the data, address any concerns, and agree on the next steps for the project.
Making time for discussion shows your clients that you care enough to explain the project and its data fully.
Airing any grievances or feedback in real time can be better than going back and forth on an email chain.
6. Segment Your Reports
Finally, we recommend segmenting your reports into different data sections. Depending on your client's project, these segments will likely cover different channels, including:
Google Analytics. A rundown of your client's website's traffic numbers, unique visitors, conversion activities, and session durations.
Social media platforms. You can segment the data for each social media site, showing the increase in follower numbers and engagement, such as follows, likes, and shares.
SEO rankings. A breakdown of your client's rankings changes in the search results, backlinks, and domain authority.
Paid advertising. Here, you can outline how much the paid ads cost per click, their click-through rates, and overall return on investment.
Email marketing. A rundown of email open rates, click-through rates, and increased subscribers.
Of course, you'll want to briefly cover each of these channels within your report's summary. However, we also recommend creating distinct pages and datasets for each channel, along with plenty of graphs and charts to summarize your progress.
4 Best Client Reporting Tools
You could theoretically create your client reports from scratch. However, this process can be time-consuming, and you might miss important data.
With that in mind, here are the four best client reporting tools to streamline the process.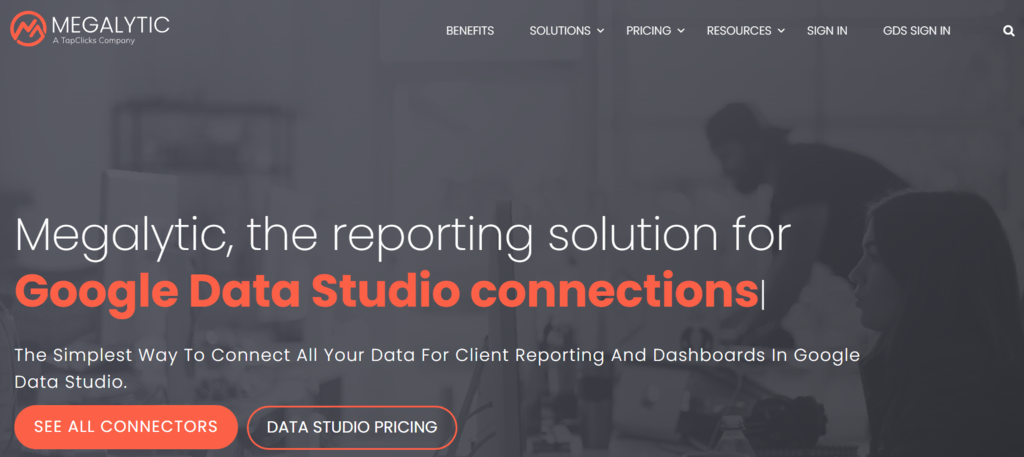 Megalytic is a comprehensive customer reporting tool that draws data using Google Data Studio. It can collect and collate information from Google Analytics, Facebook, Instagram, AdRoll, and more.
Furthermore, Megalytic enables you to set up a reporting dashboard and share reports with your clients as PDFs. You can even white-label this dashboard and create documents in different languages to cater to your international customers.
Megalytic can also simplify the reporting process by providing access to customizable templates. You can configure your reports to update automatically and schedule them to further streamline your workflow.
Megalytic data reporting plans start at $39.99/month for 10 reports and ten connections, while Google Data Studio plans start at $14.98/month. All plans come with a 14-day free trial.
If you're looking for a premium solution that can unify multiple data sources and simplify the reporting process, Whatagraph could be the right tool for you. This platform can consolidate data from over 40 platforms, including email marketing platforms, Google My Business, social media, and Google Ad Manager.
Whatagraph is also an excellent option for automating your reporting process. By configuring a few settings in your dashboard and setting up some formulas, Whatagraph will automatically create reports from your data.
You can easily consolidate all your channels into a single report and schedule it to send to your clients.
Moreover, Whatagraph has a white-labeling feature. This can make your reports align with your branding and look more professional.
Whatagraph plans start at $199/month for unlimited reports, 25 data sources, and up to five users. You can also access a free trial.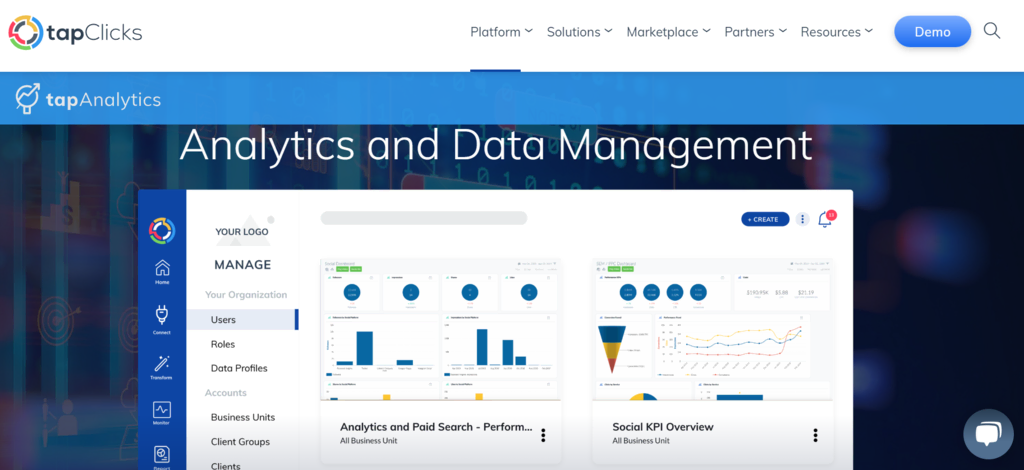 If you're looking for a highly customizable reporting solution, TapAnalytics could be the way to go. You can use the dashboard to segment your data according to specific parameters, including location. TapAnalytics provides a tagging and metadata system to categorize your reports further.
With the tool's custom metrics, you can calculate and display your chosen KPIs, such as cost-per-click and conversion rates. You can also easily convert them into graphs and other visual formats.
Furthermore, TapAnalytics enables you to set goals for your campaign and track your progress. Overall, it's a sophisticated and flexible tool for large agencies and businesses.
You can schedule a free demo to try the TapAnalytics platform. Prices vary depending on your business's specific needs.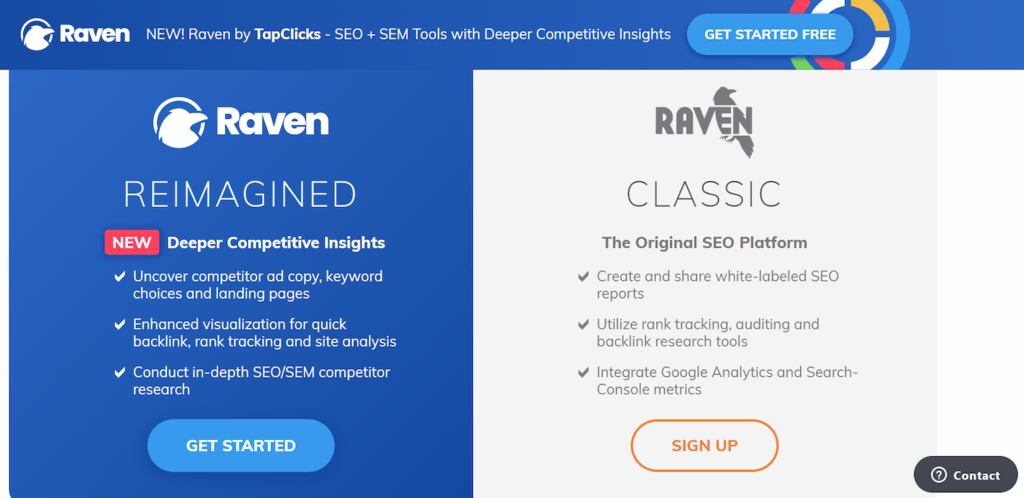 Raven Tools is an excellent client reporting tool for SEO agencies. It includes multiple SEO features, such as rank tracking, keyword research, backlink checking, and social media monitoring. You can collate this data and display it in attractive, customizable marketing reports.
The marketing report tools include a drag-and-drop editor and highly visual elements such as graphs and charts. Additionally, Raven Tools has a white labeling feature so that you can use your agency's branding in the dashboard.
Raven Tools integrates with over 30 platforms, including Google Analytics, Facebook Ads, and AdWords. Moreover, you can automate the reporting process to speed up your workflow.
Raven Tools plans start at $39/month and include 1,500 position checks and two users. You can also access a seven-day free trial.
Conclusion
Customer reporting is an essential part of running an agency. It demonstrates concrete results to your clients and shows them how your business is helping them achieve their goals.
Furthermore, developing professional client reports can go a long way toward building trust with your customers and convincing them to invest in your business for the long term.
To recap, here are four of the best client reporting tools:
Megalytic – the best option for international clients, with white label and translation features for your reporting dashboard.
Whatagraph – a premium tool that can fully automate the reporting process.
TapAnalytics – a customizable reporting solution for larger agencies and businesses.
Raven Tools – offers sophisticated SEO reports with integrated reporting tools.
Using these tools, you can streamline customer reporting and keep your clients happy and informed. However, if you have more questions or suggestions, feel free to leave a comment below.