How to Install and Configure WP Super Cache Caching Plugin on WordPress

Looking for a great WordPress caching plugin to speed up your website? We've got three words for you — WP Super Cache. In this article, we'll uncover the best features of this WordPress caching plugin and learn how to set it up on your website.
Why Should You Use WP Super Cache WordPress Plugin?

Web caching has a significant role in improving your site's speed. When a visitor loads your website for the first time, the browser will store static data like images and HTML for future reuse. Then, when the same user visits your site again, web pages will load from the cache instead of the server. This process reduces the server's load and thus helps the site to load faster.
If you own a WordPress site and don't have any knowledge of web caching, you can use a WordPress caching plugin. There are plenty of great options out there, but we highly recommend using WP Super Cache.
WP Super Cache is an excellent software developed by Automattic, the team behind WordPress.com, WooCommerce, and Akismet. Despite being free, this plugin has many great features and settings that are suitable for all types of websites. In addition, it has a relatively simple interface and easy setup process — making it ideal for beginners.
Let's take a look at some of WP Super Cache's best features:
Expert mode — uses Apache's mod_rewrite feature to serve cached files. This is the best option to boost site speed because cached files are not served from PHP.
CDN support — stores static data into local servers to speed up the load time regardless of a user's location.
Cache scheduler — deletes outdated cache files at an assigned time.
Automatic cache compression — serves compressed cached files so pages will load more quickly.
Now that you know what WP Super Cache brings to the table, check out the following tutorial on how to install and configure it on your site.
How to Install and Configure WP Super Cache Plugin?
Before installing and configuring the WP Super Cache plugin, we strongly recommend deactivating other caching plugins. To do so, access the Plugins settings and click the Deactivate button next to the appropriate plugin.
Installing WP Super Cache Plugin
From the WordPress admin dashboard, navigate to Plugins and select Add New.
Search for the WP Super Cache plugin and click Install Now.
Click on the Activate button to activate the plugin.
Configuring WP Super Cache Plugin
From the WordPress admin dashboard, navigate to Settings -> WP Super Cache.
Enable web caching by selecting the Caching On option under the Easy tab. Then, hit the Update Status button.
Should you want to configure more settings, head over to the Advanced tab. There are several recommended settings there, such as disabling caching for logged-in visitors and enabling page compression. Explore those options and select ones that suit you best.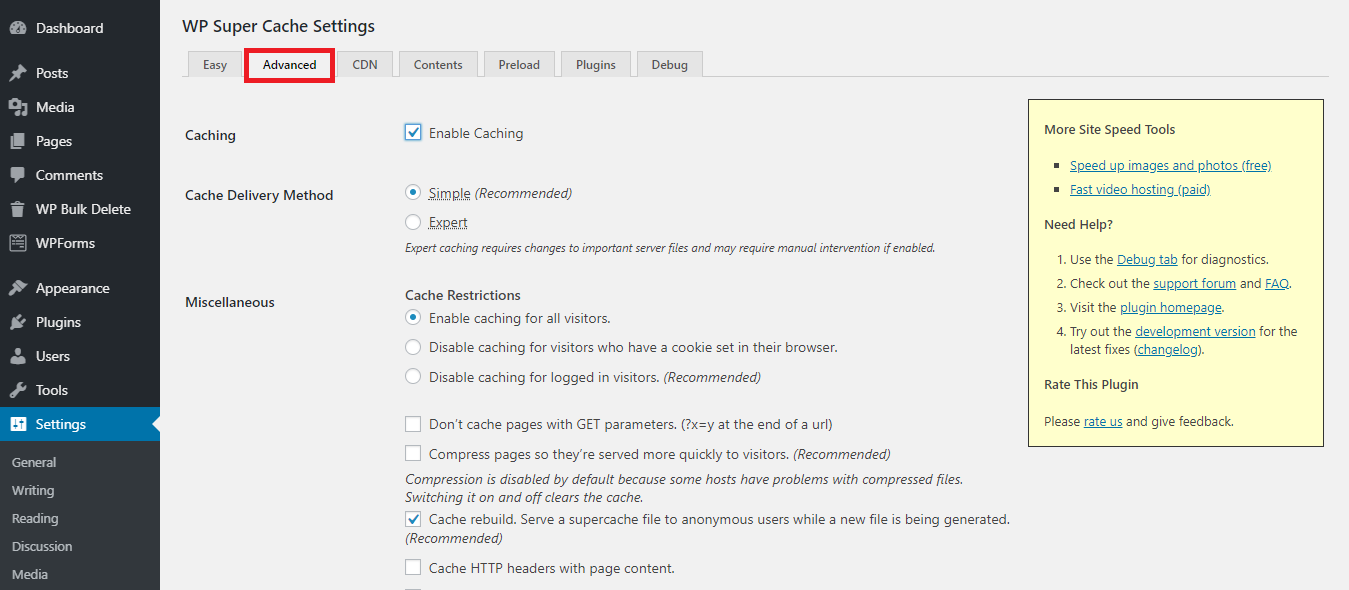 Hit Update Status once you're done.
Conclusion
Web caching helps in improving site performance. And fortunately, WordPress websites can easily tackle this demand by using a caching plugin. There are plenty of free caching plugins to choose from, but WP Super Cache is one of the best on the market. Aside from having a beginner-friendly interface, the plugin also offers many adjustable settings to accommodate your site's needs.
What do you think about WP Super Cache? Let us know in the comments section below!