12 Best WordPress Table Plugins for Your Site
A table is a great tool to present information. It organizes data into a visually appealing format that helps the reader to grasp the information more easily.
If you wish to have Excel-like data tables on your WordPress site, there are plenty of table plugins to help you do so. However, you may find it challenging to find the best WordPress table plugin for your needs.
We are here to help you. In this article, we will show you the 12 best WordPress table plugins. Plus, we pick both free and premium options to cater to all website budget ranges.

Benefits of Using Tables on Your Site
Tables increase the readability of your content by presenting the data in rows and columns.
Instead of jamming all the information into paragraphs, a table groups essential data to make it easier to skim through. Additionally, the rows and columns format means that it's easier to compare similar data.
Another benefit of using a table in WordPress is that you can incorporate visual elements to make it more attractive. A simple color addition can make your content much more eye-catching than black and white text. It's even possible to incorporate images or symbols to represent certain aspects of the table content.
For example, when comparing the price of a similar product from different brands, you can incorporate their logos instead of typing out the brand names.
Here are some of the many uses of data tables for websites.
Product specification. For a product with many specification details, displaying the feature list with a table helps customers find the desired information with ease.
Product or price comparison. Product tables help compare products or prices easier by displaying the information in a grid manner.
Statistical data. For articles that require statistical data to strengthen the argument, using a table is an excellent way to make the data understandable.
Best Free WordPress Table Plugins
Having a great WordPress table plugin doesn't have to be expensive. Here are eight WordPress table plugins that you can install for free.

Plugin Stats
Downloads: 60,000+
Rating: 4.5/5
Notable features: WYSIWYG HTML editor, more than 100 pre-made table styles, allows importing from other table plugins
Best suited for: any type of table
Price: freemium
Ninja Tables is one of the most popular free table plugins for WordPress, and it's fully responsive. It comes with a user-friendly admin panel that helps create and manage tables quickly and easily.
Customization is this plugin's strong point. There are more than 100 table styles available to save you time when designing your tables. It also comes with three popular CSS libraries with unlimited color options that boost your customization possibilities.
Configuring tables is easy, thanks to the column builder that lets you rearrange columns with ease. If you wish to edit the HTML area, the What You See Is What You Get (WYSIWYG) editor is readily available, so you don't need to worry about coding knowledge.
You'll be able to export any table as a CSV file for Microsoft Excel or Google Sheets. The plugin also allows you to export and import JSON files.
Another bonus is that you can import tables from other table plugins like TablePress, Ultimate Tables, and Data Tables Generator easily. If you already have tables built with those plugins, you need to don't worry about the specifics of importing them to Ninja Tables.
The prices start at $49/month or $199 for a lifetime license for a single site for the premium version. It provides you with advanced features such as live connect with Google Sheets, WooCommerce product table, front-end table editing, and front-end table export.

Plugin Stats
Downloads: 30,000+
Rating: 5/5
Notable features: drag-and-drop table builder, cell management mode
Best suited for: any type of table
Price: freemium
WP Table Builder is a freemium table plugin for WordPress. It features a drag-and-drop table builder that helps you create tables with ease.
While the free version doesn't come with pre-built templates, creating a new table is still easy. Simply specify the number of columns and rows and then start customizing with the drag-and-drop editor.
The plugin lets you incorporate seven kinds of elements into your table. Among them are star ratings, buttons, shortcodes, and images. This makes the WP Table Builder plugin useful for creating pricing or comparison tables.
It uses shortcodes to embed tables on your WordPress website. WP Table Builder is also compatible with WordPress Gutenberg and can create a table on the block editor.
You can import and export tables as CSV or XML files. WP Table Builder allows you to import tables from the TablePress plugin. As for exporting tables for other plugins, you can export them as XML files to preserve your table settings.
You can unlock more features such as pre-built table templates, circle rating, and saving your table as a template by opting for the premium Starter plan that costs $39.99/year.

Plugin Stats
Downloads: 800,000+
Rating: 5/5
Notable features: spreadsheet interface, free extensions available
Best suited for: any type of table
Price: free
TablePress is the most popular free WordPress table plugin with more than 800,000 active installations. Despite being a free plugin, TablePress offers plenty of customization options while maintaining its ease of use.
Creating and managing a table can be done in a spreadsheet-like interface. If you're familiar with table-building using Microsoft Excel, you'll feel right at home. The table can contain formulas for calculating data as well.
You can change table styles by inserting custom CSS. The plugin allows exporting and importing tables in CSV, HTML, and JSON formats.
To get more features, you'll have to install the dedicated extensions. The additional features from extensions include fully responsive tables, row filtering, single-cell content shortcode, and more.
You can download the plugin and extensions for free. However, you may want to donate to the developer to support their projects.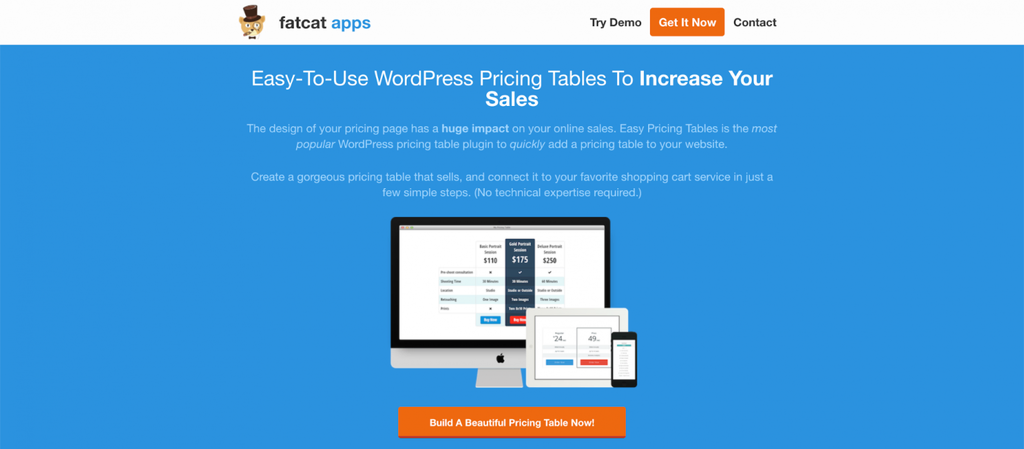 Plugin Stats
Easy Pricing Tables is an easy-to-use freemium pricing table plugin for WordPress. It lets you create price comparison tables in no time.
The editor is intuitive. It enables you to manage your table content and add columns easily. There's also an option that allows you to highlight a featured or best-selling plan using one click.
This plugin is built with conversion rate optimization in mind. A better CRO helps you to convert website visitors into customers.
There are three premium options, starting from $29/year for one website. If you opt for the $59/year business plan, you get Google Analytics and WooCommerce add-ons. Finally, for $99/year, you'll be able to support up to an unlimited number of websites.
Plugin Stats
Downloads: 40,000+
Rating: 4.5/5
Notable features: page builder compatibility, styling each cell differently
Best suited for: all table types
Price: freemium
With an impressive number of downloads, wpDataTables is one of the most popular WordPress table plugins.
Creating a table is quick and easy by importing JSON, CSV, XML data, or serialized PHP array files. There's also an option to create a table from scratch using the table builder.
When it comes to customization, you get a user-friendly interface to format the columns and rows. You can incorporate links, media files, custom HTML, star ratings, and shortcodes into any cell. Table colors, fonts, and pagination are customizable, too.
The plugin is compatible with Gutenberg and WPBakery Page Builder, so you have multiple options to build and embed your tables into your WordPress site.
The free version limits you to basic data and table management, but it does its job nicely. If you want more features, the premium version is available from $59/year, offering premium features such as an Excel-like editor, table filters, responsive mode, and a Table Constructor Wizard that helps you generate a table with step-by-step instructions.

Plugin Stats
Downloads: 3,000+
Rating: 5/5
Notable features: unlimited rows and columns, extensive media integration
Best suited for: price comparison tables
Price: freemium
Pricing Table by PickPlugins is a WordPress table plugin that uses HTML and CSS3 grids to display tables on your WordPress site.
This plugin supports an unlimited amount of rows and columns for each table, ensuring that you can cover all your product information on your table. It's also possible to add ribbons to the columns to highlight information such as best-selling or new products.
The plugin allows you to embed images and videos directly from YouTube and Vimeo when it comes to media files. It's also possible to add a background image for the table area.
The plugin's premium version starts from $49 for a lifetime license, and it offers 25 pre-built themes, column animation, and a currency switcher.

Plugin Stats
Downloads: 40,000+
Rating: 4.5/5
Notable features: sorting and pagination features, Google Sheets synchronization
Best suited for: all table types
Price: freemium
Visualizer is a table and charts manager that helps you create attractive tables for your WordPress site. The plugin is fully responsive out of the box and can display your chart and tables on any device beautifully.
Unlike other table plugins, Visualizer is more of a chart plugin, so you get nine pre-built chart types. However, note that you'll still be able to add responsive tables and customize the designs. There's an option to add sorting capabilities, pagination, and a search function, as well.
To embed tables to your website, you can use WordPress Gutenberg or just paste the shortcode into the content editor.
You can import data from Microsoft Excel, CSV files, and Google Sheets. One great feature of the premium version allows you to periodically synchronize data from Google Sheets or a data source from a remote CSV file.
The premium version price starts at $59/year or $159 for a lifetime license. You get an Excel-like table editor, the ability to import data from an external database, and 1-year support.

Plugin Stats
Downloads: 20,000+
Rating: 4.5/5
Notable features: custom CSS, highlight any plan, change currency sign
Best suited for: pricing tables
Price: freemium, pro plans from $19.99/year
Responsive Pricing Table is one of the most popular WordPress pricing table plugins. The plugin makes creating and customizing responsive pricing tables fast and easy.
Added into individual WordPress pages as shortcodes, you can customize all fields in your pricing table and add up to 6 different plans. You also get access to a clean and easy-to-use admin interface to make table editing effortless.
One thing that the Responsive Pricing Table does well is not limiting the free version. If you are looking for a basic but stylish pricing table with the option to add recurrence rules, custom buttons, and plan recommendations for free, this plugin is for you.
Users wishing for more advanced features, like a price toggle and different layouts, can opt for the pro plans, starting from $19.99/year.

Best Premium WordPress Table Plugins
If you're looking for more features for your WordPress table plugin, you may want to consider getting a premium plugin. Here are our picks for premium WordPress plugins.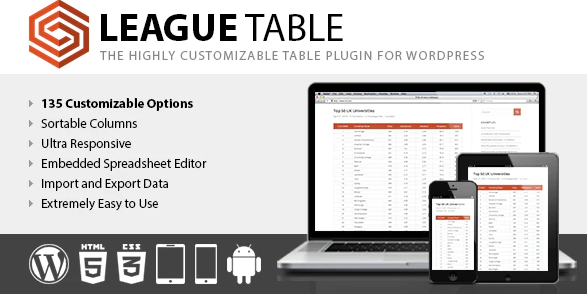 Plugin Stats
Downloads: 2,000+
Rating: 5/5
Notable features: copy-and-paste data from spreadsheets, broad customization options
Best suited for: all table types
Price: $39/license
League Table is a powerful and highly customizable WordPress table plugin. Its ease of use lets you create tables in no time.
It features a spreadsheet editor that allows you to copy and paste data from and to other spreadsheets like Microsoft Office, Google Sheets, and more. This saves you a significant amount of time compared to importing a table using a file. However, keep in mind that you're still able to import and export tables as XML files.
There are 135 customization options, consisting of 105 customizations for tables, 17 options for table cells, and 13 general options. It also has a cell management mode to customize specific table cells, rows, or columns. You can sort columns based on the criteria you apply.
League Table is fully responsive, and you can specify the change values. This lets you customize the responsiveness for each table.
To top it all off, the developer offers high-quality email support in English and Italian should you find any issues along the way.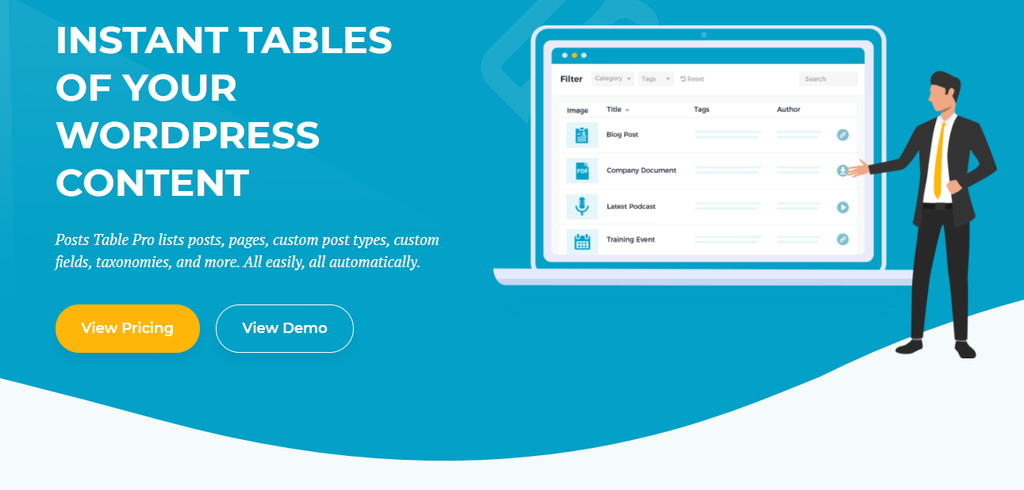 Plugin Stats
Rating: 5/5
Notable features: no manual entry required, creates tables and charts automatically
Best suited for: displaying a list of WordPress posts or media files
Price: $79/year for one site
Posts Table Pro is slightly different from other table plugins. Instead of using a table for presenting data, Posts Table Pro creates list tables for your existing WordPress posts.
This plugin is useful if you want your website users to see a list of posts. It can automatically create a table for you, so you skip the hassle of manually putting in the data.
The table allows you to insert images, audio, and video, plus you can customize what content and columns you wish to display as well.
Your visitors can find the post they're looking for by sorting the columns. There's also a feature to filter the posts by category, tags, or taxonomy. As a bonus, you get a search bar for the table to input keywords to find any relevant posts.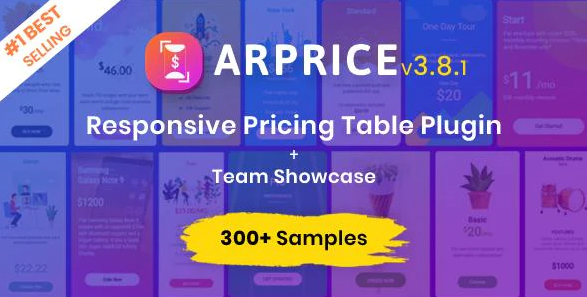 Plugin Stats
Downloads: 5,000+
Rating: 4.5/5
Notable features: drag-and-drop table editor, toggle price button, plenty of visual elements to choose from
Best suited for: all table types
Price: $27/license
ARPrice is a comprehensive WordPress table plugin for pricing. It comes with more than 300 pricing table templates and plenty of features to help you build a fantastic table.
The plugin uses a real-time visual editor. It allows you to make changes to the table template and preview it directly, making it easy to customize your table design. Plus, the dashboard is very intuitive and user-friendly.
All the templates are fully responsive, making sure that your tables will look excellent on any device. There are more than 3,000 icons and animation effects to choose from to make your table visually attractive.
If you have different pricing plans for monthly or annual billing, the plugin comes with a toggle price button to switch between the two different tenures. You also get a collapsible column that enables you to hide or show more rows.
ARPrice comes with WordPress Gutenberg support and is fully compatible with WPBakery and Divi page builders.
Plugin Stats
Downloads: 2,000+
Rating: 4.8/5
Notable features: dynamic table features
Best suited for: all table types
Price: $43/year for a single website, and $199 for an All-Inclusive License
With JetEngine WordPress Tables builder, easily create dynamic tables in the Gutenberg editor. You can show products, posts, users, comments with different categories, and requirements. 
For instance, add a price list, product properties (size, category), tags, link to the product, user information, and more. JetEngine Tables builder also helps you add filters to your table, set styling, add heading or alignment from the Dashboard.
Furthermore, in a combination of JetEngine and JetSmartFilters, you can add pagination to your table, sort and filter data, and add search.
For quality assurance, preview the table in table mode before adding it to your page.
What to Look for in a Table Plugin?
With all the options available, you may be wondering which table plugin will work best for your website. Keep in mind that every plugin offers a different set of features.
Some plugins are optimized for a basic data table, while others are for price comparison, so be sure to pick one that's right for you.
However, here are some aspects that the best WordPress plugins for tables should have.
Great visual design. A boring-looking table won't do you any good. A good table plugin must have a great visual design to attract your readers' attention. Plus, it should offer customization options.
Fully-responsive. There's no point in having a table if mobile users struggle to read it on their phones. Your table plugin should be able to adapt to any type of device.
Media support. It should offer an option to add images or other data to your table.
Ease of use. The plugin should enable you to create tables without hassle. A drag-and-drop function or page builder compatibility is one good example.
Last updated. This applies to all WordPress plugins. Frequently updated plugins reduce the risk of compatibility issues or any other problems with running the plugins.

What Are the Best Table Plugins to Organize Data?
Here are our picks of the best WordPress table plugins:
Best beginner-friendly table plugin – Ninja Tables. A free table plugin with a WYSIWYG editor and more than 100 pre-made styles
Best value for money plugin – ARPrice. It offers plenty of customization options and features for $27/license.
Best basic table plugin – TablePress. A free plugin with a spreadsheet-like editor that offers free extensions.
Best professional table plugin – League Table. A user-friendly premium table plugin with more than 100 customization options.
Conclusion
There you have it, 12 of the best WordPress table plugins that are excellent for creating data tables on your WordPress site.
Remember that every plugin offers a different set of features that may or may not suit your needs. Also, be aware that freemium plugins have features that are only accessible in the premium version.
Now that you have options to choose from, it's time to pick the best WordPress table plugin for you and start creating unique data tables for your WordPress site.