The Most Visited Website in Every Country (That Isn't A Search Engine)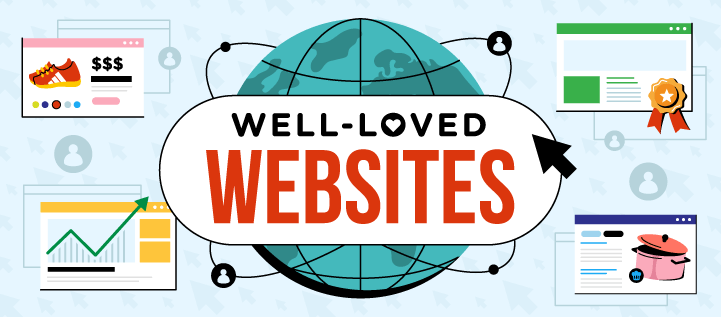 The World Wide Web has connected people and cultures from nearly every part of the globe. It's given us instant access to news and media from every country and the tools to translate content from one language to another. But while it has introduced new forms and ideas on a global scale, the web has not succeeded in fully homogenizing its international users.
Indeed, in recent years, commentary has focussed on how the internet polarizes different ways of thought. Meanwhile, the very purpose of going online remains a matter of cultural difference. For example, Peruvians spend more time streaming TV and movies than anyone else; Filipinos spend an average of four hours and 15 minutes on social media each day. Geoblocking hinders users in some countries from accessing certain websites, while great swathes of Asia and Africa aren't online at all.
Hostinger wants to help you build a website your dream audience wants to visit. So, we have identified and mapped the most visited website in every country around the world, and also the top news, banking, fashion, and food website in each region.
What We Did
Hostinger analyzed online ranking data to find websites with more visits than any other in every country. We removed search engines from our results to discount "middle-man visits" and removed Facebook and YouTube as they would otherwise dominate the results. As Zyro revealed last year, humanity spends 213.2 billion hours per year on Google, 142.6 billion hours on YouTube, and 44.6 billion on Facebook – eclipsing the use of nearly all other sites.
Key Findings
Wikipedia is the most visited website in 43 countries, more than any other site.
Amazon is the top website in the U.S. and three other countries by visitor count.
The most visited website in the UK is bbc.co.uk.
The BBC is the most visited news website in most countries (12).
[slb_exclude]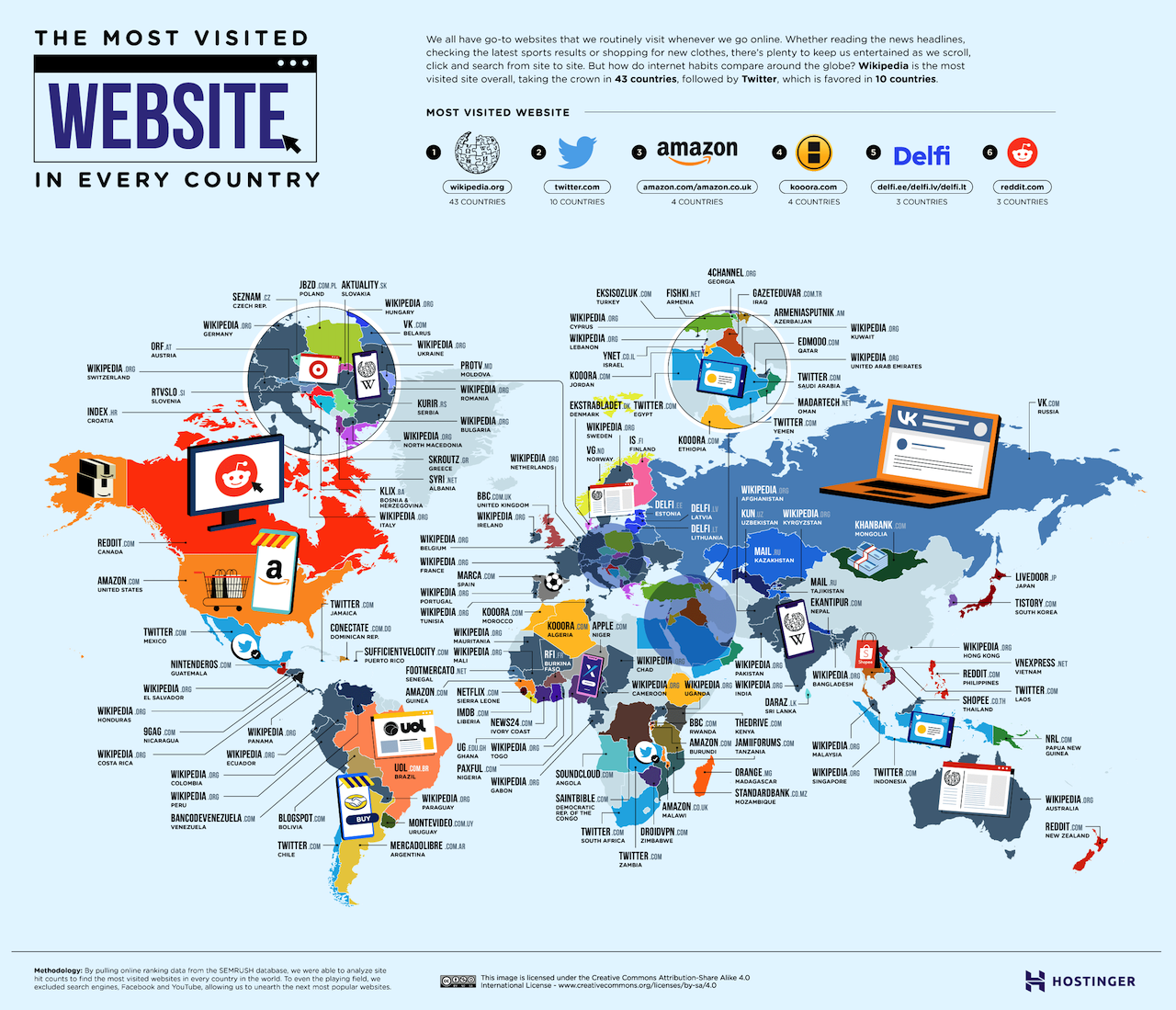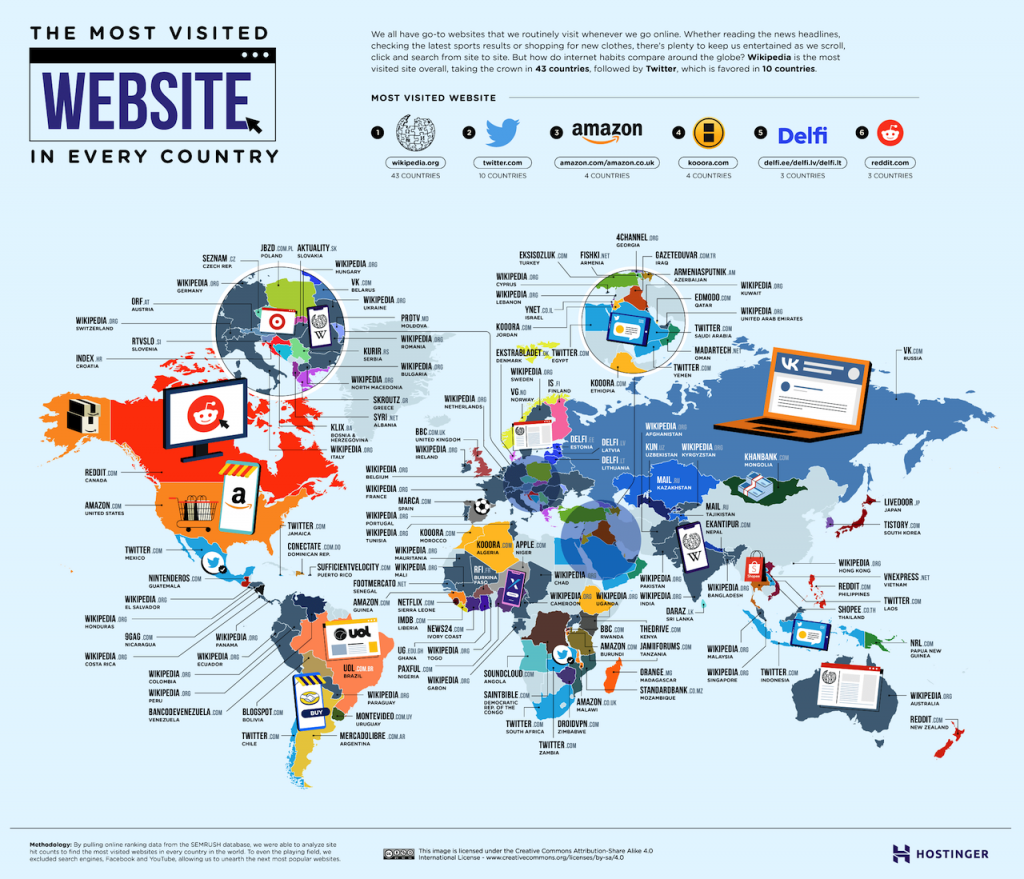 North America
The U.S. is the only North American country where Amazon is the most visited website. The "everything store" gets 2.66 billion visits in its home country every year. It helps that around half of America's online shoppers head straight to Amazon to begin their search. As Jeff Bezos' company continues exploiting the gains of its pandemic boom and diversifying into grocery business, this dominance will only likely become more complete.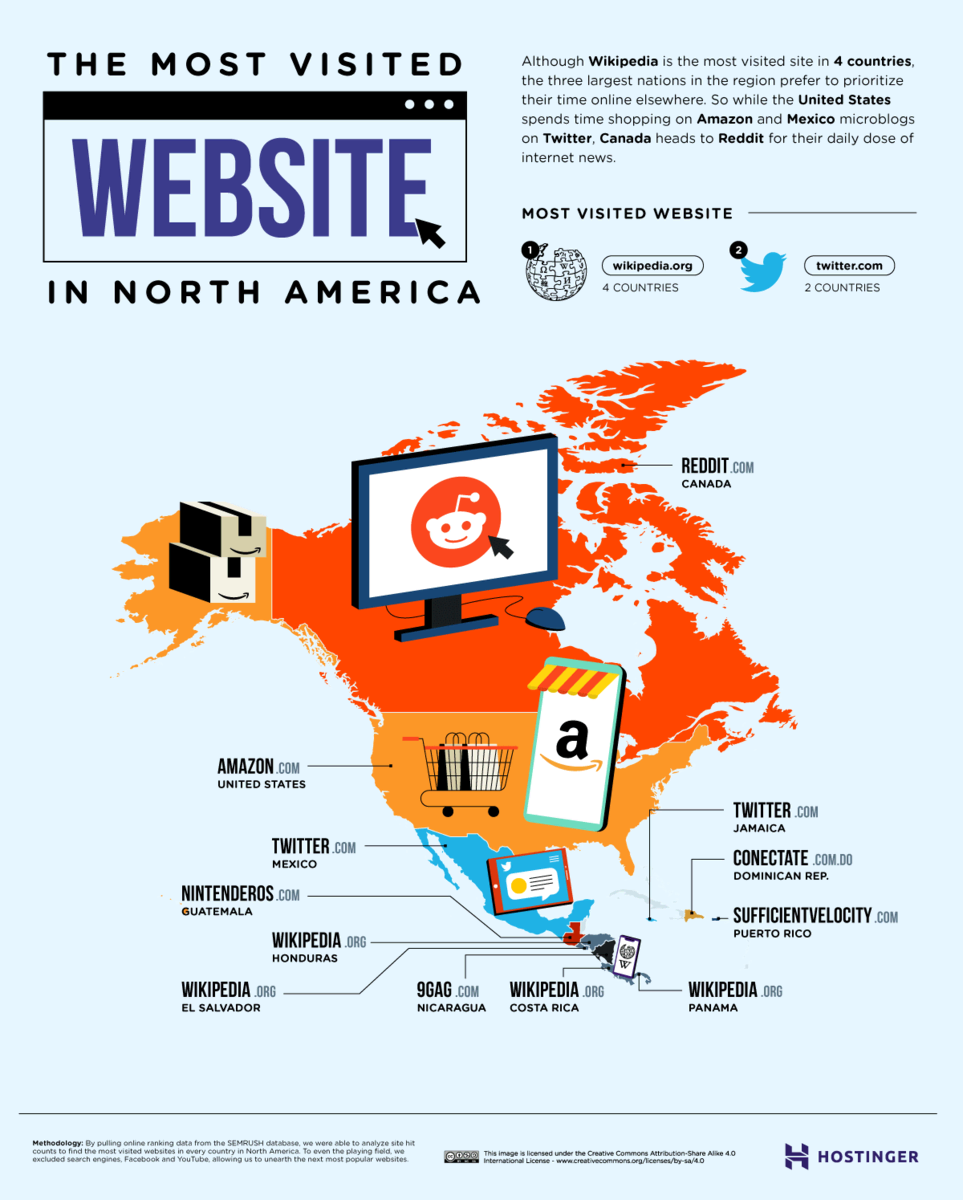 While Wikipedia and Twitter dominate the map, half of the countries in North America share a unique theme – forums and fandoms. Reddit is top in Canada, Nintendo news site Nintenderos is the most visited in Guatemala, and fantasy fiction/gaming forum Sufficient Velocity gets 4.97 million annual visits in Puerto Rico.
South America
Some websites never perish – they just emigrate to other places. The vintage blogging site Blogspot no longer occupies the same place in user-generated content and cultural sway as it used to in the States and elsewhere, but continues to attract 6.12 million annual visits in Bolivia. Blogging culture took hold in Bolivia as a way for marginalized groups to add their voice to the national conversation.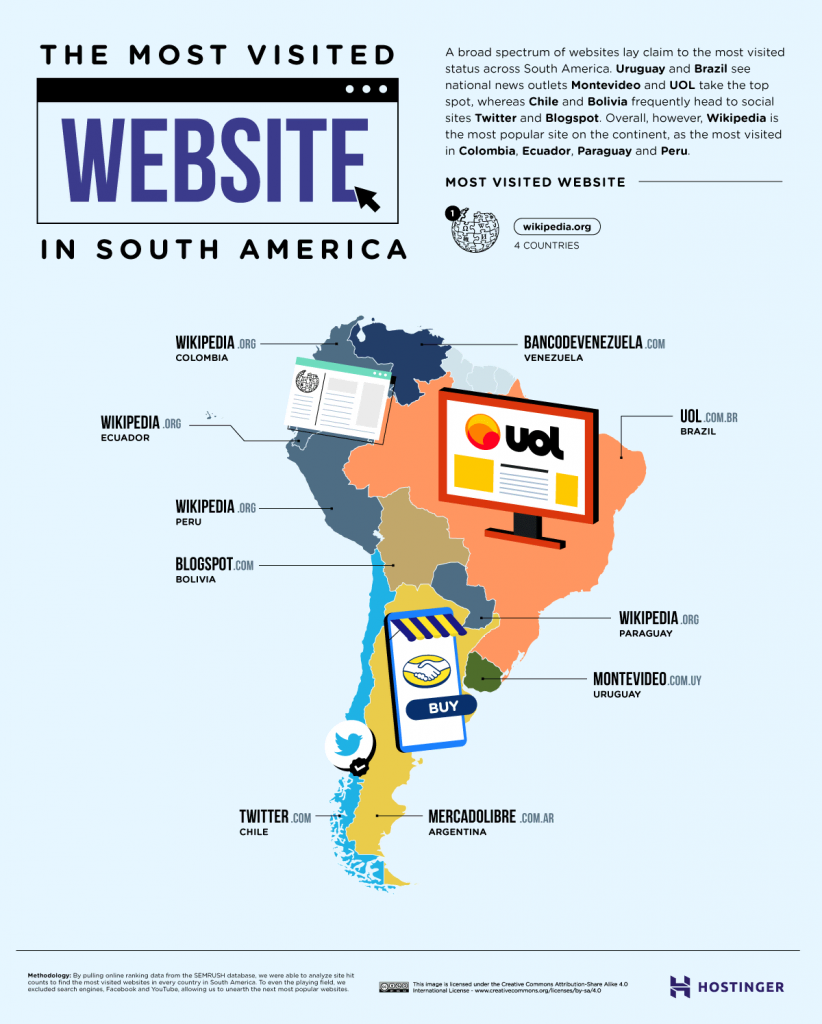 Latin America's most popular eCommerce site is MercadoLibre, a take on the eBay model of connecting online sellers and buyers via auctions. Overall revenue increased by 90% over the first year of the Covid-19 pandemic, and the company's broader interests in financial technology (fintech) and credit revenue have strengthened its prospects. The auction website became Argentina's most visited.
Europe
Wikipedia is the most visited in 15 of the 38 European countries according to our research. Having become the first-choice online knowledge bank for many – and now, the world's largest online encyclopedia – Wikipedia has multiplied its potential readership with the addition of foreign-language portals and translations. On the advent of Wikipedia's 15th anniversary, Pew Research Center revealed that the most popular English-language pages tend to concern current events and movies. Meanwhile, Spanish users tend to read up on sports and history.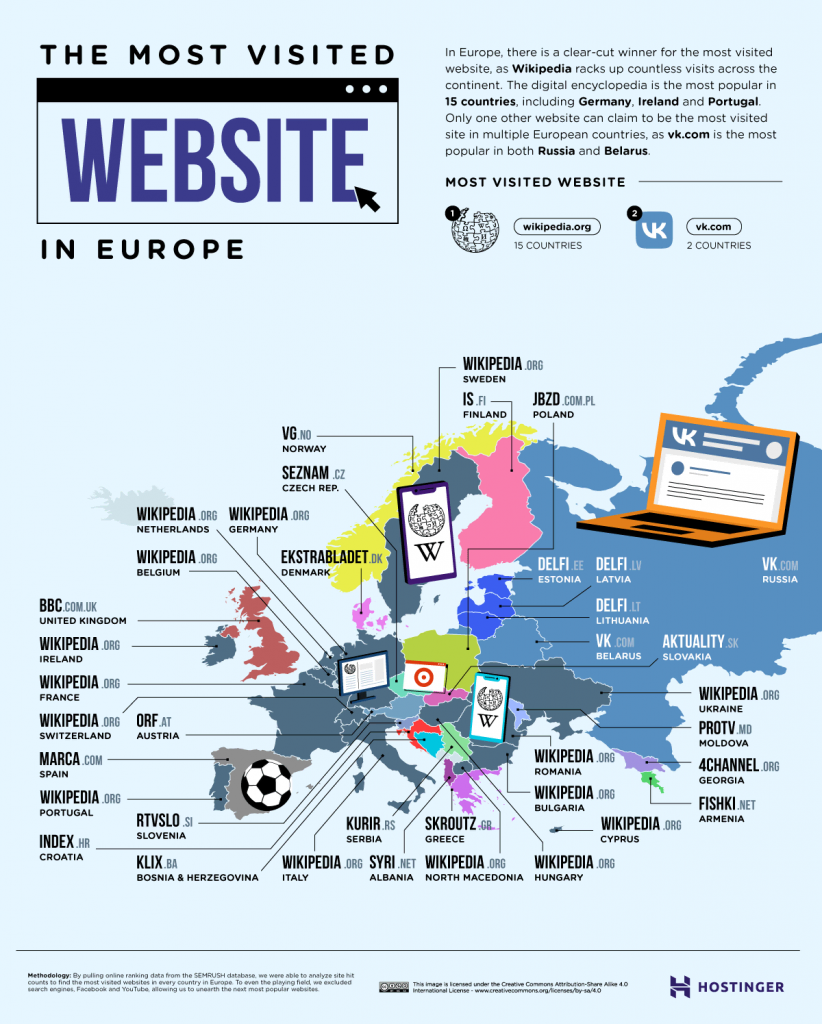 Beyond Wikipedia, local news media sites are popular across Europe. In the Balkans, for example, Bosnia and Herzegovina, Serbia, and Croatia each have a media and news site with the local domain extension as their most-visited site; in the UK, it's the BBC. In Georgia, however, the imageboard forum and contentious news-sharing site 4Chan is web users' most common destination.
Middle East & Central Asia
VK's email service, mail.ru, is the most visited website in Kazakhstan and Tajikistan, while Twitter is top in Saudi Arabia and Yemen. But again, Wikipedia dominates the region as the most visited website in five out of 17 countries.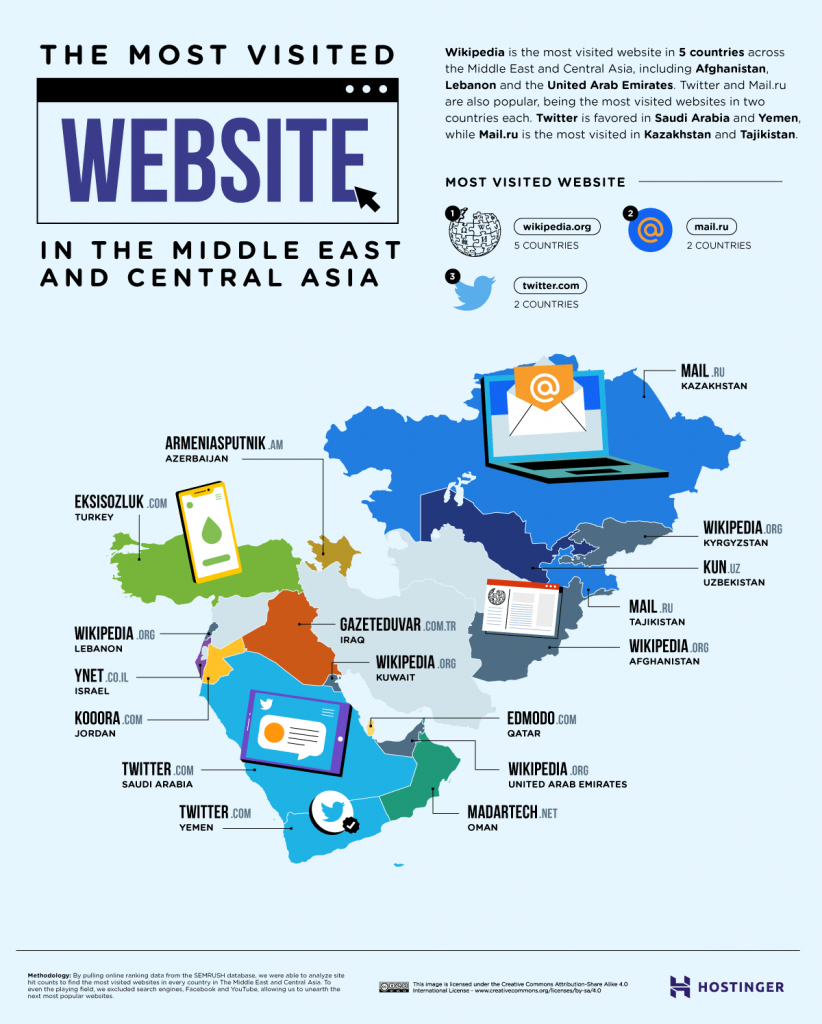 Israel and Uzbekistan are the only regional countries to have a top website with the local country code domain extension. Uzbekistan's popular media outlet kun.uz is the country's most visited. The news source is respected for its integrity in dealing with government pressure to put a positive slant on national stories.
The Rest of Asia & Oceania
Twitter is a truly international concern, topping countries in North and South America, Africa, and the Middle East. East and Southeast Asia are no strangers to the social media giant. Japan has the world's second-highest number of active users, although Livedoor is Japan's most visited website. Twitter is the most visited site in Indonesia, which has the world's eighth-largest active Twitter base, and Laos, despite receiving only 879,105 annual visits.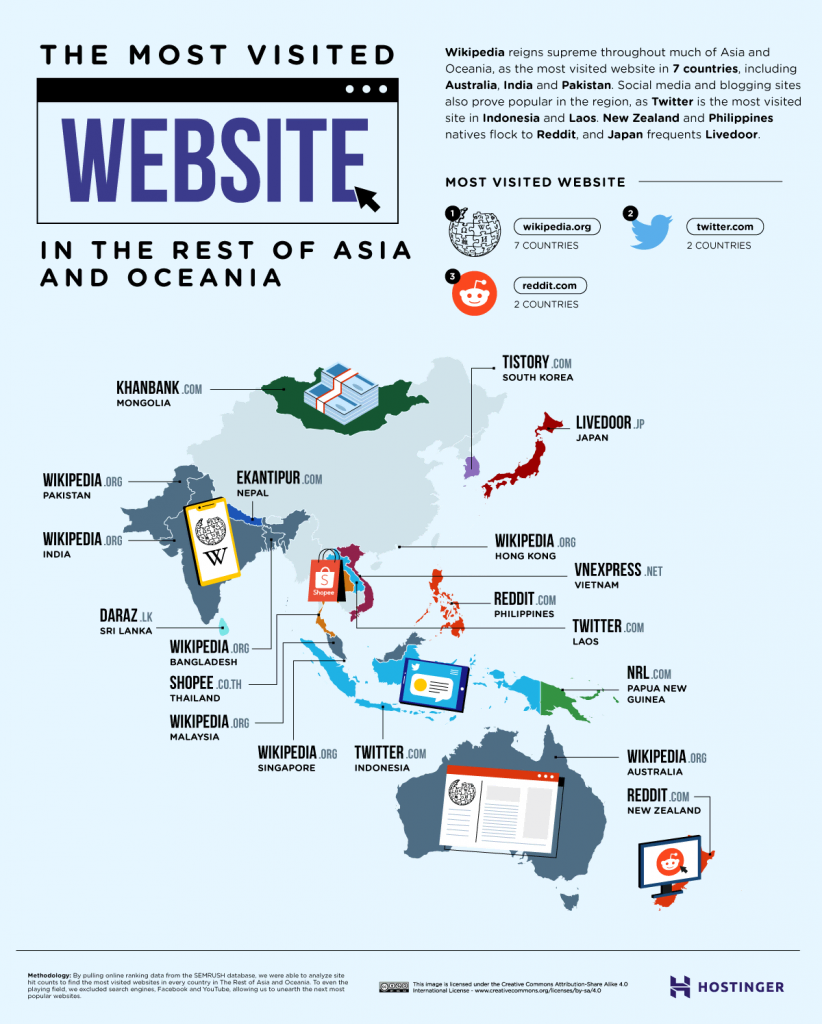 South Korean blog site Tistory is the most visited in its home country. Korean users can use "skins" and plug-ins to build a blog or magazine-style website. These sites can keep the Tistory extension, or publishers can connect their own domain name bought from a third-party provider such as Hostinger.
Africa
In Liberia, where only one-quarter of the population uses the internet, the movie database IMDb is the most visited website. Liberian film culture boomed during the Ebola virus crisis in the middle of the last decade, as audiences flocked together for entertainment and distraction. Their passion for cinema remains strong.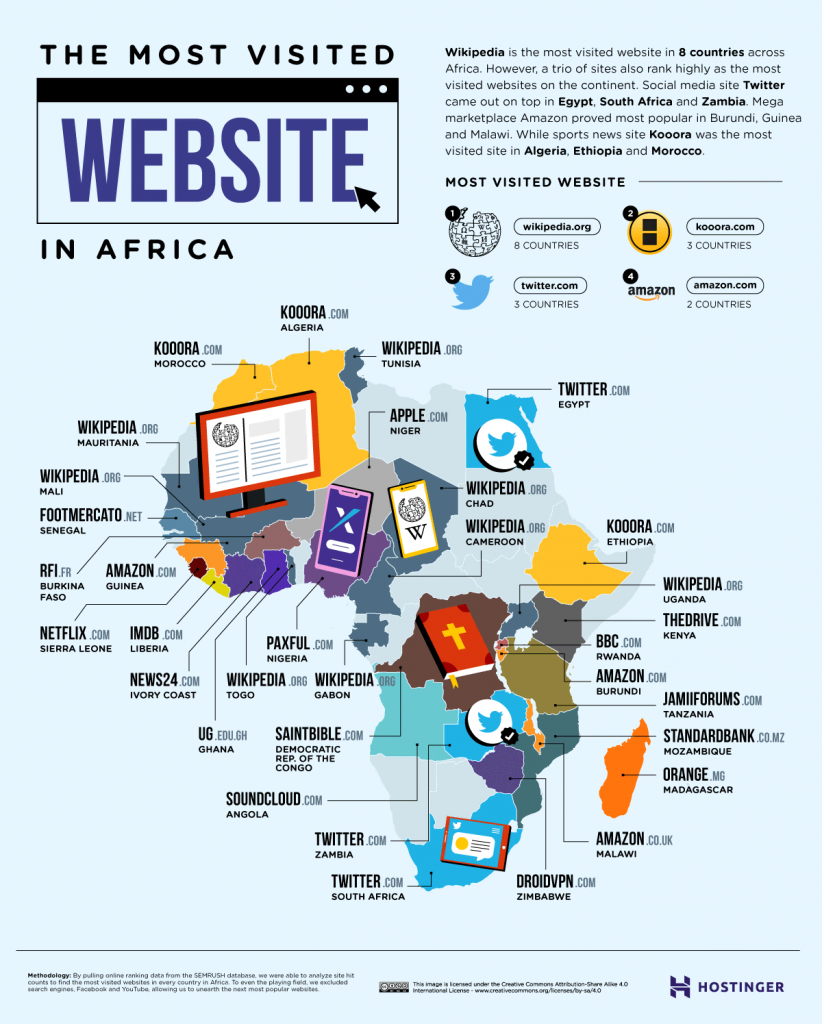 Wikipedia leads in eight out of the 33 African countries with available data. You'll also spot other U.S. and European brands on the map, such as Twitter, Soundcloud, Amazon, and Netflix. Elsewhere in Africa, local websites triumph. Ghana's most visited site is the homepage of its national university. The website gets 6.28 million visits per year.
Newspapers: BBC is the Most Widespread Popular News Source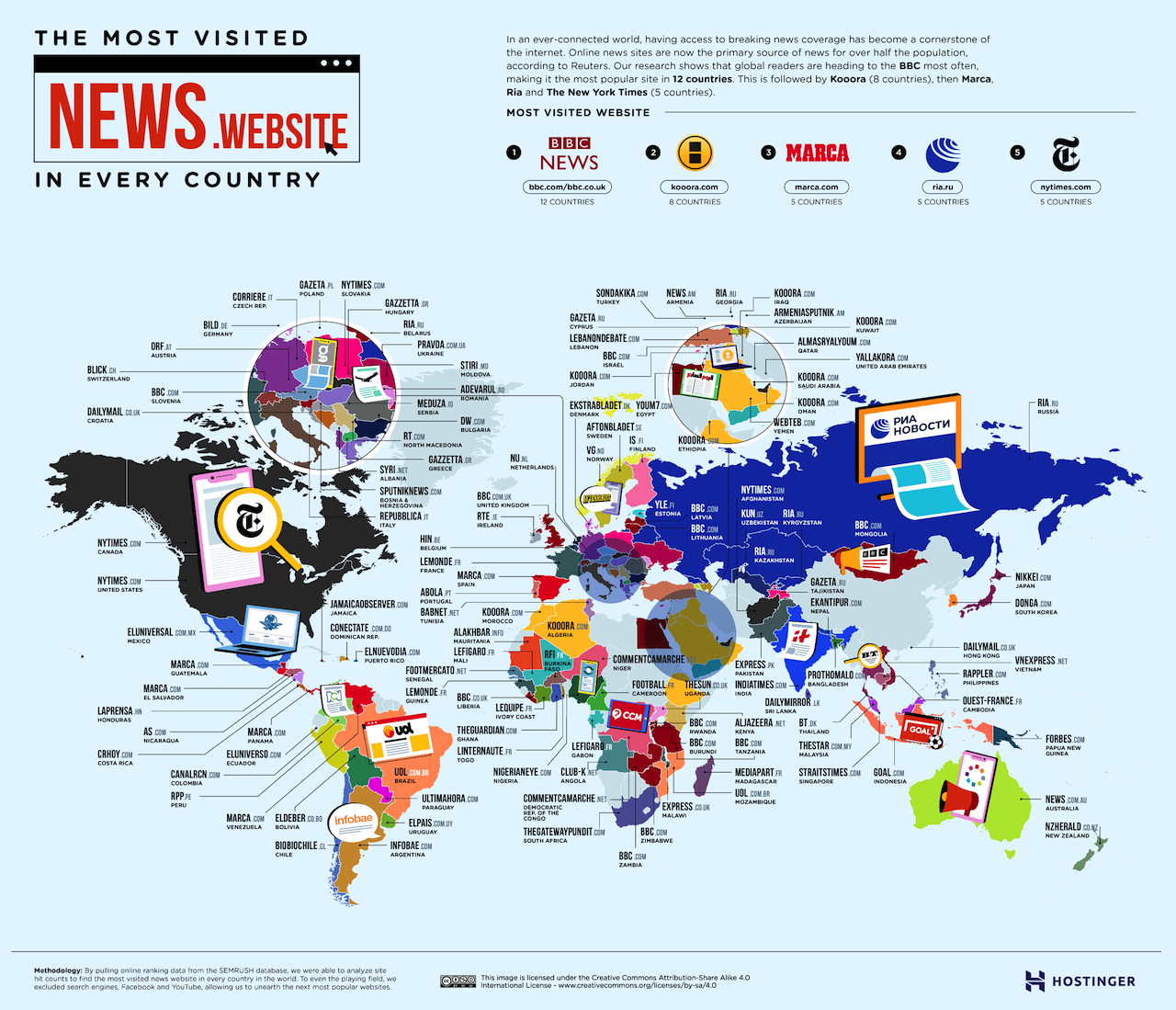 The British Broadcasting Corporation's (BBC) website is the most visited news page in 12 countries, more than any other in the world, including the UK itself. The BBC markets itself as "the world's most trusted international news broadcaster" and is particularly popular in Africa, where it is the most visited website in six countries.
Banking: Foreign Exchange Service Most Popular in Nine Places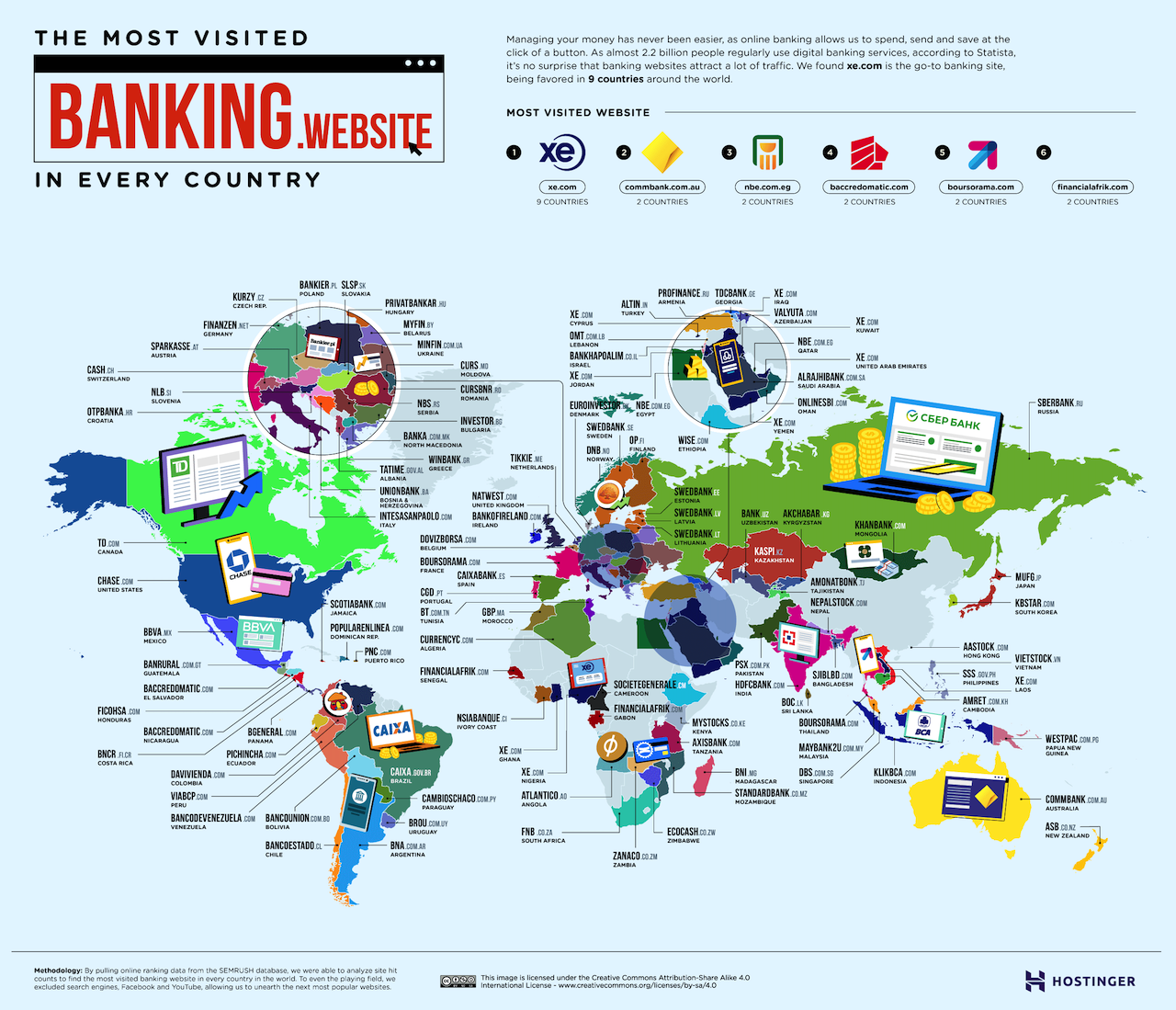 There is no out-and-out banking service that dominates the world of banking websites, although the foreign exchange services company Xe is the most visited of this category in nine countries. Several banks are at the top in two countries, including the French fintech firm Boursorama whose website is also popular in Thailand. In the U.S., the two-century-old Chase Bank now boasts the most visited banking website.
Apparel and Fashion: Fast Fashion's Shein Takes the Honors
The apparel sector has a range of clothing brands and online stores among the websites most visited from country to country. The most common top website is Shein, which is visited more than any other apparel/fashion website in 26 countries. Shein is a Chinese fast fashion store, but it operates mostly in the U.S., Europe, and Australia, with plenty of visits in places as diverse as Ghana, Iraq, and Venezuela.
Food & Beverages: BBC Out-Baked by allrecipes
The internet contains an almost infinite number of recipes, so wherever you are in the world, finding a trusted source is a must. For four countries, that's the BBC once more – only this time, their Good Food brand. But allrecipes takes the cake as the top food site in seven countries across four regions. The Seattle-based service began as a cookie recipe site and expanded into a number of cuisine types before becoming a "general" recipes site with a social media element.
Know Your Audience – Wherever They Are
Like any element of marketing, building a successful website means identifying your audience and then consistently delighting them. There are many factors to analyze, but your audience's location – be it local, national, or international – and the cultural expectations it carries are important considerations.
Hostinger invites you to take a look at our collected data in full shown in the table above. From Afghanistan to Zimbabwe, every country has its own web life and preferences. How will you cater to yours?
METHODOLOGY & SOURCES
To find the most visited website in every country, we pulled online ranking data from Open .Trends report, utilizing their "All Industries" section and specific popular categories such as "Newspapers," "Banking," "Apparel and Fashion," and "Food and Beverages."
We excluded global dominant sites (e.g., YouTube, Facebook, and Google) and search engines (e.g., Yahoo, Baidu, DuckDuckGo, Naver, and Yandex) to level the playing field and discount middle-man visits. We also didn't consider adult, betting, illegal streaming/downloading services, and malicious websites and removed the data entries if:
any data value was missing
the Main Traffic Source was Social, Referral, or Paid
Year-Over-Year and Month-Over-Month figures were unrealistic (i.e., both more than 200%, or YOY more than 400%)
Finally, we filtered the data to discover the top website visited in each country with at least 1 million internet users. We found the top websites overall and the top site per specific category before displaying our results in a series of world and continent maps.
The data was collected in June 2022.
[/slb_exclude]