If visitors leave your website without buying any products, don't worry. Using retargeting ads, you might get another chance to convince them to make a purchase.
This article will explain what retargeting ads are and how to do it using the right platforms.
What is Retargeting Ads?
Retargeting is a type of marketing that uses personalized ads for visitors that have already been on your website.
Ideally, someone visits your site, chooses the products they want, and completes the checkout process.
But, that doesn't happen all the time. In fact, only 2% of visitors buy the products on their first visit. That's why you need a better way to regain the rest 98% of visitors and guide them to purchase.
Often called remarketing, retargeting tries to reconnect with your visitors by displaying relevant products they had previously seen.
Using a specific code planted on your website — usually JavaScript – your website visitors' behavior data are recorded. This way, wherever they browse the internet, your ads will show up.
The more often they see the ads, the higher chance you might convert the returning visitors into buyers.
In short, retargeting works by collecting data, determining the prospects and products from your website's traffic, and starting a campaign.
Retargeting can help increase brand awareness and convince the retargeting audience to buy your products by encouraging them to revisit your website.
For example, if you visited Airbnb to rent a villa, but then leave the website before the checkout process, you will likely find Airbnb ads on most websites you visit later on. Through their remarketing campaign a few ads might come up with special discounts or early birds promotions, along with an inviting call to action.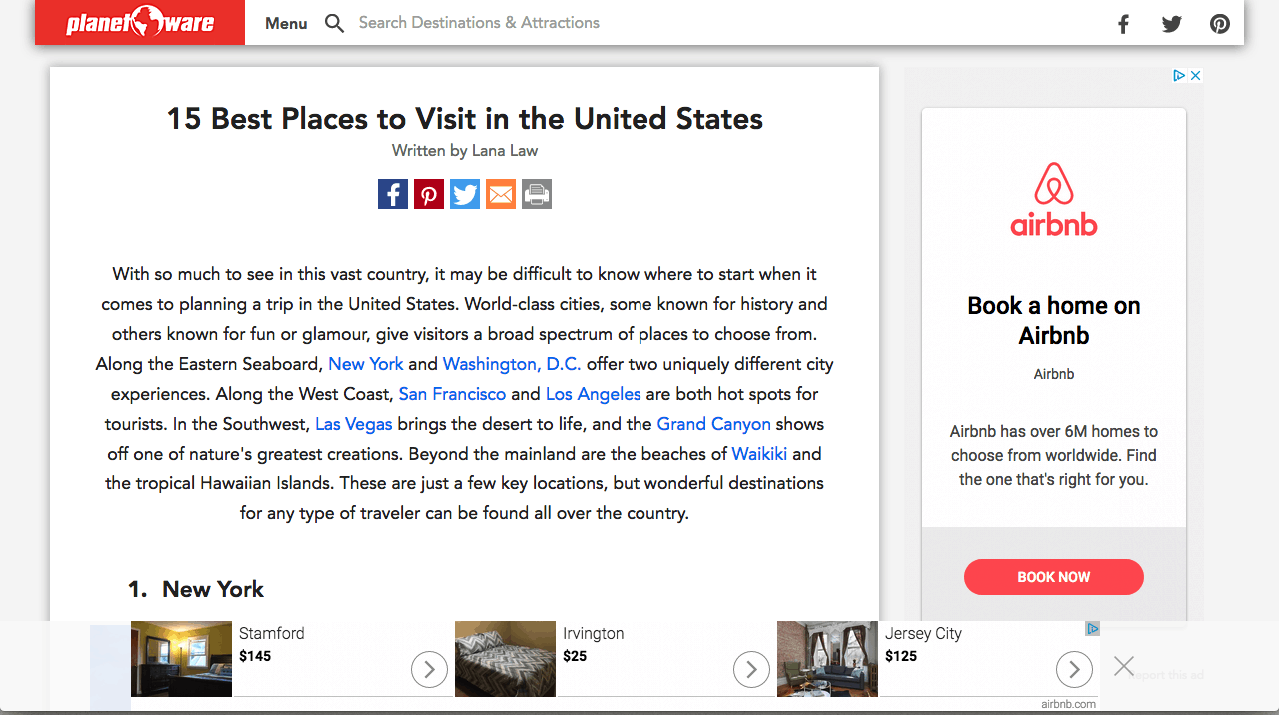 The code planted to track the visitors is hidden, so this might cause privacy issues. However, you can ensure that your ad campaigns are GDPR compliant. To do this, you can update your privacy policy so clearly states how visitors can opt-out from these ads.
Types of Retargeting Ads
While the core principles might be the same, retargeting ads are divided into two types: pixel-based and list-based.
As its name, the pixel-based method uses a tracking pixel or a pixel tag to identify certain visitors' behavior when visiting your website. This is the most common way for retargeting.
Once embedded into your website, this tracking pixel will save cookies into your visitors' browsers and load whenever the visitors access web pages or open certain mobile apps.
This type of retargeting ads is perfect for prospects with immediate needs, such as accommodation for specific dates. However, injecting code on many sites or apps might be troublesome.
The list-based method utilizes a list of targeted visitors – a custom audience – whose data has been collected before, like email addresses used for Facebook, Twitter or Google services.
Using this type, you need to set up rules to create a list of prospects. For example, you may want to include only the ones who leave before the payment page.
Depending on your platform, you need to upload the list to your campaign so that your prospects will see the specified ads. That being said, this type is less automatic.
You should not use this type of retargeting ads for visitors with immediate needs because it might not reach them in time.
Is It Effective?
Retargeting ads are not as common as display ads.
Display ads (banners) are everywhere, meaning that anytime you visit websites, blogs or social media platforms, you will most likely see them in various forms: images, animations, videos, etc.
The main goal of display ads is to gain as many new customers as possible through clicks. This is what makes it differ from retargeting ads.
While both methods are effective for boosting products sales, retargeting has proven to be more effective by 70%.
In fact, the CTR (click-through rate) for the retargeted ads is ten times higher, meaning people are more attracted to the retargeted ads than banners.
In addition, the returning visitors who are caught by retargeting ads tend to bring better add-to-cart rates and conversion rates.
With those facts, it is confirmed that retargeting is very impactful.
But, how exactly do you achieve all this?
Retargeting Platforms
Before moving on, we would like to present the four best platforms for retargeting ads based on their functionality: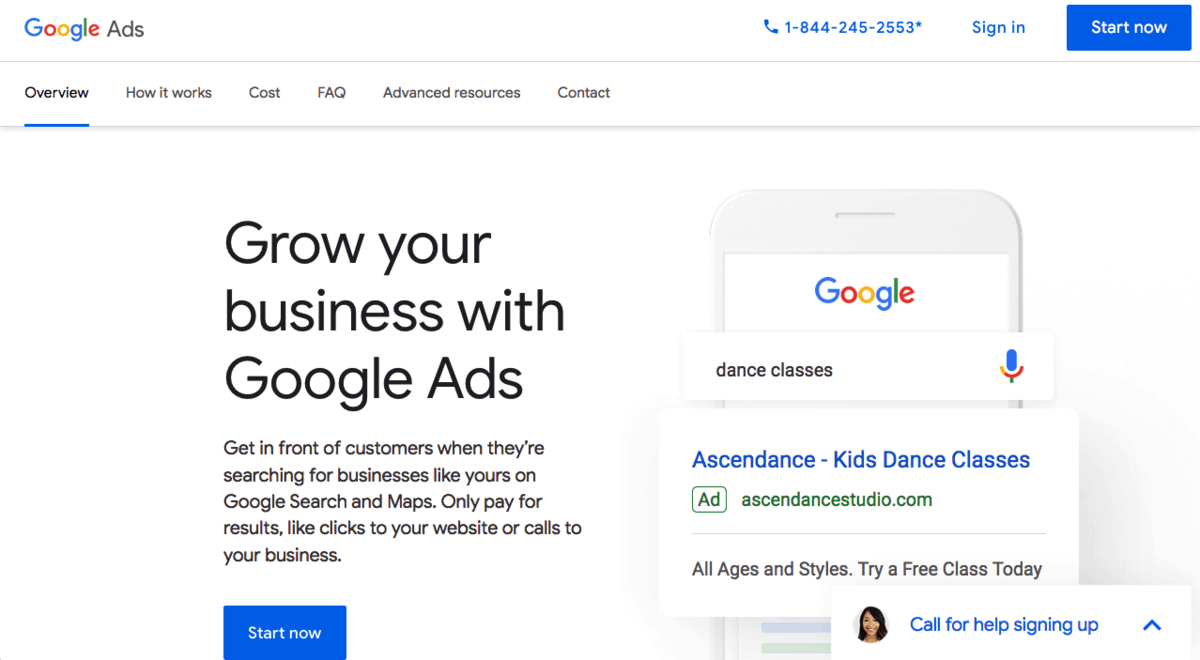 Google Adwords is one of the best platforms for remarketing.
Once you create an account, you can design a campaign to promote your products online. You can show ads on any Google product like Google Search, YouTube, Maps, etc. — depending on your campaign type.
The good thing about Google Ads is you can customize your ads to reach the right audience based on their location, time zone, and devices.
However, there are instances when you have to bid against other companies for ad space.
For further details, you can read our article on how to use Google Adwords.
Perfect Audience is a great platform for your retargeting campaign.
This platform offers a free trial for 14 days and allows you to start a campaign if you have more than 250 weekly visitors. However, if you have spent over $100 the campaign budget, the trial period ends.
To continue, you can set your prepaid weekly campaign budget. You can enjoy features such as conversion and revenue tracking, detailed analytics and cross-device targeting.
Trusted by big names such as BarkBox, 99Designs, and American Apparel, Perfect Audience offers various channels of retargeting, from websites to Facebook and Twitter.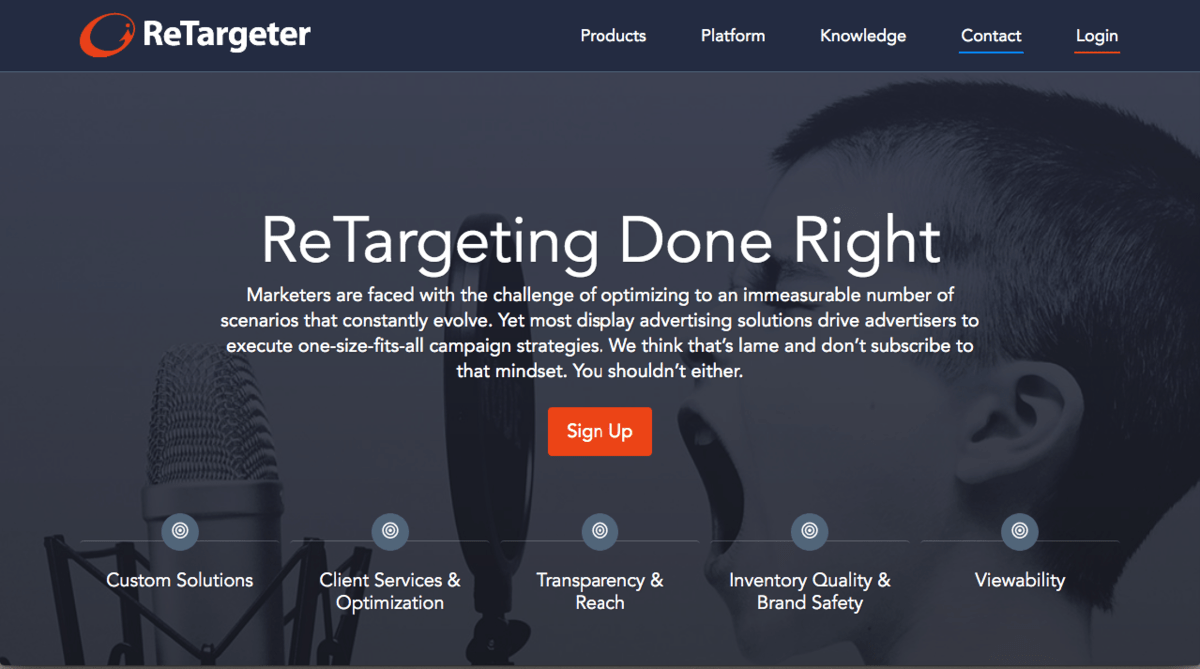 Retargeter is a platform that has the best technology for retargeting campaigns, promising to reach 57% of ROI from CTR.
Depending on your needs, Retargeter has three products you can choose from: Site, CRM, and Search Retargeting. They also have great features like Dynamic Creative Optimisation where you can choose the most relevant ads for a specific user at a given time.
Unfortunately, this platform has no free trial to offer and you are requested to use your official company email, as free emails are not allowed.
Being one of the biggest social media platforms, Facebook offers a great way to promote your products online too.
Creating Facebook ads is easy and you can have full control of many aspects such as the audience, location, and budget.
Boasting its Facebook pixel, Facebook offers technology to track and target customers efficiently. Facebook allows you to create a single ad to show across all devices.
Similar to Facebook, most social media platforms such as Twitter, LinkedIn, and Instagram have features that would help your retargeting campaigns.
Keep in mind, each platform has its own key points. So, choose whichever suits you best.
How to Launch Retargeting Campaigns?
After choosing the right platform, it's time for you to launch a campaign. In this article, we will show you how to set retargeting campaigns with Google Ads and Facebook Ads.
Google Ads
You can refer to these steps if you want to set the campaign using a new account. Here, we would like to show how to use an existing one.
First, you need to log in using your Google account.
After that, you can start a new campaign by deciding what your main goal is.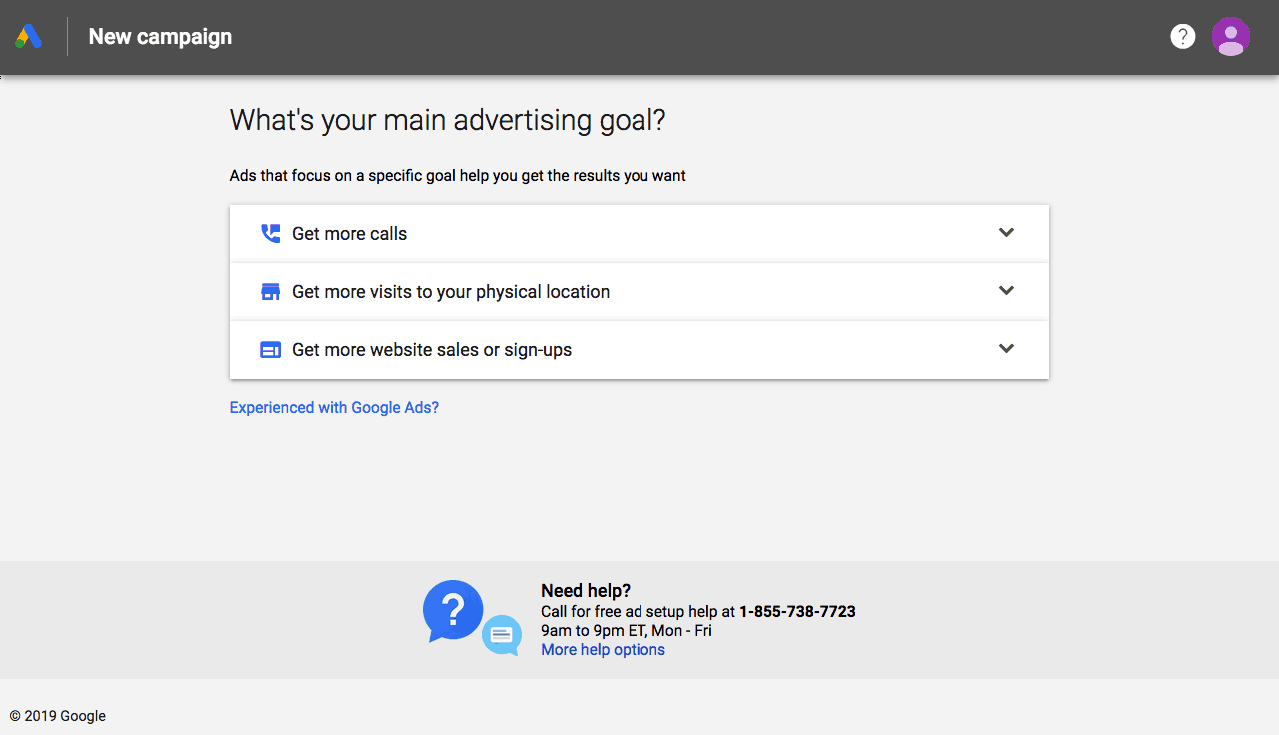 The next step is to describe the type of business and where you serve your customers.
After defining your products, write your ad copy.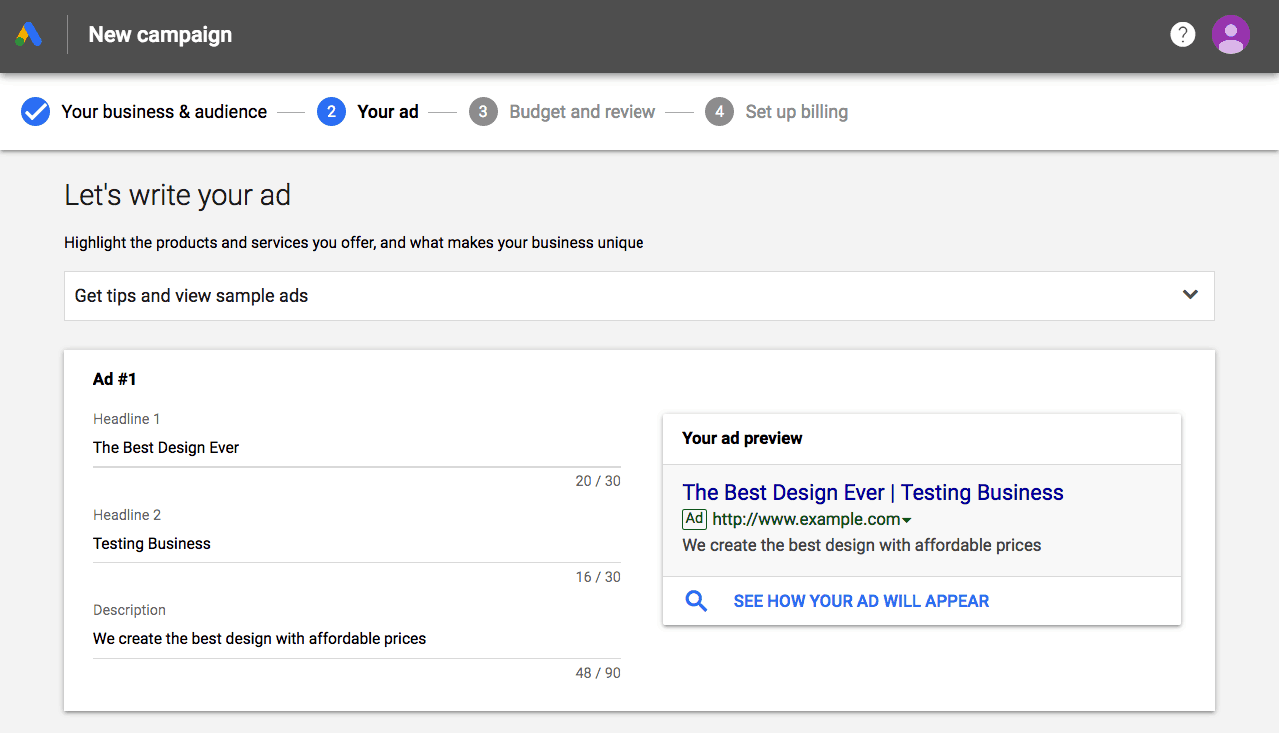 The next step is setting your budget.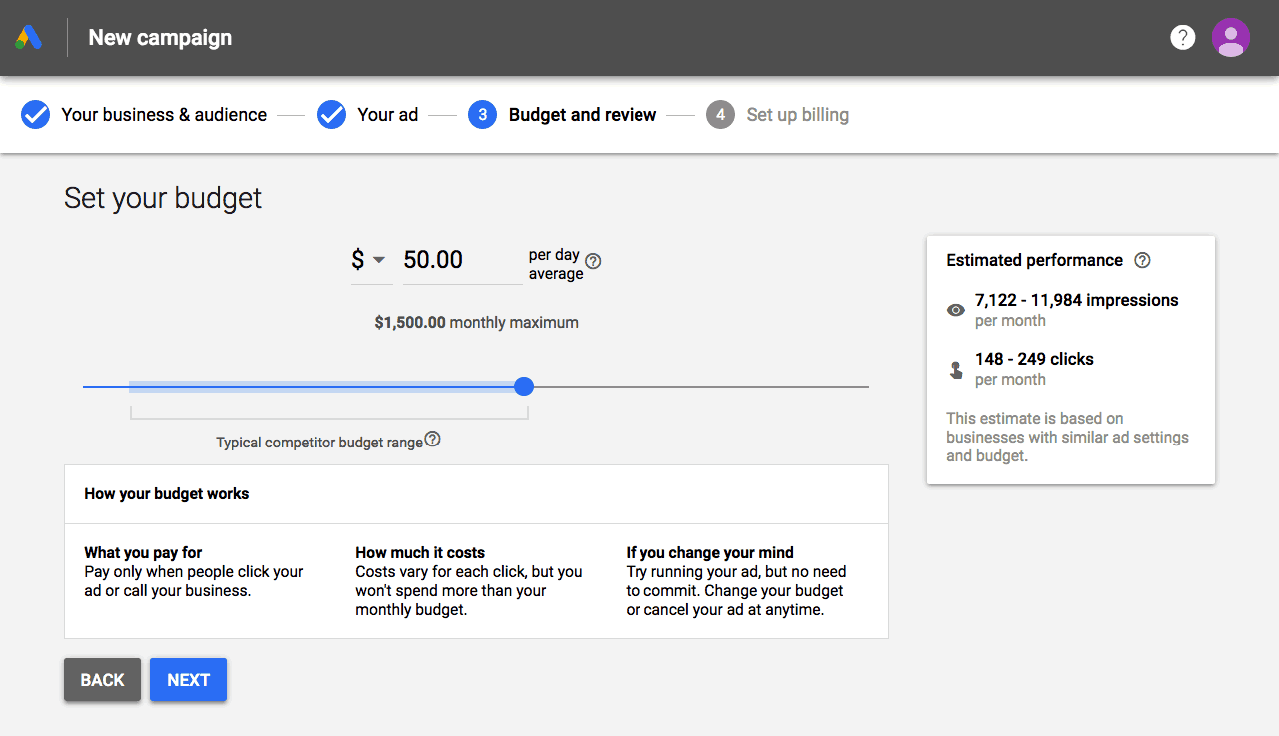 Once finished, you can explore your campaign more. The default appearance is Smart Mode. To get more detailed options, switch to Expert Mode.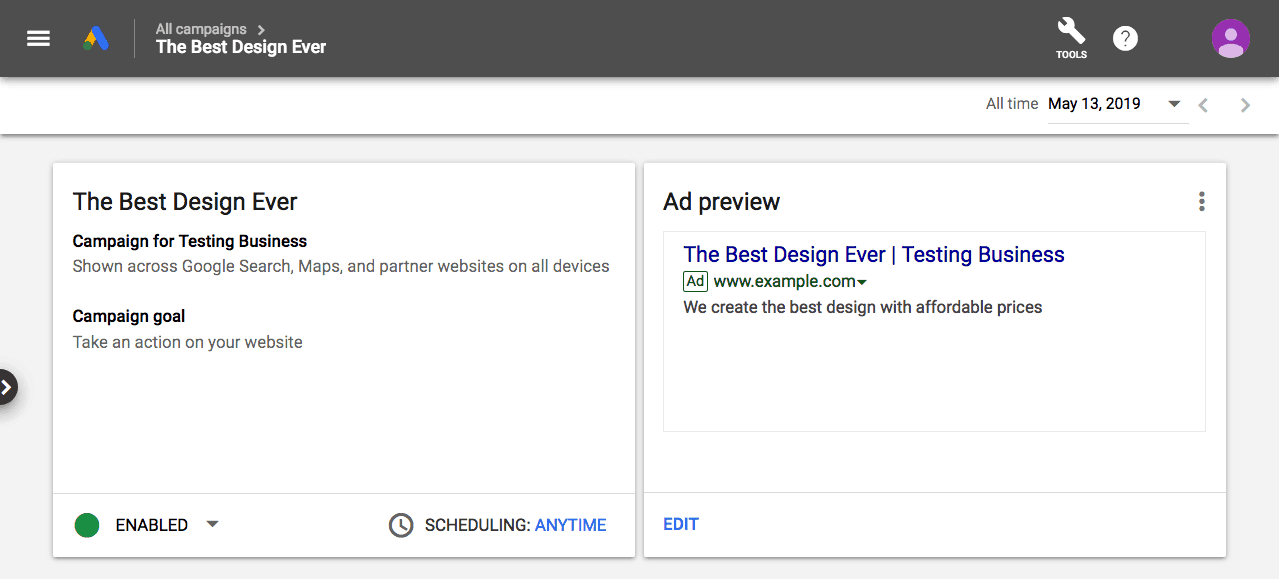 Facebook Ads
Setting Facebook Ads Manager to launch a retargeting campaign might require a longer setup time with more options to choose from.
Basically, there are four parts you need to go through: Campaign, Ad Account, Ad Set, and Ad.
Once you log in, you can create a new campaign or use an existing one.

After that, you need to set your marketing objective and decide on the campaign name.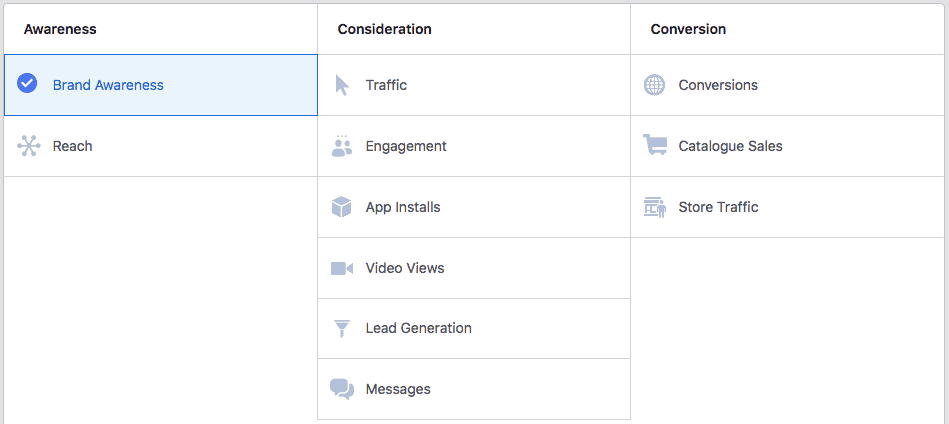 The next step is setting up an ad account including the account country, currency, time zone, and account name.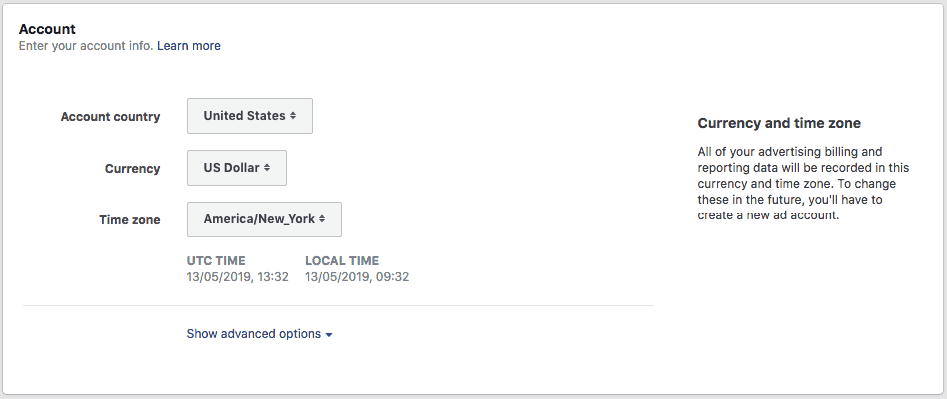 Once the ad account is set, you can continue with creating a new ad. Here you need to decide who your audience is, set your ad placements, and your budget.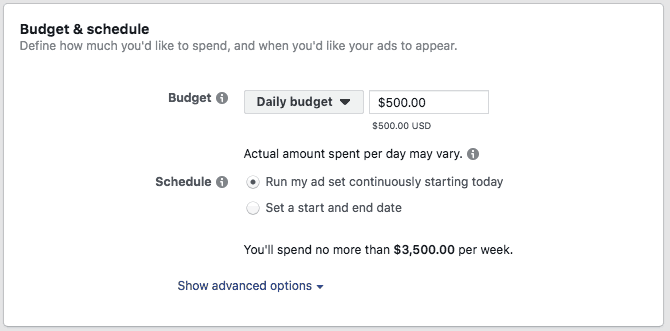 After creating the ad is set, you create it by setting up the identity, choosing the display format and the media, and creating the copy for your ads.

Once you set the payment method, your Facebook retargeting ad is created.
Conclusion
When your visitors leave your website without buying anything, it's not over yet. You can still win over your leaving visitors through retargeting ads.
Both pixel-based or list-based, retargeting has proven to be more effective than display ads.
You just need to choose one of the platforms that suit you best:
Google Ads – great for website owners that want to go in-depth.
Perfect Audience – allows a free trial.
Retargeter – a platform built specifically for retargeting, with many flexible options.
Facebook Ads – a great way to use the most popular social media platform on the planet for your retargeting campaigns.
Launching retargeting campaigns is not that hard. So, let's take the best strategy to make your retargeting ads convert and bring in profit.