How to Get an 800 Number For a Business + Best Toll-Free Service Providers
When you start a business, you want to reach more customers and provide a convenient way to communicate with them. This is where toll-free phone numbers will benefit you.
A toll-free number, also known as an 800 number, makes it possible for customers to call a business without paying for the call.
In this article, you'll learn step-by-step how to get an 800 number for your business. We'll also explore some of the best 800 number providers to choose from.
Download Checklist: How to Start an Online Business
What Is an 800 Number?
An 800 number is a type of telephone number that allows customers to contact businesses free of charge. It is a seven-digit number, usually starting with the prefix "800", that can be dialed from any location within the United States or Canada.

The cost of the call is handled by the business rather than the customer, making it a convenient and cost-effective way to contact a company for customer service, support, or sales inquiries.
Why Get an 800 Toll-Free Number
Below are the main reasons to get an 800 number for your business:
Credibility and reputation. A toll-free number, especially a vanity number, may help improve your business's brand recognition and increase call rates. Additionally, these numbers are regulated by the Federal Communications Commission.
Business growth. Apart from providing a convenient way of communicating with clients, it can also help establish a national presence, as they can reach you without paying long-distance call fees.
Customer satisfaction. A toll-free number makes it easy for customers to communicate with the business, helping to increase customers' trust and loyalty.
Portability. When you buy an 800 number, you don't need to change your phone number if you switch providers. Most services let you port your number and forward calls to a cell phone and other devices.
Analytics tool. 800 number providers often give call analytics reports, providing valuable insights into customer behavior, call volume, and other data to help you make informed business decisions.
Workspace integrations. Most virtual number providers let you streamline your workflow by integrating their systems with popular workspace tools, like customer relationship management (CRM) software.
How to Get a Toll-Free Number
Having a toll-free business number along with a business email will help establish seamless communication with your customers.


Before we review the best 800 number providers, let's go over the process of getting an 800 number.
1. Find a Service Provider
Usually, business phone systems providers will give you an 800 phone number through voice over internet protocol (VoIP). Thus, there is no need to set up physical equipment or pay for dedicated phone lines. Calls to these phone numbers are forwarded to the business's existing office phone number or a device over the internet.
While many virtual phone number providers also offer toll-free numbers, we'll explore the top choices for 800 number providers later in this article.
2. Examine the Available Features
To select the right provider, see if they offer basic features like call forwarding, voicemail, or extensions. If you run a larger business, you may need more advanced capabilities such as interactive voice response (IVR) and CRM integration.
It's also important to consider whether the platform is user-friendly. The best providers offer an intuitive dashboard with simple navigation.
The setup and management process is another crucial factor. Avoid the ones that require technical expertise or have more complicated billing structures.
3. Select a Prefix
Before you purchase a toll-free number, you need to choose a prefix, which is the first three digits of an 800 number. While 800 is the most well-known, other frequently used prefixes include 888, 877, 866, and 855.
While many businesses prefer the 800 prefix due to its familiarity, the other toll-free prefixes serve the same purpose. They indicate that the business will pay for the call instead of the customer.
4. Create an Account and Choose a Number
The next step in buying an 800 number is creating an account with a virtual number provider and selecting your new business phone number.
Most virtual number providers offer a range of 800 numbers with different prefixes. You can search for numbers based on prefixes, digits, and availability.
After selecting a number, follow the instructions provided to activate it. Once it's done, you can use your 800 number to make and receive calls. You can also set up additional features such as call forwarding, call tracking, and voicemail through your account dashboard.
Top 5 Toll-Free (800) Number Providers
Here are some of the best toll-free number providers to consider for your business: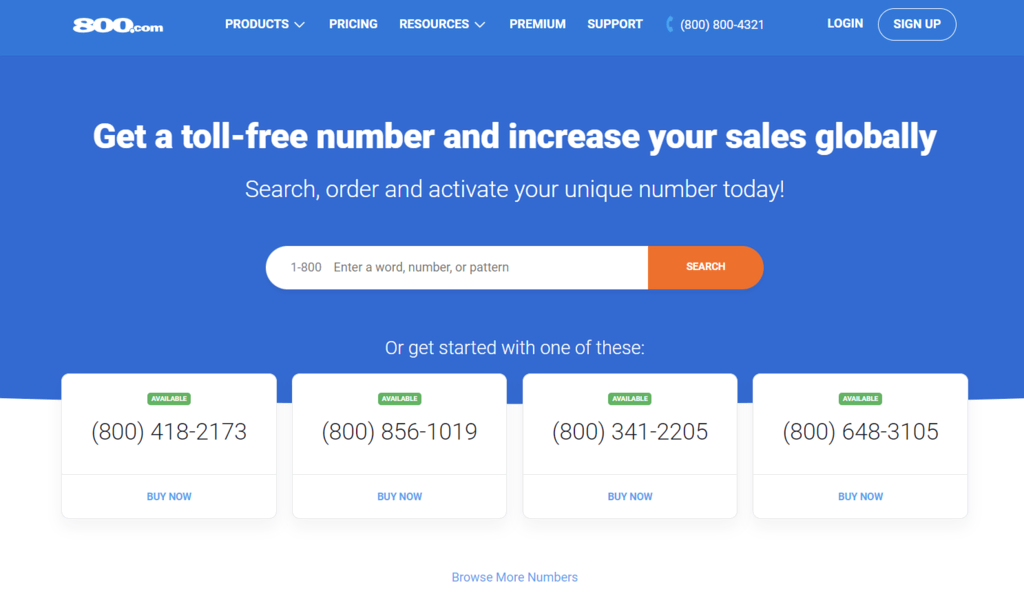 Stats
Best for: businesses of all sizes
Price: starts at $25/month
800.com offers a variety of toll-free prefixes, including 800, 833, 844, 855, 866, 877, and 888. You can also choose vanity numbers, so customers can remember them easily.
Alongside 800 numbers, 800.com provides a virtual phone service to help businesses manage their incoming calls.
Its features include call forwarding, call tracking, and virtual receptionist services. These services enable businesses to transfer calls to the right team member, track call activity, and improve their customer service.
All 800.com's features are accessible through one platform, allowing you to manage your toll-free calls and their analytics report from a single dashboard.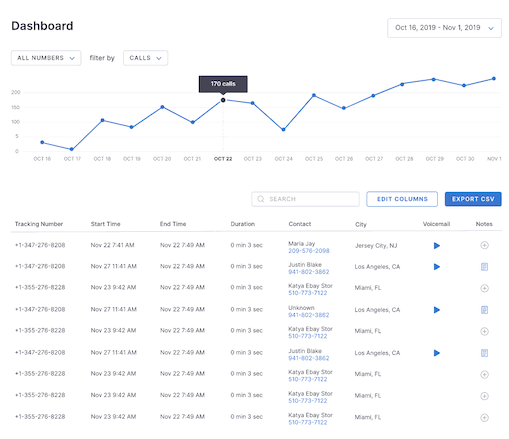 This phone service is a great choice for all kinds of businesses as it's affordable, includes great call management features, and has a supportive help desk.
Key Features
Call analytics. Record or transcript business calls and monitor the effectiveness of advertisements, keywords, and campaigns.
Workspace integration. 800.com offers integration with popular client management software, including Salesforce and HubSpot.
Customer support. Its customer support is reachable through phone, email, or live chat. It also provides plenty of helpful resources to get you started.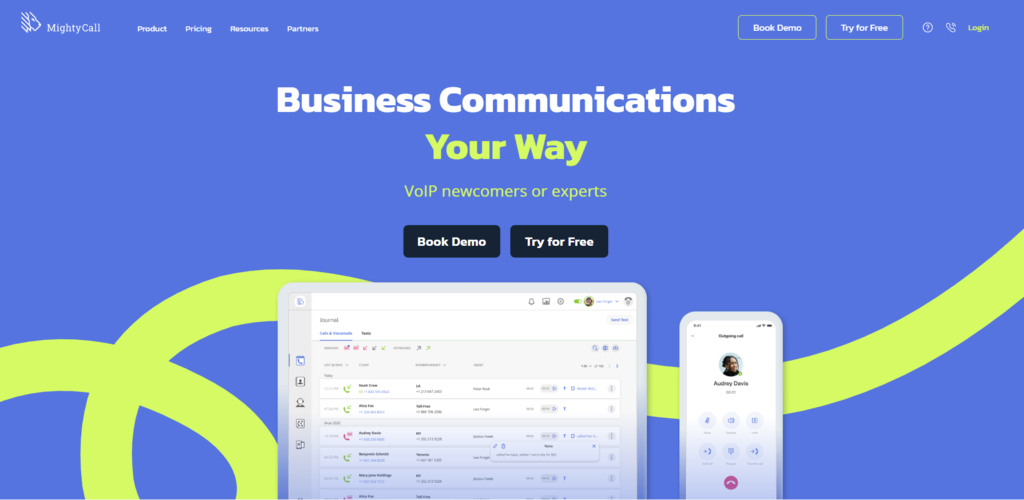 Stats
Best for: small to medium businesses
Price: starts at $15/month
MightyCall offers a range of features that make it easy for businesses to manage their communications. Its business phone system includes call forwarding, call routing, business voicemail, and an auto-attendant.
Its pricing plans are flexible and affordable, with no setup fees or contracts required. This makes it a great choice for small business owners.
MightyCall offers a 7-day free trial and a 24/7 customer support team to provide you with assistance.
However, the most affordable plan doesn't integrate with CRM software like HubSpot or Salesforce, so larger companies may find this service provider lacking.
Key Features
Caller ID name. This allows users to customize their caller ID and display their company name when making outbound calls.
Call recordings. Store all your calls on MightyCall's system for up to one year or export them anytime.
Call queue. Instead of waiting on hold when your line is busy, customers can choose to be put in a virtual queue and contacted later.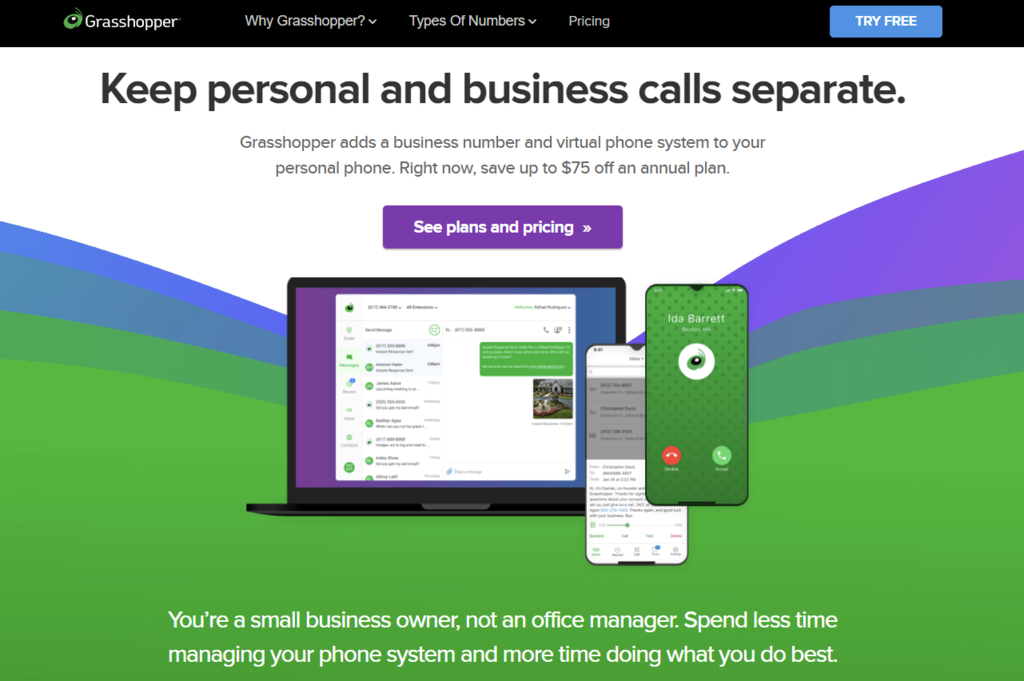 Stats
Best for: small to medium businesses
Price: starts at $28/month
Grasshopper provides 800 numbers and virtual phone systems for small businesses, with a variety of 800 number prefixes.
Its platform is easy to use and has plenty of features, including voicemail transcription, call forwarding, and custom greetings.
For smaller businesses, this is a good choice as it offers unlimited call minutes, and plans are scalable. Grasshopper also provides a virtual receptionist service, which is helpful for companies with fewer employees.
Nevertheless, it doesn't support complex interactive voice response (IVR) systems, so bigger businesses with several departments may find this a drawback.
You can also take advantage of the 7-day free trial to see whether this provider suits your small business needs.
Key Features
Mobile app. Access your call history, manage text messages, and make or receive calls from your cell phone and other devices.
Custom greeting. Grasshopper provides a professional voice studio where professionals record a clear and professional greeting message for your business.
Business texting. Aside from sending messages to customers, you can also text team members.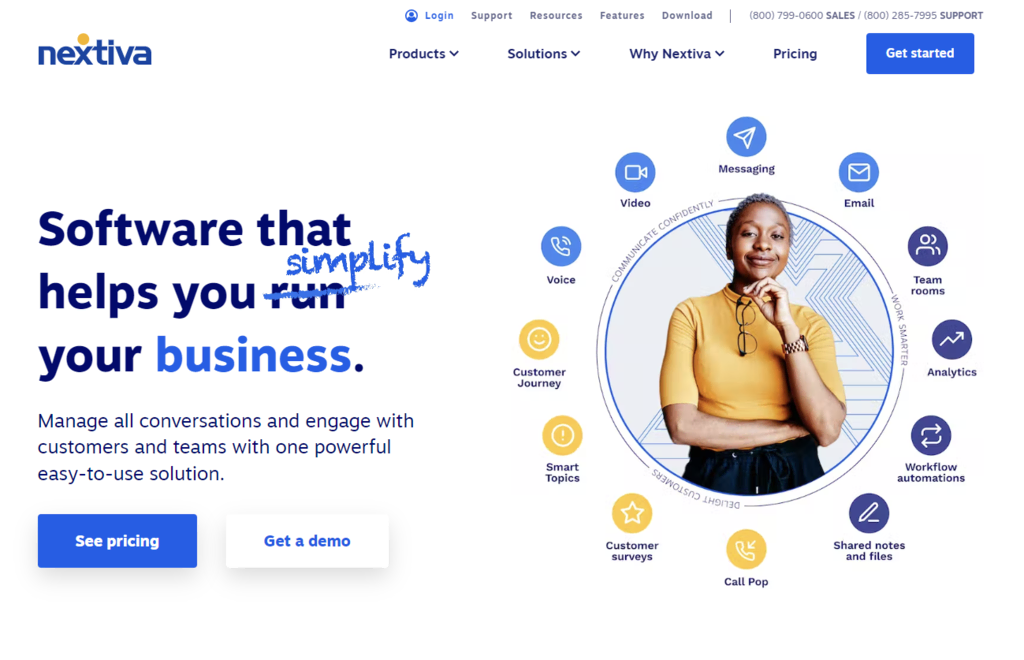 Stats
Best for: businesses of all sizes
Price: starts at $19.99/month
Nextiva offers 800 numbers with a variety of prefixes. Its cloud-based business phone system includes advanced call routing options, virtual receptionist services, call forwarding, and voicemail-to-email.
This provider also has a mobile phone app that allows users to manage their calls and messages on the go.
Its advanced analytics and reporting tools provide valuable insights into call volume, wait times, and other important metrics. Moreover, Nextiva's pricing plans are flexible and scalable.
While their system can be somewhat complicated to set up and requires some technical expertise, Nextiva is still a good choice for any type of business.
Key Features
VoIP call center. Manage high call volumes and access multichannel customer support automation and self-service options.
CRM integration. Connect your phone number with HubSpot, Salesforce, or Zendesk.
Conversational AI. Instead of listening to a menu, callers can describe their issues, and AI will automatically direct them to the right option.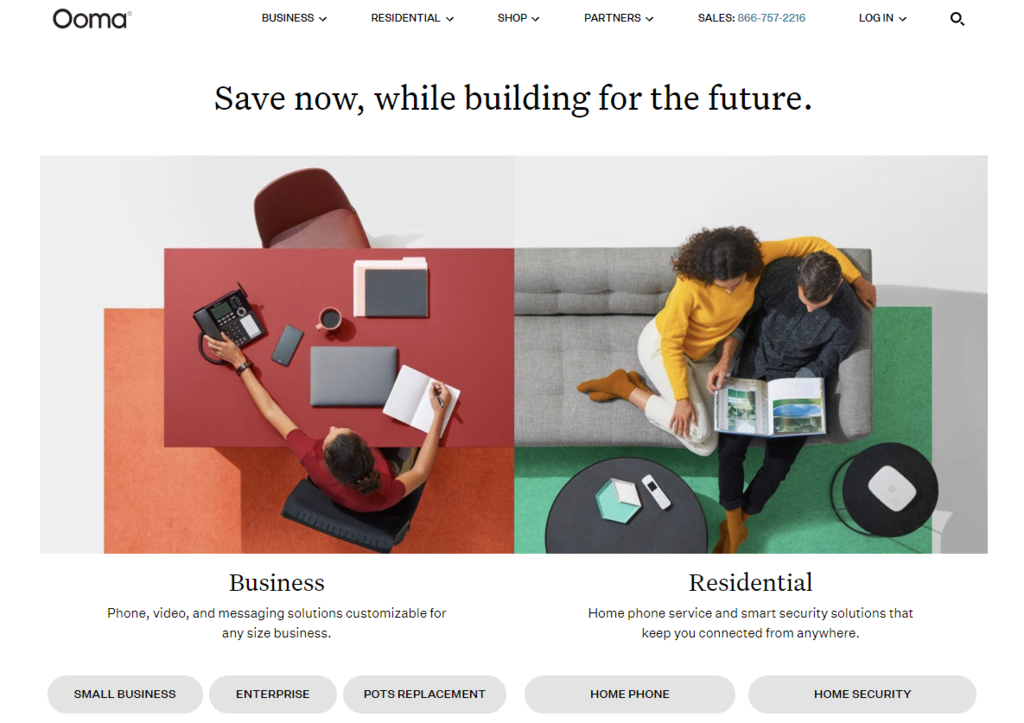 Stats
Best for: small businesses
Price: starts at $19.95/month
Ooma offers a range of features for small businesses via their cloud-based platform, including call routing, voicemail, and virtual receptionist services.
Its pricing plans are flexible, and no contracts or setup fees are required. It also provides an app, allowing you to manage outbound and inbound calls from a cell phone.
Using Ooma's virtual receptionist, you can create personalized messages with general business information, call routing to extensions and groups, as well as provide language options and after-hours modes.
Overall, this toll-free number service provides a reliable and convenient option for small business owners searching for an 800 number provider. However, certain features, such as call recording and voicemail transcription, are only available on top-tier plans.
Key Features
Ring groups. If your business has a group of employees responsible for answering calls, like a customer support or accounting group, a ring group will alert all of them so no call goes unanswered.
Music on hold. This feature ensures that your customers are not left waiting in silence while on hold.
Fax service. You can send and receive faxes directly from your email inbox.
Conclusion
Compared to a local number, getting an 800 number for your business can help you enhance customer service and reach a bigger audience. Thanks to virtual number providers, you can get an 800 number without having to install any physical equipment or pay for dedicated phone lines.
When choosing a service provider, it's important to consider factors such as pricing and call management features. By doing your research and selecting a provider that best meets your business needs, you can make it easier for customers to reach you.
We hope this article helps you choose a provider and set up an 800 number. If you have any questions, drop them in the comments section below.
How to Get an 800 Number FAQ
This section answers the most frequently asked questions about 800 phone numbers.
How Much Does It Cost to Have an 800 Number?
The price of an 800 number differs according to the provider, features, and plans. It can range from $15/month for basic services to hundreds of dollars for advanced features and more call traffic.
Do You Need Multiple 800 Numbers for a Business?
It depends on your business size and needs. Small businesses may only require one 800 number, while larger companies with multiple departments or locations may benefit from having multiple toll-free numbers assigned for better call routing and tracking.
What's the Difference Between a Toll-Free Number and a Vanity Number?
Toll-free phone numbers, also known as 800 numbers, enable customers to make free calls to businesses. They use a toll-free prefix like 800, 888, 877, or 866 and simplify communication with businesses from any location. Vanity numbers are a variation of toll-free numbers that spell out a word or phrase, like 1-800-FLOWERS, so people can easily remember them.
Is It Possible to Transfer a Toll-Free Number to Another Company?
Yes, this process is called number porting. You need to give the new provider your current toll-free phone number and account information. You can keep the same number while customers call you from a new 800 number.