10 Best FTP Clients for Windows, Mac, and Linux (2023)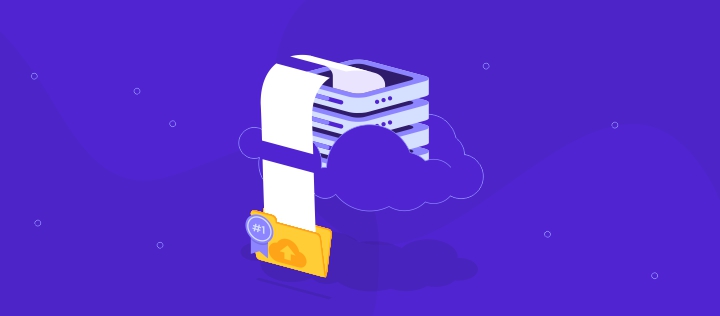 Transferring large files to your website and managing them all at once can be overwhelming, especially if done manually.
Thus, having a file transfer client can help you mount multiple files, from small to large, in a fast, reliable, and secure way.
With this in mind, we'll cover what an FTP client is and the best FTP clients for your website.


Explaining What Is an FTP Client
FTP stands for file transfer protocol. It refers to the process of transferring computer files to a web host or a server.
So, an FTP client is software that uploads, downloads, and organizes files. You can also use an FTP client to delete, copy, and edit site files with ease, thanks to the user-friendly interface.
Additionally, FTP clients support many file transfer protocols, namely SFTP, HTTP, and HTTPS. Read up on how to use an FTP client if you want a complete guide.
Usually, you can transmit files right from your web hosting account, but the security risk is high. An FTP client will help minimize any risks that may occur during your transfer process.
Best FTP Clients For 2023
To help you out, here's a list of what to look for in an FTP client:
Ease of use. Features like drag-and-drop functionality and an intuitive interface will make transferring files more convenient.
Locate files quickly. Search and bookmarking tools make it easier to find files and organize them.
Flexible transfer. Check whether your FTP client software supports third-party servers such as Dropbox and Google Drive.
Automation features. Automate any tasks, such as scheduling data transmission, within a few clicks.
Track progress immediately. Track directories side-by-side to monitor the performances of your local and remote servers. This way, you can take action in case of an error immediately.
Resume upload. If your connection slows down or stops, continue your transfer activity without losing any data.
Queue upload. Instead of uploading files one by one, save your time by queueing multiple files, large or small.
After testing different FTP clients, we've compiled what we think are the best options for Windows, Mac, and Linux operating systems.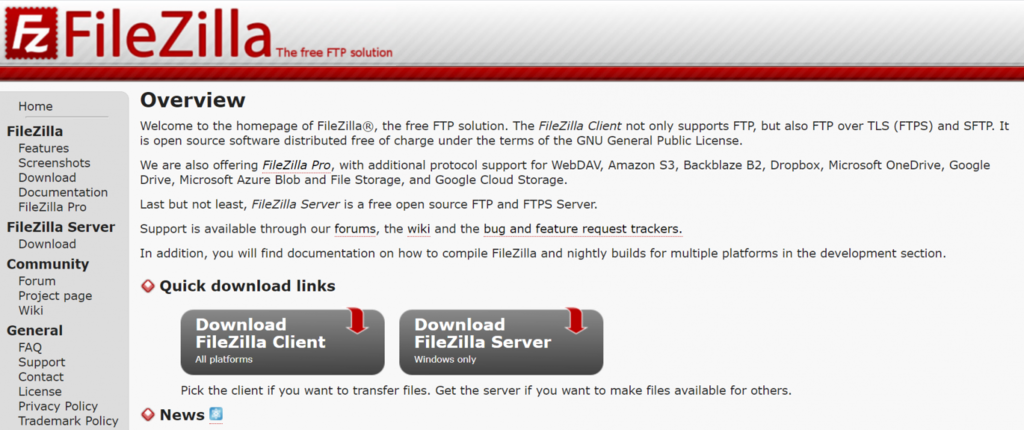 Platform: Windows, Mac, and Linux
Notable Features: beginner-friendly, powerful free tools
Best Suited For: all users, especially WordPress site owners
Price Model: freemium
FileZilla is one of the most popular FTP clients for WordPress users and works with all operating systems. In addition to the FTP server, FileZilla also supports FTPS and SFTP.
It's relatively easy to configure FileZilla, even for complete beginners. Simply filter files by their names, and drag and drop them to proceed with the transfer. This FTP client supports files up to 4GB and controls transfer speed.
The main screen has a side-by-side display to monitor the status of your transfer and troubleshoot any problems.
Plus, FileZilla will instantly locate any files and folders you need and bookmark them, making your file management time-efficient.
Additionally, FileZilla can open multiple connections simultaneously, enabling users to view folder structure and file information in a private setting.
Make sure you download FileZilla from its official source to avoid any security problems such as malware and viruses.
All in all, FileZilla is the best FTP client that you can get for free. There's also FileZilla Pro that costs $19.99/license and provides more customization options and third-party protocols, from Amazon S3 to OneDrive.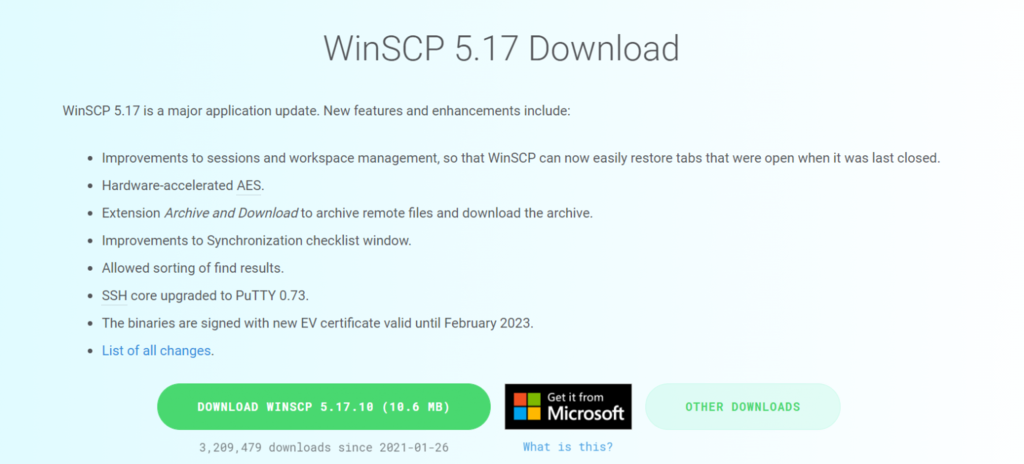 Platform: Windows
Notable Features: workspace management, interactive scripting console
Best Suited For: Windows users looking for an easy-to-use transfer client
Price Model: free
If you're looking for an FTP client for Windows FTP, check out WinSCP. This open-source FTP client synchronizes your local system with the remote server, making it easier to transfer files through its dual-screen graphical interface.
WinSCP supports a variety of transfer protocols, from SCP and SFTP to WebDAV and S3. In addition, it will guarantee the safety of your transfer with file encryption.
It also has an integrated text editor to modify text files and add numerous settings to manage your transfer. These include opening, closing, saving, adding, and switching your session.
Its scripting console comes with interactive commands to automate your tasks. It's also possible to set a master password to protect your files from anonymous users.
This FTP solution is available in many languages, and the documentation is comprehensive.
The minor downside is that WinSCP doesn't provide built-in customization for shortcuts. Also, WinSCP isn't available for Linux and Mac users, limiting the options for a computer-to-computer transfer.
What's more, WinSCP is a free FTP client, so it's a great option for budget-conscious users.

Platform: Mac and Windows
Notable Features: Cryptomator, cloud content distribution
Best Suited For: site owners that use multiple networks to transfer files
Price Model: free
Cyberduck is one of the best FTP clients for Mac and Windows users. It integrates well with FTP, SFTP, and other third-party cloud storage like OpenStack Swift and Backblaze B2.
Also, Cyberduck will secure any data with its client-side encryption, such as your file name, content, and directory structures.
Cyberduck has an easy-to-understand interface that you can connect to any text editor for quick file editing. The bookmarking feature also has drag-and-drop functionality to upload and import files.
This FTP client software makes file sharing trouble-free with its URL generator. Plus, you can distribute your content to any server with the help of Amazon CloudFront.
Moreover, Cyberduck enables caching to boost file synchronization. It also has a quick look tool to preview the outline of large files before downloading them.
Overall, Cyberduck is one of the best free FTP clients, supporting various technologies like Keychain password protector and Bonjour auto-discovery network. On the other hand, since Cyberduck is built on the Mac operating system, it may not perform optimally on Windows.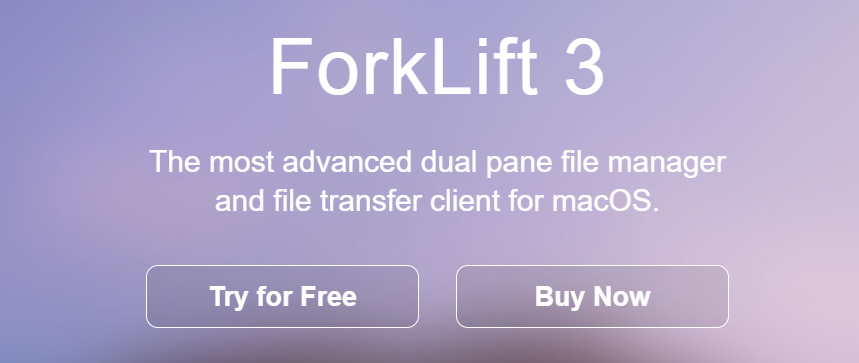 Platform: Mac
Notable Features: file and media preview, quick open tool
Best Suited For: small businesses
Price Model: premium
ForkLift names itself as one of the most advanced FTP clients for the Mac operating system, and it's easy to see why.
This FTP software has a dual-screen graphical user interface – you can compare your local and remote servers and immediately take action when there are matching, modified, or deleted files.
It supports SFTP as its file transfer protocol and other remote servers like WebDAV, Rackspace Cloudfiles, and NFS.
In a single mouse click, synchronize your file and folder or add it as your favorite. There's also the preview panel where you can see and edit the information of your file. You can even playback multimedia content and inspect all types of documents.
ForkLift has a quick open tool to access favorites, menu commands, and other devices instantly. Renaming a bulk group of large files is also convenient with its multi-rename preset.
However, it's not a free FTP client – you'll need to purchase a license starting from $29.55 for a single-use to $99.95 for small businesses. Although the pricing might not be ideal for budget-conscious users, Forklift offers a range of powerful tools that are worth investing in.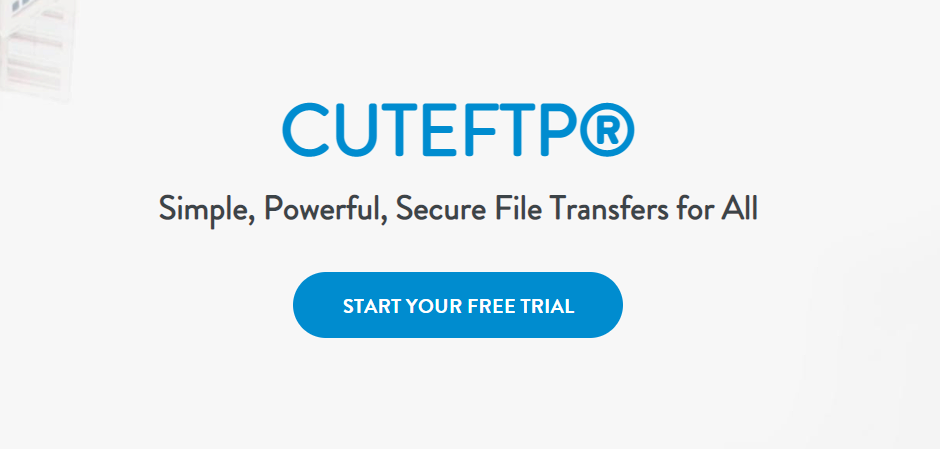 Platform: Windows and Mac
Notable Features: beautiful graphical panel, RSS feeds integration
Best Suited For: enterprises who use WordPress
Price Model: premium
CuteFTP is a premium FTP client for Mac and Windows users. It supports multiple FTP servers, including SFTP, HTTP, HTTPS. There's also password authentication for securing files.
This FTP file manager has a visual user interface that integrates with a color-coded HTML editor, making file editing a snap. Users can even connect to a new website through the step-by-step wizard.
The automation technology will also come in handy for creating backup scripts, synchronizing your site, and monitoring changes. Additionally, CuteFTP has a drag-and-drop module for transferring up to 100 files.
If you manage many audio clips, you can create podcast RSS feeds on your WordPress site. Thumbnail preview is also available for remote images.
CuteFTP costs $59.99/license. For full-year maintenance and support, upgrade to the Pro version that costs $89.99/license.
Although it comes with a price, CuteFTP offers extensive customer support and other features that you won't find in most open-source FTP applications.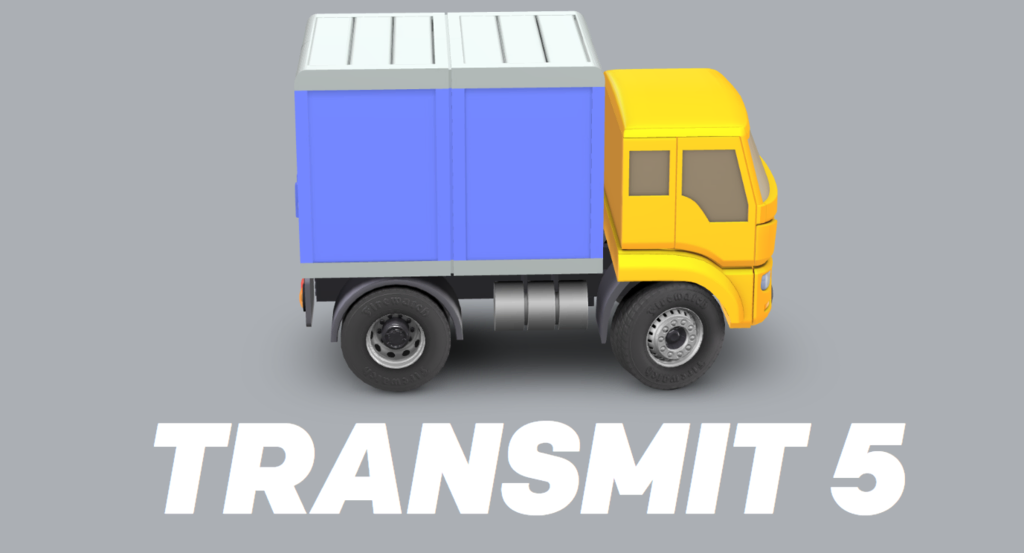 Platform: Mac
Notable Features: customizable user interface, advanced and secure file synchronization
Best Suited For: multi-tasking site owners
Price Model: premium
Transmit is one of the most reliable FTP clients for Mac users. It offers plenty of customization options, making it a favorable choice for beginners and power users.
The newest version, Transmit 5, can connect you to FTP, SFTP, and a variety of cloud services from Google Drive to Amazon S3.
It has a clean user interface with powerful built-ins to perform a range of FTP functions, such as inspecting items, renaming a batch of files, and generating keys for server protection.
One of its selling points is the File Sync, which can host local-to-local and remote-to-remote synchronization. Plus, Panic Sync will secure your data by encoding encryption.
Transmit is also one of the fastest FTP clients, boosting a significant speed even for extra-large file transfers. Its smart searching system finds complex folders, while its dual-panel activity view tracks your transfer progress.
Unfortunately, this FTP client isn't an option for Windows and Linux users. The price for the software is $45/license. In case you want to test it out before making a purchase, download the free trial.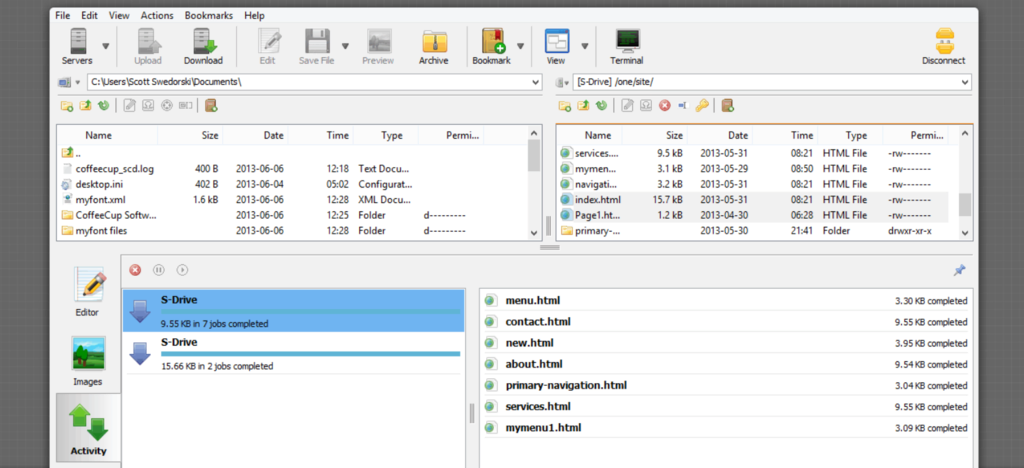 Platform: Windows
Notable Features: high speed file transfer, history and archiving module
Best Suited For: new site owners
Price Model: free
One of the best FTP clients for WordPress users, Free FTP prides itself on ease of use. Aside from the classic FTP server, it provides an array of protocol options like SFTP and HTTP.
On the other hand, you'll need to install an add-on to connect to another third-party service like Google Cloud Storage.
The client features a neat FTP activity panel that will give you a complete overview of your transfer status. In addition, there are buttons to pause and cancel your transfer.
Free FTP can perform various file management tasks, such as adding, moving, and launching files, without leaving the program.
When an error occurs, Free FTP will immediately send a notification to help you manage your website effortlessly.
This FTP software will also log all of your browsing and transfer sessions in its history module. As a result, it'll be easier to locate a file if you forget where you saved it.
The most impressive Free FTP feature is the quick archive tool, which can immediately backup your site in a ZIP folder.
The core system of Free FTP is more than sufficient for your file transfer needs. However, its premium counterpart, Direct FTP, offers additional features like an image viewer, HTML editor, and folder bookmarks at $39/license.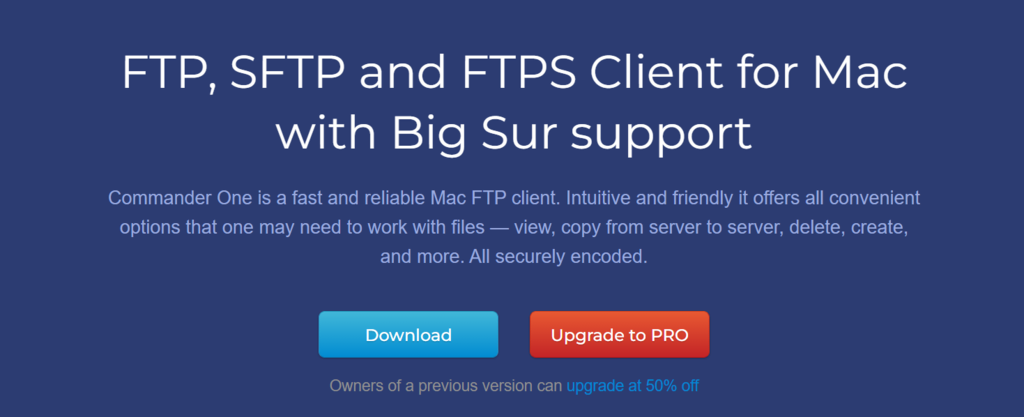 Platform: Mac
Notable Features: multi-function manager, hotkey settings
Best Suited For: mac users familiar with file transferring
Price Model: premium
A highly intuitive FTP solution, Commander One is a favorite among Mac users. You'll have access to your network and cloud servers, including FTP, SFTP, WebDAV, and Amazon S3 in one place. The FTP client will also encrypt all of your data to secure transfers.
Commander One has all the essential functionality to view, delete, create files, and copy from server to server. In addition, its file manager will give you more control over documents by showing hidden files, working with many files in multiple tabs, and opening your favorite folders.
Even more, you can queue all of your file operations and assign hotkeys for instant actions. Other beneficial tools include the ZIP support, document and media viewer, as well as local computer network access.
The free version of Commander One covers the basic necessities for your file management. Meanwhile, the PRO subscription will unlock you a fuller set of features like a terminal emulator and process viewer.
There are three plans to choose from: Personal at $29/license, Team for five Mac computers at $99/license, and Company for 50 Mac computers at $149.99/license.

Platform: Windows
Notable Features: industry-grade security, integrated search options
Best Suited For: business site owners
Price Model: premium
WS_FTP Professional is the FTP client that minimizes security issues with your transfer. This FTP client for Windows will apply the highest levels of encryption to your files.
This FTP software can transmit files through various protocols, from SSH to SSL and HTTP/S to SFTP.
Integrating Google, Copernic, and Windows desktop search engines, the all-in-one panel locates, transfers files, and connects to multiple servers. Easily filter your search based on parameters like file type, size, and date.
Furthermore, utilize the administrative rules to schedule post-transfer actions and archive folders. Other helpful resources are email notification, site backup, and virtual synchronization to any device, drive, and server.
The pricing for this premium FTP client ranges from $49.95/license to $390/5 licenses. All of the plans include a warranty, support, automation technology, and internet file exchange. It also has a 30-day-free-trial test.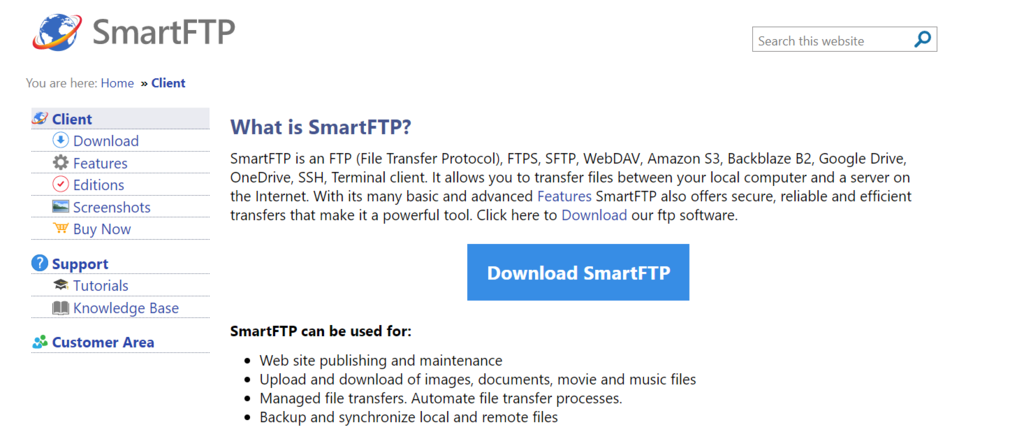 Platform: Windows
Notable Features: file editing tools, knowledge base directory
Best Suited For: Windows users in need of an FTP with good customer support
Price Model: freemium
If you're looking for an efficient FTP client for the latest versions of Windows, SmartFTP is worth checking out.
This FTP client will activate a connection between your local computer and an internet server for an effective transfer. It supports protocols ranging from SFTP and WebDAV to OneDrive and Terminal Client.
The administrator panel comes with menu tabs for clearer navigation for uploading even the largest types of files, from video to movie clips.
It also has a text editor with helpful tools like spell checker, find and replace, and an indicator bar to simplify your file editing.
SmartFTP also provides extensive support, dedicating an entire section for tutorials and a knowledge base where you'll find answers to frequently asked questions.
Install this client for free or purchase a plan. The pricing for this FTP client comes in three tiers: Professional at $39.99/year, Ultimate at $69.99/year, and Enterprise at $149.99/year.

Conclusion
An FTP client transfers files to another network and organizes them with ease.
When looking for the best FTP client, consider its compatibility and functionality together with your website needs.
If you're still unsure which one to choose, here are our recommendations for the best FTP clients for various operating systems such as Windows, Mac, and others:
FileZilla. A free FTP client with beginner-friendly tools, such as search and bookmarking features, to smoothen your file transfer.
Cyberduck. Provides free powerful services like encrypted transfer and cloud distribution for Windows and Mac.
Transmit. A fast FTP client for Mac with one of the most extensive synchronization options that comes at a reasonable price.
We hope that this article has helped you find the best FTP client for your website. Don't hesitate to leave a comment if you need more information or have any feedback.